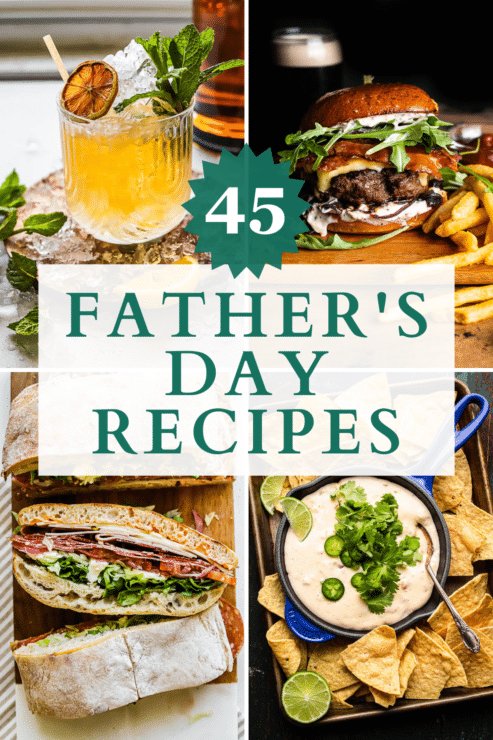 45 Best Father's Day Recipes
45 Best Father's Day Recipes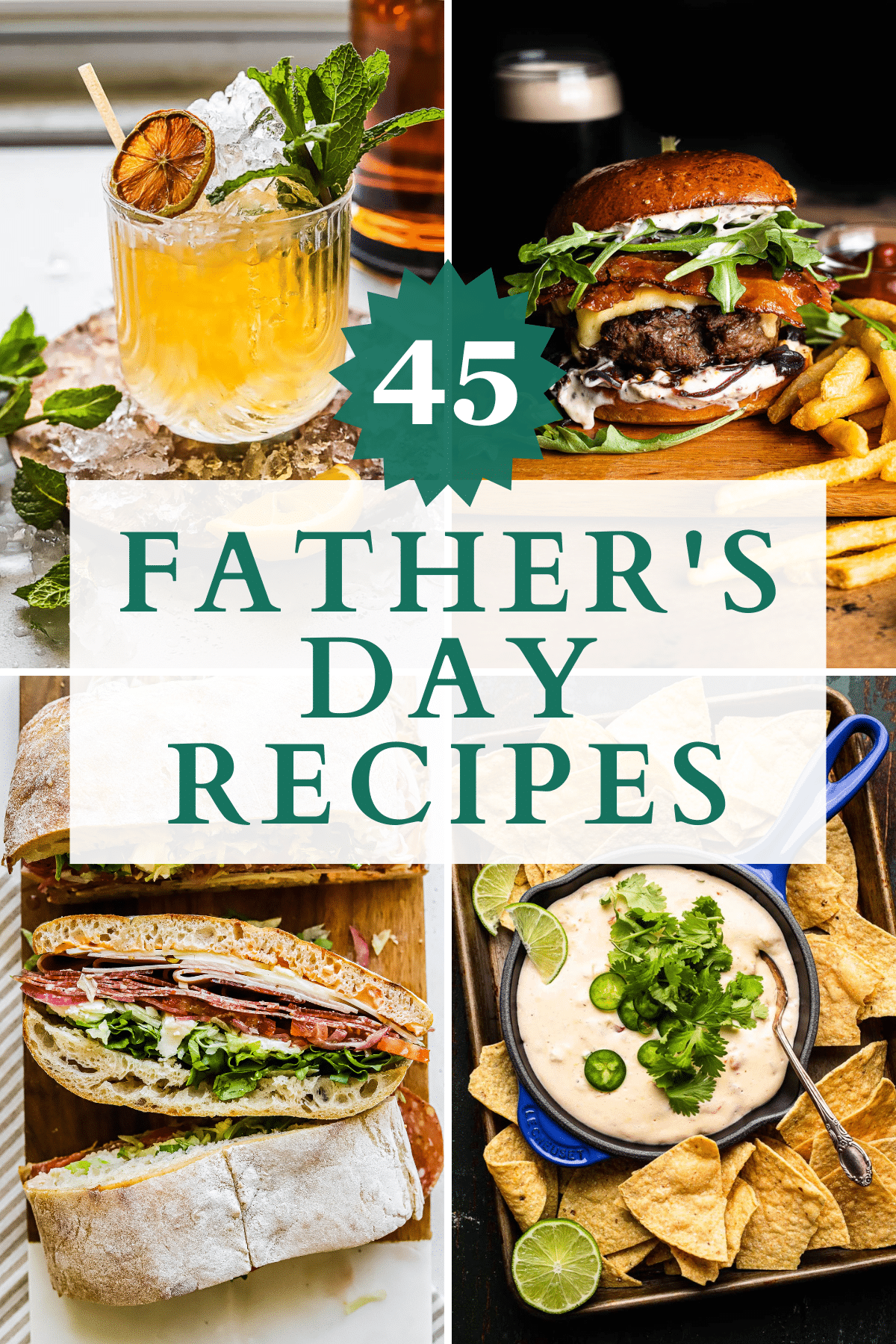 Father's Day is just around the corner, and what better way to honor the dads in our lives than with a mouthwatering feast that showcases their favorite flavors? Today, I am sharing over 40 of the best and most popular Father's Day recipes including all the summer grill recipes, big meaty dishes, fresh seafood meals, plus all the best cocktails and dessert recipes.
One of my favorite ways to treat dad on Father's Day is to cook an epic spread of delicious dishes. So, if you're looking for a guide to putting together the perfect Father's Day menu, you're in the right place!
Most Popular Father's Day Recipes
Whether you're a seasoned home cook or just starting out in the kitchen, I've got you covered with some of my favorite father's day recipes that are perfect for any dinner. As a former professional chef, I know how to make delicious food that looks impressive without being too difficult to prepare.
In this recipe roundup, we've thoughtfully curated a variety of Father's day recipes that cater to various tastes and preferences. From sizzling grilling recipes, to refreshing cocktails, elegant seafood dishes, appetizers, sides, and easy desserts that will round out the perfect Father's Day meal.
All that matters is that the menu appeals to you and feels doable! Regardless of what you serve, it'll be a memorable day spent with family and that's always a home run.
How to Build the Perfect Father's Day Menu
In this step-by-step tutorial, we will guide you through the process of building the perfect Father's Day menu, ensuring a delicious experience for Dad.
Step 1: Discover Your Dad's Culinary Preferences
The first step in building the perfect Father's Day menu is to understand your dad's culinary preferences. Take some time to reflect on his favorite dishes, flavors, and cuisines. Does he enjoy grilling? Is he a fan of seafood or perhaps a connoisseur of comfort foods? Once you pinpoint the kind of celebration he'd love, you can fine tune the menu.
Step 2: Choose a Theme or Cuisine
Once you have an understanding of your dad's preferences, it's time to choose a theme or cuisine for the menu. This will help provide a cohesive experience and make the meal feel special. For example, you could opt for a backyard barbecue theme with juicy steaks, flavorful burgers, and grilled vegetables.
Alternatively, you might explore a gourmet seafood menu featuring fresh oysters, grilled shrimp, and a delectable seafood paella. Selecting a theme will help guide your Father's Day recipe choices and set the tone for the entire meal.
Step 3: Plan a Balanced Menu
A balanced menu is essential to ensure a satisfying and harmonious dining experience. Consider incorporating a variety of flavors, textures, and types of dishes. Start with appetizers to kick off a great meal like a classic shrimp cocktail or a loaded wedge salad.
For the main course, select a star dish that aligns with your chosen theme or cuisine, whether it's a perfectly cooked steak or a succulent seafood entree. Always pair the main dish with complementary sides!
Finally, end the meal on a sweet note with a delectable dessert, like a rich chocolate cake or a fruit tart.
Best Cooking Tools for Making Father's Day Recipes at Home
What are all these Father's Day recipes without the right kitchen tools to prepare them? You don't have to be a Gordon Ramsey to make these recipes, but quality equipment helps. Here are the pieces in my kitchen that I can't cook without!
A sharp kitchen knife. Invest in a quality kitchen knife for all your cooking needs! If I had to recommend investing in one thing, it's always going to be a good knife. It's the backbone to cooking and will change the game for you in the kitchen.
Some of my favorite Father's Day recipes are are all made in one skillet, so invest in a large 12 inch cast iron or enamel skillet for serving a crowd. Plus, a cast iron skillet is one of my most used items for all my cooking needs.
When I'm not using a skillet, I'm almost always using a braiser or a dutch oven. Braised meats are a big recipe in our household and a dutch oven or a braiser go a long way!
Father's Day Themes and Recipes
When it comes to planning a memorable Father's Day dinner, selecting a theme can add an extra touch of creativity make for an unforgettable celebration. I've compiled all my most popular Father's Day recipes into 5 different themes that craft a Father's Day menu for different tastes and preferences.
Backyard BBQ Bash
Transform your backyard into a lively summer BBQ party! Fire up the grill and serve up classic grilled meats like burgers, ribs, and sausages. Accompany them with an array of delicious sides and beverages. Set up outdoor games and enjoy a relaxed and festive atmosphere.
Cocktails and Appetizers
Mint Julep: A refreshing and easy cocktail that's perfect for the bourbon loving Dad in your life!
Mai Tai Cocktail: This fun and tropical cocktail pairs so perfectly with grilled meats and can easily be made as a pitcher for a whole crowd.
White Queso: No party is complete without this cheesy white queso dip. It's the perfect balance of gooey melty cheesy and spice from the jalapeños.
Grilled Eggplant Dip: A smoky and delicious dip made with grilled eggplants, greek yogurt, garlic, tahini, and lemon. Serve with lots of warm pita for dipping.
Beef Kofta Kebabs: These can be served as an appetizer or a main!
Mains and Sides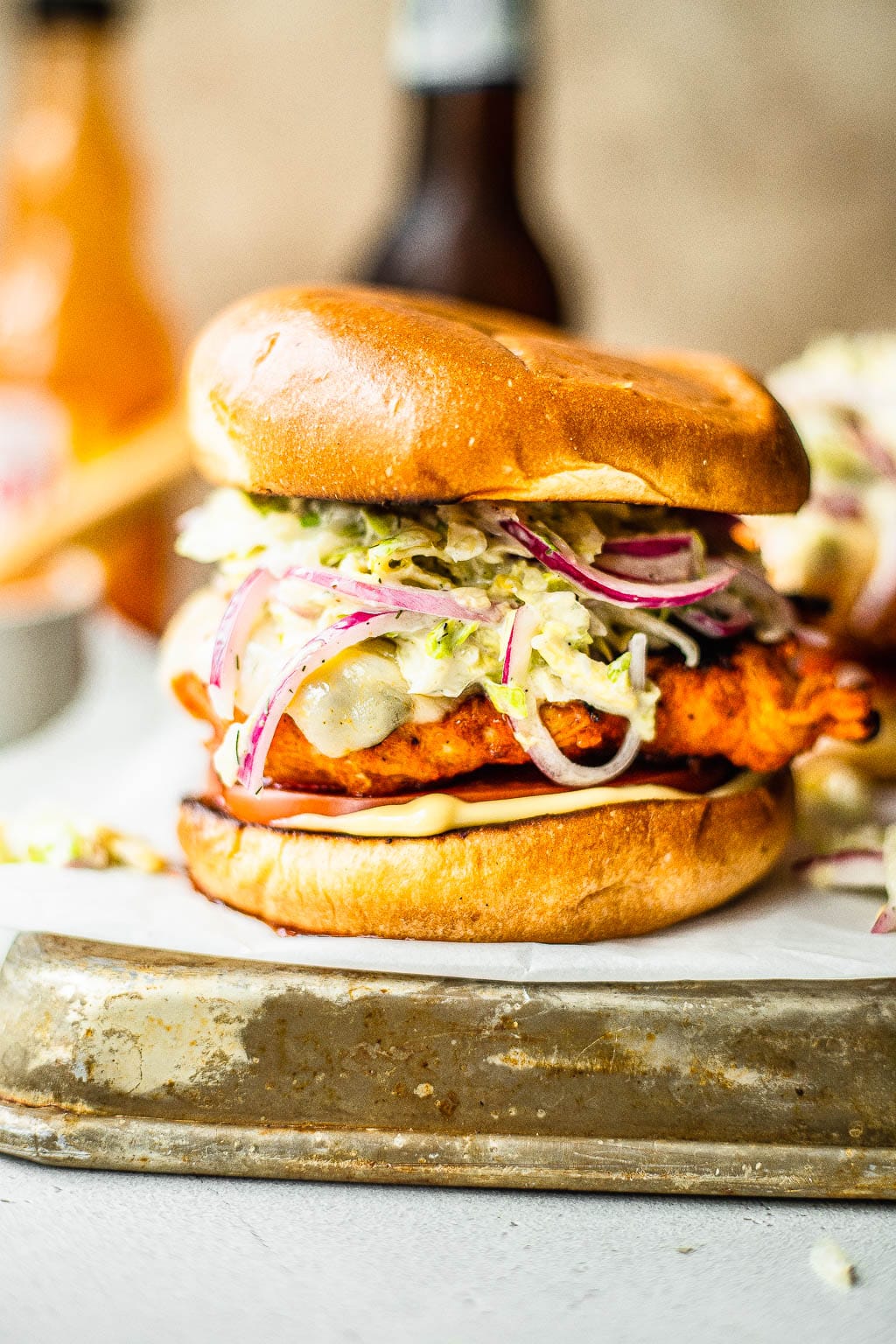 Grilled Buffalo Chicken Sandwiches: These juicy grilled chicken sandwiches are everything that any father would love in a sandwich!
Grilled Ribeye with Chimichurri: What dad doesn't love a perfectly cooked steak? This summery version also features grilled corn and a fresh herby sauce.
Easy Pollo Asado: A whole grilled chicken is packed with flavor and perfect for turning into tacos.
Dressed-up Baked Beans: There's no side better than some truly perfect baked beans. This recipe takes canned baked beans and dresses them up into something truly special.
Hawaiian-Style Macaroni Salad: No backyard BBQ is complete without a cool and creamy pasta salad and this Hawaiian-style mac salad is perfect with any grilled entree.
Summer Panzanella Salad: This summer Panzanella salad is a celebration of summer tomatoes and fresh herbs and perfect as a lighter side for a summer BBQ.
For more Father's Day Recipes that involve grilling out, check out the rest of my GRILLING RECIPES.
Beer Tasting and Classic Pub Grub
Treat your dad to a beer tasting experience paired with delicious pub-inspired dishes. Set up a tasting station with a variety of craft beers, and serve up classic bar bites like loaded nachos, wings, and a juicy burger station. Create a laid-back and casual ambiance reminiscent of his favorite local pub.
Appetizers
Loaded Texas Nachos: Texas nachos are the best because each chip is dressed to have the perfect amount of toppings. No more naked chips!
Fried Coconut Shrimp: It's not a pub day without a fried appetizer and these coconut shrimp are packed with flavor and easy to throw together ahead of time.
Soft Pretzels with Beer Cheese: Homemade soft pretzels and beer cheese pair perfectly with a cold, malty beer.
Gochujang Wings: These crispy wings are coated in a Korean-inspired glaze and served with jalapeño ranch.
Mains Dishes
Steakhouse Burgers: This is the ULTIMATE burger that does not skimp on toppings and flavor. Loaded with bacon, cheese, arugula, onion jam, all on a brioche bun.
Italian Sausage Sandwiches: These spicy Italian sausages pair perfectly with an ice-cold beer. Serve with a pile of fries on the side.
Skillet Pepperoni Pan Pizza: This is the quintessential pub-style pizza! The crust is the perfect mix of crispy and chewy and it's loaded with pepperoni and sausage.
Beer-Battered Fish Tacos: Crispy beer-battered tacos are the perfect balance of crispy, cool, and spicy.
Elegant Seafood Soirée
If your dad is a seafood enthusiast, there's no better way to celebrate Father's Day than with a tantalizing seafood soirée. In this section, we invite you to explore a variety of delectable Father's Day seafood recipes, from succulent grilled fish to buttery shrimp pasta and more! This extraordinary Father's Day celebration that will leave your dad feeling like the king of the sea.
Cocktails and Appetizers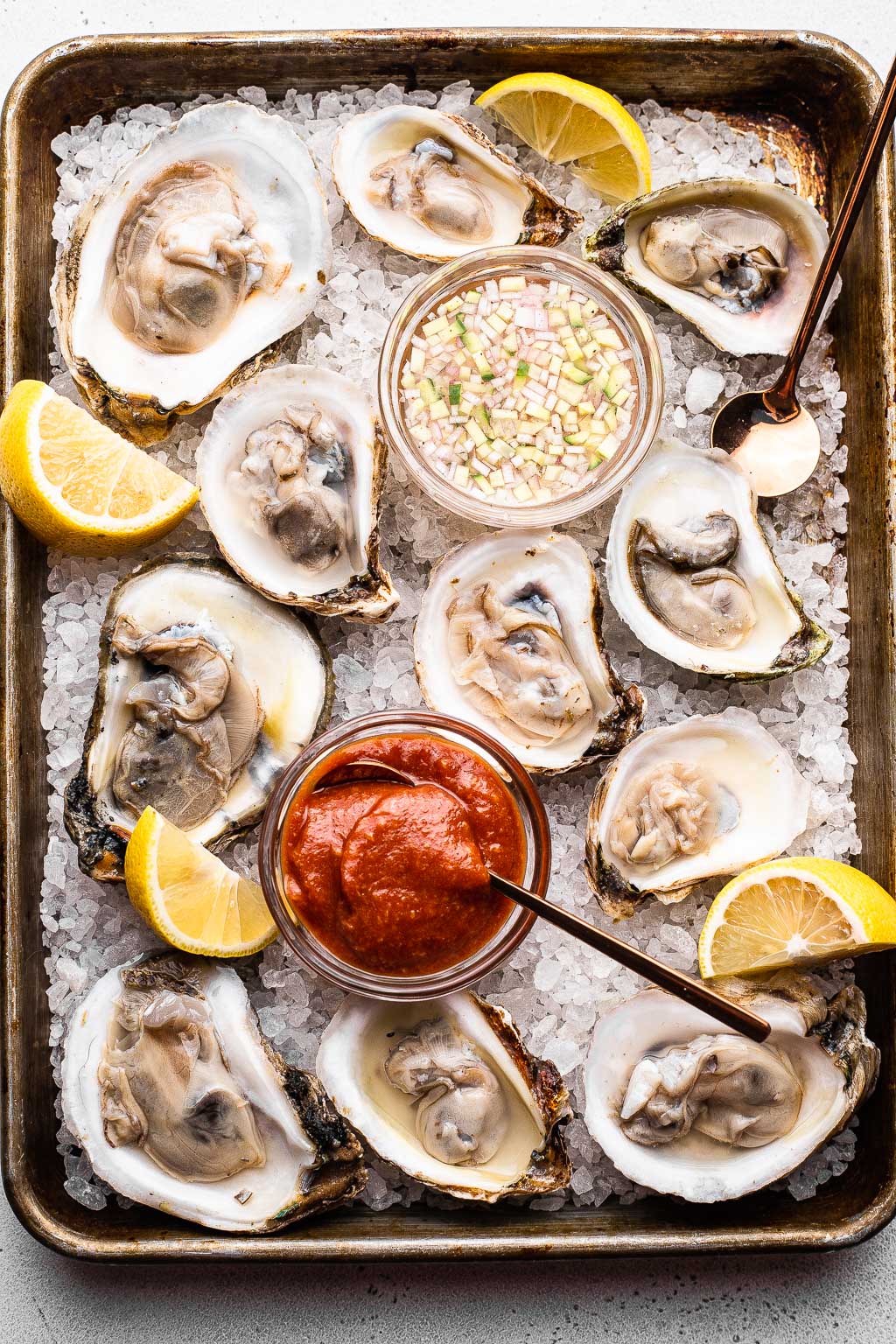 Lemon-Chamomile Gin Fizz: This is an elegant cocktail made with gin, egg white, chamomile syrup, lemon and Prosecco. The lemon in the cocktail pairs perfectly with seafood!
Oysters with Mignonette: The most classic and elegant seafood appetizer ever! Shucking your own oysters is a pro move and will have Dad so impressed.
Roasted Shrimp Cocktail: Ditch the sad poached shrimp and opt for this ultra flavorful garlic roasted shrimp cocktail with homemade cocktail sauce.
Tuna Tartare: If your Dad is a tuna or sushi fan, then this tuna tartare is the way to go! It's so easy to make but feels impressive.
Spicy Shrimp Ceviche: An appetizer fit for a fiesta! This ultra flavorful shrimp ceviche is perfect for serving alongside warm chips and guacamole.
Main Dishes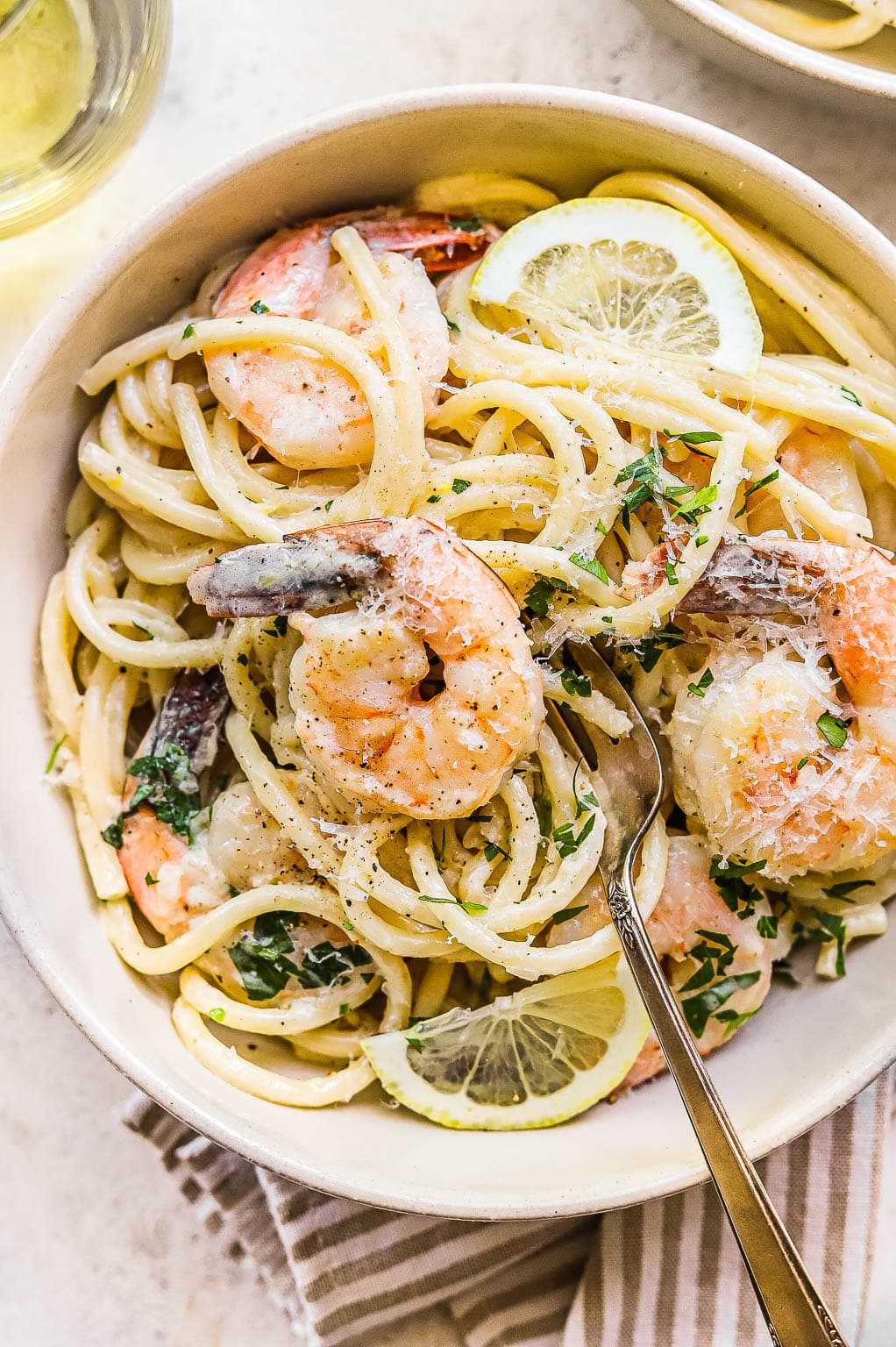 Pasta al Limone with shrimp: An elegant and delicious one-pan pasta recipe that feels light and fresh.
Lobster Risotto: When you want an over-the-top dish, this butter-poached Lobster risotto is the way to go!
Mussels with Wine and Chorizo: Another easy one pot recipe that's so classic! Serve these mussels alongside a pile of french fries for the perfect dinner.
Rainbow Poke Bowls: A beautiful and healthy dinner option that's so fun to create and customize.
Blackened Fish Tacos: For a more casual Father's Day dinner, opt for these ultra-flavorful and perfectly flaky blackened cod tacos.
For more Seafood forward recipes, check out the Seafood Section of my recipe index.
Classic Steakhouse Dinner
Treat your dad to an elegant and refined dining experience in the comfort of your own home. Prepare a gourmet steakhouse menu with dishes like tender filet mignon, buttery potatoes, and decadent chocolate desserts. Set a beautifully adorned table with elegant tableware and create an intimate and sophisticated ambiance.
Cocktails and Appetizers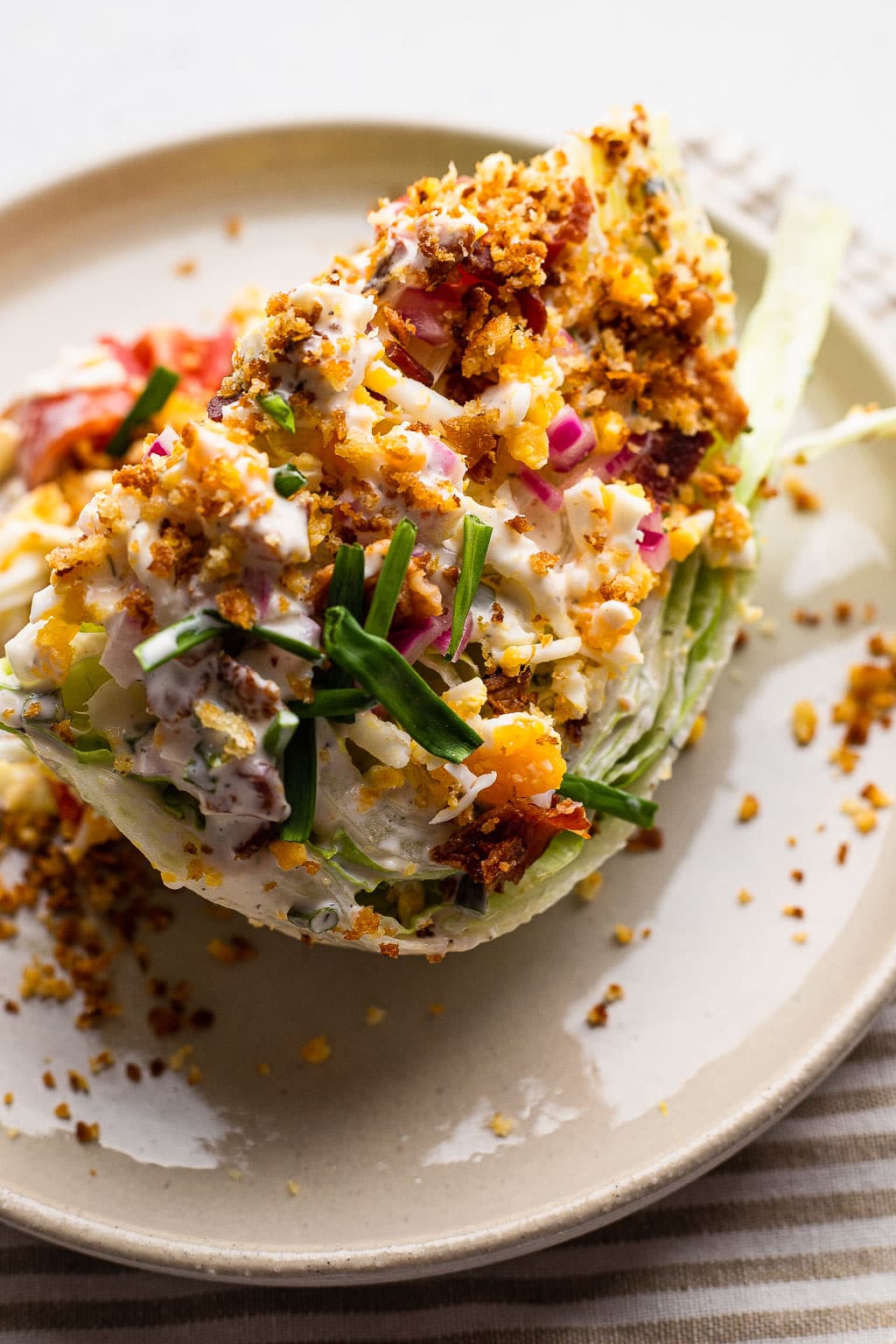 Passion Fruit Whiskey Sour: A fun and fresh take on the classic cocktail that dad will absolutely love.
Loaded Wedge Salad: It's not a steakhouse dinner without a wedge salad that's loaded with crispy bacon, chopped egg, tomatoes, red onion, crispy bread crumbs, and homemade ranch.
The Best Ever Steak Tartare: I really dialed in all my restaurant cooking experience to bring you the absolute best steak tartare recipe. All the tips and tricks for an incredible appetizer.
Roasted Shrimp Cocktail: Ditch the sad poached shrimp and opt for this ultra flavorful garlic roasted shrimp cocktail with homemade cocktail sauce.
Tomato Bacon Bisque: If you love a good soup before a meal, this rich and hearty tomato-bacon bisque is a must!
Mains and Sides
Steak au Poivre: The absolute classic combination of filet mignon and a cognac peppercorn sauce.
Raclette: If you've ever been to a fancy French steakhouse, you've probably seen the combination of melted raclette cheese served over cured and grilled meats.
Beef Bourguignon: A cozy and delicious classic French beef stew.
Beef Wellington: This recipe demystifies the art of the perfect beef wellington!
Baked Mac and Cheese: No steakhouse dinner is complete without rich and indulgent mac and cheese.
Horseradish Mashed Potatoes: When you need an incredible potato side, these horseradish mashed potatoes never fail to impress!
Father's Day Picnic
Embrace the beauty of the outdoors with a delightful Father's Day picnic. Pack a basket full of dad's favorite sandwiches, salads, snacks, and refreshing beverages. Find a scenic spot in a park or by the beach, spread out a cozy blanket, and enjoy quality time together outside on a beautiful sunny day.
Cocktails
Strawberry Gin Lemonade: Nothing screams picnic quite like the perfect lemonade! This delicious spiked version is bursting with fresh strawberry flavor and perfect for mixing up in a large mason jar.
Watermelon Mojito: A fresh take on the classic cocktail that is so refreshing! The addition of fresh ginger adds the perfect citrusy spice.
Passion Fruit Margaritas: A tropical twist on the perfect margarita recipe makes this a gorgeous cocktail to enjoy on a sunny day.
Mains and Sides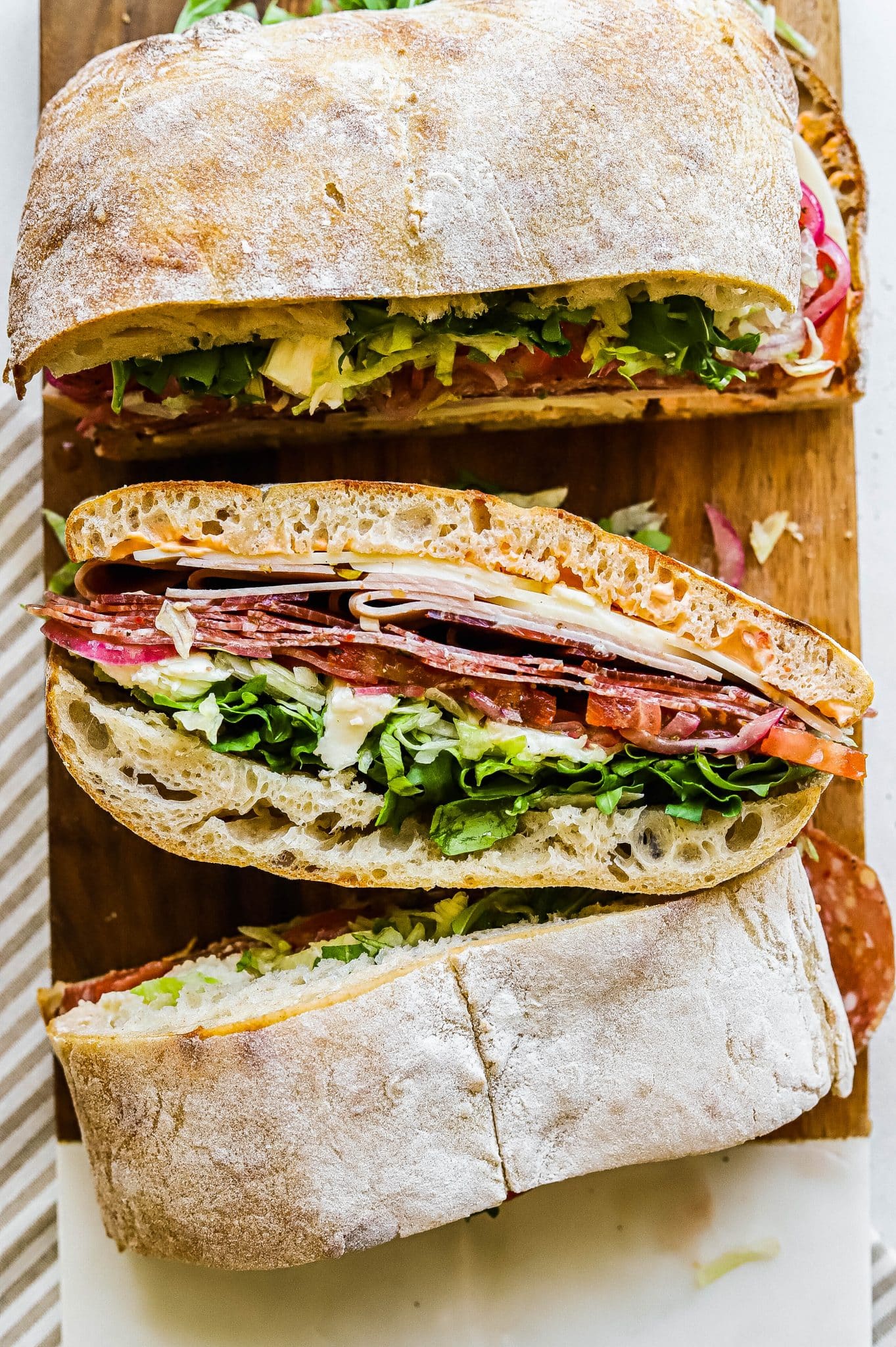 Giant Italian Sandwich: This sandwich is made for picnics! It starts with a giant ciabatta loaf that's piled high with salamis, mozzarella, provolone, and crispy veggies. Perfect for feeding a crowd!
Creamy Pesto Pasta Salad: The perfect pasta salad recipe loaded with bacon, tomato, fresh mozzarella, arugula, and a creamy pesto dressing.
Grilled Steak Sandwich: Another show stopping picnic sandwich that's easy to make in advance.
Italian Chopped Salad: Perfect for a light and fresh side and the lemon-herb vinaigrette is so fresh!
Spicy Peanut Noodles: These noodles are great served cold and are loaded with crunch veggies and a spicy peanut sauce.
Cucumber Yogurt Salad: Another fresh and easy salad that has all the flavors of Tzatziki sauce.
Best Father's Day Desserts
No Father's Day celebration is complete without a sweet finale. But don't worry, we've got you covered with a selection of easy and irresistible desserts that require minimal effort. From decadent chocolate creations to refreshing fruit-infused treats, we have curated a selection of desserts that are both easy to make and guaranteed to impress.
Whether your dad has a penchant for rich and indulgent flavors or prefers lighter, fruit-forward options, these Father's day dessert recipes will provide the perfect sweet ending to a memorable Father's Day feast!
Skillet Chocolate Chip Cookie: This ooey-gooey chocolate chip cookie bakes right in the skillet. It's got crispy edges and a perfectly chewy center.
Strawberry Shortcake: A classic summer dessert with lemon-poppyseed biscuits, fresh strawberries, and vanilla whipped cream.
Nutella Chocolate Cakes: If your Dad is a choco-holic, these gooey Nutella lava cakes are the way to go!
Coconut Panna Cotta Tart: This fresh and fruit-forward dessert features a sweet and salty macadamia crust, a creamy chocolate filling, and tons of fresh summer fruit.
Skillet Blueberry Cobbler: This easy cobbler is bursting with blueberries! Perfect topped with scoops of vanilla ice cream.
For more classic dessert recipes, check out the Dessert Section of my recipe index!
Father's Day Gift Guide for Foodies
Father's Day is a wonderful opportunity to honor the food-loving dads in our lives who appreciate the art of cooking, savoring unique flavors, and exploring culinary adventures. Shopping for Dad can be such a challenge, but in this section, we present the ultimate gift guide for foodie dads.
This is a curated selection of thoughtful and delectable presents that will ignite their passion for cooking. From top-of-the-line kitchen gadgets to artisanal ingredients, these gift ideas are designed to delight and inspire the food enthusiast in your dad.
Cooking Gadgets
Speciality ingredients
I hope you found these Father's Day recipes helpful for crafting the perfect menu! Any one of these recipes would make a delicious meal to remember that your Dad will love. If you do give a recipe a try, be sure to let me know! Leave a comment with a star rating on the recipe. Consider subscribing to my weekly newsletter and get all my newest recipes delivered to your inbox. You can also snap a photo & tag @JENNYGOYCOCHEA on Instagram. I LOVE hearing about & seeing your SMF creations!
This post for Father's Day recipes contains affiliate links from which I receive a small commission at no additional cost to you. Affiliate links allow me to keep providing great recipes for free and I never recommend products that I don't love and personally own.
45+ Father's Day Recipes for the Perfect Menu
Father's Day is just around the corner, and what better way to honor the dads in our lives than with a mouthwatering feast that showcases their favorite flavors? From sizzling grilling recipes that will ignite your taste buds, to refreshing cocktails that will quench your thirst, and delectable seafood, appetizers, sides, and easy desserts that will round out the perfect Father's Day meal, this compilation has it all.
Instructions
Select 1-2 cocktails or beverages to enjoy before or during the meal. You can prep the cocktails in advance to make dinner that much easier.

Choose a selection of appetizers to start your Father's day celebration off right.

Think of your Dad's favorite foods and decide on a main course.

Think of a theme and depending on the main dish, choose some complementary side dishes.

Finish dinner off with the perfect dessert recipe.
You might also like...