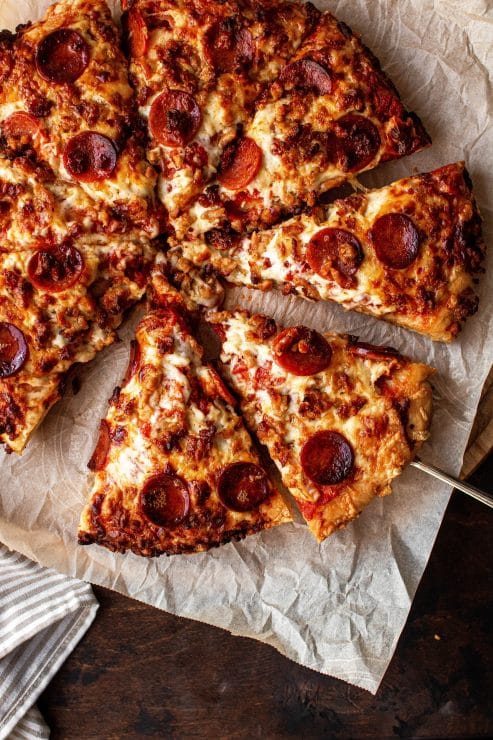 Cast Iron Skillet Pizza
Cast Iron Skillet Pizza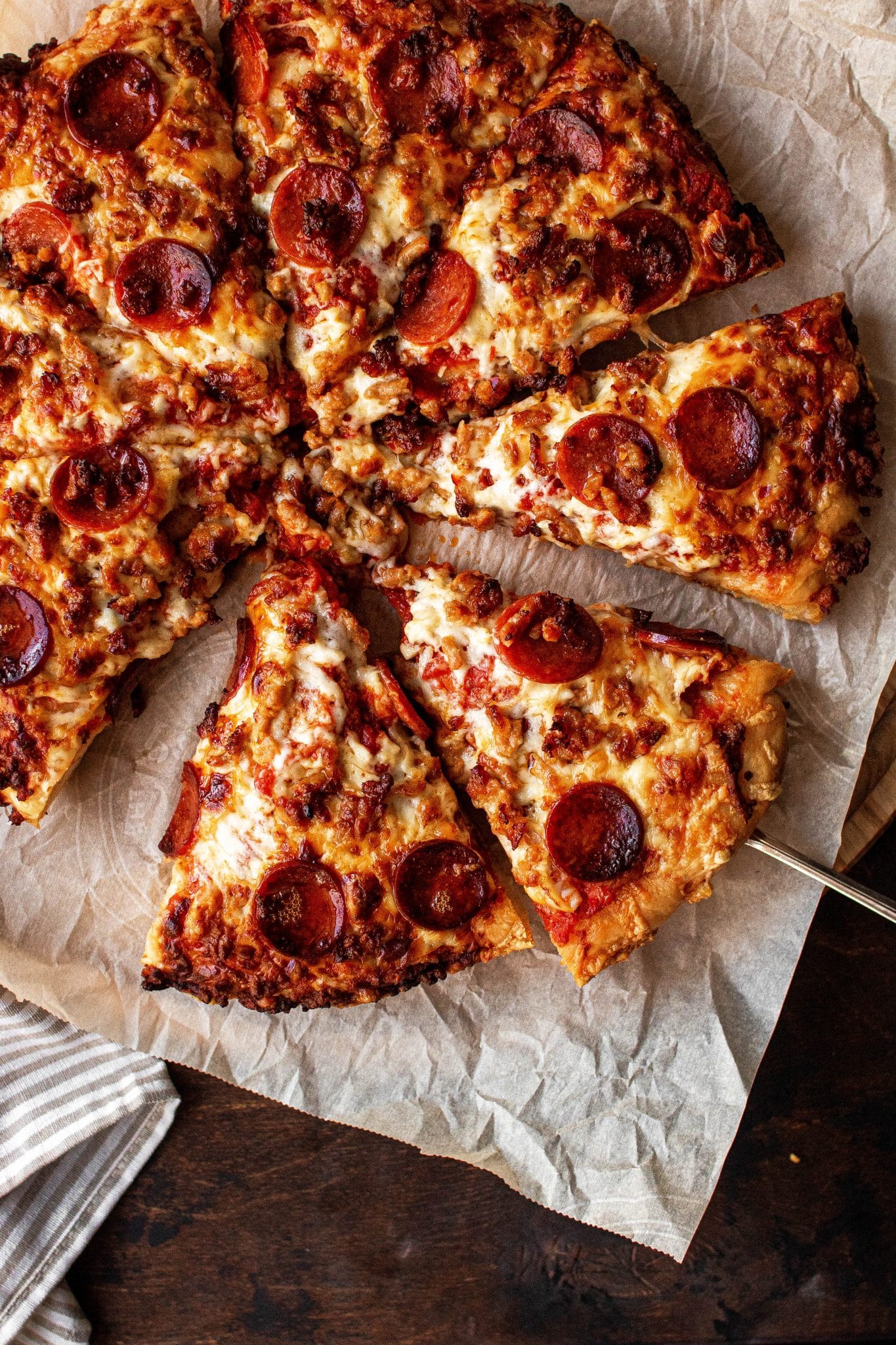 This easy skillet pan pizza recipe might be the best pizza that you'll ever make. The dough ingredients get mixed together in the morning, it rises all day to get lots of good yeasty flavor, it's pressed into a skillet, it gets loaded with your favorite toppings, and then it's baked.
I also included the recipe for my best ever, ride-or-die, pizza sauce. I happen to love sausage and pepperoni on my skillet pan pizza, but top yours however you'd like!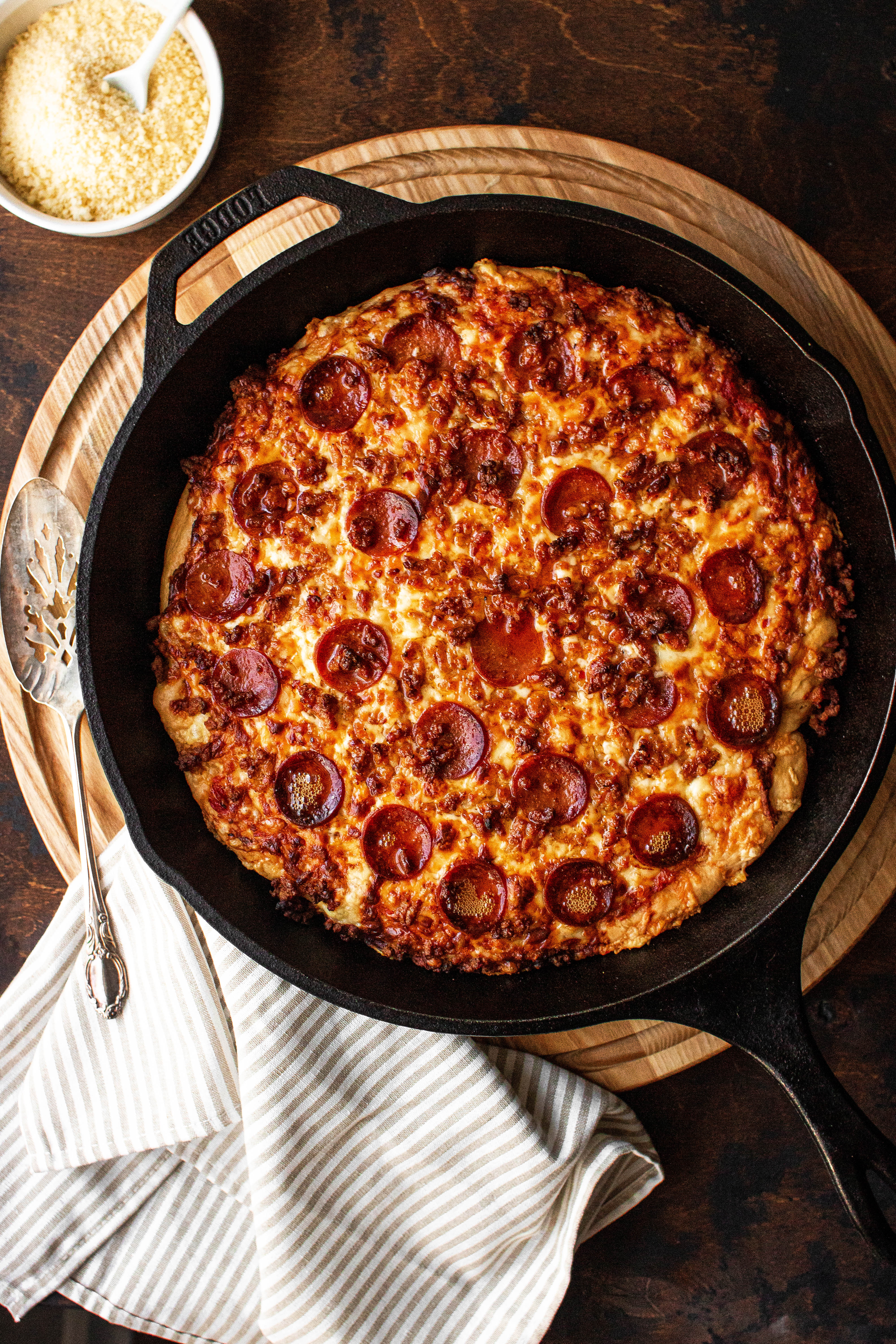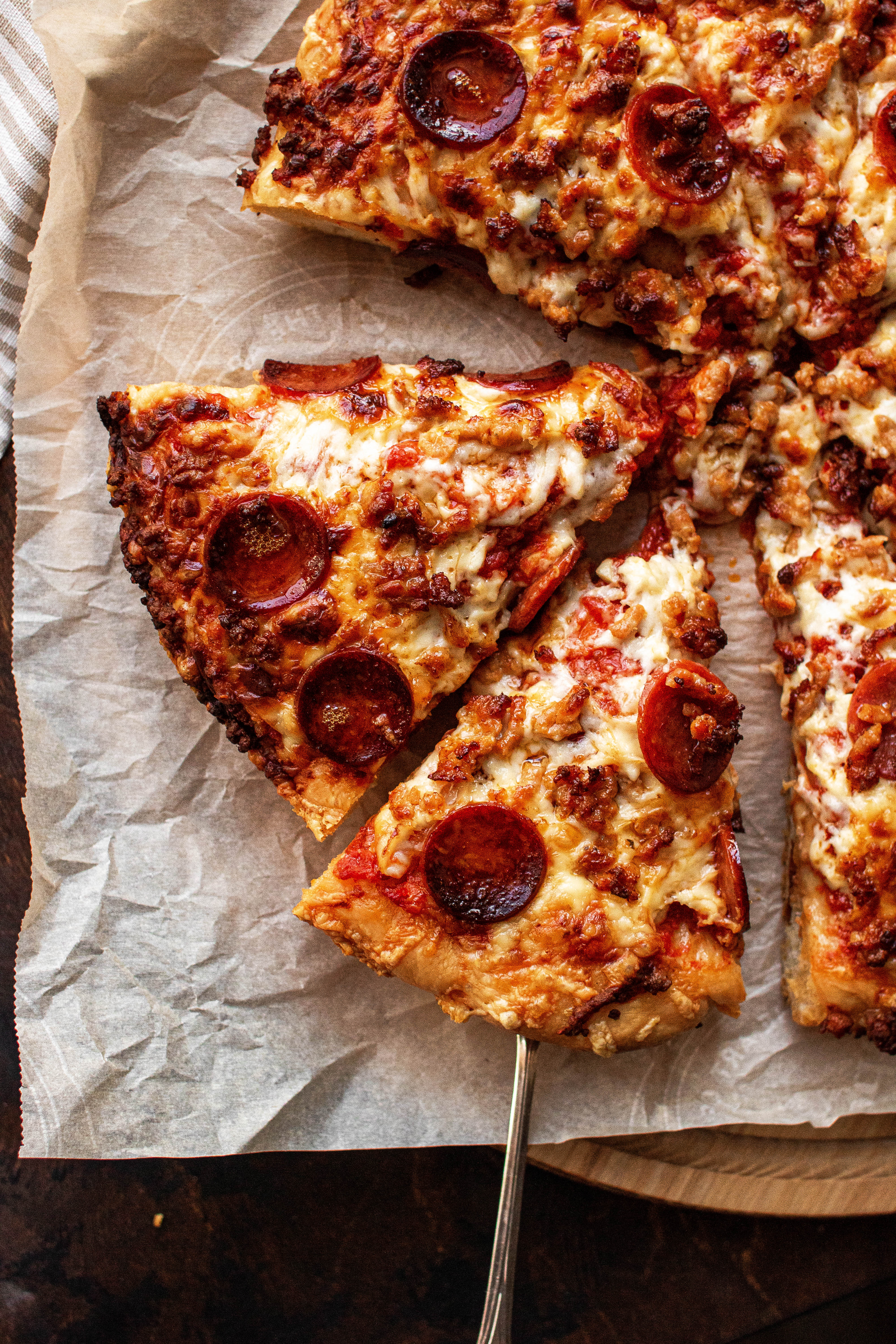 What is Skillet Pan Pizza?
The name is pretty self-explanatory, but it's pizza dough that is pressed into a skillet, topped, and baked in the oven at a high temperature to ensure a thick and crispy crust. My favorite part of this recipe is the crust–it's thick but chewy and just gloriously crispy on the bottom and edges.
It's an easy way to make pizza that doesn't involve shaping dough balls and there's not a pizza stone in sight. This is a great option for a weeknight dinner that will have your family singing your praises!
Is Pan Pizza the same as Deep Dish Pizza?
Sort of. I personally equate deep dish pizza with, like, true Chicago deep-dish pizza that's like 3″ deep. Also, the ingredients for a Chicago deep-dish crust are completely different. That being said, this pizza crust is certainly thicker than a NY-style pizza crust or a Neapolitan pizza crust and it's baked in what some people would refer to as a deep-dish skillet.
The beauty of a pan pizza is the way that the oil in the skillet crisps up the bottom and edges of the pizza, but leaves the inside of the crust chewy and flavorful. If anything, I would say this pizza crust is reminiscent of a Detroit-style pizza crust, but that's a story and a recipe for another day!
How to make Easy Skillet Pan Pizza
This recipe couldn't be easier to make, even on a weeknight!
Tools Needed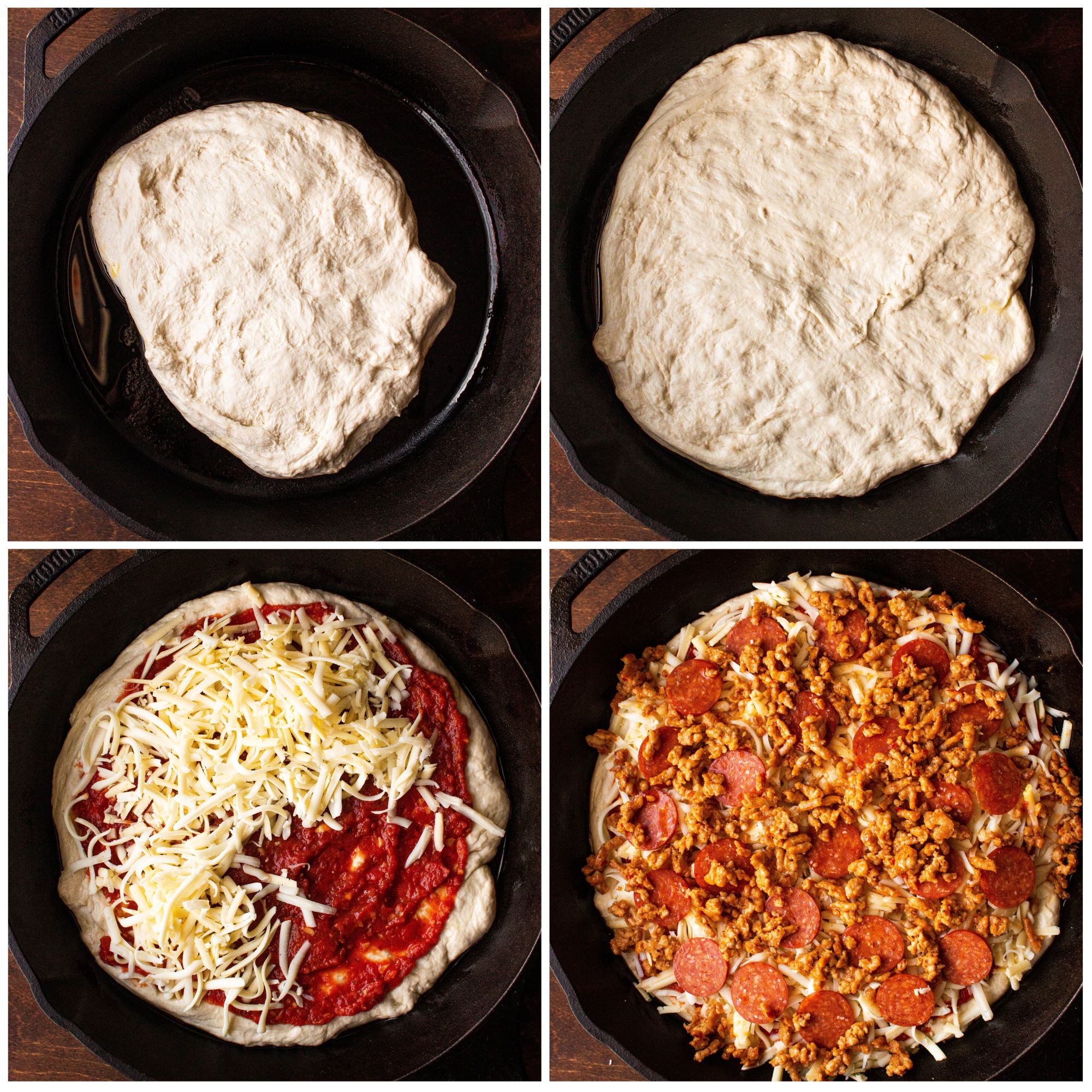 Shaping Skillet Pan Pizza
This is the super easy part, there's no real "shaping" required! Once the dough has risen and you're ready to bake, just press the dough into a skillet by stretching it. If the dough fights you a little, just give it a couple of minutes so that the gluten can relax, and stretch it some more. Once it's stretched to the edges of the skillet, you're done!
Can you use all-purpose flour in this recipe?
The short answer is yes, but it simply won't be the same so tread at your own risk. The beauty of the bread flour is the higher protein (read: gluten) percentage which yields a chewier/holier dough. As the dough rises, the trapped gases stretch the dough, creating strength, but also allowing the gasses to be trapped in the dough which yields a thick, but airy crust.
You will not get the same results from all-purpose flour, so it is best to seek out the high-gluten flour if it is available to you. My favorite brand is King Arthur Baking Co's bread flour and it's readily available at most grocery stores.
Can skillet pan pizza be made vegan?
Good news! My dough and sauce are ALREADY vegan. Just substitute your favorite plant-based toppings and you're ready to serve the best vegan pizza of your life!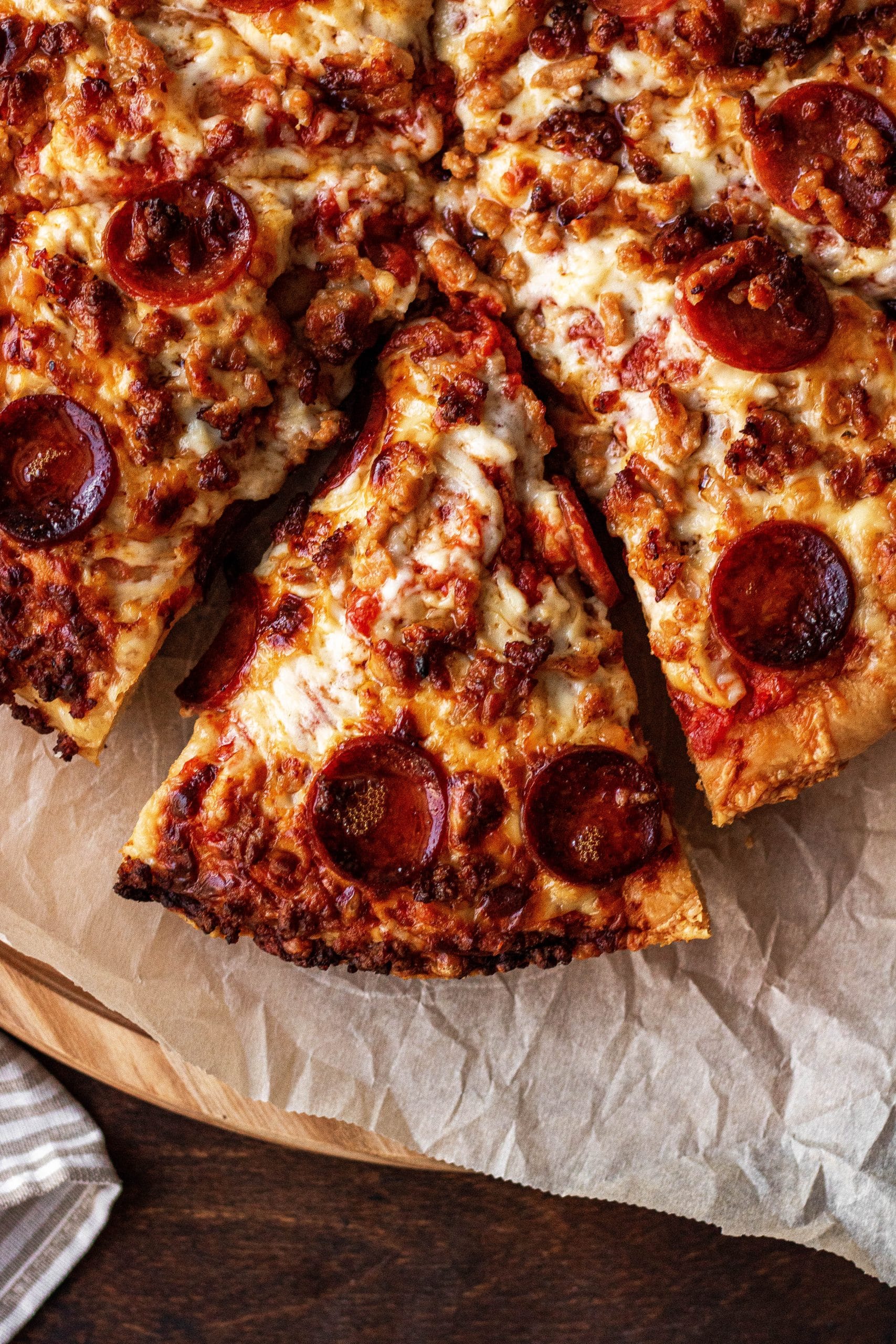 What's the best cheese to use on pizza?
This is honestly my favorite question. I've spent a lot of time and research trying to find the best blend of cheese for skillet pizza. You absolutely have to have mozzarella, of course. The caveat is to use whole milk, low moisture mozzarella cheese because it has so much flavor and it won't make the pizza soggy like fresh mozzarella.
I like to use some provolone for a bit of salt and funk because it has a flavor that reminds me of parmesan. And finally, I like to add in some fontina because it's a bit salty, but it also melts really well. I mix the three together and that's my signature pizza cheese blend! You can find all these cheeses at well-stocked grocery stores, Whole Foods, HEB, Trader Joe's, etc.
Can you use pre-shredded cheese?
PLEASE NO. Seriously, don't do it. It takes 5 minutes to shred your own cheese on a box grater. Better yet, get your partner or kids involved! My husband knows that if I'm making pizza, he's shredding all the cheese.
The reason that you don't want to use pre-shredded cheese is that it's coated in cellulose (read: wood pulp) so that the cheese doesn't clump together in the bag. Cellulose prohibits the cheese from melting as well as block cheese. Trust me here!
Can you use pre-made pizza sauce?
Of course! I'm biased, of course, but I love my recipe. It's easy to make, tastes better than the jarred stuff, and will last in the fridge for a week or the freezer for 3 months! Use whatever will make your life easier.
More Recipes to Try
This post contains affiliate links from which I receive a small commission at no additional cost to you. Affiliate links allow me to keep providing great recipes for free and I never recommend products that I don't love and personally own.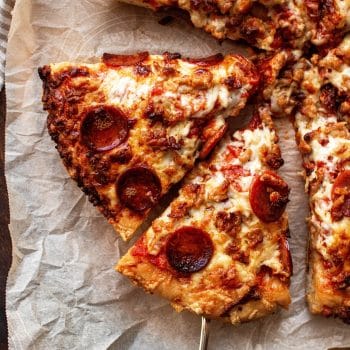 Easy Skillet Pan Pizza
This easy skillet pan pizza recipe will totally blow your mind! It's a pizza night staple in our house.
Ingredients
Pizza Dough:
2 3/4

cups

(375 g) bread flour

3/4

teaspoon

(6 g) kosher salt

1 1/4

teaspoons

(4 g) active dry yeast

2

tablespoons

(25 g) olive oil

1

cup

+ 1 Tablespoon

(245 g water), at room temperature
Pizza Sauce:
2

tablespoons

olive oil

3

cloves

garlic

minced

1

teaspoon

dried oregano

1/2

teaspoon

crushed red pepper flakes

28

oz

can crushed tomatoes

2

teaspoon

sugar

Kosher salt

Freshly ground pepper
Toppings:
1

cup

shredded whole milk

low moisture mozzarella

1/2

cup

shredded fontina cheese,

grated

1/2

cup

shredded provolone cheese,

grated

2

oz

pepperoni slices

(natural casings are best)

2

spicy Italian sausages,

meat removed from casings

freshly grated parmesan,

for sprinkling

more olive oil,

for the skillet
Instructions
In the bowl of a stand mixer, combine flour, salt, and yeast and stir to combine. Pour water and olive oil over the top and mix with the dough hook until combined, about 2-3 minutes. Transfer to a greased bowl or large plastic container, cover with a lid or plastic wrap, and let rise at room temperature for 6-8 hours. This is important for developing flavor, don't rush the process!

While the dough proofs, make your sauce. In a medium saucepan, heat olive oil over low heat. Add garlic, oregano, and crushed red pepper and cook for 1 minute, stirring constantly. Add crushed tomatoes and sugar. Cook over medium heat, stirring occasionally, until thickened and darker in color, about 15 minutes. Season to taste with salt and pepper. Cool to room temperature before using, can be stored in the fridge for up to 1 week.

Mix the cheeses together in a bowl and gather other pizza ingredients. In a small skillet over medium heat, add the Italian sausage and cook until browned, breaking it up into pieces as it cooks. Set aside.

Drizzle 2 tablespoons of olive oil into a 12-13 inch cast iron skillet or cake pan, turning to evenly distribute the oil. Remove the proofed dough from its container and press it into the skillet. If the dough won't stretch to the edges, give it 5 minutes for the gluten to relax and then continue stretching. Once it reaches the edges, cover it with plastic wrap, and allow it to rise for 20 minutes.

Preheat an oven to 500 degrees F. Spread the top with the tomato sauce. Sprinkle with cheese and top with pepperoni and sausage crumbles. Sprinkle the top with dried oregano if desired. Bake for 20-25 minutes until the top is browned and when lifted with a spatula, the bottom is golden brown.

Remove pizza from the oven. Allow it to cool for 5 minutes or so then transfer to a cutting board and cut into slices. Sprinkle with parmesan cheese if desired.
Notes
The dough will be a bit sticky, use lightly oiled hands when handling the dough and a generous amount of olive oil when pressing it into the skillet. 
Depending on the size of your skillet (I use a 13.5"), you may have extra dough. Any extra dough can be used for a second pizza or oiled and stored in an airtight container in the fridge to be used within 2 days. 
You might also like...