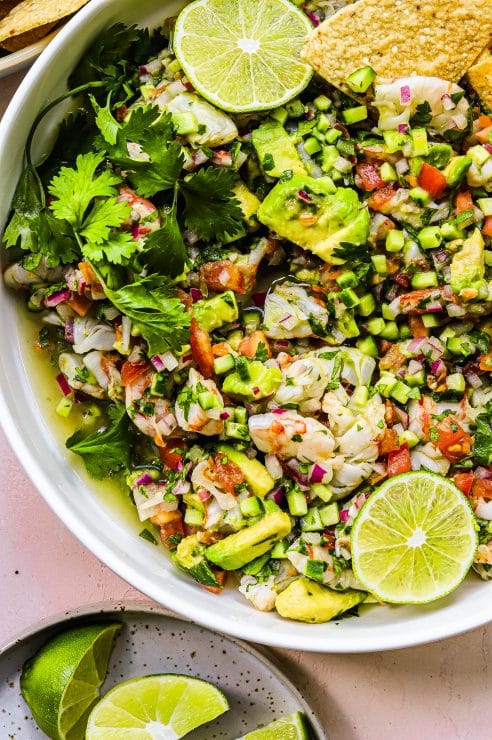 Spicy Shrimp Ceviche
Spicy Shrimp Ceviche
I'm holding onto summer recipes for as long as I can and this spicy shrimp ceviche recipe is at the top of my list! It's light, fresh, healthy, and comes together so quickly and easily. Lots of tender shrimp mixed with tomatoes, onion, cucumber, cilantro, lime juice, avocado, and a little habañero for spice. My favorite part is that you don't have to turn on the oven to get dinner on the table. Salud!
History of Ceviche
Peru's national dish is Ceviche: a traditional dish of fish cured in fresh citrus juices. Peruvian ceviche is typically made with firm white fish and flavored with onions, cilantro, and some chile pepper for heat. North and Central America, as well as the Caribbean, all have their own versions of ceviche. Mexican ceviche can be shrimp, octopus, scallops, or fish, with avocado, onions, cilantro, and chile peppers. The most important part of great ceviche is using fresh fish for the recipe.
How to Make Spicy Shrimp Ceviche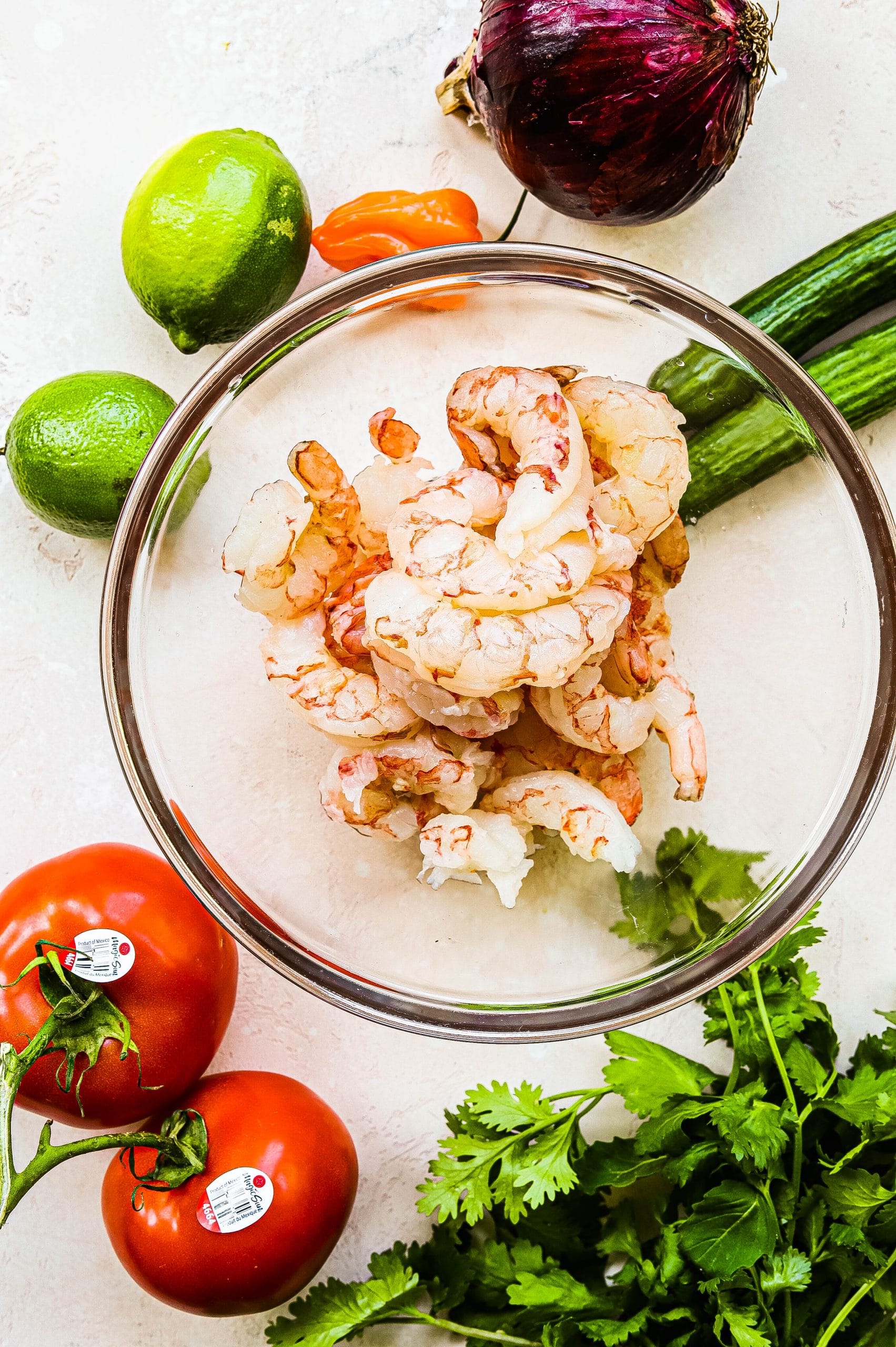 Ingredients You'll Need
Shrimp. Using fresh shrimp is of the utmost importance! Make sure your shrimp smells fresh and buy from a reputable source. Raw fish should always be stored on ice at the store.
Lime juice. Lime juice is key here! Always use fresh lime juice, nothing from a little green bottle sitting on the shelves at the store. Lime juice "cooks" the shrimp and adds flavor.
Veggies. I'm using tomato, cucumber, red onion, and avocado here, but you can swap in your favorite ingredients. I love ceviche because it's so easy to customize.
Cilantro. Cilantro is a must here because it adds so much freshness to the ceviche.
Habañero. Habañero is a small, spicy orange pepper. It has a fruity flavor that I love for ceviche. While it is spicy, the lime juice helps temper the heat of the habañero. If you want to tone the heat down a bit, swap in jalapeño or serrano.
Tools Needed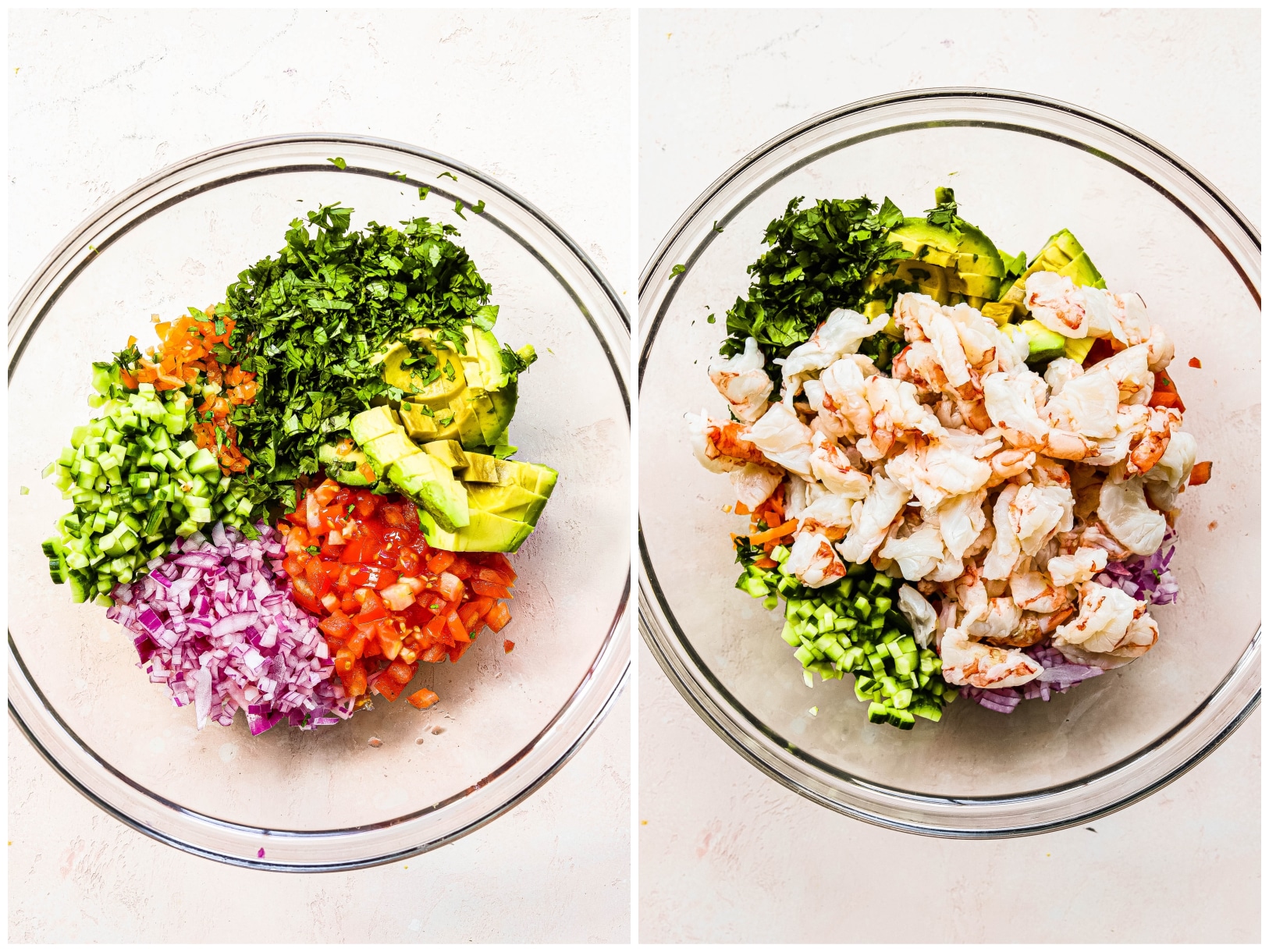 How to prepare spicy shrimp ceviche
Prepare your shrimp. I personally like to halve my shrimp lengthwise to help stretch the shrimp. They also cook faster this way. In any case, you want your shrimp in bite-sized pieces.
Marinate. The shrimp will marinate solo in a portion of the lime juice for about 15-20 minutes, just until they're opaque.
Chop your veggies. While the shrimp marinates, chop up all your veggies and set them aside.
Combine. Drain the lime juice from your shrimp and then combine it with your chopped veggies, cilantro, and habañero. Add a bit more lime juice, some olive oil, and season to taste with salt and pepper. Serve with tortilla chips or on a tostada.
FAQs about Spicy Shrimp Ceviche
Is shrimp ceviche raw or cooked?
Technically, it's both! As the pieces of fish sit in the marinade, the citric acid from the juice slowly causes the flesh's proteins to denature, in very much the same way that heating will. The result is raw fish with an opaque appearance and firmed texture of cooked fish.
Is ceviche safe to eat?
There is always a very small assumed risk when eating technically raw seafood like oysters, sashimi, carpaccio, etc. Be sure to purchase your seafood from a reputable source–somewhere clean and tidy that stores their fish on ice. When preparing spicy shrimp ceviche, make sure your workstation is clean and that your shrimp stays very cold. Ceviche should always be served right away–it's not a dish to be made ahead.
Can you freeze shrimp ceviche?
Definitely no. The longer the shrimp sits in the lime juice, the more the proteins in the shrimp break down. Ceviche needs to be served ASAP so that the shrimp doesn't turn mushy and inedible. I only make enough to accommodate the number of people eating and no more.
Can shrimp ceviche be made ahead of time?
Again, no. You can chop your veggies ahead of time and chop up your shrimp, but keep them separate. 20 minutes before serving, mix your shrimp with the lime juice for 20 minutes, then drain, mix with the veggies, and finish the recipe as written. If the shrimp sits in lime juice for too long, it'll become mushy and unpleasant to eat.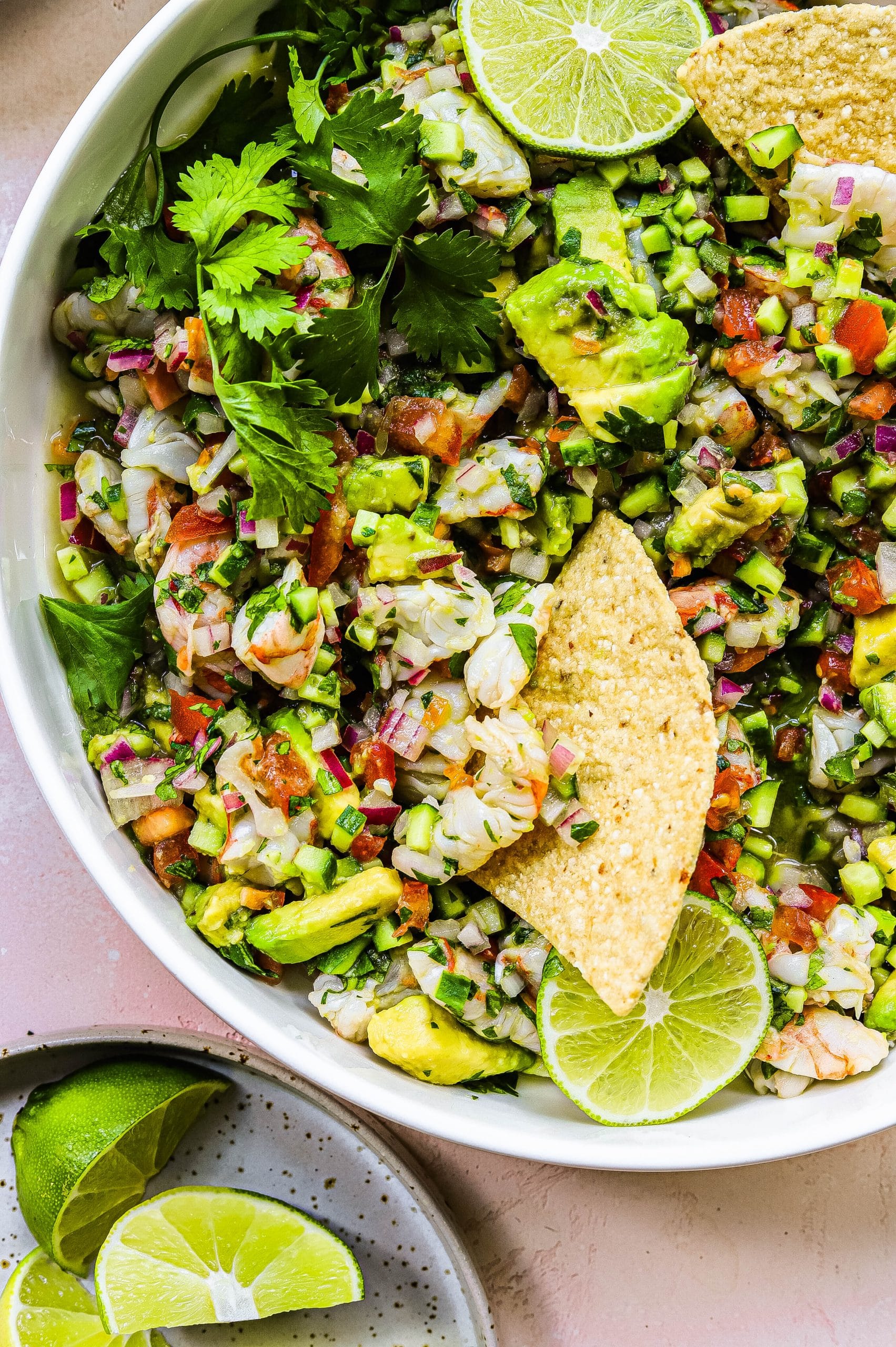 More Seafood Recipes to Try
This post contains affiliate links from which I receive a small commission at no additional cost to you. Affiliate links allow me to keep providing great recipes for free and I never recommend products that I don't love and personally own.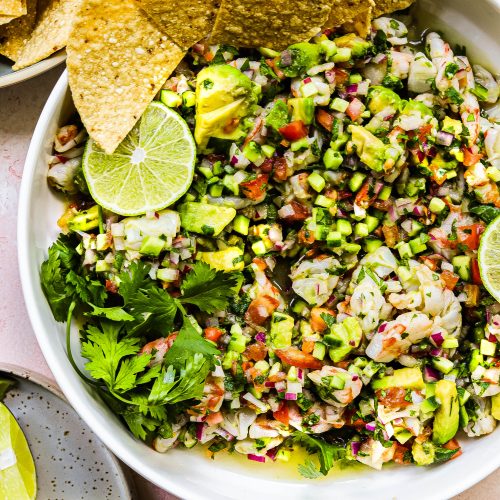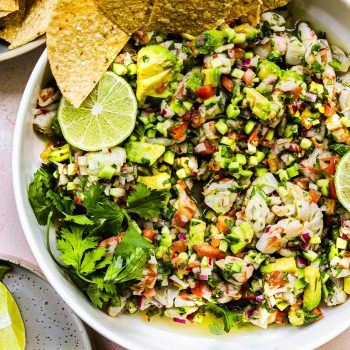 Spicy Shrimp Ceviche
Spicy shrimp ceviche is a fresh and simple appetizer for any gathering. Loads of tender shrimp mixed with tomato, onion, cucumber, cilantro, avocado, habañero, and fresh lime juice for a healthy dinner or appetizer.
Ingredients
1 1/2

lbs.

raw 21-25ct shrimp

peeled, deveined, and cut into bite-sized pieces

3/4

cup

freshly squeezed lime juice

divided

1

beefsteak tomato

finely diced

2

Persian cucumbers

finely diced

1/2

red onion

finely diced

1

avocado

diced

2

habañero peppers

seeds removed and minced

1/3

cup

minced cilantro leaves

2

tablespoons

olive oil

Salt and pepper to taste

Tortilla Chips

for serving
Instructions
Combine shrimp in a non-reactive glass bowl with 1/2 cup lime juice. Cover with plastic wrap and transfer to the fridge for 20 minutes. After 20 minutes, the shrimp should be opaque.

Drain lime juice from the shrimp and toss it with the remaining ingredients. Season to taste with salt and pepper. Serve immediately with tortilla chips.
Notes
Use very fresh shrimp for this recipe.
Make just enough to serve, and serve immediately. Ceviche doesn't hold well.
Nutrition
Serving:
1
cup
Calories:
230
kcal
Carbohydrates:
5
g
Protein:
9
g
Fat:
6
g
You might also like...