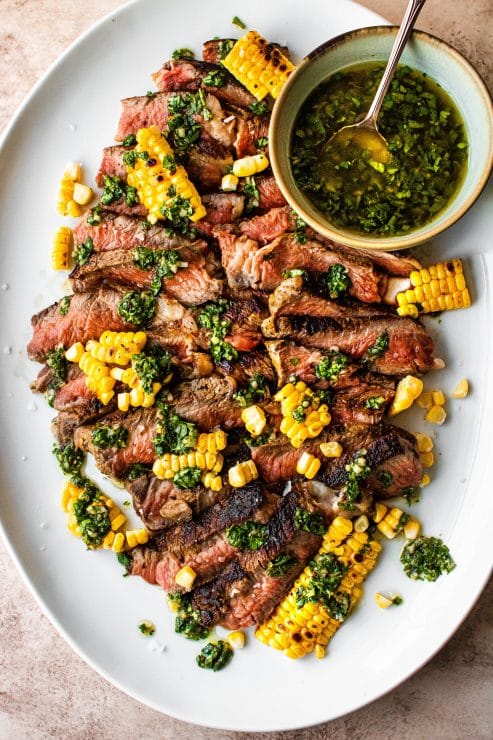 Grilled Ribeye with Chimichurri Sauce
Grilled Ribeye with Chimichurri Sauce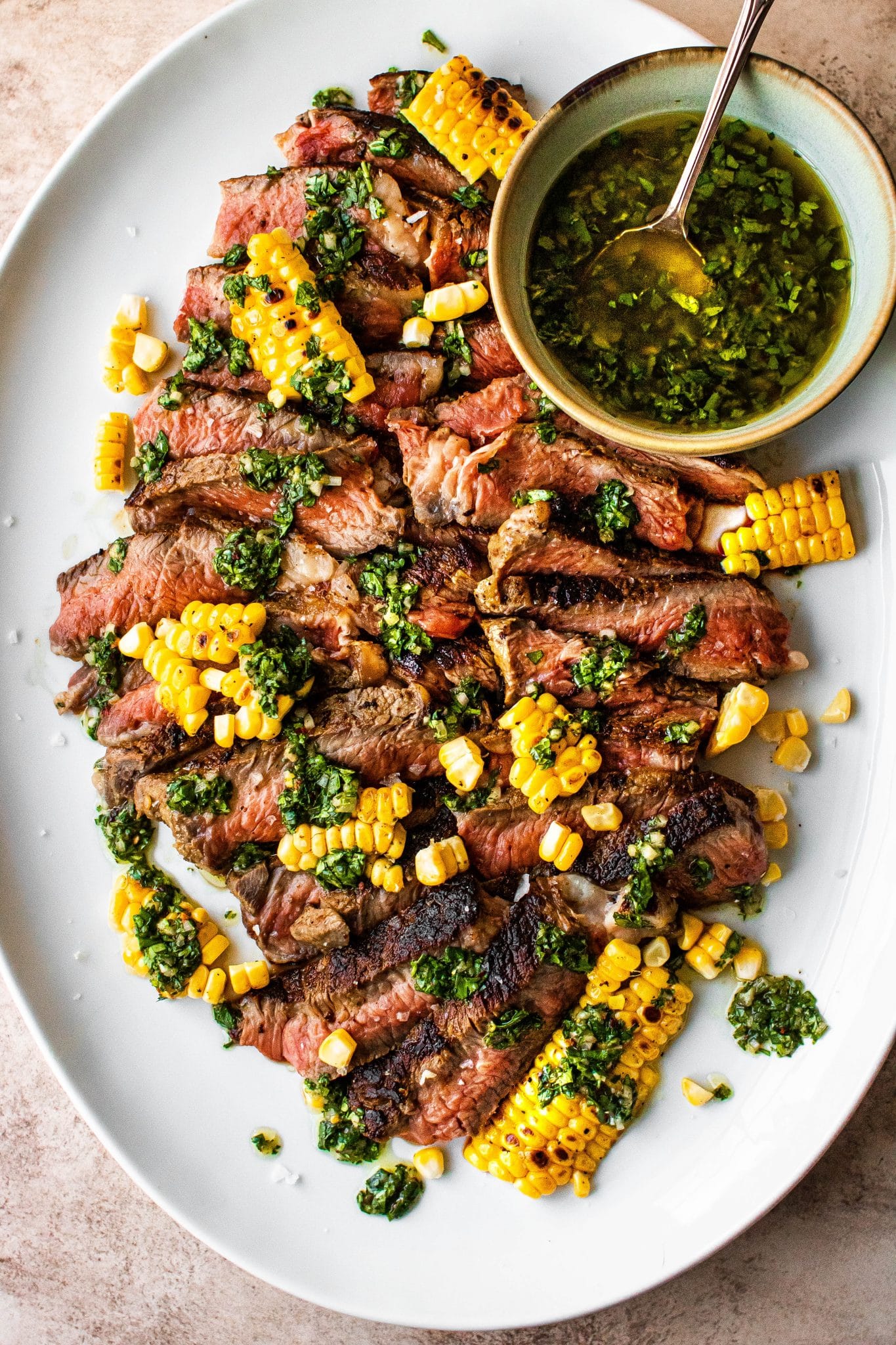 Grilled ribeye with chimichurri sauce is a favorite in our household–it's light, fresh, and so easy to throw together. The best part? It looks impressive and only requires about 30 minutes before you've got dinner on the table.
We usually serve it with grilled veggies and maybe grilled potatoes when we want an easy meal that can all be made on the grill. It would also be delightful as a sandwich on a ciabatta roll with tons of this glorious chimichurri sauce. Hello, Summer!
What is chimichurri?
Chimichurri is both a sauce and a marinade comprised mostly of fresh herbs (typically parsley) and lots of olive oil predominantly seen in Argentinian, Paraguayan, and Uruguayan cuisine. Chimichurri can be spooned or basted onto meat as it cooks, or used as a condiment for the finished product.
It's a fresh and delicious sauce that can go on tons of grilled proteins like shrimp, chicken, fish, and even grilled veggies. This is my particular version that I've created over the years and may deviate from a "traditional" chimichurri but I absolutely love it.
Ingredients in Chimichurri sauce
Parsley: finely chopped parsley is the base of this sauce! Be sure to use Italian flat-leaf parsley instead of curly, as it has way more flavor.
Cilantro: I use equal parts of finely chopped parsley and cilantro for a super fresh sauce. If you don't like cilantro, use all parsley.
Shallot and garlic: finely minced shallot and garlic add so much flavor to this sauce and make it perfect for grilled meats.
Thai Chili: a finely minced Thai chili adds a tiny bit of heat to this sauce for balance. You can substitute 1 teaspoon of crushed red pepper flakes.
Red Wine Vinegar: this adds acidity and balance to the sauce! You can swap in sherry vinegar as well.
Dijon Mustard: not traditional, but helps emulsify the sauce a bit and adds a bit of tangy bite.
Olive Oil: be sure to use high-quality extra virgin olive oil!
How to make Grilled Ribeye with Chimichurri
I never use a food processor to make my chimichurri! Some recipes call for it, but I find that you bruise the leaves of the herbs a bit too much which can make them bitter and cause them to lose their color. I always chop everything by hand and then gently stir everything together with olive oil. Chimichurri is such an easy sauce to make as it basically requires just mixing everything together in one bowl and serving over the grilled sliced steak.
To make a really great steak, I bring them out of the fridge about an hour before I'm ready to cook. I use a simple mixture of kosher salt, freshly ground pepper, garlic powder, and a bit of Worcestershire as a quick marinade all over the steaks.
Then, I throw them on the grill (or in a cast iron pan) for 3-4 minutes per side, depending on their thickness, and I always use a meat thermometer to ensure that they're a perfect medium-rare/medium.
Pull the steaks when they're between 130-135 degrees F and allow them to rest for 10 minutes, lightly tented with foil, before slicing and serving. There is a bit of "carry over" cooking while they rest, so if you like yours rarer, pull them a little sooner.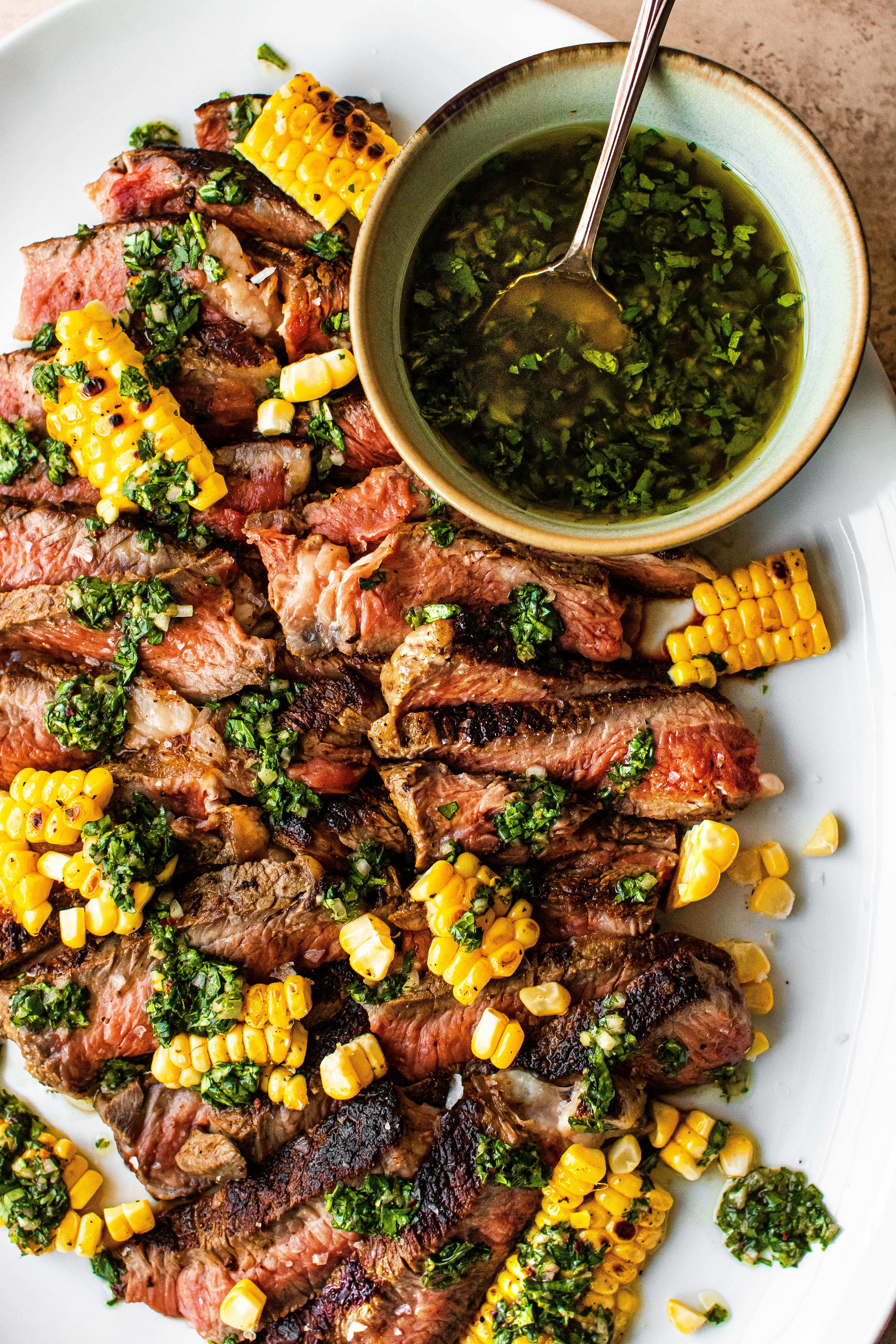 Selecting steaks for Grilled Ribeye with Chimichurri
I love a good ribeye steak! They are a bit fatty, but that means they're chock full of flavor. I usually opt for at least a "choice" cut because they have better marbling and are more affordable than prime steaks. You're looking for a steak that is at least 1 1/4″ thick, maybe a little thicker. If ribeye isn't your favorite cut, I am also partial to NY strip steaks, flat irons, and flank steak for this recipe. Use your favorite cut!
Differences between select, choice, and prime steaks
The biggest difference between the three classes of meats is the fat content. Select steaks are the leanest, making them a little tougher and less flavorful. The more fat marbling a steak has, the more tender and flavorful it will be. As I mentioned above, I usually opt for choice steaks since they are more affordable than prime but more flavorful than select.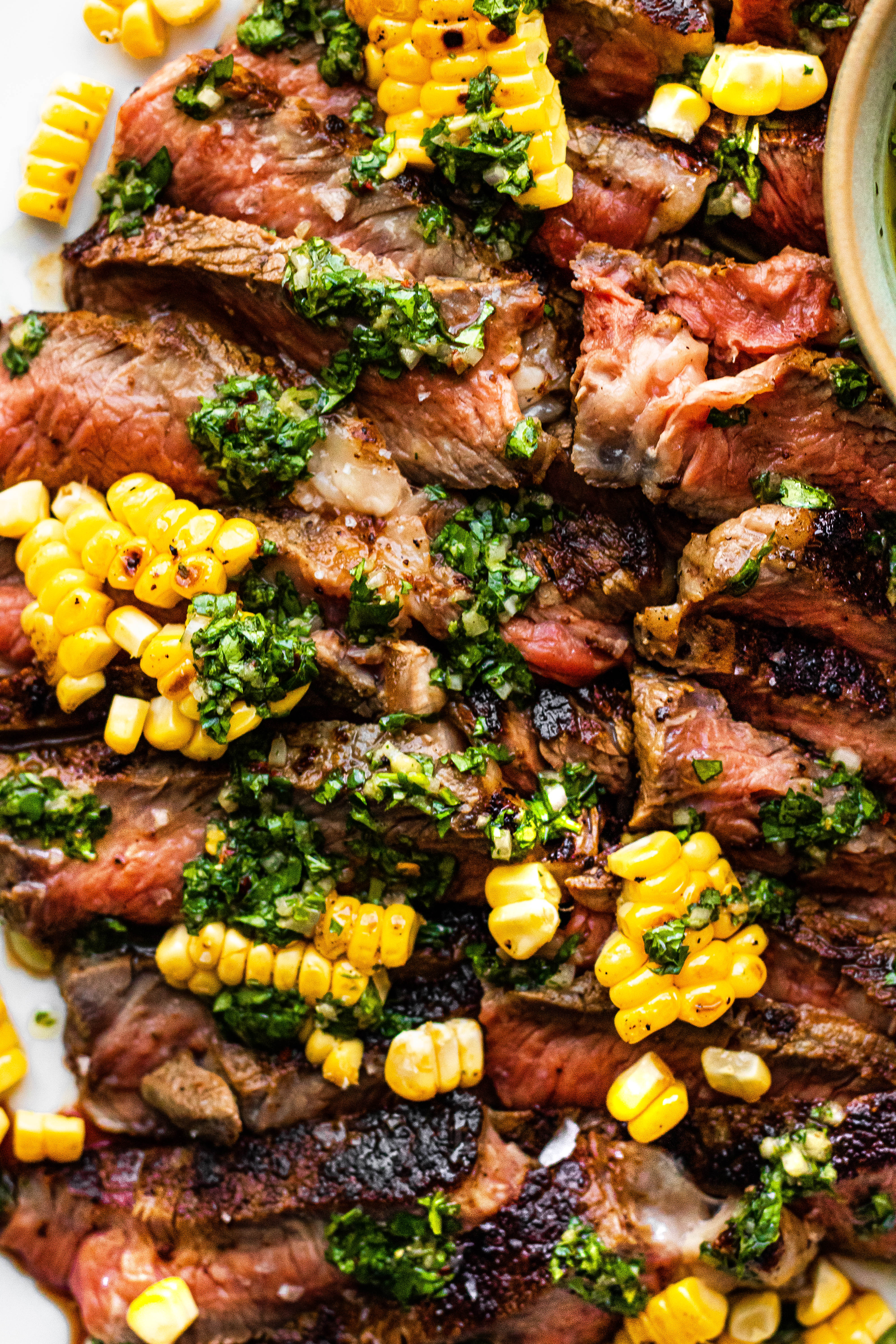 Can chimichurri be made ahead of time?
I like to make my chimichurri at the same time that I bring my steaks out of the fridge, about an hour before I cook. This allows the flavors to really meld together for a balanced and flavorful sauce.
In terms of storage, chimichurri will keep in the fridge in an airtight container for up to 3 days. As long as I'm using enough olive oil to cover the herbs, I find that my sauce stays green for that duration!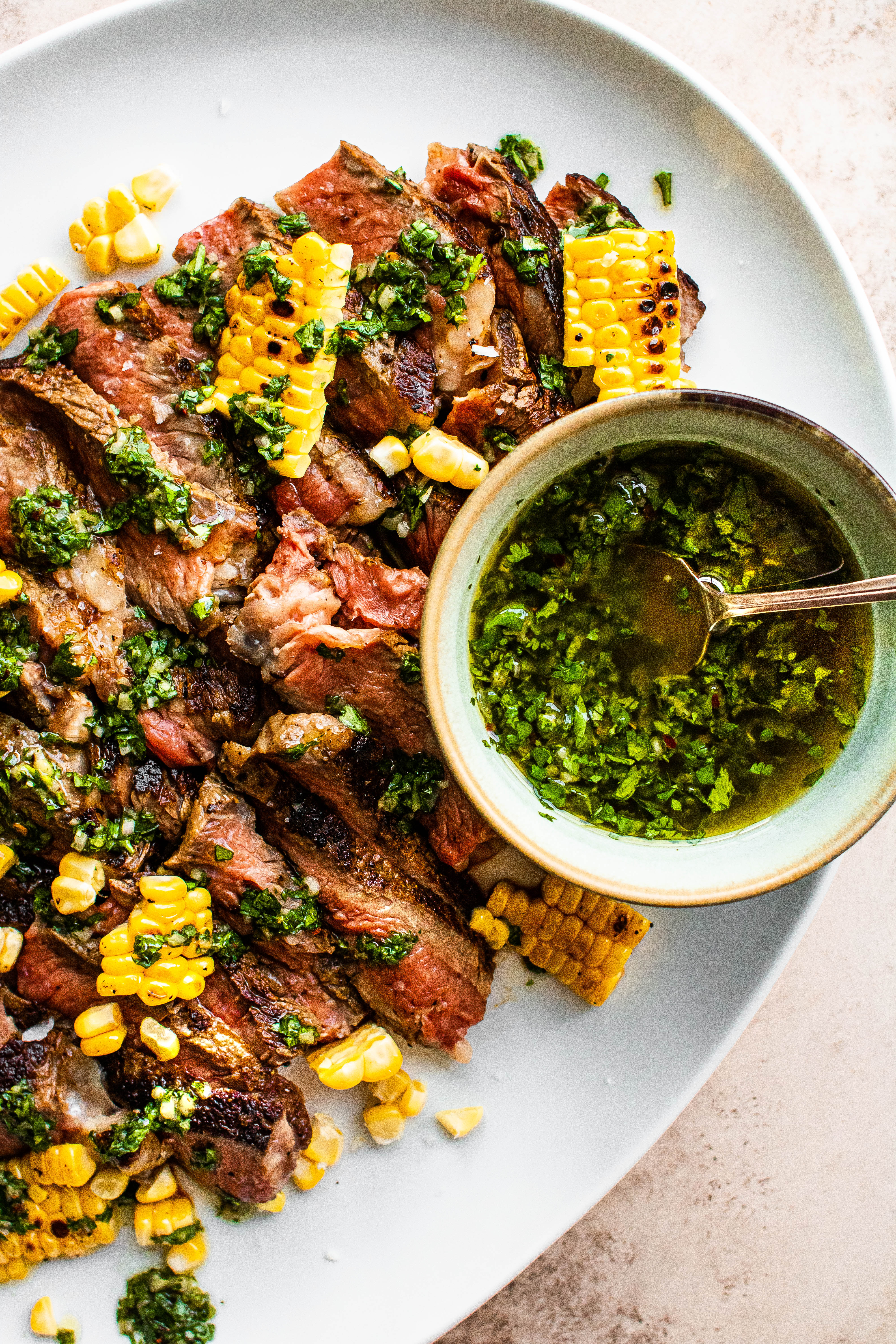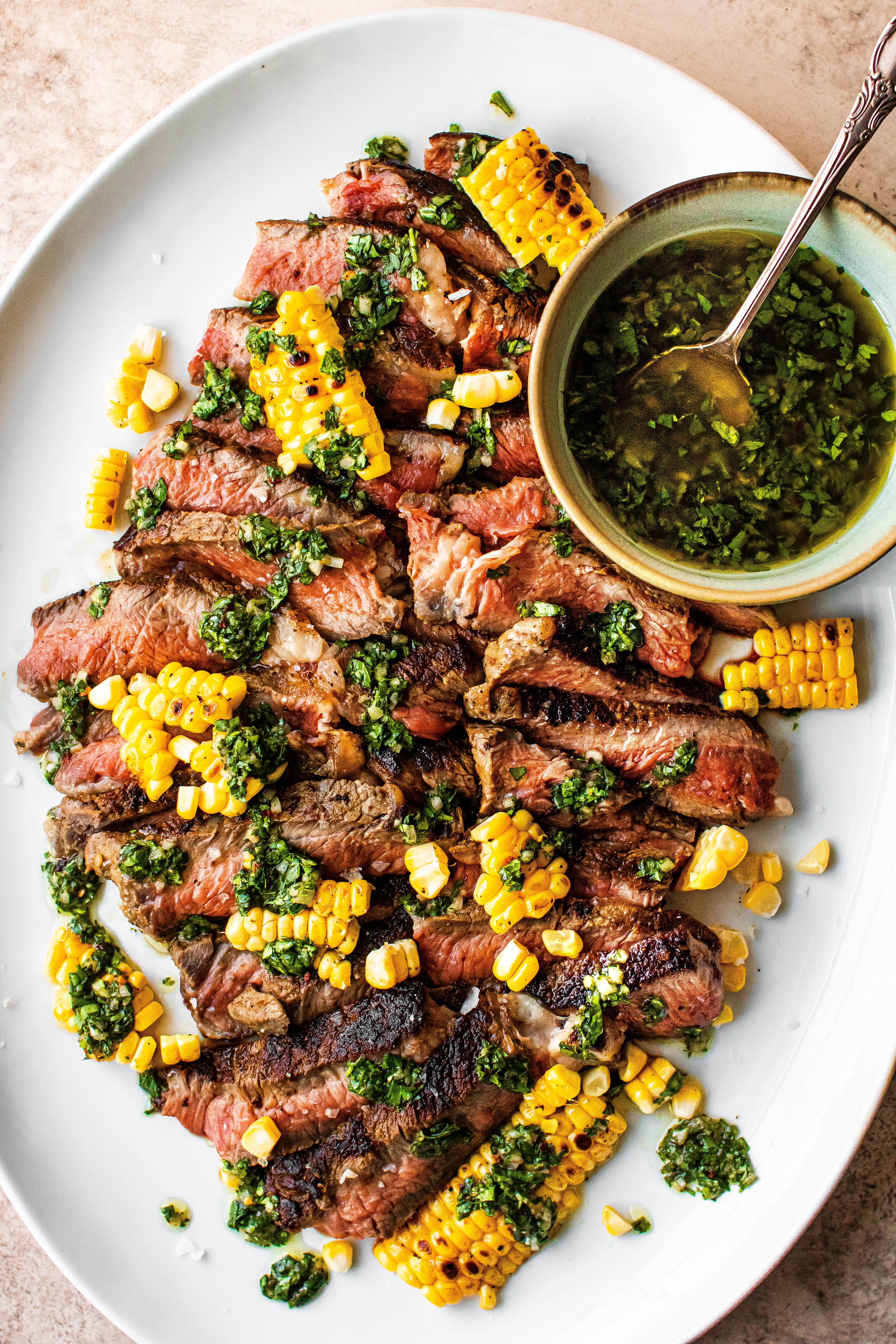 More Beef Recipes to Try
This post may contain affiliate links from which I receive a small commission at no additional cost to you. Affiliate links allow me to keep providing great recipes for free and I never recommend products that I don't love and personally own.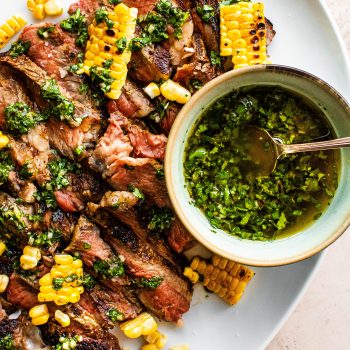 Grilled Ribeye with Chimichurri Sauce
Grilled ribeye is one of my favorite weeknight meals and the fresh, herby chimichurri sauce totally makes the dish!
Ingredients
Steak:
2 12-14

oz

ribeye steaks

choice or prime

Kosher salt

Freshly ground black pepper

Granulated garlic

2-3

tablespoons

Worcestershire sauce

1

ear yellow corn

shucked (optional)

Flaky sea salt
Chimichurri Sauce:
1

bunch flat-leaf parsley

leaves and small, soft stems only, finely chopped

1

bunch cilantro

leaves and small, soft stems only, finely chopped

2

cloves

garlic

finely minced

1

Thai chili

stem removed and finely minced (or 1/2 - 1 teaspoon of crushed red pepper flakes)

2

teaspoons

honey

1

small shallot

peeled and very finely diced

1

teaspoon

dijon mustard

2

tablespoons

red wine vinegar

1/2

teaspoon

lemon zest

optional

High-quality extra virgin olive oil

Kosher salt

Freshly ground pepper

to taste
Instructions
In a small bowl, combine all the ingredients for the chimichurri sauce and enough oil to cover (I find that I need about a cup or so). Gently stir to combine all the ingredients and season to taste with salt and pepper. It should be a sauce and drizzle-able consistency, so add olive oil as needed. Set aside.

An hour before you're ready to cook, remove your steaks from the fridge. Liberally season all over with kosher salt, freshly ground pepper, and a bit of granulated garlic. Rub the seasoning into the steak and then drizzle them with the worchestershire sauce. Allow them to sit at room temperature until you're ready to cook.

Preheat a grill or cast iron skillet until hot. Season your corn with a bit of olive oil, salt and pepper. Cook 3-4 minutes per side (looking for an internal temperature of 130-135), try not to move it too much so it gets a nice crust/grill marks. Cook your corn while you cook the steak for a couple of minutes per side, until the kernels have a bit of color. Transfer to a plate and lightly tent with foil. Rest for 10 minutes before slicing.

Slice the kernels off the corn cob and arrange them over the sliced steak. Sprinkle with flaky salt and drizzle with the chimichurri sauce.
You might also like...