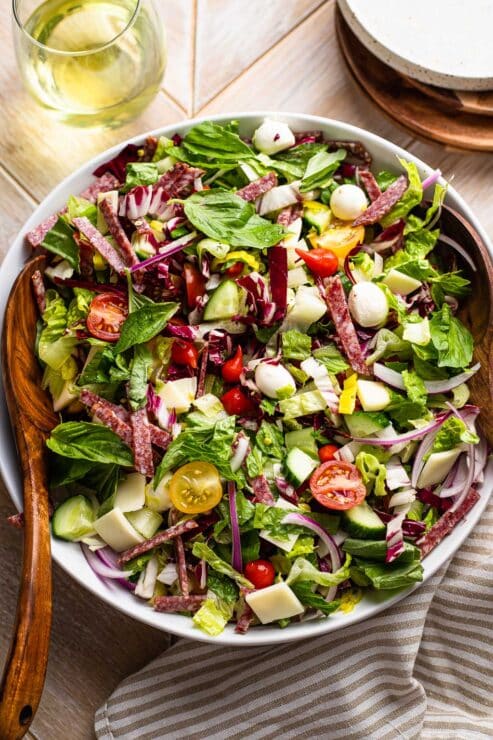 Italian Chopped Salad
Italian Chopped Salad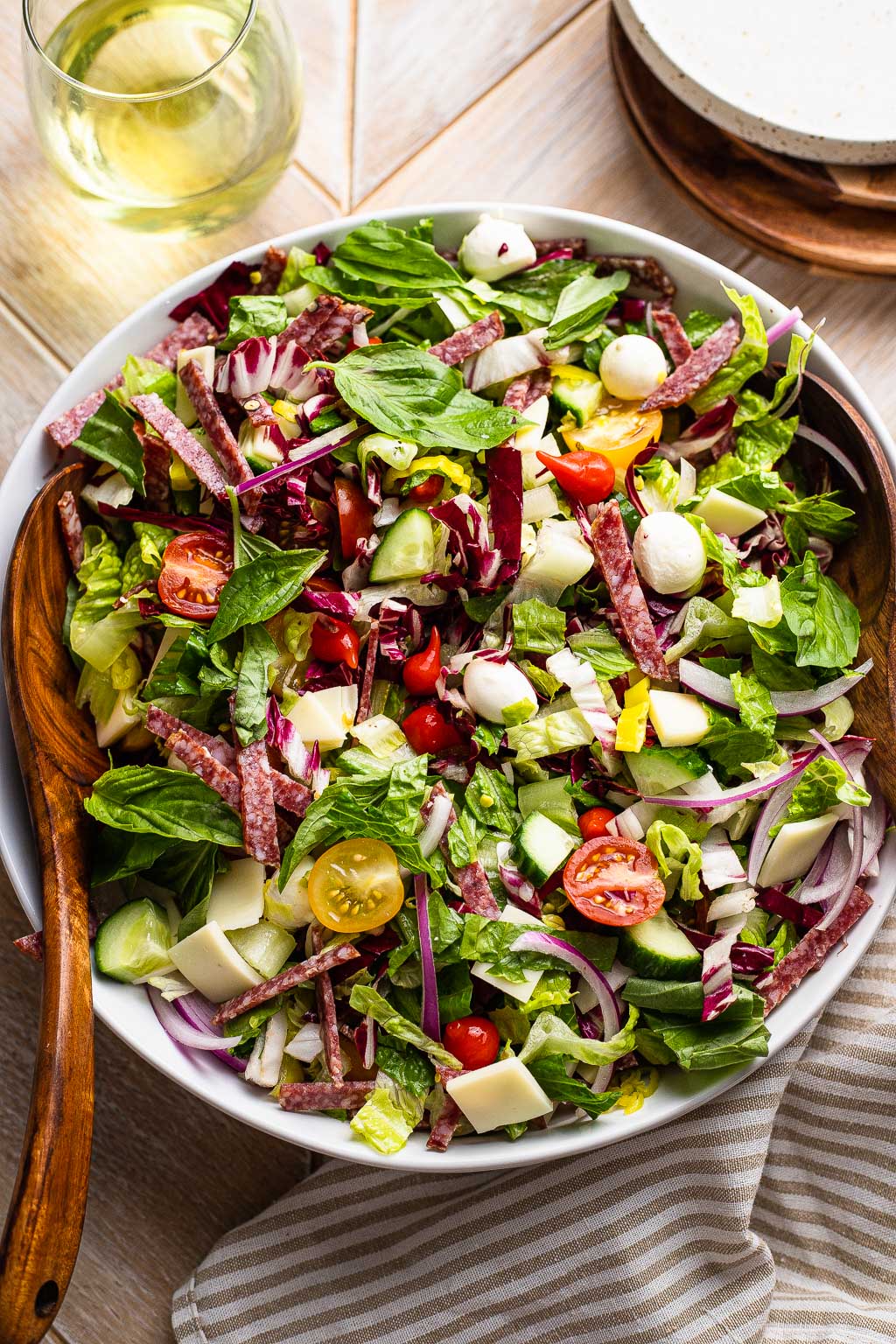 This Italian Chopped Salad is brimming with mozzarella, salami, peppers, tomatoes and olives, plus a zesty lemon herb vinaigrette! There's a reason why Italian Chopped salad is so popular! This is one of my favorite salad recipes and it's an easy go-to on busy weeknights.
I don't know about you, but I live for recipes where I don't have to touch the oven. This salad is equal parts hearty and full of flavor, while still feeling light and fresh. This is my go-to salad recipe to pull out whenever I have company! It's the perfect starter for so many dinners.
Italian Chopped Salad: A Dinner-Worthy Salad
I love a salad for dinner, but I'm only into hearty and interesting salads! Salads with texture and full of flavor. I love this Italian Chopped Salad because you can really load on the toppings here.
If you think that a salad for dinner won't be filling or satisfying enough, I urge you to give this recipe a try! Load the salad up with as many toppings as you want! The combination of bold flavors and texture really leaves you feeling sated. The blend of romaine and radicchio along with so many flavorful toppings makes this Italian Chopped Salad truly special.
The vinaigrette is my favorite dressing recipe to keep on hand! It's the perfect blend of olive oil, vinegar, lemon juice, and herbs and is perfect on so many salads. If you love salads too, check out my THAI BEEF AND NOODLE SALAD or my VIETNAMESE CHICKEN SALAD.
Why You'll Love this Recipe
Easy – This recipe is so easy to throw together any night of the week! While it requires a bit of chopping, this salad can easily be made in advance and only takes about 20 minutes to throw together.
Great for Entertaining – This is a truly impressive and flavorful salad! It's the first recipe I pull out when company comes to call. It's chock full of flavor and textures and feels restaurant-quality while being really simple to throw together. Everyone needs an easy recipe that looks like it took tons of work!
Customizable – This Italian Chopped Salad is so easy to adapt to your tastes. You only need a handful of ingredients and can make substitutions for most ingredients. There are so many toppings options and you can pick and choose your favorites. You could also bulk this salad up with some grilled chicken to really make it a whole meal.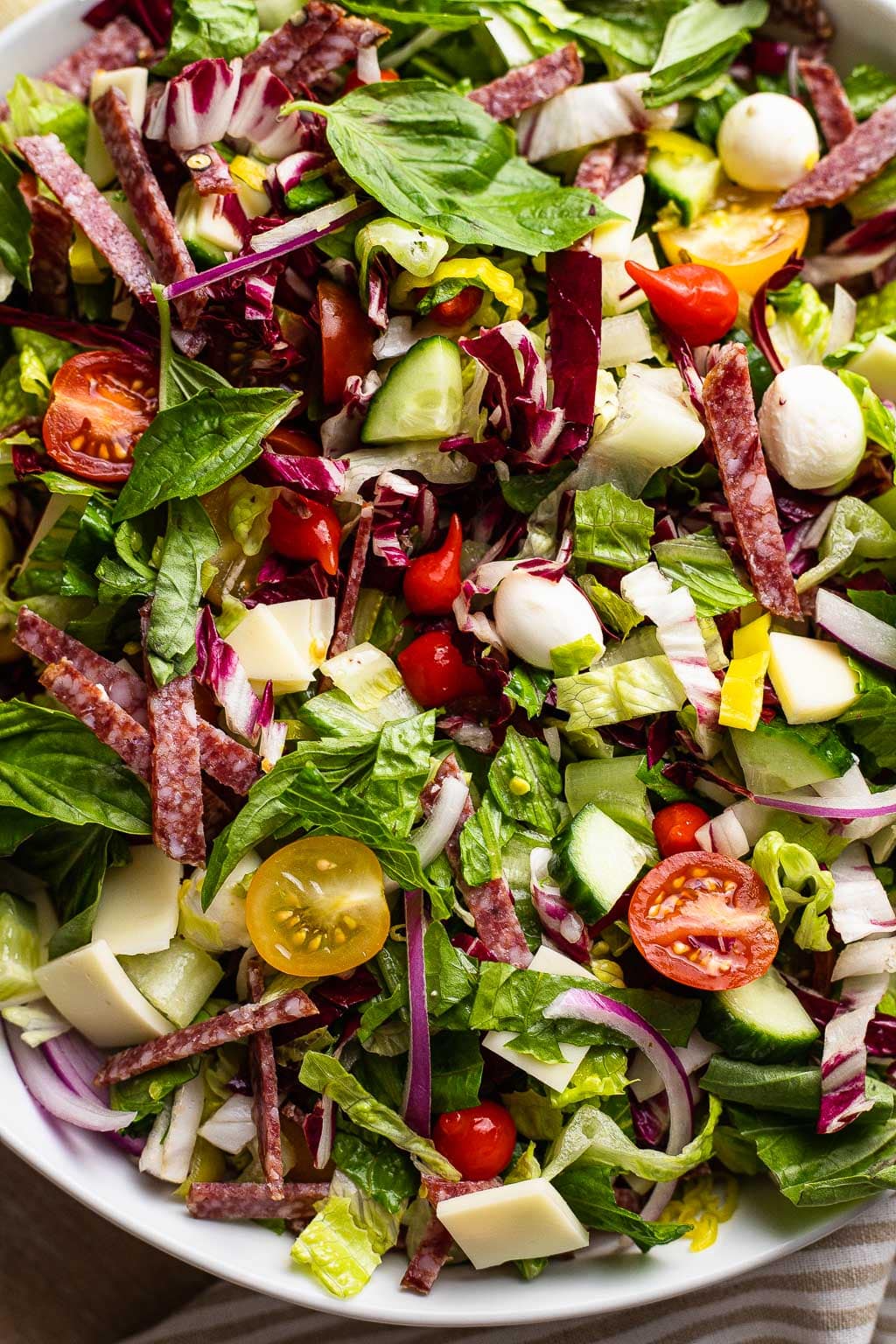 How to Make an Italian Chopped Salad
You can whisk the dressing by hand, but I recommend an immersion blender for ease!
Tools Needed
Ingredients and Substitutions
Greens. I used a mix of romaine and radicchio for this recipe, but you could also add in some arugula or even iceberg lettuce for crunch.
Cheese. More cheese is better, right? I used both chopped up provolone, mini mozzarella balls, and finely grated parmesan.
Salami. Thinly sliced salami adds great flavor and texture. Use your favorite here! I went with spicy soppressata.
Veggies. Red onion, cherry tomatoes, and chopped cucumber add flavor and crunch.
Pickled peppers. I went with pickled teardrop peppers for some sweet heat and pepperoncini. Pick your favorites!
Olives. Kalamata and green olives work great.
Fresh basil. Torn fresh basil leaves add lots of fresh flavor to the Italian Chopped Salad.
Dressing. This lemon-herb vinaigrette is so easy to mix up! I love having it on hand for salads, but you can use any vinaigrette you like, store-bought or homemade.
The Process
Step one: Combine all the dressing ingredients in a mason jar, cover, and shake really well until the dressing is emulsified. I like to use an immersion blender here, but a mason jar is the easiest way to mix the dressing and also store it.
Step two: Chop all your veggies up! Shred the romaine and radicchio into bite sized pieces. Then, chop the tomatoes and cucumber, slice the onions, and get the toppings together.
Step three: Assemble! Mix your greens with chopped veggies and other ingredients and then toss with dressing.
Easy Italian Chopped Salad Dressing
This is my favorite all-purpose vinaigrette that I always have on hand! It's so easy to make and store.
I like making the dressing in a mason jar because you can mix and store it in the same vessel. The dressing is a simple mix of olive oil, lemon juice, lemon zest, dijon, maple syrup, garlic, dried basil, and dried oregano. So simple, but so, so good.
You can make the dressing ahead of time and keep it in the fridge for up to 2 weeks! And you'll find so many ways to use it, but this Italian Chopped Salad is a great place to start!
What to Serve with Italian Chopped Salad
Italian Chopped Salad is such a versatile side dish! This is a dish you can enjoy all year long. Some of my favorite recipes to enjoy with it:
Storing Italian Chopped Salad
To store Italian Chopped Salad: Once assembled and dressed, this Italian Chopped Salad is best eaten within a few hours of serving. However, the deconstructed elements of this salad may be stored separately in airtight containers for 4-6 days in the fridge.
Meal prep tips: If you're making this recipe for meal prep, I recommend that you store the ingredients in divided meal prep containers and assemble/toss with dressing right before eating.
More Salad Recipes to Try Now
This post contains affiliate links from which I receive a small commission at no additional cost to you. Affiliate links allow me to keep providing great recipes for free and I never recommend products that I don't love and personally own.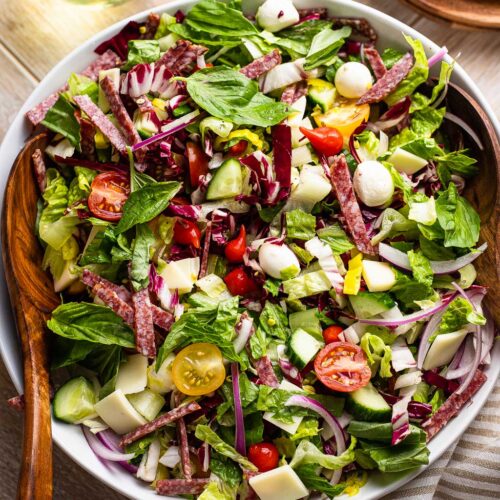 Italian Chopped Salad
This Italian Chopped Salad is brimming with mozzarella, salami, peppers, tomatoes and olives, plus a zesty lemon herb vinaigrette!
Ingredients
Lemon Herb Vinaigrette
1/4

cup

freshly squeezed lemon juice

1

tablespoon

lemon zest

1/2

cup

olive oil

1

teaspoon

dijon mustard

2

tablespoons

pure maple syrup or honey

1

teaspoon

dried oregano

1 1/2

teaspoons

dried basil

1/2

teaspoon

garlic powder

kosher salt

pepper
Italian Chopped Salad
1

romaine head, finely chopped

1/2

radicchio head, thinly shredded

1

pint

cherry tomatoes, halved

1

cup

chopped english cucumber

1/4

red onion, thinly sliced

3

oz

Italian salami, cut into matchsticks

1/2

cup

sliced kalamata or green olives

1/2

cup

pickled teardrop peppers

1

cup

mini mozzarella balls (bocconcini)

2

oz

provolone cheese, diced

fresh basil leaves

1/4

cup

freshly grated parmesan cheese
Instructions
Combine the dressing ingredients in mason jar. Use an immersion blender to blend the dressing until smooth and emulsified. Season to taste with salt and pepper.

Toss all the salad ingredients together and toss with as much dressing as desired.
Notes
The dressing recipe can be doubled or tripled to make extra. 
You might also like...