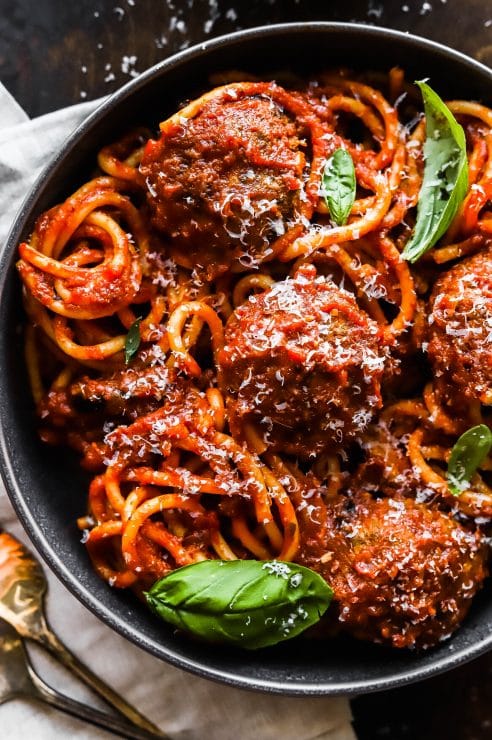 Classic Spaghetti and Meatballs Recipe
Classic Spaghetti and Meatballs Recipe
Classic spaghetti and meatballs are a favorite for a reason. There's something about a large plate of pasta with tender meatballs that just screams comfort. You've probably tried tons of meatball recipes in the past, but I can confidently say that these are some of the best ever. They're moist and flavorful with a hint of spice in a simple (but delicious) tomato sauce that really lets all the flavors shine. Serve with your favorite pasta and you've got dinner on the table in no time!
What Makes these Meatballs Perfect?
While there are thousands of meatball recipes out there, I adapted this recipe from my dad's and it's truly special. Typically the best meatballs have a mix of beef and pork, but these go a step further with hot Italian sausage. The sausage adds tons of flavor and a little bit of heat. They also provide the necessary fat content to keep these from drying out.
Using fresh bread crumbs or torn bread instead of canned bread crumbs is so necessary here! Fresh bread soaks up the milk and egg and keeps the meatballs tender.
Finally, adding grated onion instead of diced adds a bit of extra moisture and flavor so that these classic meatballs have the perfect texture. The best part? You don't have to sear these in a skillet (which takes forever). These meatballs are broiled before simmering in the sauce. Easy!
How to make Classic Spaghetti and Meatballs
I love how easy this recipe it is! It's perfect for a Sunday night dinner, or even a weeknight. I often double the recipe for the meatballs and freeze the extras so that I always have an easy dinner ready to go.
Tools Needed
Ingredients Needed for Spaghetti and Meatballs
Ground Meat. I opt for ground sirloin and hot Italian sausage, but you can swap in your favorite meats.
Onions and Garlic. Onions and garlic are the base to all the best food! Grate your onion for the meatballs, dice the onion for the sauce.
Fresh breadcrumbs. I make fresh breadcrumbs by throwing some torn bread in the food processor until they're fine crumbs. They're so much better than breadcrumbs from a can!
Parmesan cheese. Parmesan cheese in the meatballs acts as a bit of a binder and I always top my spaghetti and meatballs with extra parm.
Egg. One lightly-beaten egg binds the meatballs together.
Half and half. I soak the bread crumbs in half and half before mixing everything together. You can swap milk in if that's what you have.
Tomatoes. The sauce is best with both crushed tomatoes and tomato puree (tomato passata if you can find it!).
Fresh basil. Optional, but some fresh torn basil leaves take the sauce to the next level.
How to make perfect meatballs
This is a fairly basic meatball recipe! I don't like to cram too many ingredients in so that the flavors can really shine. I always start with fresh breadcrumbs because they're so absorbent. My favorite meatballs are a mix of ground sirloin and hot Italian sausage, but you can swap in whatever ground meat you like.
Opt for meats that have a bit of fat so that they don't dry out. I always grate my onions for meatballs vs dicing them because then they really get incorporated in and you don't end up with big chunks. The extra liquid from the onions also keep the meatballs moist.
After you've gotten all the ingredients together, give everything a good mix. Now's the time to get your hands dirty! I always mix meatballs by hand so that I don't accidentally over-mix them.
I use a large (1/4 cup) cookie scoop to portion the meatballs so they all cook evenly. Then, I broil them for 10-12 minutes until they're browned a bit before adding them to the sauce. Easy!
How to make fresh breadcrumbs
Fresh breadcrumbs are essential for spaghetti and meatballs and they couldn't be easier to make. Whenever I have bread that's getting ready to go stale or that's been hanging around for a bit, I make a batch of breadcrumbs to keep in the freezer.
Tear some pieces of bread into chunks and throw them into a food processor and run it until you have small crumbs. It's THAT easy. Alternately, if you don't have a food processor, just break the bread up into the smallest pieces possible.
Other pasta shapes to serve with meatballs
While the classic is obviously spaghetti, you can serve meatballs and sauce with any pasta that you have on hand! Some of my favorites to swap in are:
Bucatini
Penne
Rigatoni
Cavatappi
Freezing spaghetti and meatballs
You can make this a freezer-friendly meal so easily! If you want to just freeze the meatballs, follow the instructions through broiling them. Let them cool to room temperature and then transfer them to a fresh sheet tray lined with parchment. Freeze them in a single layer and after about an hour, you can transfer them to a ziplock bag or airtight container.
I usually freeze the meatballs and sauce separately, in case I want to dress the meatballs in a different sauce, but you can easily freeze them together. If you froze your meatballs separately, you can drop them into sauce or soup frozen, no defrosting necessary!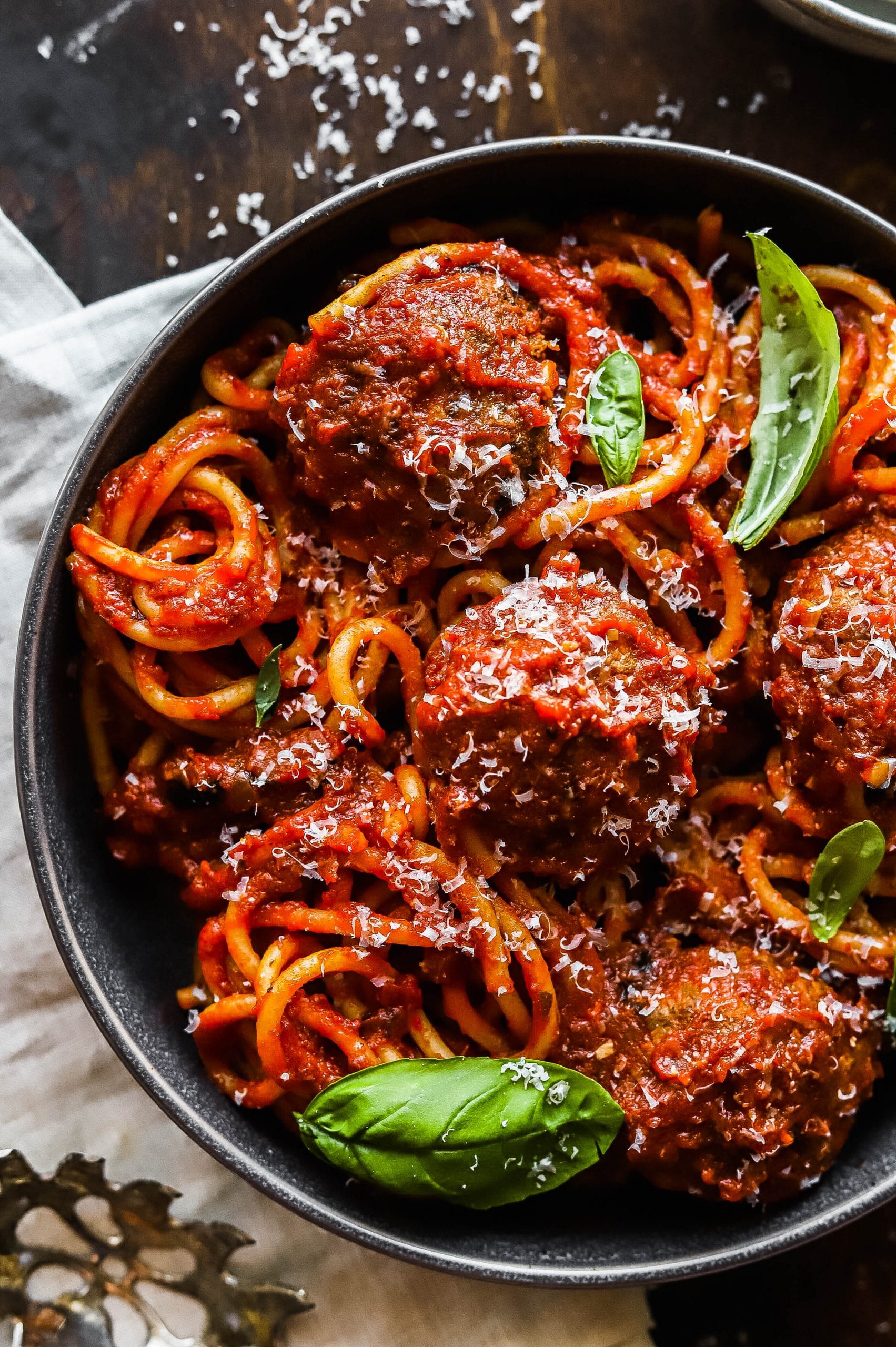 Other Italian-Inspired Recipes To Try
This post contains affiliate links from which I receive a small commission at no additional cost to you. Affiliate links allow me to keep providing great recipes for free and I never recommend products that I don't love and personally own.
Classic Spaghetti and Meatballs Recipe
Classic spaghetti and meatballs is everyone's favorite comfort food for a reason! Tender meatballs simmered in a simple tomato sauce served over al dente spaghetti.
Ingredients
Meatballs
1 1/2

cups

fresh breadcrumbs*

1/3

cup

half & half

1

egg

lightly beaten

1/2

yellow onion

grated

4

garlic cloves

minced

2

tablespoons

tomato paste

1 1/2

lbs.

ground sirloin

90/10

1

lb.

hot Italian sausage

removed from the casings

1/2

cup

freshly grated parmesan

3

tablespoons

minced fresh basil

1

tablespoon

Worcestershire sauce

2

teaspoons

kosher salt

1/2

teaspoon

freshly ground pepper
Sauce
2

tablespoons

olive oil

1/2

yellow onion

finely diced

5

garlic cloves

minced

1

teaspoon

crushed red pepper flakes

15

oz.

can crushed tomatoes

12

oz.

can tomato puree

tomato passata if you can find it!

1

tablespoon

sugar

Kosher salt

to taste

Freshly ground pepper

to taste

Fresh basil leaves

torn

16

oz.

Spaghetti

cooked to al dente
Instructions
Meatballs
In a large mixing bowl, combine the breadcrumbs, half & half, and egg and mix to combine. Sit for 5 minutes. Add the remaining ingredients and mix well by hand. Using a 1/4 cup scoop, portion the mixture and roll into balls. Place on a parchment-lined baking sheet.

Set an oven broiler to high and arrange the top rack to be in the middle of the oven. Broil for 10-12 minutes, until the tops are browned. At this point, you can cool and freeze the meatballs, or transfer to the sauce to simmer.
Sauce
In a large skillet, braiser, or a dutch oven, heat the olive oil over medium heat. Add the onion and garlic and cook for 2-3 minutes, stirring often, until the onions are soft. Add the crushed red pepper and cook for one minute more. Then, add the crushed tomatoes, tomato puree, and sugar. Bring to a light simmer and add the basil leaves. Season with salt and pepper.

Add the meatballs in a single layer and toss to coat with the sauce. Cover, reduce heat to low, and simmer for 45 minutes. Taste the sauce for seasoning and season as necessary. Toss with spaghetti and serve topped with more fresh basil and parmesan.
Notes
* Fresh breadcrumbs are so much better than canned. Instructions for making your own are in the blog post. Alternately, you can tear 3-4 slices of bread into really small pieces.
Nutrition
Serving:
8
oz
Calories:
450
kcal
Carbohydrates:
52
g
Protein:
21
g
Fat:
15
g
Saturated Fat:
10
g
Cholesterol:
30
mg
Sodium:
790
mg
Fiber:
5
g
Sugar:
9
g
You might also like...