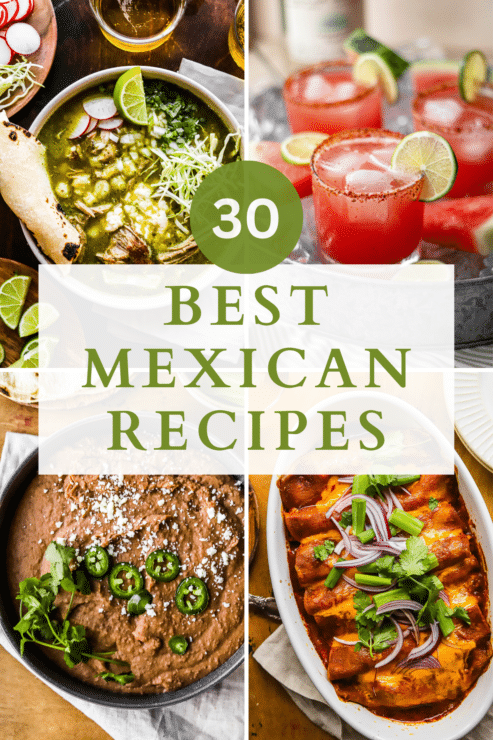 30 Mexican Recipes for Cinco de Mayo
30 Mexican Recipes for Cinco de Mayo
Welcome to our ultimate Cinco de Mayo recipe roundup! From vibrant salsas and refreshing margaritas to mouthwatering tacos and scrumptious desserts, we've curated a collection of the best Mexican recipes for Cinco de Mayo to try at home.
Cinco de Mayo, a festive Mexican holiday celebrated on May 5th, is a perfect occasion to celebrate delicious Mexican cuisine.
Whether you're hosting a Cinco de Mayo party or simply looking to elevate your weeknight dinner, these recipes are sure to impress your taste buds and bring the flavors of Mexico right to your table.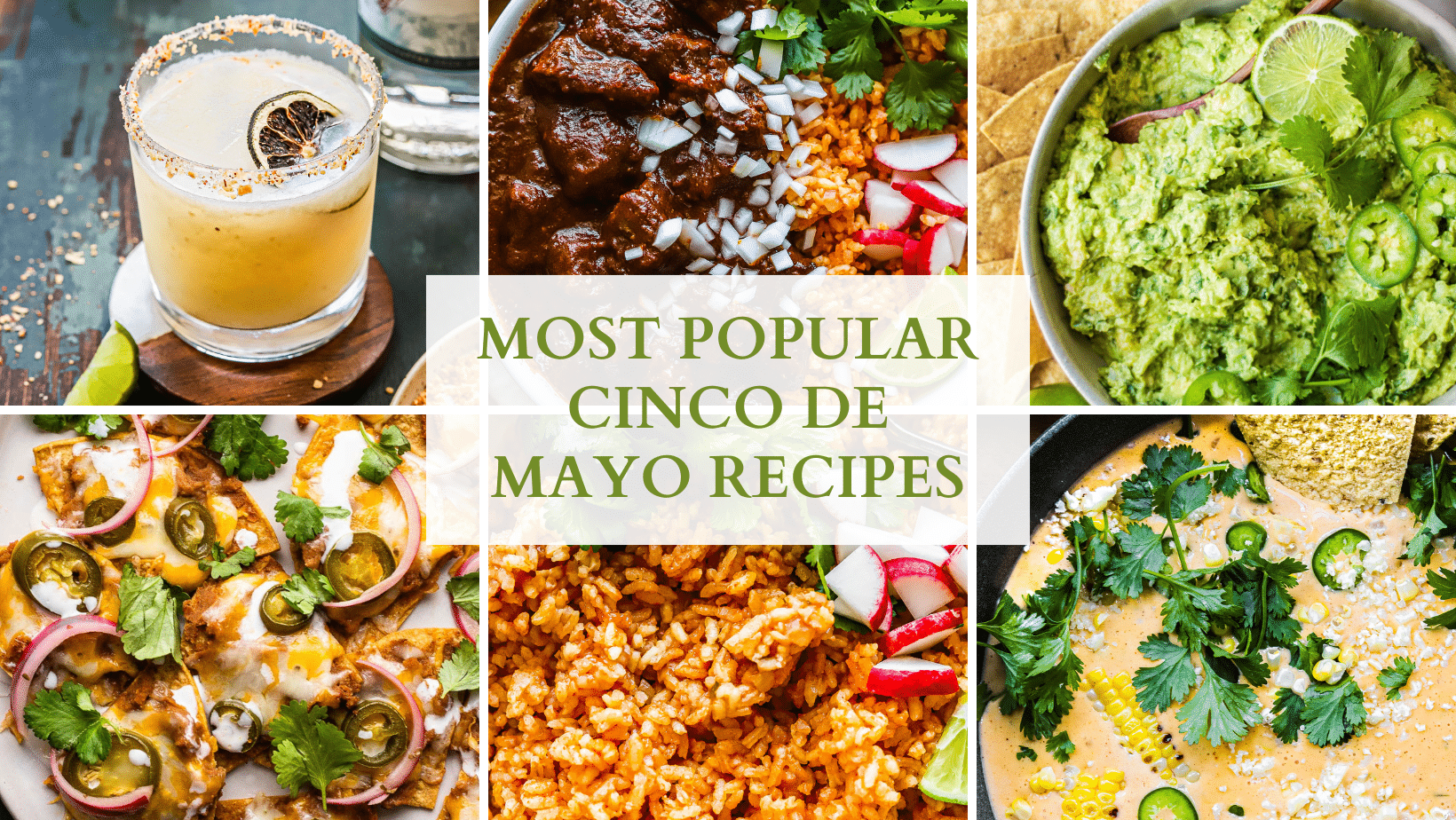 Most Popular Mexican Recipes for Cinco de Mayo
Every family has different traditions when it comes to celebrating Cinco de Mayo! We're fans of a big backyard BBQ style party where we lay out a massive spread for our guests to enjoy.
When I approach creating my Cinco de Mayo menu, I lean heavily into appetizers with some large format build-your-own dishes like tacos or tostadas. I make pitcher versions of my favorite cocktails, make big batches of sides, and always finish the meal off with something sweet.
All that matters is that the menu appeals to you and feels doable! Regardless of what you serve, it'll be a memorable evening spent with loved ones and that's always a home run.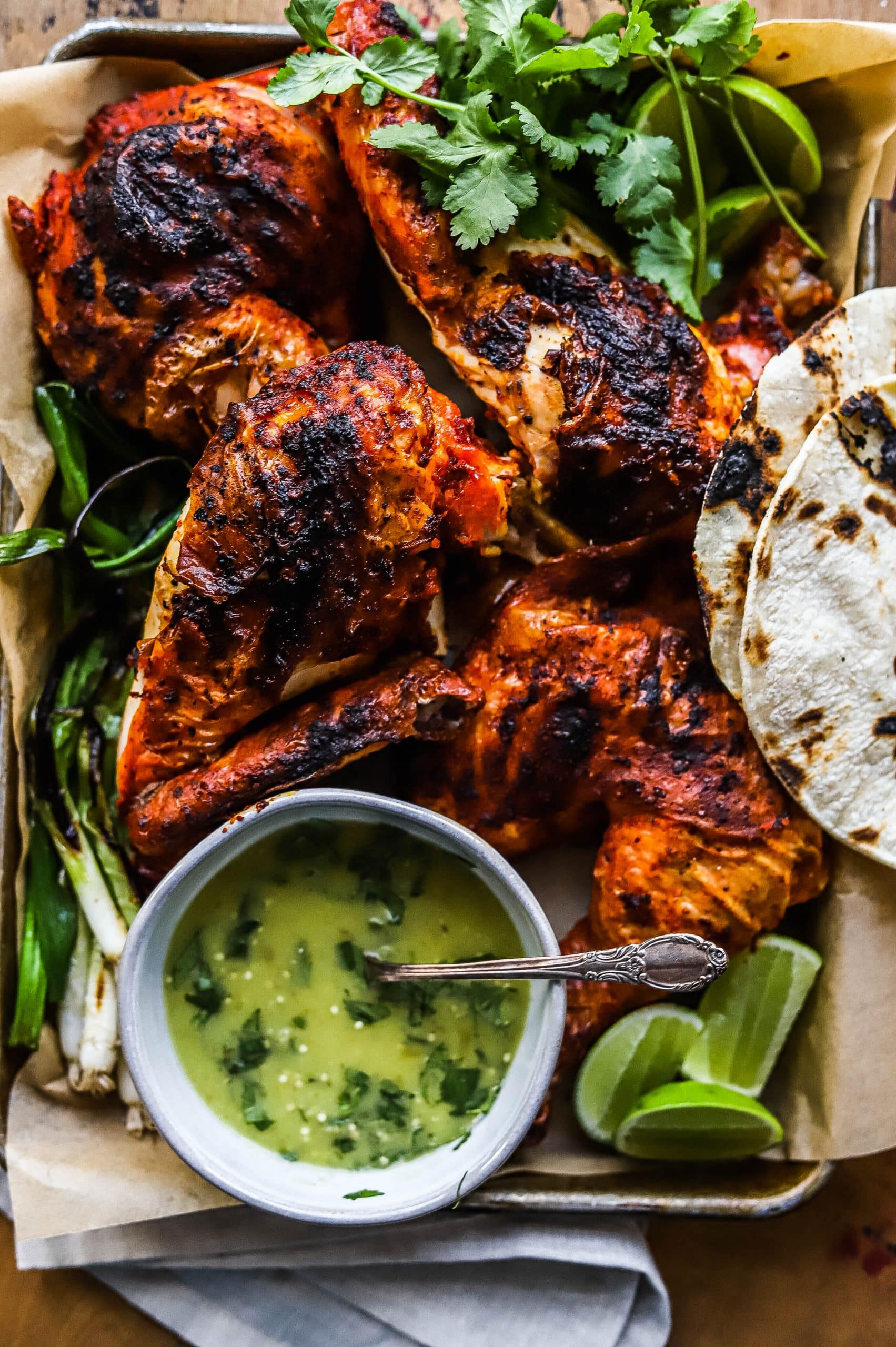 What is Cinco de Mayo?
Cinco de Mayo is a festive Mexican holiday celebrated on May 5th, commemorating the Mexican Army's victory over the French Empire in the Battle of Puebla.
While often mistaken as Mexico's Independence Day, Cinco de Mayo has become a popular cultural celebration in many parts of the world, including the United States. It's a time to appreciate Mexican culture, indulge in delicious food and drinks, and enjoy colorful festivities, such as parades, music, and dancing.
From savoring authentic Mexican cuisine to embracing the rich traditions and history of Mexico, Cinco de Mayo is a day to come together and celebrate with joy and enthusiasm.
My Favorite Cooking Tools
What are all these Mexican Recipes for Cinco de Mayo without the right kitchen tools to prepare them? You don't have to be a Gordon Ramsey to make these recipes, but quality equipment helps. Here are the pieces in my kitchen that I can't cook without!
A sharp kitchen knife. Invest in a quality kitchen knife for all your cooking needs! If I had to recommend investing in one thing, it's always going to be a good knife. It's the backbone to cooking and will change the game for you in the kitchen.
Since we love a good steak at home, I'm never without a cast iron skillet. I use it for anything from cooking up a juicy burger, to searing a steak or scallops, or as a vessel for roasting a whole chicken. Charred vegetables in a cast iron? You haven't lived until you've had them. A cast iron skillet is durable, affordable, and can make a a whole host of things. I especially love using a cast iron skillet to crisp up my beer braised carnitas!
When I'm not using a skillet, I'm almost always using a braiser or a dutch oven. Braised meats are a big recipe in our household and a dutch oven or a braiser go a long way!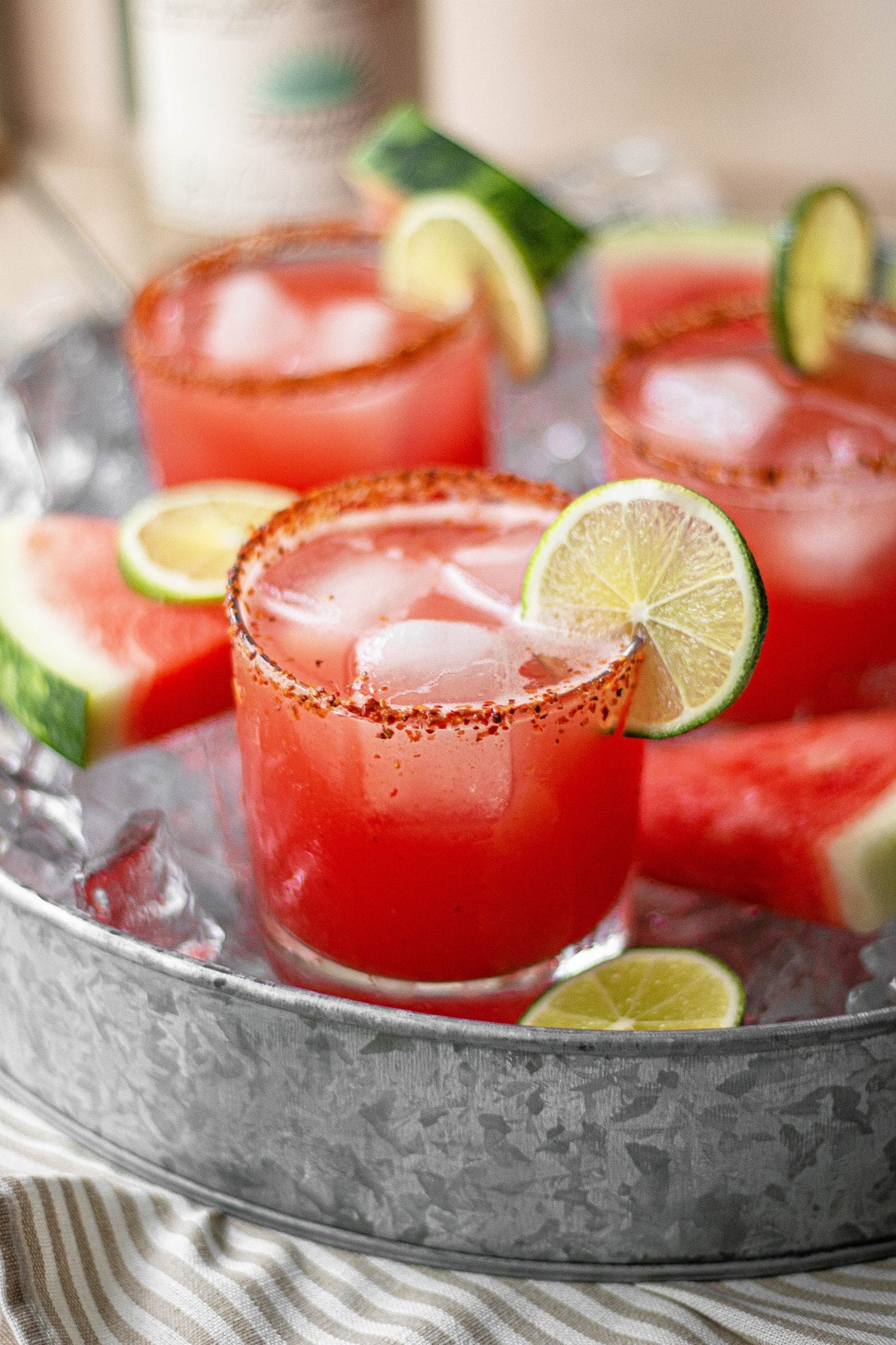 Refreshing Cocktails
Cinco de Mayo is THE time to celebrate with a margarita! Fortunately, a margarita is one of my favorite cocktails and I've got a ton of variations. They can all also be made in a pitcher format to serve a crowd!
Watermelon margarita. Fresh watermelon juice makes this margarita the perfect refreshing sip for any celebration.
Passion fruit margarita. If you love a tart tang in your cocktails, this passion fruit margarita is for you! It's tropical, sweet (but not too sweet), with the perfect tart balance.
Frozen Strawberry-Mango Margarita. If the temperatures are already rising in your area, then a frozen Strawberry-Mango margarita is absolute the way to go!
Coconut Margarita. Coconut is one of my absolute favorite flavors and this coconut margarita is a go-to in our household!
Cinco De Mayo Appetizers
We are definitely big on appetizers for Cinco de Mayo in our house! I love serving an assortment of dips, ceviche, salsa, and even a big salad! Here are all my favorite Mexican appetizer recipes for Cinco de Mayo!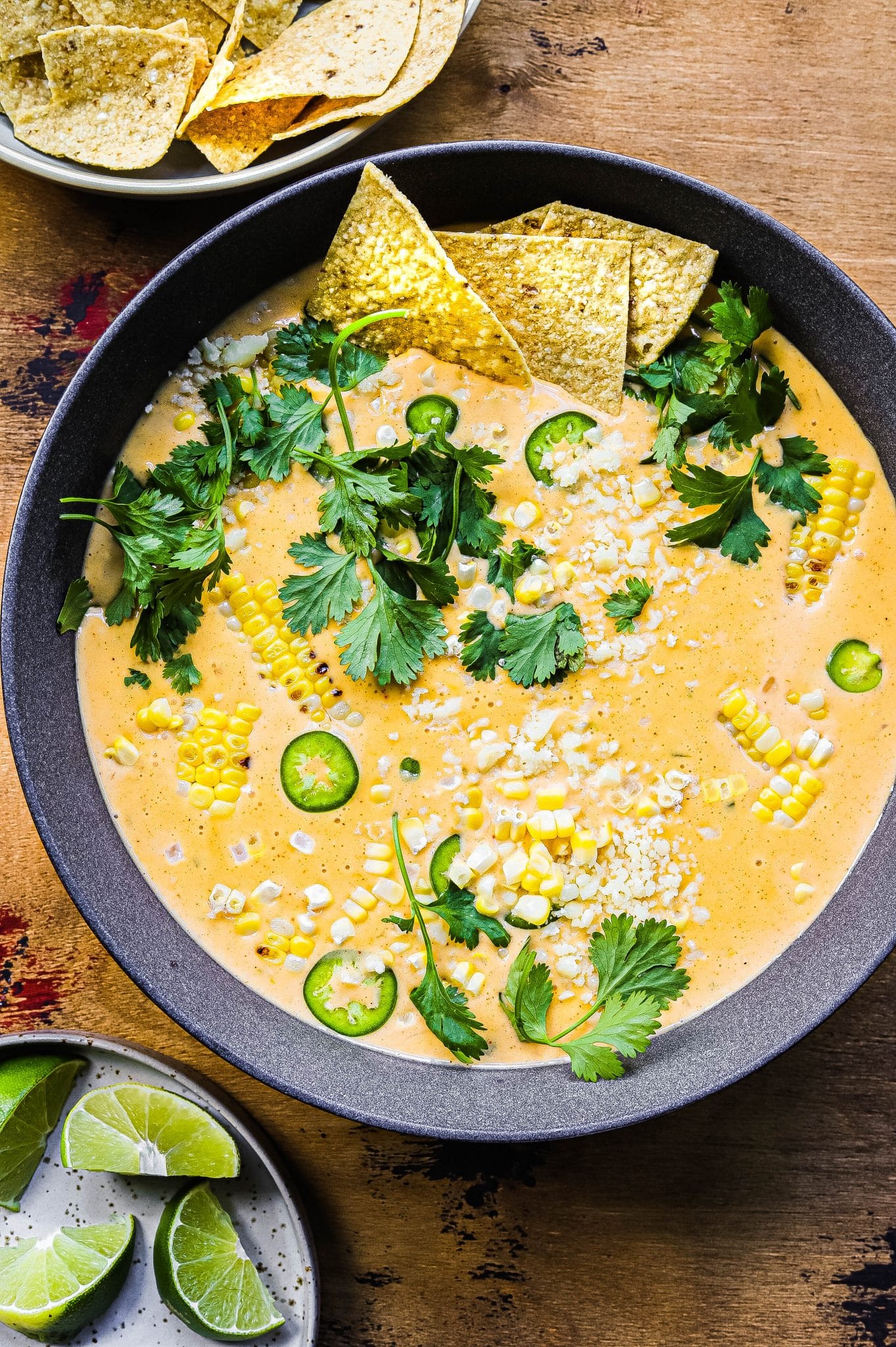 Texas Nachos. While these are firmly in the Tex-Mex camp, they are still so delicious. Each chip is dressed with refried beans, cheese, and jalapeño. Say goodbye to sad nachos with no toppings!
Salsa verde. My homemade salsa verde recipe is a staple for chips and salsa.
Elote queso. It's not a Cinco de Mayo celebration without a bit of queso! This recipe is a riff on the classic street food and the gooey cheese dip.
Shrimp ceviche. This spicy shrimp ceviche is a light and fresh appetizer that's perfect for complementing heavier food.
5-Ingredient Guacamole. This truly is the best guacamole recipe ever and no party is complete without it!
Carnitas Nachos. Instead of dressing each chip, you lay a heap of chips out on a baking sheet and layer with crispy carnitas, cheese, salsa, avocado, and cilantro.
Main Dish Mexican Recipes for Cinco de Mayo
The main event: Mexican recipes for Cinco de Mayo abound! There's something here for everyone, even cooking novices. You'll find a wide range of recipes perfect for your Cinco de Mayo Celebration.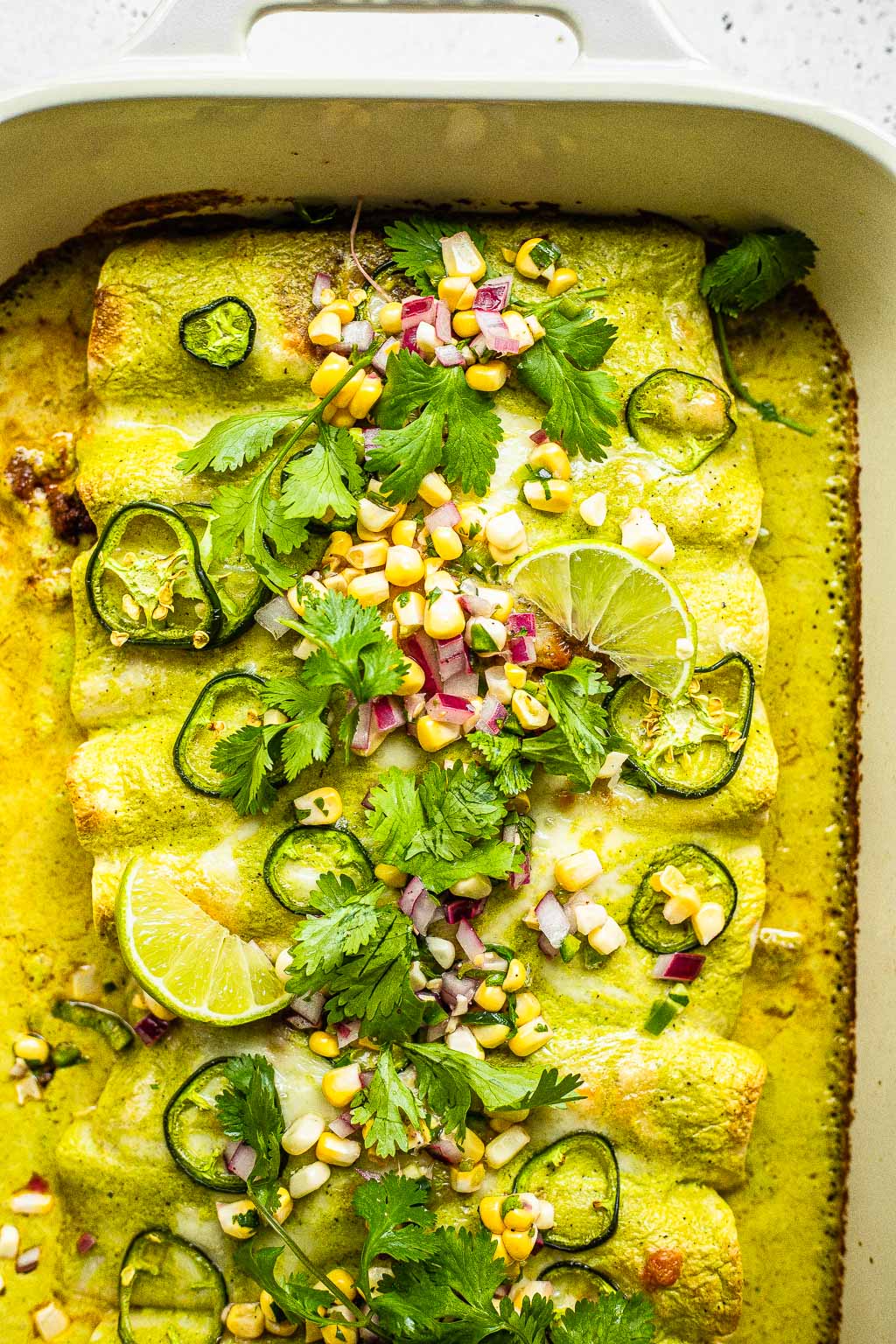 Pollo Asado. This whole marinated and grilled chicken is a party show-stopper! Perfect for feeding a crowd and easy to serve.
Carne Asada Tacos. Grilled carne asada is a must for our Cinco de Mayo parties! I love setting up a build-your-own taco station with a couple of different meat options.
Beer Braised Carnitas. Beer-braised carnitas are a great option for a taco bar! They're so flavorful and easy to make.
Homemade Refried Beans. It's not a party without a big batch of refried beans and these are absolutely restaurant-quality!
Mexican Rice. This is my classic stovetop Mexican rice recipe that we make any time we're having Mexican food.
Red Chicken Enchiladas. A classic chicken and cheese enchilada in a red enchilada sauce–just the way my dad made them!
Pozole Verde. Pozole is a flavorful and hearty stew in a spicy green broth with hominy. Perfect for a cozy Cinco de Mayo in!
Baja-Style Fish Tacos. Beer battered baja-style fish tacos are my absolute favorite! These can be a little bit of work for a party, but so worth it.
Grilled Cilantro Lime Chicken. If you're looking for another meat option for a taco bar, grilled cilantro lime chicken is quick to prep and packed with flavor.
Beef Barbacoa. This instant-pot friendly recipe makes braising this beef barbacoa an absolute breeze.
Chile-Lime Shrimp Tacos. These chile-lime spiced shrimp served with pico and a creamy chipotle sauce are so delicious and quick to throw together.
Vegetarian Cinco de Mayo Recipes
Even if you're eating plant-based this Cinco de Mayo, there are still some delicious options! Even if we host a party and the majority of guests are meat-eaters, I like to have at least one meatless option to mix things up!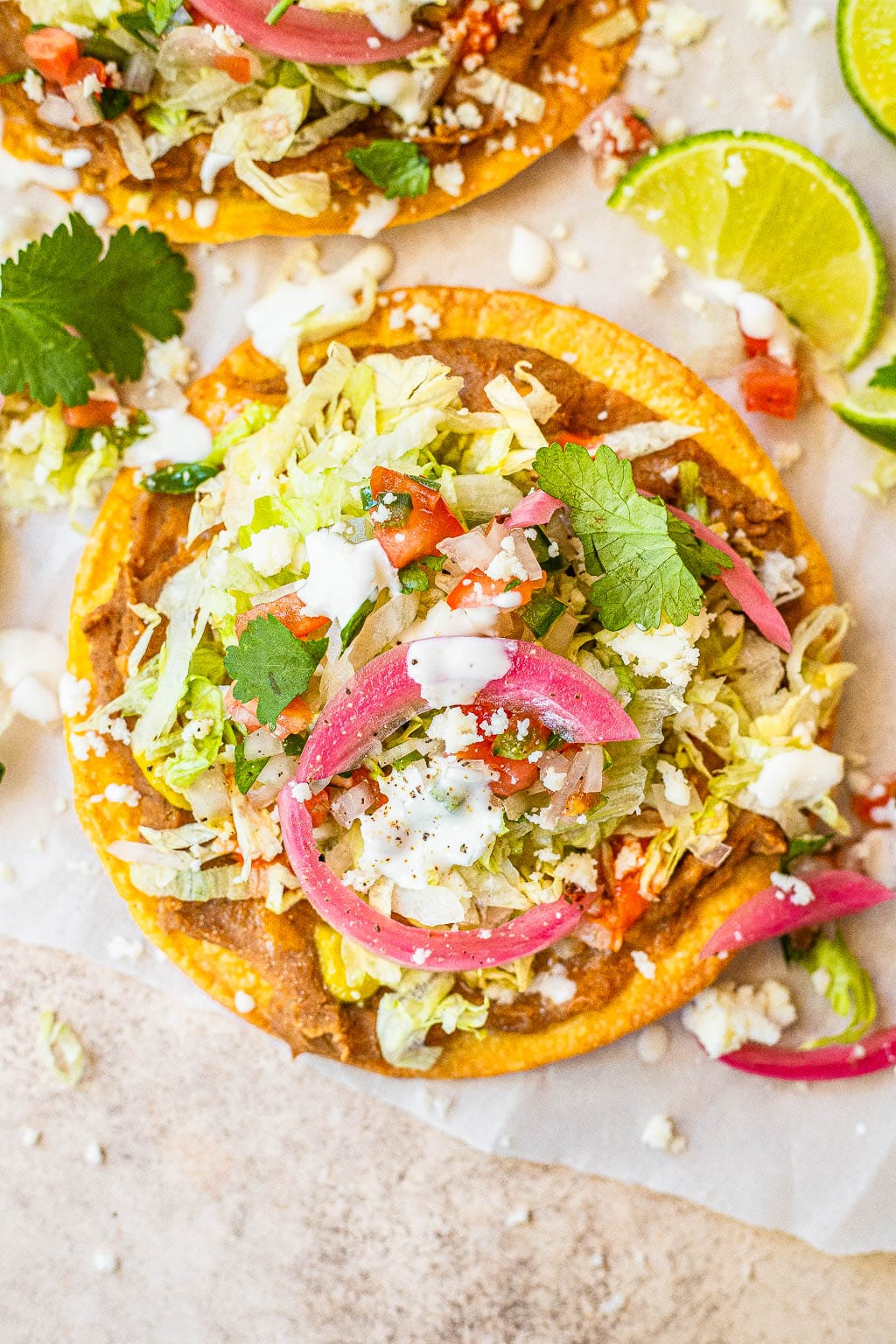 Bean and Cheese Tostadas. These quick and easy bean and cheese tostadas use my refried beans recipe and lots of shredded cheese. Top with all the things!
Crispy Potato Tacos. Crispy potato and cheese tacos are always a winner.
Potato Rolled Tacos. These rolled tacos are just like your favorite tacos or flautas, but made with spiced potato for a plant-based taco recipe.
Red Chilaquiles. While I usually enjoy chilaquiles for breakfast, there's nothing that says you can't enjoy them any time of day.
Homemade Churros. Finish off your Cinco de Mayo celebration with these homemade churros with Mexican hot chocolate sauce for a sweet treat.
---
I hope you found these Mexican recipes for Cinco de Mayo helpful! Any one of these recipes would make a delicious evening to remember that any guest will love. If you do give a recipe a try, be sure to let me know! Leave a comment with a star rating on the recipe. Consider subscribing to my weekly newsletter and get all my newest recipes delivered to your inbox. You can also snap a photo & tag @JENNYGOYCOCHEA on Instagram. I LOVE hearing about & seeing your SMF creations!
This post for Mexican recipes for Cinco de Mayo contains affiliate links from which I receive a small commission at no additional cost to you. Affiliate links allow me to keep providing great recipes for free and I never recommend products that I don't love and personally own.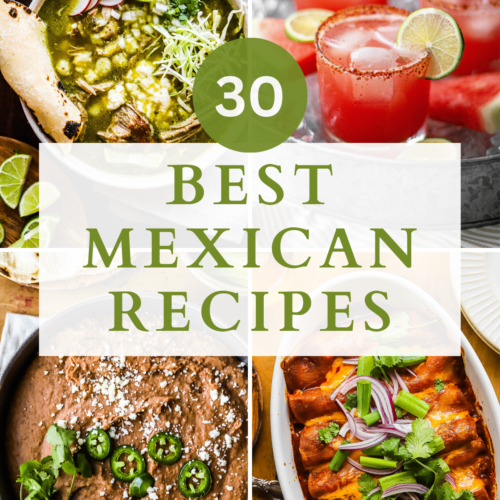 30 Mexican Recipes for Cinco de Mayo
Celebrate delicious Mexican cuisine with our Cinco de Mayo recipe roundup. From salsas to tacos, these easy-to-make dishes will impress your taste buds!
Total Time:
1

hour
10

minutes
Ingredients
Chicken
3-4

lb.

whole chicken

spatchcocked (see instructions above)

1/4

white onion

chopped

2

garlic cloves

chopped

1

orange

juiced

1

lime

juiced

2

tablespoons

achiote paste

1

teaspoon

ground cumin

1/2

teaspoon

ground coriander

1

teaspoon

dried oregano

2

teaspoons

kosher salt

1/4

cup

chopped cilantro stems

2

tablespoons

olive oil
For Serving
Corn Tortillas, warmed

Lime wedges

Grilled Scallions

Mexican Rice

Chopped cilantro
Instructions
Place the chicken in a large glass or ceramic baking dish or a 2-gallon ziplock bag.

Combine the marinade ingredients in a food processor or blender and blend until smooth. Pour the marinade over the chicken and really work the marinade into it all over. Cover with plastic wrap and refrigerate at least 4 hours, up to 24 hours.

Clean your grill grates and lightly grease them. If using a gas grill, preheat the burners on the outside to medium heat. If using a charcoal grill, push the hot coals to one side of the grill.

Remove the chicken from the marinade and shake off any excess. Grill the chicken over direct heat, skin-side down for 5 minutes. Flip the chicken over and transfer it to indirect heat. Cover the grill and grill for 1 hour, or until the thickest part of the chicken registers 165 F on a meat thermometer.

Remove the chicken from the grill and rest 10 minutes. Slice and serve.
Notes
For instructions on how to make pollo asado in the oven, reference the blog post.
Try my Salsa Verde recipe. 
Nutrition
Serving:
4
oz
Calories:
220
kcal
Carbohydrates:
1
g
Protein:
26
g
Fat:
12
g
Saturated Fat:
3
g
Cholesterol:
80
mg
Sodium:
500
mg
You might also like...