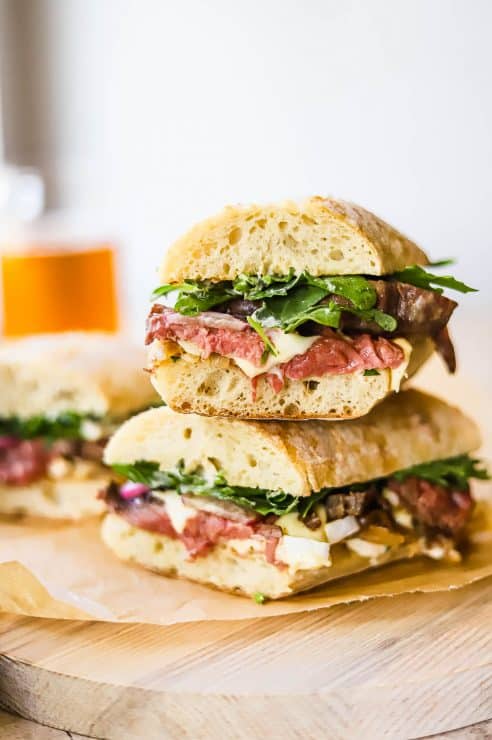 Grilled Steak Sandwiches
Grilled Steak Sandwiches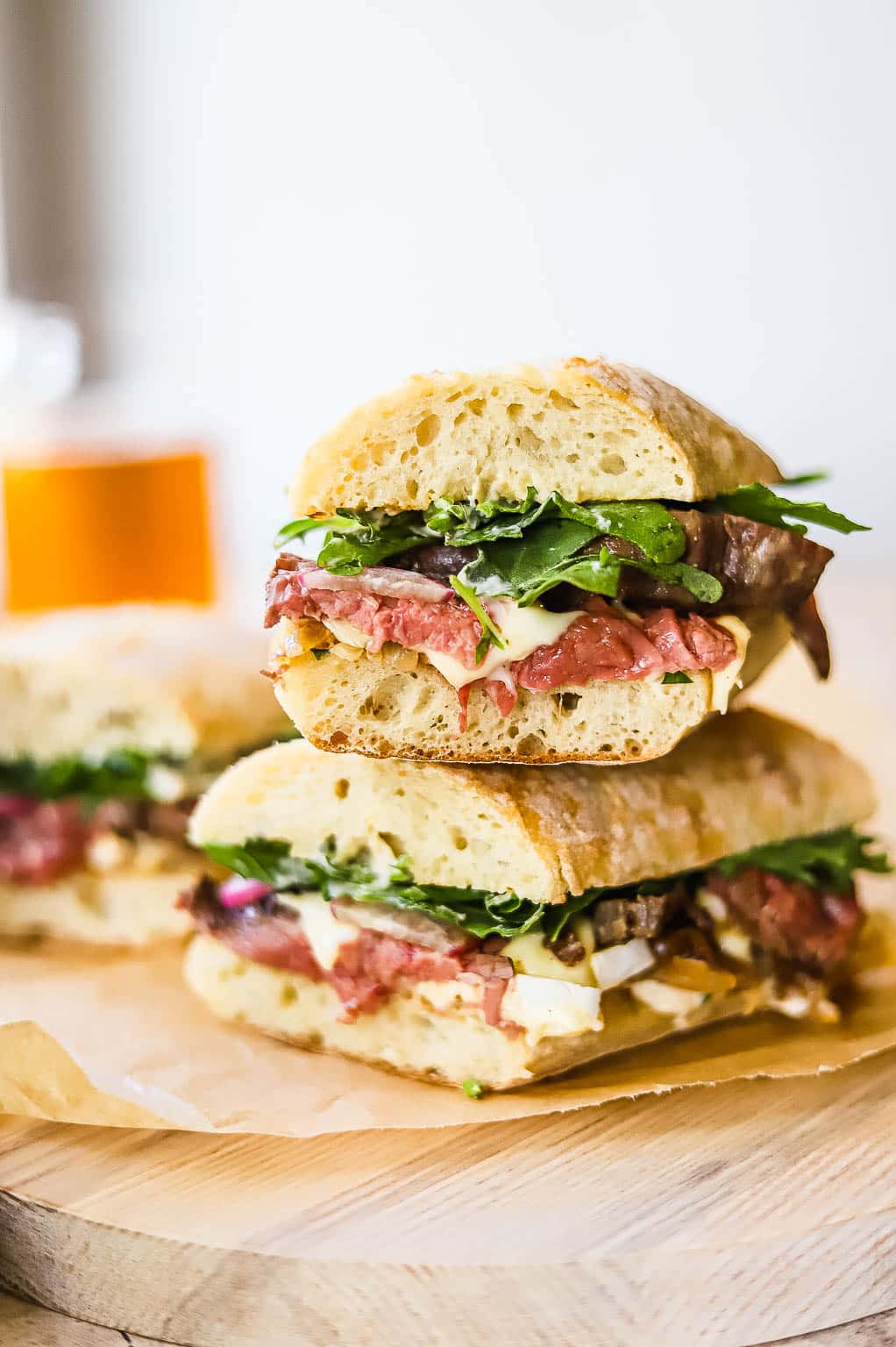 Grilling season is officially in full swing and I am here for it! I created these grilled steak sandwiches with beach picnics and easy entertaining in mind. Tender grilled steak on a toasty ciabatta baguette with caramelized onions, brie, horseradish sauce and arugula—what could be better?
This is an easy and impressive recipe to pull out anytime you feel like grilling this summer.
Grilling Season is the Best Season
As soon as summer comes around, I'm looking for any excuse to grill. I've got a whole section of grilled recipes here!
I love a good grilled steak and being able to enjoy it in sandwich form is perfect for all your on-the-go summer plans.
As much as I love grilling, the heat in Texas in the afternoon has me barricaded in the house. So I love making this recipe indoors with a grill pan. Easy peasy!
Now I can grill from the comfort of my own kitchen and still achieve perfect grilled steak (and more!) and easy clean-up every time!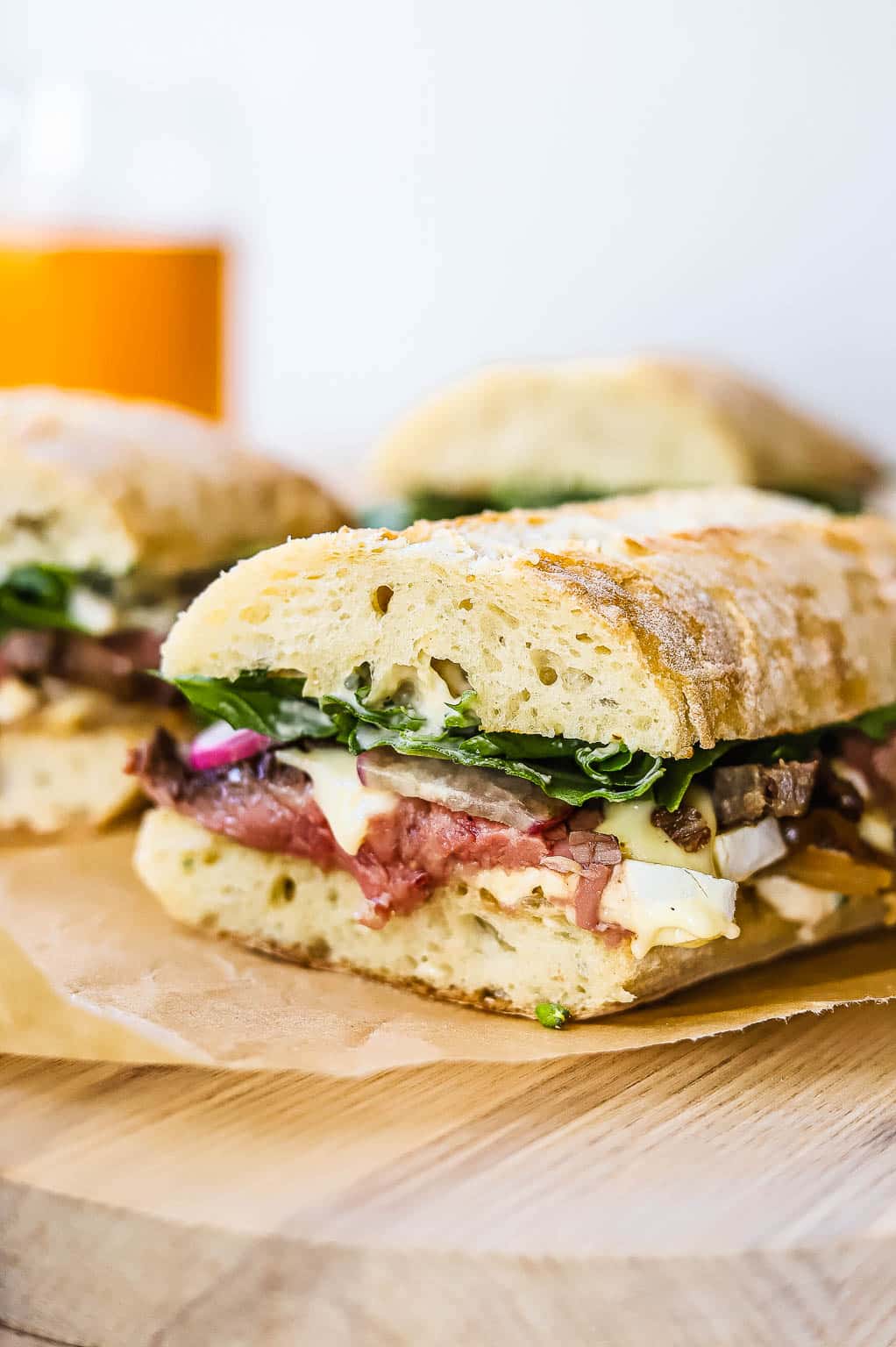 How to make Grilled Steak Sandwiches
These grilled steak sandwiches are an easy weeknight dinner option that only takes about 30 minutes to throw together. You can also easily pack it up to take on the go!
Tools Needed
Ingredients You'll Need
Steak. Opt for a tender cut that's well-marbled.
Bread. I love using ciabatta or ciabatta baguette for this sandwich.
Sweet Vidalia Onions. Vidalia onions are the absolute best for caramelizing because of their high sugar content.
Brie. I love a good triple creme brie here. Just choose something gooey and flavorful!
Arugula. I love the peppery flavor contrast that arugula provides.
Radishes. Sliced radishes are optional but give a bit of crunch.
Horseradish. You'll need prepared horseradish, not cream of horseradish. Check the refrigerated area near the seafood counter.
Mayonnaise.
Chives. Fresh minced chives in the horseradish sauce are so, so good.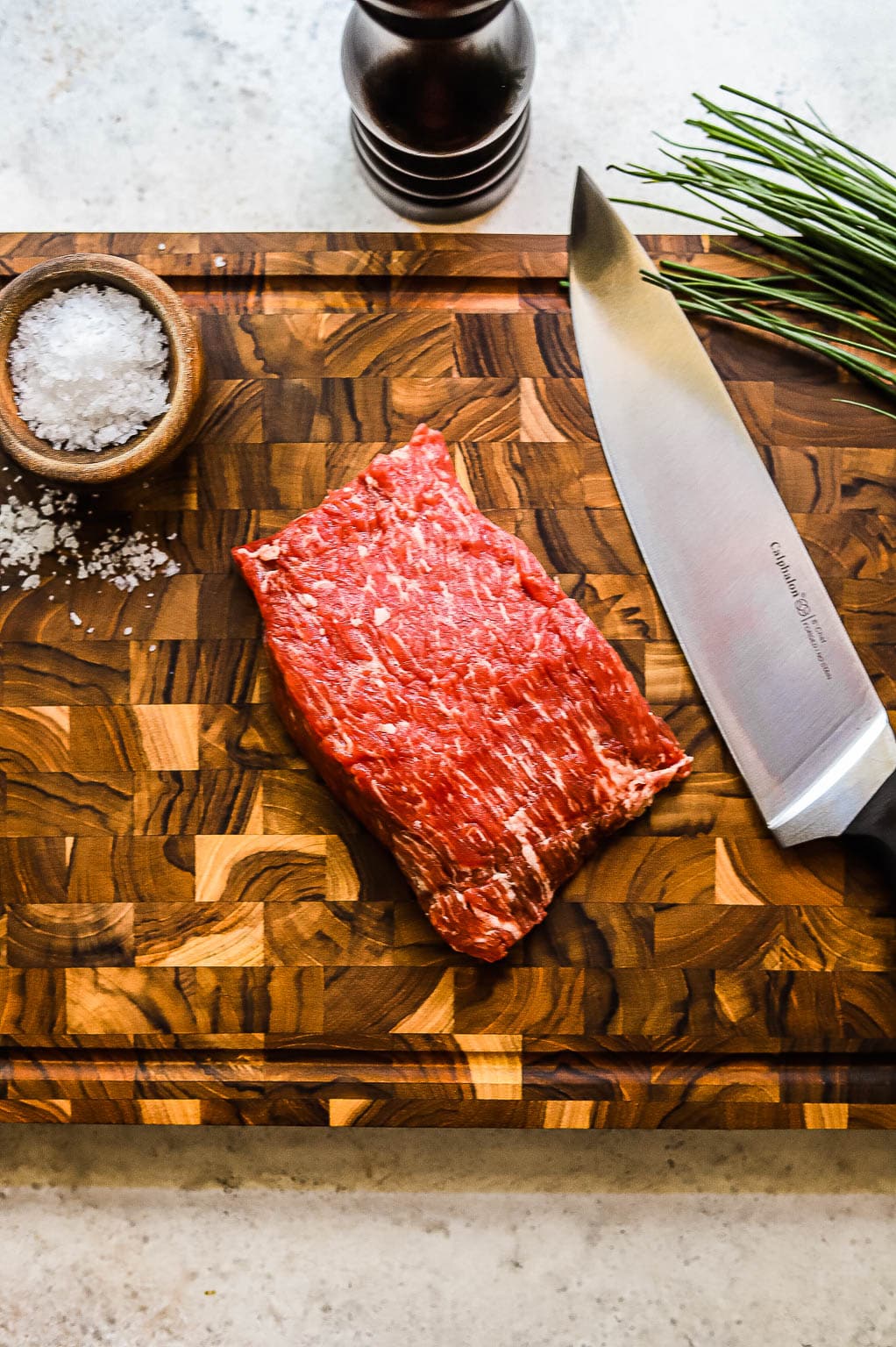 The Process
Step one: Caramelize those onions! Thinly slice the vidalia onions and melt some butter in a skillet over low heat. Add the onions and stir so that they're well coated in the butter. Season with salt and pepper and cook until caramelized, stirring occasionally.
Step two: Whisk together all the ingredients for the horseradish sauce and set aside.
Step three: Season both sides of the steaks generously with salt and pepper. Let them sit for 30 minutes before cooking.
Step four: Preheat your grill or grill pan over medium heat. If using a grill pan, drizzle a bit of neutral oil in the pan. Grill the steaks for 4-5 minutes per side (depending on thickness). Transfer the steaks to a cutting board and tent them with foil for 10 minutes.
Step five: While the steaks rest, cut your baguette or ciabatta in half lengthwise and grill the bread for a couple of minutes, cut side down.
Step six: Slice the steaks into thin pieces and assemble the sandwiches with the horseradish sauce, sliced brie, radishes, caramelized onions, and arugula.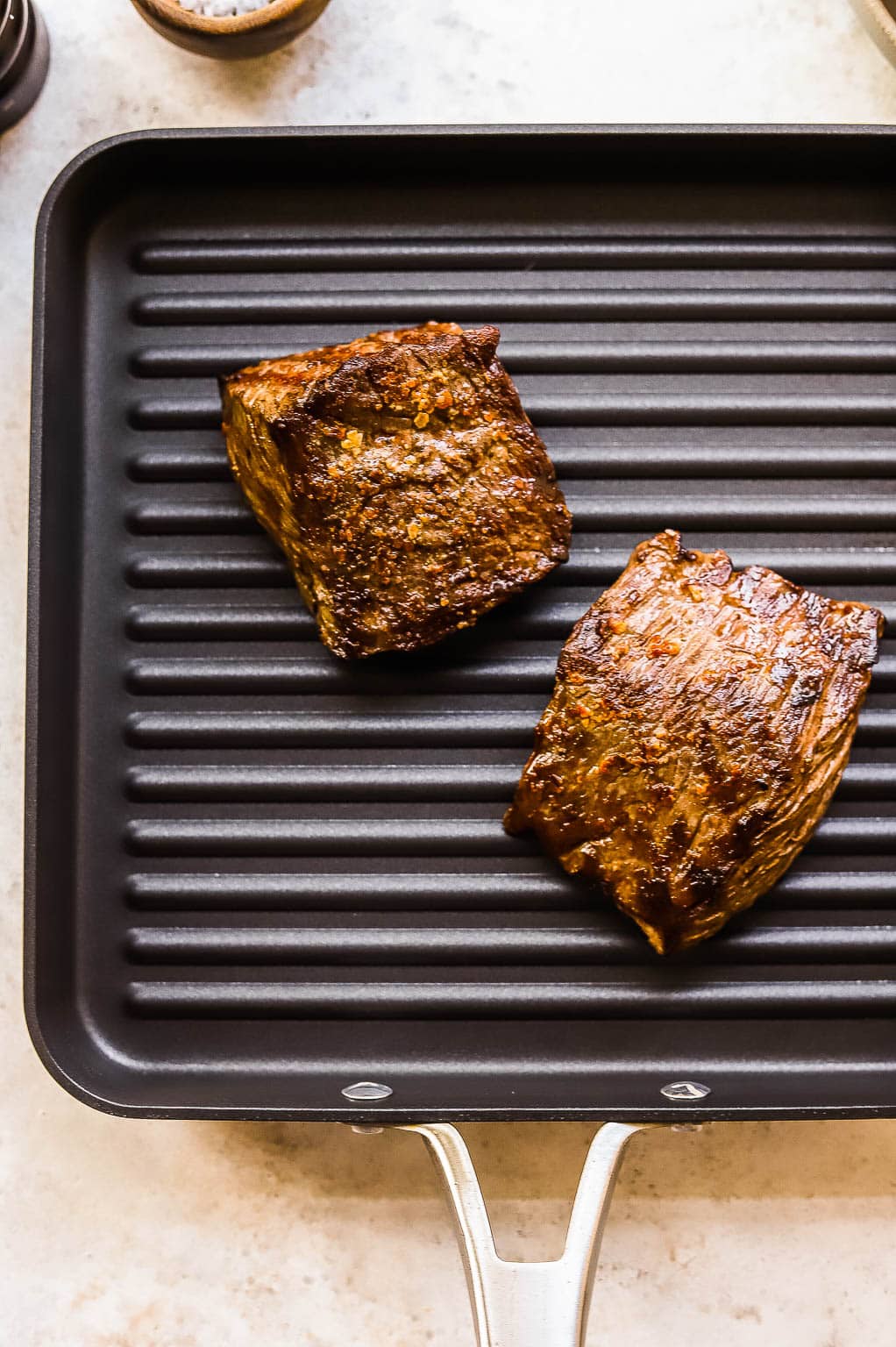 Best Cuts of Steak for Grilled Steak Sandwiches
Using the perfect cut of steak for grilled steak sandwiches is paramount! You want a cut that has enough fat and marbling to keep it tender. Below are my favorites:
Flat Iron: Flat iron comes from the top blade and is extremely tender and well marbled making it my absolute favorite for grilling.
Ribeye: Ribeye is a little fattier, but it still makes for an incredibly tender and flavorful grilled steak.
Sirloin: Sirloin is a great economical option with big beefy flavor! They're a bit leaner so I wouldn't cook them past medium temperature.
Flank Steak: Grilling is actually the best way to cook flank steak. It's very lean so you absolutely cannot cook it past medium. Make sure to slice flank steak thinly across the grain.
Tips for Perfectly Tender Steak
When enjoying steak on a sandwich, it's essential that it's super tender. Below are my best tips for achieving the most tender steak every time.
Bring your steaks to room temperature. Season your steak liberally with salt and pepper and then let them sit at room temperature for 30 minutes before cooking.
Rest after cooking. If you cut your steak immediately after cooking, all the juices will run out leaving the steak tough and dry. Give the steaks at least 10 minutes to rest before slicing so that the juices can redistribute.
Cut against the grain. If you look at a piece of steak, you can see the direction that the stringy muscle fibers run. You want to cut perpendicular, or 'across the grain', to those fibers. This ensures that every bite is tender and easy to chew.
Hit it with some flaky sea salt. After slicing the steak, I always sprinkle some flaky sea salt over the steak slices. It makes every bite a perfectly flavorful one!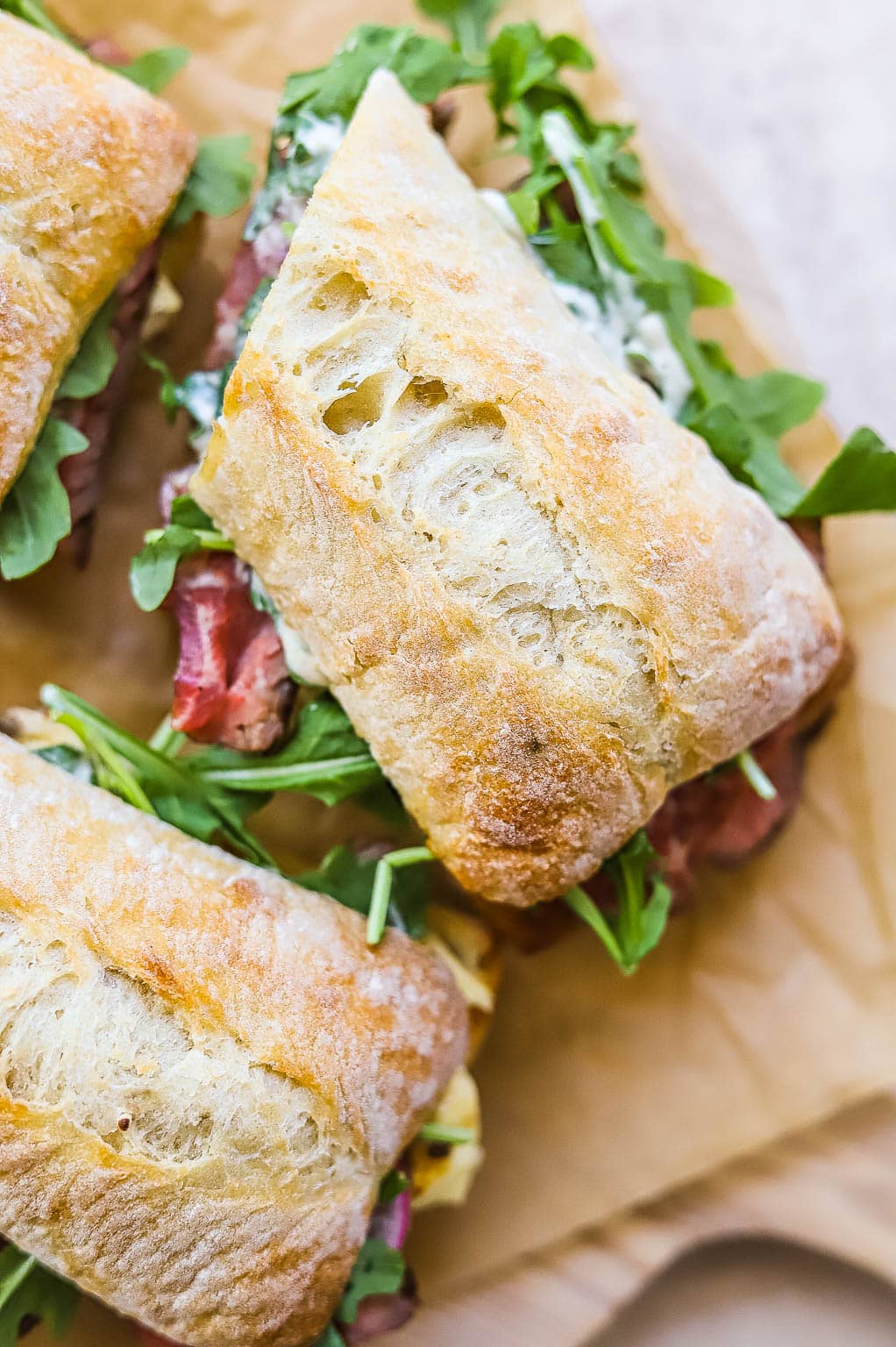 More Grilling Recipes to Try Now
This post may contain affiliate links from which I receive a small commission at no additional cost to you. Affiliate links allow me to keep providing great recipes for free and I never recommend products that I don't love and personally own.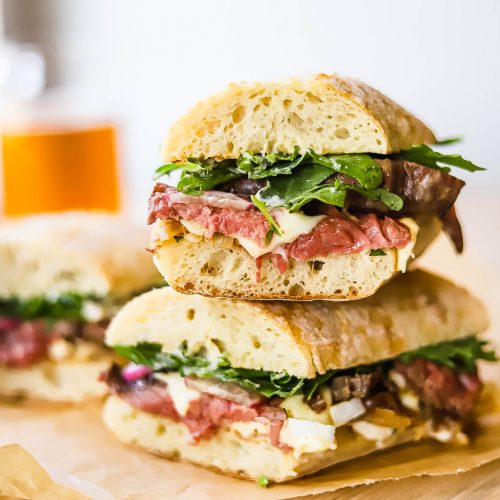 Grilled Steak Sandwiches
These grilled steak sandwiches are perfect for summer! They're loaded with tender grilled steak, creamy brie, caramelized onions, horseradish sauce, arugula, and radishes. This sandwich is perfect for a picnic or a summer bbq!
Ingredients
Horseradish Sauce
1/2

cup

mayonnaise

1

tablespoon

prepared horseradish

2

teaspoons

dijon mustard

2

teaspoons

Worcestershire saue

2

tablespoons

minced chives

1/2

teaspoon

lemon zest

2

tablespoons

lemon juice

1/2

teaspoon

freshly cracked black pepper

salt, to taste
Steak Sandwiches
1 1/2

lbs

flat iron steak

2

tablespoons

salted butter

2

sweet vidalia onions, thinly sliced

10

oz

triple cream brie, sliced

3

cups

arugula

6

radishes, sliced

kosher salt

freshly cracked pepper
Instructions
In a skillet, melt the butter and add the sliced onions. Toss the onions well in the butter and season with salt and pepper. Cook, stirring occasionally, until the onions are deeply golden brown and then set aside.

Whisk all the horseradish sauce ingredients together until smooth and refrigerate until ready to use.

About 30 minutes before you plan to cook, season the steaks with salt and pepper and let them sit at room temperature.

Preheat a grill or grill pan over medium-high heat. For medium temperature, grill the steak for 4-5 minutes per side for thicker steaks, 3-4 minutes for thinner steaks. Cook longer for medium-well or well-done steaks. Transfer to a plate and tent with foil.

After the steak has rested, thinly slice it and lightly season with flaky sea salt if desired.

Grill the bread, cut side down, for 1-2 minutes. Assemble the sandwiches by spreading the horseradish sauce on both sides. Add the caramelized onions, sliced steak, brie slices, and top with arugula and radishes. Top with the other slice of bread and serve immediately.
You might also like...