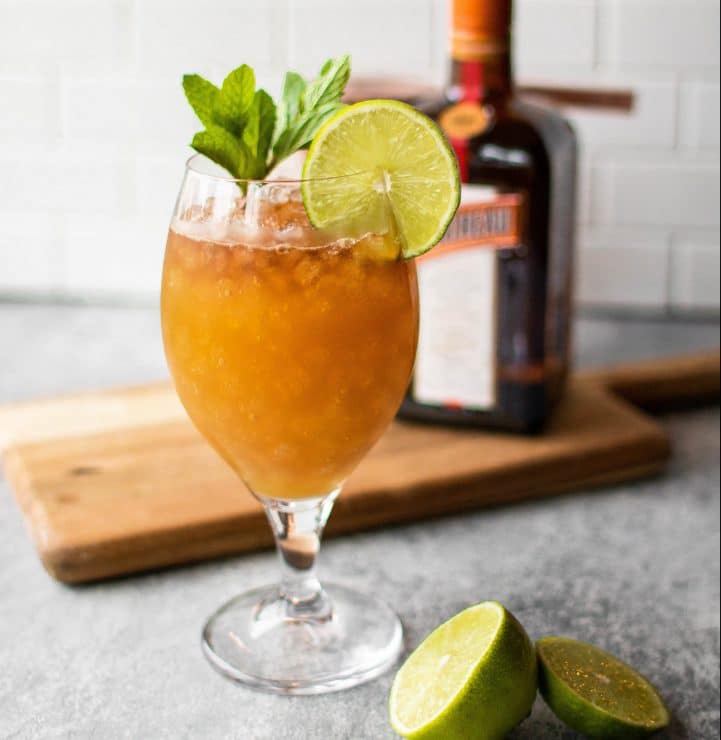 Best Mai Tai Cocktail Recipe
Best Mai Tai Cocktail Recipe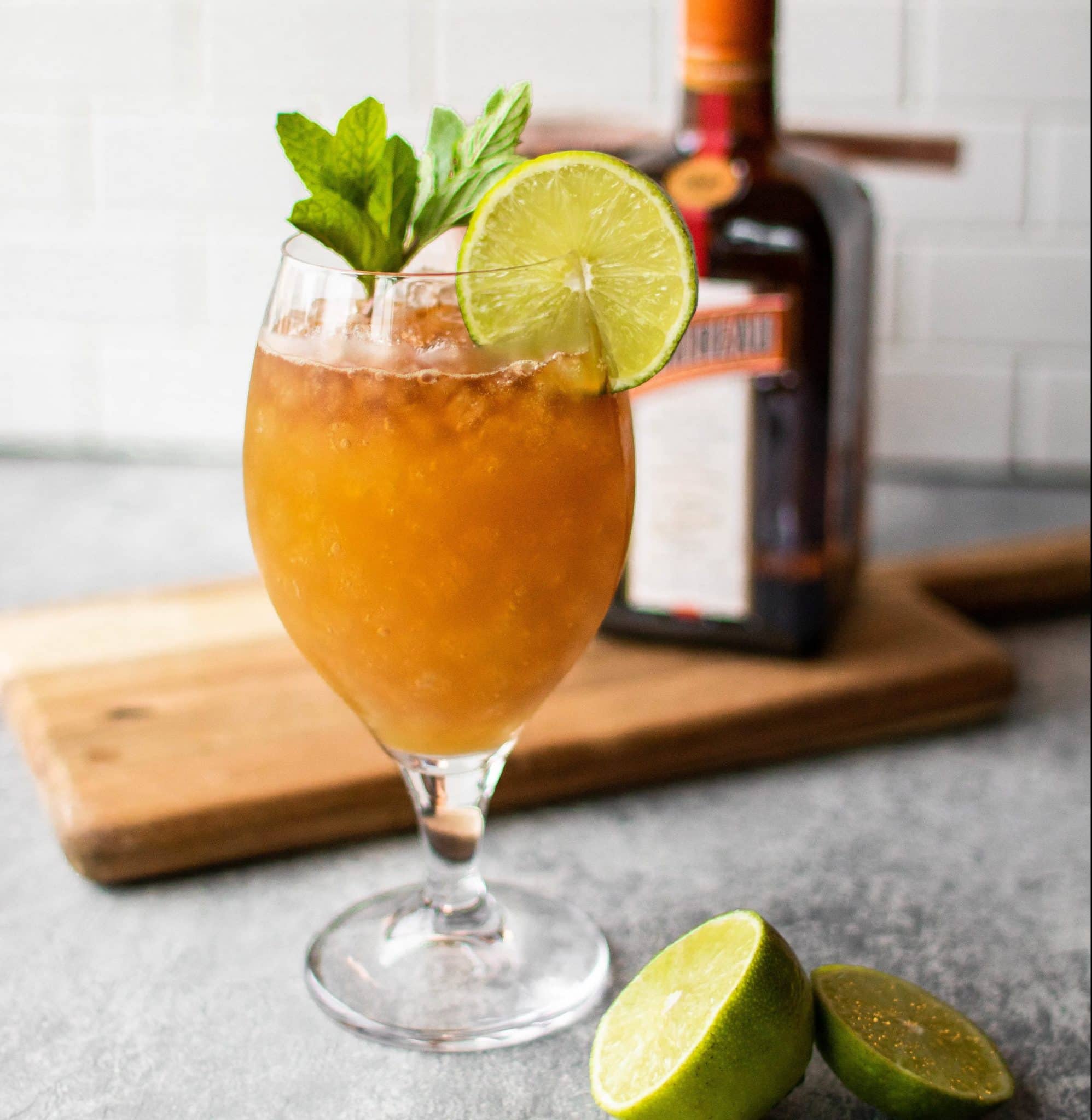 So, I'm celebrating a milestone today. This is my 100th RECIPE! I can't think of a better way to celebrate than with a cocktail, and this is the best Mai Tai cocktail ever! I am OBSESSED with tiki drinks. I've started stocking my bar with all the ingredients I need to make them anytime since I'm away from my favorite tiki bars in San Diego.
What's a Mai Tai Cocktail?
Maybe you've ordered a Mai Tai at a bar and were met with a sickeningly sweet concoction made from pre-made bar mixes. That is not a mai tai. It's tropical, nutty, boozy and zingy: and it's nothing like the adult fruit juice you might be expecting.
A Mai tai cocktail is a rum-based libation that was first invented in the 1940s at Trader Vic's–one of the most popular tiki bars of all time.
What's in the original Mai Tai cocktail? Contrary to what you might think, there's no pineapple juice! There's actually no fruit juice at all, other than lime juice. However, I love any excuse to jazz a cocktail up with passion fruit juice, so my take on a mai tai is a bit more tart and fruit forward. A traditional Mai Tai cocktail can be so boozy! I think the passion fruit makes it a little more palatable.
This is a perfect cocktail for parties, but be warned it is STIFF. The juice really hides the amount of booze in it. You could get tanked on just a couple of these bad boys so please drink responsibly.
How to make a Mai Tai Cocktail
This is one of my favorite cocktail recipes to break out during the summer. It's fresh and perfect for any backyard barbecue!
Tools Needed
Ingredients You'll Need
Rum
Lime Juice
Orange Liqueur
Crushed Ice
Fresh Mint, for garnish
Lime Slices, for garnish
What is Orgeat? Can you make a Mai Tai without Orgeat?
Orgeat is a non-alcoholic almond syrup that's used in a lot of tiki cocktail recipes. It's very easy to find at most well-stocked liquor stores or on amazon (linked above).
Unfortunately, there is no substitute for orgeat. Without the orgeat, this Mai Tai just isn't really a Mai Tai! I recommend snagging a bottle and exploring some other great cocktails that you can use it in.
Rums used in a Mai Tai Cocktail
This recipe actually calls for two different types of rum!
Dark rum: Also known as black rum, dark rum has a dark color and a rich flavor that's smoky and sweet. Myer's is a common brand and that's what I typically use.
Light rum: Find a classic white rum made with cane sugar. You'll have plenty of options at any well-stocked liquor store.
Having a Party? Make a Pitcher! (8-10 Servings)
When entertaining, it can be super hectic to make individual cocktails for your guests. This is why I love to batch out my cocktail recipes for entertaining ease!
To a pitcher, add:
2 cups dark rum
1 cup light rum
3/4 cup grand marnier or cointreau
1 cup passion fruit puree
1/2 cup orgeat syrup
1 cup fresh lime juice
Stir all the ingredients really well with a spoon and store in the fridge. When it's time to serve, fill cocktail glasses with ice and divide the cocktail mixture among the glasses. Float a tiny bit of rum on top and garnish with fresh mint and lime slices.
Never put ice in the pitcher! This waters down the drink–it's better to put ice directly in the glasses and divide the cocktail mixture on top.
More Cocktail Recipes to Try Now
This post contains affiliate links from which I receive a small commission at no additional cost to you. Affiliate links allow me to keep providing great recipes for free and I never recommend products that I don't love and personally own.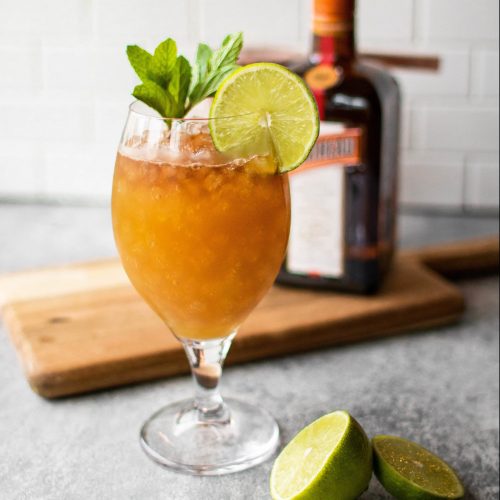 Best Mai Tai Cocktail Recipe
I love a good tiki cocktail and the Mai Tai is probably my favorite ever! The addition of passion fruit really makes a huge difference.
Ingredients
2

oz

dark Jamaican rum

1

oz

light rum

.75 oz cointreau or other orange liqueur

1

oz

passion fruit puree

.5 oz orgeat syrup

1

oz

freshly squeezed lime juice

crushed ice

mint sprigs

for garnish

sliced lime

for garnish
Instructions
Fill a double old fashioned glass with crushed ice to the top. Add all the ingredients to a cocktail shaker with ice and shake for 15 seconds. Strain into the glass and garnish with sliced lime and mint springs. Optional: float 1/4 oz of rum on top.
Notes
Fresh passionfruit juice is great for this, but I buy a frozen puree that has very little sugar added to it. This is important because the drink is supposed to be a bit tart.
You might also like...