Smoky Eggplant Dip
Smoky Eggplant Dip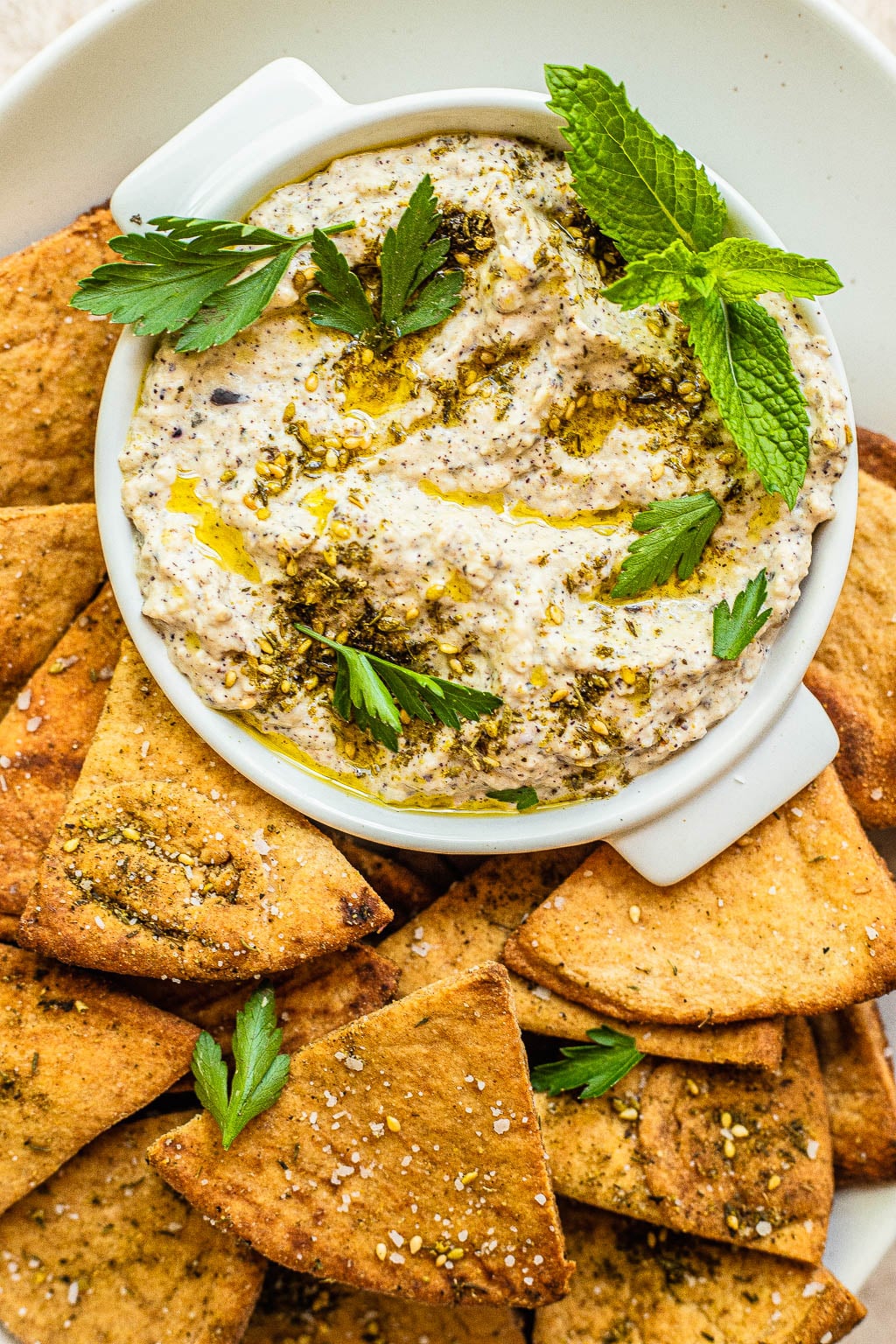 Smoky eggplant dip is a delicious mediterranean spread loaded with charred eggplant, tahini, lemon, garlic, and yogurt. Eggplant is either grilled or charred in a skillet for the most delicious smoky dip. It's equal parts smoky, creamy, and is one of my favorite dips ever.
This smoky eggplant dip draws inspiration from baba ganoush, a mediterranean staple. Mediterranean cuisine is one of my favorites and if you love baba ganoush, you'll love this smoky eggplant dip. You can spread it on a veggie heavy sandwich, enjoy with my Chicken Gyros recipe, or just dig in with homemade pita chips.
I used to make this dip in the last restaurant I worked in and it was always a hit. It's a recipe that I've made so many times over the years and I'm so excited to share it with you!
Smoky Eggplant Dip: An Easy Mediterranean Staple
I always order baba ganoush in Mediterranean restaurants, and this smoky eggplant dip draws on those flavors. The biggest difference is that I use a little bit of yogurt, which isn't traditional in baba ganoush. Using yogurt or skyr gives this recipe a creamy texture and a bit of tang–so perfect for a light and fresh dip.
Smoky, savory & creamy, this easy baba ganoush recipe is a must-try summer dip! It's creamy, it's lemony, and it has a nice nuttiness thanks to the tahini. Enjoy it with crunchy veggies & pita as a yummy healthy snack.
If you're looking for an easy vegetarian dip recipe, this smoky eggplant dip is perfect!
What is Baba Ganoush?
If you're wondering what baba ganoush is –  prepare to learn about your new favorite dip. Baba ganoush is a Mediterranean eggplant dip made from grilled or charred eggplant, tahini, olive oil, lemon juice, garlic, and salt. Like hummus, it's delicious with pita or fresh veggies, but its silky texture and irresistible smoky flavor set it apart.
While this isn't a traditional baba ganoush, it is heavy inspired by the classic mediterranean dip. In my recipe, I add a bit of yogurt, sumac, and cumin to make this dip extra savory. If you wanted to make this recipe vegan, you can skip the yogurt or swap your favorite vegan yogurt in.
How to Make Smoky Eggplant Dip
I love how easy it is to make this eggplant dip! It only takes about 15 minutes to get everything together–perfect for busy weeknights.
Tools Needed
Ingredients and Substitutions
Eggplant. I used just your classic American globe eggplant for this recipe, but I also really love using Japanese and Chinese eggplants because they have less seeds.
Yogurt or skyr. Adding some yogurt or skyr to our smoky eggplant dip gives it a creamy texture with a bit of tang. So good!
Tahini. Tahini is a must here. If you haven't used it, it's a sesame seed paste that's a staple in Mediterranean cooking. It gives our dip a nutty flavor and creamy texture.
Garlic. I always use fresh garlic, but you can swap in a bit of dehydrated garlic or garlic powder.
Lemon. Lemon juice gives the dip an acidic balance.
Olive Oil. I always add a couple of tablespoons of olive oil to this dip. The little bit of fat makes it extra luscious and adds great flavor.
Spices. I add a bit of sumac, za'atar, and cumin to my smoky eggplant dip which really helps bolster the mediterranean flavors. The za'atar also plays really well as a seasoning on homemade pita chips!
The Process
Score the eggplant. To ensure the eggplant cooks evenly, take a sharp knife and score it in a diamond pattern. You don't want to cut all the way through, just about halfway through the flesh (reference above picture). Brush the eggplant with olive oil and sprinkle with salt.
Char the eggplant. You can use a grill or a hot skillet, but the goal is to really get a blackened char on the eggplant. This is really where the smoky flavors comes from. Start by grilling or charring the eggplant cut side down for 6-8 minutes, then flip and cook for a couple more minutes.
Scrape the eggplant. Let the eggplant cool, and then use a spoon to scrape out all of the flesh.
Blend. Combine the charred eggplant, yogurt, tahini, garlic, lemon, and spices in a food processor. Pulse until the mixture is well combine and the garlic is chopped. Season to taste with salt and pepper.
Make your own pita chips. Homemade pita chips are the best here! Cut fresh pita into wedges and toss with olive oil, salt, and za'atar and spread out on a baking sheet. Bake for 10-12 minutes at 400 F until crispy. Bam! That's it.
Cooking with Skyr
If you're unfamiliar with skyr, get ready to have your life changed! It's an amazingly creamy, rich, and nourishing yogurt-like product from Iceland. Skyr has been enjoyed in Iceland for thousands of years and makes the perfect addition to desserts, breakfasts, and sauces.
This recipe uses Skyr from ICELANDIC PROVISIONS–the creamiest skyr on the market to make our smoky eggplant dip extra creamy and tangy. Not sure where to find skyr? Check out this helpful product locator HERE.
I love swapping in skyr anywhere I'd use yogurt or sour cream for a protein packed and healthy substitution.
How to Serve Smoky Eggplant Dip
Smoky eggplant dip is perfect for a party appetizer! Serve it alongside homemade pita chips or crunchy veggies like cucumber, peppers, carrots, etc.
It's also a great spread for a veggie-laden sandwich or on a Mediterranean wrap. I am a huge fan of making bowls for dinner. Try Grilled Cilantro Chicken or Grilled Salmon Skewers with Lemon Dill Rice, grilled veggies, and this smoky eggplant dip as a sauce or condiment.
Smoky eggplant dip is a versatile dip, spread, or sauce for so many recipes.
Storing and Freezing Smoky Eggplant Dip
This recipe for smoky eggplant dip holds up great to storage and freezing! If you're planning a party, you can make this dip 3 days in advance. If you have leftovers, store in an airtight container for up to 3 days.
You can serve this dip chilled, or at room temperature. If you want to freeze smoky eggplant dip, store it in a freezer-safe ziplock bag and press all of the air out when sealing. This helps prevent freezer burn. Freeze for up to 3 months and defrost overnight in the fridge.
More Appetizer Recipes to Try Now
This post may contain affiliate links from which I receive a small commission at no additional cost to you. Affiliate links allow me to keep providing great recipes for free and I never recommend products that I don't love and personally own.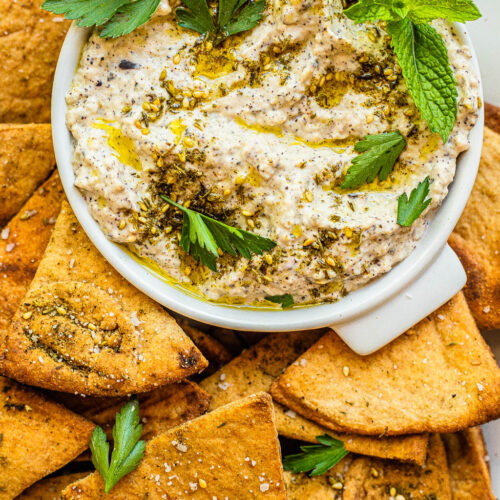 Smoky Eggplant Dip
This smoky eggplant dip is inspired by the classic Mediterranean baba ganoush. Charred eggplant, yogurt, and tahini makes this dip smoky and full of flavor. An easy vegetarian dip recipe!
Ingredients
Smoky Eggplant Dip
2

globe eggplants, cut in half and scored in a diamond pattern

2/3

cup

plain greek yogurt or skyr

1/3

cup

tahini

2

large garlic cloves

3

tablespoons

fresh lemon juice

1

teaspoon

lemon zest

2

tablespoons

olive oil

2

teaspoons

sumac

2

teaspoons

za'atar

1

teaspoon

ground cumin

salt and pepper, to taste
Homemade Pita Chips
6

pitas, cut into wedges

2

tablespoons

olive oil

1

teaspoon

sea salt

1

tablespoon

za'atar
Instructions
Pita Chips
Preheat an oven to 400 F. Toss the wedges with olive oil, salt, and za'atar and spread them in an even layer on a baking sheet. Bake for 12-15 minutes until crispy and toasted.
Smoky Eggplant Dip
Brush the cut side of the eggplant with olive oil. Heat a grill pan or cast iron skillet over medium-high heat and char the eggplant cut side down for 6-8 minutes until very dark brown. Flip the eggplant and cook for another 2-3 minutes. Transfer to a plate and cool slightly.

Once the eggplant is cool enough to handle, scrape the flesh away from the skin with a spoon.

In the bowl of a food processor, combine the eggplant and all the remaining ingredients. Pulse until smooth and everything is chopped up. Season to taste with salt and pepper.

Transfer the dip to a bowl, drizzle with more olive oil, sprinkle with za'atar and serve with pita chips.
You might also like...