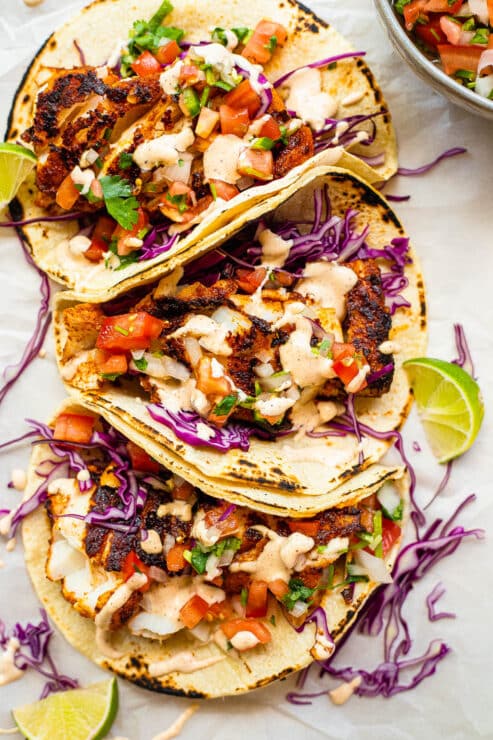 Blackened Fish Tacos
Blackened Fish Tacos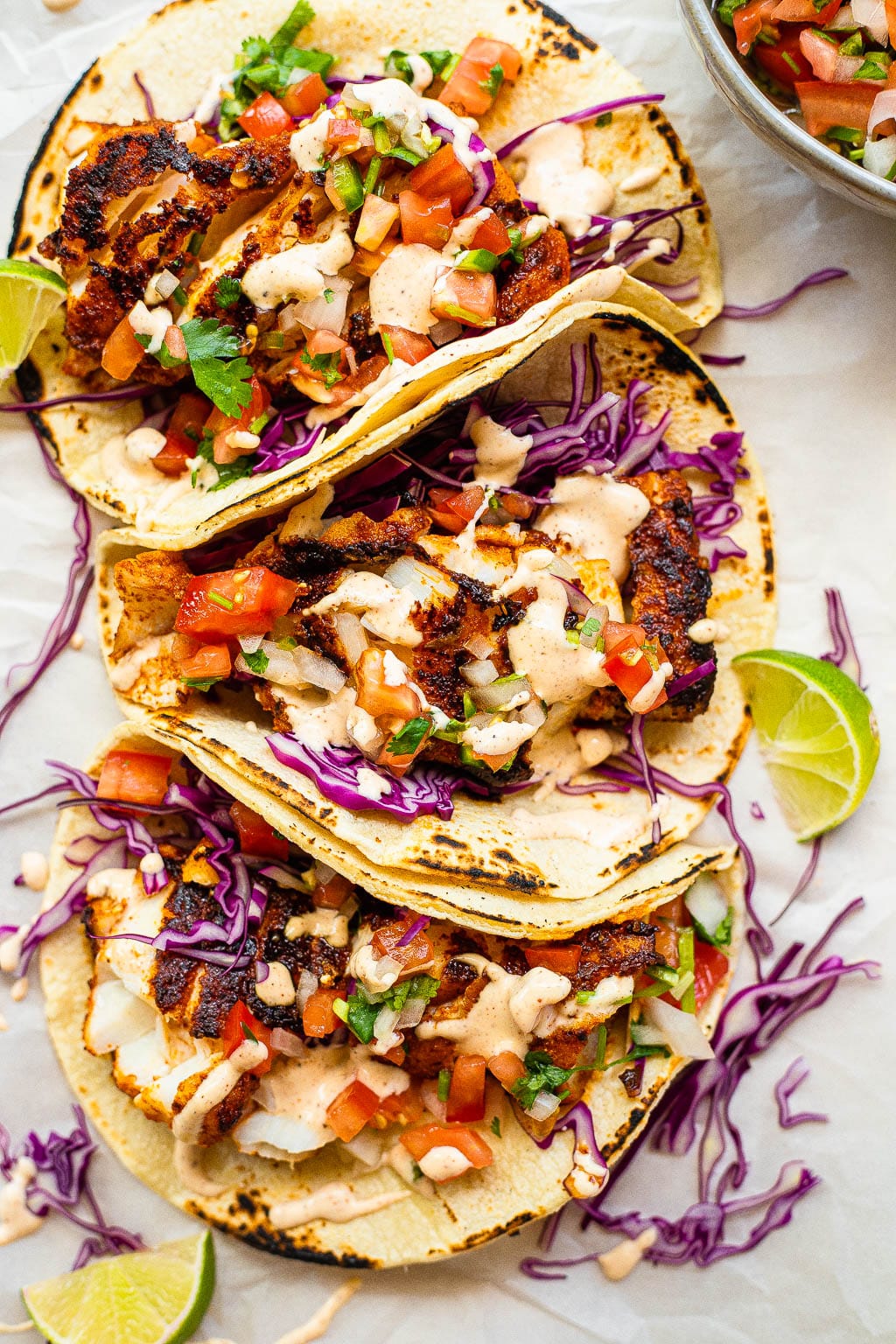 Blackened fish tacos are a quick, easy, and healthy weeknight dinner option! Flaky white fish in a flavorful seasoning blend pan-fried in butter on warm corn tortillas with fresh pico de gallo and a quick white sauce – so, so good! These blackened fish tacos only take 20 minutes to get on the table!
If you've been here for a while, you know I love tacos! Fish tacos are my absolute favorite, but I wanted a healthier and quicker fish taco recipe than your traditional fried tacos. These blackened fish tacos are flavorful and filling without feeling greasy or heavy.
If you're looking for an easy fish taco recipe, this is going to be a new favorite!
Blackened Fish Tacos
I've got a whole section on my website dedicated to tacos! We're always looking for ways to incorporate lean proteins into our diet, and these blackened fish tacos are perfect for that. We opted for fresh cod, but you could easily swap in salmon, tilapia, halibut, snapper, or mahi mahi.
I'm always all about tacos for dinner! It's an easy and flavorful way to use up ingredients in the fridge and can be adapted to use your favorite fish. The sauce is a quick and easy blend of sour cream, mayo, blackening seasoning, and a bit of lime juice.
Blackened refers to the method of cooking here. Proteins are usually coated in melted butter and a blackening seasoning blend and pan fried in a hot skillet. Pan frying the blackened fish tacos in butter is totally the move here, but you need the right skillet!
I've partnered with Calphalon to bring you this fantastic recipe. I used their Premier Hard Anodized Nonstick 10-inch skillet to get this pasta on the table. The new MineralShield coatings on the Calphalon Premier Hard Anodized nonstick cookware are 5x more durable than their classic line! They're perfect for delicate foods like fish, stand up to metal utensils, and are dishwasher safe, making cooking and cleanup super easy.
You'll never deal with stuck foods ever again! Head to their website to browse their cookware collections.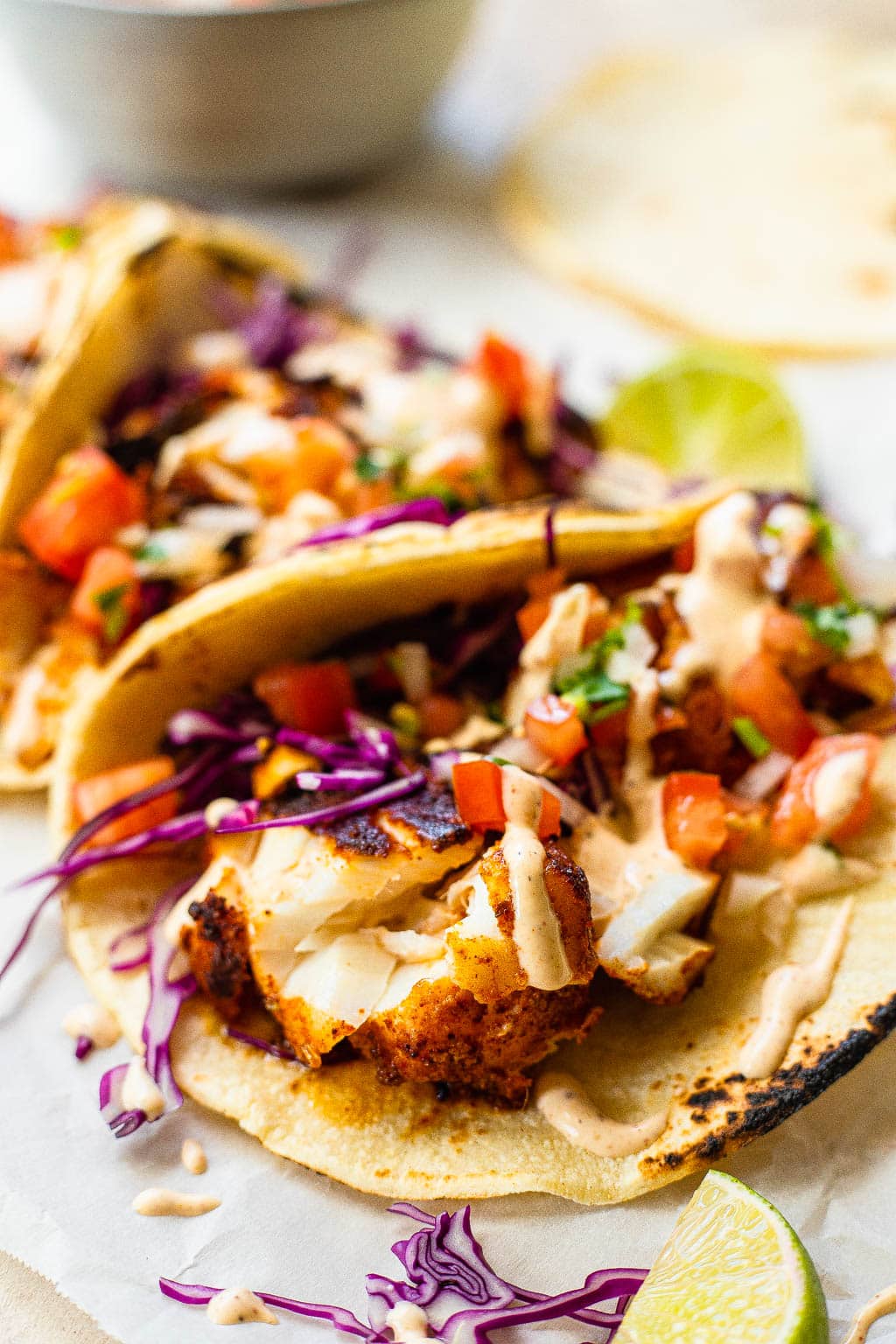 Why You'll Love This Recipe
Quick & easy meal – you can easily have this meal on the table in 20 minutes. All you have to do is mix up the seasoning, rub it on the fish, give it a quick pan fry then top with your favorite taco toppings.

Homemade seasoning – if you have a fairly stocked spice cabinet you probably already have everything you need to make blackening seasoning. I love making my own seasoning blends so I can control the quality, flavor, and salt content. Mix up a double batch to always have an easy seasoning blend on hand.

Full of vibrant flavor – Blackened fish tacos are chock full of big flavors! They're a bit spicy, a little bit smoky, and topped with fresh salsa, creamy sauce, and crunchy cabbage. The variety of flavors and textures makes this such a delicious and exciting meal.

Customizable – This is an easy recipe to adapt! If you don't feel like making your own spice blend, you can use whichever store bought seasoning blend that you like. You can also swap in different types of fish and different toppings.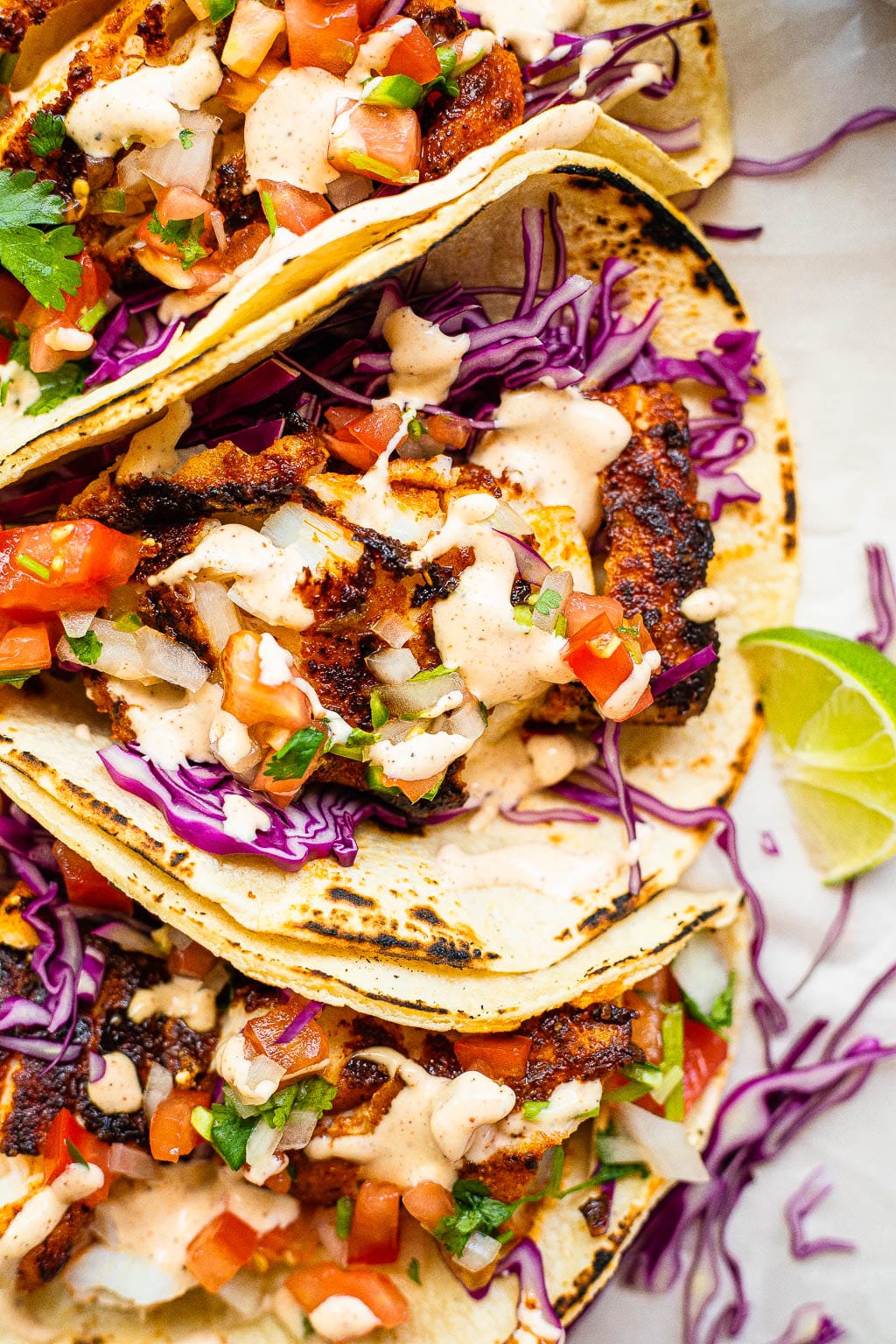 How to Make Blackened Fish Tacos
You don't need fancy tools or equipment to make this pasta recipe, but you will benefit from using a high-quality nonstick pan. This keeps the flaky fish from sticking to the pan.
Tools Needed
Ingredients and Substitutions
Fish. I used fresh cod here, but you can really use any flaky white fish for blackened fish tacos.
Blackening Seasoning. I'm always going to recommend making your own! Try visiting the bulk spice section of your grocery store so you can buy only as much as you'll need. It's a great way to try out new spices without committing to a whole bottle. You can also use store bought blackening seasoning as well.
Corn Tortillas. Since these are baja-style blackened fish tacos, I always us corn tortillas! You can swap in flour if that's what you like.
Pico de gallo. You can make your own or use store bought, but the pico de gallo adds tons of freshness!
White sauce. The sauce for the fish tacos is a simple mix of mayonnaise, sour cream, blackening seasoning, salt, and lime juice.
Lime. Always serve fish tacos with lime wedges on the side!
Cabbage. Finely shredded cabbage gives these blackened fish tacos a great crunch.
Butter. Pan frying the fish in butter is the key to great blackened fish! The butter adds a lot of flavor, but you could use olive oil, or a mix of the two.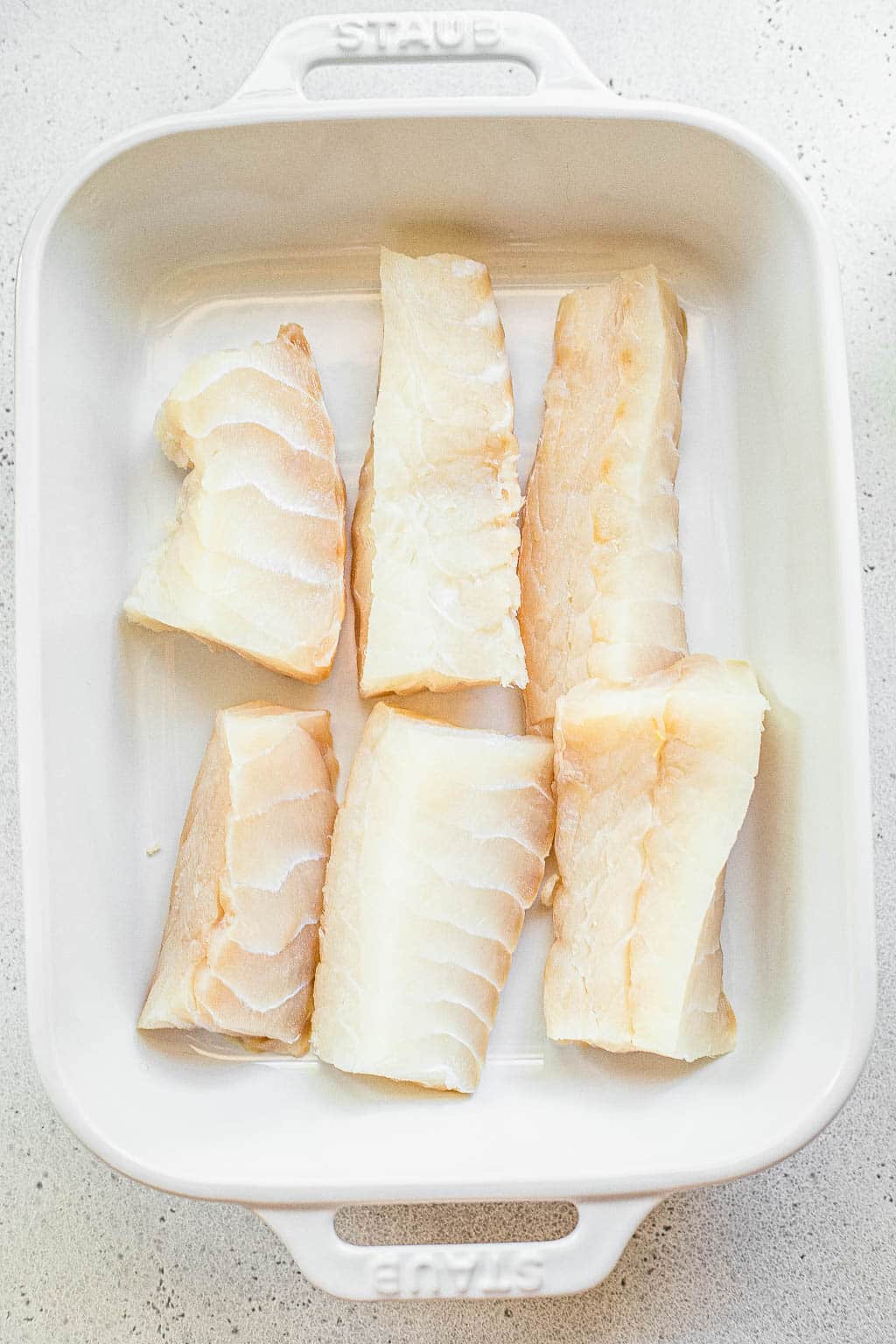 The Process
Prep and season the fish. Cut your fish into pieces if you're working from a larger fillet. Liberally coat the fish in the blackening seasoning and season with salt and pepper if there isn't already salt in your seasoning blend. Let the fish sit in the seasoning for at least 30 minutes.
Get your taco ingredients ready. Prep your other ingredients. Slice the cabbage, prepare your pico de gallo, and mix up the creamy white sauce.
Cook the fish. Melt butter in a skillet over medium-high heat. Once the butter is foamy and the pan is hot, add the fish. Cook 3-4 minutes per side, until the fish is cooked through and flaky.
Assemble the tacos! Assemble the tacos! Gently flake the fish into bite-sized pieces. Layer your warmed corn tortillas with fish, shredded cabbage, pico, and white sauce. Serve with lime wedges on the side.
Customizing Blackened Fish Tacos
Fish tacos are so easy to customize based on what you have on hand! I always consider tacos as one of my 'clean out the fridge' dinners.
Fish: I love cod here because it's hearty and absorbs the seasoning flavoring well, but you can use salmon, mahi mahi, halibut, tilapia, etc. Use your favorite firm white fish (or salmon) here.
Proteins: You can even switch up the type of protein here! If you don't want to use fish, you could use shrimp, scallops, or chicken breast. Blackening seasoning is great on so many different types of protein!
Toppings: I almost always have my fish tacos baja-style (cabbage, pico, white sauce), but you can switch up the toppings to your tastes! Try them with your favorite slaw recipe on top with cheese, tomatoes, pickled onions, avocado, etc.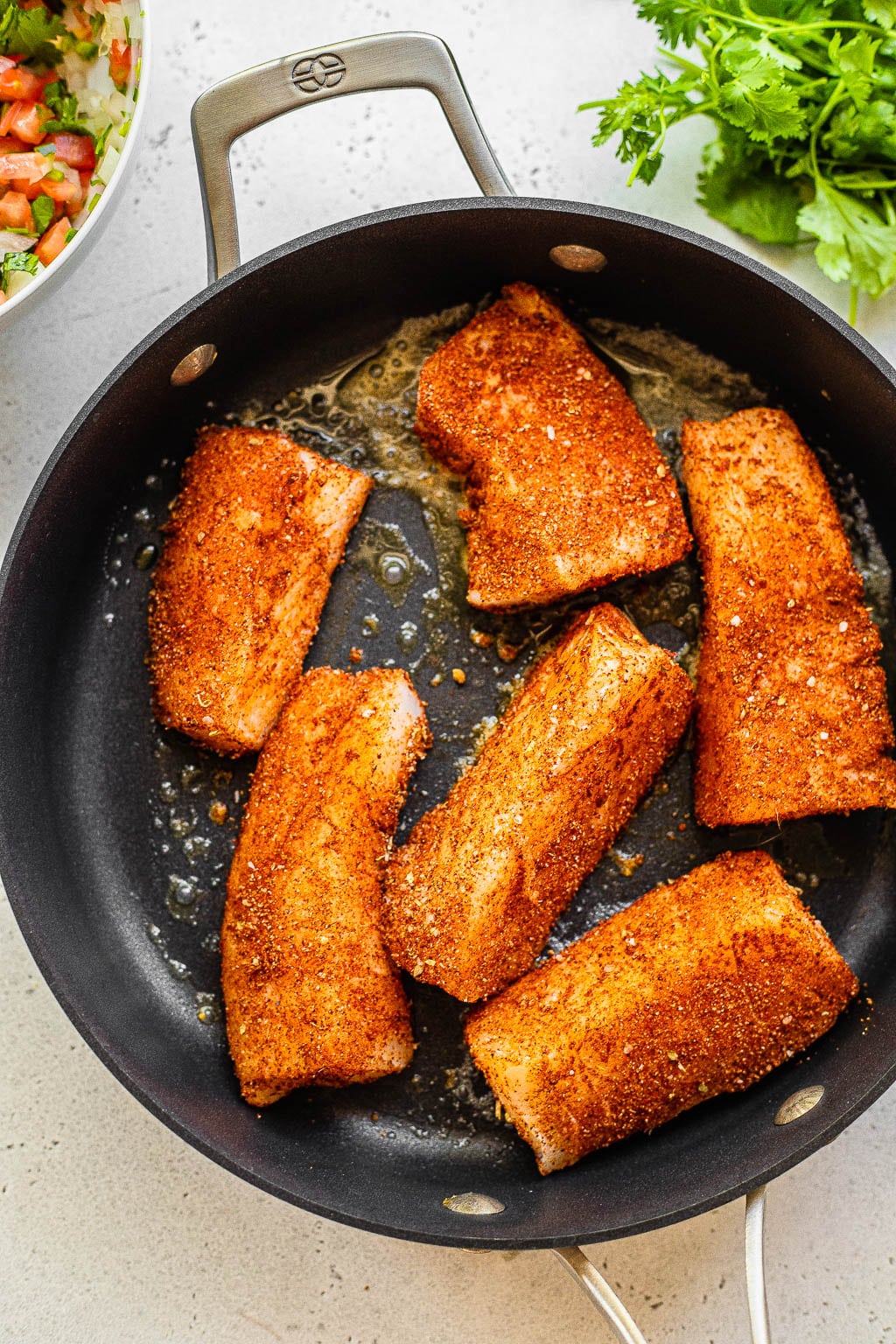 Making Your Own Blackening Seasoning
I am a huge proponent of making your own seasonings! I love experimenting with spices and putting them together to make unique and flavorful blends. While you can buy pre-made blackening seasoning, I urge you to try your hand at making your own.

When you make your own blackening seasoning for blackened fish tacos, you get to control exactly what goes into it including salt content. Maybe you're not a fan of one of the spices, that's okay! You can pick and choose what you include.

While it may feel like a lot of ingredients to make your own blackening seasoning, a lot of grocery stores now have bulk spice sections where you can buy as much or as little as you need. This is a great resource for testing out new spices that you might have not tried before. It's also a cost effective way to purchase your spices since they're often much cheaper this way than purchasing a whole bottle.
When I make my own blackening seasoning, I always mix up a double or triple batch so I can always have some ready to go. Store the seasoning blend in an airtight container for up to 3 months.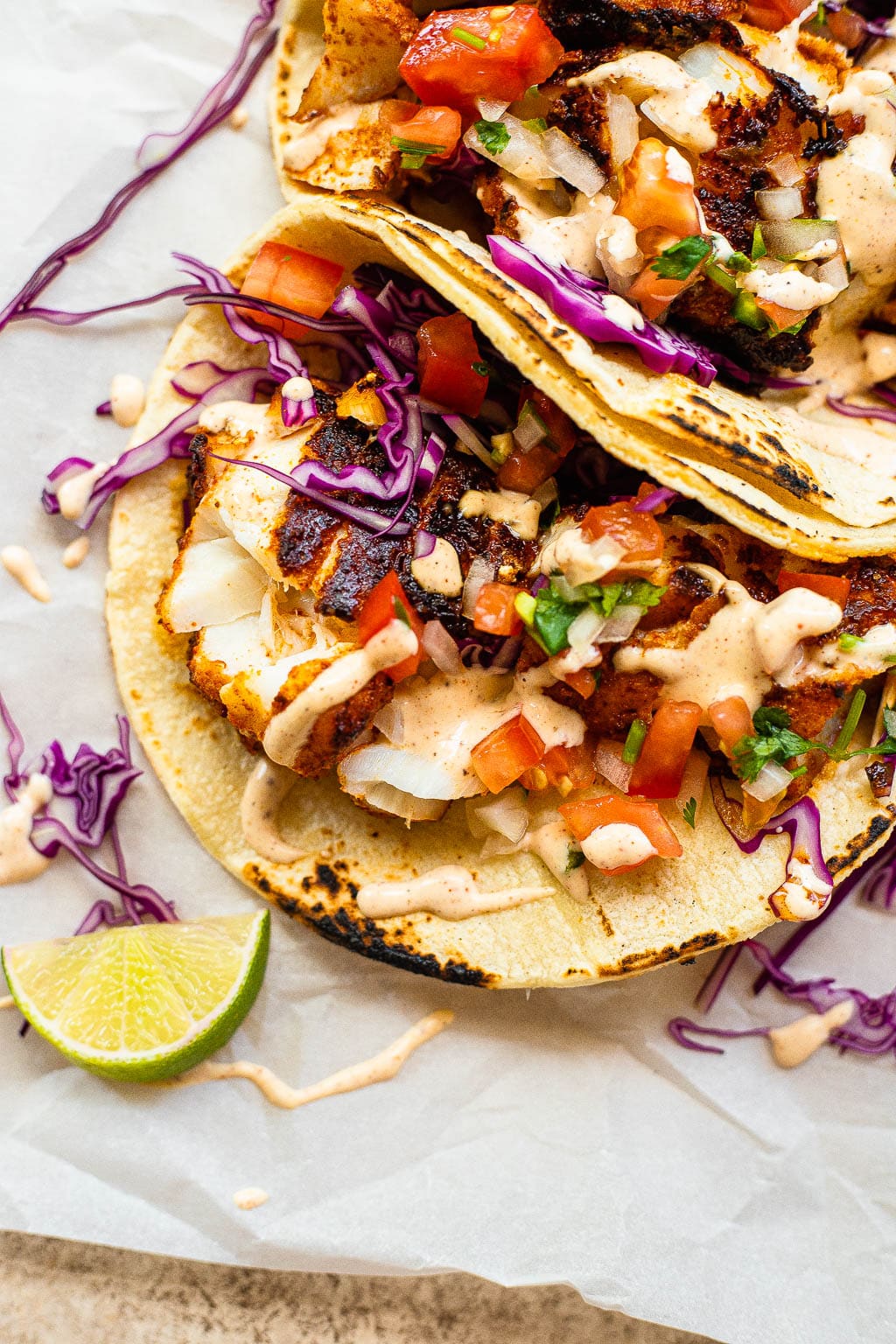 What to Serve with Blackened Fish Tacos
If you plan to serve blackened fish tacos for a party or want to create a whole Mexican spread, here are some of my favorite sides to serve!
Storing and Reheating Blackened Fish Tacos
I personally don't like to reheat fish, so I only make as much as I know we'll eat that night. That being said, if you do have any leftover fish, you can store it in an airtight container in the fridge for up to 2 days.

To reheat: Microwave in short increments until the fish is just heated through.
You can store the pico de gallo and white sauce for up to 3 days in airtight containers.
More Taco Recipes to Try Now
This post contains affiliate links from which I receive a small commission at no additional cost to you. Affiliate links allow me to keep providing great recipes for free and I never recommend products that I don't love and personally own.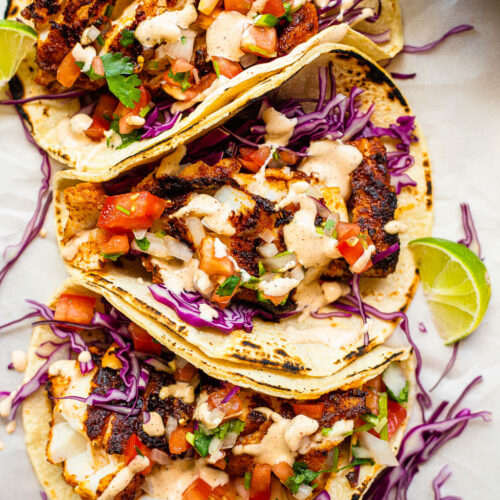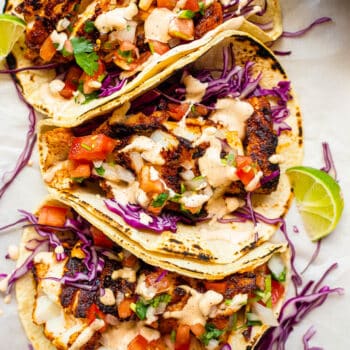 Blackened Fish Tacos
These blackened fish tacos are a healthy and flavorful dinner option! Flaky and well-seasoned white fish pan-fried in butter served in a warm corn tortilla with cabbage, pico de gallo, and a creamy whit sauce.
Ingredients
Blackening Seasoning
1

tablespoon

paprika

2

teaspoons

ancho chile powder

1

teaspoon

smoked paprika

1/2

teaspoon

cayenne pepper

1 1/2

teaspoons

ground cumin

3/4

teaspoon

ground coriander

1 1/2

teaspoons

garlic powder

1 1/2

teaspoons

onion powder

1

teaspoon

dried oregano

2

teaspoons

fine sea salt
Blackened Fish Tacos
1 1/2

lbs

cod, cut into filets

3

tablespoons

salted butter

1/4

cup

mayonnaise

1/4

cup

sour cream

1

tablespoons

lime juice

2

cups

shredded cabbage

1/2

cup

pico de gallo, homemade or store bought

corn tortillas, warmed

lime wedges, for serving
Instructions
In a small bowl, whisk together all the spices for the blackening seasoning. You may have some leftovers which can be stored in an airtight container for up to 3 months.

Place the fish in a baking dish or other container and season liberally with blackening seasoning. Reserve 1 teaspoon of seasoning for the white sauce. Let the fish sit in the seasoning blend for at least 30 minutes, up to 3 hours.

Whisk together the mayonnaise, sour cream, lime juice, and 1 teaspoon of blackening seasoning until smooth. Refrigerate until ready to use.

Melt the butter in a large nonstick skillet over medium heat. Once the butter is melted and foamy, add the fish in a single layer. Depending on how many pieces, you may want to cook them in batches. Cook for 3-4 minutes per side, until browned and the fish is cooked through and flaky.

Gently flake the fish into large chunks and assemble on warmed corn tortillas topped with cabbage, pico de gallo, and some of the sauce. Serve with lime wedges on the side.
You might also like...