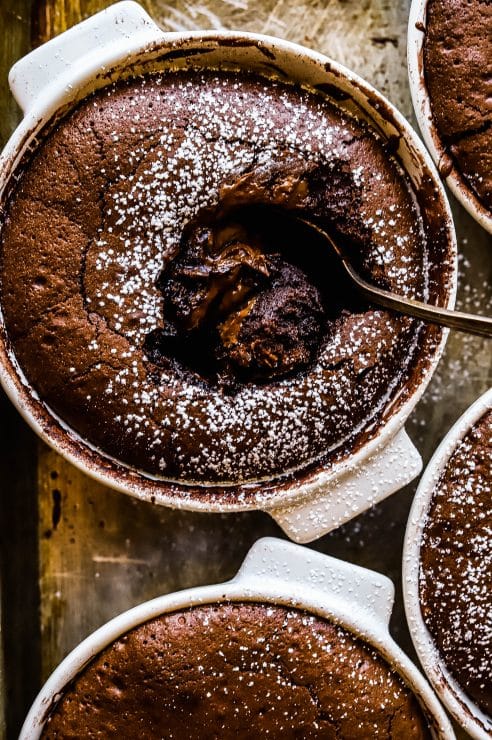 Gooey Nutella Chocolate Lava Cakes
Gooey Nutella Chocolate Lava Cakes
These gooey Nutella chocolate lava cakes are the perfect chocolate dessert recipe for Valentine's day at home. I hate going to a crowded restaurant on Valentine's day, but I still want to enjoy a nice meal! It's become a tradition to make a special dinner at home no dinner is complete without dessert! Nutella chocolate lava cakes are the perfect make-ahead chocolate dessert for a special evening!
How to Make Nutella Chocolate Lava Cakes
I love how easy it is to make Nutella chocolate lava cakes. It's a fancy-looking dessert that only requires a small handful of ingredients!
Tools Needed
Ingredients You'll Need
Bittersweet chocolate. Bittersweet chocolate makes these Nutella chocolate lava cakes super-rich without being too sweet. I don't recommend using chocolate chips here.
Butter. Opt for high-quality unsalted butter.
Cocoa powder. Dutch-processed cocoa powder is the best and gives these cakes extra chocolate flavor.
Flour. A couple of tablespoons of flour help stabilize the batter.
Eggs. Make sure your eggs are room temp!
Sugar. Whipping the eggs and sugar creates the bulk of the batter in these almost flour-less chocolate cakes.
Nutella. Make sure to chill your Nutella for at least 30 min before scooping.
Can Nutella Chocolate Lava Cake be made ahead of time?
Yes! You can chill the cakes for up to 5 hours before baking. Alternately, you can bake them 1 day in advance and reheat in the microwave or oven before serving. That being said, these cakes are best served fresh from the oven while the center is still warm and molten.
Tips for making Nutella chocolate lava cakes
Follow these tips and you'll have perfect cakes every time!
Use the right chocolate. Do not use chocolate chips here! Chocolate chips contain stabilizers which makes them difficult to melt. Buy a couple of high-quality bittersweet chocolate bars and chop them up for best results.
Use room temperature eggs. Room temperature eggs whip better!
Whip your eggs and sugar. To create a voluminous batter, you really need to whip the eggs and sugar until the mixture is thick, very fluffy, and doubled in size.
Don't let your melted chocolate get too hot. Keep a watchful eye when melting the chocolate and butter. You don't want to get it too hot so that the chocolate scorches. Be sure to let it cool slightly before adding it to the egg mixture.
Chill the Nutella. It's easier to scoop and press into the batter this way!
What to serve with Nutella Chocolate Lava Cakes
Toppings are important here! You want to balance out the rich chocolate.
Strawberries or raspberries. Some fresh fruit pairs so well with these luscious chocolate cakes!
Whipped Cream. You can't go wrong with whipped cream. Go the extra mile and whip your own with a little powdered sugar and vanilla bean!
Ice cream. Who doesn't love a warm chocolate cake with ice cream? A scoop of high-quality vanilla bean ice cream goes a long way here!
Salted caramel. Do you really want to take these Nutella chocolate lava cakes to the next level? Drizzle them with salted caramel sauce for an extra decadent variation.
Other Valentine's Day Recipes
This post contains affiliate links from which I receive a small commission at no additional cost to you. Affiliate links allow me to keep providing great recipes for free and I never recommend products that I don't love and personally own.
Gooey Nutella Chocolate Lava Cake
This Nutella chocolate lava cake has the perfect rich texture with a molten Nutella center. Serve warm topped with ice cream or whipped cream for the perfect chocolate dessert!
Ingredients
8

oz

bittersweet chocolate

chopped

1

stick

4 oz unsalted butter, diced

1/4

teaspoon

fine sea salt

4

tablespoons

all-purpose flour

2

tablespoons

dutch-processed cocoa powder

4

eggs

1

cup

granulated sugar

4

tablespoons

chilled Nutella

Powdered sugar

for dusting
Instructions
Chill your jar of Nutella for 45 minutes prior to making this recipe so that it's easy to scoop. 

Grease four 10-oz oven safe ramekins with butter and dust with cocoa powder and place on a small baking sheet.

In a medium saucepan over very low heat, gently melt the chocolate and diced butter together, stirring occasionally, until chocolate and butter are completely melted. Set aside for a couple of minutes to cool slightly. Then stir in the salt, flour and cocoa powder.

In a medium bowl with a hand mixer, or the bowl of a stand mixer fitted with the whisk attachment, whisk the eggs on high. Slowly stream in the sugar and whip on high until the eggs are light and fluffy. Fold the in the chocolate mixture until no streaks remain. Divide evenly between the ramekins. Gently press one tablespoon of chilled Nutella into the center of each cake. Chill for at least 30 minutes, up to 5 hours. 

Preheat an oven to 350 F. Bake for 35-40 minutes until the tops have cracked slightly. Remove from the oven and cool slightly. Serve dusted with powdered sugar and a scoop of ice cream if desired.
Nutrition
Serving:
1
cake
Calories:
520
kcal
Carbohydrates:
95
g
Protein:
5
g
Fat:
12
g
Saturated Fat:
6
g
Cholesterol:
120
mg
Sodium:
270
mg
Sugar:
67
g
You might also like...