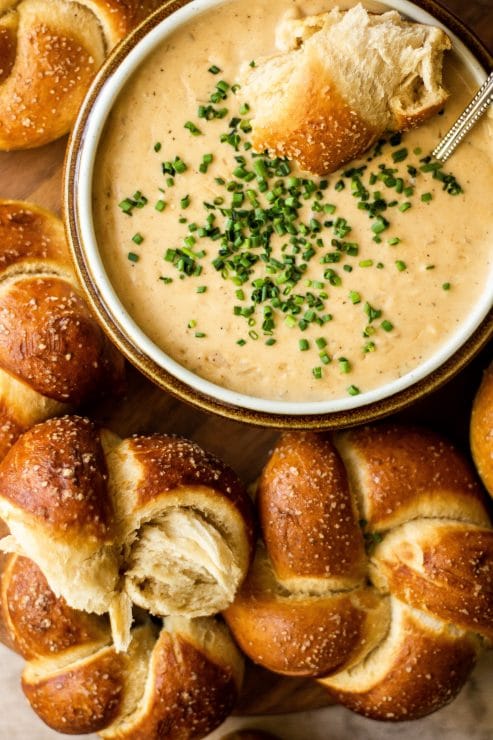 Soft Pretzel Knots with Beer Cheese
Soft Pretzel Knots with Beer Cheese
Everyone loves a good soft pretzel, right? These soft pretzel knots are a tiny bit different from your average pretzel shape (they're easier!) but they've still got all the great pretzel flavor. Plus, they're served with BEER CHEESE for dipping.
I love beer and cheese, so this is obviously a match made in heaven. I used my favorite style of beer, Oktoberfest or Marzen beer, but you can use any amber lager. This is a great recipe to make for a party or with kids because making the knots is so fun. Check out my shaping video below and happy baking!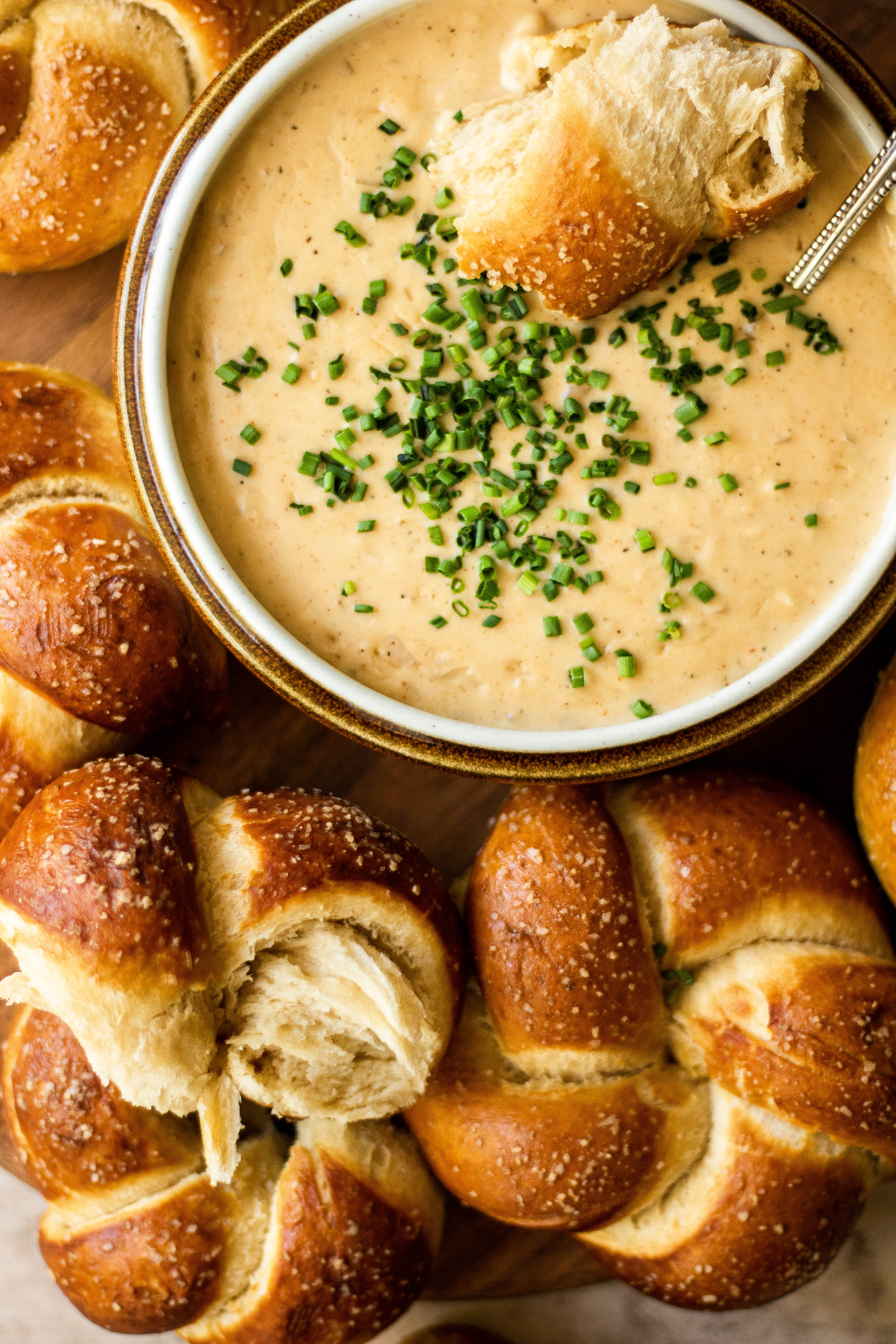 What gives soft pretzel knots their signature crust?
Pretzels get their signature flavor and crust from a bath in an alkaline solution before baking. Often times, lye is used but it can be dangerous to work with and not readily available. Instead, we are using baked baking soda.
Baking soda is already slightly alkaline, but baking it changes the pH to be even more alkaline. Then you bring the baked baking soda and some water to a simmer where the pretzels get a little bath before going into the oven. I learned this little trick from Erin at Cloudy Kitchen, check out her recipe for little pretzel bites!
How do you make baked baking soda?
Easy! All you have to do is line a rimmed baking sheet with foil, spread a box of baking soda in a thin layer, and bake at 250 degrees F for 1 hour. It yields a lot of baked baking soda, but you can save it in an airtight container for the future (or make these homemade ramen noodles!).
Do you have to bake the baking soda? In my opinion, yes. You can try it with just regular baking soda, but I can't guarantee the same results. Baking soda (sodium bicarbonate) is a very weak base, but baked baking soda (sodium carbonate) is much stronger and gives more flavor to the pretzels.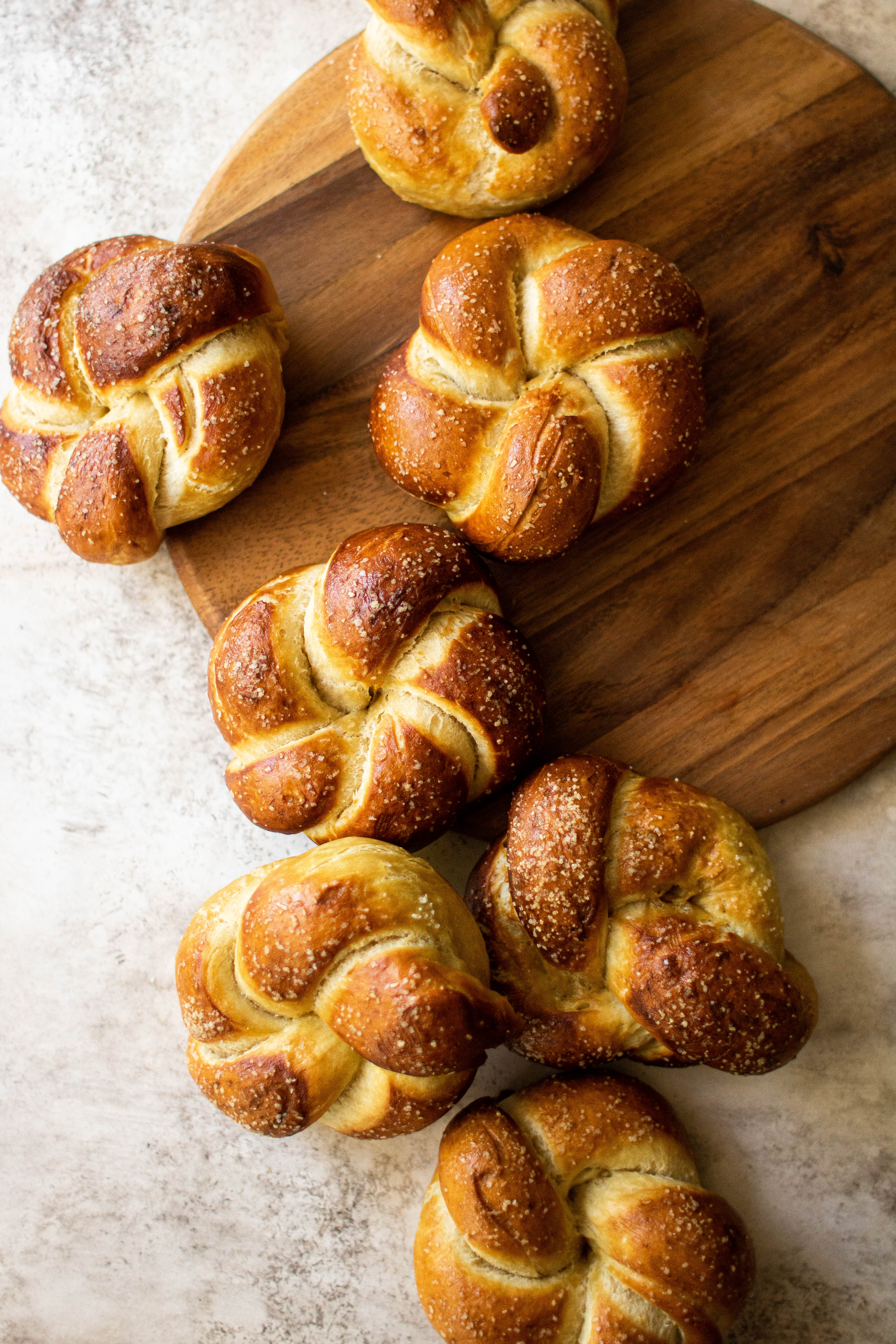 How do you shape soft pretzel knots?
This is my favorite part! Soft pretzel knots are so easy and fun to shape, but I know reading the method can be tough so I made a little video! Check it out below to watch me shape a soft pretzel knot. Essentially, you divide the dough into equal portions first. Each portion is rolled out into a rope about 12 inches long. Then you tie the rope into a knot and tuck the ends in, and that's it! Give it a few tries and you'll get the hang of it so quickly!
Do I have to use beer in soft pretzel knots?
No, but it does add flavor. If you don't want to use beer, you can simply use water in place of the beer. As for the beer cheese dip, beer is pretty essential in that part. If you don't want to use beer at all in your dip, try this Hatch Chile Queso recipe!
How can I store Pretzel Knots?
Store these at room temperature in a ziplock bag or airtight container once completely cool. They will last for about 3-4 days. Just pop them back into a 400 degree oven for 3-5 minutes to warm. Alternately, they can be frozen after baked in a freezer safe ziplock bag. Store the beer cheese in the fridge in an airtight container for up to a week. Warm back up gently in a skillet or saucepan, using a little beer or milk as necessary to thin it out.
Tips for making Soft Pretzel Knots
weigh your ingredients.

Baking is a science and as such, it needs to be exact. I have the cup measurements, but enter at your own risk friends!

don't over-bake. This is a pretty lean dough and it can over-bake pretty quickly. You want to bake just until the knots are browned, and no longer, I found this to be about 15-17 minutes.
use a silicone mat. These really help the pretzels not stick to the tray. You can use parchment paper, but they may stick a bit after the water from the soda bath gets the paper wet. Do not use foil!
keep your dough covered while shaping. I find it's easiest to cover a baking sheet with plastic wrap and place each shaped knot under the plastic as soon as you are finished shaping.
don't forget the egg wash!

an egg whisked with a little water and brushed on the pretzel knots will give them a pretty, shiny crust and help the salt stick.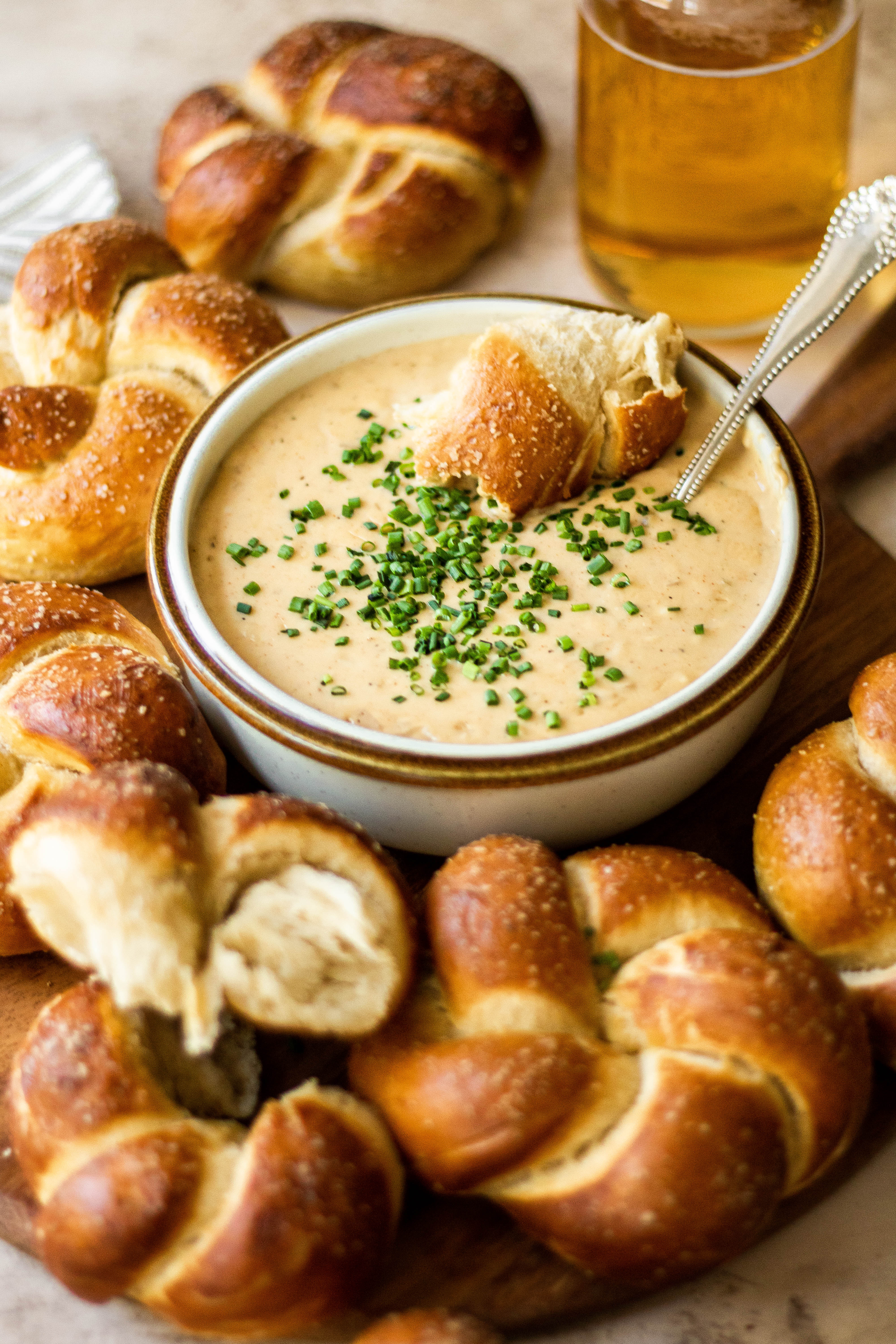 More Recipes to Try
This post may contain affiliate links from which I receive a small commission at no additional cost to you. Affiliate links allow me to keep providing great recipes for free and I never recommend products that I don't love and personally own.
Soft Pretzel Knots with Beer Cheese
Soft pretzel knots with beer cheese are the perfect game day snack!
Ingredients
Soft Pretzel knots:
1

cup

275 g amber lager

1/3

cup

120 g whole milk

1

tablespoon

25 g granulated sugar

2 1/4

teaspoons

7 g active dry yeast

6

oz

85 g unsalted butter, melted, divided

1

egg

room temperature

4

cups

570 g all-purpose flour

1

teaspoon

fine sea salt

egg wash - 1 egg beaten with 1 tablespoon of water

pretzel salt or coarse kosher salt

1/2

cup

baked baking soda*

see notes above

6

cups

water
Beer Cheese:
2

tablespoons

unsalted butter

1

shallot

minced

1

garlic clove

minced

6

oz

cream cheese

at room temperature

8

oz

1 cup amber lager, at room temperature

1

tablespoon

dijon mustard

1

tablespoon

Worcestershire sauce

1/2

teaspoon

smoked paprika

8

oz

smoked gouda or white cheddar

grated on a box grater

Kosher salt

to taste

Ground pepper

to taste

Minced chives

for topping
Instructions
To make the pretzels:
Line a baking sheet with foil and preheat an oven to 250 degrees F. Spread 1 box of baking soda in an even layer on the tray. Bake for 1 hour and then allow to cool to room temperature. Store in an airtight container in a cool, dark location.

Mix together the beer and milk in a measuring cup and microwave for about 45 seconds, until just barely warm. Combine the beer/milk with the yeast and sugar in the bowl of a stand mixer fitted with the dough hook. Once the mixture is foamy (after about 5-7 minutes), and the flour, 4 tablespoons of the melted butter, egg, and salt and mix on medium speed for about 10-15 minutes, until the dough is smooth.

Lightly oil the mixing bowl, toss the dough to coat lightly in oil, and cover with plastic wrap. Place in a warm-ish location and allow the dough to rise for 2 hours, until at least doubled in size.

Transfer the dough to a clean work surface (do not flour). Using a scale, divide the dough into 8 equal portions (I did 120 g pieces). Like a baking sheet with a silicone baking sheet and cover with plastic wrap.

Working quickly, roll each piece of dough into a rope about 12" long. Tie into a knot and tuck the ends in (see video above), and place each knot under the plastic wrap on the prepared baking sheet. Repeat with remaining dough. Allow dough to rest for 20 minutes. Preheat an oven to 425 degrees F in the meantime.

Combine 6-8 cups of water with the baked baking soda in a dutch oven or pot, and stir to dissolve. Heat the water until steaming, but not boiling. Turn off the heat.

Gently transfer 2-3 of the knots to the steaming water for about 30 seconds, stirring gently to make sure the dough is well coated. Using a slotted spoon or spider, lift the knots from the water, allow a bit of the water to drain off and transfer to the silicone lined baking sheet. Repeat with remaining dough.

Brush knots with egg wash and top with pretzel salt or coarse kosher salt. Bake for 15-17 minutes, until golden brown, rotating the baking tray halfway through. Remove from the oven and brush with the remaining 2 tablespoons of melted butter. Allow to cool slightly, serve warm.
To make the beer cheese:
In a medium saute pan or skillet, heat the butter over medium heat. Add the shallot and garlic and cook until the shallot is softened. Add the beer and cream cheese, and using a whisk, whisk until the mixture is smooth (it will look a little broken, don't sweat, keep whisking). Once all the cream cheese is whisked in and smooth, add the dijon, Worcestershire, and paprika. Whisk until smooth and slightly thickened. Remove from the heat and add the cheese, stirring until melted. Season to taste with salt and pepper and top with minced chives. Serve warm.
You might also like...