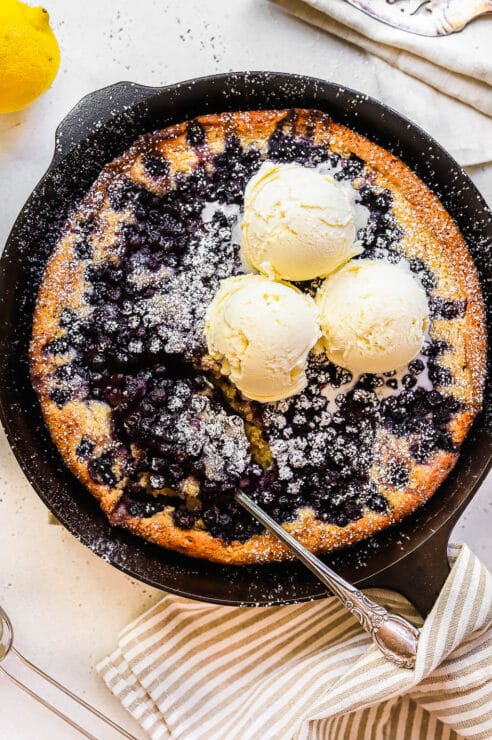 Skillet Wild Blueberry Cobbler
Skillet Wild Blueberry Cobbler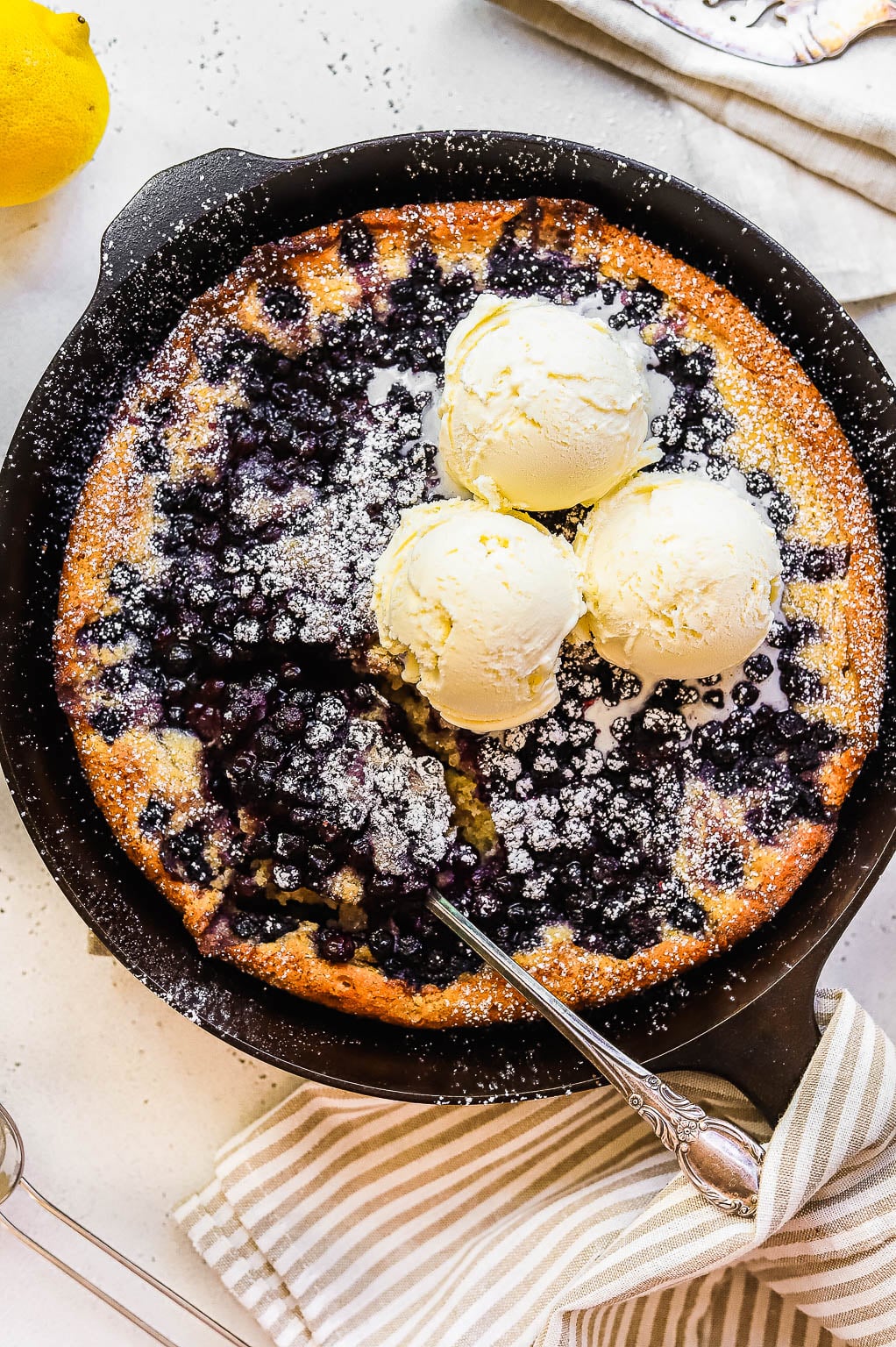 Skillet wild blueberry cobbler is the perfect dessert for summer. Juicy and flavorful wild blueberries baked over a tender cobbler that's almost cake-like! All you need is a scoop or two of ice cream on top and dessert is ready.
The wild blueberries give this cobbler such an incredible flavor. Bright blueberries with a hint of lemon is the absolute best flavor combo for summer! Once you see how easy this skillet wild blueberry cobbler comes together, you'll be making it over and over again.
Cobbler: A Celebration of Summer Blueberries
There's honestly just something magical about baking with fruit that's at the peak of its season. Spring and Summer are all about fruit forward desserts like my Cherry Clafoutis or Strawberry Crisp. I love blueberries, but wild blueberries are just something else!
The cobbler batter is a simple, but flavorful cake-like batter made with brown sugar, flour, brown butter, and sour cream or skyr. A simple vanilla cobbler batter really lets the fresh blueberry flavor shine.
The prep work for this skillet wild blueberry cobbler only takes about 10 minutes and it's baked right in a skillet making it easy to serve and clean up. You'll want to serve this skillet wild blueberry cobbler with a scoop of vanilla ice cream on top for absolute perfection.
Wild Blueberries vs Regular Blueberries
This skillet wild blueberry cobbler (obviously) features wild blueberries. If you've never had a wild blueberry, prepare for your life to be changed! They're smaller than regular blueberries with an intense flavor that puts all other blueberries to shame.
Wild blueberries are smaller in size than regular blueberries, more compact, and have less water content. This means that you get more wild blueberries per pound than regular blueberries. More flavor. Wild blueberries have a more intense, sweet, and tangy flavor compared to regular blueberries.
As 1 of 3 native North American fruits, wild blueberries are never planted. They grow wild in the thin glacial soils and harsh northern climate of Maine. It's very hard to find them fresh, but that's okay! When they're frozen, they're frozen at their peak freshness. You can find them in the frozen fruit aisle at Target, Central Market, Walmart, HEB, and more.
Cobbler vs Crisp
A cobbler is a baked fruit dessert with either a thick, biscuit-like dough or thinner cake-like batter baked with the fruit. The cake-like batter version is more often found in the South and considered more old-fashioned. Since blueberries are so delicate, they really hold up better in a cake-like batter cobbler.
A crisp is fruit baked with a crumbly topping comprised of butter, flour, and sugar (sometimes with the addition of oats, nuts, and other ingredients). I also LOVE a good crisp and if you do too, check out my recipes for Apple Pecan Crisp and Strawberry Crisp.
How to Make Skillet Wild Blueberry Cobbler
You're going to love whipping up this easy skillet wild blueberry cobbler every spring and summer! It's a great dessert year-round because you can always use frozen berries!
Tools Needed
Ingredients and Substitutions
Blueberries. We're using frozen wild blueberries for this recipe, but you can use fresh or frozen regular blueberries as well.
Lemon zest and juice. The little bit of lemon really enhances the blueberry flavor.
Sugar. Brown sugar in the batter, white sugar in the blueberries.
Cornstarch. Tossing the blueberries with a bit of cornstarch or flour keep the blueberries from sinking through the batter.
Flour. Just good old all-purpose flour here!
Brown butter. Could you just use melted butter? Sure, but where's the fun in that?
Sour cream or Skyr. I love baking with plain skyr because it's so creamy! What's skyr, you ask? Find out more here.
Buttermilk. Buttermilk gives such a great tang to the cobbler batter! You can swap in regular milk, just please use whole milk!
The Process
Step one: Melt the butter in a 10 inch cast iron skillet over medium-low heat. Cook, swirling occasionally, until the butter is golden brown and nutty smelling. Pour into a heat-safe mixing bowl and let it cool slightly.
Step two: In a separate mixing bowl, toss the frozen blueberries with the sugar, lemon zest, lemon juice, and cornstarch until well mixed.
Step three: Whisk the skyr or sour cream into the browned butter with the buttermilk and whisk until smooth. Whisk in the brown sugar. Fold in the flour, baking powder, and salt. Pour the batter into the skillet you browned the butter in and top evenly with the blueberries.
Step four: Bake at 350 F for 35-40 minutes until the edges are golden brown and the cobbler is cooked through in the middle. Cool for 15 minutes in the skillet and top with ice cream before serving.
How to Brown Butter for Skillet Wild Blueberry Cobbler
Making brown butter is so easy and it's the perfect way to level up your baking.
Melt the butter. Start with a shallow saucepan and melt your butter over low heat.
Bubbling. After the butter is melted, it'll start to bubble a bit. You'll notice the color will change and the butter will get much clearer.
Foaming. Next, your butter will start to get foamy. I like to swirl the pan every minute or so while this is happening. The butter will start to brown and you'll smell the change.
Browning. Keep a close eye at this stage because it's easy to burn! You want the butter to just be golden brown at this point.
Once the butter is golden brown, remove it from the heat immediately. Transfer it to a heat-proof bowl and let it cool to room temperature. From here, it's ready to use in a variety of baked goods! Don't leave the little browned bits behind, that's where all the flavor is.
Baking with Skyr
If you're unfamiliar with skyr, get ready to have your life changed! It's an amazingly creamy, rich, and nourishing yogurt-like product from Iceland. Skyr has been enjoyed in Iceland for thousands of years and makes the perfect addition to desserts, breakfasts, and sauces.
This recipe uses Skyr from ICELANDIC PROVISIONS–the creamiest skyr on the market to make our skillet wild blueberry cobbler extra moist and tender. Not sure where to find skyr? Check out this helpful product locator HERE.
Yogurt/skyr is a great ingredient for adding to skillet wild blueberry cobbler and other baked goods. It keeps the cobbler moist, tender, and super delicious.
Storing and Re-Heating Skillet Wild Blueberry Cobbler
If you somehow manage to not eat this skillet wild blueberry cobbler in one sitting, it's easy to store!
To store skillet wild blueberry cobbler, simply scoop the cobbler out of a skillet and into an airtight container. You can store it in the fridge for up to 5 days. I don't recommend freezing it.
To reheat, portion the cobbler into a bowl and microwave until just warmed through.
More Easy Baking Recipes to Try Now
This post contains affiliate links from which I receive a small commission at no additional cost to you. Affiliate links allow me to keep providing great recipes for free and I never recommend products that I don't love and personally own.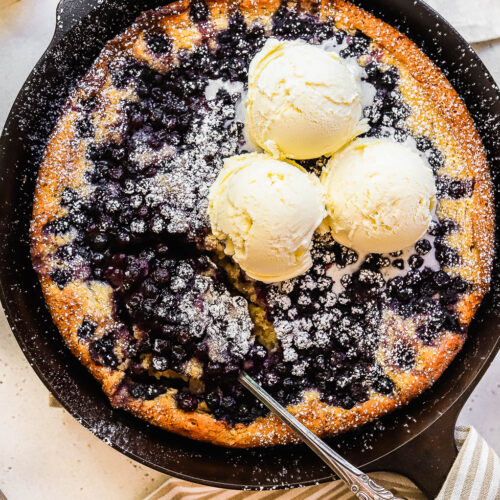 Skillet Wild Blueberry Cobbler
This skillet wild blueberry cobbler is the perfect summer dessert recipe! It takes 10 minutes to whip up and gets baked and served in a skillet, meaning easy serving and clean up for you.
Ingredients
Blueberries
2 1/2

cups

frozen wild blueberries

1/4

cup

granulated sugar

1

teaspoon

lemon zest

1

tablespoon

fresh lemon juice

1

tablespoon

corn starch
Cobbler
1

stick (4 oz) unsalted butter

1/2

cup

sour cream or skyr

1

cup

buttermilk

2

teaspoons

vanilla extract

2/3

cup

packed brown sugar

1

cup

all-purpose flour

1 1/2

teaspoons

baking powder

1/2

teaspoon

sea salt
Instructions
Preheat an oven to 350 F.

In a 10 inch cast iron skillet, melt the butter over medium-low heat. Cook, swirling occasionally, until the butter is golden brown and nutty smelling (see blog post for instructions on how to brown butter). Pour the butter into a heat-proof mixing bowl and let it cool slightly.

While the butter cools, toss the blueberries, white sugar, lemon zest, juice, and corn starch together in a separate mixing bowl until the blueberries are well coated.

Whisk the sour cream (or skyr), vanilla extract, and buttermilk into the cooled brown butter until smooth, then whisk in the brown sugar. Fold in the flour, baking powder, and sea salt until the batter is smooth and no lumps of flour remain.

Pour the batter into the skillet you used to brown the butter and then top with the blueberries in an even layer. Bake for 35-40 minutes until the edges are golden brown and the middle is cooked through.

Cool for 15 minutes before serving warm. Top with a dusting of powdered sugar and whipped cream or ice cream.
You might also like...