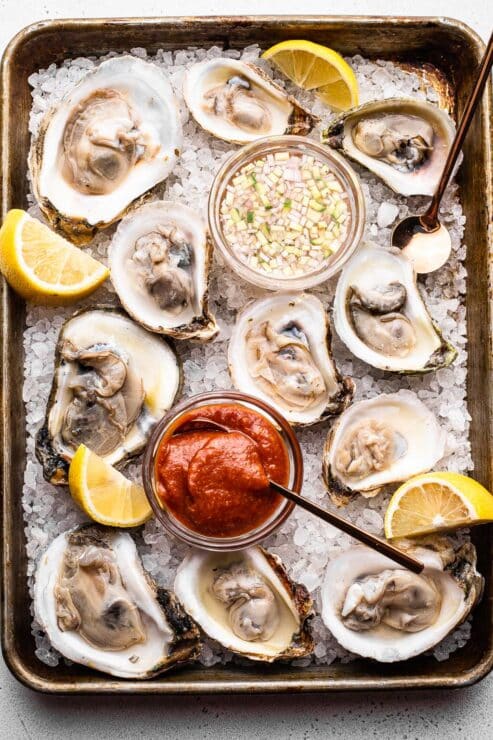 Oysters with Mignonette
Oysters with Mignonette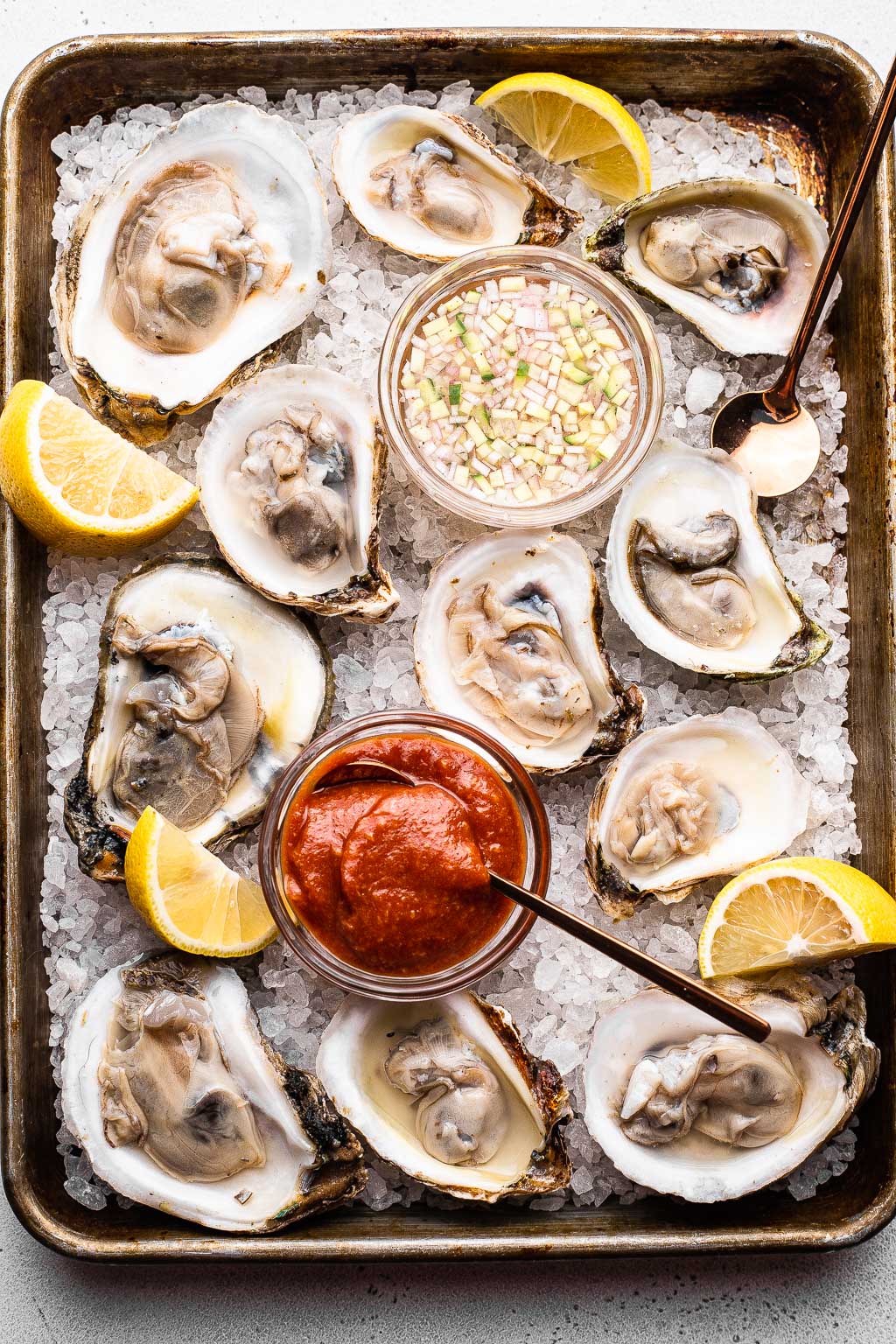 Oysters with mignonette is the easy and elegant appetizer you need in your life! They're perfect for the holidays and NYE, but also great for turning a Friday night into a festive occasion. If you ever thought that oysters were too intimidating to serve at home, I'm here to demystify the process!
This recipe for oysters with mignonette will go over how to shuck, store, and serve oysters with both cocktail sauce and champagne mignonette. Stop overpaying for restaurant oysters, pop a bottle of champagne, and settle in for a glamorous night at home!
Oysters with Mignonette at Home
I absolutely adore going out for oysters and champagne. It's one of my favorite things to do on a late Friday afternoon in the summer (or any time of year). However, going to a restaurant and paying upwards of $3.50 per oyster is not my idea of a good time.
We have several seafood markets that sell fresh oysters and so we decided to start enjoying our Oysters with Mignonette and cocktail sauce from the comfort of our own home.
Serving oysters at any dinner party or gathering has become a tradition in our house and it's so easy to do when you know how!
There's nothing more impressive than a build-your-own oyster bar and NYE is the perfect time to start shucking. Read on for all my tips, tricks, and step-by-step instructions on how to shuck oysters at home.
What are Oysters with Mignonette?
Serving oysters on the half shell simply means that the oysters are served raw and on the shell they came in. It's a very common preparation, and it's totally delicious. There are lots of ways to prepare oysters, but fresh with mignonette, cocktail sauce, and lemon wedges is my favorite way!
Mignonette sauce is a condiment traditionally made from shallots, cracked black peppercorn, and vinegar (either red or white). This mignonette recipe also features champagne for a bubbly tang. Champagne is also the perfect pairing to serve with oysters with mignonette!
Why You'll Love this Recipe
Elegant – Is there anything more luxe or opulent than fresh oysters and champagne? If you're looking for a way to level up your entertaining game, oysters with mignonette have to be part of your rotation!
Cost effective – Spending close to $40 for 12 oysters in a restaurant is not my idea of a good time. When serving oysters at home, you cut that number in half! While it does take elbow grease, I love having the freedom to serve oysters at home.
Perfect for entertaining – There's nothing quite like kicking off a dinner party with a spread of glistening oysters to make you look like a culinary rockstar!
How to Prepare Oysters with Mignonette
Follow all my tips and tricks for serving oysters with mignonette at home!
Tools Needed
Small Bowl
Clean Kitchen Towel
Ingredients for Mignonette Sauce
Vinegar. I like using a champagne vinegar here or something with a little sweetness to balance out the acidity. Red wine vinegar works well too.
Shallots. Finely minced shallot gives mignonette it's signature flavor. Make sure the shallot is very finely minced.
Champagne. This is an optional ingredient, but I love the bubbles and balance it gives to the oysters with mignonette.
Cucumber. Also an optional ingredient, but it makes this mignonette sauce extra fresh.
Black Pepper. Freshly cracked black pepper is a must.
Preparing Oysters
Selection
Selecting oysters for Oysters with Mignonette is the first step! You always want to buy your seafood from a reputable location. I always buy my oysters fresh, never frozen! My favorite places to purchase oysters are Central Market, Whole Foods, and our local seafood market Groomer's.
Storage
Oysters are still alive when purchased and that's the way you want to keep them! When you purchase them, make sure to not seal the bag that they're stored in or they will suffocate. Once you get home, remove them from the bag and store on a bed of ice. I don't recommend storing for more than a day or two at the very outside. Remember to keep draining water and adding ice as it melts!
Cleaning
Before shucking, rinse your oysters under cold water to get rid of any dirt and debris. If the oysters are really dirty, use a small brush (like a nail brush) to lightly scrub them. Rinse and pat dry. Now it's time to shuck oysters for oysters with mignonette!
How to Shuck Oysters
Before starting the process, get a large, clean cutting board and set it on a clean work surface. Have a clean kitchen towel (or shucking gloves) and an oyster knife. Set up a tray with ice for placing the oysters after you shuck them.
Wrap the oyster in a clean towel with the hinge (part where the top and bottom oyster shell join together) exposed. Make sure that the oyster is right side up. It's belly will be deeper and that's the side you want down and the shell on which the oyster will rest after shucking.
2. Insert the knife into the hinge and twist/torque the knife until you feel the top shell pop away from the hinge.
3. Run the knife around the edge of the oyster to continue to loosen the top shell. As you run the knife around the edge of the oyster, make sure it's flush with the top shell so that you sever the connection between the oyster and the top shell (adductor muscle).
4. Remove the top shell and slide the knife under the oyster to sever the second adductor muscle and dislodge it. The oyster should now be completely free from the shell! Store each oyster on the prepared ice tray. After all oysters are shucked, store in the fridge on ice for up to 2-3 hours.
Different Oyster Varieties
Just like wine, the specific taste of each oyster is reflective of where the oysters were grown and the water composition. For the best oysters with mignonette, makes sure you know what kinds of oysters you like!
Oysters from the cold, New England shores off of Maine and the Cape (such as Blue Point, Wellfleet, or Malpeque oysters) will taste a touch brinier than oysters from the West coast, and have a smoother texture.
In broad terms, though, Eastern oysters tend to be feature a simpler, more salt-forward flavor—from mild to ocean-pow—while Pacific oysters can exhibit some complexity, with a range of mineral, vegetal, savory flavors coming into play.
Oysters harvested from the West Coast and Pacific waters (such as Barron Point, Inlet, Pink Moon, or Kumamoto) will taste sweeter, are plump and creamy, and are overall less briny than East coast oysters.
Oysters that come from the Gulf of Mexico, in my opinion, are not to be discounted! Gulf oysters are mild in flavor and plump and often very cost effective.
A NOTE: Larger oysters are easier to shuck than small oysters. Just as oysters with thicker shells are also easier to shuck as the shell doesn't break easily.
What to Serve with Oysters with Mignonette
Can Oysters with Mignonette be a meal on it's own? Heck yeah! Sometimes we'll just pop a bottle and slurp down oysters for dinner, but more often they're part of a spread.
Oysters with Mignonette is the perfect appetizer to begin any meal or to join other appetizers for a small-bites party! Here are my favorite appetizers to serve alongside oysters:
You can also serve Oysters with Mignonette alongside a large Caesar Salad before a hearty dish like Pasta Bolognese or Prime Rib.
If you need a light and fresh cocktail, try this Chamomile Gin Fizz or just a glass of your favorite bubbly!
We love these Oysters with Mignonette recipe as part of our holiday traditions and I hope you'll give it a try too. It truly is so easy to serve great oysters at home! If you do give it a try, be sure to let me know! Leave a comment with a star rating below. You can also snap a photo & tag @JENNYGOYCOCHEA on Instagram. I LOVE hearing about & seeing your SMF creations!
More Seafood Recipes to Try Now
This post for Roasted Shrimp Cocktail contains affiliate links from which I receive a small commission at no additional cost to you. Affiliate links allow me to keep providing great recipes for free and I never recommend products that I don't love and personally own.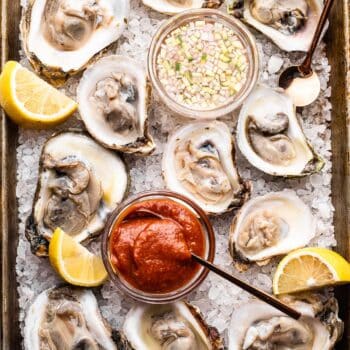 Oysters with Mignonette
Oysters with mignonette is the easy and elegant appetizer you need in your life! They're perfect for the holidays and NYE, but also great for turning a Friday night into a festive occasion.
Ingredients
12

oysters, shucked (see above tips and tricks)

1 1/2

tablespoon

very finely minced shallot

1

tablespoon

very finely minced cucumber

1/3

cup

champagne

3

tablespoons

champagne vinegar (or red wine vinegar)

freshly cracked black pepper

pinch of kosher salt

lemon wedges
Instructions
Mix the shallots, cucumber, vinegar, champagne, pepper, and kosher salt in a small bowl. Let the mignonette sit for at least 1 hour at room temperature.

Serve the shucked oysters with mignonette and lemon wedges on a tray with ice.

Store leftover mignonette in the fridge in an airtight container for up to 2 days.
You might also like...