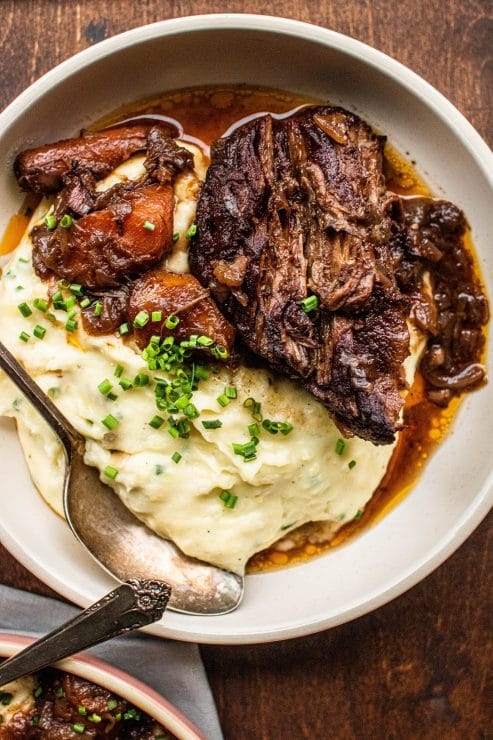 Red Wine Braised Beef
Red Wine Braised Beef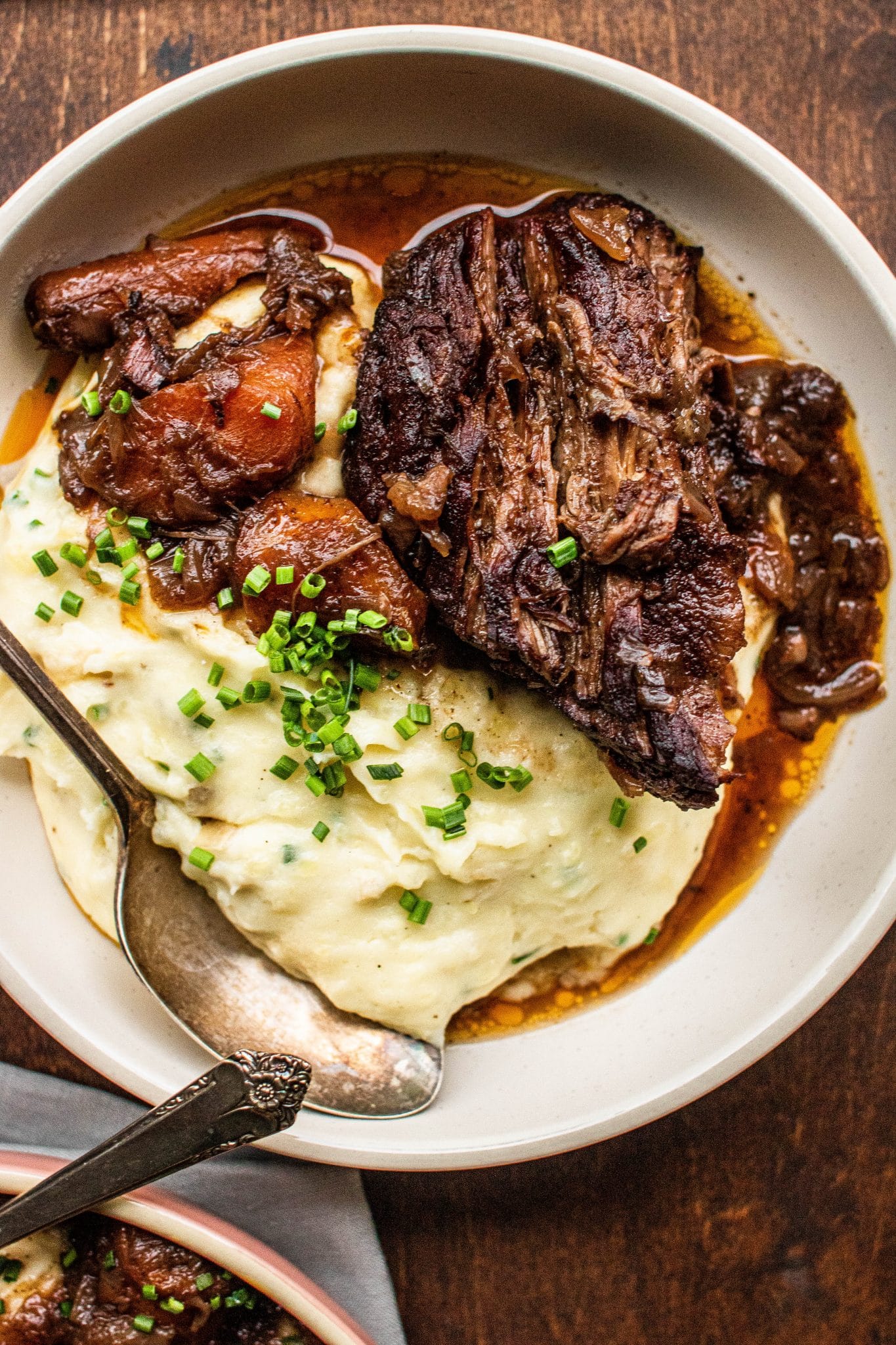 Red wine-braised beef has always been my favorite comfort food meal. I can't remember the first time I had it, but now it's the first thing I make when the temperatures start to dip. I always serve it over my creamy creme fraiche mashed potatoes with lots of fresh chives on top. The perfect, impressive recipe for dinner parties or just casual dinner.
What is 'Braising'?
Braising is a combination cooking technique that features both wet and dry heat. First, you sear the beef in the pan for flavor and color and then you add liquid to the pot and transfer the covered pot to the oven. In the oven, the beef cooks slowly at a lower temperature.
The resulting meat is exceedingly tender. Braising is particularly effective for tough cuts of meat (brisket, chuck, pork shoulder, etc). Cooking tough meats low and slow in liquid allows the muscle tissue and collagen to slowly break down. Any liquid can be used to braise, but the wine really adds that extra depth of flavor!
Why You'll Love This Recipe
Easy – This is not an involved recipe! A bit of chopping, mixing, simmering, and then the oven does most of the work. It's a bit of up front work while being mostly hands-off leaving you free to work on other things!
Budget friendly – Chuck is an affordable cut of meat that can easily feed a crowd! This dinner feels impressive while still being low effort and low cost.
One Pot– I love an easy dinner that all comes together in one pot! All the searing, sautéing, and braising is one in one dutch oven or braiser that goes straight from stovetop to oven. No muss, no fuss!
How to make Red Wine-Braised Beef
This recipe doesn't require any fancy tools or ingredients, just good quality ingredients and time.
Tools Needed
Ingredients you'll need
Beef Chuck. Opt for a large piece with great marbling.
Vegetables. I used a mix of onion, leeks, carrots, and garlic but you could also add celery and mushrooms.
Red Wine. Choose a bold red wine that you'd enjoy drinking–I found a great, full-bodied merlot from the pacific northwest. Barolo, Cabernet Sauvignon, and Syrah would all also be great options.
Beef stock. For best results, definitely use homemade here. Alternately, try to find the real beef stock (not the boxed stuff) in the freezer section of some well-stocked grocery stores.
Herbs. Bay leaves and fresh thyme really take this braised beef to the next level.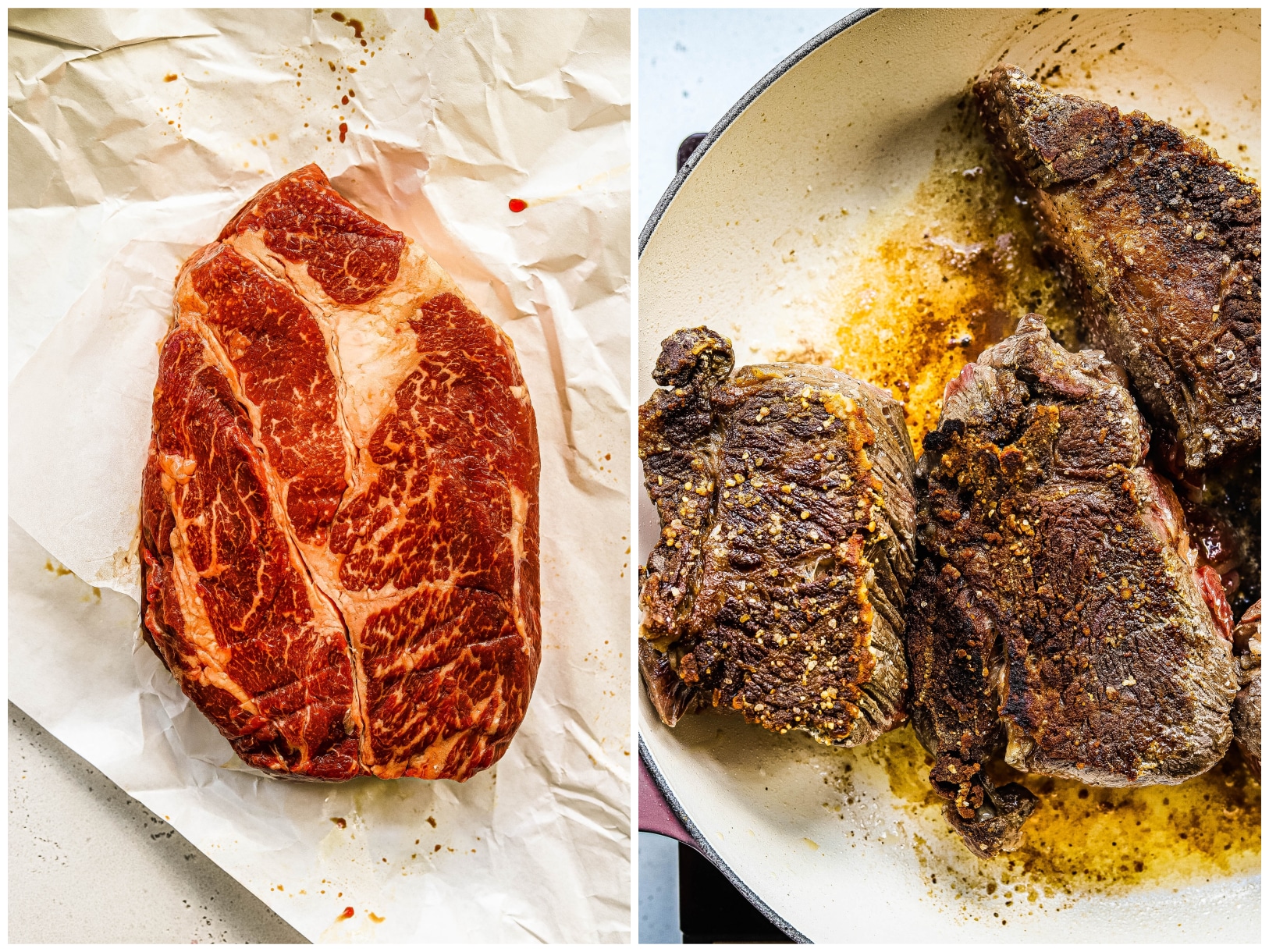 How to Prepare Red Wine Braised Beef
This is such a great recipe to pull out of your back pocket because it only requires about 15 minutes to prep the whole dish. The rest of the time is in the oven, leaving you plenty of time to run errands or relax.
Cube your beef. You want the pieces to be at least 3-4 inch pieces. Too small and the beef will fall apart into the sauce.
Season everything. Pat your beef really dry (helps with browning). These are thick pieces of beef so season all sides really well with salt and pepper.
Sear the beef. This is a crucial step! Sear the beef really well on all sides until deeply golden brown.
Cook your veggies. After your beef is nice and browned, remove it from the pan and add in your onions, leeks, and garlic. Try and work up some of those browned bits in the pan as the veggies cook.
Add your wine and stock. Once the veggies are softened, add the wine and beef stock and return the beef to the pan. Nestle the carrots in around the beef with the thyme sprigs and bay leaves. Bring everything to a simmer, cover, and transfer to the oven.
Oven time! Braise for about 3 hours, until the beef is fork-tender. Remove from the oven and skim the layer of fat off the top. Cover and let the beef rest in the juices for at least 45 minutes. Gently re-warm on the stove and serve.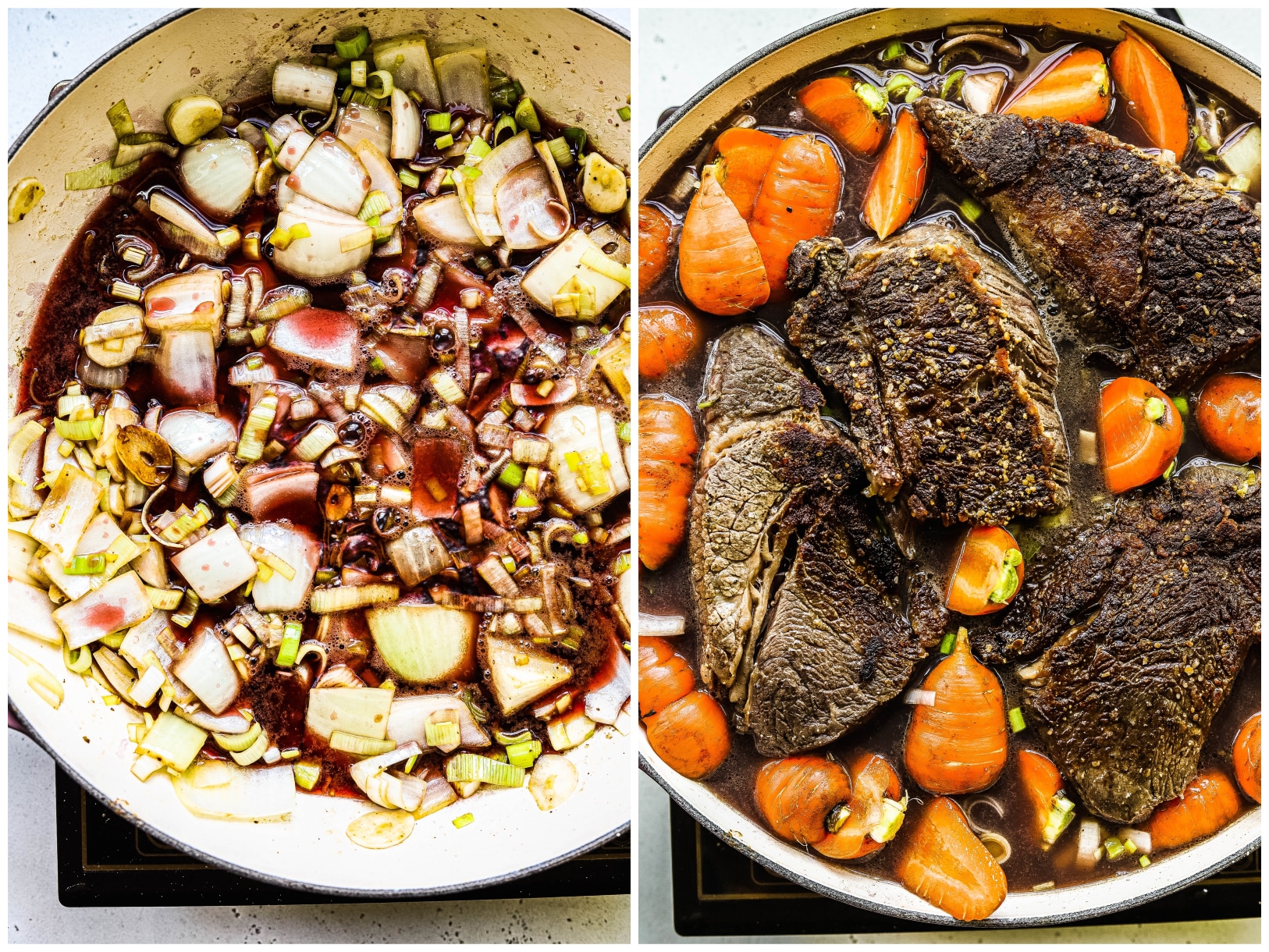 Best Cuts of Beef for Red Wine Braised Beef
Using the perfect cut of beef for red wine braised beef is paramount! You want a cut that has enough fat and marbling to make it flavorful and keep it from drying out. Below are my favorites:
Beef Chuck – A humble and flavorful cut, beef chuck is so perfect for braising. A chuck roast is usually known as the cut your parents used for pot roast, a large triangular cut from the chuck of the cow. Its well marbled with fat, which prevents it from drying out during low-and-slow cooking. It's economical and full of beefy flavor.
Brisket – Brisket is another one of my favorite cuts for braising! It's also fairly cheap and economical and packed with flavor. The brisket is a long cut from the breast/chest of the cow and is sectioned into two parts: the flat and the point. The flat has a layer of fat running across the top, but it is just that: a flat square piece of meat. It's great for braising. The point is more pointed in shape and has a much higher fat content. Both work well, but if you're using the point, plan to trim some of the excess fat away.
Short Ribs – Short ribs are a super flavorful cut of beef to braise with. They tend to be more expensive, but man they are a show stopper for a dinner party. The marrow in the bones really makes the braising liquid extra rich. I would only opt for short ribs if you're cooking for a small group since they are very expensive.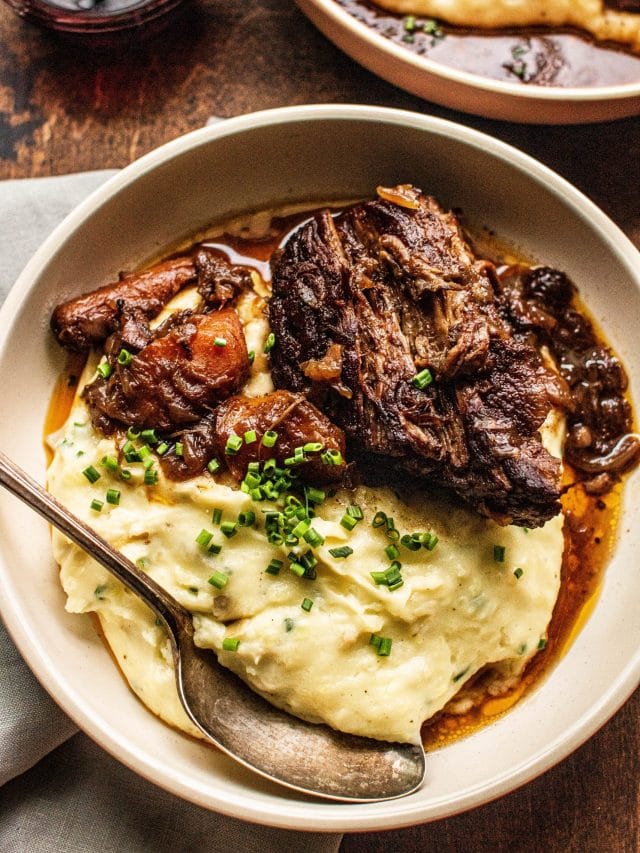 Storing, Freezing, and Reheating Red Wine Braised Beef
In the event that you have leftovers, red wine braised beef is easy to store and freeze!
To store red wine braised beef: Let the beef and liquid cool to room temperature and store in an airtight container for 4-6 days in the fridge.
Freezing braised beef: You can very easily freeze red wine braised beef! Let the beef and liquid cool to room temperature and then store in a freezer-safe ziplock bag. Try to press most of the air out of the bag while sealing, this helps prevent freezer burn. Label and freeze for up to 3 months.
Reheating: Red wine braised beef is best reheated in a skillet or dutch oven. Add the beef and liquid to a dutch oven or skillet, adding a little extra beef broth or water as needed. Cover and simmer on low until the beef is tender and warmed through.
What to Serve with Red Wine Braised Beef
If you're throwing a dinner party or just want a nice dinner to enjoy, here are some of my favorite dishes to serve with red wine braised beef.
Leafy salad – I love starting a meal with a big leafy salad! My recipe for Kale Caesar Salad is one of my favorite salads ever and pairs so well with red wine braised beef. You're going to love the homemade caesar dressing!
Mashed potatoes – Who doesn't love piling tender beef on a bed of mashed potatoes? If you want a classic version, try my creme fraiche mashed potatoes. If you want to try something new, my caramelized onion and bacon mashed potatoes are a show stopper! Horseradish mashed potatoes are also a winner and add a great tang!
Dinner Rolls – I don't know about you, but I'm a sucker for warm dinner rolls! I love sopping up any extra juices with a warm piece of bread. Try my foolproof Fluffy Dinner Rolls!
Dessert – No dinner party or gathering is complete without some dessert, am I right? Some of my favorite low effort/high reward desserts are my Almond Ricotta Cake, Skillet Apple Crisp, and Texas Sheet Cake.
More Braising Recipes to Try
This post contains affiliate links from which I receive a small commission at no additional cost to you. Affiliate links allow me to keep providing great recipes for free and I never recommend products that I don't love and personally own.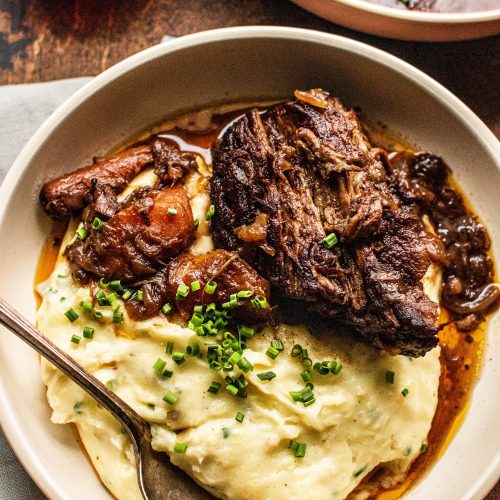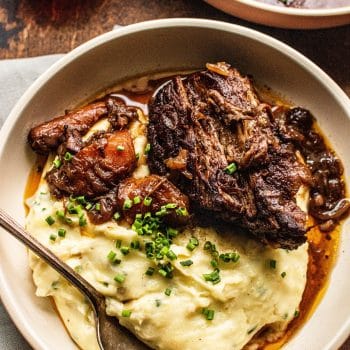 Red Wine Braised Beef
Red wine-braised beef is the ultimate comfort food--tender beef cooked low and low served over creamy mashed potatoes.
Ingredients
4

lbs

beef chuck roast

cut into large (3-4") pieces

2

tablespoons

neutral oil

1

yellow onion

chopped

2

large leeks

white and light green parts only, rinsed and sliced

4

garlic cloves

peeled and thinly sliced

3

large carrots

peeled and chopped

2

cups

red wine

like merlot or cabernet sauvignon

2

cups

beef stock

homemade is preferrable (see notes above)

Fresh thyme sprigs

2-3

dried bay leaves

Kosher salt

Freshly ground black pepper

Fresh minced chives

for serving

Mashed potatoes

for serving
Instructions
Preheat an oven to 350 degrees F. Pat the beef very dry using a paper towel and generously season on all sides with salt and pepper.

In a large braiser or dutch oven, heat oil until over medium-high shimmering. Brown meat on all sides until deeply golden brown, 3-4 minutes per side. Transfer to a plate.

Reduce heat to medium-low and add onions, leeks, and garlic. Saute until onions and leeks are just tender, about 5 minutes.

Add the wine and stock and bring to a simmer. Season lightly with salt and pepper. Return the meat to the pan and nestle in the carrots, thyme sprigs, and bay leaves. The meat should sit just above the liquid line. For a good braise, you don't want it fully immersed in the liquid. Cover and transfer to the oven for 2 1/2 hours. Remove lid and cook for another 30-45 minutes, until the beef is fork-tender.

Remove from the oven and skim off the layer of fat on top and discard. Cover and rest the beef in the juices for at least 45 minutes. Gently re-warm on the stove before serving.
Nutrition
Serving:
6
oz
Calories:
773
kcal
Carbohydrates:
13
g
Protein:
85
g
Fat:
27
g
Cholesterol:
286
mg
Sodium:
219
mg
Fiber:
2
g
Sugar:
4
g
You might also like...