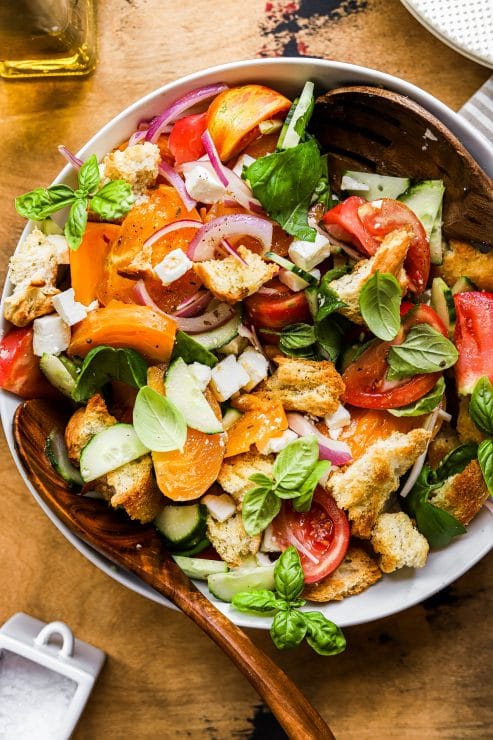 Classic Panzanella Salad
Classic Panzanella Salad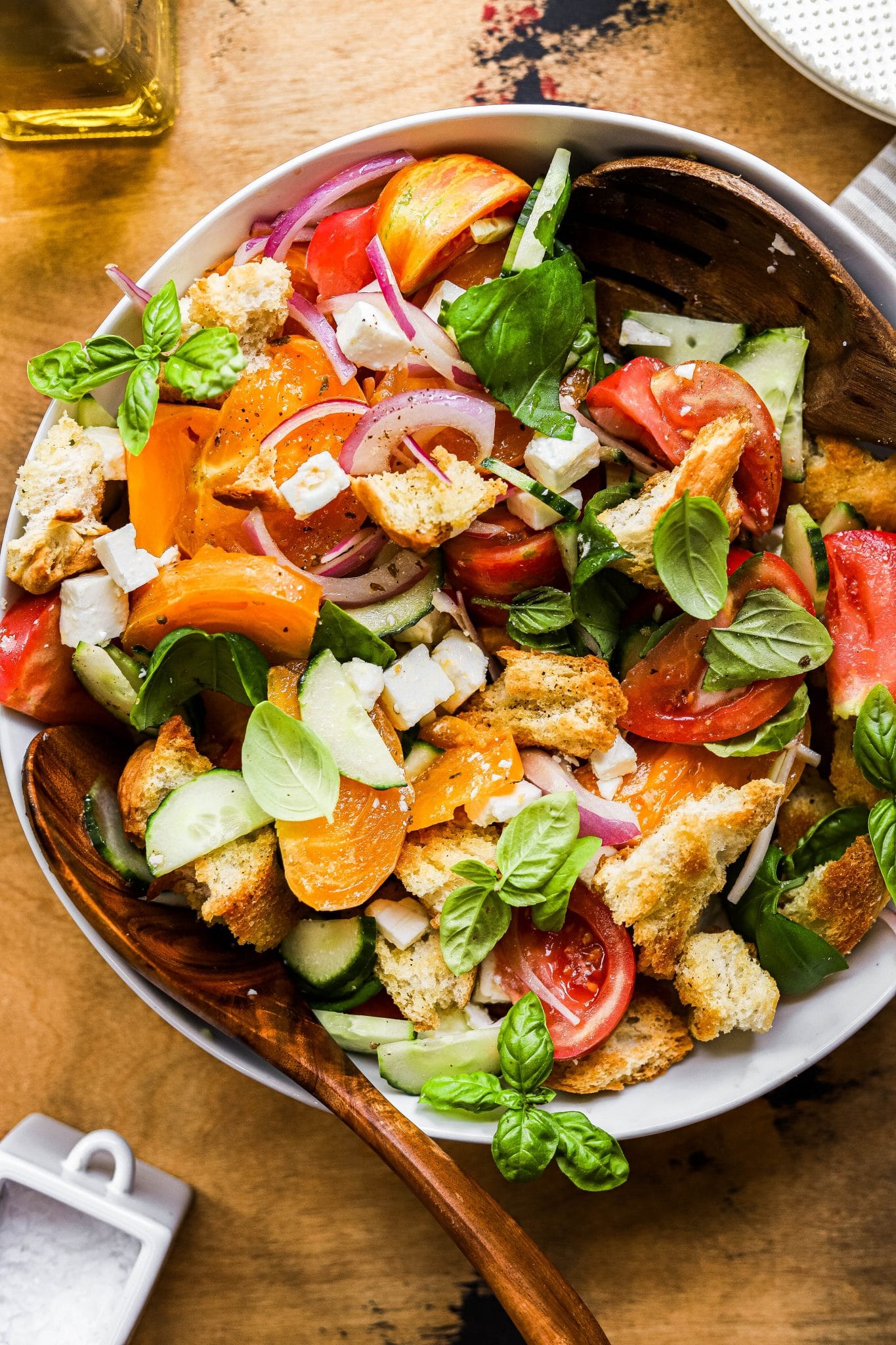 If you haven't ever had panzanella salad, now is the time to try it. Tomatoes are at their peak flavor and beauty and just waiting for you in the produce section!
I was grocery shopping and came across these beautiful heirloom tomatoes at my local Central Market, so that's what I used–but any big, ripe, flavorful tomato will do. Add in your favorite veggies and herbs for a fresh salad that truly embodies summer.
What is a Classic Panzanella Salad?
You might be wondering: what even is a classic Panzanella salad? Panzanella is a Tuscan salad made of ripe tomatoes, stale bread, onions, and often times cucumbers, basil, and cheese with a simple vinaigrette. In this case, I found that stale bread did not make a great addition and so I opted for toasting the bread instead. If you happen to have stale bread, toasting it will absolutely bring it back to life!
What kind of Bread should I use in Panzanella Salad?
If you're wondering what kind of bread to use in a classic Panzanella salad, I've got you! You'll want to use any quality crusty bread. A loaf of ciabatta or sourdough works great. Some recipes call for cubing the bread, but I actually like to tear mine into pieces. I find that the irregular shapes toast up nicely and really soak up that yummy vinaigrette.
Can Panzanella be gluten-free?
If you can find good-quality gluten-free bread, this salad can absolutely be gluten-free. All of the other ingredients in the salad are naturally gluten-free.
Is Panzanella vegan?
If you remove the cheese or use a plant-based version, this classic Panzanella salad recipe is vegan. If you believe that honey falls outside veganism, simply swap in some agave nectar.
Making the Vinaigrette for Panzanella
The dressing is a very simple vinaigrette made from a handful of ingredients. First, you'll want to use good-quality extra virgin olive oil. Olive oil adds tons of flavor to the dressing, so I would find one that you really love. I used red wine vinegar in this recipe because I love the combo of olive oil and red wine vinegar.
If you prefer sherry vinegar, that would be a great substitution also. I added a tiny bit of honey for balance and dijon to emulsify the dressing. The last ingredient is dried oregano–this adds so much flavor and freshness. Season your dressing well with salt and pepper, whisk until smooth, and then you're all set!
Can you make Panzanella ahead of time?
I don't recommend making this salad ahead of time because it's really best made fresh and served immediately. That being said, you can prep the ingredients ahead of time and assemble them right before serving! This salad doesn't make great leftovers, in my opinion, so only make as much as you plan to eat.
More Recipes to Try
This post contains affiliate links from which I receive a small commission at no additional cost to you. Affiliate links allow me to keep providing great recipes for free and I never recommend products that I don't love and personally own.
Classic Panzanella Salad
A classic Panzanella salad is a summer favorite! Beautiful tomatoes shine in this simple salad that only requires a handful of fresh ingredients.
Ingredients
Salad:
1

loaf ciabatta

torn into bite-sized pieces

2

Heirloom tomatoes

cut into wedges

1

red onion

thinly sliced

1/2

English cucumber

sliced

4

oz

sheep's milk feta

cubed

fresh basil leaves

torn

extra virgin olive oil

salt and freshly ground pepper
Dressing:
1/4

cup

good quality olive oil

2

tablespoons

red wine vinegar

1

teaspoon

dried oregano

2

teaspoons

dijon mustard

1

teaspoon

honey

salt and pepper to taste
Instructions
Make the dressing: In a mixing bowl, whisk together the dressing ingredients until smooth. Season to taste with salt and pepper.

Preheat an oven to 400 degrees F. Line a baking sheet with parchment paper and spread the torn bread in an even layer. Drizzle with olive oil and sprinkle with salt and pepper. Toss until the bread is evenly coated. Toast in the oven for 8-10 minutes, until the edges of the bread start to turn golden brown. Cool slightly.

Assemble your salad: In a large serving bowl, gently toss together the tomatoes and onion with the vinaigrette. Marinate for 10 minutes. Add the remaining ingredients, including the bread, and toss to coat in the vinaigrette. Toss with freshly torn basil leaves and serve immediately.
You might also like...