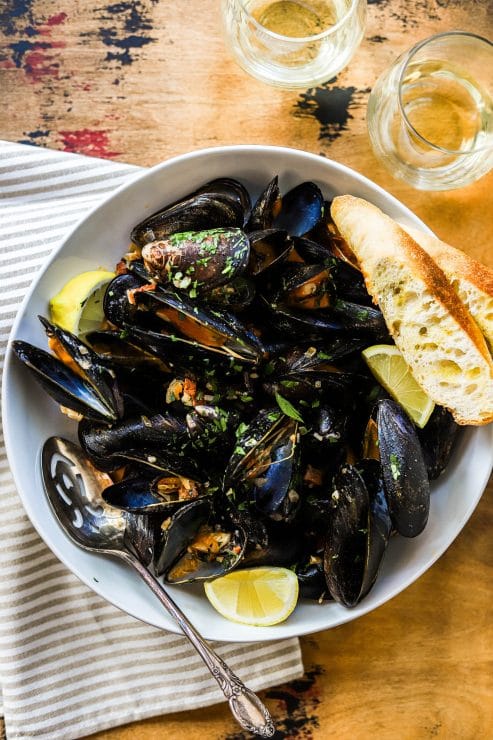 Spanish Mussels Recipe
Spanish Mussels Recipe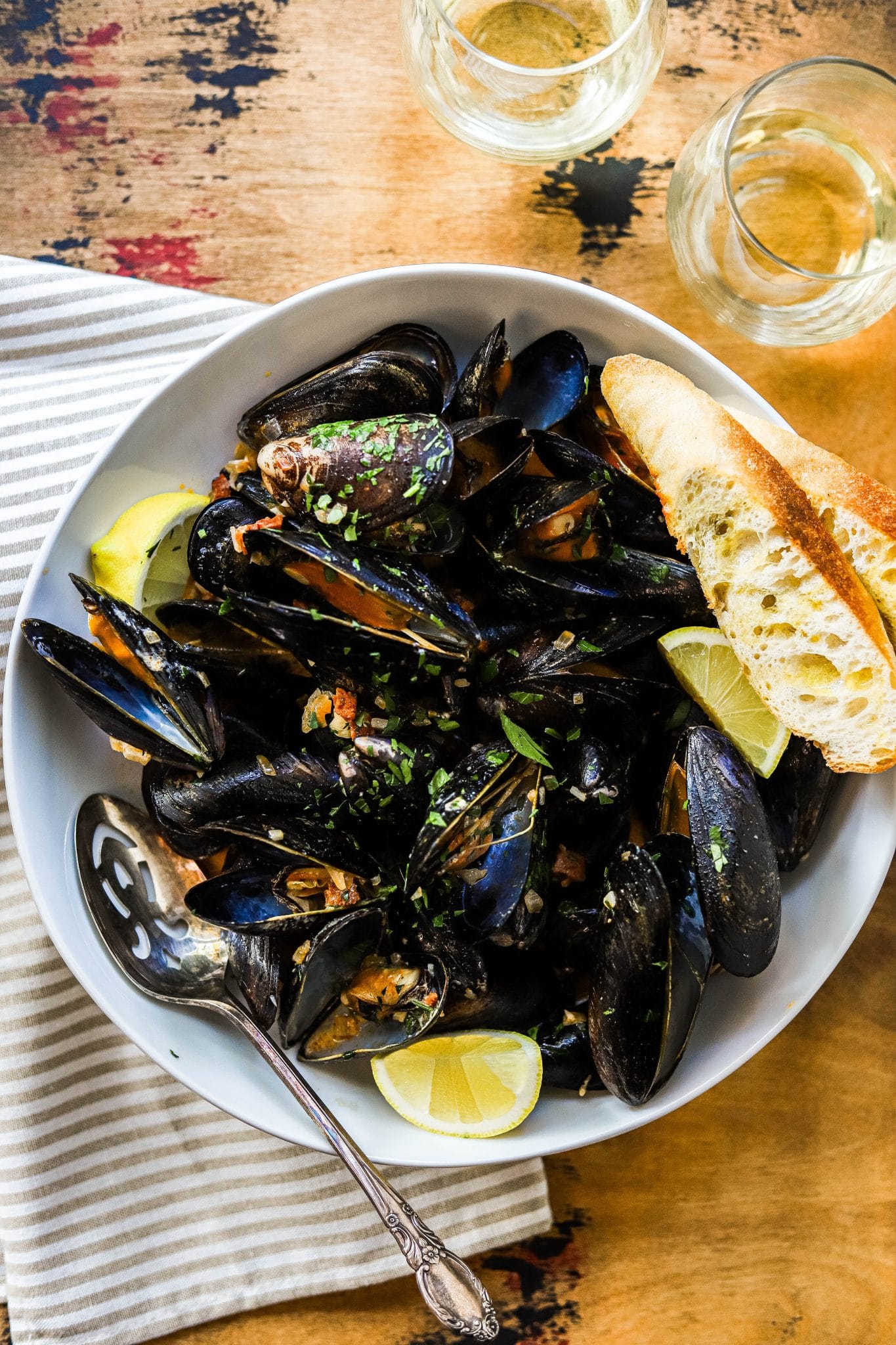 Spanish mussels are one of my all-time favorite recipes to show off with because they are so easy to make! Everyone is going to think you slaved in the kitchen, but in reality, you'll be hanging out with a glass of wine.
I love mussels for feeding a crowd because you can easily make a ton and serve them as an appetizer or a main. Mussels are the most versatile shellfish and once you try them with chorizo, you're going to have this recipe on regular rotation!
What are Spanish Mussels?
Mussels are bivalve mollusks (two shells) that thrive in both freshwater and saltwater. They're found attached to exposed shore with strong threads (beard) and you can harvest them there. Freshwater mussels are unpalatable, so any mussels for food preparation are saltwater mussels.
You can cook mussels by smoking, steaming, boiling, roasting, or frying them. In this instance, 'Spanish' refers to the preparation. We are using ingredients common in Spanish cooking like cured chorizo, shallots, saffron, and wine.
Ingredients you'll need
Mussels. Obviously, mussels are the most important ingredient! Make sure you purchase your mussels from a reputable source–check out your local seafood monger.
Chorizo. For this recipe, we're using a cured chorizo which is different from the soft chorizo found in Mexican cooking. Spanish chorizo is closer to salami in texture and sold whole. You can find Spanish chorizo at Whole Foods, Central Market, and some well-stocked grocery stores.
Shallots and Garlic. Shallots and garlic add tons of flavor to the broth!
Saffron. Saffron is an optional ingredient, but it adds so much flavor. Most grocery stores sell small jars of Saffron now!
Dry White Wine. Opt for a dry Spanish white wine here like Albariño or Verdejo. Make sure it's a wine you'll want to drink!
Heavy Cream. Adding a little cream to the broth adds so much! It's not necessary, but I love it.
How to make Spanish mussels
Select quality mussels. The most important criterion for mussels is ensuring they're still alive. If some of the mussels are open and you tap their shells and they don't close, discard them. Mussels need to be steamed from living because enzymes quickly break down the meat and make them unpalatable or poisonous after dying. Get your mussels from your seafood monger or a quality grocery store.
Rinse and soak your mussels. When you bring your mussels home, make sure they're on ice (ask your seafood monger for ice!). However, want to leave the bag slightly open so that the mussels can still breathe. 15 minutes before cooking, fill a large bowl with cold water and rinse your mussels. The mussels should come "de-bearded" and cleaned, but you want to wash off any sand or dirt before cooking. Drain your mussels from the water and set them aside.
Cook your mussels. For this, you'll want a wide-bottomed skillet at least 3 inches deep, like a braiser. Make sure your skillet has a lid! You'll start by rendering some of the fat from the chorizo with olive oil in the skillet. Then you'll add the shallots, garlic, and saffron and cook until softened. Deglaze the pan with white wine and add the cream. Next, you'll add your mussels to the skillet and stir so that they're coated. Cover and steam for 3 minutes, stir and cover again. Steam for another 2-3 minutes. Discard any mussels that don't open.
Dress your mussels. Finishing your mussels with a squeeze of fresh lemon is a must! Garnish with some freshly chopped parsley and serve with crusty bread for sopping up the flavorful broth.

Common questions about cooking Spanish Mussels
I don't like mussels, what can I substitute?
Littleneck clams would also work like a dream here. They're mild in flavor, cook in about the same time, and are easy to find. Really any clams would work here, if they're larger they may need to steam longer.
Are these Spanish Mussels gluten-free?
Yes! My recipe for Spanish mussels is naturally gluten-free. I recommend finding a gluten-free bread that you like to serve alongside it for soaking up the broth.
Where can I find Spanish chorizo?
Start by checking your local specialty grocery stores or Whole Foods. I found the Spanish chorizo I used at Central Market. If you have any Spanish or Italian markets, you can probably find it there too.
What happens if my mussels don't open after cooking?
First, make sure that you've steamed them long enough. Mussels need to steam for at least 4-6 minutes covered, so set a timer. Then, immediately discard any mussels that don't open after cooking because they're likely dead and you don't want to eat those!
Will mussels keep overnight?
If your uncooked mussels are on ice, they should keep for 24 hours. That being said, I really recommend trying to purchase them the day of for cooking. Will cooked mussels keep? If I have a small number of leftover mussels, I remove them from the shell and freeze them in a ziplock bag. Your pre-cooked mussels can be stirred into seafood soups or tossed with pasta. However, I try to only purchase what I know we'll eat.
Are mussels sustainable?
Because mussels are zero-input, that means that they're totally sustainable! Zero-put means they don't require any feed or fertilizer. Unlike farmed fish, which need tons of food and fertilizer and create waste, mussels grow without any intervention. If you're looking to be more sustainable in your eating, start incorporating mussels and clams!
More Recipes to Try
This post contains affiliate links from which I receive a small commission at no additional cost to you. Affiliate links allow me to keep providing great recipes for free and I never recommend products that I don't love and personally own.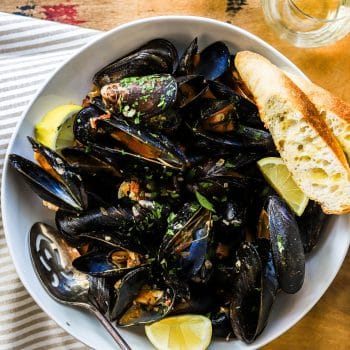 Spanish Mussels Recipe
Spanish mussels are a favorite for entertaining. We steam them with chorizo, shallots, garlic, white wine, cream, and finish with fresh lemon and herbs. Don't forget the crusty bread for the flavorful broth!
Ingredients
1

tablespoon

olive oil

3

tablespoon

salted butter

divided

2

lbs

uncooked mussels

de-bearded and rinsed (see notes above)

2

oz

cured Spanish chorizo

diced

4

garlic cloves

minced

2

shallots

finely diced

1

pinch

saffron threads

optional

1 1/2

cups

dry Spanish white wine

Albariño or Verdejo

2/3

cup

heavy cream

1/4

cup

minced flat-leaf parsley

1

lemon

cut into wedges, for squeezing

crusty bread or baguette

for serving
Instructions
In a wide-bottomed skillet (I recommend a braiser), melt 1 tablespoon of butter and olive oil over medium-high heat. Once the butter is frothy, add the diced chorizo and cook for 2-3 minutes, stirring frequently, until some of the fat has rendered and the chorizo is crispy. Add the shallots, garlic, and saffron (if using) and cook for 2 minutes, until the onions and garlic are soft.

De-glaze the pan with the white wine and bring to a simmer. Simmer for 2 minutes and then add the cream. Add the mussels and stir well to coat them with the sauce. Add the remaining 2 tablespoons of butter to the skillet and cover. Steam the mussels for 3 minutes, remove the lid, and stir, and then cover again for another 2-3 minutes.

Discard any mussels that haven't opened during cooking, top with chopped parsley and a fresh squeeze of lemon juice. Serve immediately with crusty bread for soaking up the broth.
You might also like...