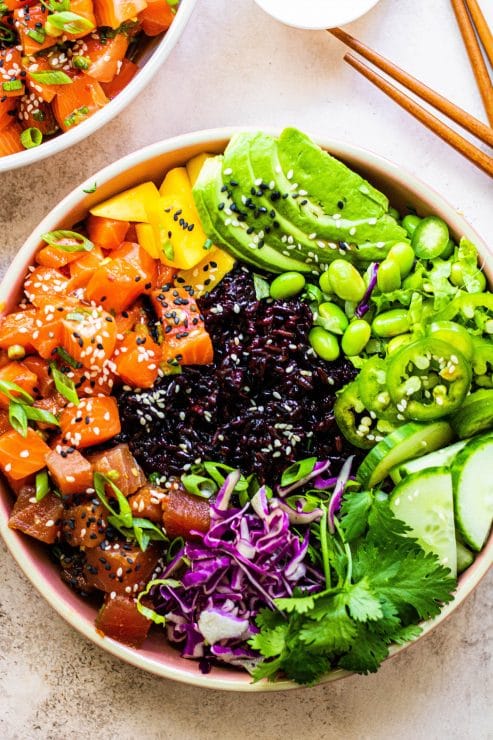 Spicy Rainbow Poke Bowls
Spicy Rainbow Poke Bowls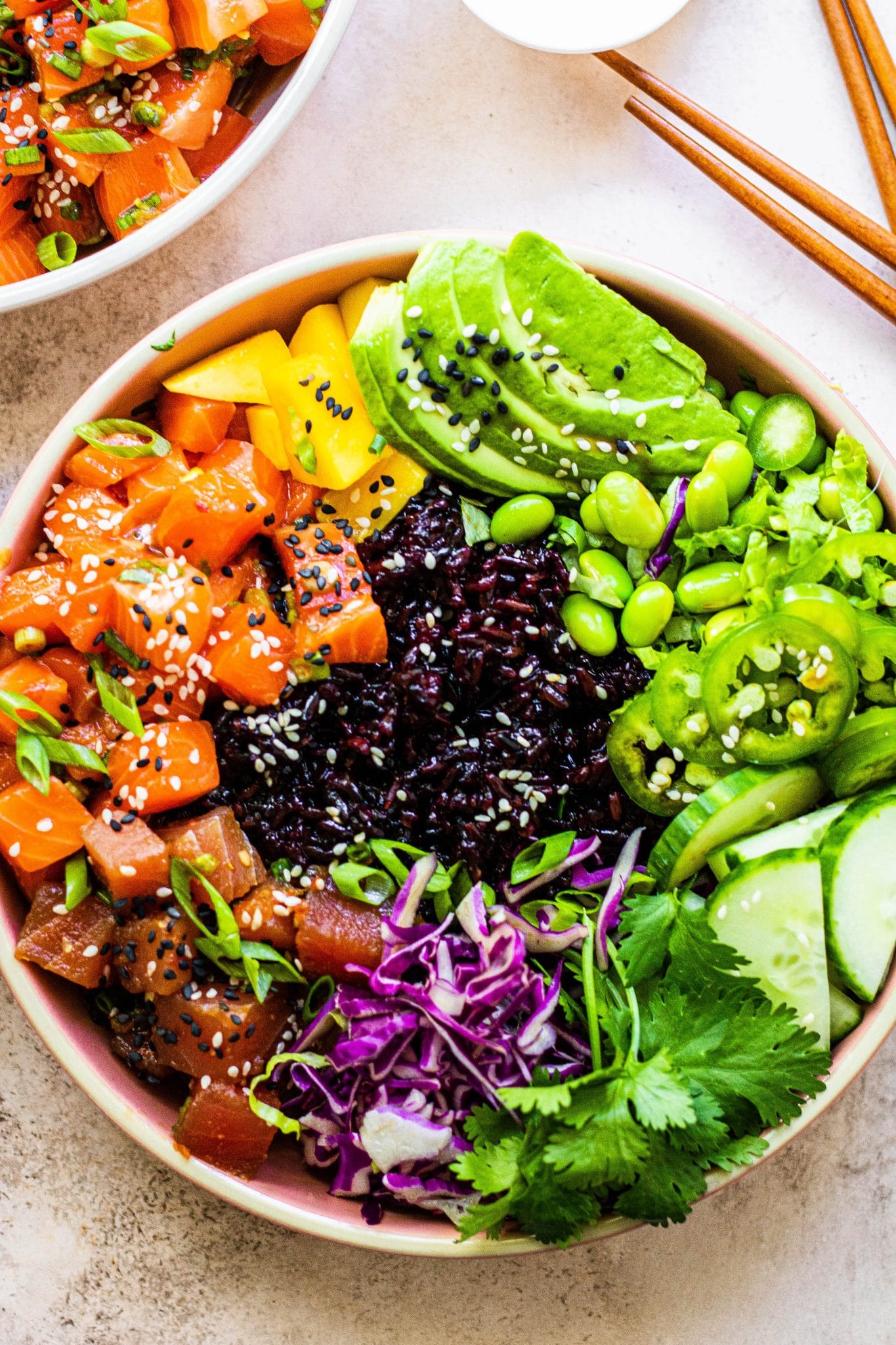 This Spicy Rainbow Poke Bowl made with fresh sushi-grade tuna and salmon and, of course, U.S.-grown rice. Instead of using classic short-grain sushi rice, I thought I would mix things up with some purple sticky rice! It's gorgeous and packs a serious nutritional punch.
We eat with our eyes first, so not only are these poke bowls visually appealing but they're loaded with tons of different textures and flavors. Honestly, this will be my go-to recipe heading into summer!
What is Poke?
'Poke' is Hawaiian for "to slice" or "to cut crosswise into pieces." Poke is a native Hawaiian dish that features raw, diced fish tossed with a mixture of soy sauce, sesame, onions, scallions, and sometimes chili for spice. Poke differs from other raw fish dishes (like ceviche) because it does not use any citrus as a curing agent. Making poke began with fishermen seasoning the cut-offs from their catch to serve as a snack. Poke is a regional American-based cuisine from Hawaii, but traditional poke seasonings are heavily influenced by Japanese and other Asian cuisines.
Sharing the history of this dish is important because I am not native to the culture. I want to make sure that I do the origins justice. While I don't claim that this dish is authentic, it is inspired by Hawaiian cuisine. Before the recipe, I will link to some related recipes from AAPI creators for your reference!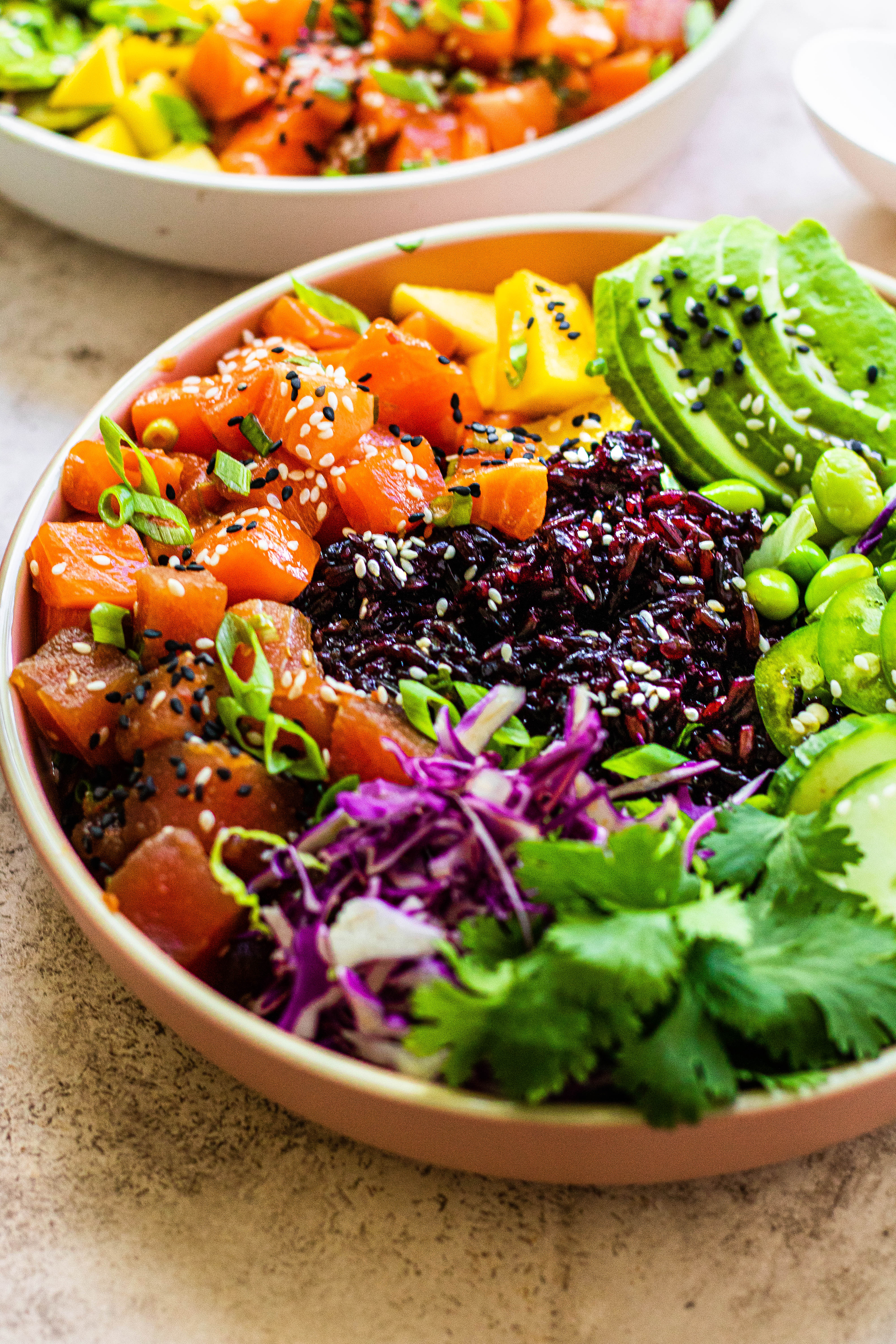 What kind of rice is used in rainbow poke bowls?
For this recipe, I'm using a U.S.-grown purple sticky rice for some color, texture, and extra nutrition. The flavor and aroma are absolutely heavenly! You could also swap in black or forbidden rice for this recipe. Did you know that nearly 85% of the rice that we eat in the US is grown by US farmers? Each year, 18 billion pounds of rice are grown and harvested by local farmers in Arkansas, California, Louisiana, Mississippi, Missouri, and Texas. Check out USA Rice for help finding US-grown purple or black rice near you.
Why use US-grown rice?
It's so important to support US-based industries now more than ever! USA Rice Federation (USA Rice) is the global advocate for all segments of the U.S. rice industry. They work with farmers, millers, merchants, and allied businesses to bolster and unify the U.S.-grown rice industry. Did you know that many wildlife species rely on the wetland habitat created by American rice farmers? This makes rice a unique working-lands crop. Winter-flooded rice fields provide food and foraging habitat for migratory and wintering fowl. In fact, all major rice production areas in the United States correspond to important areas of waterfowl activity during the winter months. Rice agriculture provides 35% of the food resources available to migrating and wintering dabbling ducks. To read more about how important supporting the U.S.-grown rice industry is, visit ThinkRice.com!
What tools do I need to make Spicy Rainbow Poke Bowls?
Making poke bowls at home can be so fun and easy with just a few simple tools:
A rice cooker.

Some people feel comfortable and confident enough to make rice in a pot, but I am not one of those people. I love my rice cooker and it gives me perfectly cooked rice every time.

A sharp knife.

My favorite knives are Shun knives and a sharp knife is essential for cutting fish (and really all cooking!). If you invest in one piece for your kitchen, I'm always going to recommend that it be a great quality knife.
That's it! A rice cooker and a sharp knife are all you need to make spicy rainbow poke bowls at home!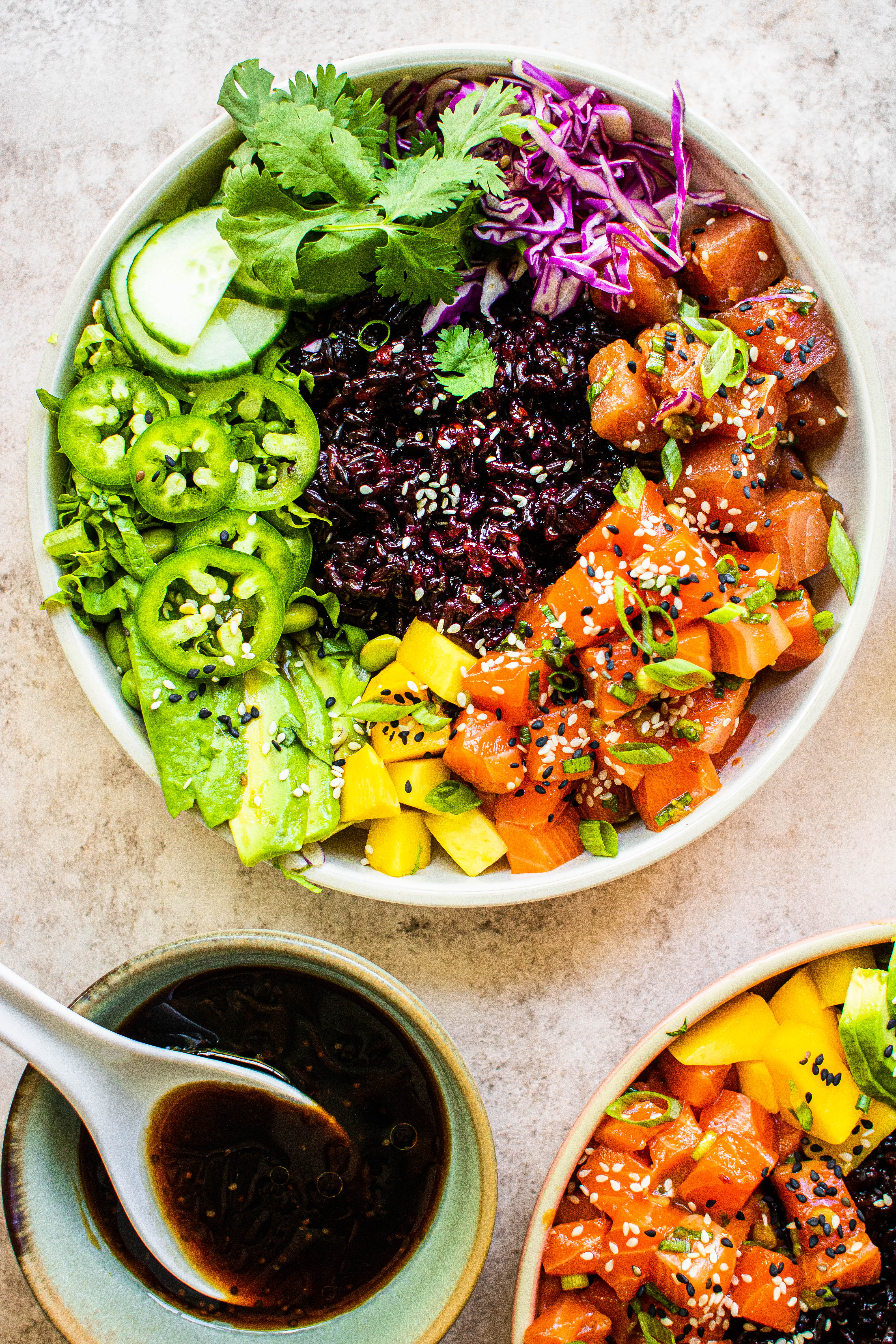 What is 'sushi grade' fish?
The term 'sushi-grade' is actually a bit of a misleading phrase–there is no governing body that regulates the quality of fish. The FDA recommends that fish being consumed raw should be frozen for a period of time to kill any potential parasites in the fish.
Sushi-grade tuna and salmon are usually frozen for long enough in cold temperatures to make them safe to eat. As with any food consumed raw (including tartare, carpaccio, and ceviche), you're assuming some level of risk. Make sure that your tools and cooking station are clean.
Make sure your fish stays cold while you're preparing it. If you follow those rules, you have the best odds. If you want to read more about 'sushi-grade' fish, check out this article from Serious Eats here.
Where can I find sushi-grade tuna or salmon for rainbow poke bowls?
The first place to start is your local fishmonger! They're going to be the most knowledgeable on the subject and will always have the best idea of what has just come in and what's fresh. Let them know what you're making and they'll be able to guide you in the right direction.
Try visiting Whole Foods or Central Market and talk to the folks at the fish counter and ask them to recommend the best option. I happened to find some individually frozen pieces of Ora King salmon at Central Market and I cannot even convey how good it was. Fresh and perfect!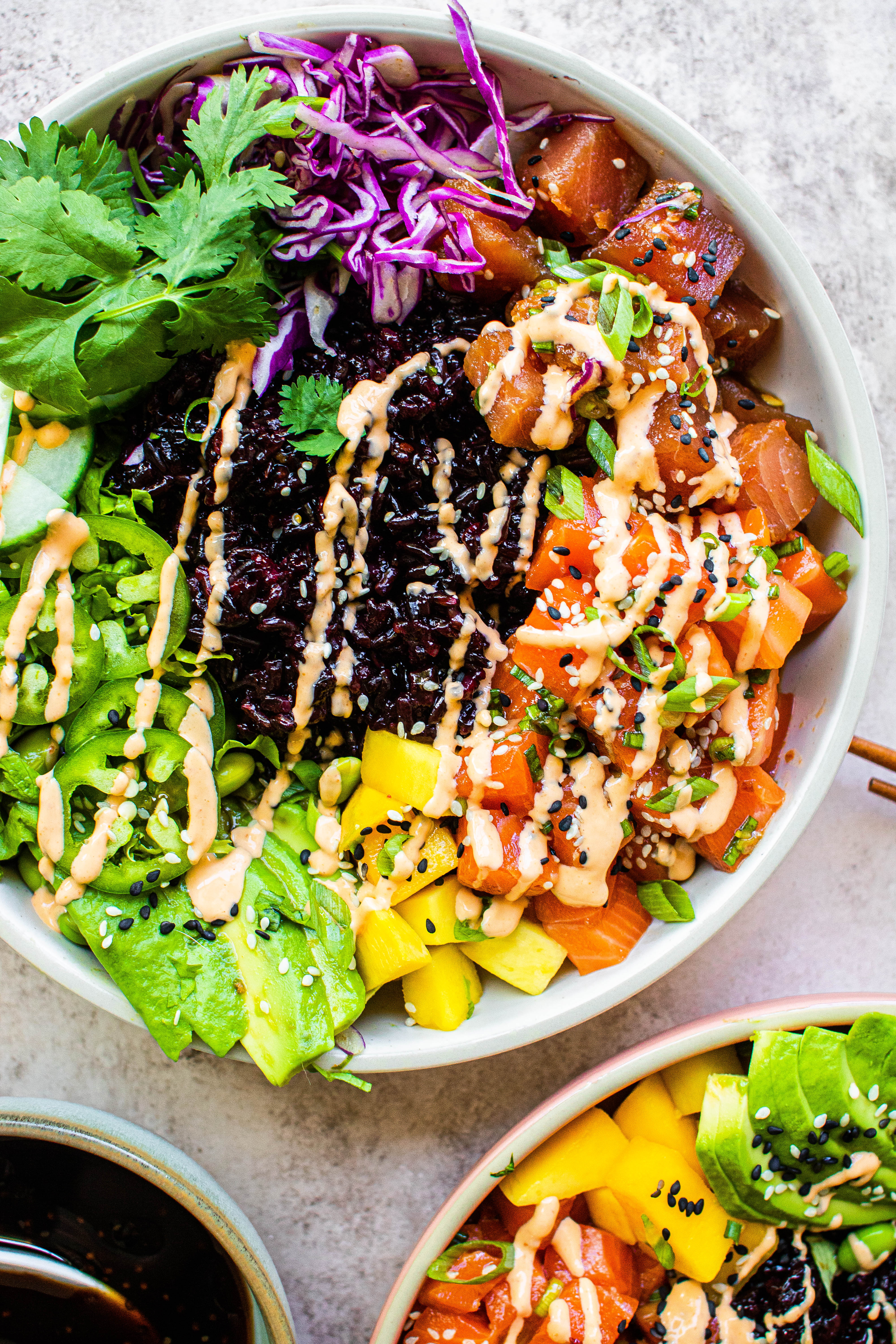 what types of fish are best for rainbow poke bowls?
Ahi tuna is the most popular fish to use in poke, but I also included salmon because I love the slight fattiness and the color! The most important part is just using fresh and quality sushi-grade fish. Ahi and salmon are readily available and the flavor and color in a poke bowl are unparalleled!
Can I substitute a different type of fish?
If neither tuna nor salmon is your jam, you could use thinly sliced, cooked octopus. Any fresh, sushi-grade fish will work but I recommend giving it a shot with some good quality ahi tuna to see how you like it.
Can I make poke ahead of time?
A short marinating time is good for the fish and will really help those flavors absorb. However, you don't want to make your poke more than an hour or so ahead of time. Rainbow poke bowls are best made and eaten the same day, so I always make just enough for us to eat, knowing that there won't be any leftovers!
Recipes from AAPI creators
It's important to me to show great respect to the cultures from whence the inspiration for a lot of my cooking comes. I'm profiting off this recipe through a partnership with The Feedfeed and Think Rice and utilizing Hawaiian recipe inspiration to bolster the flavor of my dishes. Here are some related recipes from a few of my favorite AAPI creators!
Shoyu Poke from Fix Feast Flair by Alana Kysar
Spam Musubi from Omnivore's Cookbook by Maggie Zhu
Loco Moco from Just One Cookbook by Namiko Hirasawa Chen
Huli Huli Chicken from Recipe Tin Eats by Nagi Maehashi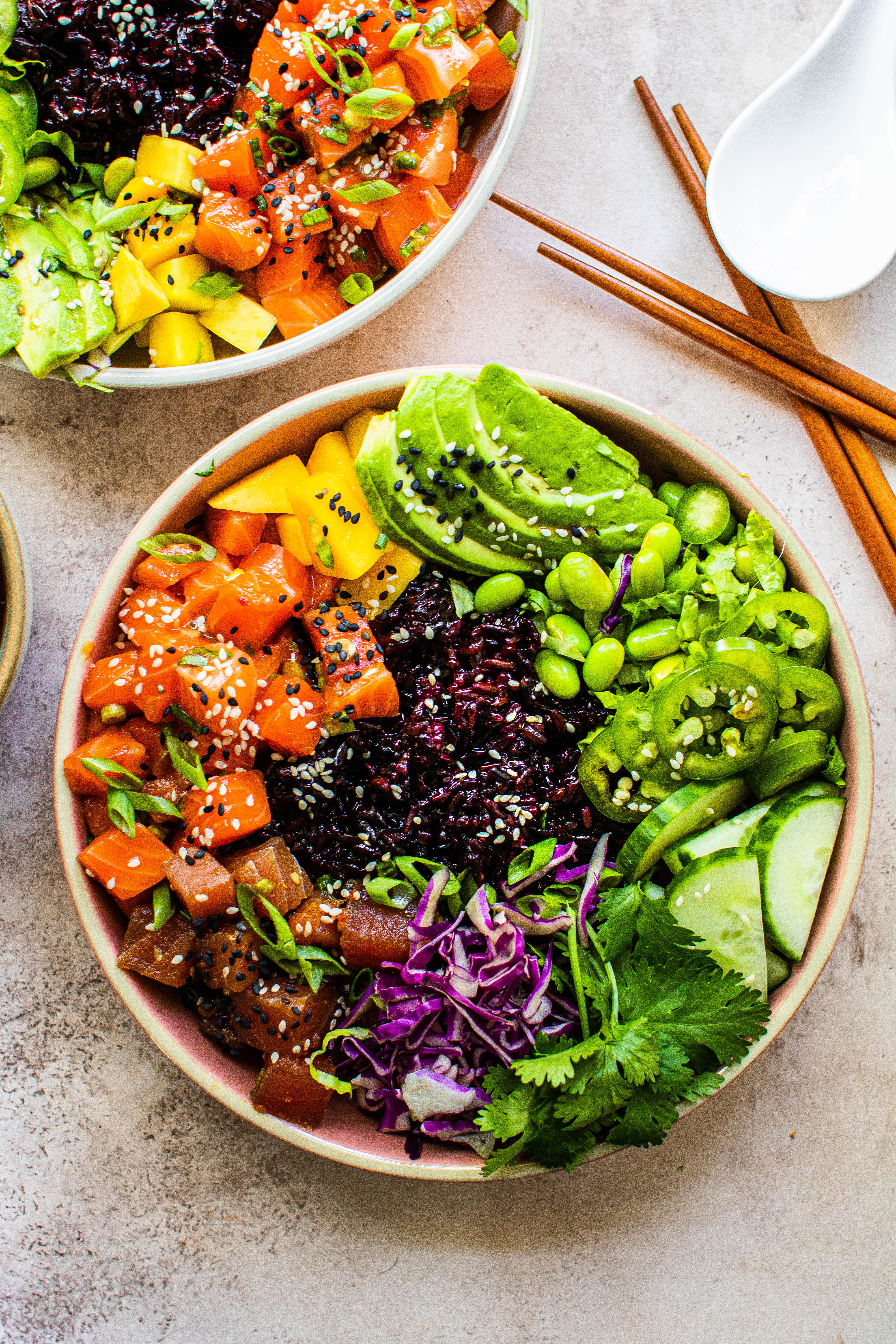 More Recipes to Try
This recipe is part of a sponsored campaign with the Feed Feed and Think Rice. Sponsored posts and brand partnerships (with brands that align with my values and commitment to quality) allow me to keep providing quality recipes at no cost to you! All opinions are my own in regards to any products or brand that I may highlight.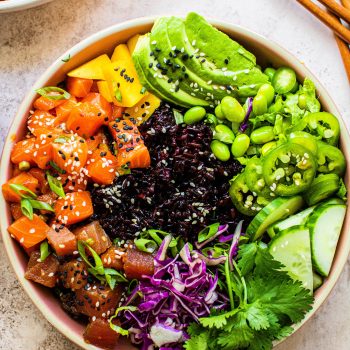 Spicy Rainbow Poke Bowls
Spicy rainbow poke bowls are my new obsession! They're fresh, quick, and so easy to customize.
Ingredients
Purple Sushi Rice:
1/3

cup

seasoned rice wine vinegar

1

teaspoon

fine sea salt

2

teaspoons

granulated sugar

1 1/2

cups

U.S.-grown Purple Sticky Rice

1 2/3

cups

water
Spicy Mayo:
1/2

cup

high-quality mayonnaise

2

tablespoons

sriracha

1

teaspoon

dark sesame oil

1/2

teaspoon

freshly grated ginger
Poke:
3

tablespoons

soy sauce

2

teaspoons

dark sesame oil

1

tablespoon

mirin

2

teaspoons

sambal or sriracha

1/4

teaspoon

fine sea salt

12

oz

sushi-grade tuna

cubed

12

oz

sushi-grade salmon

cubed

Black and white sesame seeds

plus more for serving

4

stalks scallions

thinly sliced (white, light green, and dark green parts), plus more for serving
Other toppings:
Chopped mango

Steamed edamame

Sliced avocado

Shredded purple cabbage

Sliced jalapeño

Sliced baby cucumbers

Pickled ginger

Cilantro Leaves
Instructions
Make the sushi rice: Gently warm the rice wine vinegar in a heat-proof measuring cup in the microwave. Stir the sugar and salt into the warm vinegar until dissolved, set aside. Rinse rice in a fine-mesh strainer under cold water until the water runs clear. Transfer drained rice and 1 2/3 cups water to a rice cooker or Instant Pot. In a rice cooker, use the brown rice setting. In an Instant Pot, pressure cook on high for 15 minutes and naturally release pressure for 10 minutes before manually releasing the remaining steam.

Drizzle vinegar mixture over the rice, using a rice paddle to gently fold the rice to incorporate. Transfer to a bowl, cover lightly with food wrap, and cool to room temperature.

Make the spicy mayo: combine all ingredients in a small bowl and whisk until smooth. Transfer to a small squeeze bottle or piping bag for easy drizzling.

Make the poke: Combine the soy, mirin, sesame oil, and sriracha, and salt in a medium bowl and whisk to combine. Add tuna, salmon, sesame seeds, and scallions, tossing gently to combine. Refrigerate for 20 minutes. Alternatively, the two types of fish can be mixed separately (just divide the sauce in two) so that the colors remain vibrant and separate.

Assemble the bowls: start with some sushi rice in the middle of a shallow bowl. Top with the poke and any other desired toppings. Lightly drizzle with spicy mayo and top with additional sliced scallions and sesame seeds. Serve right away.
You might also like...