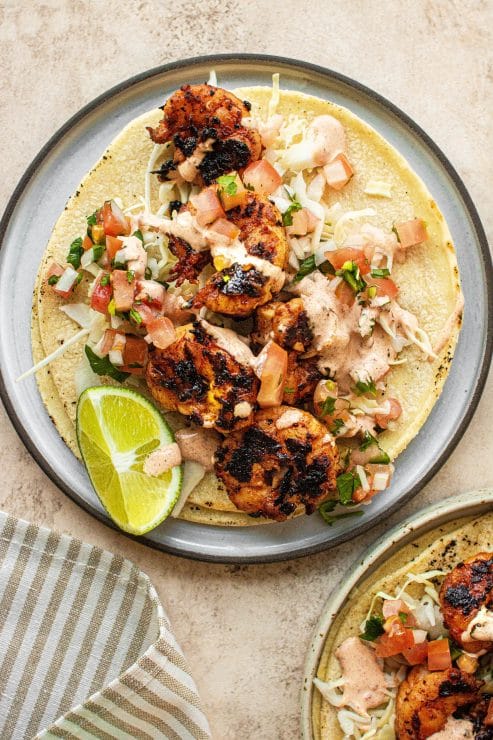 Chile-Lime Shrimp Tacos
Chile-Lime Shrimp Tacos
Chile lime shrimp tacos are a favorite in our household! Flavorful and tender grilled shrimp served in a warm corn tortilla with cabbage, salsa, and the best creamy chipotle sauce. These tacos instantly transport me back to eating Baja-style Mexican food in San Diego.
If you haven't made these tacos yet, you're missing out! Chile lime shrimp tacos are quick, easy, healthy, and hit the table in under 30 minutes. What more could you want from a taco recipe?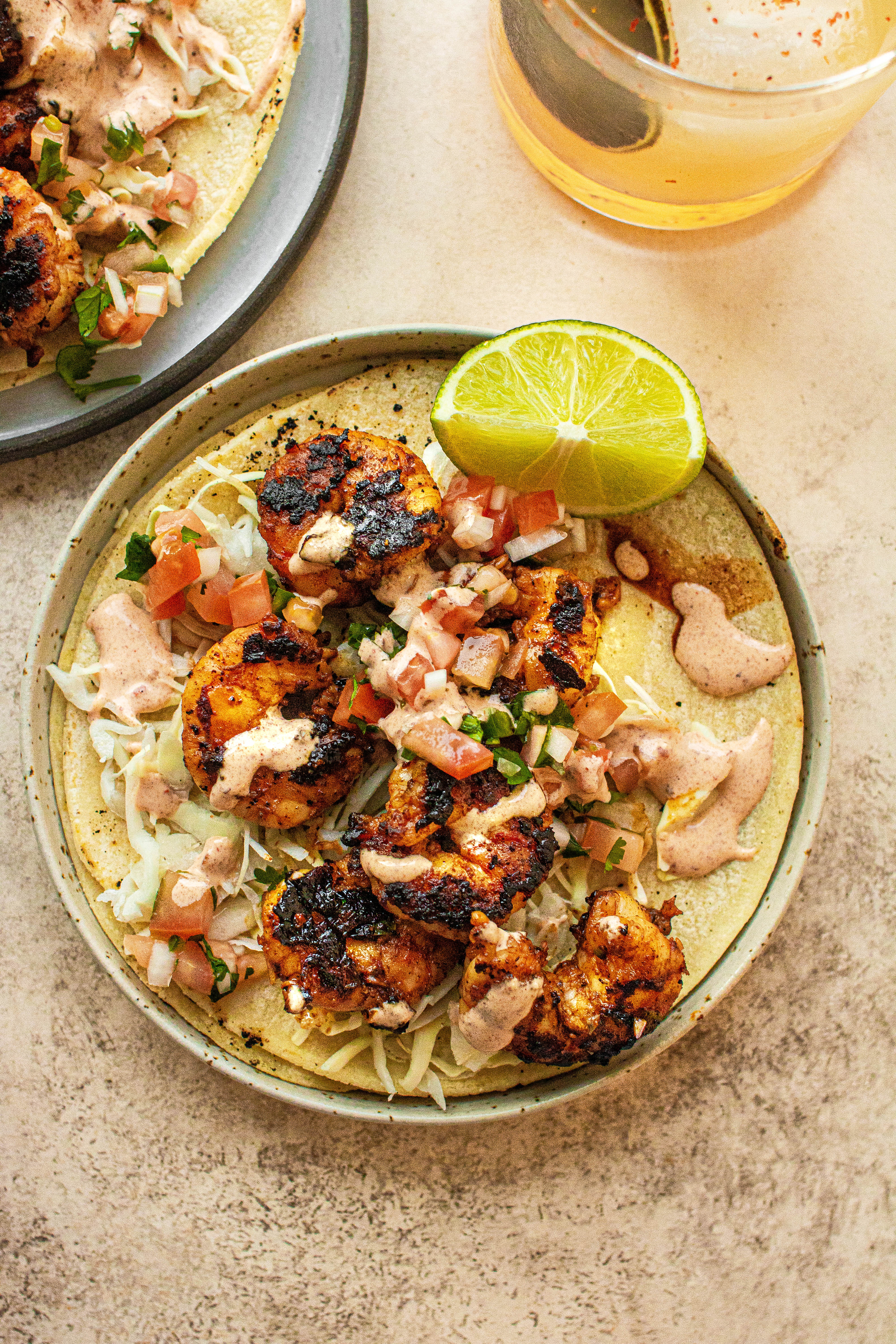 Ingredients in Chile-Lime Shrimp Tacos
Ancho chile powder. Ancho chile powder is the real star in this super quick marinade. Dried ancho chilies are pulverized and sold in powder form. Most well-stocked grocery stores carry ancho chile powder. You can swap in regular chili powder in a pinch.
Lime. Duh! You need both the zest and juice from lime to really bring home the fresh flavor.
Honey. A bit of honey adds balance and keeps the shrimp from being too sour and acidic.
Jalapeño. I love my food spicy and adding a finely diced jalapeño adds a lot of flavor and a bit of spicy zing.
Shrimp. The other 'duh!' ingredient. Use your favorite variety of shrimp so long as they're at least 16/20 in size.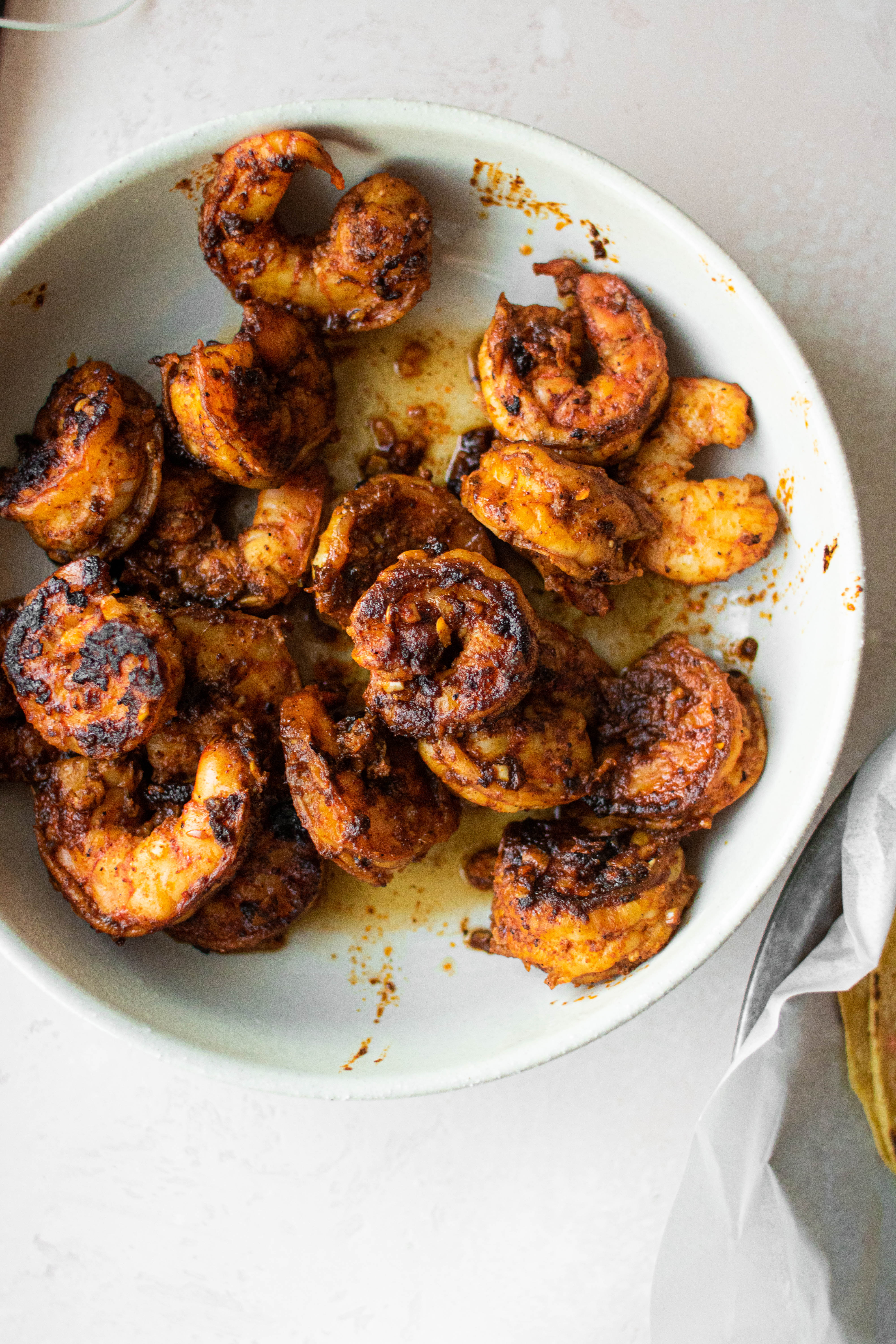 What are 16/20 shrimp?
16/20 refers to the size of the shrimp! 16/20 means that each pound of shrimp contains anywhere from 16-20 shrimp. If they were 25/30 shrimp, they'd be smaller and thus would have more shrimp per pound. Larger is better in this case so that you don't over-marinate the shrimp and they're harder to overcook.
What kind of shrimp is best?
I always try to find fresh shrimp vs. frozen shrimp! You can use frozen shrimp, just make sure they're well-drained and patted dry with a paper towel before getting tossed in the marinade.
I've become super partial to pink Argentinian shrimp because they're so sweet and tender. Use your favorite and whatever is easiest to find! Always buy your shrimp from a reputable source and if they smell bad, do not buy them! Shrimp should never smell super fishy or like ammonia.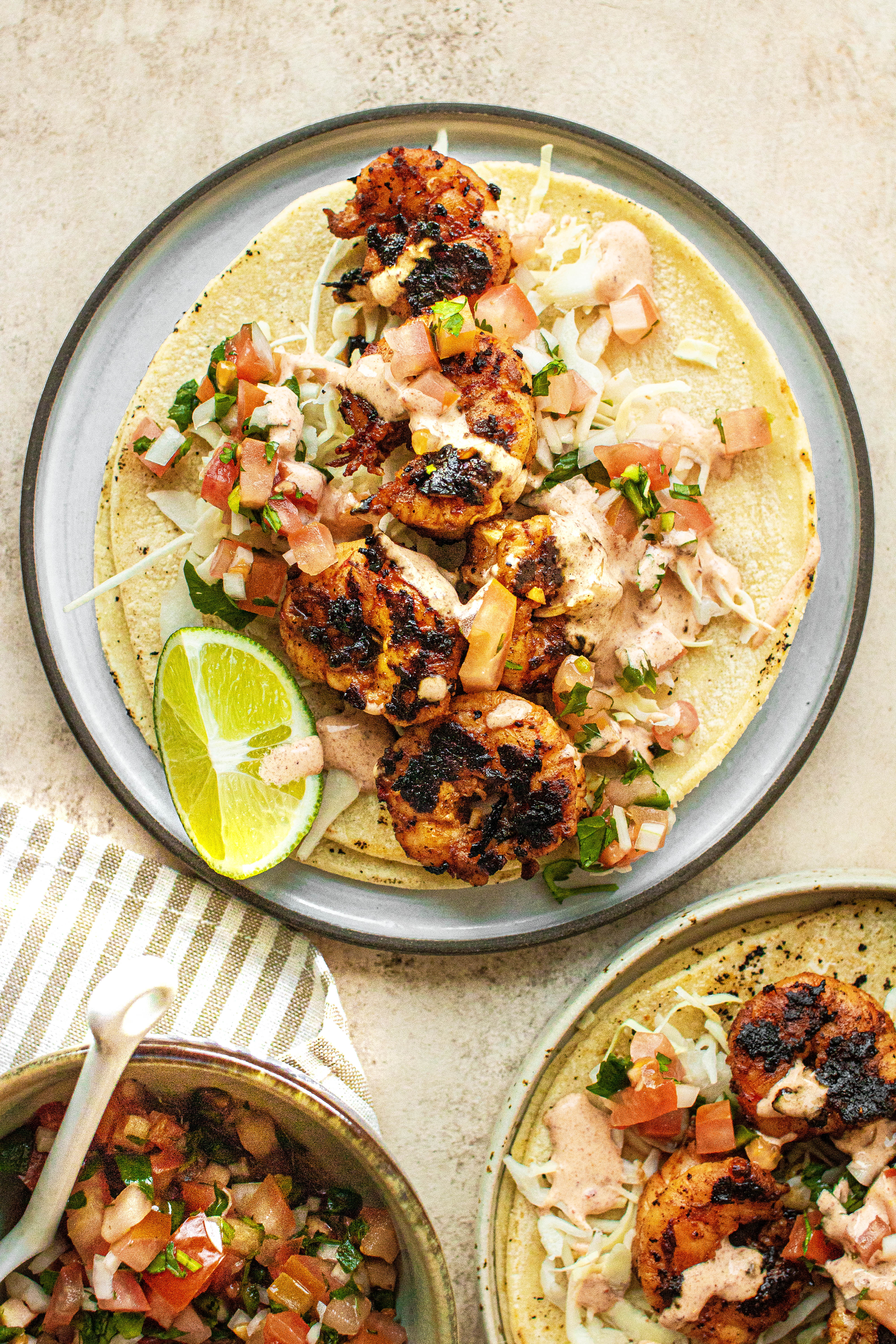 What's pico de gallo?
Pico de gallo is a fresh salsa comprised of diced tomato, white onion, jalapeño, lime juice, and cilantro. It's so great to make fresh salsa at home! You can find my recipe below and the recipe can be doubled or tripled. Fresh pico de gallo will last in the fridge for 3-4 days.
PICO DE GALLO
makes 1 1/2 cups
1 large, ripe beefsteak tomato, finely diced
1/4 cup white onion, very finely diced
1 jalapeño, stem removed and finely diced (omit the seeds for less spice)
3 tablespoons minced cilantro
juice of 2 limes
1/2 teaspoon salt
Mix all ingredients together and refrigerate until ready to use.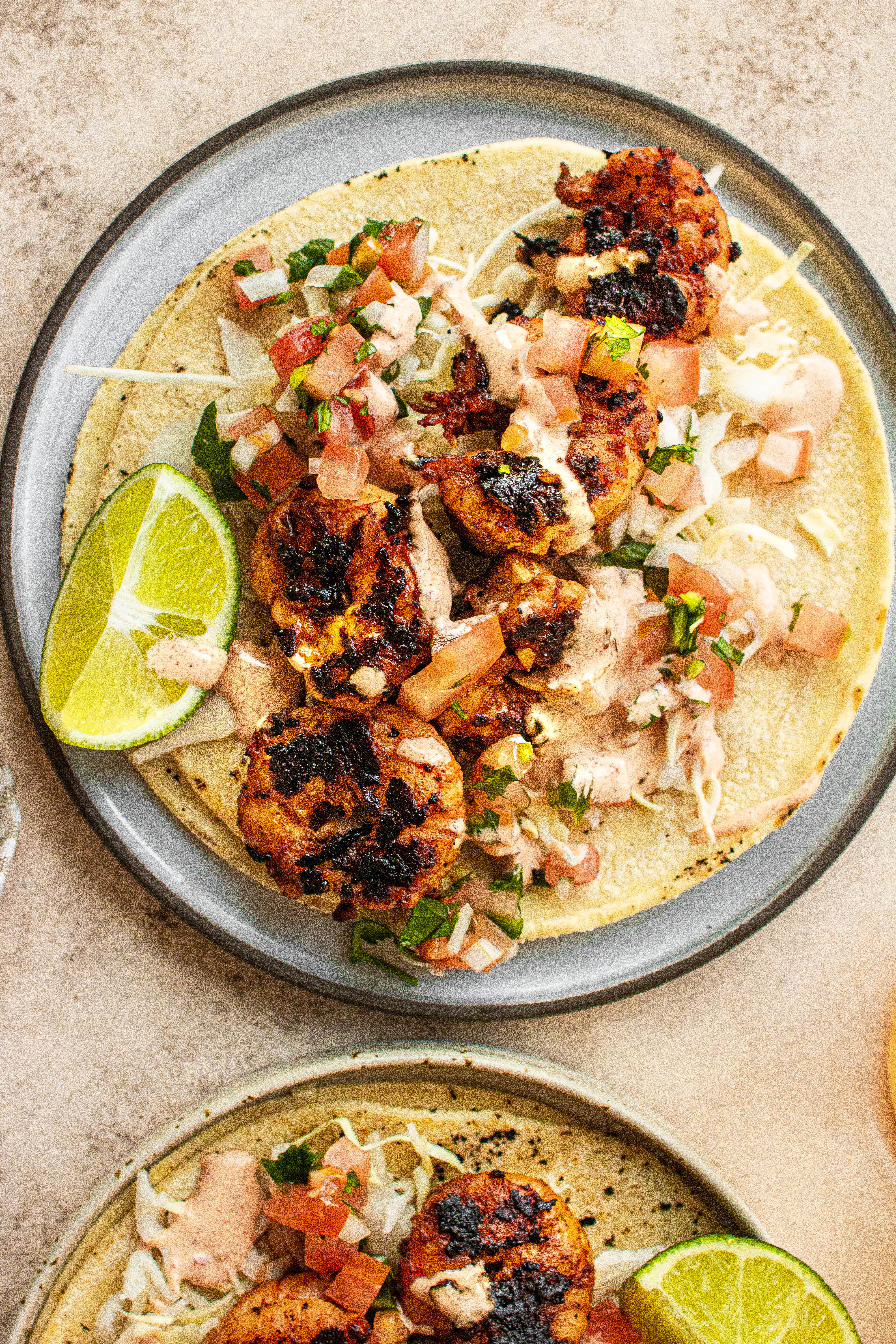 What's the best way to cook chile-lime shrimp tacos?
For me, it depends on the weather! For a quick dinner, I like to cook the shrimp in a cast-iron skillet on the stove. If I'm planning to grill other items, I'll throw the shrimp on some soaked bamboo skewers and grill them for a couple of minutes per side.
how long should you marinate the chile-lime shrimp?
Never marinade the shrimp for longer than 30 minutes! The lime juice in the marinade can cook the shrimp if left for too long and it'll result in a mushy, unpleasant texture when cooked.
Shrimp are very absorbent and it doesn't take long for the flavor of the marinade to sink in. I usually marinate the shrimp and then prep my other ingredients (pico, chipotle sauce) and by the time I'm done, it's time to cook the shrimp.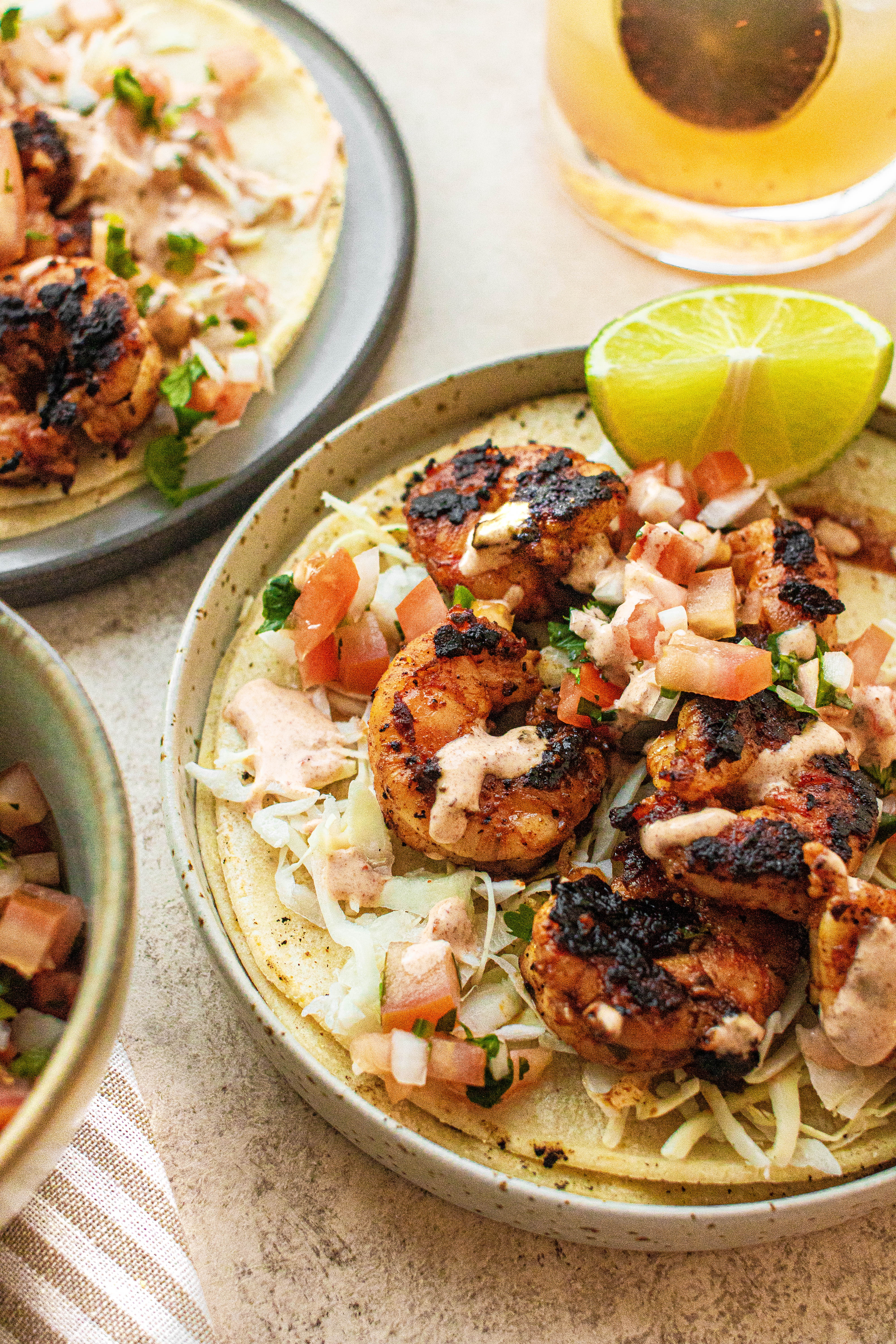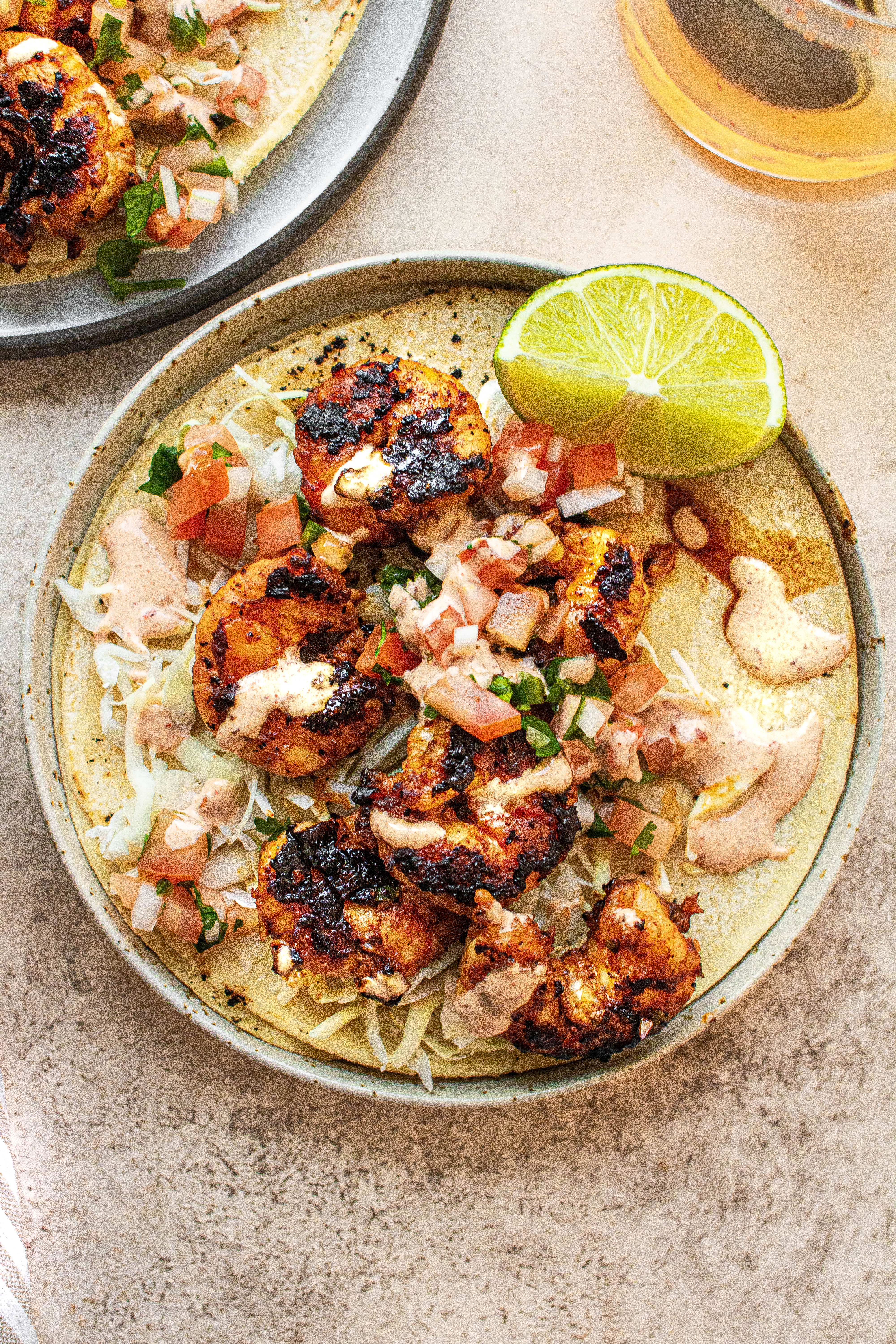 More Recipes to Try
This post contains affiliate links from which I receive a small commission at no additional cost to you. Affiliate links allow me to keep providing great recipes for free and I never recommend products that I don't love and personally own.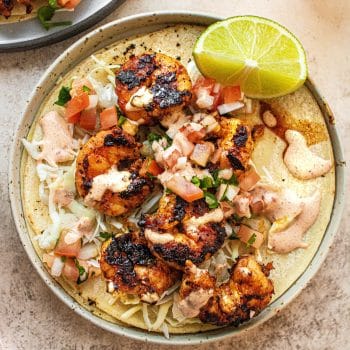 Chile-Lime Shrimp Tacos
Chile-lime shrimp tacos are my absolute go-to for taco Tuesday. They're quick, healthy, and full of flavor!
Ingredients
Shrimp Tacos
2

tablespoons

olive oil

1

lime, zested and juiced

2

teaspoons

honey

2

teaspoons

ancho chile powder

1

jalapeno, seeded and minced

1 1/2

lbs

fresh shrimp (16/20 size), peeled and deveined

Salt and pepper to taste

Corn tortillas, warmed

2

cups

shredded cabbage, for serving

Pico de gallo, for serving

Lime wedges, for serving
Chipotle Sauce
3/4

cup

sour cream

1/3

cup

mayonnaise

juice of 1 lime

1/2

teaspoon

lime zest

1

teaspoon

honey

2

chipotle peppers in adobo

1

tablespoon

adobo sauce

1

clove

garlic

Kosher Salt
Instructions
Make the chipotle sauce: place all the ingredients in the bowl of a food processor and process until smooth. Season to taste with salt. Store in the fridge in an airtight container until ready to serve.

Make the shrimp: In a large ziplock bag, combine the olive oil, lime juice and zest, chili powder, jalapeno, and honey. Add the shrimp to the bag, seal, and shake well to coat. Marinate for 30 minutes in the refrigerator.

Preheat a cast-iron skillet over medium-high heat. Once the skillet is very hot, pour the bag of shrimp, with the marinade ingredients, into the skillet. Spread the shrimp in an even layer and allow to cook 2-3 minutes on one side without flipping. Once the shrimp have started to turn pink and curl a little, flip and cook for another 2-3 minutes. Season with salt and pepper.

To assemble: place the shrimp in the warmed corn tortillas and top with shredded cabbage, pico, and chipotle sauce. Serve with lime wedges.
You might also like...