Fresh Watermelon Margaritas
Fresh Watermelon Margaritas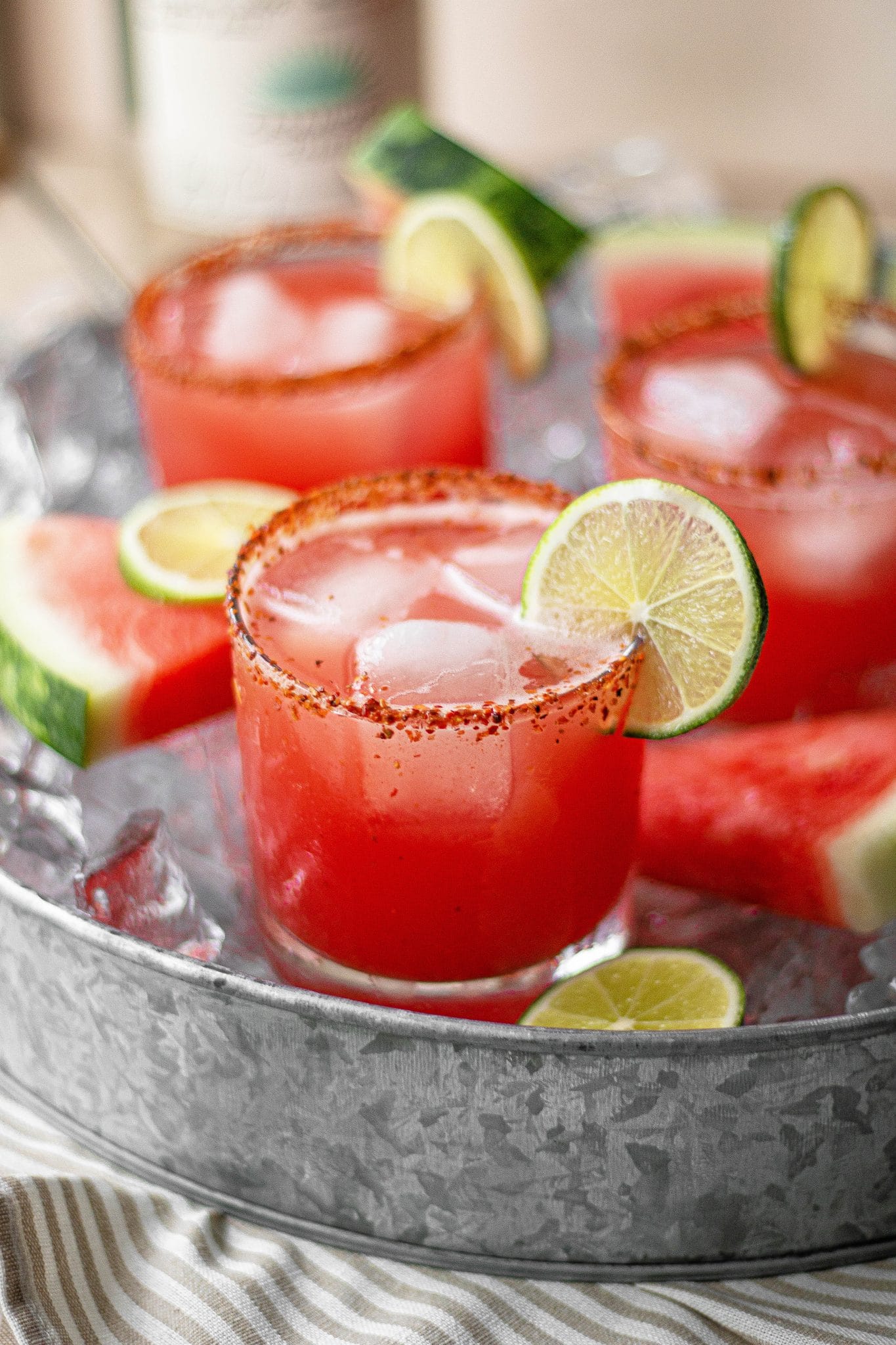 These fresh watermelon margaritas are the most refreshing cocktail recipe you'll ever try! And they are fresh with a capital 'F'. Summer watermelon is the absolute best and making a quick watermelon juice for these really takes them to the next level.
Fresh watermelon juice requires no more than chopping some watermelon up, blending it, and straining it a little. You could also just enjoy the watermelon juice sans alcohol as an agua fresca!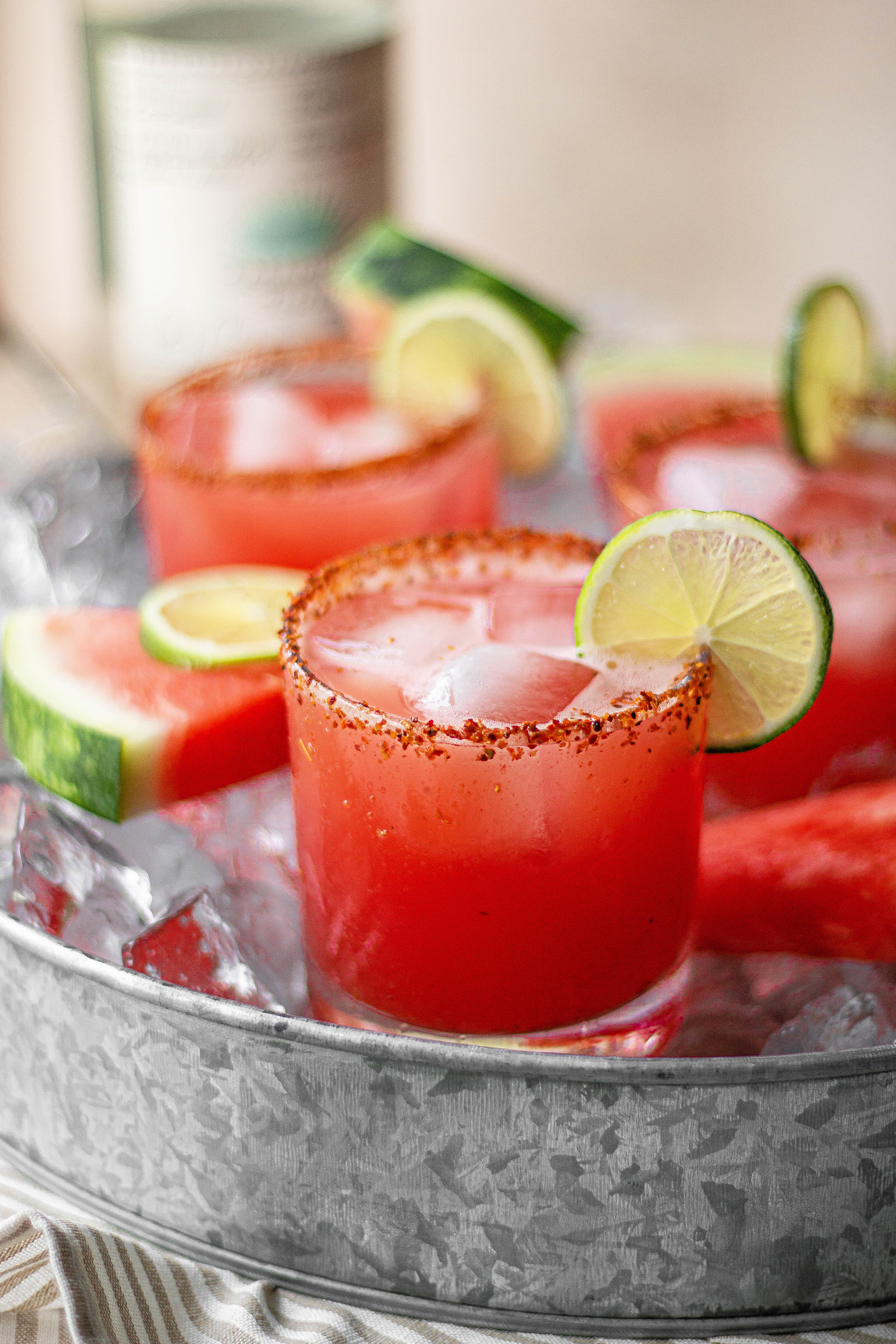 Tips for making Fresh Watermelon Margaritas
Watermelon. Selecting a watermelon is important since it's such a key ingredient in our margaritas! You want to look for a smaller, seedless watermelon. You can use a giant one, but I would only cut up a portion of it as it makes A LOT of juice.
When you tap it, it should sound hollow. It should also have a yellow spot on it's underbelly, this is where it rests on the ground as it grows and indicates ripeness. This will make the best watermelon juice for the best watermelon margaritas!
Lime juice. You will definitely need fresh lime juice for this recipe. Either buy from a store that makes juice daily, or squeeze your own. Please for the love of alcohol, do not buy those little lime shaped bottles of "juice".
Tequila. Use your favorite tequila here! I am partial to blanco tequila and my favorite brand is CASAMIGOS tequila, but honestly I also really like the tequila from Trader Joe's for a budget friendly option.
Salt. I am 100% a salt or tajin on the rim of a margarita kind of gal. You can omit the salt completely or do a mix of salt and sugar if you prefer a salty-sweet rim.
Simple Syrup. You can usually buy simple syrup from most high end liquor stores that also sell mixers but it couldn't be easier to make. In a small saucepan, heat equal parts water and granulated sugar, stirring until the sugar is dissolved. Allow the syrup to cool and store in an airtight container. You can also substitute a light flavored agave nectar.
Making a Pitcher of Fresh Watermelon Margaritas
Having a party? There's nothing better than having a pitcher of fresh watermelon margaritas on stand-by!
To make a pitcher, combine the following ingredients in a large pitcher:
20 (2 1/2 cups) oz fresh watermelon juice
8 (1 cup) oz blanco tequila
5 (2/3 cup) oz grand marnier
3 (1/3 cup) oz simple syrup
6 (3/4 cup) oz fresh lime juice
Tools Needed for Watermelon Margaritas
More Cocktail Recipes to Try
This post contains affiliate links from which I receive a small commission at no additional cost to you. Affiliate links allow me to keep providing great recipes for free and I never recommend products that I don't love and personally own.
Fresh Watermelon Margaritas
Fresh watermelon margaritas are the perfect summer refreshing cocktail recipe!
Ingredients
8

oz

fresh watermelon juice

see below

2 1/2

oz

tequila blanco

1 1/2

oz

grand marnier or triple sec

2

oz

fresh lime juice

1

oz

simple syrup or light agave nectar

Ice

Lime Wedges

Tajin or salt
Instructions
Take a small, seedless, ripe watermelon and remove the rind. Cut the watermelon into small chunks and throw them into a blender. Blend until smooth and strain through a fine mesh strainer. Refrigerate the watermelon juice until ready to use.

Run a lime wedge over the rims of two rocks glasses and coat with tajin or salt. Fill glasses with ice.

In a cocktail shaker, combine the watermelon juice, tequila, grand marnier, lime, and simple with a little bit of ice. Pop the lid on and shake well for about 20 seconds. Strain into the prepared glasses and serve with a lime wedge.
You might also like...