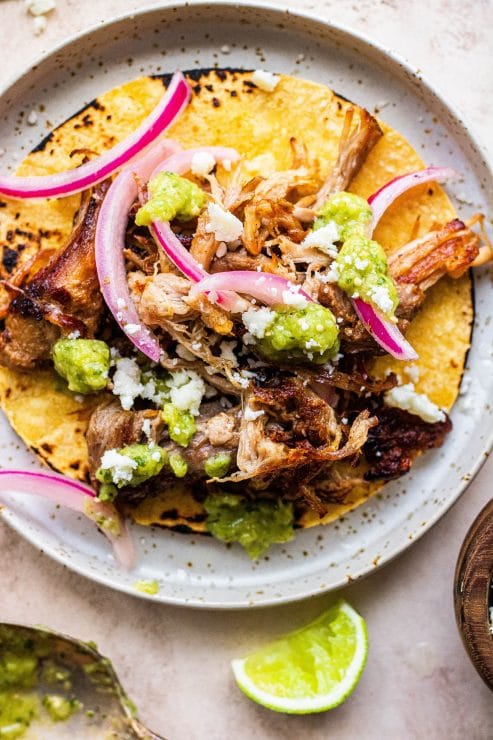 Beer-Braised Carnitas Tacos
Beer-Braised Carnitas Tacos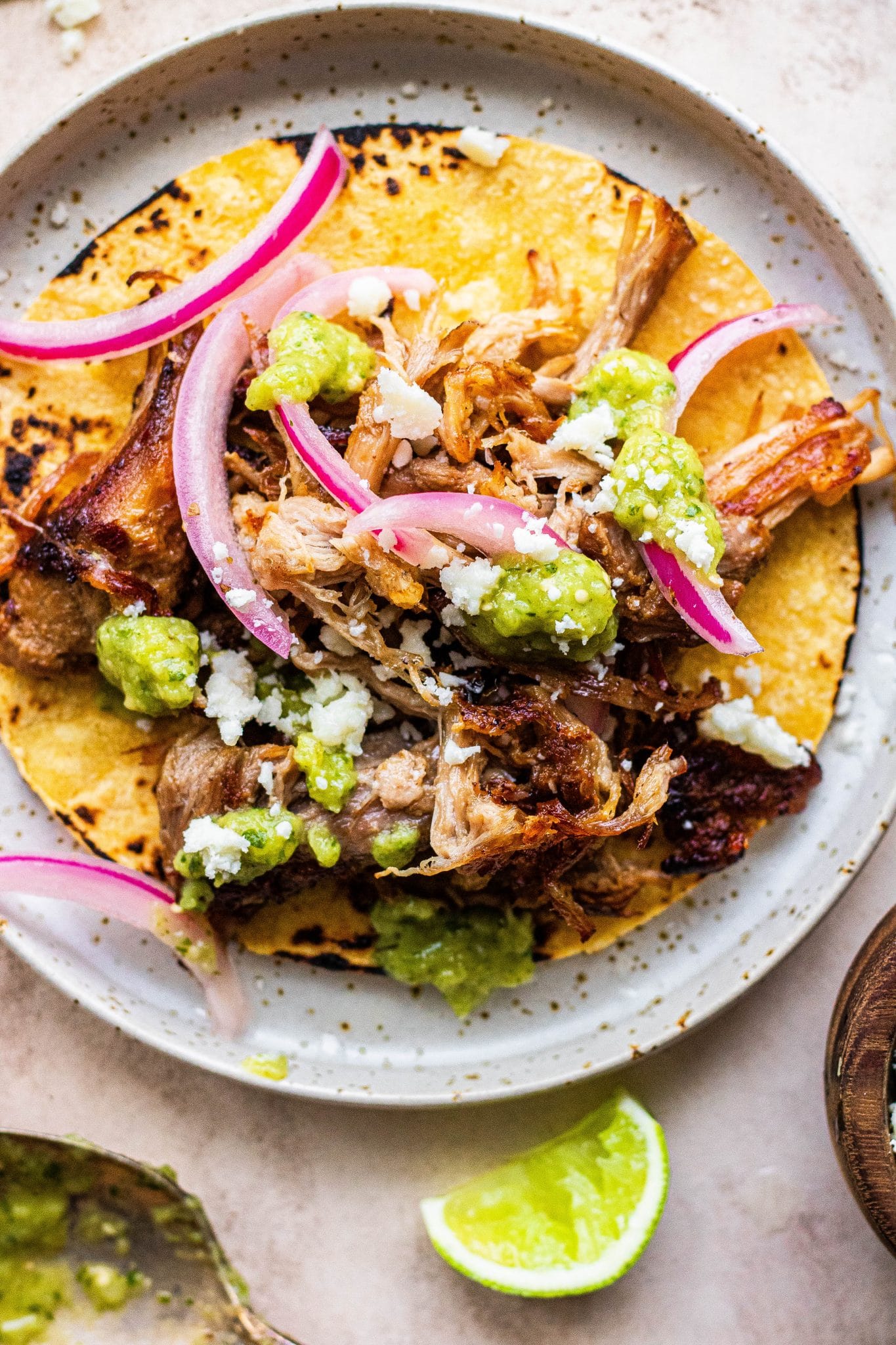 Beer-braised carnitas are hands-down my favorite taco filling. Pork shoulder is braised for hours in a combination of beer, onions, citrus, and spices until it's fall-apart tender. Then, the pork is crisped up in a skillet so you have a perfect mix of crispy and tender pieces.
The tender and fatty crispy carnitas are just so perfect with the pickled onions, salsa verde, and cotija. I honestly can't think of a taco recipe that I love more.
What are Beer-Braised Carnitas?
Well, first, braising is a combination cooking technique that features both wet and dry heat. First, you sear the pork in the pan for flavor and color and then you add liquid to the pot and transfer the covered pot to the oven. In the oven, the pork cooks slowly at a lower temperature.
The resulting pork is exceedingly tender. Braising is particularly effective for tough cuts of meat (brisket, chuck, pork shoulder, etc). Cooking tough meats low and slow in liquid allows the muscle tissue and collagen to slowly break down. Any liquid can be used to braise (wine, stock, water, etc), but I love beer for this recipe!
Carnitas is a dish of Mexican cuisine that originated in the state of Michoacan. Traditionally, pork butt is braised in broth or fat. Since cooking 5 lbs of pork in lard seems excessive, I opted for both lard and beer.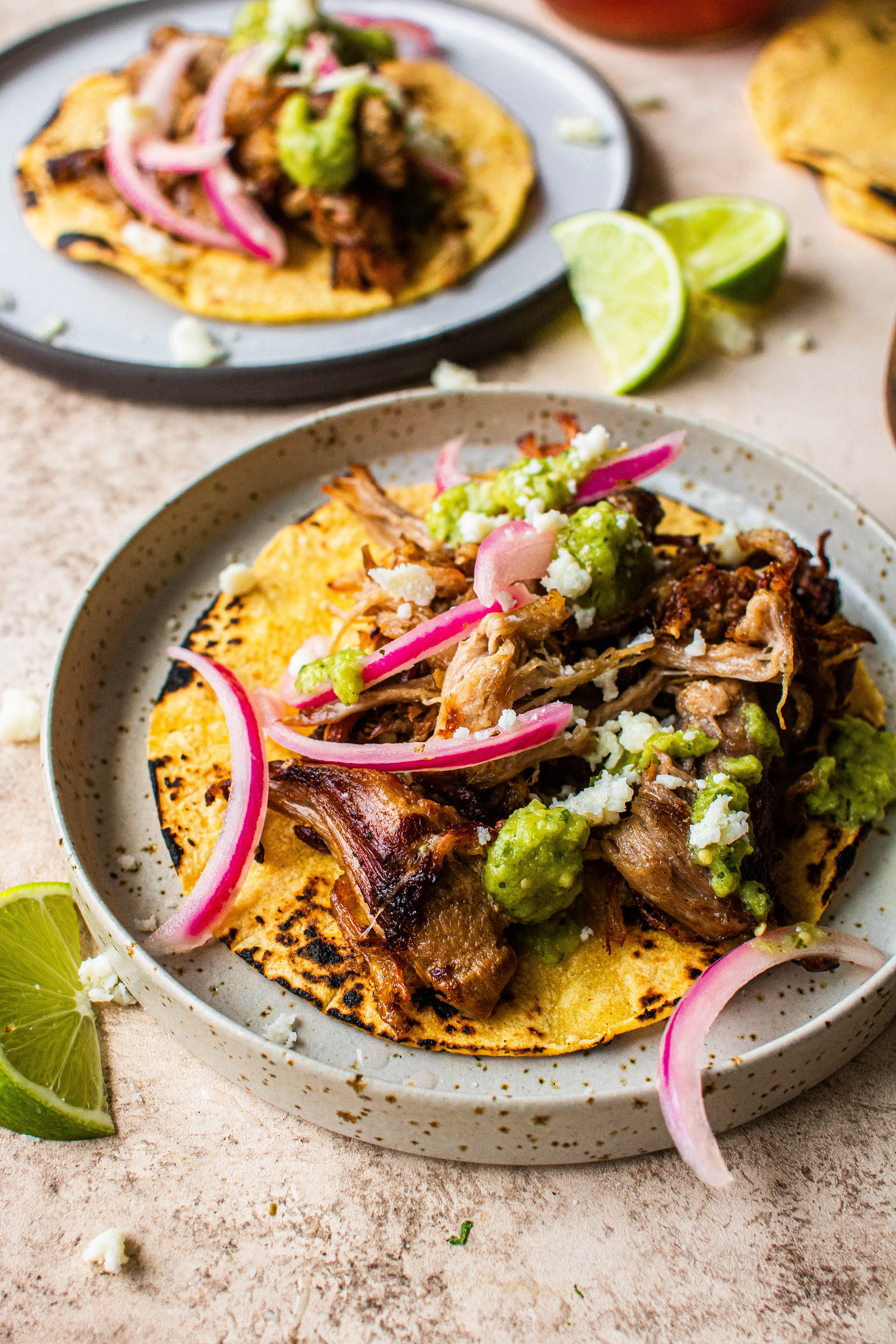 Why use bone-in pork?
Bone-in pork really adds so much flavor to the meat while it cooks. Pork on the bone contains collagen and marrow that slowly break down as you braise the meat. I personally find that bone-in pork is cheaper than boneless, too. You can absolutely use boneless pork butt if that's easier! If you do use bone-in, just be careful to cut around the bone when you cut the meat into chunks.
What type of beer is best for braising?
The beer-braised carnitas benefit from a beer that doesn't have a strong hoppy flavor. This means IPAs and Pale Ales are definitely out. The longer you cook beer with a heavy hop character, the more bitter it becomes. I tend to opt for lagers or amber ales/lagers or Mexican beers like Modelo, negro Modelo, Pacifico, etc.
Ingredients in Beer-Braised Carnitas
pork. I'm using pork butt in this recipe, specifically Boston butt. Pork shoulder and pork butt both come from the shoulder area, but the butt is higher up on the foreleg. It's heavily marbled with fat (we want that, it's flavor!) and tough. We are cooking it low and slow to achieve a very tender consistency!
dried ancho chilies. Ancho chilies are poblano chilies that have been dried. They add tons of flavor here!
dried guajillo chilies. Guajillo chilies are the dried version of the Mirasol chilies. They add a fruity flavor with a little heat. Both guajillos and ancho chilies can be found in the Mexican aisle of most supermarkets or your local Mexican market.
orange. This probably seems like an odd addition, but the citrus helps tenderize the pork and the flavor is so, so good.
beer. Again, you don't have to use beer, but I think it adds a lot. Opt for a beer with very little hop flavor.
What's the best pot to use for beer-braised carnitas?
I use my 5 qt Le Creuset dutch oven (you can find it here), but any heavy-bottomed pot with a lid will work. I would opt for cast iron or enamel-coated cast iron because it holds and distributes heat really evenly. You want a pot that has a wide bottom vs being tall like a stockpot.
What are tomatillos?
Contrary to popular belief, tomatillos are NOT simply green tomatoes. They're actually part of the gooseberry family which is why they have a husk. They are a bit tart which makes for a very fresh salsa verde!
More Mexican-Inspired Recipes to Try
This post contains affiliate links from which I receive a small commission at no additional cost to you. Affiliate links allow me to keep providing great recipes for free and I never recommend products that I don't love and personally own.
Beer-Braised Carnitas Tacos
These beer-braised carnitas tacos will have you feeling like you're in Mexico! Crispy and tender carnitas served in warm corn tortillas with pickled onions and salsa verde.
Ingredients
Carnitas:
5

lbs

bone-in pork Boston butt

cut into large chunks

kosher salt and freshly ground pepper

1

cup

lard

1

orange

sliced

8

cloves

garlic

peeled

1

yellow onion

sliced

4

dried ancho chilies

whole

2

dried guajillo chilies

whole

1

tablespoon

toasted cumin seeds

3

bay leaves

24

oz

lager or amber beer

flat

1

tablespoon

salt
Salsa Verde:
1

tablespoon

neutral oil

3

large tomatillos

husk removed and rinsed, cut into large wedges

1

serrano pepper

stem removed, cut in half

1/4

white onion

2

garlic cloves

peeled

¼

avocado

juice of 2 limes

1/3

cup

minced cilantro leaves and stems

salt and pepper to taste

Corn tortillas

warmed

Cotija cheese

crumbled

Lime wedges

for serving

Pickled onions

for serving
Instructions
Preheat an oven to 350 degrees F. Heat a large, heavy-bottomed Dutch oven over medium heat (I use a 5 qt le creuset) and add the lard to the pot. Season the pork chunks liberally with salt and pepper.

Place pieces of pork in the pan and brown on all sides. Add sliced onion, oranges, and garlic cloves to the pot and arrange around the pieces of pork. Then, add cumin, bay leaf, and dried chilies. Add beer and sprinkle the salt all over. If there is not enough liquid to come 3/4 of the way up the pork (we don't want to cover it), add a little water. Bring to a simmer and then remove from the heat and cover.

Place in the oven and cook for 3 hours, until almost fork tender. Remove lid and cook for 1 hour more, or until tender enough to be pulled apart with a fork. Remove pot from oven and let the pork cool to room temperature. Re-cover, place in the fridge and allow to chill overnight.

Before serving, pull the pork from the liquid and roughly shred it into pieces, discarding large pieces of fat. Heat a cast-iron pan over medium-high heat and add the pork to the pan until crispy on one side and golden brown. Season with extra salt as needed and serve on tortillas with pickled onions, salsa verde, and cilantro with some lime wedges on the side.

To make the salsa verde: preheat an oven to 400 degrees F. Toss the tomatillo wedges, onion, serrano, and garlic with neutral oil and lightly season with salt and pepper. Roast for 20 minutes, or until the tomatillos are starting to burst. Remove from the oven and cool to room temperature. Transfer the contents of the sheet pan to a blender with any juices. Add the remaining ingredients and blend until smooth. Season to taste with salt and pepper.
You might also like...