churros with Mexican hot chocolate sauce
churros with Mexican hot chocolate sauce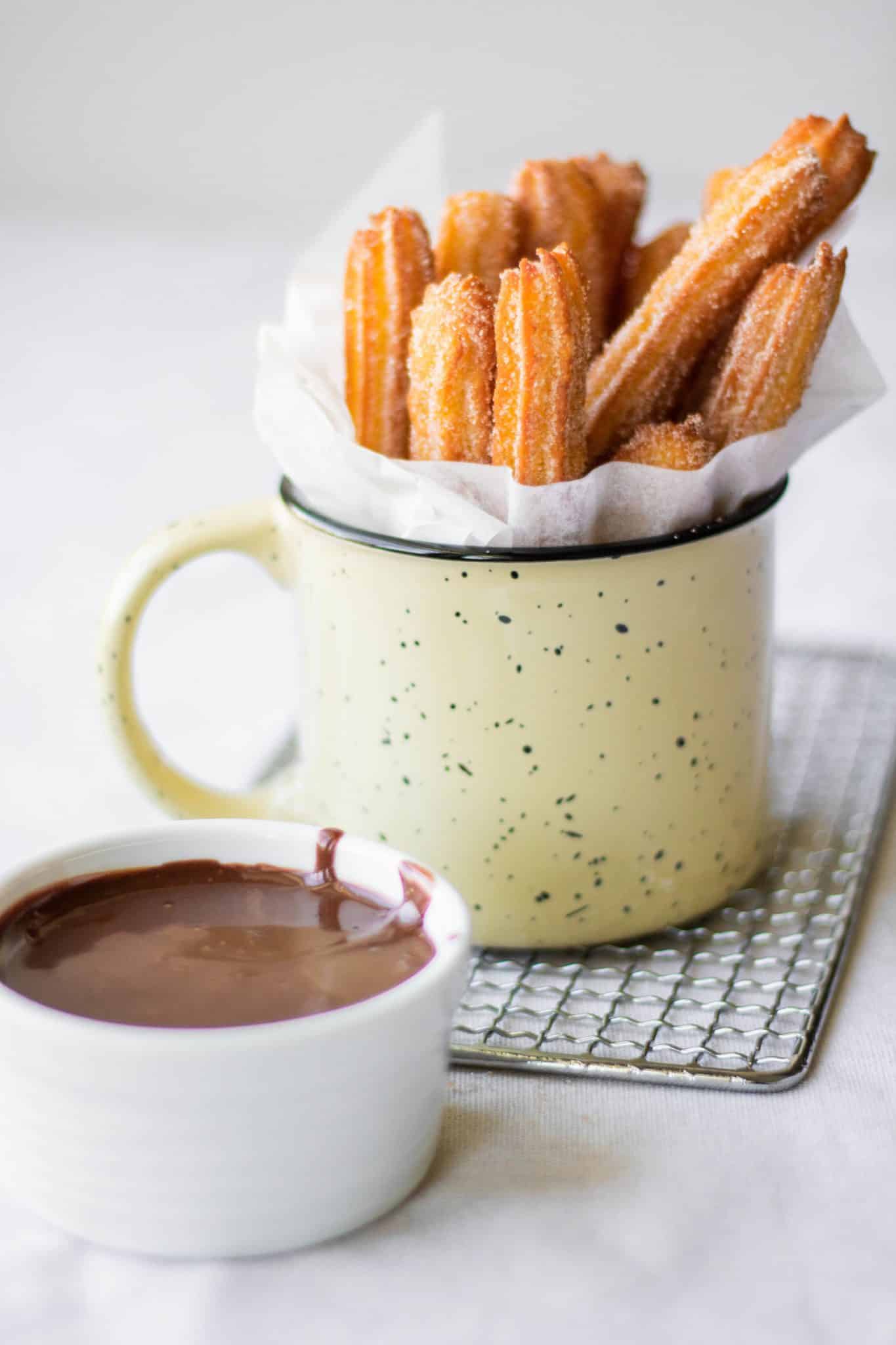 Everyone is talking about tacos today, but I am talking about churros with Mexican hot chocolate sauce! Delicious little bits of fried dough coated in cinnamon sugar. You know the ones. Well, now you can easily make them at home! This recipe was adapted to be frozen, so you can keep a stash in the freezer and only fry up what you need when the craving hits. The dough is really similar to a pâte à  choux dough, just with a little less egg. You don't even really need a hand mixer to do it, you can mix everything by hand with a little elbow grease. You pipe the finished dough into lines on a baking sheet, freeze 'em, fry 'em up, and coat them in cinnamon sugar. Then you dip them in the best little chocolate sauce ever. Basically a thinner ganache, but loaded with flavor and a little bit of heat and spice! What's not to love? What are you waiting for? Get to frying!
Products I used in this recipe: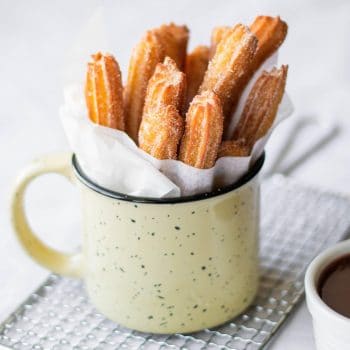 churros with Mexican hot chocolate sauce
Who doesn't love a fresh and warm churro? They are so easy to make and keep in your freezer for whenever the craving hits!
Ingredients
Churros

1/2

cup

water

2/3

cup

half & half

6

tablespoons

unsalted butter

diced

2

tablespoons

sugar

1

teaspoon

vanilla bean paste

1/4

teaspoon

kosher salt

1

cup

all purpose flour

2

eggs

3/4

cup

granulated sugar

1 1/2

teaspoons

ground cinnamon

Mexican Hot Chocolate Sauce

4

oz

semi-sweet chocolate

chopped

3/4

cup

heavy cream

1

teaspoon

vanilla bean paste

1/2

teaspoon

ground cinnamon

1/4

teaspoon

ancho chile powder

1/8

teaspoon

cayenne pepper

1/8

teaspoon

ground cloves

2

tablespoons

unsalted butter

at room temperature
Instructions
For the churros: In a medium saucepan, warm the water, half & half, butter, 2 tablespoons sugar, salt and vanilla over medium high heat and bring to a simmer. Add the flour and lower the heat to medium-low. Cook, stirring constantly, with a rubber spatula until mixture comes together and is smooth and there are no lumps. Transfer to a mixing bowl and using a hand mixer, whisk until the dough is just barely warm. Add the two eggs and beat until smooth. Transfer the mixture to a piping bag fitted with a closed star piping tip (I like the Ateco 846 tip). Line a baking sheet with parchment paper and pipe the dough onto the baking sheet in 6" lines. Repeat until the dough is used up. Freeze for at least 1 hour.

For the chocolate sauce: Place the chopped chocolate in a heatproof bowl. In a small saucepan, combine the heavy cream, cinnamon, ancho, cloves, cayenne and vanilla and bring to a gentle simmer. Pour the cream over the chocolate and allow to sit for 5 minutes. Stir until smooth. Stir in the softened butter and set aside until ready to use.

To fry churros: In a shallow dish, mix together the remaining granulated sugar and cinnamon. Heat at least two inches of canola oil in a heavy bottomed pot or a dutch oven to 350 degrees F. In batches of 5 or 6, fry the churros over high heat as the frozen churros will cool the oil. Transfer to a wire rack set over a baking sheet to drain any excess oil and while the churros are still warm, roll them in the cinnamon sugar until well coated. Allow the oil to come back up to temperature between batches. Serve with warm chocolate sauce.
Notes
Vanilla bean paste really makes the flavor of the churros, but vanilla extract can be substituted as well.
Churros can be kept frozen for up to 1 month and fried as the desire strikes.
Any star piping tip will work, but the closed star tip will create the most distinct edges in the churros.
You might also like...