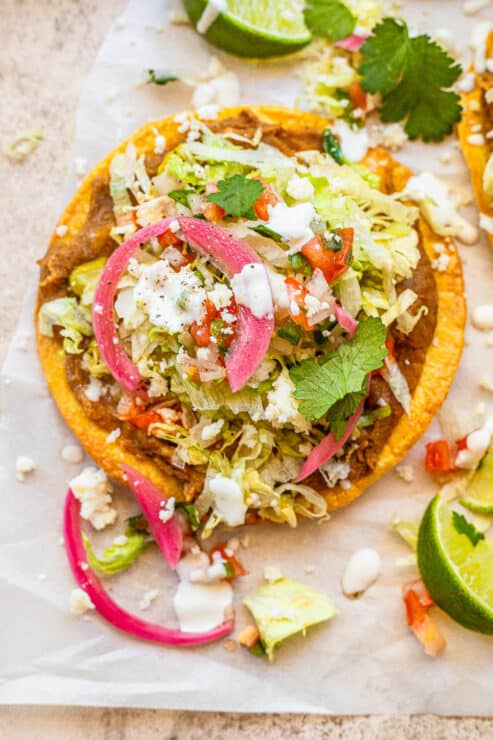 Bean and Cheese Tostadas
Bean and Cheese Tostadas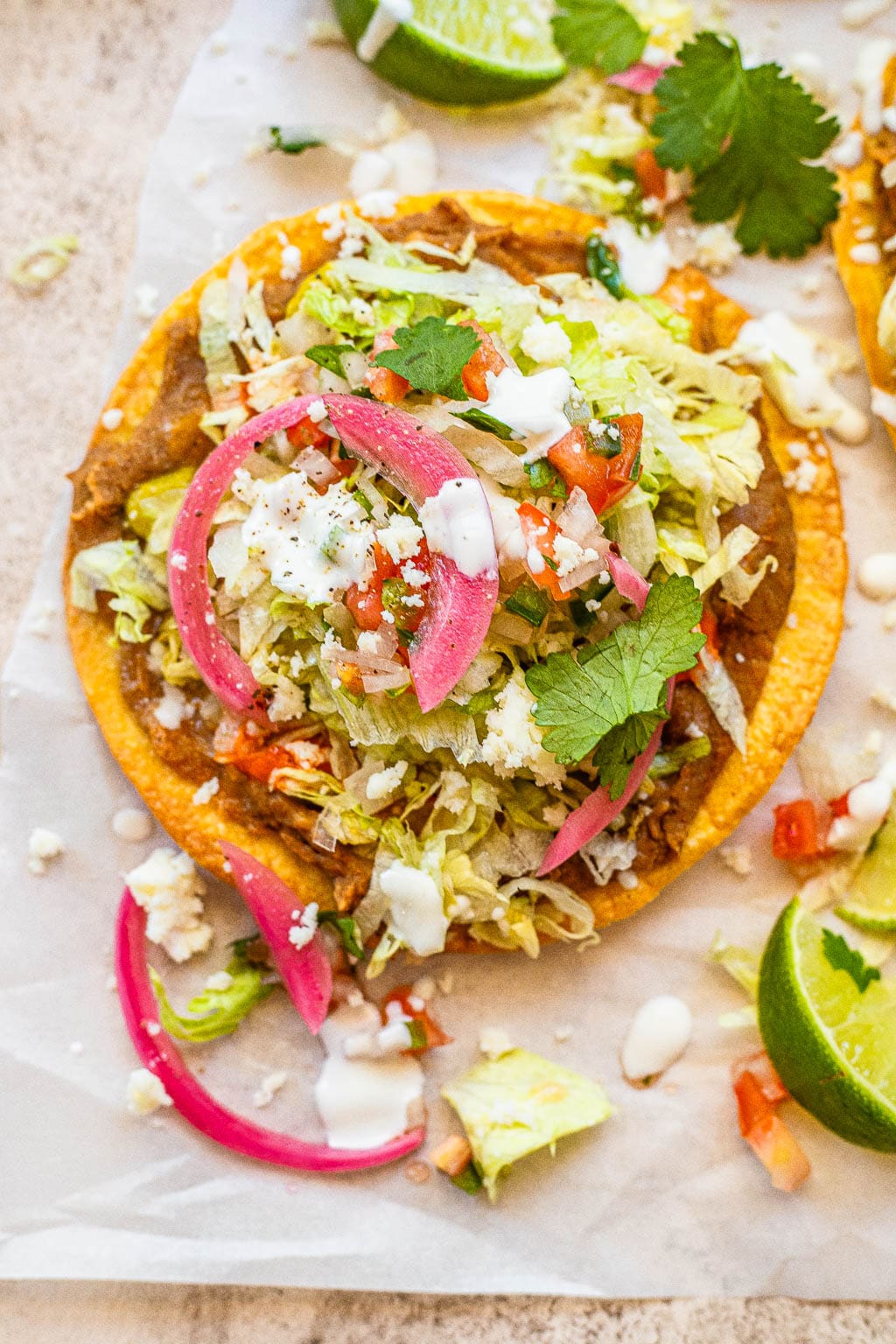 Bean and cheese tostadas are an easy 30-minute weeknight meal or the perfect snack for game day! Creamy refried beans and melty cheese on a crispy corn tortilla piled high with toppings. What could be more satisfying than that?
If you love tacos, you'll love tostadas! They're perfect for a party where everyone can build their own. These tostadas begin with my instant pot refried beans laced with flavorful aromatics & spices. Spread them over crispy tostada shells and top with cheese. Then just layer on your favorite toppings! Simple, flavorful, & ready in 30 minutes or less – my favorite kind of weeknight dinner!
Bean and Cheese Tostada Recipe Highlights
Bean and cheese tostadas are one of my favorite meals! They're humble and easy and remind me of every taco shop I ever grew up going to in San Diego. You'll love these tostadas because:
They're low effort! I love an easy and delicious weeknight dinner that takes almost zero effort! You can put as much or as little effort into these bean and cheese tostadas as you want. I always make my instant pot refried beans and make my own tostada shells, but you can use store bought for both to make life even easier!
They're easy to customize! I love this recipe because you can customize them 100% to your tastes! Choose your favorite toppings! You can keep them vegetarian or make them vegan or add extra protein in the form of carnitas, grilled chicken, or even carne asada!
Perfect for a party! If you're throwing a party, bean and cheese tostadas couldn't be easier to serve! Set up a little build-your-own station and let your guests customize their own tostadas. It's low effort with high satisfaction!
What are Tostadas?
If you've never had a tostada, think of a crunchy taco but flat! Crispy corn tortillas are piled high with beans, cheese, and all your favorite toppings. They're fun (if a little messy!) to eat, and satisfy all the flavor and texture wickets. The word "tostada" translates to "toasted" in Spanish, making a crispy corn tortilla essential for this recipe. Frying or toasting corn tortillas creates a sturdy base that can hold several toppings from meats to salsas to beans.
Tostadas were invented in Mexico as a delicious way to use up slightly stale tortillas. Stale tortillas can still be repurposed and fried to crispy perfection! Crispy & golden tostadas are best when they're made from scratch & toasted for each meal, but you can buy store bought tostadas for ease.
How to Make Bean and Cheese Tostadas
Tostadas are one of those things that really don't need a recipe! This recipe for bean and cheese tostadas is really a basic blueprint for you to customize to your tastes. However, I will always recommend making my instant pot refried beans because they are SO good and totally make the dish.
Tools Needed
Ingredients and Substitutions
Refried beans. I love making my own, but you could easily use your favorite store bought refried beans for bean and cheese tostadas. You could also swap in refried black beans, whatever you like!
Tostada shells. Most grocery stores sell tostada shells, but I do really like to make my own. I fry corn tortillas in a shallow bit of oil until crispy and season with salt. Easy!
Cheese. Use your favorite here! I had sharp cheddar on hand and cheddar is classic in taco shops, but any shredded cheese will work. Go for something melty!
Toppings. Obviously toppings are an important part of a tostada! There are tons of options but some of my favorites are shredded lettuce or cabbage, avocado, pico de gallo, pickled onions, crema, cilantro, cotija cheese, and limes.
The Process
Warm the beans. If you're making your own refried beans, you can use them while they're still warm. If you're using store bought, warm them in a small skillet.
Build the tostadas. Lay the tostada shells on a baking sheet lined with parchment and spread liberally with the refried beans. Top with cheese and toast in the oven for 5-7 minutes, until the cheese is melted. This is also a great way to refresh store bought tostada shells so they feel fresh!
Top as desired. While the tostadas are still warm, top them to your hearts desire with all your favorites! Serve immediately.
Toppings for Bean and Cheese Tostadas
The toppings are the thing, here! If you've been here for a while, you know that I am very pro-topping. The more the merrier, I say! Here are some of my favorite toppings options for bean and cheese tostadas:
Shredded lettuce or cabbage
Pico de gallo
Mexican Crema
Sliced avocado
Cotija Cheese
Chopped Cilantro
Limes
Diced Tomatoes
Grilled Corn
Fresh or Pickled Jalapeños
The sky really is the limit here. Pick and choose your favorites for topping and then dig in!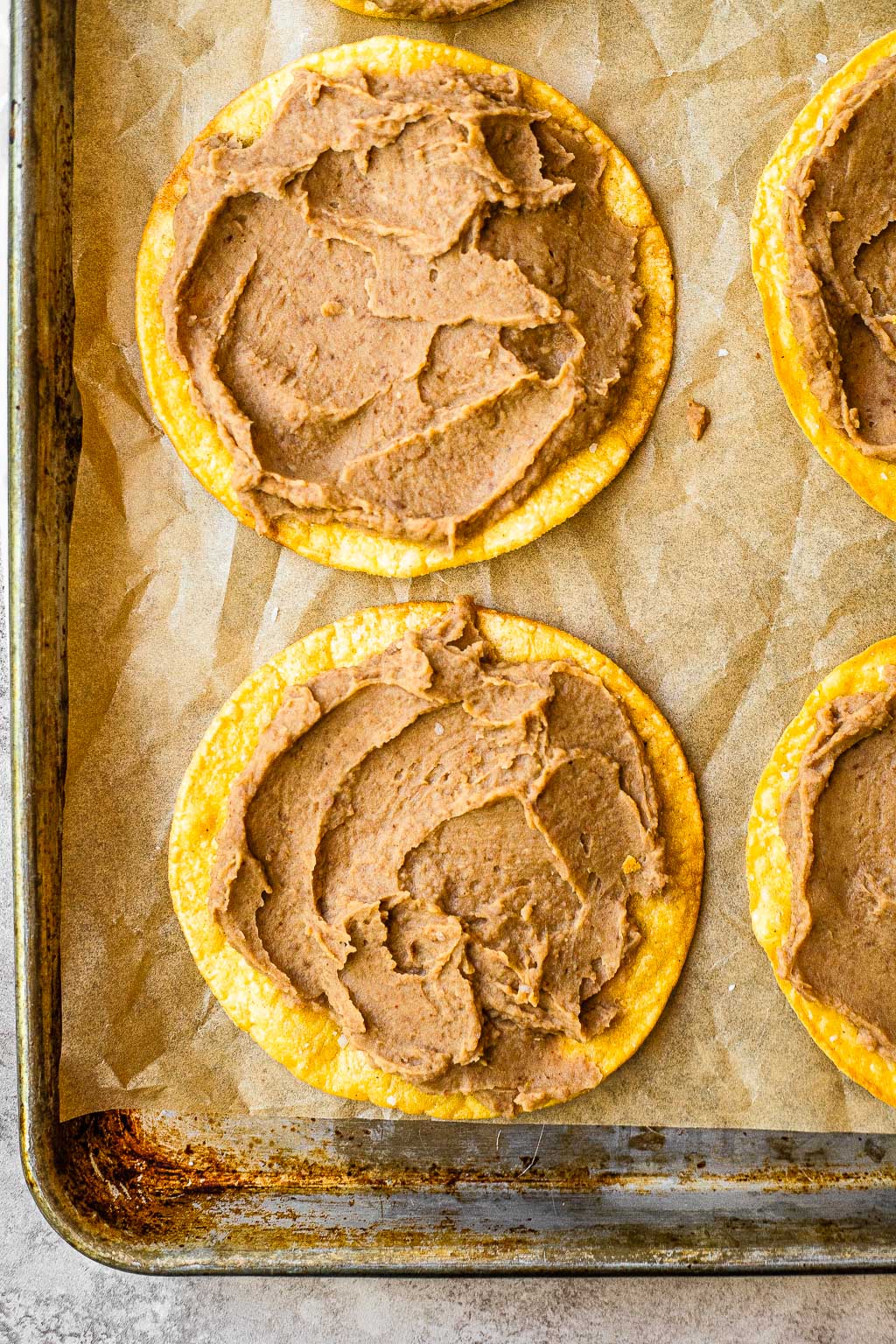 Setting up a Tostada Station for a Party
If you're setting up bean and cheese tostadas for a party, skip toasting the tostadas in the oven and just lay everything out! If you're using store bought tostada shells, I would still warm those in the oven though to refresh them.
Set up the refried beans in a small crockpot on warm and mix the cheese in with the beans. Set up all your preferred toppings in bowls and you're ready to go!
Let your guests build their bean and cheese tostadas and you'll be the total culinary hero! This is a great recipe for Cinco de Mayo parties, game days, and backyard BBQs.
What to Serve with Bean and Cheese Tostadas
If you're planning on a party, some extra dishes and appetizers never go amiss! Here are my favorite sides and cocktails to serve with bean and cheese tostadas:
Any or all of these recipes would make a fantastic and delicious Mexican spread for any party or gathering.
Storing, Freezing, and Reheating Bean and Cheese Tostadas
In the event that you have leftovers, bean and cheese tostadas are so easy to store, freeze and reheat!
To store refried beans: Let the beans cool and store them in an airtight container for 4-6 days in the fridge. If you have leftover tostada shells, store them in a ziplock bag with a paper towel in the bag to soak up any moisture.
Freezing refried beans: You can very easily freeze refried beans for bean and cheese tostadas! Let the beans cool to room temperature and then store in a freezer-safe ziplock bag. Try to press most of the air out of the bag while sealing, this helps prevent freezer burn. Label and freeze for up to 3 months.
Reheating: Leftover refried beans can be warmed back up in a pot or skillet, adding a little water as necessary to thin them out.
Store your toppings in separate containers or small ziplock bags.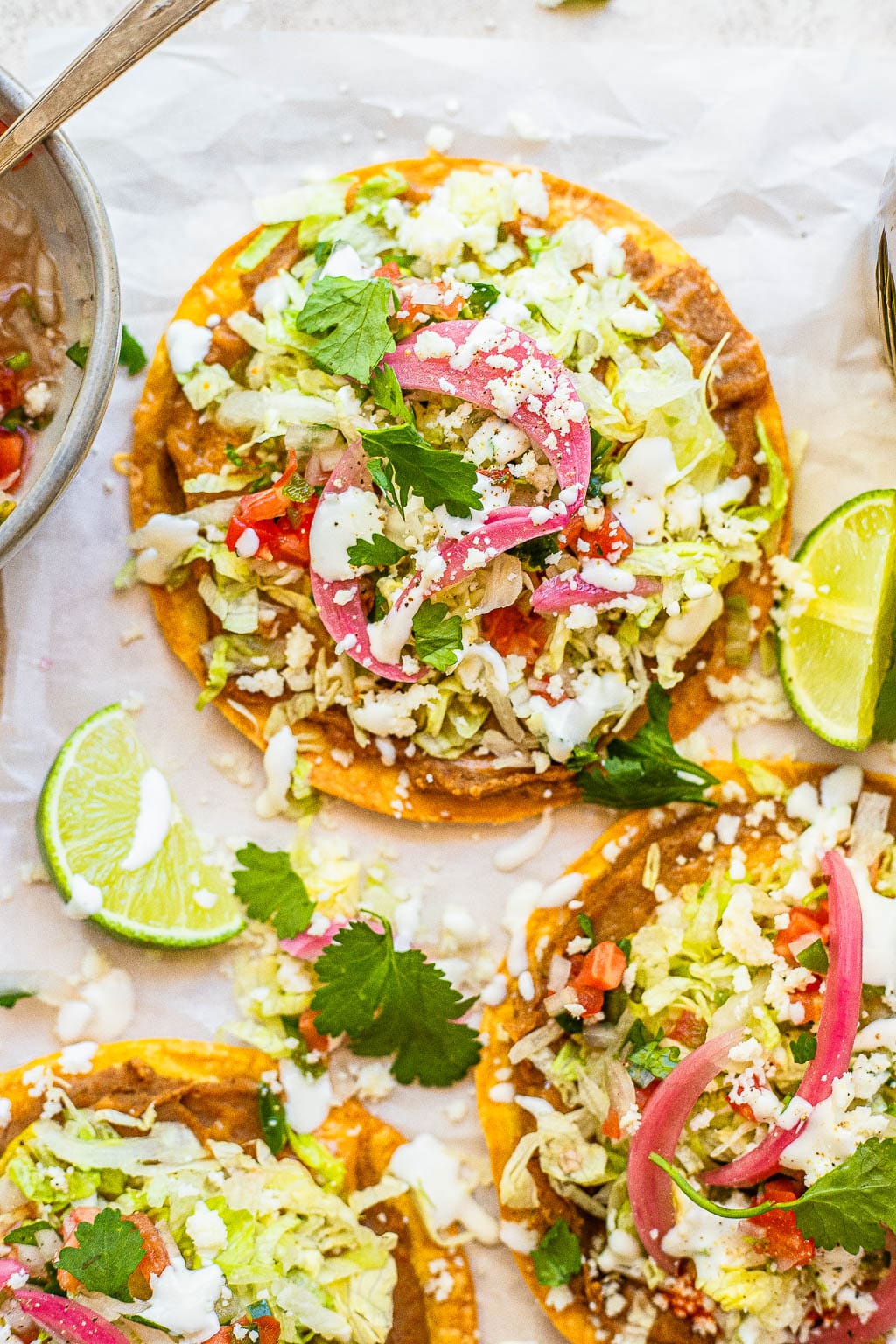 More Mexican-Inspired Recipes to Try Now
This post contains affiliate links from which I receive a small commission at no additional cost to you. Affiliate links allow me to keep providing great recipes for free and I never recommend products that I don't love and personally own. 
Bean and Cheese Tostadas
Bean and cheese tostadas are an easy weeknight dinner that takes less than 30 minutes! They're easy to customize, fun to eat, and perfect for any game night or party!
Ingredients
Bean and Cheese Tostadas
2 1/2

cups

refried beans

1/2

teaspoon

chili powder

1/2

teaspoon

cumin

1 1/2

cups

shredded cheddar

6

tostadas, homemade or store bought
Toppings
1 1/2

cups

shredded lettuce or cabbage

1

cup

pico de gallo

1/4

cup

Mexican crema

2

oz

cotija cheese, crumbled

1/4

cup

pickled onions
Instructions
Preheat an oven to 400 F.

Warm the refried beans in a small skillet with the spices and season to taste with salt and pepper.

Lay the tostadas on a baking sheet lined with parchment paper. Spread the beans evenly between the tostadas and top with shredded cheese. Bake for 5-7 minutes until the cheese is melted.

Remove the tostadas from the oven, transfer to a plate, and top as desired. Enjoy while still warm.
You might also like...