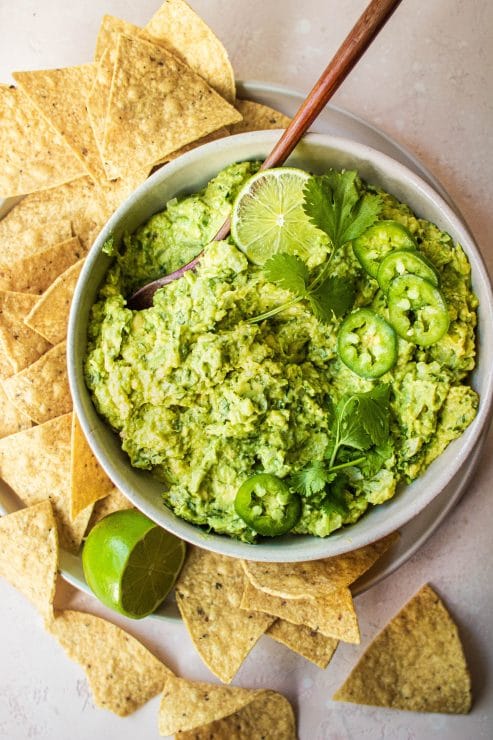 The Best 5-Ingredient Guacamole
The Best 5-Ingredient Guacamole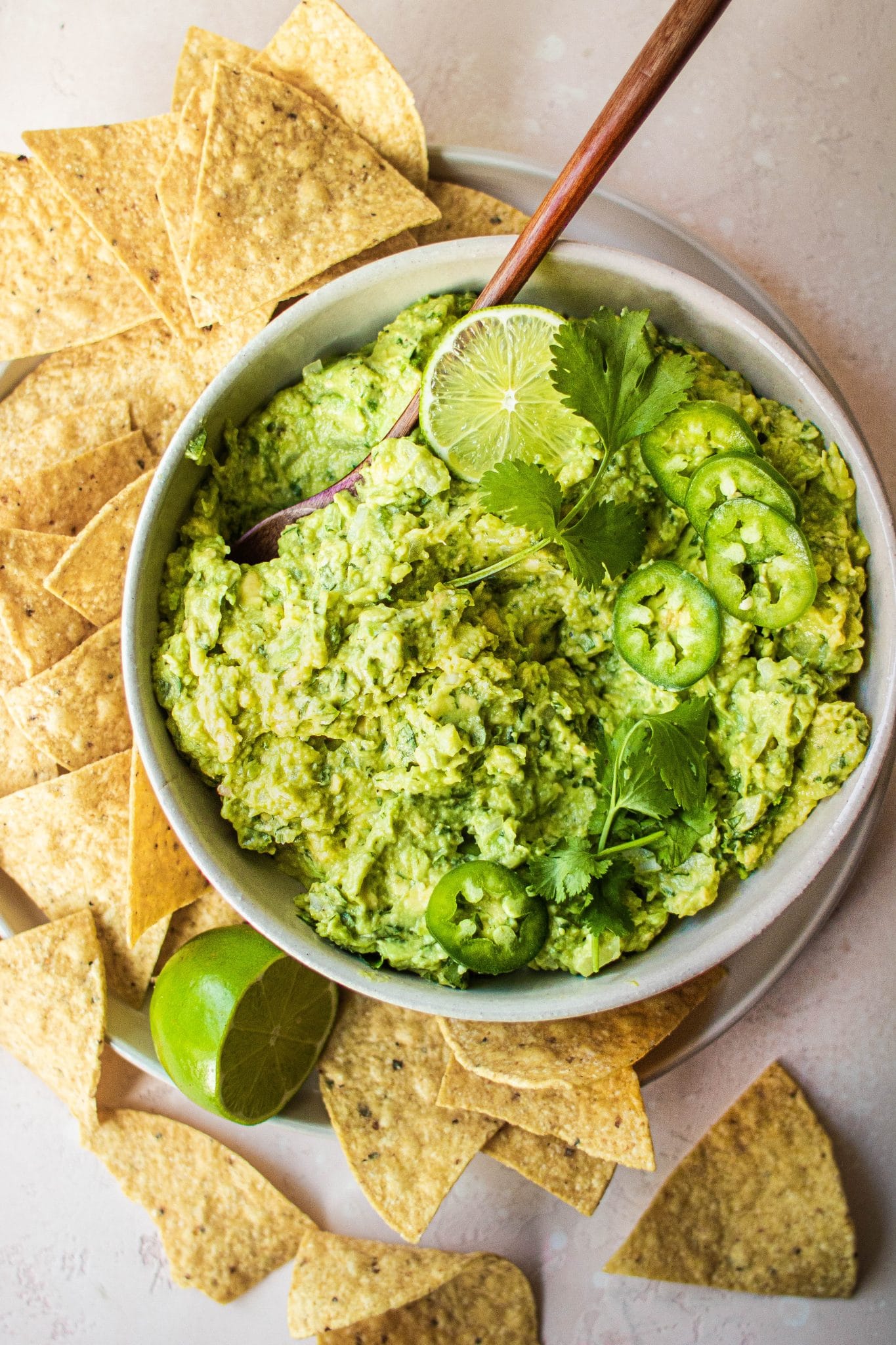 You may be thinking that 5 ingredients isn't enough to make the best guacamole, but you'd be wrong! Guacamole is honestly my favorite dip ever and I've spent a lot of time trying to really perfect the recipe.
It's a simple thing, but done right can be truly magical. It's a self explanatory recipe, but I have just a couple of tips to make it great!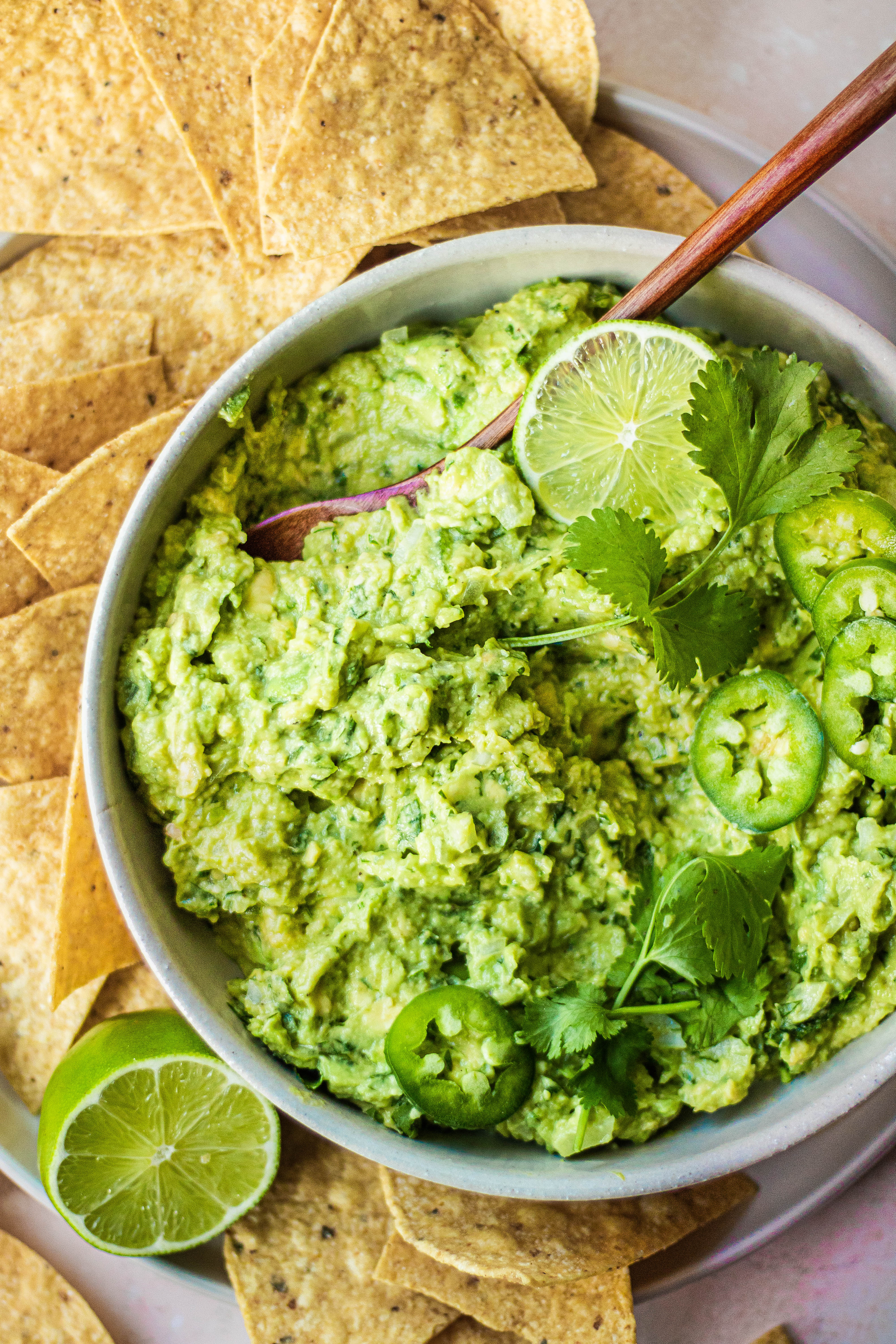 Tips for making the Best 5 Ingredient Guacamole
Avocados. I actually think that the best guacamole does not come from super overly-ripe avocados. We aren't making banana bread and the avocados you use shouldn't be mush. When you select your avocados at the grocery store, they should only have a small amount of give when you gently squeeze them.
Cilantro. Sorry to all the folks who hate cilantro, but you can't make great guac without it. When I mince cilantro, I actually like a bit of the stem minced in with the leaves. The stem has lots of intense flavor and really adds an extra punch.
Onion. Can you use red or yellow onion in this recipe? Yes, of course if that's all you have. But my favorite will always be white onion. They have a nice sharp flavor and they are a little more tender than other onions. The trick is to make sure the onion is minced really finely. You don't want to bite into really big chunks of onion when you grab a scoopful.
Cumin. Ah, cumin. Probably one of my favorite spices, I use it all the time. This is the totally optional 6th ingredient, but it adds such a subtle smokiness and really great flavor. Add it if you've got it!
And that's pretty much it! You are just a couple minutes away from enjoying the best 5 ingredient guacamole, ever!
Tools Needed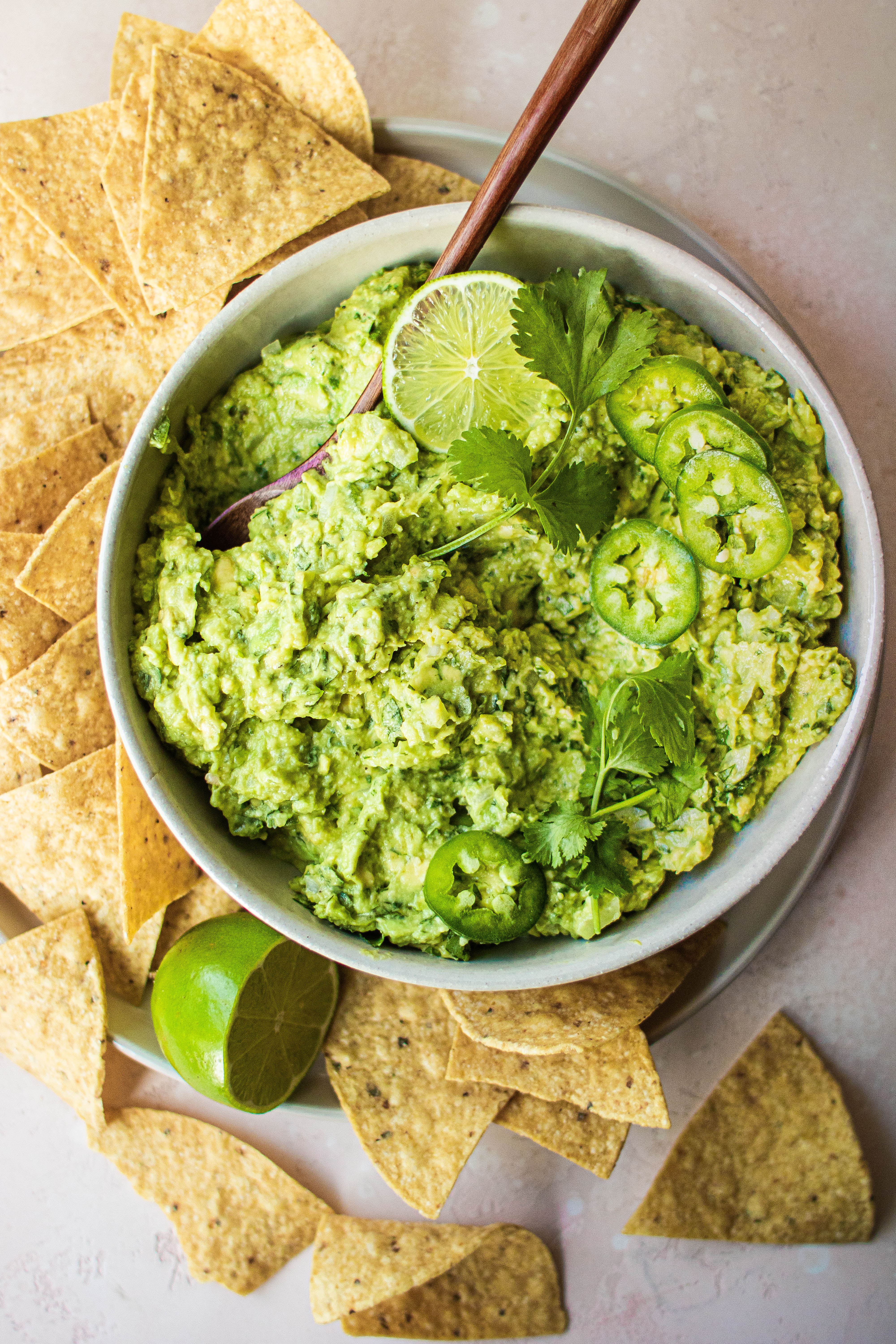 More Mexican-Inspired Recipes to Try
This post contains affiliate links from which I receive a small commission at no additional cost to you. Affiliate links allow me to keep providing great recipes for free and I never recommend products that I don't love and personally own.
The Best 5-Ingredient Guacamole
This is my go-to guacamole recipe! It only requires a handful of ingredients and it's the perfect dip for any party.
Ingredients
3

gently ripe large hass avocados,

pitted

1/4

white onion,

very finely minced

1

jalapeño,

minced

1/3

cup

minced fresh cilantro leaves and stems

1 1/2

limes

juiced

1/4

teaspoon

ground cumin

optional

Kosher salt

to taste

Freshly cracked pepper

to taste
Instructions
Scoop the flesh from the avocados using a spoon and place in a mixing bowl. Add the onions, jalapeño, and cumin (if using) to the avocado and using a fork, mash the avocado together with the onion and jalapeño, leaving some chunks of avocado for texture. Mix in the cilantro, lime juice, salt and pepper. Refrigerate for 1 hour before serving.
Notes
Allowing this guacamole to sit for an hour before serving is crucial! It allows all the flavors to meld together.
I don't recommend making this more than a couple of hours in advance before serving.
You might also like...