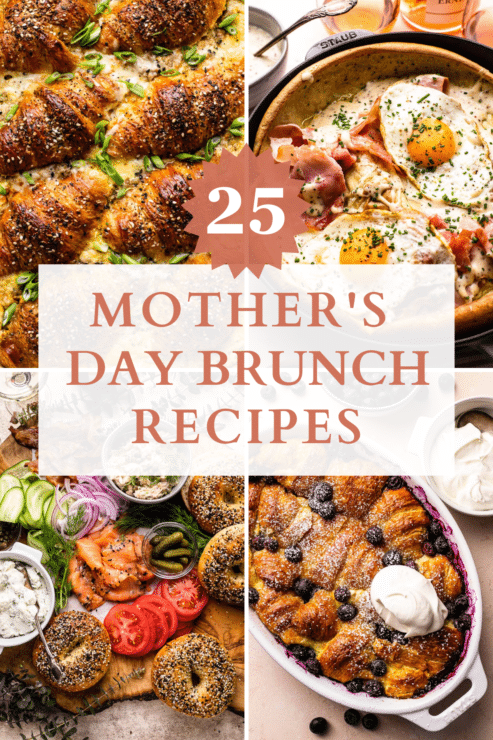 25 Mother's Day Brunch Ideas
25 Mother's Day Brunch Ideas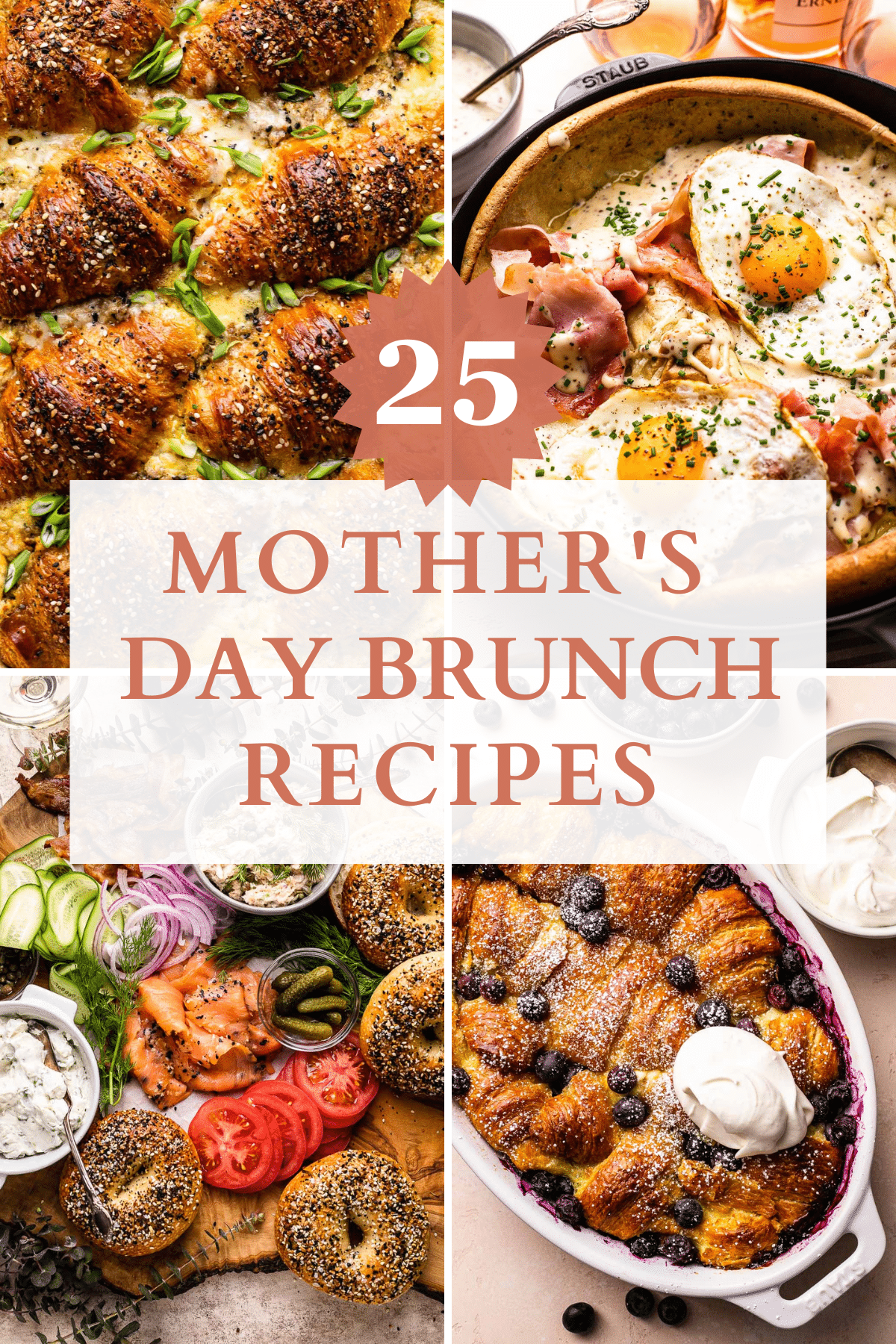 From eggs, to baked goods and more, this guide has all the easy and delicious Mother's Day Brunch ideas that you'll need for a gorgeous spread. These recipes are tried and true crowd pleasers that never fail to impress your guests!
Even if you're scrambling to put a menu together, this guide is here to help! These are all brunch recipes that come together quickly. These 25 last minute Mother's day brunch ideas will make time with family and friends even more memorable!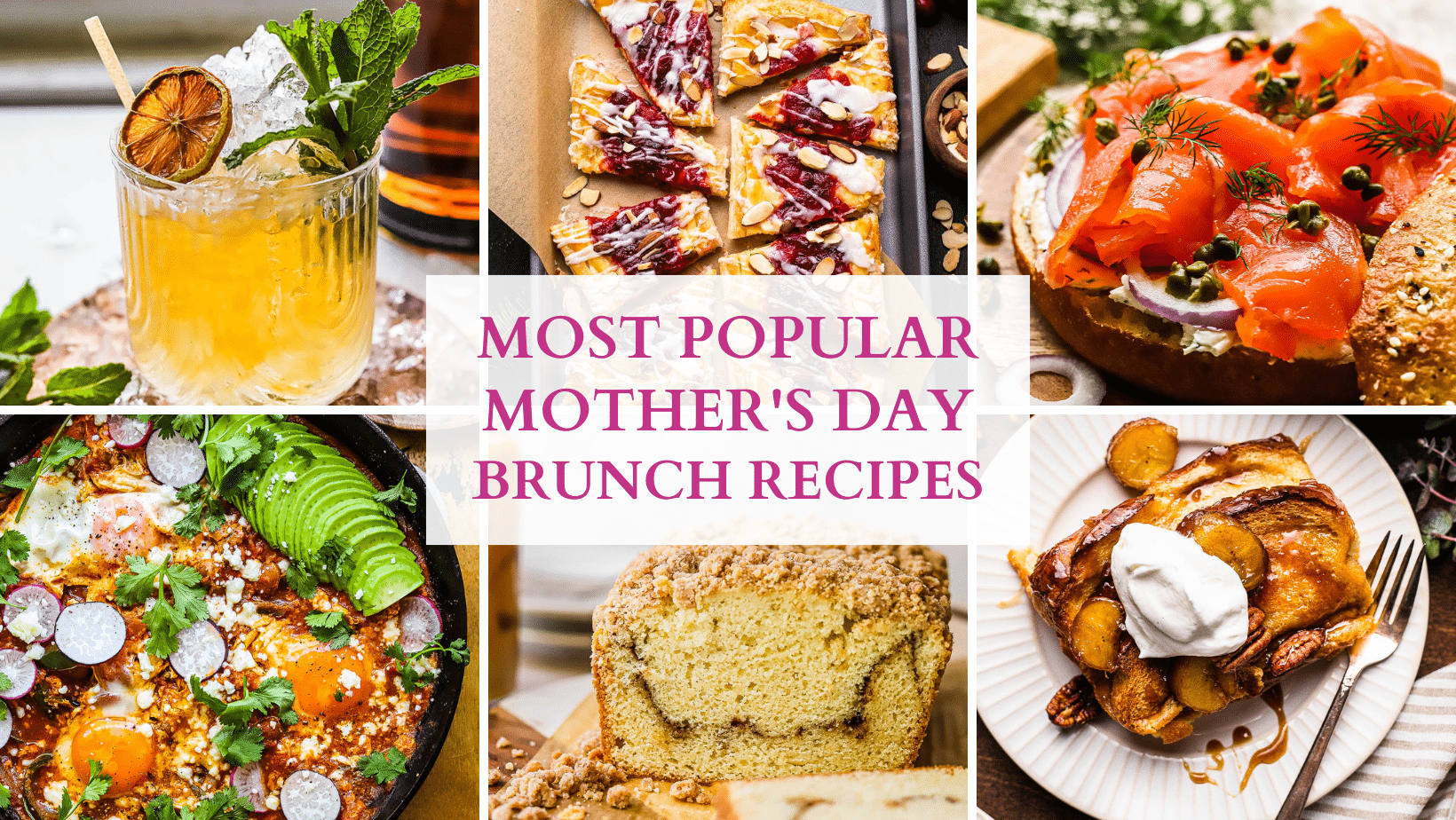 Most Popular Ideas for Mother's Day Brunch
Mother's Day is just around the corner, and it's time to start planning a special brunch to celebrate the amazing moms in our lives! s a former professional chef, I know how to make delicious food that looks impressive without being too difficult to prepare.
Whether you're a seasoned home cook or just starting out in the kitchen, I've got you covered with some of my favorite brunch recipes that are perfect for a Mother's Day brunch. From sweet to savory, these dishes will show your mom just how much you appreciate her.
All that matters is that the menu appeals to you and feels doable! Regardless of what you serve, it'll be a memorable day spent with family and that's always a home run.
How to Build the Perfect Mother's Day Brunch Menu
Building the perfect Mother's Day brunch menu may feel overwhelming, but I'm here to help! My easy brunch ideas are here to help you find the best dishes, but you need to decide what you want your menu to look like first based on your tastes and number of guests.
Are you big on sweet breakfast items, or savory? Do you want a mix of both? Are you planning to mix some appetizers? Any route you go is going to be delicious!
If you're hosting 4-6 guests: since brunch is hearty, I would plan for 3-4 dishes and a mix of sweet and savory with a big salad to go along with.
If you're hosting 8+ guests: the nice thing about brunch items are that they tend to feed a crowd! Bulk up on some heavy baked goods and throw in a mix of savory, eggy dishes.
Whichever route you go, these 25 Mother's Day brunch ideas are here to help!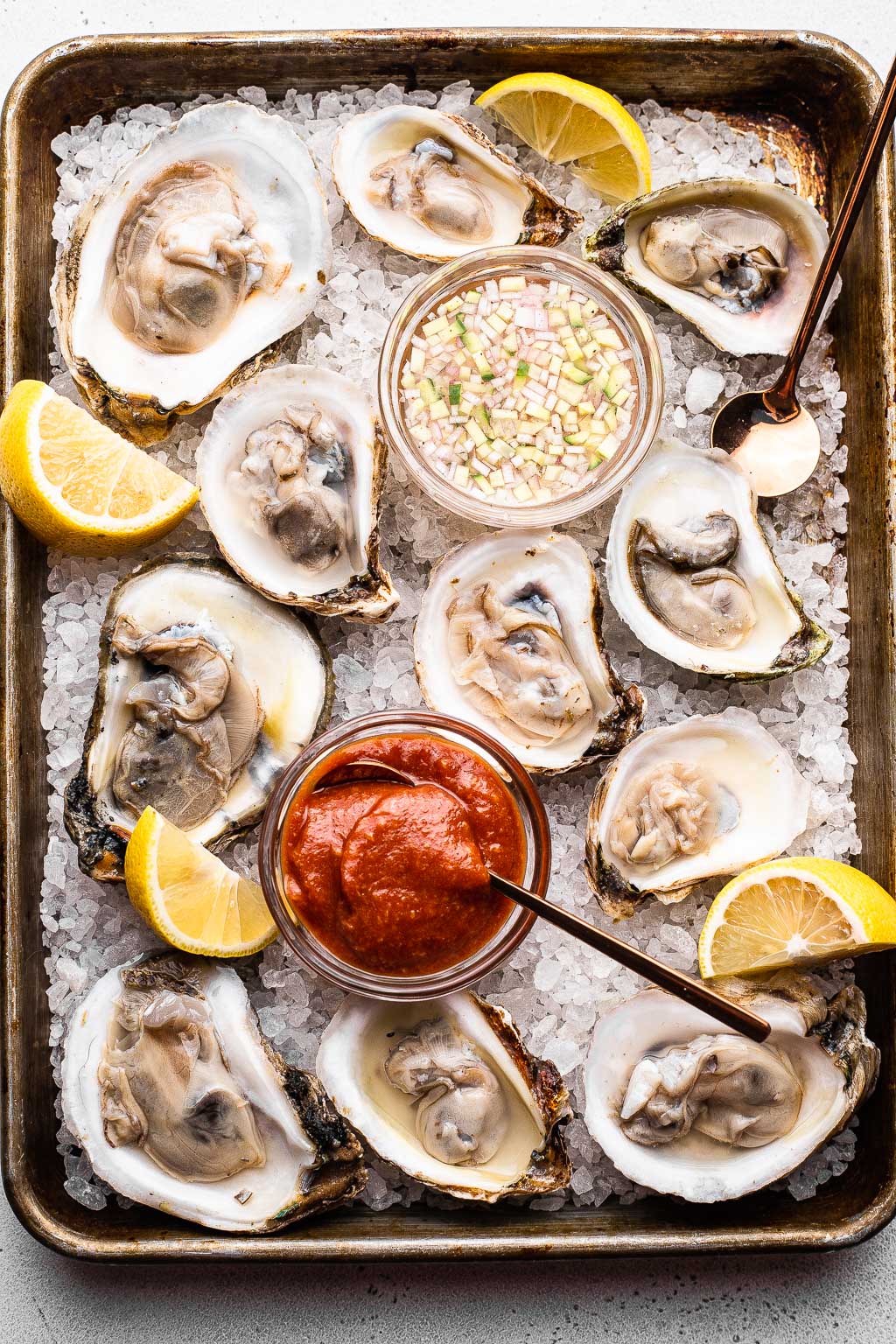 Best cooking tools for making Mother's Day Brunch at Home
What are all these ideas for Mother's Day brunch without the right kitchen tools to prepare them? You don't have to be a Gordon Ramsey to make these recipes, but quality equipment helps. Here are the pieces in my kitchen that I can't cook without!
A sharp kitchen knife. Invest in a quality kitchen knife for all your cooking needs! If I had to recommend investing in one thing, it's always going to be a good knife. It's the backbone to cooking and will change the game for you in the kitchen.
A lot of my brunch recipes are baked goods and that calls for a quality 9×13 baking dish. From cinnamon rolls to casseroles, I love the size and consistency of this baking dish.
Some of my brunch recipes are are all made in one skillet, so invest in a large 12 inch cast iron or enamel skillet for serving a crowd. Plus, a cast iron skillet is one of my most used items for all my cooking needs.
When I'm not using a skillet, I'm almost always using a braiser or a dutch oven. Braised meats are a big recipe in our household and a dutch oven or a braiser go a long way!
Finally, if you're going to be baking, you need some quality rimmed baking sheets. I use them for roasting veggies just as much as I use them for baking cookies.
Mother's Day Brunch Appetizers & Salads
Start your Mother's Day brunch off right with the perfect selection of appetizers and hearty salad. It's great to balance a hearty and heavy meal with some lighter greens and appetizers!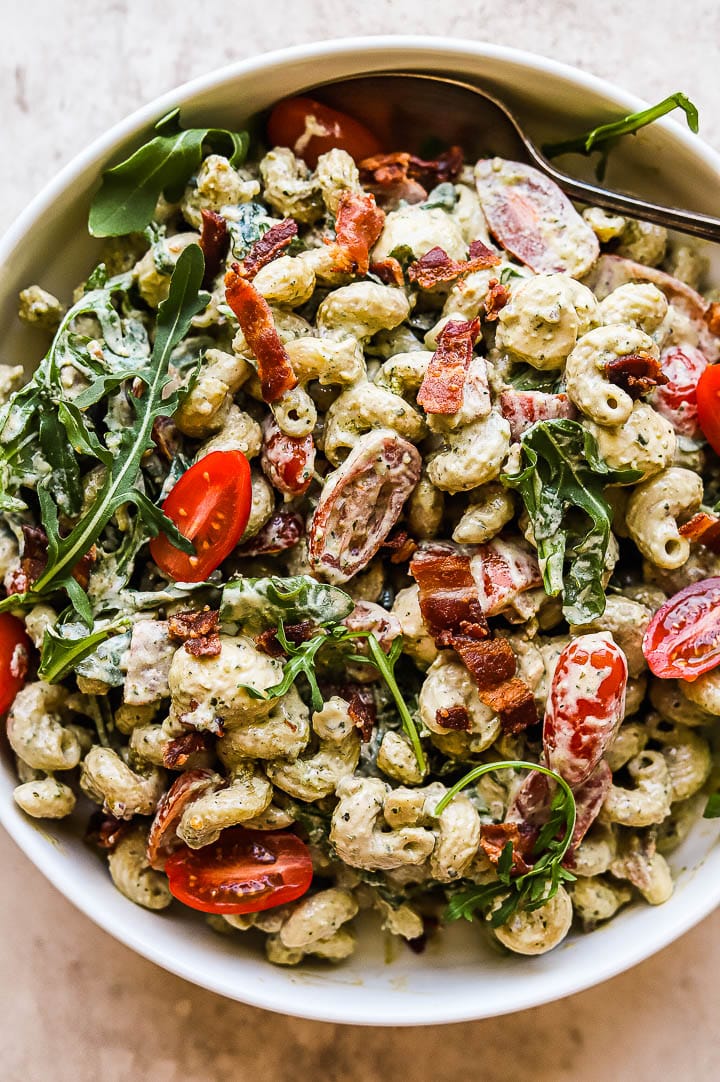 Creamy Pesto Pasta Salad. This quick and easy pasta salad is like a BLT married a caprese salad. It's packed with flavor and easy to feed a crowd.
Smoked Salmon Spread. Who doesn't love a smoked salmon station at a party? I've combined all the classic flavors into this delicious and impressive dip that's perfect for piling high on crackers or bagel chips.
Steak and Caramelized Onion Salad. This easy and elegant steak salad features perfectly cooked steak, greens, gouda, and the most delicious caramelized onion dressing!
Roasted shrimp cocktail. An elegant and impressive appetizer that takes literally 20 minutes to prep! Instead of laboriously poaching shrimp, they get tossed with olive oil and garlic and roasted until pink and tender.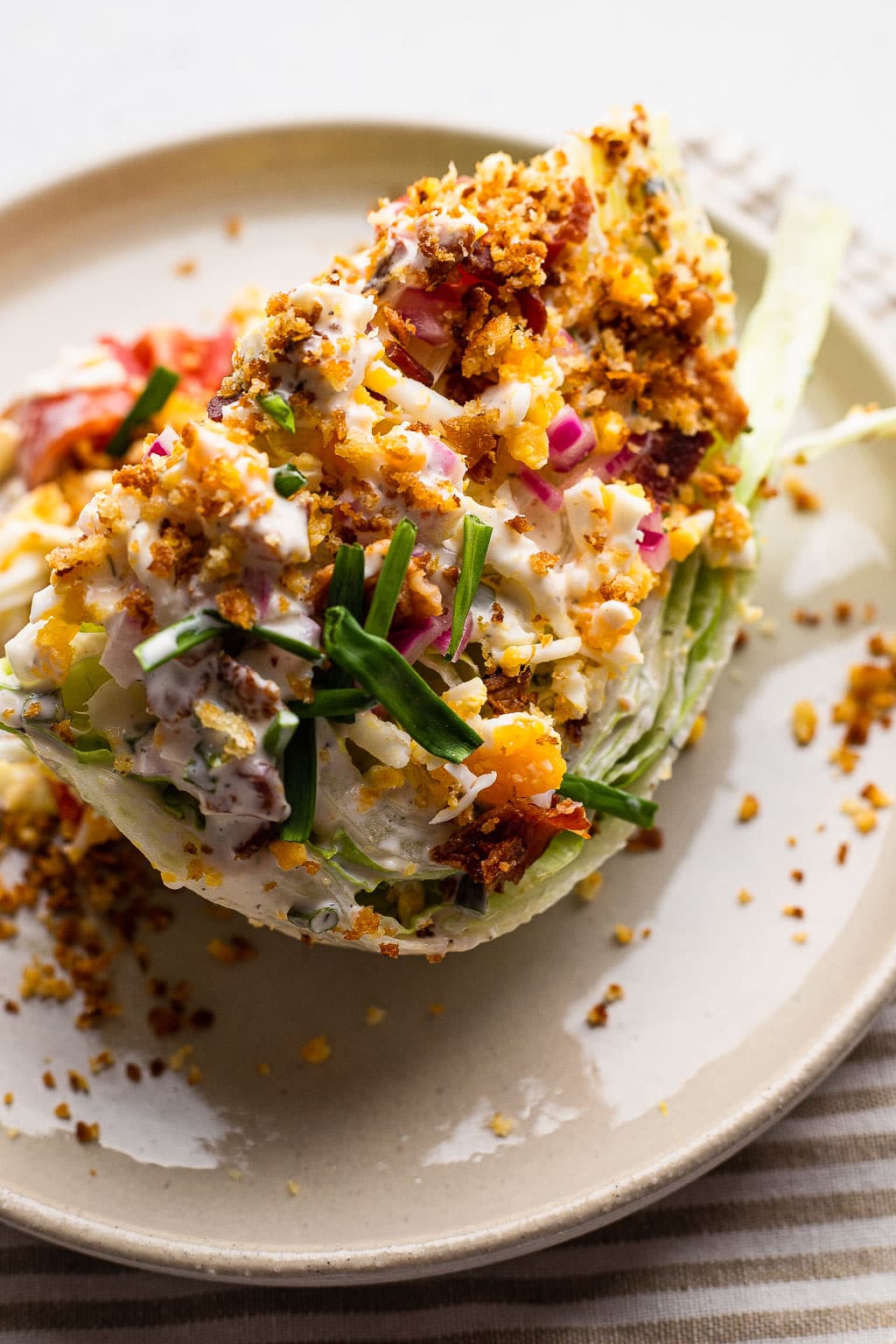 Loaded Wedge Salad. Is there anything swankier than a classic wedge salad? We've taken the classic and turned it up to 11 with all the toppings and a homemade buttermilk ranch.
Italian Chopped Salad. If you love the CPK Italian Chopped Salad, you're going to love this version! It's fresh with tons of mix-ins and a homemade lemon-y herb vinaigrette.
Vietnamese Chicken Cabbage Salad. This Vietnamese-inspired chicken cabbage salad totally delivers! It's a lot heartier than your average leafy green salad and the dressing is absolutely to die for.
Sweets & Baked Goods
Every Mother's Day brunch should have a few sweet baked goods on the table. From cinnamon rolls to donuts to scones, I've got plenty of Easter brunch ideas for baked goods!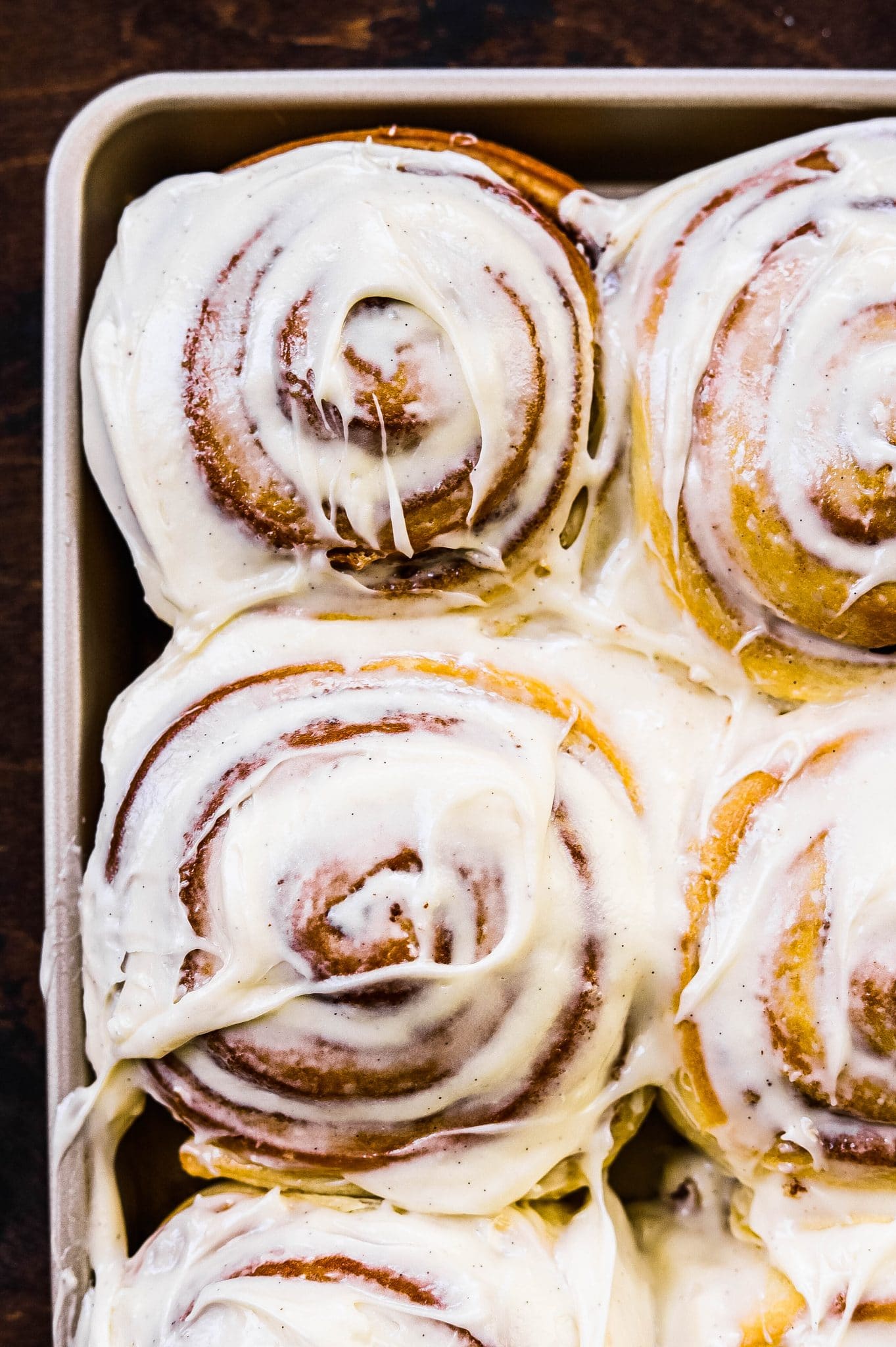 Cinnamon Rolls. These giant buttermilk cinnamon rolls are ultra fluffy and feed a crowd! This recipe makes 12 large cinnamon rolls that I always break out during the holidays.
Cranberry-Almond Danishes. Who says cranberry is only for Christmas time? The combination of cranberry and almond is heavenly and the perfect balance between sweet and tart.
Lemon fritters. A quick and easy donut recipe that is light and fluffy and absolutely melts in your mouth.
Sour Cream Coffee Cake. This is a classic coffee cake loaf that's perfect for feeding a crowd! Perfect for pairing with coffee or a champagne cocktail.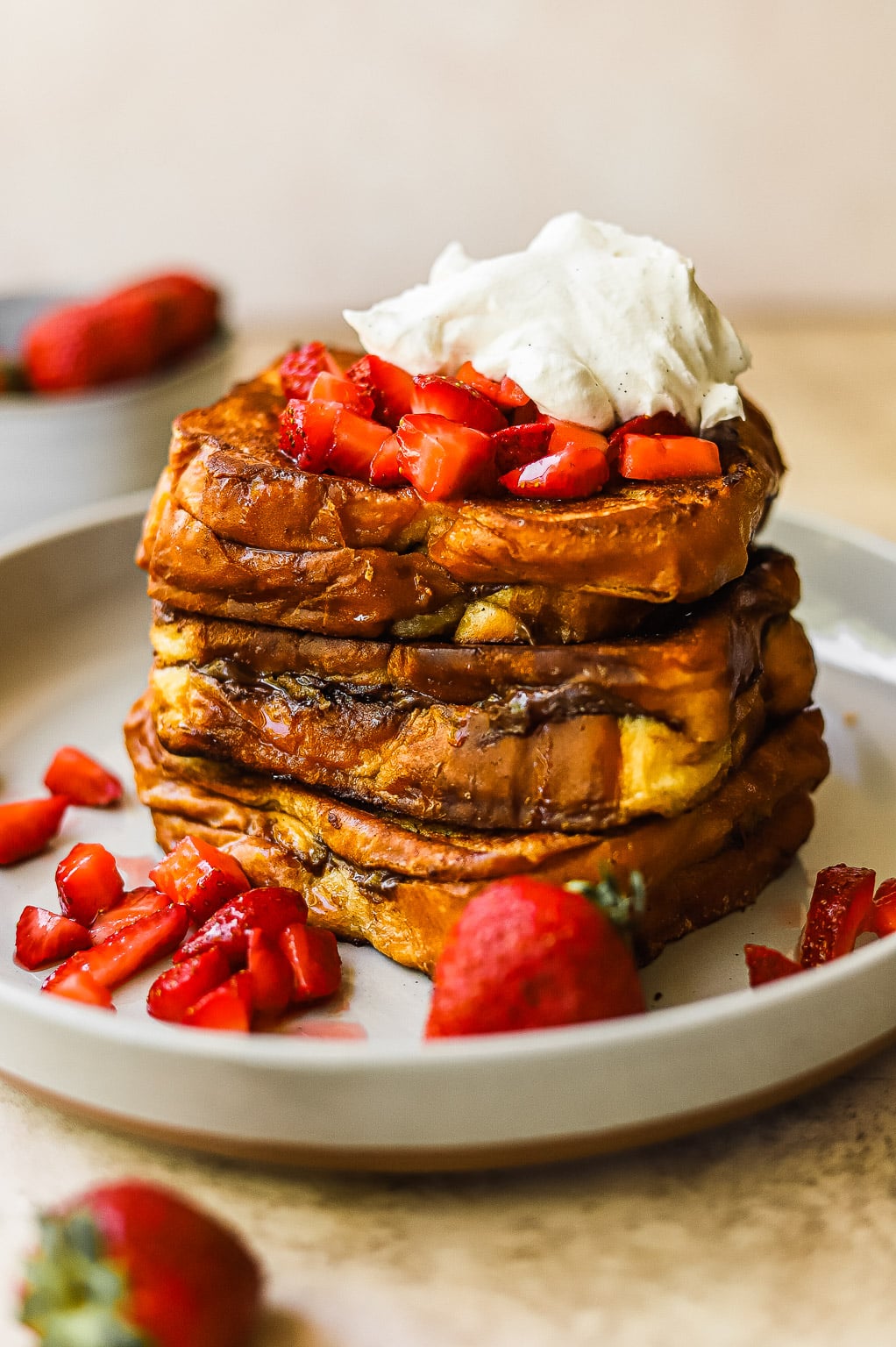 Nutella-stuffed french toast. This is the ultimate french toast recipe and so simple to make! You can easily prep this recipe in advance and cook them up right before you serve.
Apple Pie French Toast. Everything you love about french toast, but so easy to make. Cubed brioche soaked in custard with cinnamon-spiced apples.
Mixed Berry Scones. These are hands-down the most tender and moist scones you'll ever bake. Long gone are the dry and crumbly scones after you try these.
Blueberry Breakfast Casserole. This blueberry breakfast casserole features fresh blueberries and buttery croissants baked to sweet perfection.
Carrot Cake Donuts. All the classic flavors you love in carrot cake, but in an old fashioned donut!
Homemade Bagels. These NY style bagels are one of my favorite recipes to make during the holidays! A build-your-own bagel situation is the ultimate move!
Savory Brunch Recipes
Now that you have the sweets sorted, let's get those savory dishes out of the way! I always go with something eggy and hearty to complement the sweets.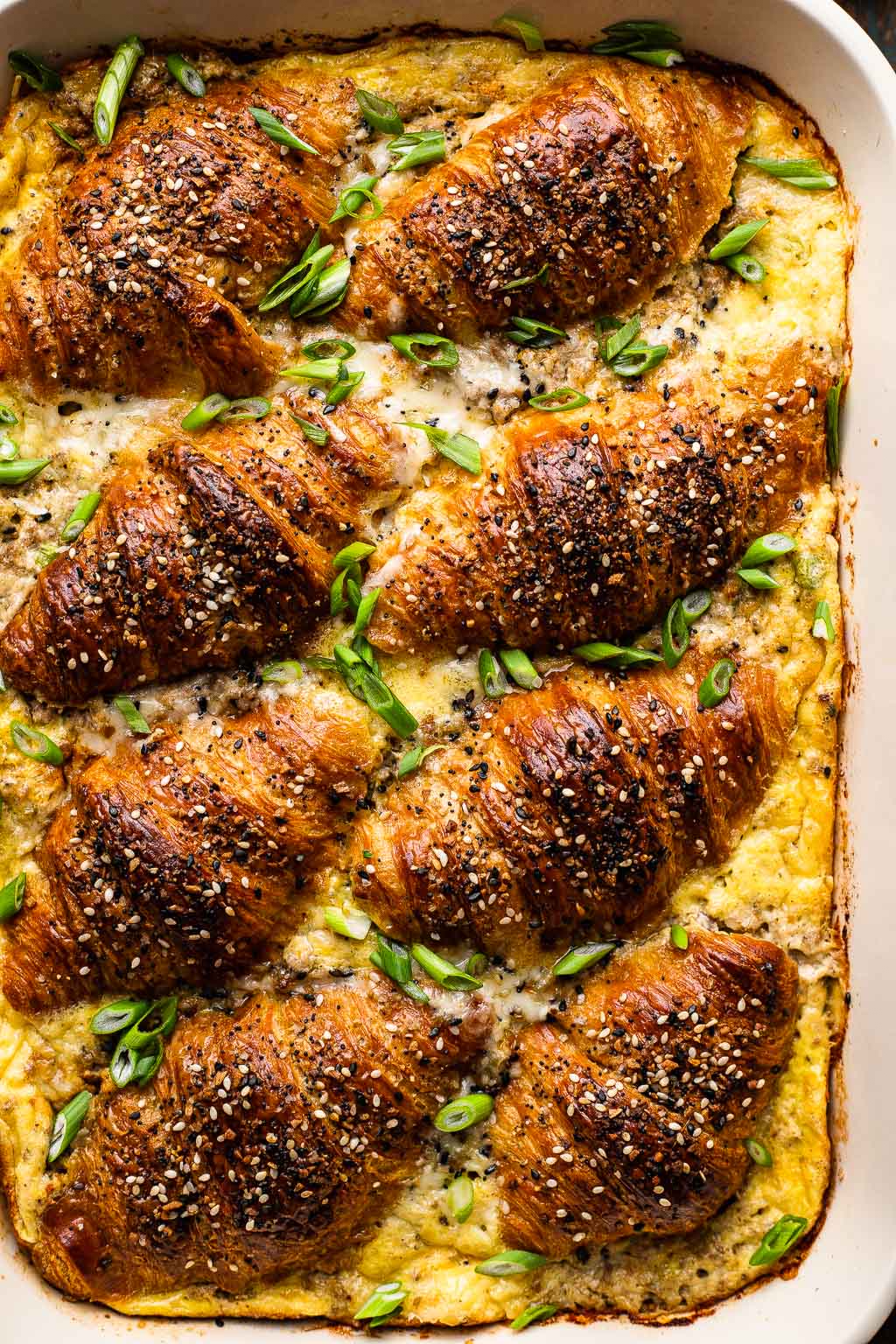 Croissant Breakfast Casserole. This easy breakfast casserole is perfect for Easter brunch! Croissants filled with cheesy breakfast sausage and peppers and onions sandwiched in a toasty croissant.
Skillet Huevos Rancheros. This recipe is somewhere between shakshuka and huevos rancheros and is so, so good. Easy to feed and crowd and best served with warm tortillas.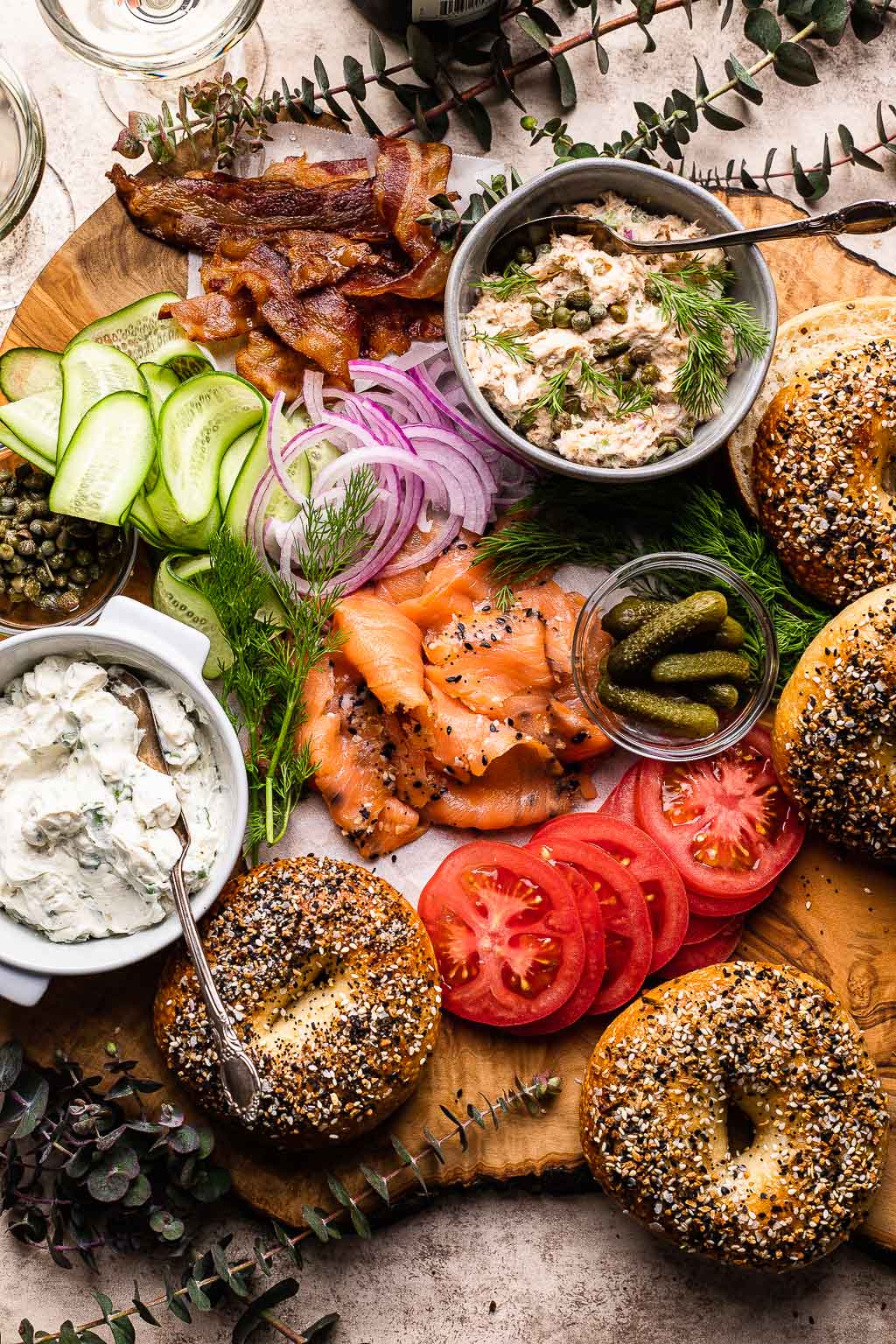 Bacon-Leek Frittata. A frittata is an easy recipe to throw together for a crowd and this one is loaded with caramelized leeks, bacon, and creamy boursin cheese.
Homemade Salmon Gravlax. Making your own homemade salmon gravlax is a pro move, but is so simple! All you need is a handful of ingredients and this cured salmon will be ready to serve.
Red Chilaquiles. These classic red chilaquiles are hands-down my favorite breakfast/brunch recipe ever. They're so savory and flavorful and taste great topped with a couple of fried eggs!
Ham and Cheese Dutch Baby. An easy skillet puffed pancake topped with gruyere, French ham, bechamel, and sunny side up eggs.
Tips for Hosting Mother's Day Brunch
Hosting a Mother's Day brunch is a wonderful way to show your appreciation for the amazing women in your life. However, it can also be a bit overwhelming to plan and execute. To help you create a memorable and stress-free event, we've put together a list of tips for hosting the perfect Mother's Day brunch.
Plan ahead. Start by creating a menu and shopping list a few days in advance. Consider dishes that can be made ahead of time to save you time and stress on the day of.
Prep in advance. Do as much preparation as possible the day before, such as chopping vegetables or making a fruit salad. This will help you stay organized and save time on the day of the brunch.
Set the table. Use your best dishes and silverware, and consider adding fresh flowers or other decorations to create a special atmosphere. Don't forget to provide enough seating and table space for all of your guests.
Serve a variety of dishes. Make sure to offer a mix of sweet and savory dishes to cater to everyone's tastes. Consider dietary restrictions, such as gluten-free or vegetarian options.
Offer a signature drink. Create a special drink, such as a mimosa or Bellini, to serve alongside your brunch. Consider having a non-alcoholic option available as well.
Ask for help. Don't be afraid to ask for assistance from family members or friends. You can even consider delegating certain tasks, such as setting the table or preparing drinks, to lighten your load.
---
I hope you found these Mother's Day brunch ideas helpful! Any one of these recipes would make a delicious meal to remember that your guests will love. If you do give a recipe a try, be sure to let me know! Leave a comment with a star rating on the recipe. Consider subscribing to my weekly newsletter and get all my newest recipes delivered to your inbox. You can also snap a photo & tag @JENNYGOYCOCHEA on Instagram. I LOVE hearing about & seeing your SMF creations!
This post for Mother's day Brunch ideas contains affiliate links from which I receive a small commission at no additional cost to you. Affiliate links allow me to keep providing great recipes for free and I never recommend products that I don't love and personally own.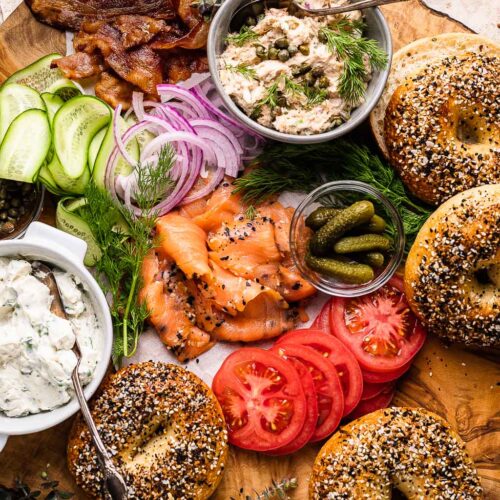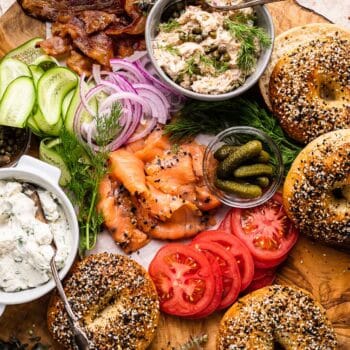 25 Mother's Day Brunch Ideas
From eggs, to baked goods and more, this guide has all the easy and delicious Mother's Day Brunch ideas that you'll need for a gorgeous spread. These recipes are tried and true crowd pleasers that never fail to impress your guests!
Ingredients
Scallion Cream Cheese (Schmear)
12

oz

cream cheese, room temperature

1/2

cup

thinly sliced scallions (light and dark green parts only)

2

teaspoons

dehydrated onion

1/4

cup

sour cream, room temperature

salt and pepper, to taste
Smoked Salmon Bagel Board
2

lbs

smoked salmon, lox, gravlax, or sable

1

lb

smoked fish salad

12

strips

cooked bacon

1/2

lb

pastrami, optional

2-3

vine ripe tomatoes, sliced

2

baby cucumbers, thinly sliced

1

red onion, thinly sliced

1/4

cup

capers

1/2

cup

cornichons

2

cups

fresh arugula, optional

3-4

sprigs

fresh dill
Instructions
Make the cream cheese schmear. Using a hand mixer, beat the sour cream and cream cheese together until soft. Fold in the thinly sliced scallions and dehydrated onion and season with salt and pepper. Do this in advance so the flavors have time to meld.

Slice bagels in half, then place on a platter or in a basket.

Place cream cheese, seafood salads, capers, and cornichons in small bowls, then arrange on a large cutting board or serving platter.

Spread the salmon pieces, bacon, and pastrami on pieces of parchment or wax paper and arrange on the board.

Add the remaining ingredients around the board for easy access. Don't forget serving spoons, tongs, and spreaders for your guests! Dig in!
You might also like...