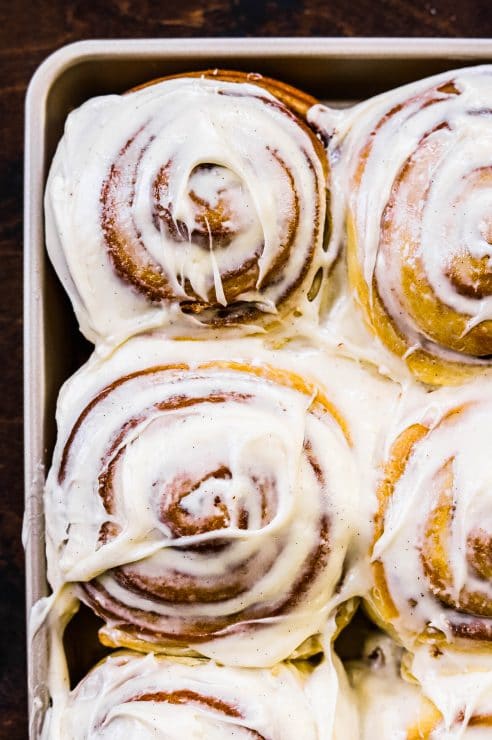 Giant Buttermilk Cinnamon Rolls
Giant Buttermilk Cinnamon Rolls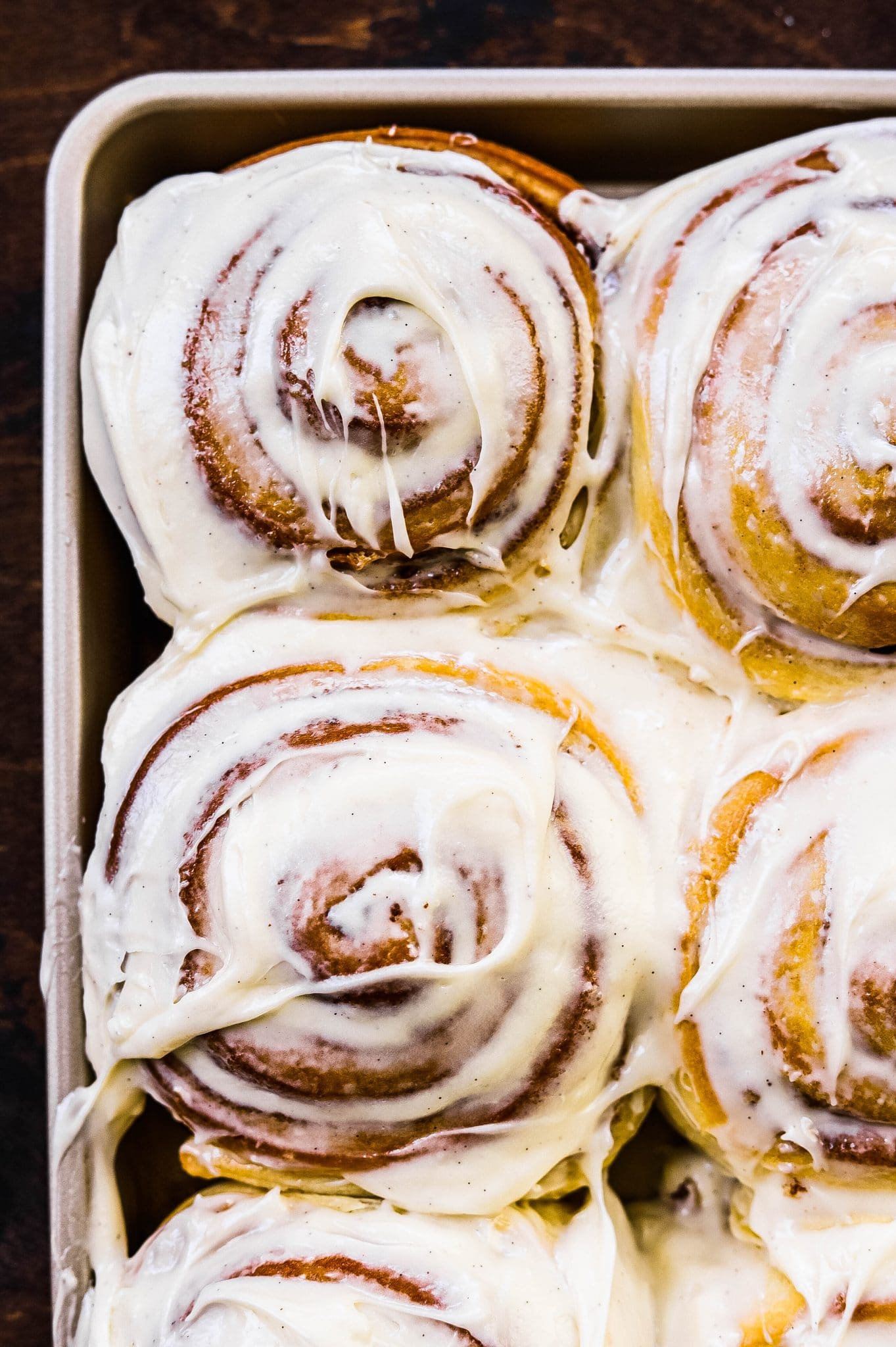 Giant buttermilk cinnamon rolls are so soft and fluffy and covered in the best cream cheese icing ever. Seriously though, these buttermilk cinnamon rolls are soft from center to edges. I always grew up having cinnamon rolls on Thanksgiving and Christmas morning so I had to recreate the perfect recipe.
How to make buttermilk cinnamon rolls
I love making giant buttermilk cinnamon rolls around the holidays, but they're great any time of year. See below for special instructions on how to make this recipe without a stand mixer.
Tools Needed
Ingredients you'll Need
Dairy. This recipe calls for both buttermilk and heavy cream. Buttermilk for flavor and tang, heavy cream for richness.
Flour. Use all-purpose flour in this recipe. Bread flour will make these buttermilk cinnamon rolls too dense.
Active dry yeast. Make sure your yeast is fresh and hasn't been hanging out for ages. The fridge is the best place to store yeast.
Sugar. You'll need brown sugar, granulated sugar, and powdered sugar to make this recipe.
Butter. Melted butter adds fat to the dough making it super soft and fluffy.
Eggs. Eggs serve as a binder and add richness to the dough.
Cinnamon. What are cinnamon rolls without cinnamon? Use high-quality ground cinnamon for best results.
Whole milk powder. I love adding milk powder to my doughs, it really gives them amazing texture. You can swap in non-fat milk powder if necessary.
Soft Cinnamon Rolls need a 'rich' dough
The crustier and chewier the bread, the less fat there is in the dough. This is known as 'lean' dough. Unlike BAGELS or CRUSTY SOURDOUGH, soft cinnamon rolls need fat making it a 'rich' dough. The cream, buttermilk, butter, and egg in this cinnamon roll recipe keep the dough nice and soft so don't swap in any low-fat versions.
The best way to cut cinnamon rolls
It's time to ditch the knife and swap in unflavored dental floss! Unlike a knife, the dental floss cuts the roll from all sides at once keeping its shape.
If you have to use a knife, use a sharp one and cut the rolls using a back and forth sawing motion. Try not to cut straight down or you run the risk of the rolls being misshapen. This is purely for aesthetic reasons–these buttermilk cinnamon rolls will bake up fine either way!
For the floss, grab a piece about a foot long. Slide the floss underneath the roll and then drape both sides over the top of the roll, crossing over each other. Pull the ends tight to cut through the roll.
How to make buttermilk cinnamon rolls ahead of time
If you plan to make these for Thanksgiving, there's already a lot going on! You may not have 3 hours to dedicate to one culinary project, so let's talk alternate options.
You can prepare the dough, let it rise, roll it out and fill it, cut the rolls, place them on a prepared baking sheet, and then wrap them tightly in plastic wrap and refrigerate overnight. The next day, let the rolls rise on the counter, still covered, for about 2 hours, and then bake. Making these ahead of time can take some of the work off your plate on the day of.
Here's how to freeze buttermilk cinnamon rolls: Follow the make-ahead instructions and instead of refrigerating overnight, freeze the rolls in a baking pan. Once frozen, they won't stick together anymore and you can place them in a freezer bag. To bake: let them thaw overnight in the fridge on a baking sheet and then rise on the counter (covered) for about 2 hours, then bake.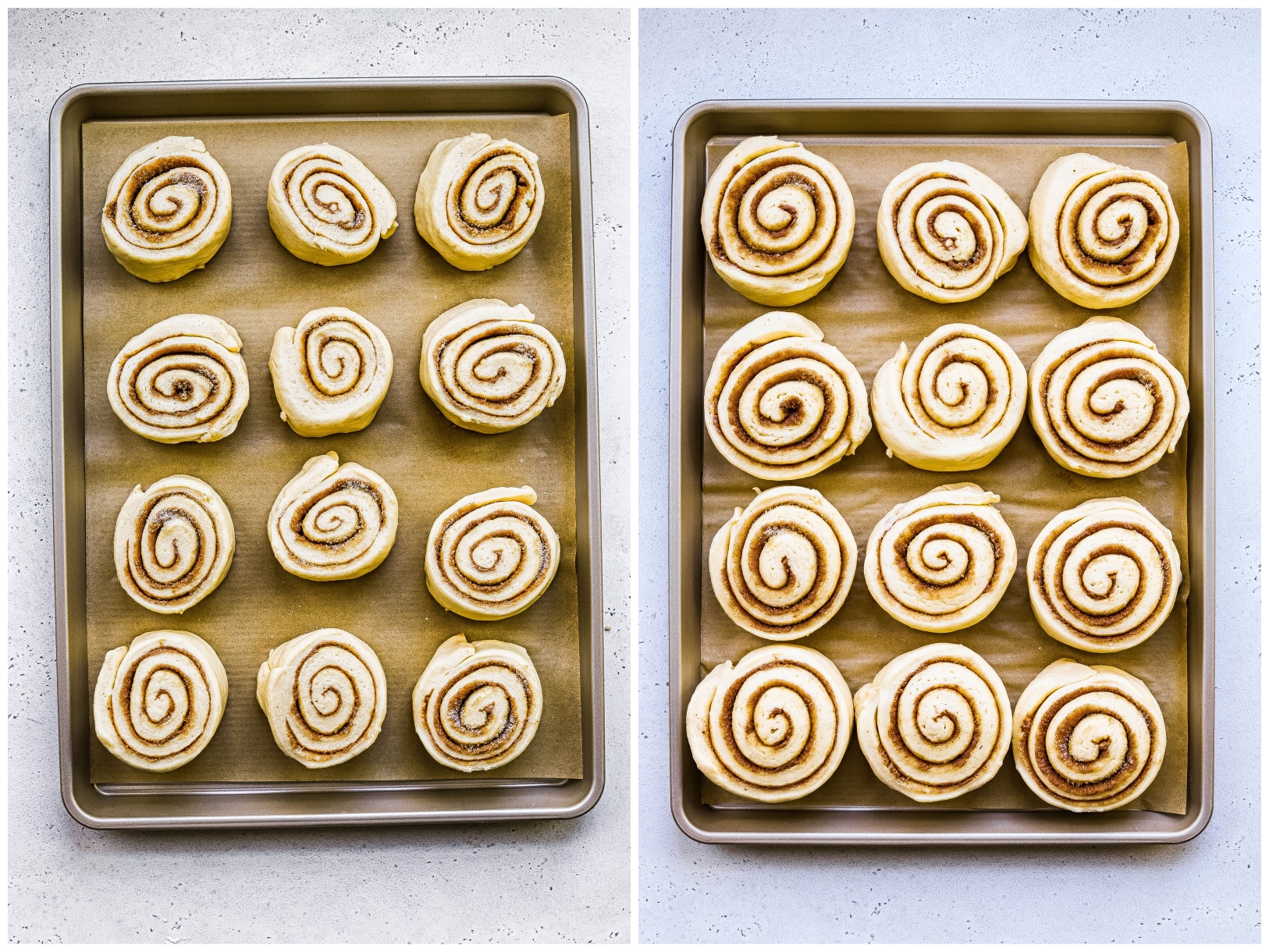 Making a smaller batch of this recipe
You can make this recipe into smaller cinnamon rolls for a smaller crowd very easily. Cut the recipe in half and bake the rolls in a 9×13 baking dish or baking sheet. You'll only need to roll the dough into a 16×12 rectangle and cut it into 9-12 rolls.
how to make buttermilk cinnamon rolls without a stand mixer
I prefer to make these buttermilk cinnamon rolls in my stand mixer for ease, but they can be made without a stand mixer. Using a dough whisk, whisk the dough ingredients together in a large mixing bowl (follow the below instructions).
This is going to require a lot of elbow grease as this is a stiff dough. You'll have to knead the dough by hand for at least 10 minutes, until smooth and elastic.
Tips for making the best cinnamon rolls
Make sure your buttermilk is at the right temperature. Too hot and the buttermilk will kill the yeast. Aim for 100 degrees F.
Check your yeast's expiration. Old yeast may not work properly, so it's important to make sure your yeast is fresh. If your yeast doesn't get foamy in the milk, get some new yeast and start over.
Use the right flour. This recipe specifically uses all-purpose flour which keeps the rolls from being too heavy and dense.
Use the right amount of flour. I always weigh my flour specifically and this keeps me from adding too much. Too much flour also can result in heavy and dense rolls.
Rising time. Don't rush the dough when it's rising, and instead have patience. Find a warm-ish spot in your kitchen, (at least 70 F) and let the dough do its thing, especially after shaping. Dough that hasn't risen enough will yield hard rolls.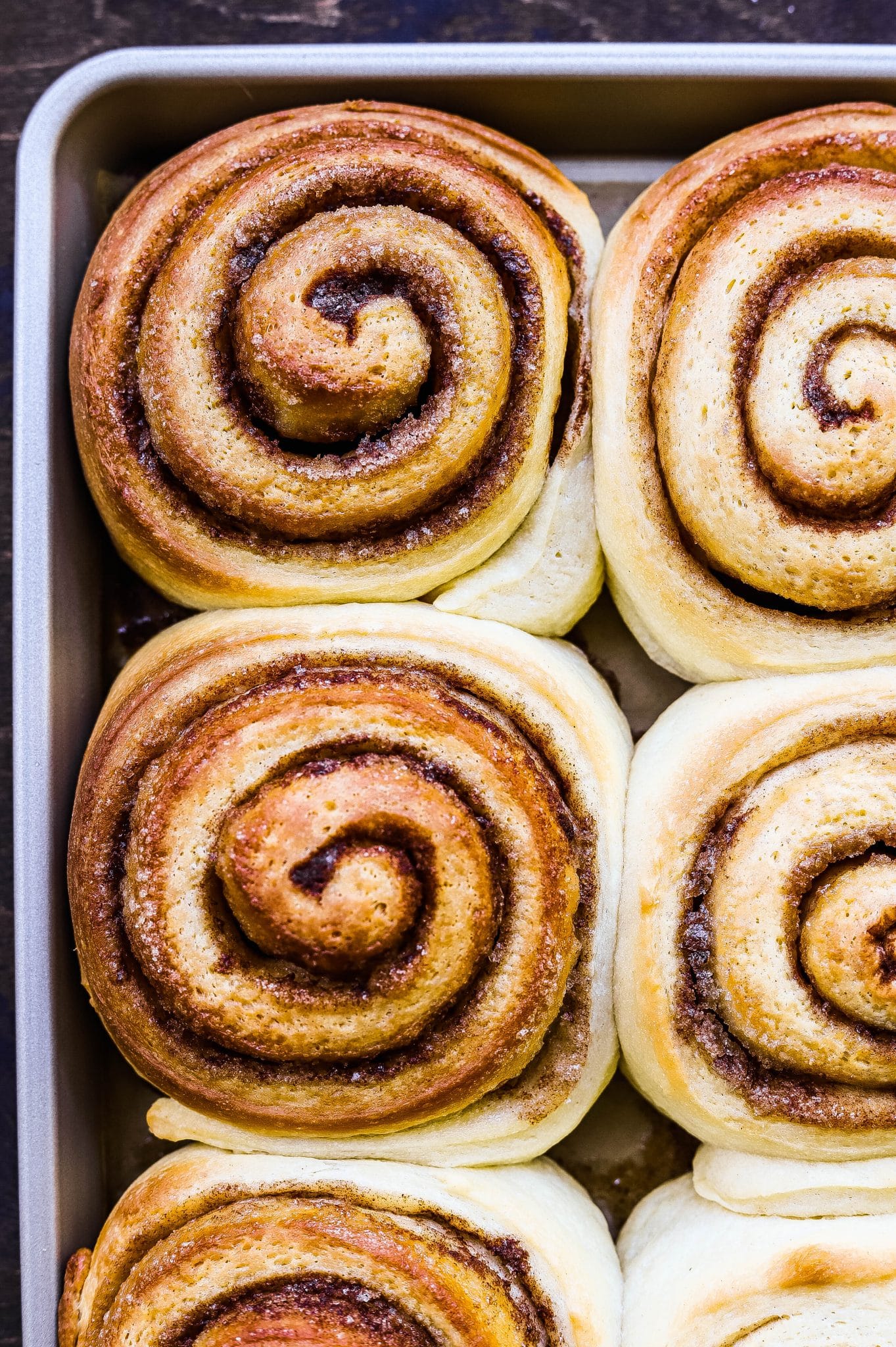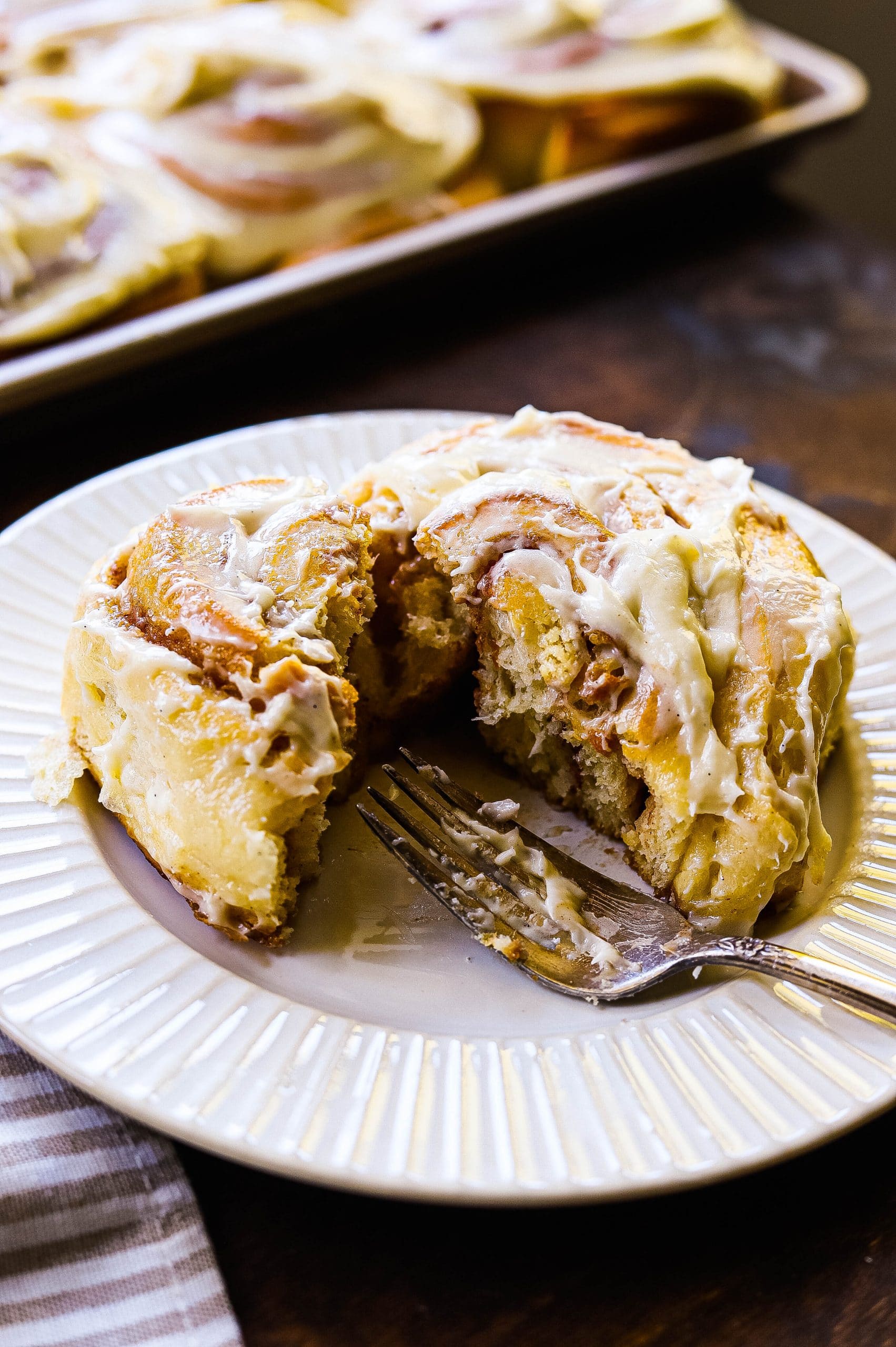 Other Breakfast and brunch recipes
This post contains affiliate links from which I receive a small commission at no additional cost to you. Affiliate links allow me to keep providing great recipes for free and I never recommend products that I don't love and personally own.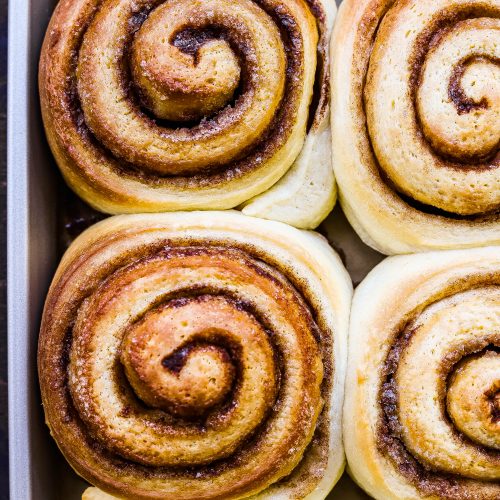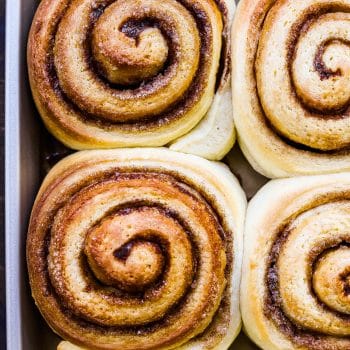 Giant Buttermilk Cinnamon Rolls
These giant buttermilk cinnamon rolls are so soft and fluffy and topped with the most perfect cream cheese icing.
Makes:
12
large cinnamon rolls
Ingredients
Dough
1 1/2

cups

(385 g) cultured buttermilk

1/2

cup

(115 g) heavy cream

2

tablespoons

sugar + 1/2 cup (105 g), divided

4 1/2

teaspoons

active dry yeast (2 envelopes)

2

eggs

1

cup

2 sticks, (226 g) unsalted butter, melted

1/2

cup

(50 g) whole milk powder

7

cups

(925 g) all-purpose flour

1

tablespoon

vanilla extract

1

teaspoon

(4 g) fine sea salt
Filling
1

stick (4 oz) unsalted butter, at room temperature

2

tablespoons

ground cinnamon

1 1/2

cups

brown sugar

1

teaspoon

cornstarch
Cream Cheese Frosting
1

stick (4 oz) unsalted butter, at room temperature

4

oz

cream cheese, at room temperature

1 1/2

cups

powdered sugar

2

teaspoons

vanilla extract

1

teaspoon

rum extract

optional

1/3

cup

heavy cream
Instructions
Warm buttermilk and heavy cream together in a measuring cup in the microwave just until barely lukewarm (90-110 F). In the bowl of a stand mixer, add the buttermilk mixture, yeast, and two tablespoons of sugar. Stir to mix and let it sit for 5-7 minutes until foamy. 

Add the remaining sugar, eggs, vanilla, and melted butter to the yeast mixture and mix on low with the dough hook.

In a separate bowl, whisk together flour, milk powder, and salt. Add dry ingredients to wet and mix until the dough comes together.

Knead in the mixer or by hand for another 10 minutes, until dough is smooth and soft. Transfer to a greased bowl, cover, and let it rise at room temperature until doubled in size, about 2 hours.

While the dough is proofing, mix the room temperature butter together with the cinnamon until everything is evenly mixed. Set aside. Mix together the brown sugar and cornstarch in a small bowl.

Once the dough is done proofing, turn it out onto a lightly floured surface. Roll the dough out into a 20x16 rectangle or so, about 1/4 inch thick all the way through.

With one of the long sides facing you, spread the butter all over the surface, leaving 1 inch bare on the opposite long end. Sprinkle the sugar/cornstarch mixture all over the butter. Brush the bare inch with a little water. Rolling away from yourself, roll the dough into a tight log. Pinch the seam shut and roll over it a couple of times to seal it. 

Meanwhile, line a rimmed 18x13 baking sheet with parchment paper. Use either a serrated knife or floss/fishing wire to cut into 1 1/2 inch rolls. Place the rolls side by side, about an inch apart on the baking sheet.  Cover loosely with plastic wrap and proof at room temperature until the rolls are puffy and almost touching (about 1 hour). 

To make the icing: Add the room temperature butter and cream cheese to a mixing bowl. Using a hand mixer, beat on medium speed until fluffy, about 3 minutes. Add the powdered sugar, cream, rum extract, and vanilla and beat until smooth. Cover and set aside.

Preheat an oven to 350 degrees. Remove the plastic wrap from the rolls and bake for 25-27 minutes, or until the rolls are just barely golden. Remove the rolls from the oven and let them cool for 15 minutes. Spread the warm rolls with the icing and serve.
Nutrition
Serving:
1
roll
Calories:
473
kcal
Carbohydrates:
75
g
Protein:
6
g
Fat:
18
g
Cholesterol:
39
mg
Sodium:
410
mg
Fiber:
2
g
Sugar:
50
g
You might also like...