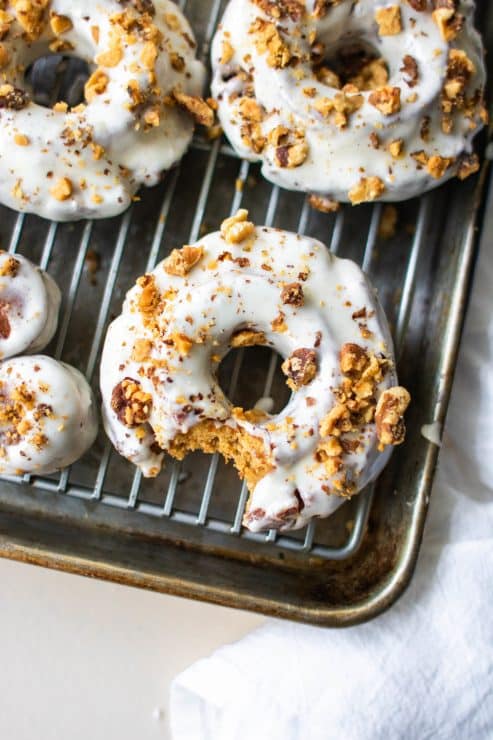 Carrot Cake Old Fashioned Donuts
Carrot Cake Old Fashioned Donuts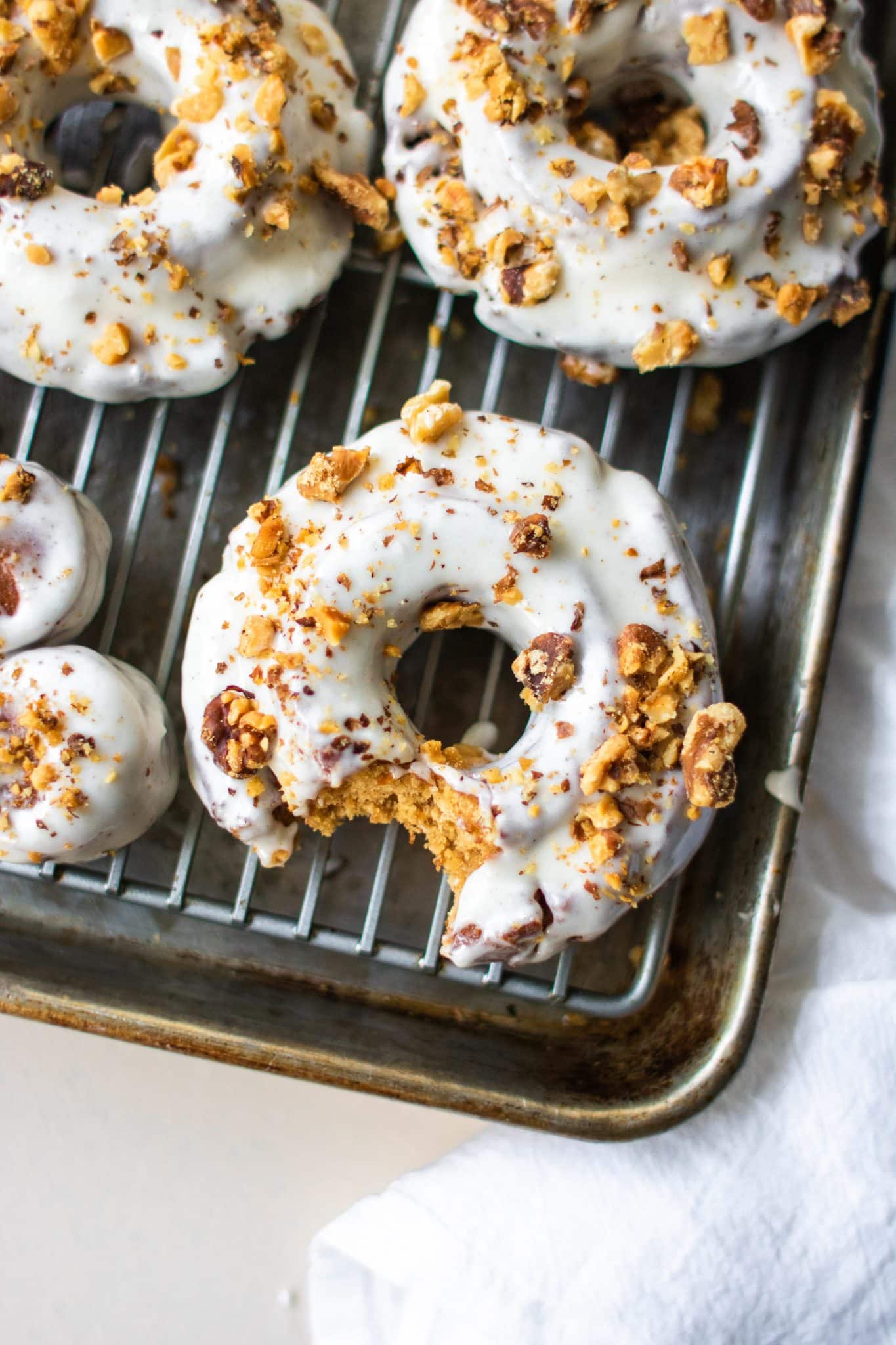 Carrot cake old fashioned donuts are for anyone who loves carrot cake flavor without all the work. I am absolutely obsessed with old fashioned donuts. I am not kidding when I say that these donuts remind me exactly of carrot cake, without the hours of work. These donuts come together in 1 HOUR! And that includes chilling time in the fridge.
How to make Carrot Cake Old Fashioned Donuts
These donuts are easy to make, but follow my tips below for frying like a pro!
Tools Needed
Tips for making the perfect Carrot Cake Donuts
Fry at the right temperature. When it comes to frying, maintaining temperature is everything. If the oil gets too hot, the donuts burn before they cook on the inside. If the oil is too cool, the donuts absorb all the oil and end up soggy. Use a probe thermometer to monitor the temperature while cooking and let the oil heat back up between frying batches of fritters.
Gently drop the dough into the oil. Do not drop the donuts in from up high unless you want blistering oil burns. I found it easiest to gently lower the donut into the oil by hand. Don't be scared of getting close to the oil, you're less likely to burn yourself by easing the dough in gently than by letting it splash in the oil.
Don't over-fry. Just like any recipe, you can overcook these donuts. If you fry them for too long, you can dry them out. Fry about 2 minutes per side, just until the donuts are slightly browned.
More Donut Recipes to Try
This post contains affiliate links from which I receive a small commission at no additional cost to you. Affiliate links allow me to keep providing great recipes for free and I never recommend products that I don't love and personally own.
Carrot Cake Old Fashioned Donuts
These carrot cake old fashioned donuts have all the flavor of carrot cake with a fraction of the work!
Makes:
12
donuts and holes
Ingredients
Carrot Cake Donuts

3 1/4

cups

all purpose flour

2/3

cup

brown sugar

1/4

cup

granulated sugar

2

teaspoons

baking powder

1/2

teaspoon

kosher salt

1

tablespoon

ground cinnamon

1/2

teaspoon

ground cloves

1/2

teaspoon

ground nutmeg

1

teaspoon

vanilla extract

2

eggs

1/2

cup

sour cream

3

tablespoons

molasses

1

large carrot

finely grated

4

tablespoons

unsalted butter

melted

canola oil

for frying

Cream Cheese Icing

4

oz

cream cheese

at room temperature

3

cups

powdered sugar

1

teaspoon

vanilla extract

2

tablespoons

heavy cream

1/2

cup

chopped walnuts

lightly toasted
Instructions
To make the donuts: In the bowl of a stand mixer combine all the dry ingredients and mix to combine.

In a small bowl whisk together the vanilla, eggs, sour cream, and molasses. Pour the wet into the dry, add the grated carrot, and mix on low with the paddle attachment. Pour in the melted butter and mix until a soft cookie dough forms. Cover and refrigerate for 45 minutes.

On a well floured surface, roll the dough out to about 1" thick. Using a floured 3 1/2" circle cutter, cut as many circles from the dough as possible and place them on a parchment lined baking sheet. Gather the scraps of dough up, bring them back together and repeat until all the dough has been used up. Using a 1" circle cutter, cut holes from the middle of each donut. Refrigerate donuts for 30 minutes.

Heat 2 inches of canola oil in a high sided pot to 350 degrees F. Using a 2" circle cutter, gently press the cutter into the donut around the middle ring just to score the top, do not press all the way through (just enough to leave a small imprint).

Gently lower 2-3 donuts into the oil, scored side down, and fry for 1-2 minutes per side until golden brown. Transfer to a wire rack set over a baking sheet. Once all the donuts have been fried, fry the donut holes for 2 minutes, until golden brown. Transfer to the wire rack.

To make the glaze: In a small bowl, combine the softened cream cheese and powdered sugar and beat together with a hand mixer. Add the vanilla and heavy cream and mix until the glaze is very smooth.

When the donuts have cooled slightly, dip them into the glaze and return them to the wire rack. Coat the donut holes in glaze and allow them to dry. Sprinkle donuts and donut holes with toasted walnut bits.
You might also like...