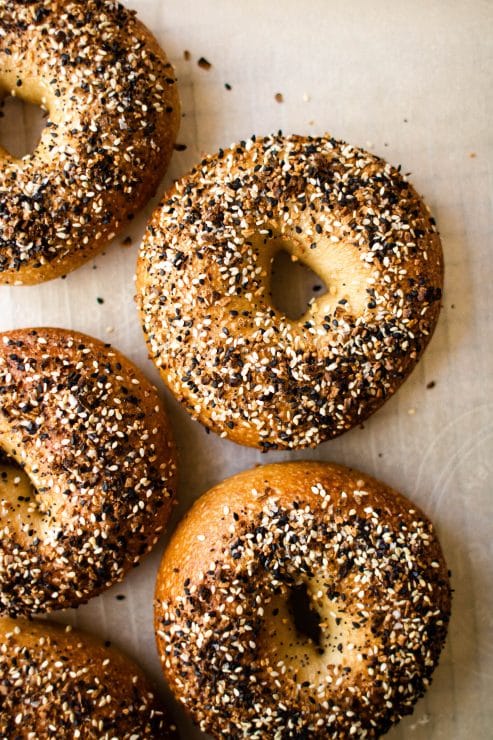 New York Style Bagels
New York Style Bagels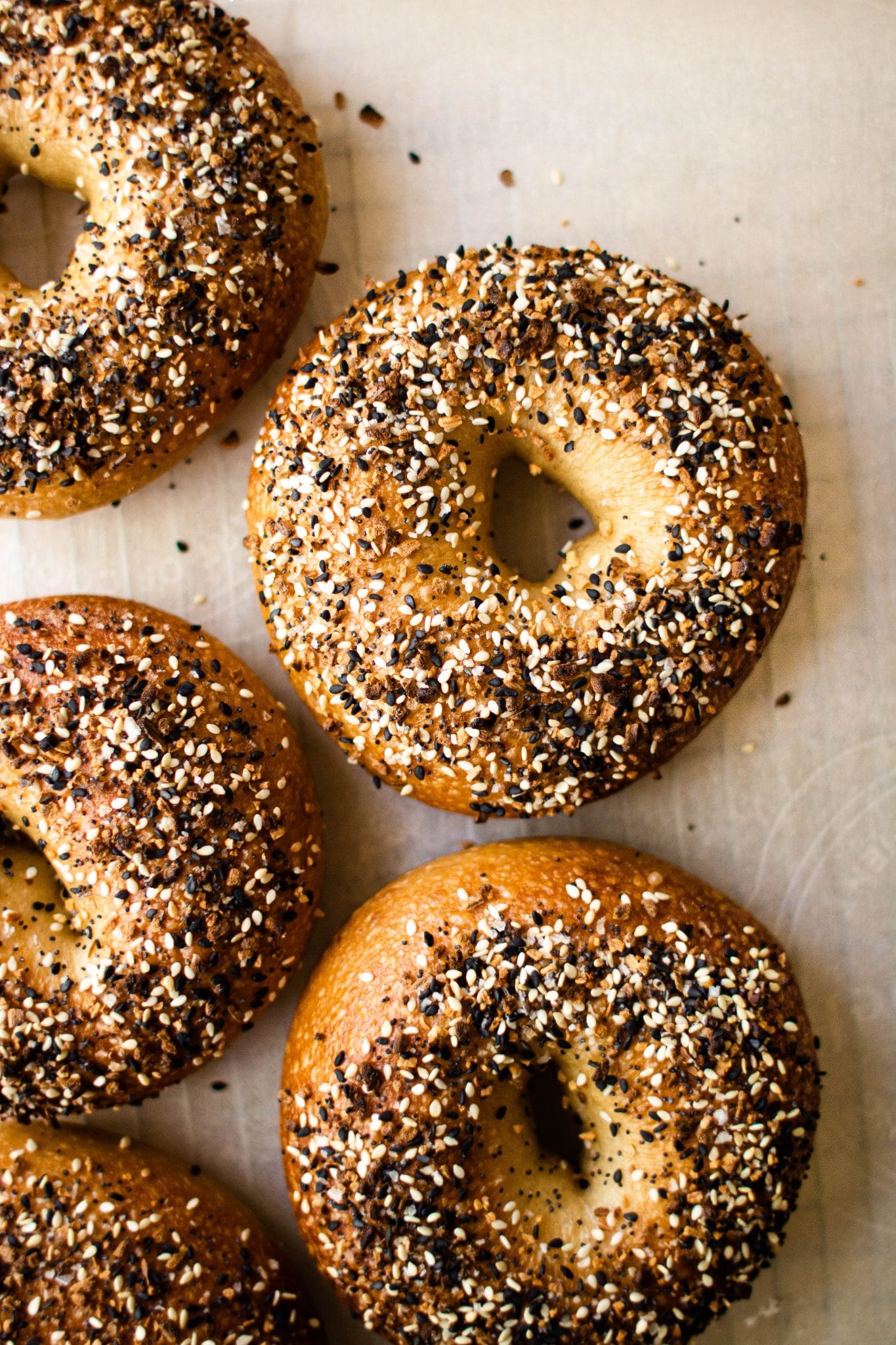 I have been making these New York style bagels pretty regularly, but the photos from two years ago really aren't doing these bad boys justice. Now, what exactly is a New York style bagel? A New York style bagel is actually the original bagel to be served in the US and originated in the lower east side.
There are several characteristics that set a New York style bagel aside from other bagels but the main one is boiling the bagels. A New York style bagel is always boiled in water with barley malt and it gives the bagels their characteristic shiny crust and chew.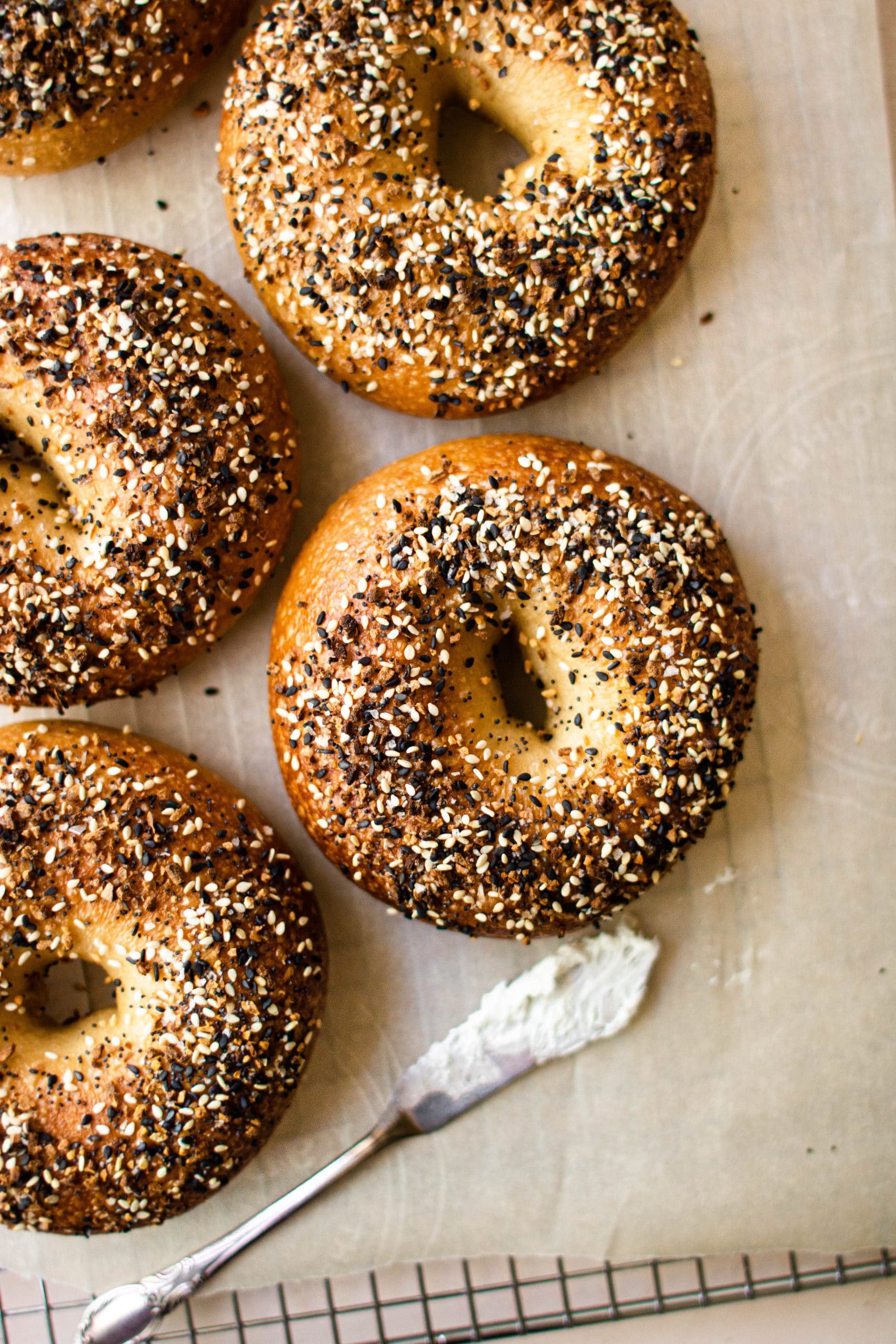 I grew up eating bagels. Usually from a bag from the grocery store, sometimes from a little nothing-special corner shop. I always liked bagels, but never felt like I understood the religious-style hype. It wasn't until I went to NYC for the first time that I truly understood their majesty.
For everyone who believes that bagged grocery store bagels are akin to handmade New York style bagels– you are just wrong. Sorry, there's no ifs, ands, or buts about it. Until you've had the hand-crafted gluten goodness that is a warm bagel, you simply have not lived. And while you may think that great bagels are unachievable in the home kitchen, I am here to prove you wrong.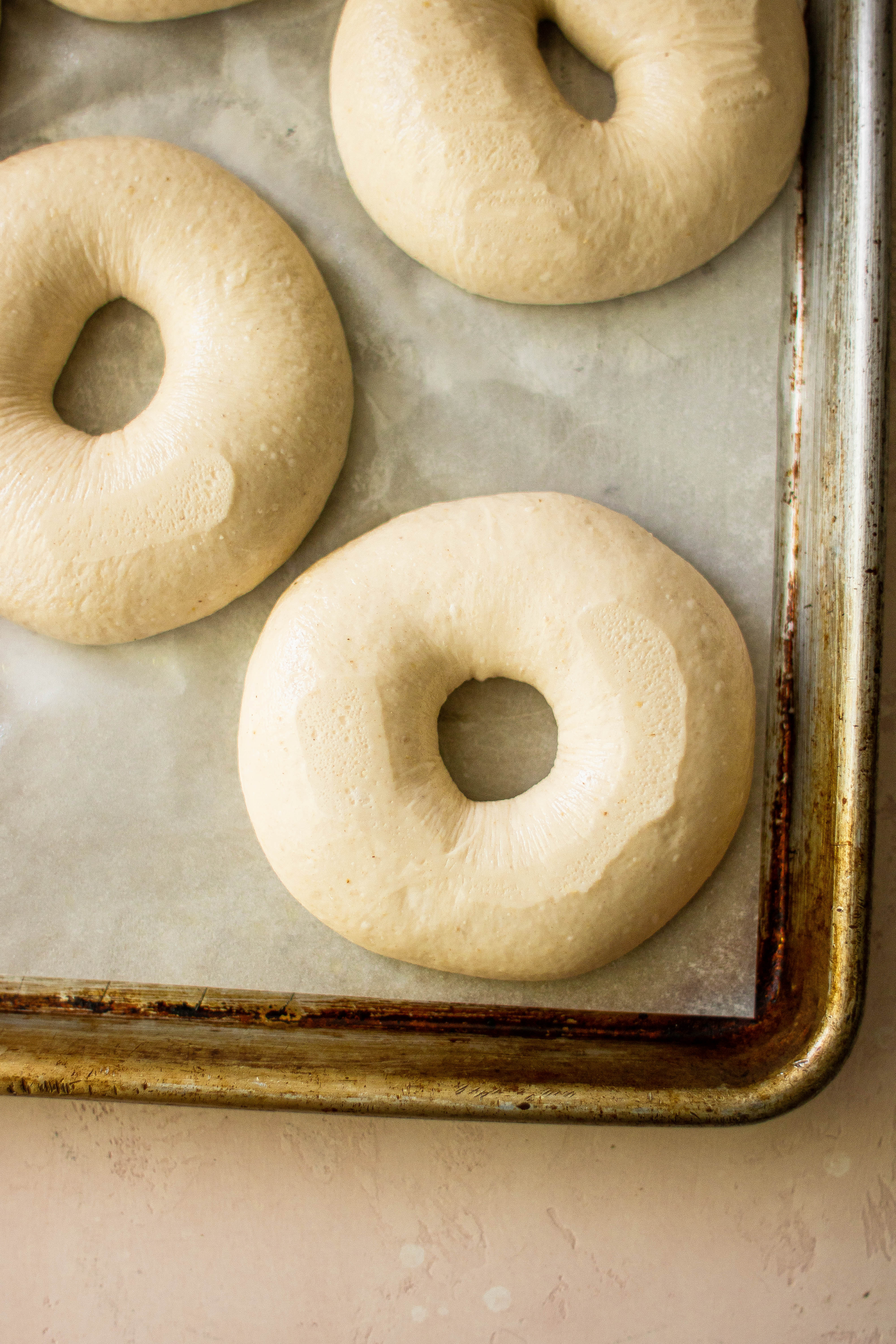 Tips for making NY Style Bagels
FLOUR. You should be using a flour with a high protein content. All purpose flour simply won't cut it and won't develop the appropriate amount of gluten for a nice, tight crumb. Find out which flour that's available to you has the highest protein content. I find that King Arthur flour has a good percentage and is generally readily available.
MIXING. Bagel dough requires a ton of mixing and so I do not recommend doing this by hand unless you have kneading endurance like a beast. This will even be difficult work for your stand mixer, in the ballpark of at least 20 minutes. If you want to use a food processor, which will work the dough more quickly, that's possible. But you will have to do the initial rise with yeast, sugar, water and half of the flour. That mixture would then be added to the food processor with the remaining flour, diastatic malt powder, and salt and mixed until a smooth dough is achieved.
SHAPING. Now, there are plenty of experienced bakers who prefer the loop method. This is where each portion of dough is rolled into a rope and looped around your hand and rolled along the seam to seal the two sides of the dough together. I've attempted this method, and it works okay, but usually i end up with very ugly bagels–not smooth and glossy bagels.
Therefore, I have found that the "hole poke" method is the easiest for the average person making bagels. Each portion of dough is rolled into a tight ball, allowed to rest (covered), and then you poke a hole through the center and use your fingers to enlarge it. The important part here is to make the hole large enough. It's going to look too large when you do it, but keep in mind that the bagels will swell when they boil and then when they bake. Check out my little time lapse video below!
BOILING. Boiling bagels is part of the secret to delicious NY bagels. A lot of folks use a mixture of water and barley malt syrup but I take it one step further and add a bit of baking soda to my water mixture for a beautiful golden brown crust. It is extremely important that your water be lightly boiling so that it's hot enough to penetrate the dough. Adding your bagels to simply steaming water will result in small, dense, and tough bagels.
BAKING AND TOPPING. After the bagels come out of the water, they will be at their maximum stickiness so that's the time to add your toppings. I opted for everything seasoning (everything bagels are scientifically proven to be the best bagels). I have all the ingredients for everything bagel spice, but honestly I just use the Trader Joe's Everything But the Bagel spice because it's perfect and delicious. So, make your life easy and buy a little bottle for $2, rather than hunt down 5 different spices. Bake the bagels at 425 degrees F for about 20 minutes, rotating halfway through, until they are golden brown.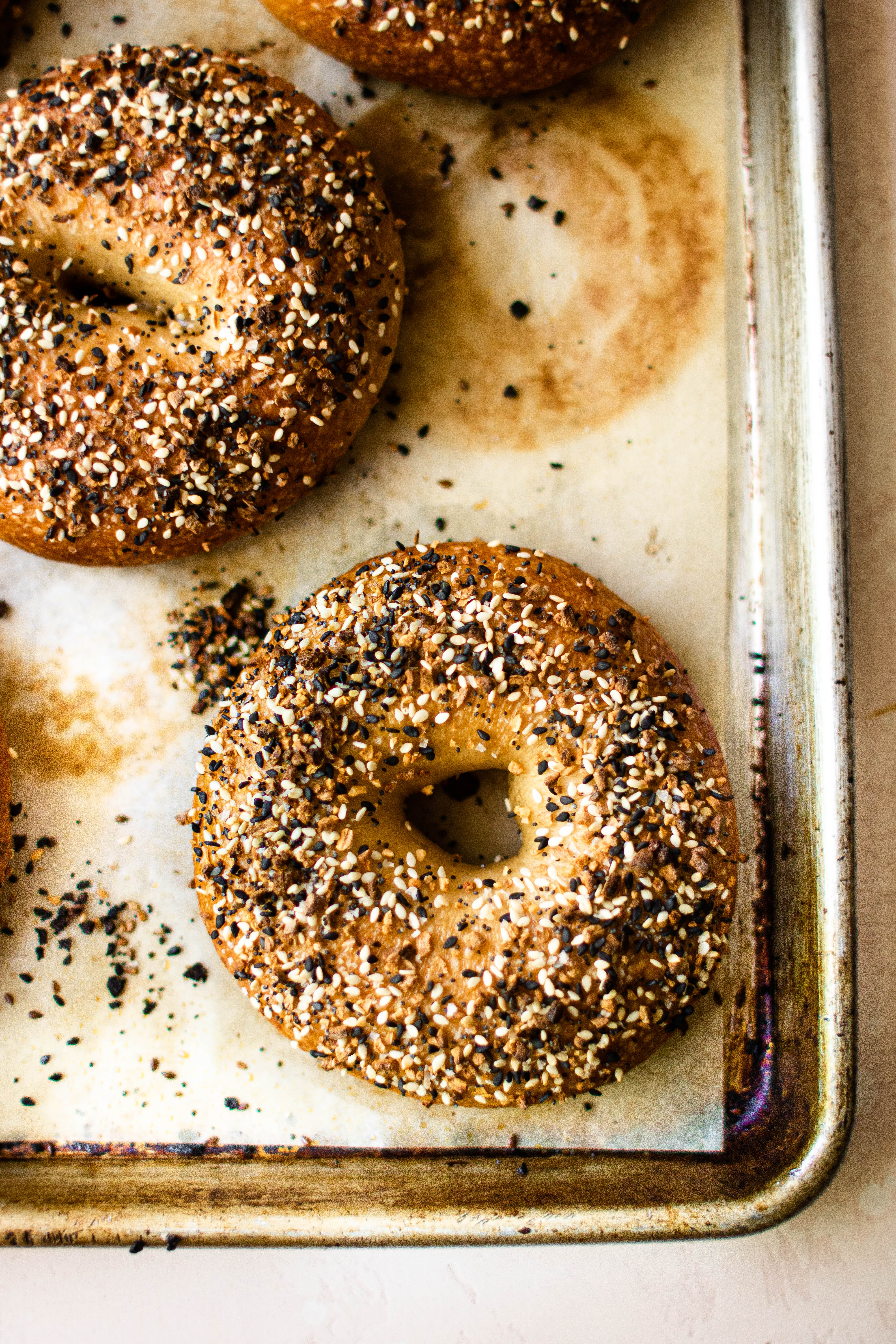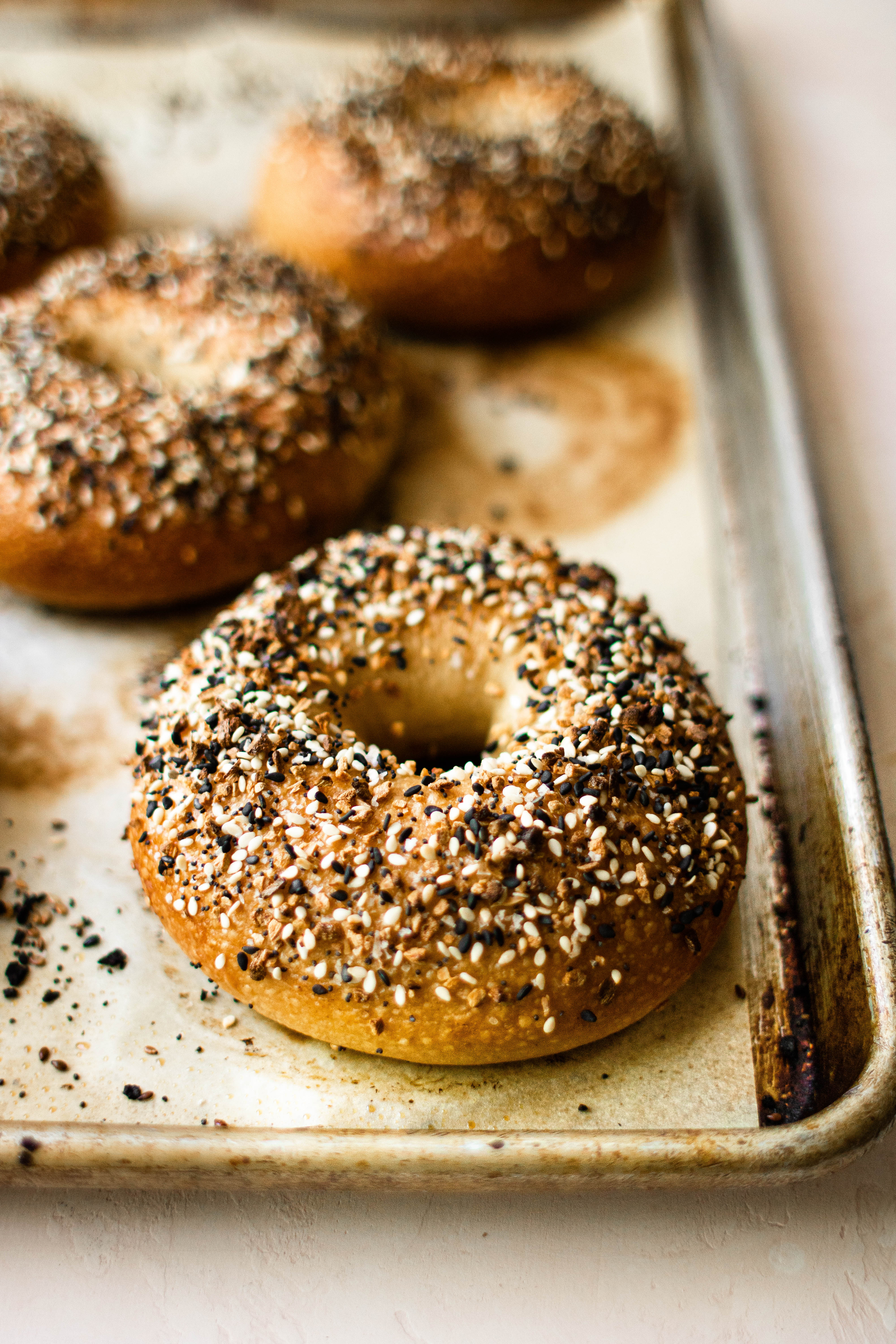 More Recipes to Try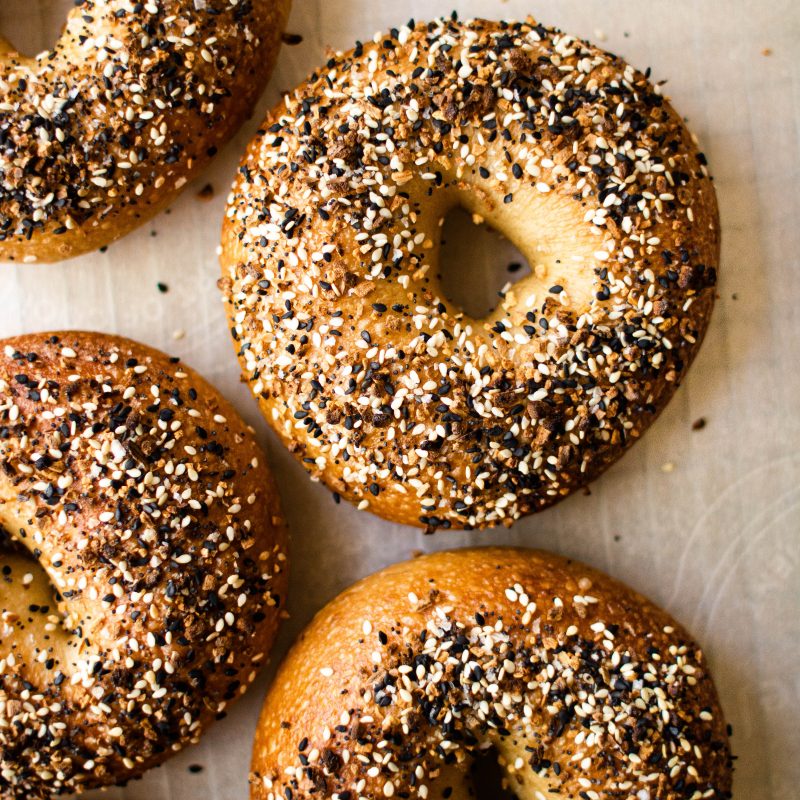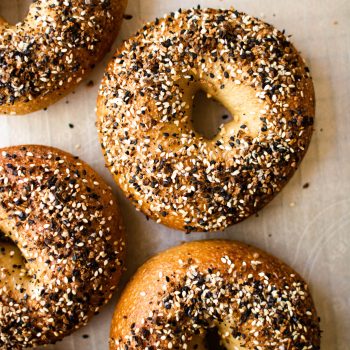 NY-Style Bagels
Ingredients
Sponge:
375

g

(about 1 2/3 cups warm water), about 90 degrees

20

g

(1 1/2 tablespoons) sugar

3/4

teaspoon

active dry yeast

325

g

(about 2 1/3) cups bread flour
Bagels:
325

g

(about 2 1/3 cups) bread flour

30

g

(about 3 tablespoons) diastatic malt powder

10

g

(about 2 teaspoons) kosher salt

all the sponge

from above
Boiling water:
2-3

quarts

of water,

your pot should be 1/2 full

1/4

cup

barley malt syrup

1/2

teaspoon

baking soda
Instructions
To make the sponge: In the bowl of a stand mixer, mix all the ingredients together with a wooden spoon until well combined. Cover with plastic wrap, transfer to a warm area and allow the sponge to rise until tripled in size with lots of bubbles, about 3 hours.

After the sponge has fermented, add the remaining flour and the diastatic malt powder. Using the dough hook attachment, mix on medium-low speed until the dough starts to come together. Sprinkle in the salt and continue to mix. You'll need to mix the dough for about 20 minutes, so set a timer. The dough should be smooth and elastic at this point. Cover the bowl with a damp kitchen towel and allow the dough to rest for 15 minutes.

Line a baking sheet with parchment paper and lightly spray with nonstick coating. Using a scale, portion the dough into 130g pieces and place them on the baking sheet and cover with a damp towel so that the dough doesn't dry out. Working with one piece of dough at a time, shape the dough into a tight ball. Cup the dough under your rounded hand, and working in tight circles on a work surface, roll until the dough is smooth and the seam on the bottom is sealed. Return to the baking sheet and cover with a damp cloth. Let the pieces rest for 10 minutes.

Using a damp finger, poke a hole through the center of the dough ball and enlarge the circle so that the bagel is about 4 inches in diameter with a hole that is about 1 1/2 inches. The hole might look large, but the bagels will swell when they rise. Transfer the bagels to the greased baking sheet and cover with plastic wrap and refrigerate overnight.

Preheat an oven to 425 degrees F. Fill a large pot or dutch oven with at least 3 inches of water. Add the barley malt syrup and bring to a boil. Add the baking soda and stir well to combine. This is important, if the water isn't boiling, you'll end up with small, tough bagels. Working in batches of 3-4, boil the bagels for 1 minute on each side. Transfer to a baking sheet lined with parchment paper (let the water drip off of them before transferring them) and sprinkle with your choice of topping. I recommend only baking about 4 off at a time so that the bagels don't sit too long after boiling.

Bake for 20-25 minutes, until golden brown, rotating the tray halfway through. Transfer the bagels to a rack for cooling. Repeat with the remaining bagels. Bagels will keep for 4-5 days in a sealed storage bag at room temperature.
Notes
My favorite topping is everything bagel seasoning, and it takes about 1/ cup of seasoning to coat all these bagels.
I have included the cup measurements for these bagels, but I highly recommend using a scale to weigh the ingredients!
You might also like...