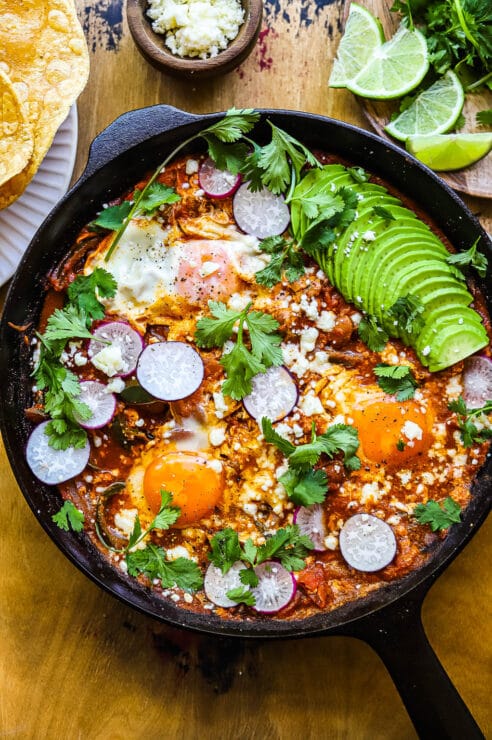 Skillet Huevos Rancheros
Skillet Huevos Rancheros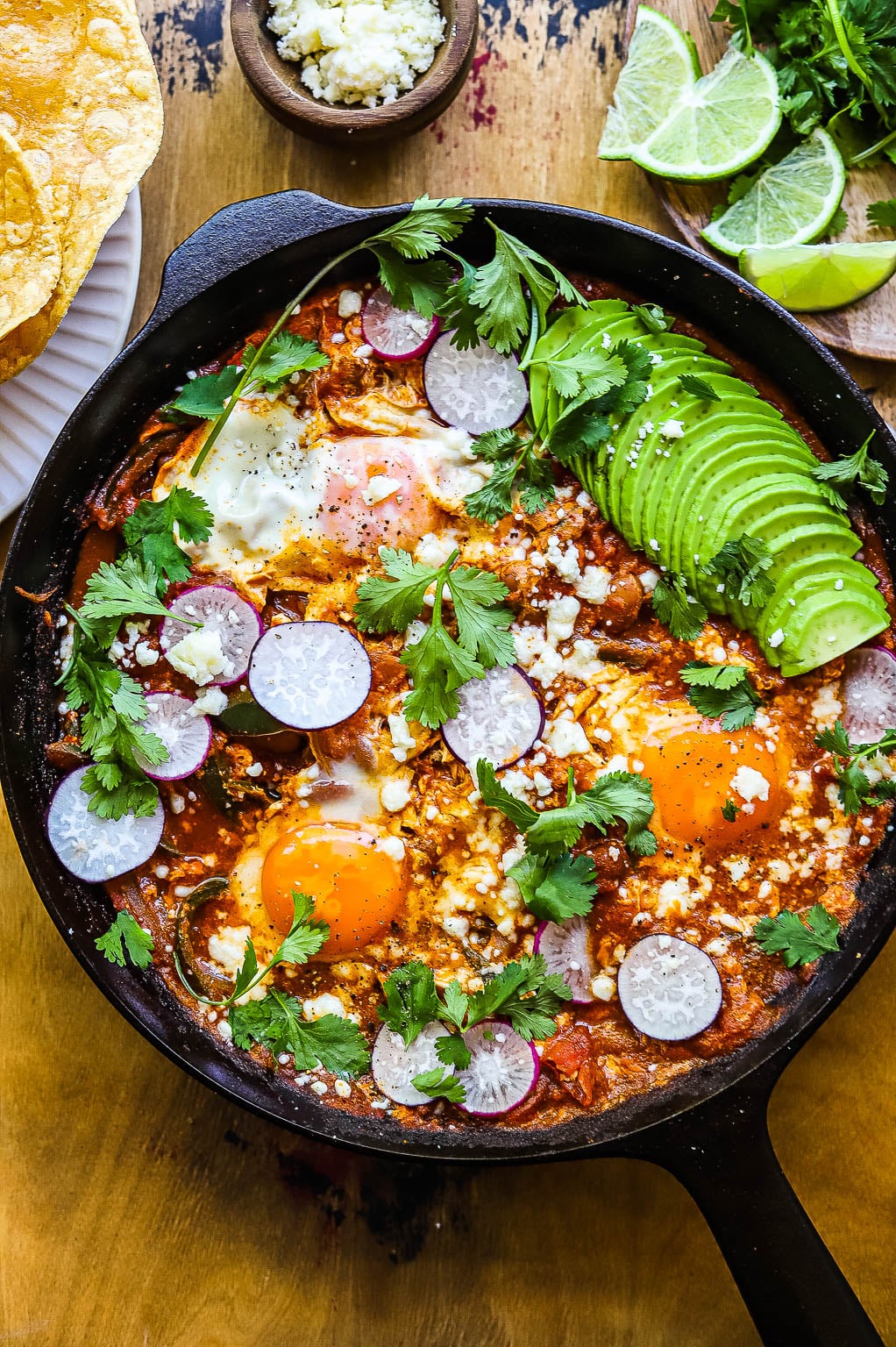 This huevos rancheros skillet is an easy and delicious vegetarian and gluten-free breakfast recipe. It's fast, hearty, and full of flavor. I personally don't go in for a lot of sweet breakfasts, but give me a savory eggy dish and I'm in!
Huevos rancheros are one of my favorite Mexican-style breakfasts! Normally, you'd see fried or poached eggs on a tortilla with salsa, but I love cooking everything together in a skillet. It really gives the flavors a chance to meld.
You can easily add your favorite protein to huevos rancheros, or skip the eggs and enjoy a totally vegan breakfast. While huevos rancheros might feel indulgent, this is actually a pretty healthy and low-calorie breakfast. If you're big on breakfast for dinner, huevos rancheros is the perfect recipe to whip out!
Huevos Rancheros: A Hearty Mexican Breakfast
This recipe is somewhere between a Mexican-style shakshuka, huevos rancheros, and huevos ahogados, or eggs poached in salsa. If you've ever wondered, huevos rancheros translates to "rancher's eggs". It was a typical breakfast served on rural farms in Mexico, often accompanied with beans, avocado, and rice.
It's hearty enough to fuel ranchers after they'd been working the fields in the early morning. This recipe for skillet huevos rancheros is inspired by all the traditional Mexican flavors in a one-pan package!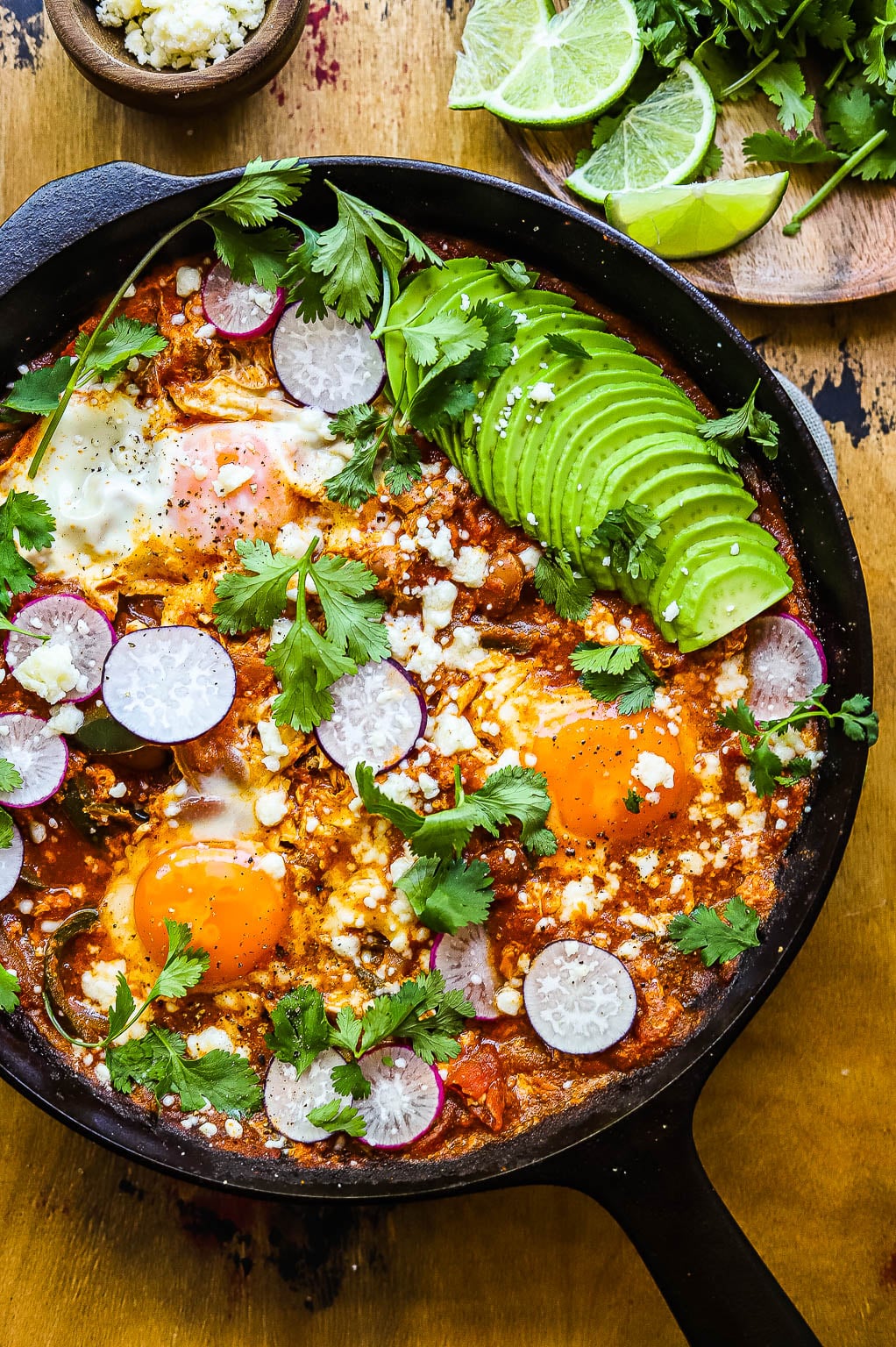 Why You'll Love this Recipe
Vibrant and Flavorful – this recipe is loaded with spices, peppers, onions, jalapeños, and bright tomatoes. The key to feeling sated is lots of flavor and while this recipe feels decadent, it's actually really light and healthy.
Hearty – Pinto beans add lean protein and fiber to this recipe! Couple that with the eggs and you've got a hearty and filling breakfast served on lightly fried tortillas. You can add your favorite protein to this recipe to really bulk it up.
Easy – This is one of those brunch recipes that really impresses with minimal effort! The most time comes from just chopping the veggies. You can have this huevos rancheros skillet on the table in 30 minutes with lots of hands-off time.
Customizable – You can easily customize this huevos rancheros skillet to your tastes! Have some extra veggies you want to use up? Throw them in! Have some leftover grilled steak or chicken? Those would be great additions! You can also add all your favorite toppings or whatever you have on hand. You can easily make this recipe vegan by skipping the eggs (maybe add some tofu, tempeh, or vegan egg substitute).
How to Make Huevos Rancheros Skillet
Utilize your cast iron skillet for this recipe! You could also use any large enameled cast iron skillets or even a heavy-duty nonstick skillet.
Tools Needed
Ingredients and Substitutions
Tortillas. I like to fry my corn tortillas until crispy, or use tostadas but you can serve skillet huevos rancheros on charred corn or flour tortillas.
Onion. Onion creates a base of flavor.
Peppers. I use both poblanos and jalapeños in this recipe for a little heat. You can swap in any pepper including red or green bell peppers, Anaheim chilies, etc.
Tomatoes. I use whole peeled tomatoes in a can here. But you can swap in 1 lb fresh tomatoes, chopped.
Pinto beans. I use canned pinto beans but you can swap in black beans or another favorite. Make sure to drain and rinse the beans.
Spices. Ancho chili powder, cumin, garlic powder, and oregano give this skillet huevos rancheros a classic Mexican flavor.
Eggs. You can omit the eggs to make this dish vegan.
Toppings. The sky is the limit here, but I love to top skillet huevos rancheros with avocado, cilantro, sliced radishes, crema, cotija, and lime wedges on the side for squeezing.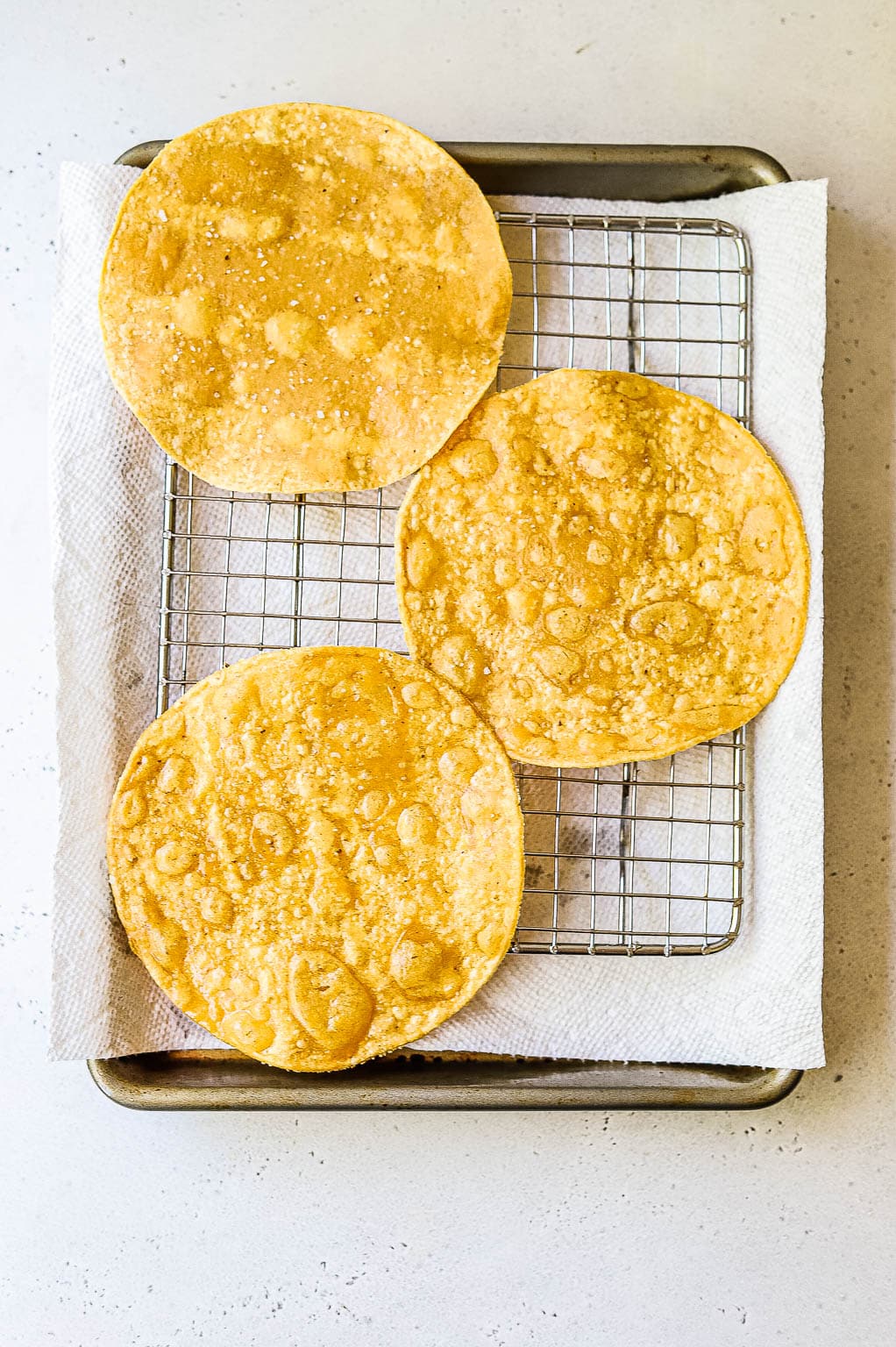 The Process
Step one: Heat a thin layer of oil in your skillet and fry your tortillas for 2 minutes or so per side, until crispy. Transfer them to a paper towel-lined tray to drain excess oil and season with salt. Remove all but 1 tablespoon of oil from the skillet.
Step two: Add the sliced onion, poblano, and jalapeño to the skillet and saute for 3-4 minutes, stirring often, until softened. Add the tomatoes, spices, salt, and pepper and bring to a simmer. Use a wooden spoon or silicone spatula to break up the tomatoes as they cook.
Step three: Once the tomatoes are broken down, add the beans and bring to a simmer. Simmer for 10-15 minutes until thickened. Make four wells in the tomato mixture and crack an egg into each well. Simmer for another 8-10 minutes until the eggs are cooked to your desired doneness.
Step four: Remove the skillet from the heat and top with cilantro, sliced avocado, sliced radishes, and cotija.
Step five: Spoon the egg and tomato mixture onto the crispy tortillas and serve warm with lime wedges on the side.
Customizing Skillet Huevos Rancheros
This recipe is really easy to customize to your tastes! Here are some of my tips for customizing skillet huevos rancheros.
Add a protein. I find that this recipe is super filling just with the beans and eggs, but you could also serve it with a protein to really bulk it up. Some of my favorites would be carne asada, grilled cilantro lime chicken, or carnitas. You could also add a vegetarian protein like soy chorizo, meatless crumbles, or tempeh.
Add some veggies. Maybe you have some extra veggies in your crisper drawer that need to get used up. No problem! Zucchini, corn, squash, bell peppers, and carrots would all be welcome additions here. You could even add some nopales if that's your jam!
Make it green. Instead of using tomatoes, you could swap in some salsa verde to make huevos rancheros verdes. I adore salsa verde and my recipe for homemade salsa verde is super easy!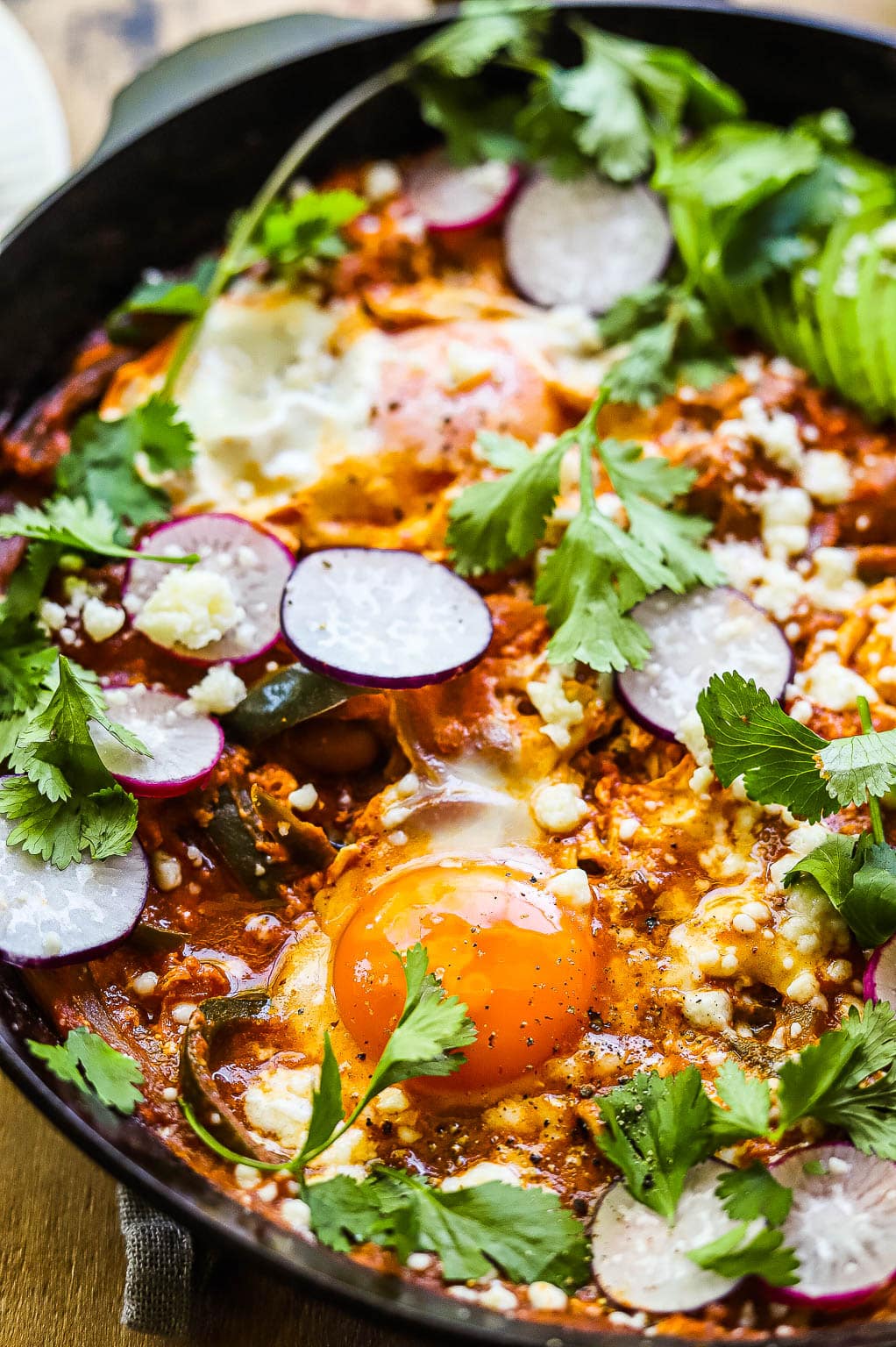 Storing, Freezing, and Re-Heating Huevos Rancheros
If you want to feed a crowd, you can easily double this recipe! You could use two skillets, or move to use a larger 13 inch skillet.
If you have leftovers, let the skillet huevos rancheros cool to room temperature. Transfer to an airtight container and store in the fridge for up to 3 days.
To reheat, simply microwave until warmed through. A note: Your eggs will be cooked all the way through at this point, so just keep that in mind if you're a lover of runny yolks.
If you want to freeze huevos rancheros, I recommend freezing the sauce without the eggs. You can let the sauce cool, transfer it to a freezer-safe ziplock bag, and freeze for up to 3 months. Simply defrost in the fridge overnight, warm it in a skillet, and then add your eggs to the mixture to cook.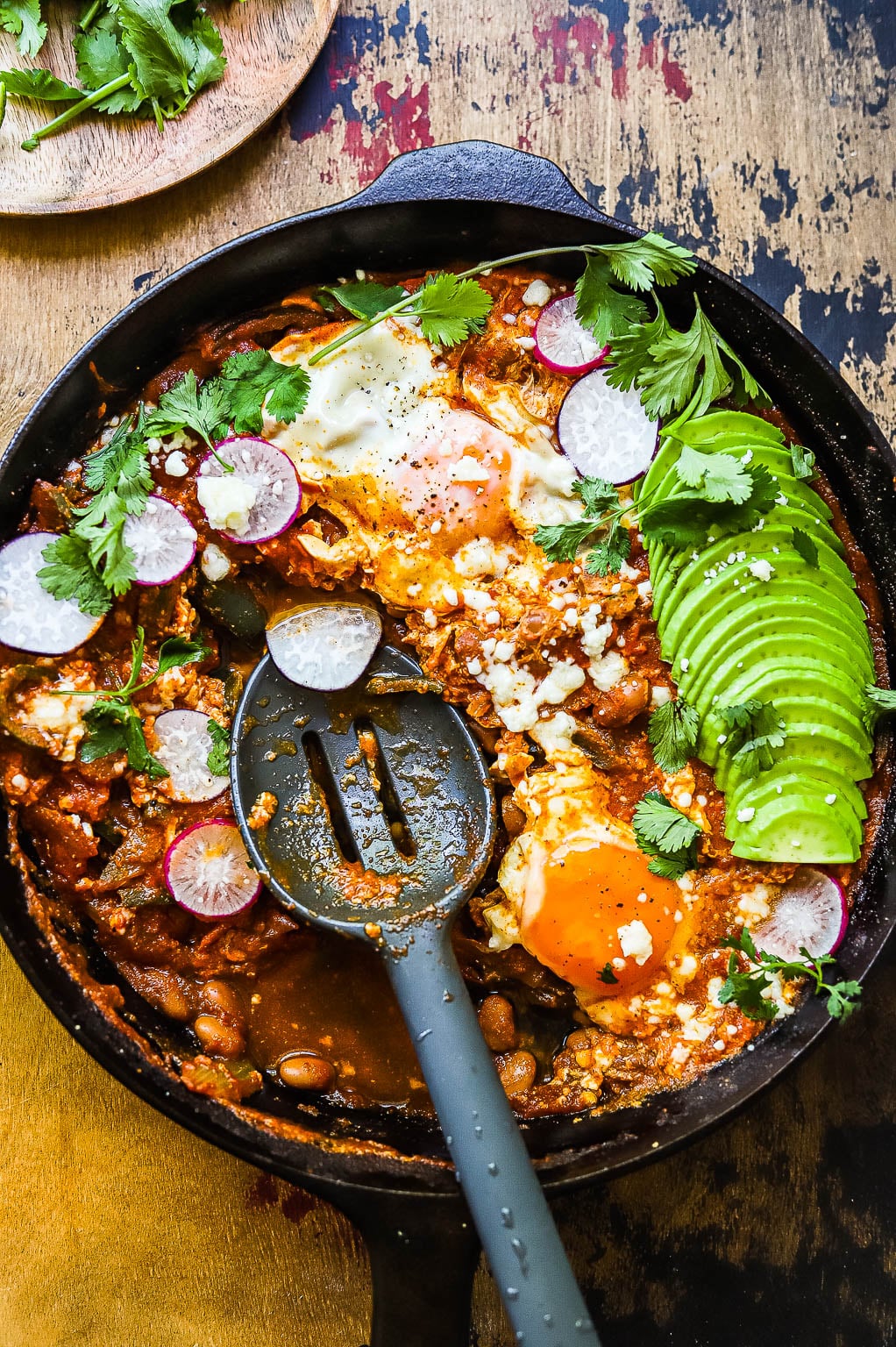 Skillet Huevos Rancheros FAQs
Are skillet huevos rancheros gluten-free?
Yes! This whole recipe is gluten free as long as you serve them with corn tortillas as flour tortillas contain wheat.
Can you make skillet huevos rancheros vegan?
Absolutely! If you omit the eggs and don't top with cheese, this recipe is vegan. You could add in some soy chorizo for extra protein and flavor or even drizzle in some plant based eggs like JUST Egg.
Can you make huevos rancheros ahead of time?
While I wouldn't recommend cooking the eggs ahead of time, you can absolutely make the the sauce a day or two in advance. Follow my instructions above for storage or freezing.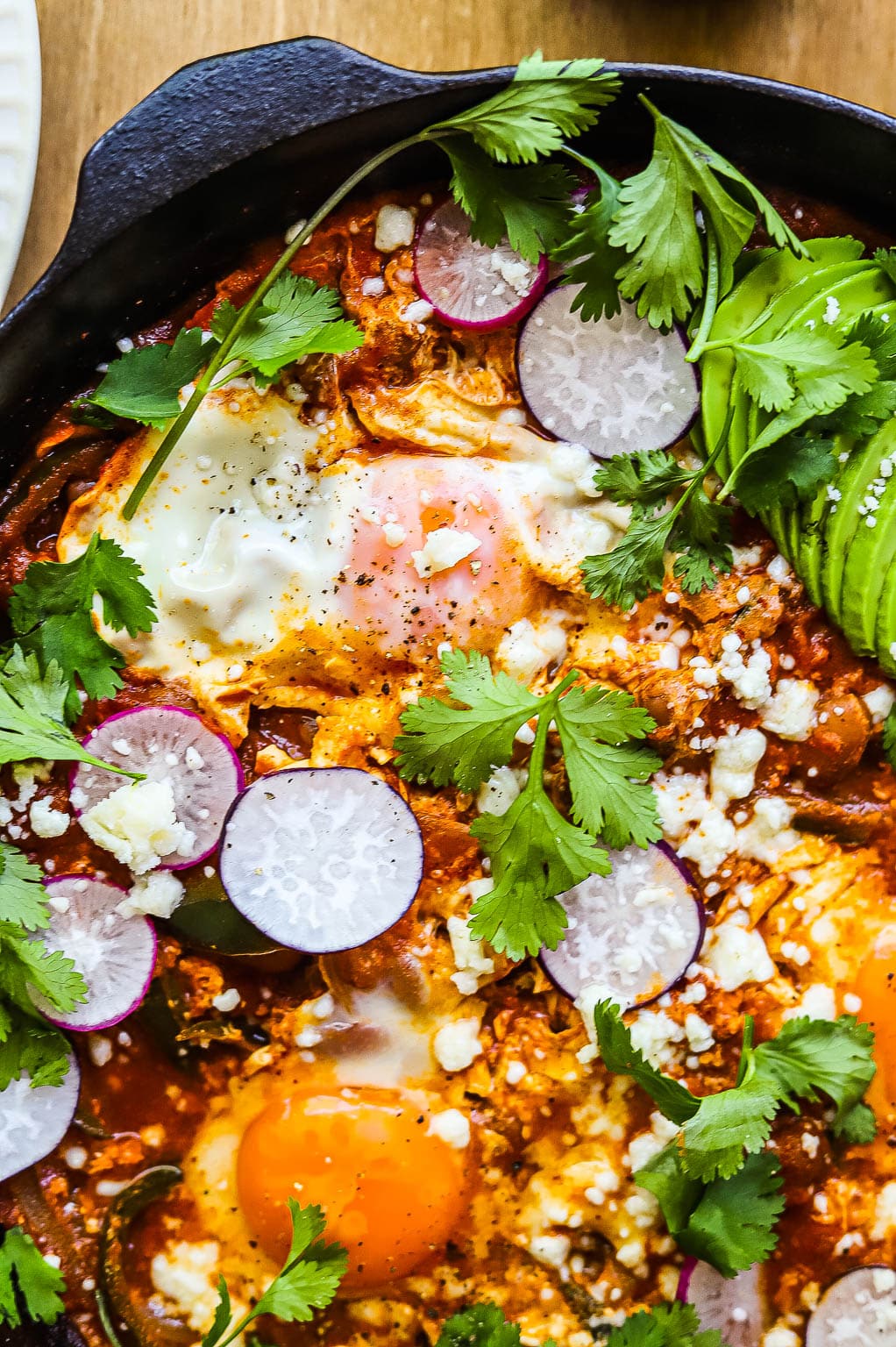 More Breakfast Recipes to Try Now
This post contains affiliate links from which I receive a small commission at no additional cost to you. Affiliate links allow me to keep providing great recipes for free and I never recommend products that I don't love and personally own.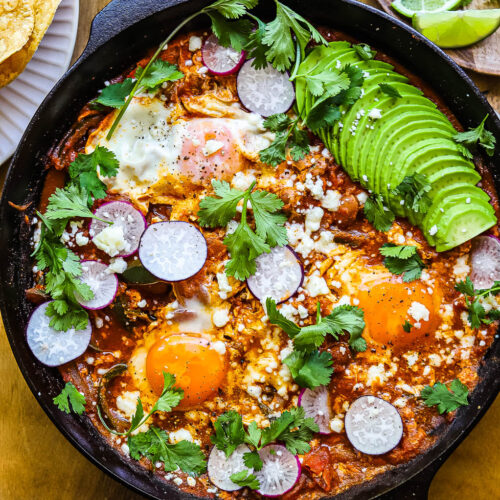 Skillet Huevos Rancheros
This quick and easy skillet huevos rancheros recipe will make all your brunch dreams come true! Onions and peppers simmer in a Mexican-spiced tomato sauce with pinto beans and runny eggs. Serve with crispy corn tortillas and all the toppings!
Ingredients
Skillet Huevos Rancheros
8

corn tortillas

neutral oil

1/2

yellow onion, sliced

1

poblano pepper, seeded and sliced

2

jalapeños, thinly sliced

1 –

28 oz

can whole peeled tomatoes

1

tablespoon

ancho chili powder

2

teaspoons

ground cumin

1

teaspoon

garlic powder

1/2

teaspoon

dried oregano

1

teaspoon

kosher salt

1 –

15 oz

can pinto beans, drained and rinsed

4

eggs
Toppings
1

avocado, sliced

2

oz

cotija cheese, crumbled

1/2

cup

fresh cilantro leaves

4-5

radishes, thinly sliced

2

limes, cut into wedges
Instructions
Heat a layer of oil in a cast iron skillet over medium heat. Fry the tortillas for about 2 minutes per side, until crispy. Transfer to a paper towel lined tray to drain excess oil and season with salt. Remove all but 1 tablespoon of oil from the skillet.

Add the sliced onion, poblano, and jalapeños and saute for 2-3 minutes, until softened. Add the tomatoes and spices and use a wooden or silicone spoon to break up the tomatoes as they cook. Season with salt, and add the beans.

Bring to a simmer and simmer for 10-15 minutes, until some of the liquid has evaporated and the tomatoes have broken down. Make four well-like indentations in the tomatoes and crack an egg into each well. Simmer for another 8-10 minutes until the eggs are cooked to your desired doneness. You can speed up this process by covering the skillet loosely with a lid.

Remove from the heat and add your desired toppings. Serve with the crispy tortillas and lime wedges on the side.
You might also like...