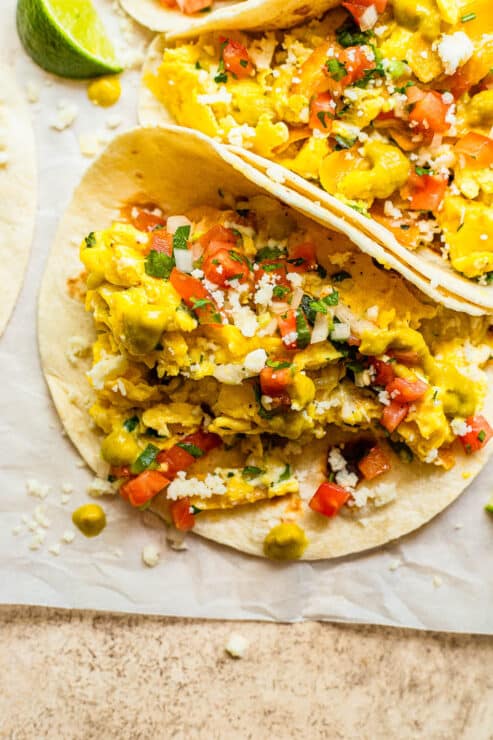 Migas Breakfast Tacos
Migas Breakfast Tacos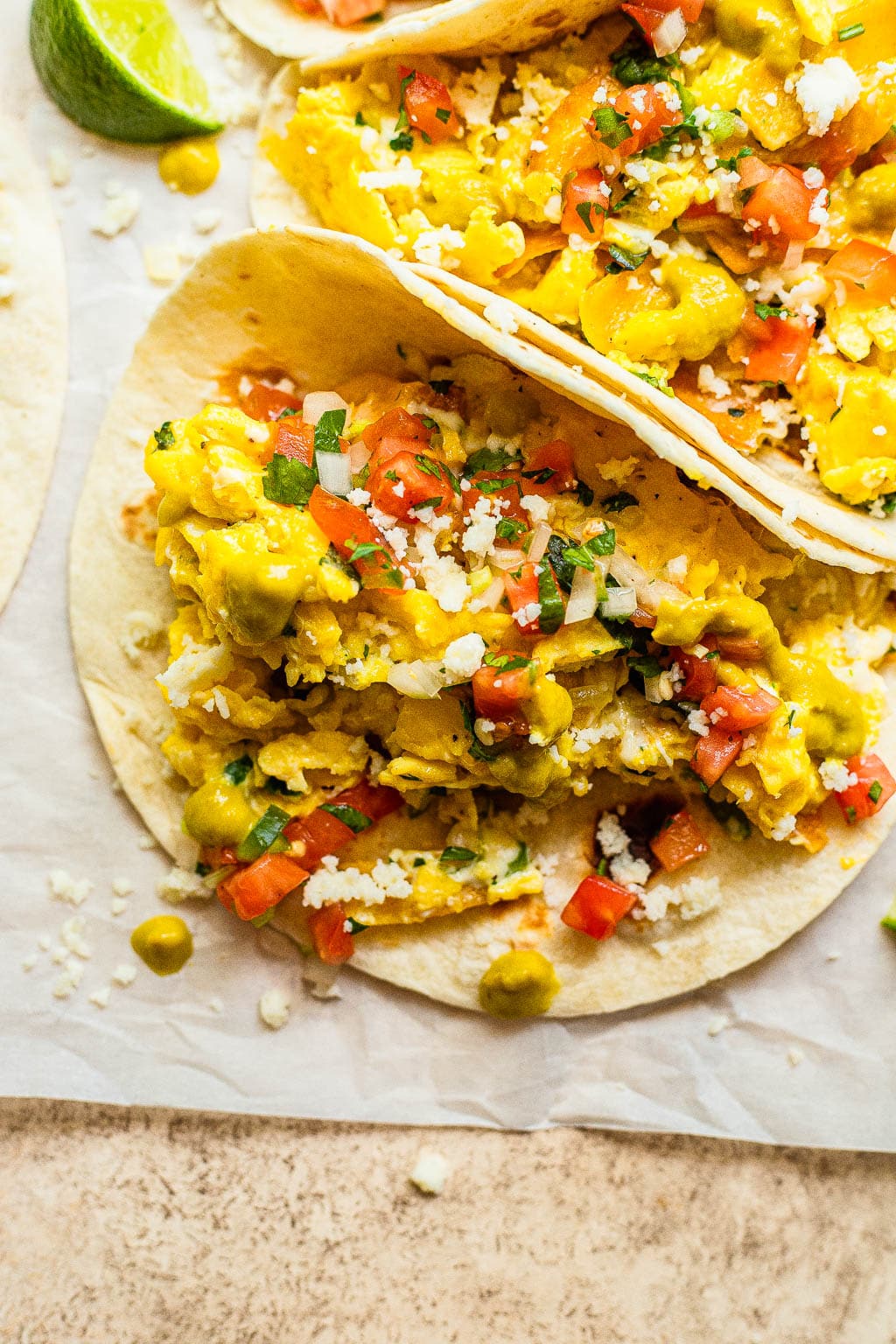 Migas breakfast tacos feature soft eggs scrambled with crispy corn tortilla strips, onion, jalapeño, and cheese in a warm tortilla. Since moving to Texas, I've been introduced to migas breakfast tacos and let me tell you, I am a convert. This is an easy breakfast that we make just about every weekend! It's a great way to use up random bits of produce and breakfast tacos are always flavorful and satisfying.
If you haven't tried migas breakfast tacos yet, you're going to be blown away by flavorful they are! Migas breakfast tacos are vegetarian, easy to make gluten-free, and packed with flavor. Follow my tips for making this easy Mexican breakfast and it'll be a new breakfast staple!
Migas Breakfast Tacos: An Austin, TX Staple
The first time I visited Austin, TX, I was introduced to breakfast tacos at Veracruz All Natural. Up until that point, I was on team breakfast burrito as that's the San Diego way. I was so pleasantly surprised to find out how much I really love breakfast tacos!
They're quick, easy to make, and a delicious handheld breakfast that we make over and over again. Veracruz All Natural has the best migas breakfast tacos I've had and I knew I would be able to replicate the recipe at home.
You only need a handful of ingredients to make these breakfast tacos and they're easy to adapt based on what you have on hand. Follow my tips below for customizing migas breakfast tacos to your taste!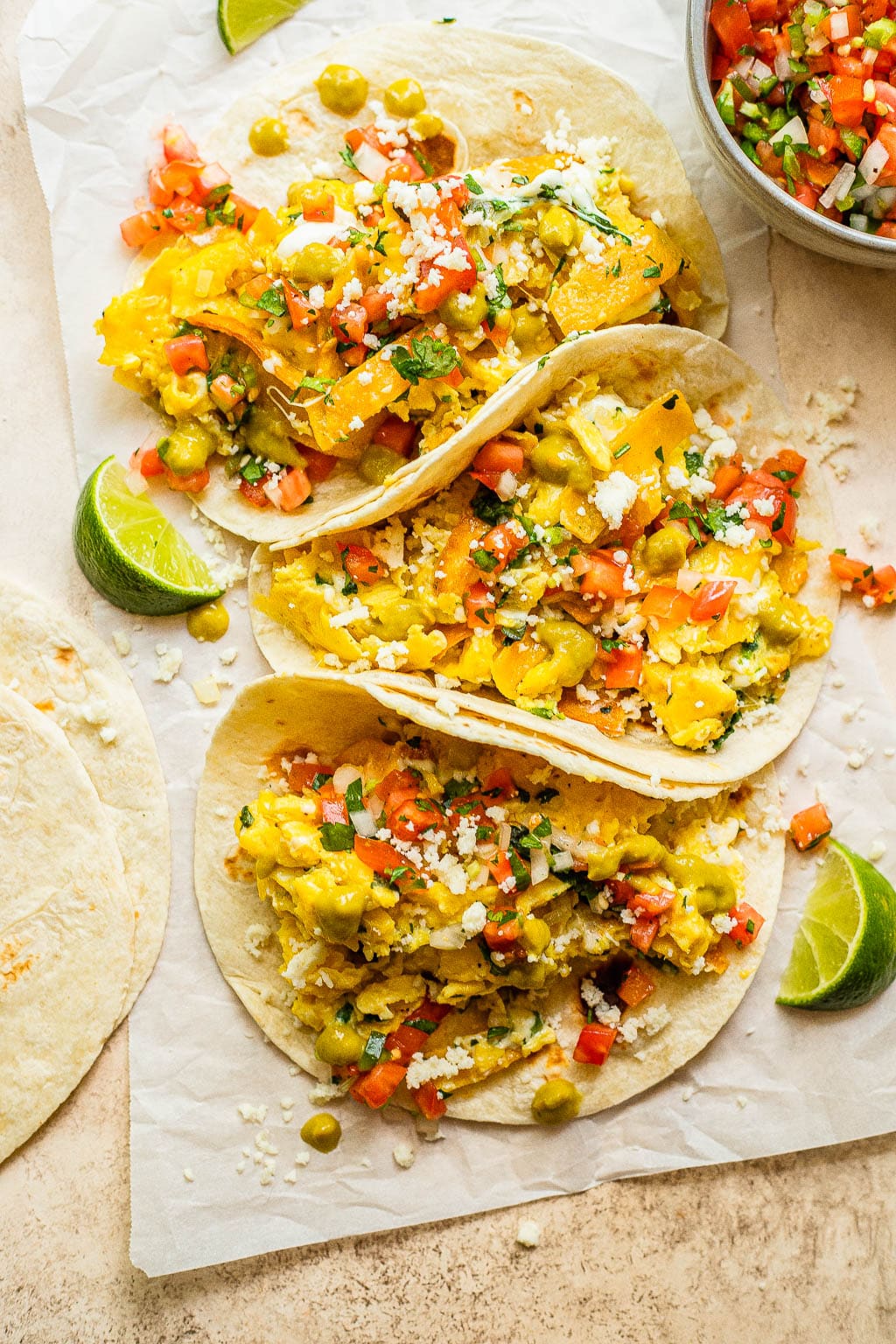 What are Migas?
Migas are a traditional Mexican breakfast made with fried corn tortillas and scrambled eggs. Migas were created as a way to use up stale tortillas. It's a working class meal that is both hearty and economical. My recipe for migas tacos leans closer to Tex-Mex style thanks to the addition of onions, peppers, and cheese.
Migas are often served alongside refried beans and warm flour tortillas. In making migas breakfast tacos, we've just combined some of the elements to make a delicious handheld version of Mexican migas.
How to Make Migas Breakfast Tacos
This whole recipe comes together in about 20 minutes and it's so easy to make! I recommend using a high-quality nonstick skillet anytime you're making scrambled eggs.
Tools Needed
Ingredients and Substitutions
Tortillas. Corn tortillas are best for frying, but I like to serve the migas in flour tortillas.
Neutral oil. Select a high-temp oil for frying the corn strips like canola, sunflower, or avocado.
Onion. Use whatever onion you have on hand! My favorite is white onion for this recipe.
Jalapeño. A little bit of spice makes this dish perfection.
Eggs. Use high-quality eggs for best results.
Cheese. I love using monterrey jack because it's so melty and delicious. Use whatever you have on hand.
Cilantro. I always stir in some fresh chopped cilantro in the eggs towards the end of cooking. It adds a fresh and zesty flavor.
Toppings. Tacos are all about toppings right? My favorite toppings for migas breakfast tacos are avocado, cotija cheese, pico de gallo, and hot sauce.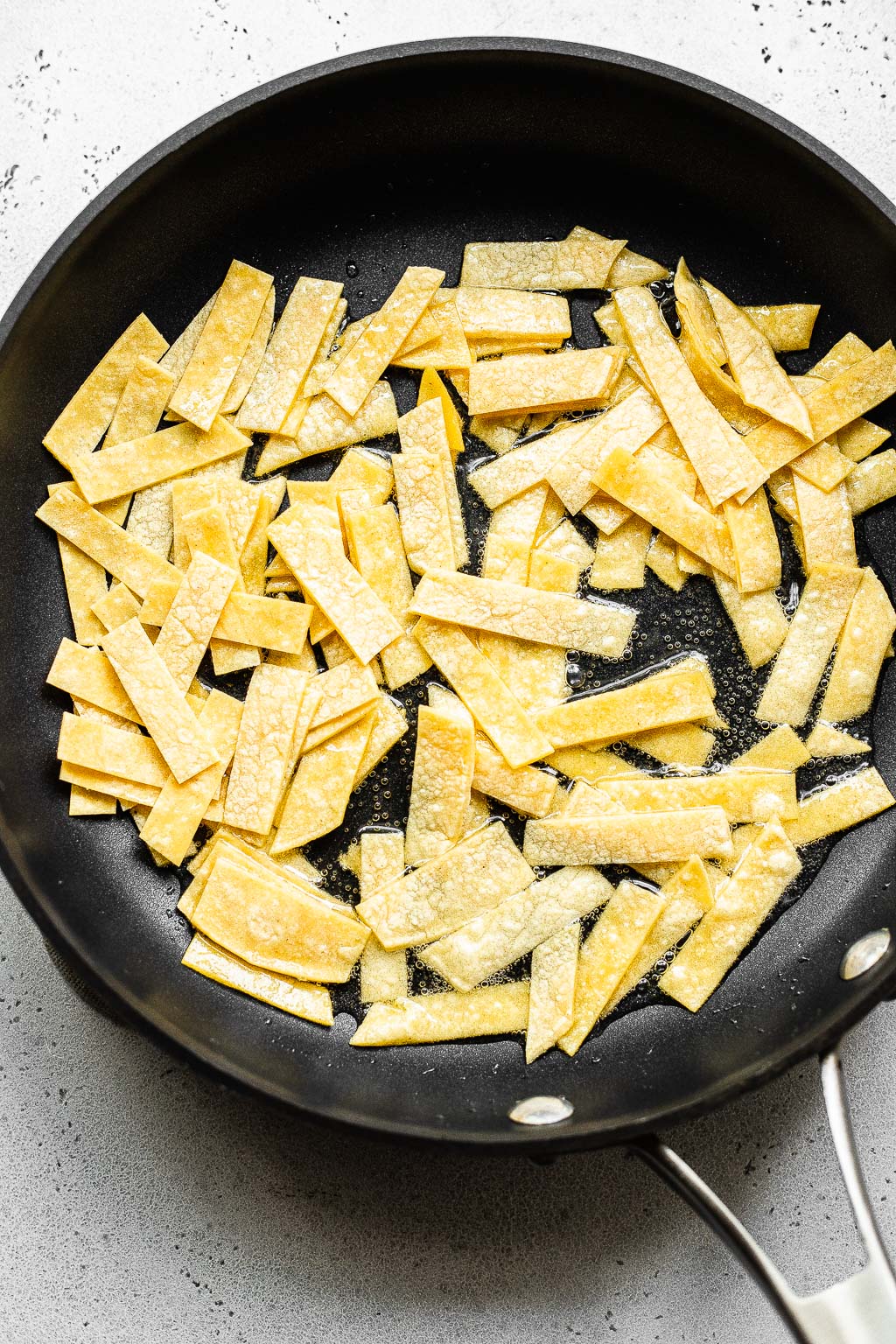 The Process
Fry the corn tortilla strips. Cut your corn tortillas into strips and fry in neutral oil until crispy. Transfer them to a paper towel-lined plate and season with salt and pepper.
Saute the veggies. Add the diced onion and jalapeño to the skillet and cook for 2-3 minutes, until the onions are getting soft.
Cook the eggs. Beat the eggs in a mixing bowl and season with salt and pepper. Reduce the heat to medium-low and add the eggs to the skillet. Cook the eggs by dragging a spatula through them to create large curds (avoid stirring). Cook the eggs until they're mostly set but still fairly wet.
Finish the eggs. Stir the crispy tortilla chips and chopped cilantro into the eggs and sprinkle with cheese. Cover the skillet with a lid until the cheese is melted.
Assemble the tacos. Divide the migas among warm flour tortillas and top as desired.
Tips for making Migas Breakfast Tacos
Have your ingredients prepped before you start cooking. This is one of those recipes that comes together very quickly once you start so I like to make sure all my ingredients and chopped and ready to go before I start. This will keep you from accidentally over-frying the corn tortillas or overcooking the eggs.
Cook the tortilla strips long enough. Make sure when you're frying the corn tortillas to cook them long enough! They should be crispy without getting to dark. If you don't fry them long enough, they'll get soggy quickly.
Don't overcook the eggs. Dry eggs are the absolute worst! Cook the eggs until they're set, but still a little wet. Remember, we'll be covering them and cooking for a little longer to melt the cheese!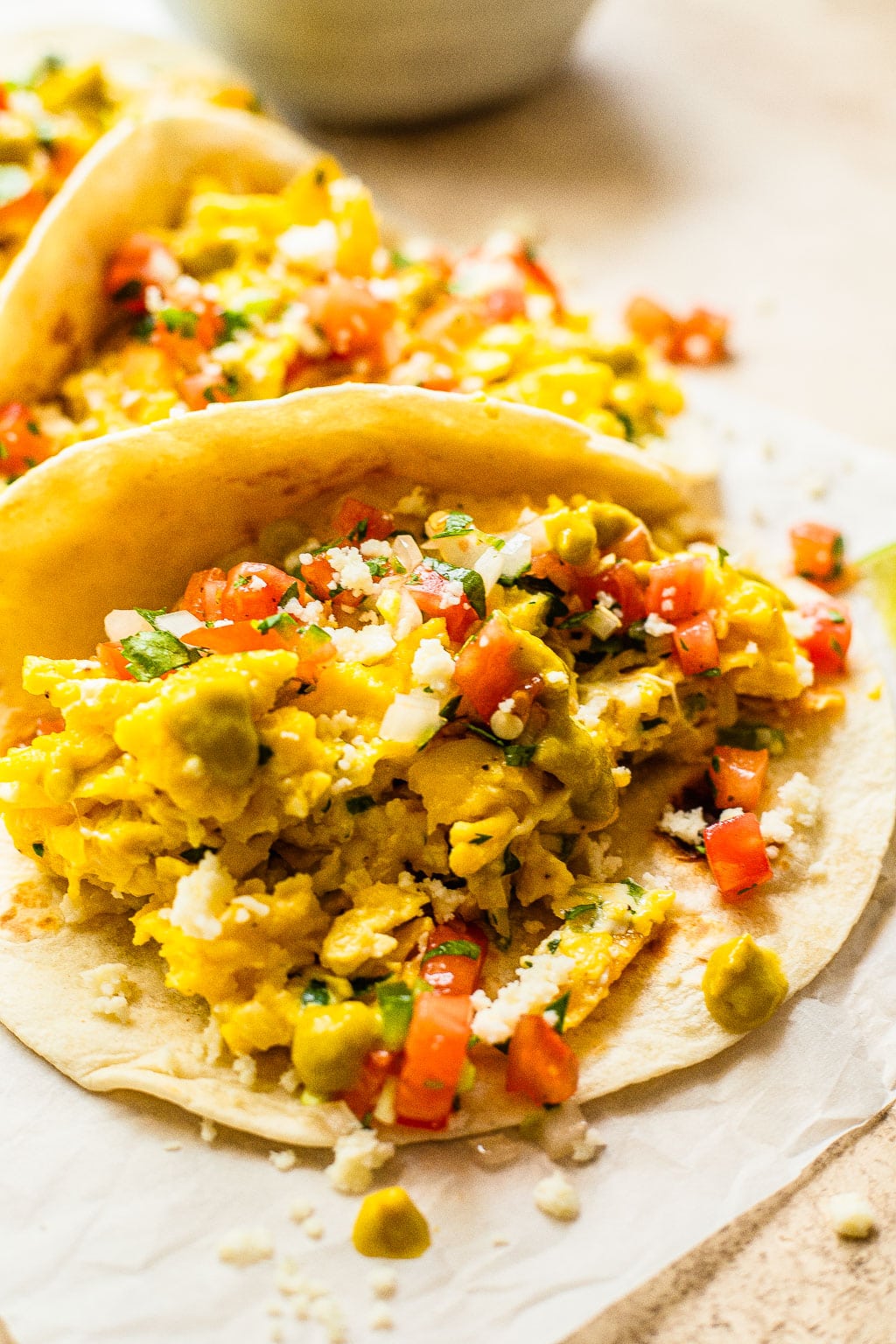 Customizing Migas Breakfast Tacos
I love this recipe because it's a blueprint to a great recipe that you can easily customize based on what you have on hand! Here are some of my favorite ways to customize migas breakfast tacos:
Add a protein. As it stands, this recipe is vegetarian but you can always add a protein to make the migas breakfast tacos even heartier! I love adding some crispy bacon or chorizo to my migas. You can even add soy chorizo to keep it vegetarian.
Add veggies. If you have some veggies to use up, add them in! You could saute some peppers, squash, zucchini, or even nopales.
Don't feel like frying? No problem. You can stir in some crispy corn tortilla chips if that's what you have on hand!
Migas Breakfast Tacos FAQs
Can I use pre-shredded cheese?
Yes, but I always recommend buying a block and grating your own. Shredded cheese contains anti-caking agents that I like to avoid.
Can I make migas breakfast tacos ahead of time?
I don't recommend it. Eggs aren't great as they sit, so I always serve migas right away. You can prep the ingredients ahead of time and fry the corn tortillas to save time.
More Easy Breakfast Recipes to Try Now
This post contains affiliate links from which I receive a small commission at no additional cost to you. Affiliate links allow me to keep providing great recipes for free and I never recommend products that I don't love and personally own.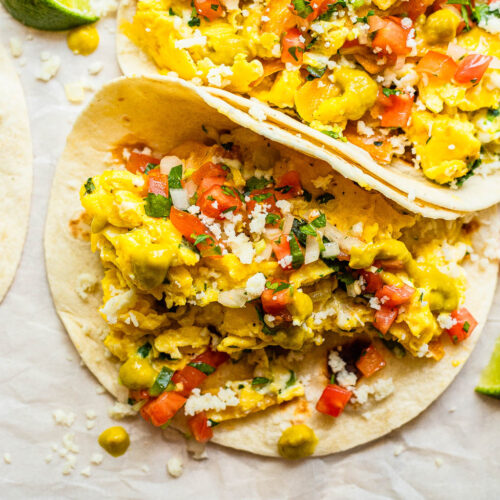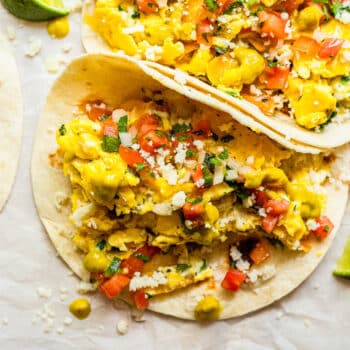 Migas Breakfast Tacos
Migas breakfast tacos are an easy and delicious breakfast featuring eggs soft scrambled with crispy fried corn tortillas, onions, jalapeños, and cheese in a warm flour tortilla.
Ingredients
Migas Tacos
3-4

tablespoons

neutral oil, like canola or avocado

4

small corn tortillas, cut into strips

1/2

white onion, diced

1

jalapeño, diced

6

eggs, beaten with salt and pepper

1

cup

Monterrey jack cheese, shredded

1/2

cup

chopped fresh cilantro

8

flour tortillas, warmed
Toppings
2/3

cup

pico de gallo

1

avocado, diced

1/3

cup

crumbled cotija cheese

hot sauce of choice
Instructions
Heat oil in a large nonstick skillet over medium heat until shimmering. Add tortilla strips and cook, stirring frequently, until golden brown and crispy, about 5 minutes. Using a slotted spoon, transfer to a paper-towel-lined plate; season lightly with salt. 

Add the diced onion and jalapeno to the skillet and cook, stirring often, for 3-4 minutes until softened.

Reduce the heat to medium-low and add the beaten eggs, and cook by dragging a rubber spatula through eggs to create large curds (avoid stirring), until starting to set but still wet. Fold the crispy tortilla strips and cilantro into the eggs and top with cheese.

Cover the skillet and cook just until the cheese is melted. Divide among warm flour tortillas and top as desired.
You might also like...