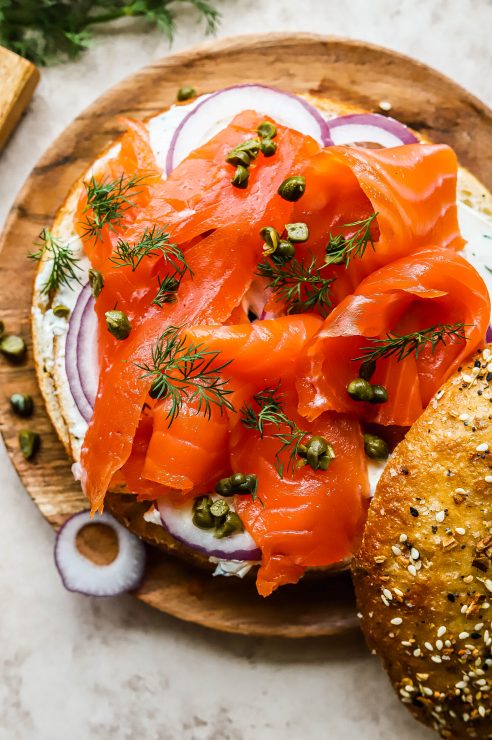 Easy Salmon Gravlax
Easy Salmon Gravlax
Salmon gravlax is a Scandinavian-style salmon cured with salt, sugar, and fresh herbs. It's better than lox and so easy to make at home. Slices of cured salmon are perfect for brunch–serve it on a bagel, sandwich, or salad. You'll never head to another deli once you've made this easy cured salmon gravlax at home!
What is Salmon Gravlax?
Salmon gravlax is a salmon cured simply with salt, sugar, dill, and other aromatics. Whereas lox is cured only with salt, gravlax has a cleaner and more balanced flavor making it perfect for bagels, sandwiches, and more. While gravlax is technically raw, the curing process makes it safe. When ingesting any kind of raw or cured fish, always select the best quality possible.
How to Make Salmon Gravlax
This recipe couldn't be easier to make. You don't need any fancy tools to make cured salmon other than a sharp knife for slicing.
Tools Needed
Ingredients you'll need
Salmon. Opt for high-quality salmon. Visit the seafood counter or your local fish monger for their recommendation on the best salmon to cure. I used Ora King salmon in this recipe.
Salt. Select a high-quality kosher salt for this recipe. I also used a bit of smoked sea salt to add some smoky flavor.
Sugar. Granulated sugar is the best here.
Lemon zest. Lemon and salmon is the perfect flavor combo!
Fresh dill. Dill is classic in salmon gravlax.
Peppercorns. This is totally optional, but a couple of crushed black peppercorns add great flavor.
What to do
Mix your cure. Salt and sugar are the main ingredients here, but you'll need some aromatics to really drive the flavor home. Fresh dill, lemon zest, coriander, and peppercorns really enhance the flavor of the salmon.
Bury the salmon. Find a ceramic or glass dish that fits the shape of your salmon. Pour 1/3 of the cure on the bottom of the dish and then place the salmon on top. Bury the salmon with the rest of the cure and cover with plastic wrap. Refrigerate for at least 2 days, up to 3 days.
Rinse the salmon. Remove the salmon from the cure and rinse it under cold water. Pat it dry all over with paper towels.
Slice and serve. Using a flexible knife, thinly slice the salmon and serve!
Storing Salmon Gravlax
Salmon gravlax is best served fresh and as such it's not something you want to hang onto for very long. After the salmon is sliced, it can be stored in an airtight container in the fridge for up to 1 day.
Other Seafood Recipes to Try
This post contains affiliate links from which I receive a small commission at no additional cost to you. Affiliate links allow me to keep providing great recipes for free and I never recommend products that I don't love and personally own.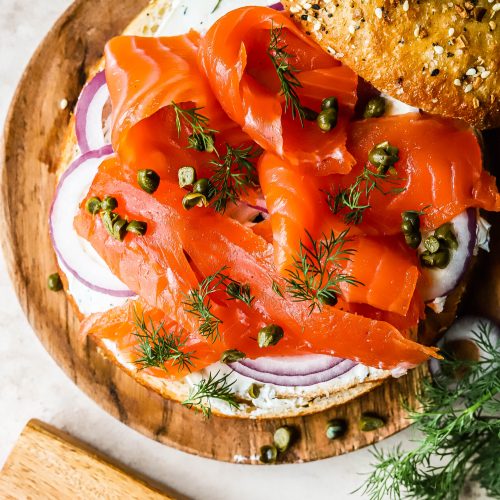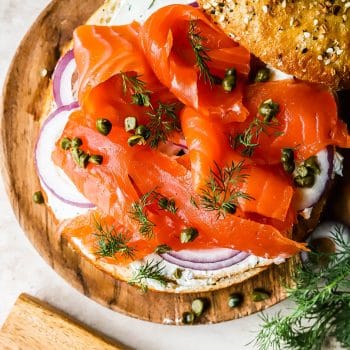 Salmon Gravlax (Cured Salmon Recipe)
Salmon gravlax is an easy cured salmon recipe that's perfect for brunch or any occasion!
Ingredients
1/2

cup

kosher salt

1/3

cup

granulated sugar

1

tablespoon

smoked sea salt

1

tablespoon

brown sugar

2

teaspoons

lemon zest

1

tablespoon

black peppercorns

lightly crushed

8

sprigs fresh dill

1

teaspoon

ground coriander

1

lb.

high-quality skin-on salmon fillet
Instructions
Combine the salt, sugar, lemon zest, peppercorns, coriander, and fresh dill in a mixing bowl and toss to combine.

Find a glass or ceramic dish that fits your salmon and pour 1/3 of the cure into the bottom of the dish. Place the salmon on top. Bury the salmon with the remaining cure, ensuring that the dill is arranged both under and on top of the salmon. Cover with plastic wrap and transfer to a refrigerator for at least 2 days, but 3 days is best.

After 2-3 days, remove the salmon from the cure and ridge the excess off the salmon with cold water. Pat very dry with paper towels.

Using a sharp, flexible knife, thinly slice the salmon away from the skin. Serve immediately.
Nutrition
Serving:
2
oz
Calories:
70
kcal
Carbohydrates:
1
g
Protein:
12
g
Fat:
3
g
Cholesterol:
10
mg
Sodium:
670
mg
Sugar:
1
g
You might also like...