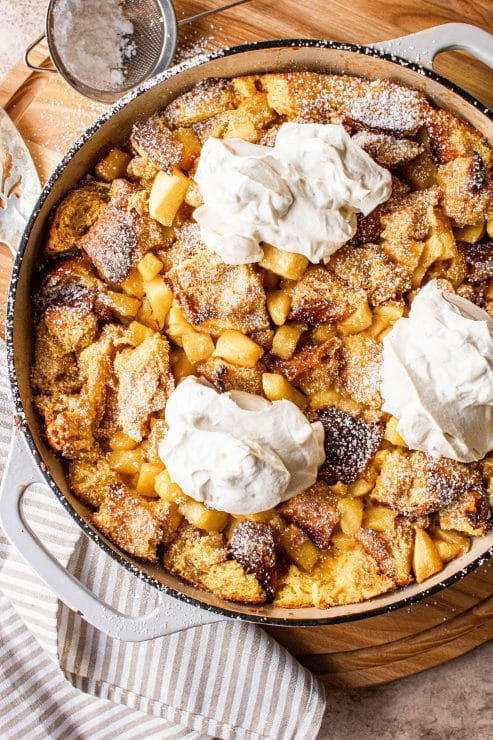 Apple Pie French Toast Bake
Apple Pie French Toast Bake
I'm really excited to share this recipe today because this totally speaks to the kinds of holiday breakfasts that I grew up with! If it wasn't Pillsbury orange-glazed cinnamon rolls (IYKYK), it was an overnight french toast bake. This version has a little twist: it's an apple pie french toast bake!
It has all the flavors of apple pie with a fraction of the work. Throw some of the maple-vanilla whipped cream on top and maybe a little extra maple syrup and you've got an easy breakfast that will feed a crowd. I hope you guys have a happy holiday season and that recipes like this lighten your load a bit so that more time can be spent with family and friends.
What is overnight french toast?
Overnight french toast is the cousin to actual french toast but it's a hell of a lot less messy and less work. Instead of dipping each piece of bread in an eggy-custard mixture and frying them off, pieces of bread and apple are soaked with the custard mixture before baking!
The bread has more time to absorb all the delicious custard and just has the best texture. It's a great breakfast for feeding a crowd and doesn't require a ton of equipment. You can make it the morning of or let it soak in the fridge overnight and bake it off first thing in the morning. Either way, you're making an easy breakfast for a crowd that doesn't require cooking for each individual, plus it's delicious. That's a win-win in my book!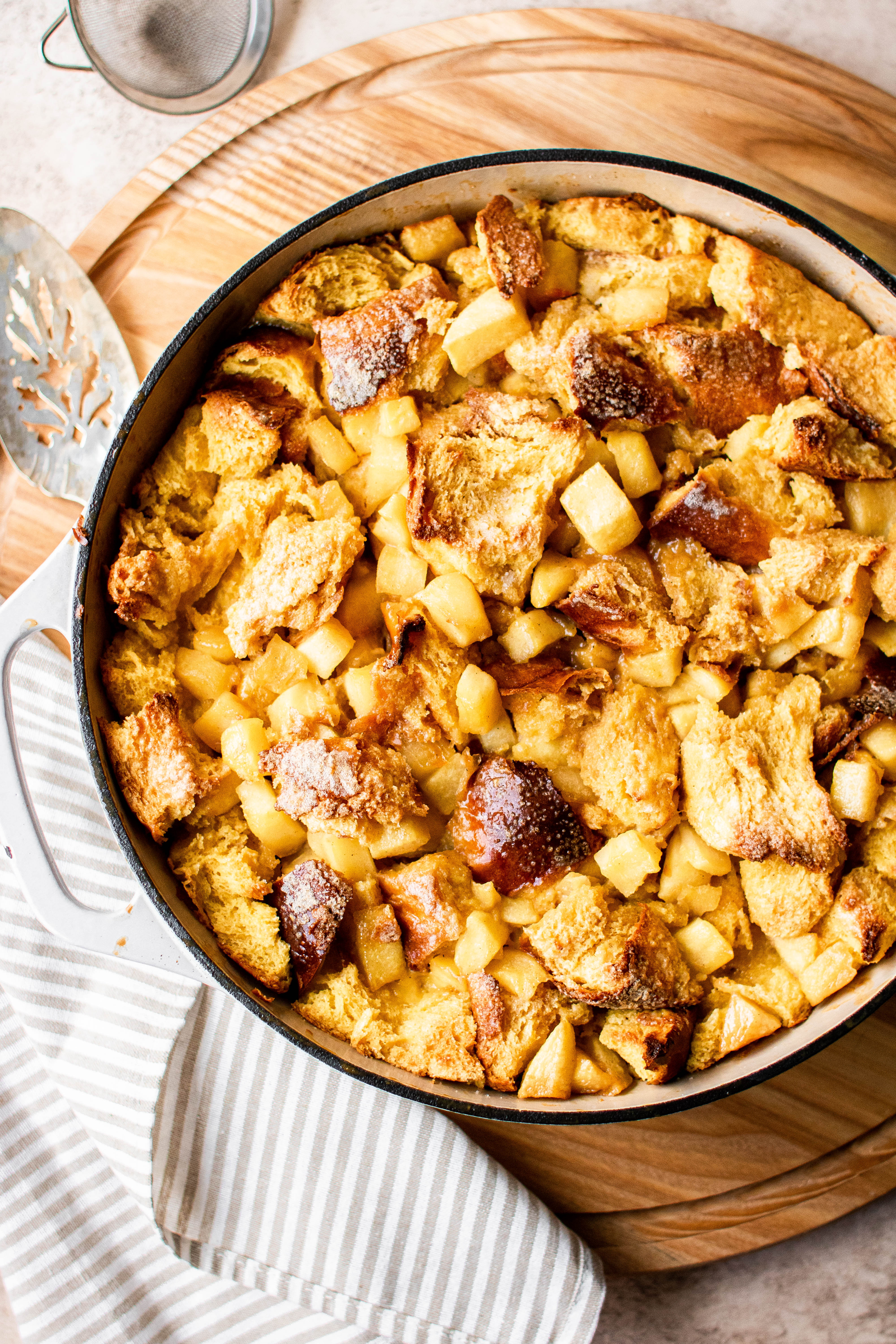 What are the best apples to use for apple pie french toast?
Okay guys, hot take coming in. I can't stand Granny Smith apples. The skin is so thick and waxy and they are just so sour. That being said, people love them for baking! They would work great in this recipe. Ultimately, you're looking for apples that are a mix of tart and sweet with a nice crunchy and crisp texture (no golden delicious or red apples here, folks!).
My favorites are pink lady, Honeycrisp, Fuji, Jonagold, or Braeburn. You want the apples to hold their texture after baking and not become all mushy or mealy. At the end of the day, use your favorites or what you have on hand but these are just my suggestions!
Can I omit the rum in apple pie french toast?
You can, but I love the flavor it adds! All the alcohol cooks off while baking so you don't need to worry about it tasting boozy. But if you're against using alcohol in baking, you can definitely omit it. You could also substitute a teaspoon of rum flavor extract if you have that on hand.
Can apple pie french toast bake be made in advance?
Hell yes, it can! You can throw everything together in the baking dish the night before, cover it with foil, and let it hang out in the refrigerator overnight. In the morning, preheat the oven, sprinkle the top with sugar, and bake for the recommended time.
What's the best kind of bread to use for apple pie french toast?
Any kind of enriched bread is best! This means bread containing eggs, butter, or both. Brioche is my favorite, but you can also use challah, egg bread, croissants, leftover dinner rolls, Hawaiian rolls, etc. The options are flexible, but rich bread works best!
Why is the bread toasted beforehand?
This helps dry the bread out a bit so that it really has room to absorb all the delicious custard! If you have time, you can leave the torn bread out on a baking sheet on the counter overnight, but the oven trick really helps speed the process along if you're on a time crunch.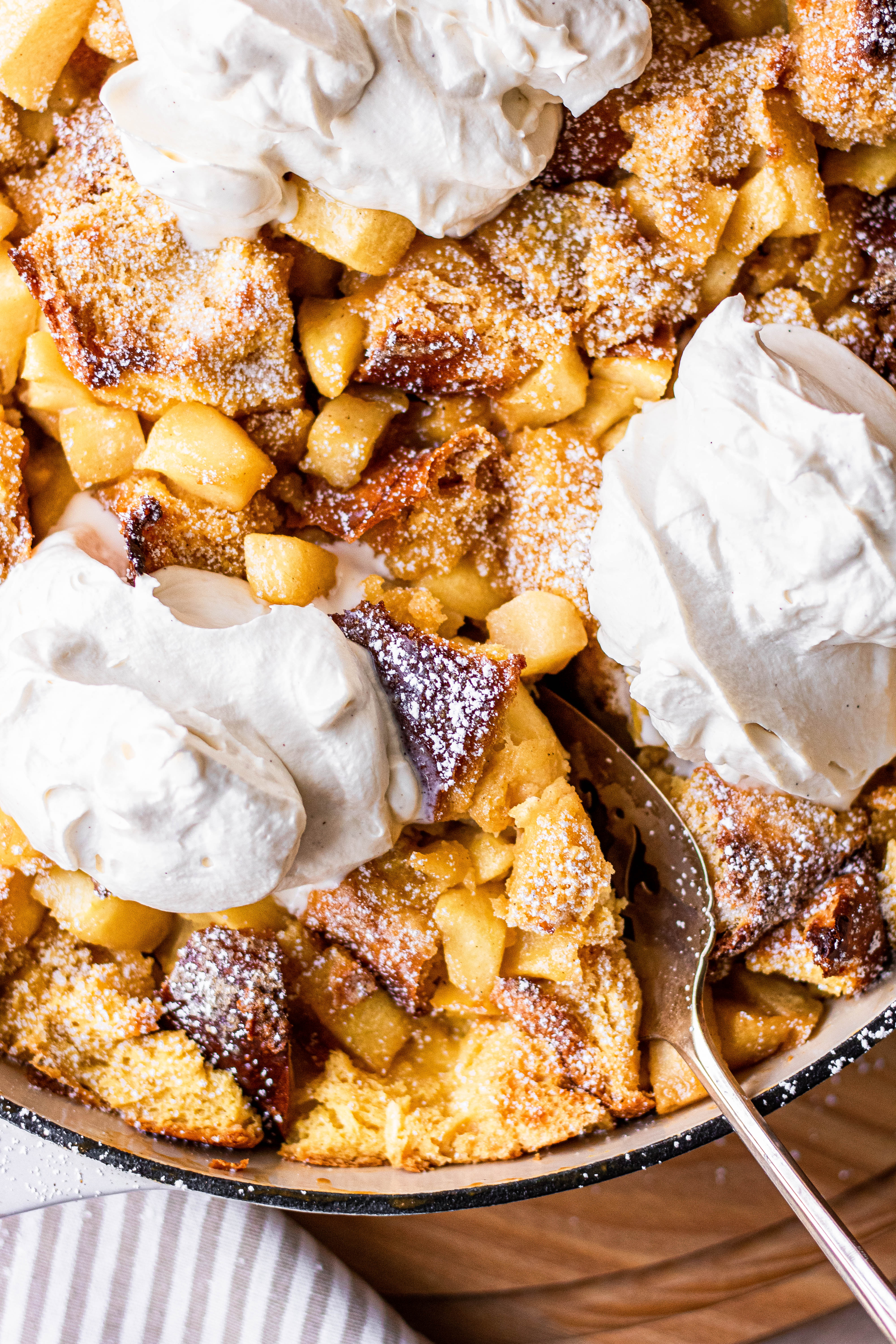 Do you have to cook the apples before adding them?
Yes! It allows them to soften a bit and actually creates a caramel-like sauce in the pan as they cook. This is essential for the flavors and makes such a huge difference in the finished product. You can cook the apples a day in advance and just save the apples and sauce in a an airtight container in the fridge and then combine with the bread and custard sauce later.
What equipment do you need for apple pie french toast bake?
Great question! Not much, to be honest. Below is a list of the equipment I used to make this recipe.
a large skillet, preferably nonstick. You want a skillet that is at least 12″ in diameter so that you can cook all the apples at once. You could alternately use a smaller skillet and just cook the apples in batches. I actually used my non-stick all-clad wok (one of my favorite kitchen tools ever!).
a large baking dish or skillet. I actually make this in my Lodge braiser, but it would work great in a 9×13 baking dish like this one.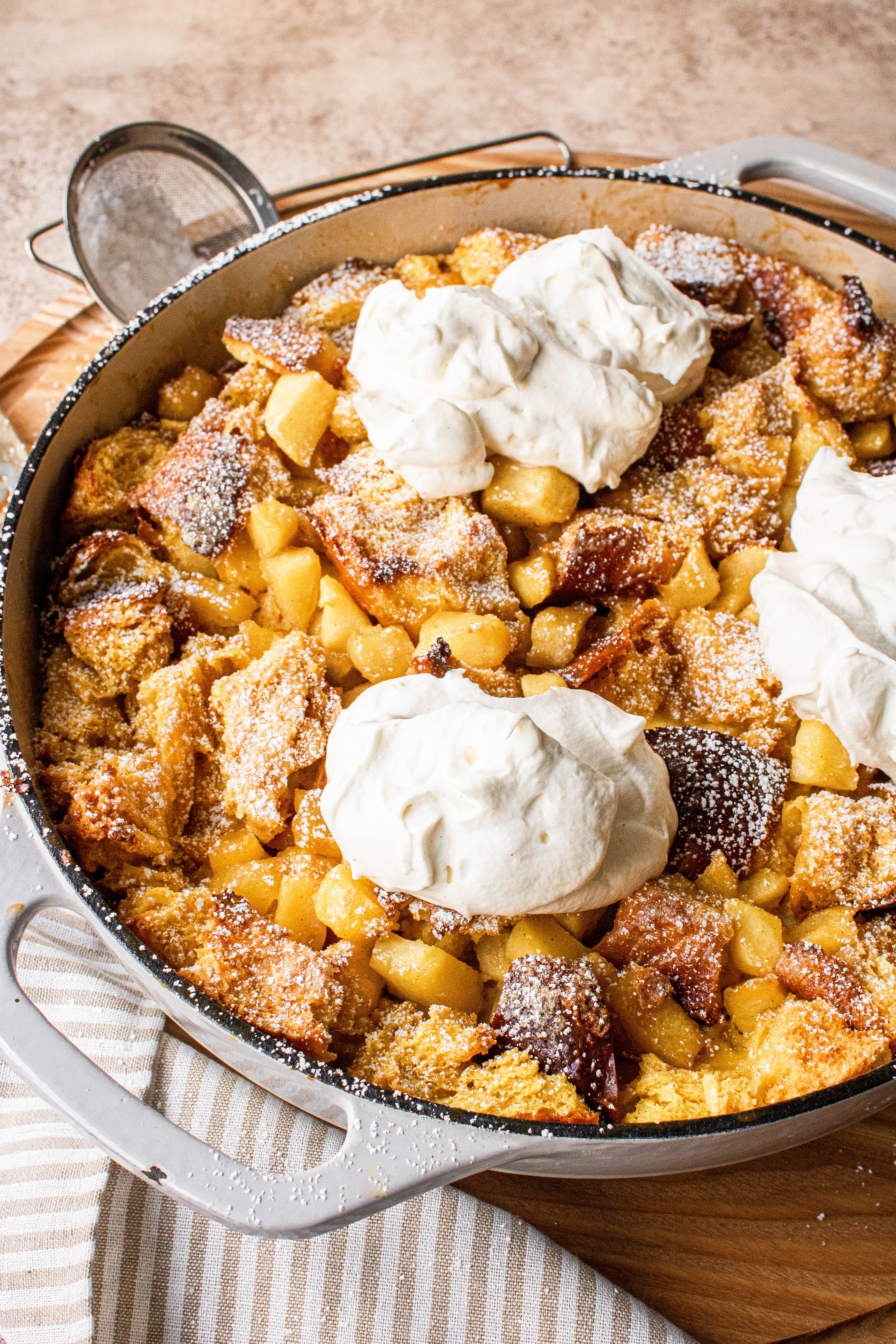 More Recipes to Try
This recipe contains affiliate product links which allows So Much Food to continue to provide free recipes.
Apple Pie French Toast Bake
Apple pie overnight french toast bake is the easiest breakfast or brunch option ever! All the flavors of french toast with none of the hassle, and it can be made in advance!
Ingredients
Apples:
3

apples

peeled and medium-size diced

1/3

cup

packed brown sugar

2

tablespoons

white sugar

1

teaspoon

ground cinnamon

2

teaspoons

vanilla extract

1

tablespoon

cornstarch

2

tablespoons

heavy cream

3

tablespoons

salted butter
French Toast:
1

loaf brioche or challah

torn into bite-sized pieces

2

cups

half & half

6

eggs

1

teaspoon

vanilla bean paste or extract

1/2

cup

granulated sugar

plus more for sprinkling

2

tablespoons

brown sugar

1

tablespoon

dark rum

1/8

teaspoon

kosher salt
Whipped cream:
1

cup

heavy cream

cold

1

teaspoon

vanilla bean paste or extract

2

tablespoons

pure maple syrup
Instructions
Preheat an oven to 250 degrees F. Spread the torn pieces of bread in an even layer on a baking sheet and bake for 20 minutes, until lightly crispy and dry. Lightly grease a large baking dish and arrange the bread pieces in it.

In a large mixing bowl, combine the apples, brown sugar, white sugar, vanilla, cinnamon, cornstarch, and heavy cream together and stir well to combine. Melt the 3 tablespoons of salted butter in a large skillet (non-stick works best here!). Once the butter is hot and foamy, add the apples. Cook the apples, stirring occasionally, until the apples are softened and are swimming in a thick, almost caramel-like, sauce (about 5-7 minutes). Remove from heat and allow to cool to room temperature. Pour the apples and sauce over the bread and toss so that the apples are evenly distributed.

In a mixing bowl, whisk together the half & half, eggs, vanilla, rum, sugars, and salt until smooth. Pour this mixture over the apples and bread. Cover the baking dish with foil, and press into the top so that the bread is submerged in liquid. Allow the bread to soak for 45 minutes or up to overnight in the fridge.

Preheat an oven to 350 degrees F. Remove the foil from the baking dish and sprinkle the top liberally with white sugar (about 2-3 tablespoons). Transfer to the oven and bake for 35-40 minutes, until the top is golden brown. Remove from the oven and allow to cool for 15-20 minutes before serving.

To make the whipped cream: combine all ingredients in a mixing bowl and whisk until soft peaks form. Serve over the baked french toast.
You might also like...