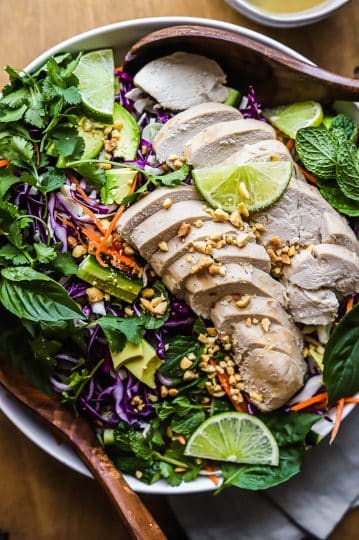 Vietnamese Chicken Cabbage Salad
Vietnamese Chicken Cabbage Salad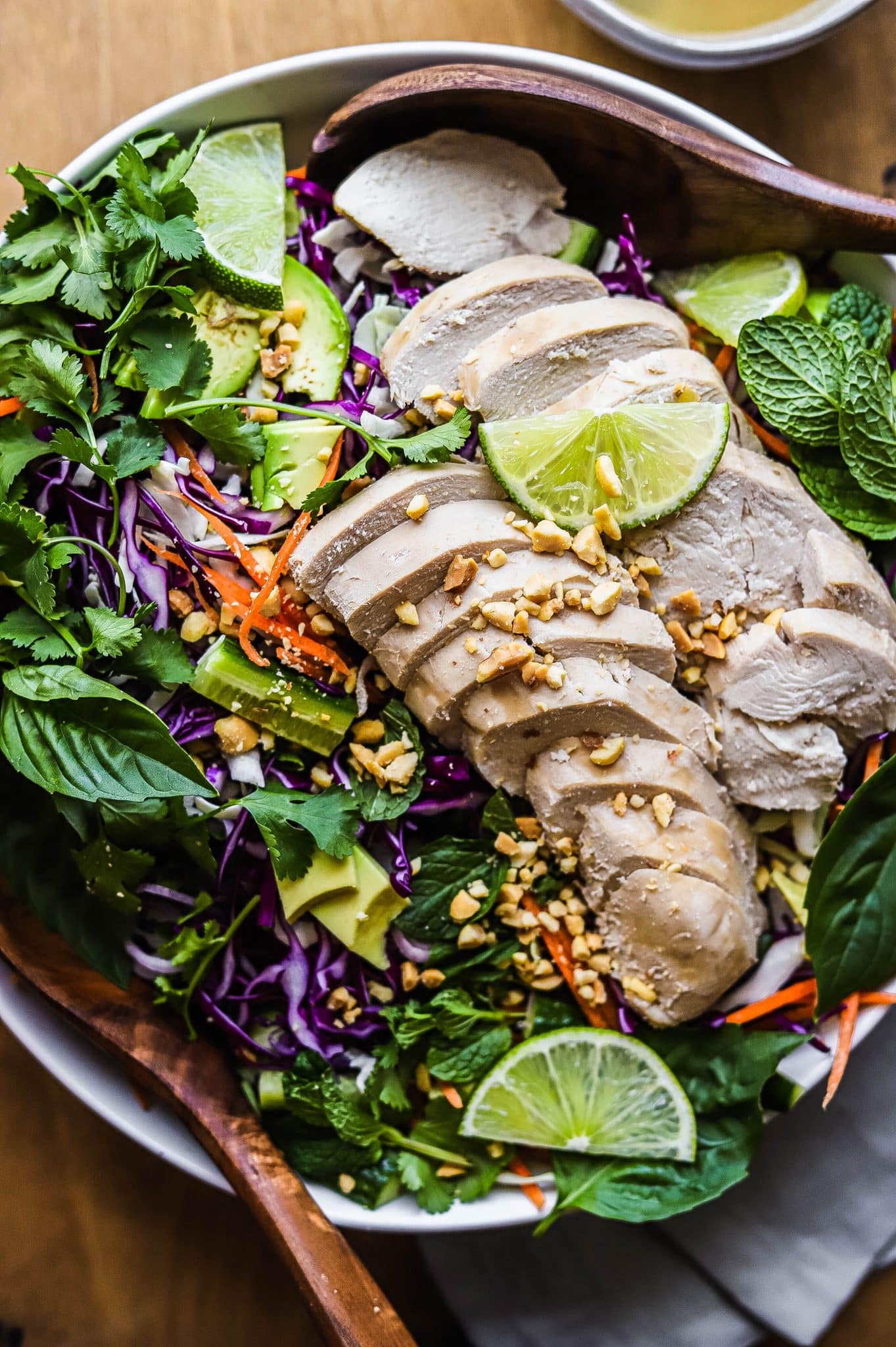 Summer salads are one of my favorite things–especially ones with tons of flavor and texture! This Vietnamese-inspired chicken cabbage salad totally delivers! It's a lot heartier than your average leafy green salad and the dressing is absolutely to die for.
As summer heats up, I find myself less and less inclined to turn on the oven. I'm all about those quick-prep meals that can last for the week, too! If that sounds like you, you'll definitely be adding this Vietnamese chicken cabbage salad into your regular rotation!
Vietnamese Chicken Cabbage Salad
While this recipe isn't strictly authentic, the flavors and texture in this dish draw heavily from Vietnamese cuisine. All across Vietnam you'll find hearty "shredded" salads loaded with fresh herbs and crunchy veggies and this salad is no different.
Using cabbage instead of a leafy green makes this salad so hearty and crunchy. It's also incredibly fresh and light for being so hearty. You'll feel full and satisfied without realizing how healthy this salad recipe is.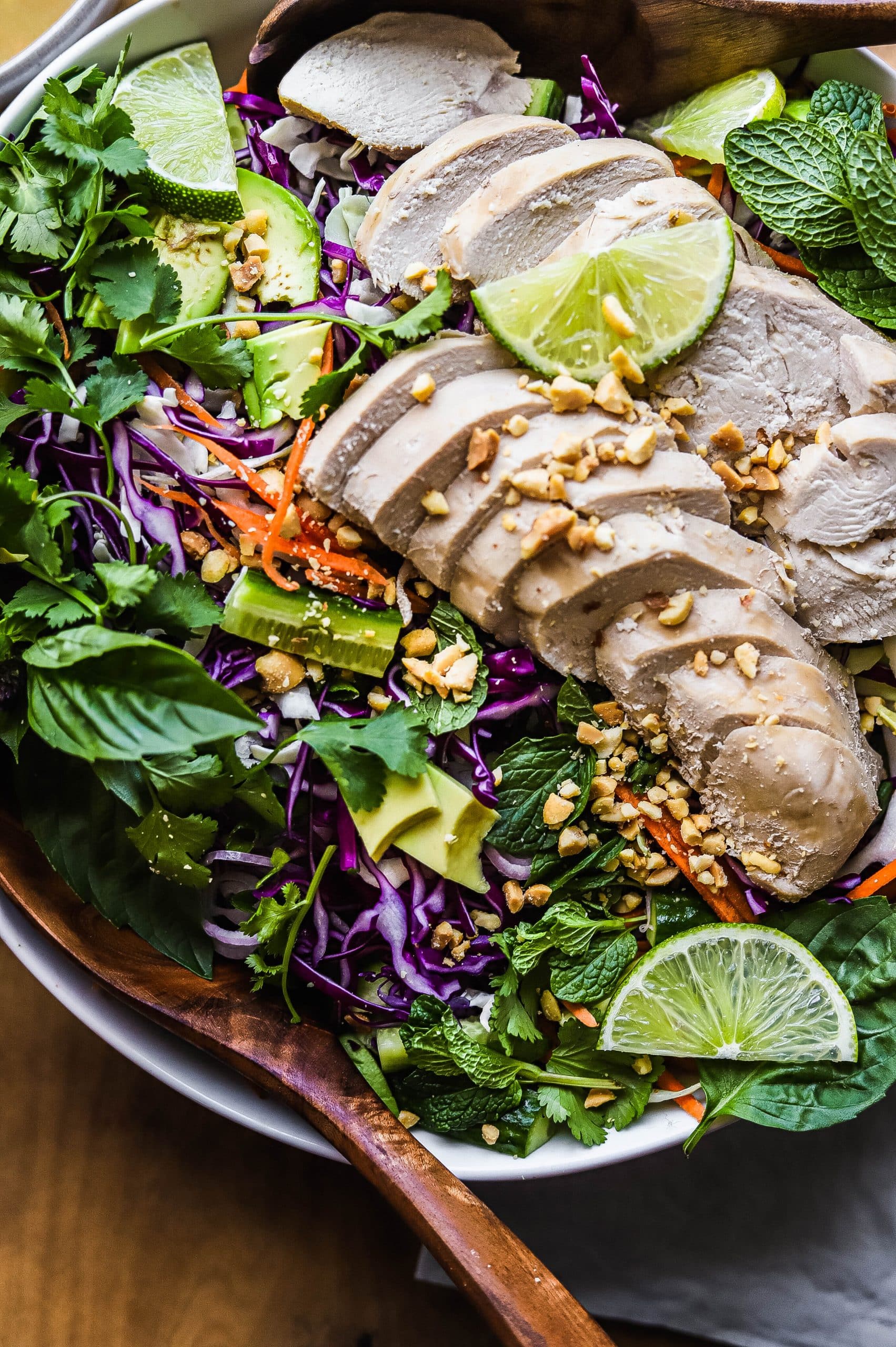 A Dinner-Worthy Salad Recipe
If you think that a salad for dinner won't be filling or satisfying enough, I urge you to give this recipe a try! All the crunchy cabbage and veggies are very filling and it's loaded with tender slow-poached chicken for extra protein.
If you don't want to poach chicken, you can easily swap in shredded rotisserie chicken, grilled chicken, or even grilled steak or pork. This Vietnamese chicken cabbage salad is loaded with hearty veggies and protein and is perfect for meal prep or a quick and easy dinner recipe.
How to make Vietnamese Chicken Cabbage Salad
You're going to love how easy this recipe is to make! It does require some chopping, but beyond that it's easy sailing into a healthy and hearty dinner-worthy salad.
Tools Needed
Ingredients You'll Need
Chicken. I love the slow-poached chicken here, but you can also swap in shredded rotisserie chicken for ease.
Cabbage. A mix of red and green is my favorite, but use what you have!
Veggies. I opt for thinly sliced shallot, shredded carrot, chopped cucumbers, and avocado.
Herbs. Fresh mint, cilantro, scallion, and Thai basil bring so much flavor to this dish.
Dressing. The dressing for this Vietnamese chicken cabbage salad is a simple mix of lime juice, fish sauce, soy, rice vinegar, sugar, Thai chilies, and ginger.
Peanuts. Chopped toasted salted peanuts add some amazing crunch and texture here!
The Process
Step one: If you're poaching your own chicken, start there! In a soup pod add 2 lbs of chicken breast, 3 inches sliced fresh ginger, 3 tablespoons soy sauce, 1 bunch of chopped scallions, and 1 tablespoon of salt. Cover with cold water and place on a burner over low heat. Bring to a very gentle simmer for 30 min until the chicken is cooked through. Remove from heat. Cool the chicken to room temperature in the broth. Strain and save the broth for future use!
Step two: Make the dressing by whisking all the ingredients together in a small mixing bowl until the sugar is dissolved. Set aside.
Step three: Chop all your veggies! While the chicken is poaching, I always chop my veggies. Make sure to cut the avocado last so it doesn't turn brown.
Step four: Assemble! Layer the cabbage with the chopped veggies and fresh herbs. Toss with dressing and portion into bowls. Top with the sliced chicken and toasted chopped peanuts.
Cooking with Fish Sauce
Fish sauce is one of the primary ingredients in Vietnamese cooking. It adds salt, flavor, and umami to many dishes. Made from fermented anchovies, it packs a punch of umami like soy sauce.
Yes, the smell is strong and it is fishy-tasting in plain raw form! When cooked or diluted and mixed with other elements, that funk fades away and you're left with a beautiful savory taste.
If you are averse to fish sauce, I really recommend giving it a shot! You can lessen the quantity in the dressing to reflect your personal tastes. Cooking is all about adaptation!
How to serve Vietnamese Chicken Cabbage Salad
As I mentioned, this salad packs a huge hearty punch! It's loaded up with protein and fibrous veggies which will keep you feeling full and satisfied. This salad recipe is meant to be a dinner worthy salad, but if you skip the protein it can easily be an easy side dish!
The salad is closer to a hearty slaw than a leafy green salad which usually leaves you hungry later. This is a dish best served at room temperature but you can also serve it chilled.
This salad recipe is also a great meal prep option! Leave the dressing separate and portion everything out for an easy lunch recipe.
More Asian-Inspired Recipes
This post contains affiliate links from which I receive a small commission at no additional cost to you. Affiliate links allow me to keep providing great recipes for free and I never recommend products that I don't love and personally own.
Vietnamese Chicken Cabbage Salad
If you love hearty salads with lots of flavor and texture, this Vietnamese chicken cabbage salad is for you! It's a healthy and simple weeknight dinner that's perfect for summer.
Ingredients
Poached Chicken
2

lbs

chicken breast

3

tablespoons

soy sauce

3

inches

fresh ginger, cut into slices

1

bunch

scallions (white and light green parts only)

1

tablespoon

kosher salt

8

cups

cold water
Dressing
1/4

cup

fresh lime juice

1

tablespoon

fish sauce

1

tablespoon

soy sauce

1

tablespoon

seasoned rice wine vinegar

1

tablespoon

dark brown sugar

2

tablespoons

olive oil

1-2

thai chilies, minced

2

teaspoons

freshly grated ginger
Salad
6

cups

shredded cabbage

2

cups

shredded carrots

1

cup

roughly chopped scallions (dark green parts only)

4

Persian cucumbers, chopped

2

shallots, thinly sliced

2

avocados, sliced

1/2

cup

chopped cilantro

1/4

cup

mint leaves

1/2

cup

Thai basil leaves

1/2

cup

roasted salted peanuts, roughly chopped
Instructions
Chicken
Combine all the ingredients for the chicken in a soup pot or dutch oven. Bring the chicken to a simmer and lower the heat all the way so that it's just barely simmering.

Simmer for 30 minutes and remove from the heat. Allow the chicken to cool in the broth.

Remove the chicken from the pot before serving and slice. Strain the broth that the chicken was cooked in and reserve for future use.
Dressing
Whisk together all the dressing ingredients until the sugar has dissolved. Set aside.
Salad
In a large bowl, layer together the cabbage, shallots, cucumber, carrot, and herbs. Toss with the dressing. Top with avocado, chopped peanuts, and the sliced chicken and serve.
You might also like...