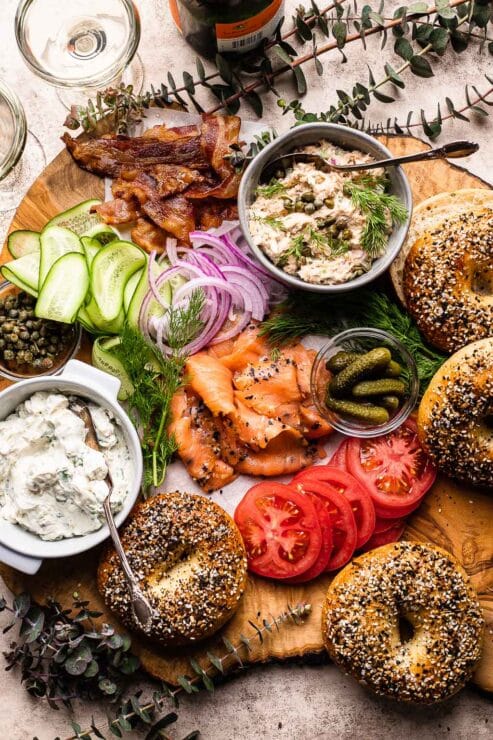 Smoked Salmon Bagel Board
Smoked Salmon Bagel Board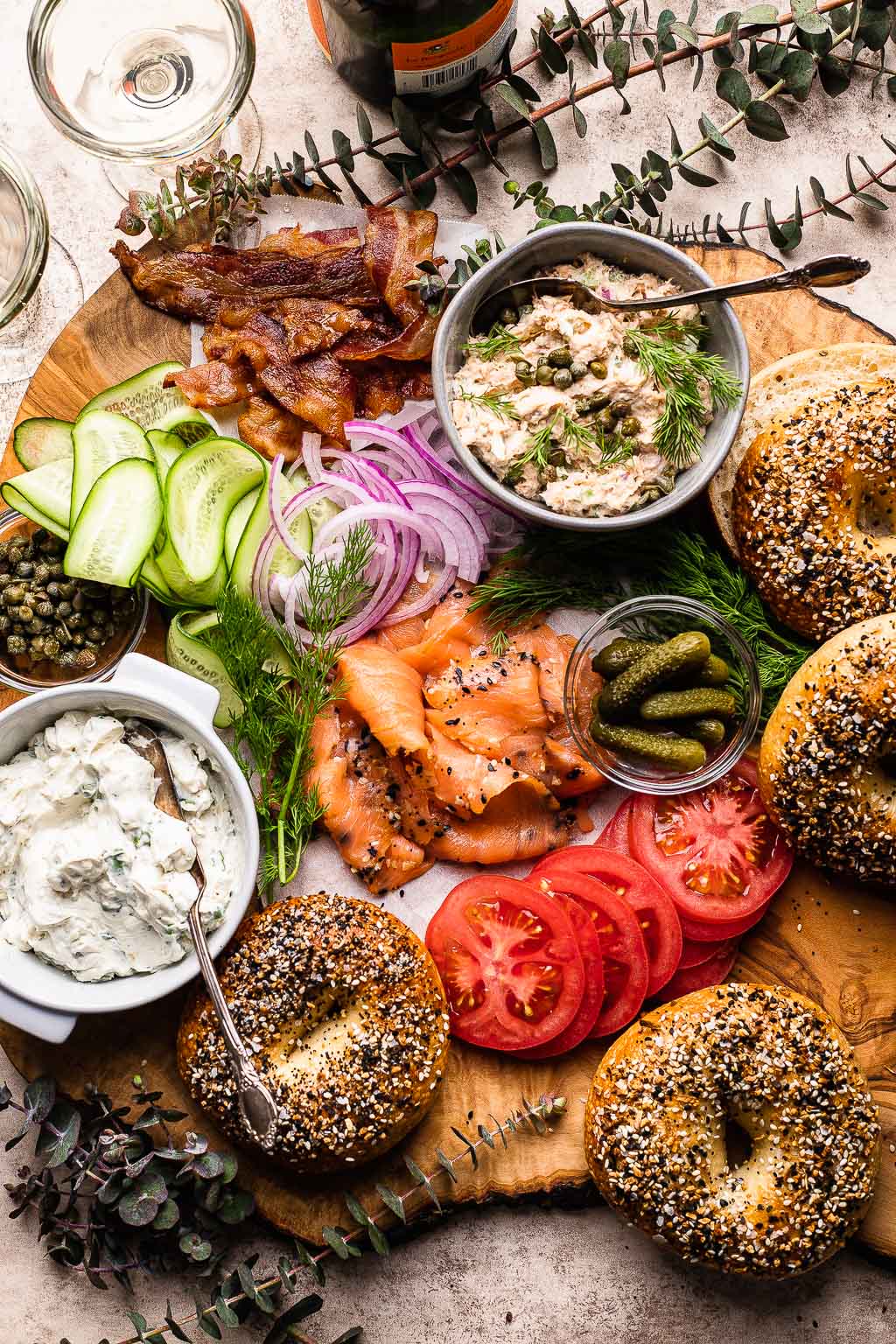 I'm thrilled to share one of my all-time favorite breakfast triumphs- the Smoked Salmon Bagel Board! It's perfect for an intimate weekend brunch or an all-out brunch extravaganza.
Picture this: a gorgeous spread of fresh, chewy bagels, creamy schmear, smoked fish salad, and silky, succulent smoked salmon slices. And that's just the beginning! We're talking about an ensemble of bright and flavorful ingredients, like sharp red onions, juicy capers, and zesty cucumbers that add a pop of freshness to each and every bite.
This is the lazy gal way to host a brunch that will never fail to impress! Easily feed a crowd with this Smoked Salmon Bagel Board–perfect for any occasion.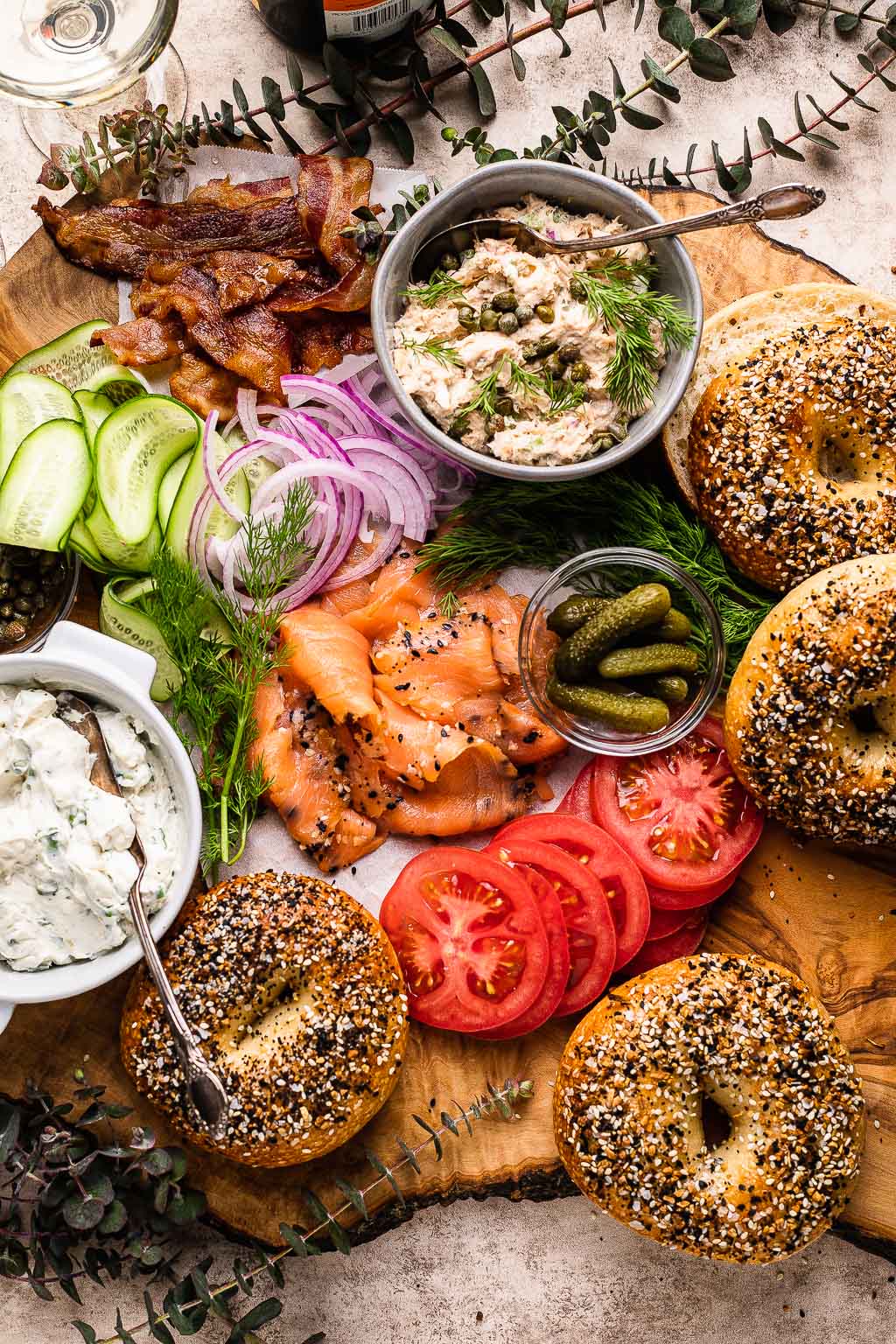 Smoked Salmon Bagel Board
I am a person who absolutely loves to host brunch. Enjoying a delicious brunch at home will always be preferable to going out. I die many deaths going out for brunch and overpaying for mostly mediocre food.
While it may seem like hosting a brunch is a lot of work, we're going to take all the guess work out with this simple smoked salmon bagel board. Brunch is as simple as gathering ingredients, sourcing some truly perfect bagels and schmear, and putting it all together! Your guests will love a build-your-own bagel situation.
I'm sharing all my tips and tricks for making the most epic bagel board that you can easily recreate at home. All that's left to do is pop the bubbly and OJ, mix up a pitcher of bloody marys, and enjoy!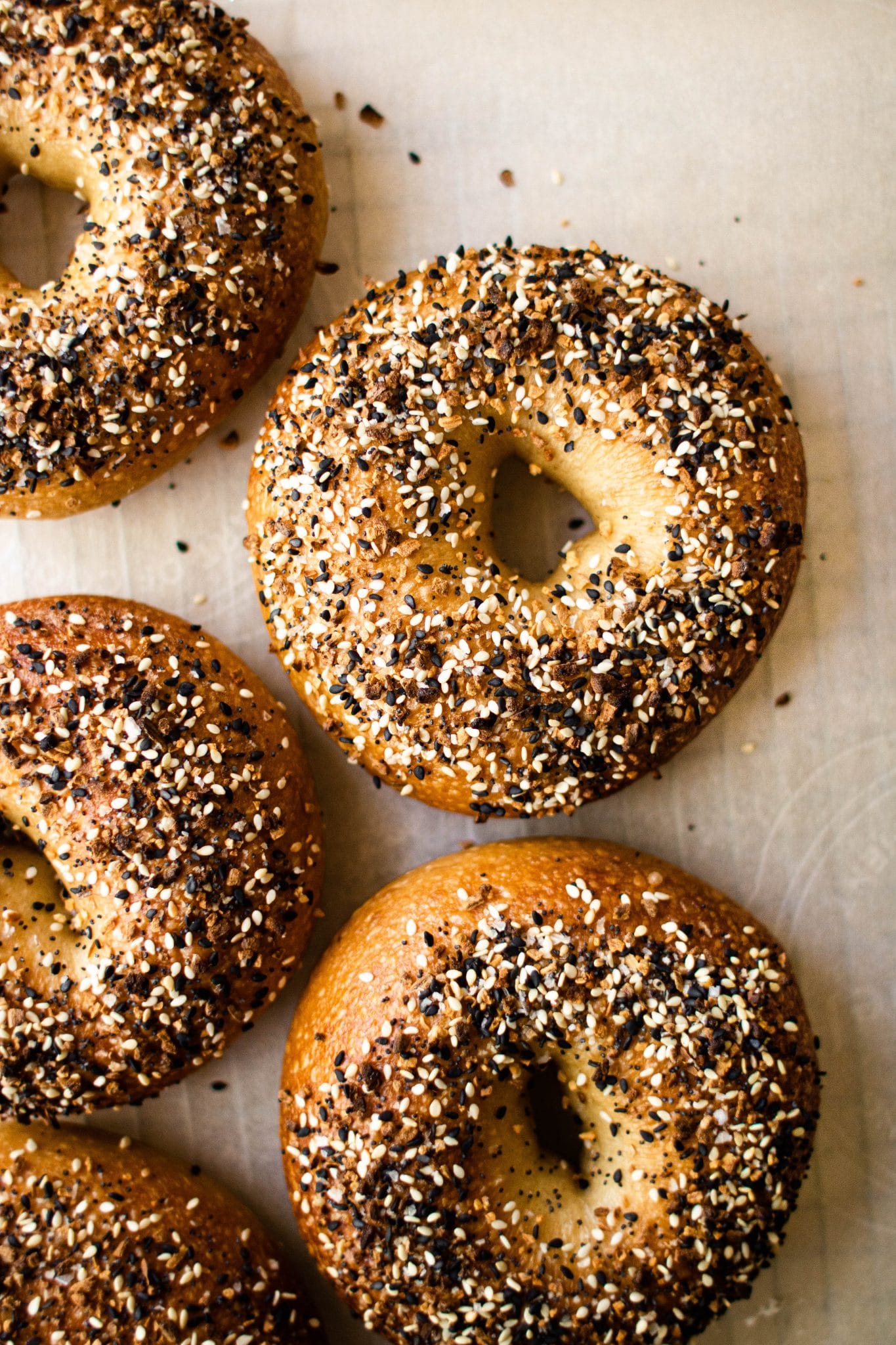 The Basics: Building the Perfect Smoked Salmon Bagel Board
Building a smoked salmon bagel board is so simple and straightforward. But what are the must-haves for a bagel board? We're going to dive in to all the ingredients necessary for crafting the perfect brunch board.
The Bagels
There is absolutely nothing better than a fresh, chewy bagel. But, the type of bagel you're serving matters. I am firmly in the New York style-bagel camp where bagels are boiled before baking, resulting in a masterpiece that is both crusty and chewy. Naturally, I lean toward everything bagels (arguably the best bagels), but also have some sesame, onion, and plain or egg bagels on hand.
If you want to try your hand at baking your own bagels, give my NY Style Bagel recipe a try! Otherwise, my recommendation is to head to your local bagel bakery and pick up fresh bagels. Bonus points if you have a classic Jewish delicatessen in your area!
If you're really desperate for a true NY bagel experience, you can have bagels delivered from across the country with Gold Belly.
Cream Cheese vs. Schmear
It can't possibly be an epic bagel board without some schmear. Simply put, schmear is a spreadable cream cheese. But, it's not the whipped cream cheese you'll find at the grocery store! Softened cream cheese is beat together with a bit of sour cream and desired mix-ins like scallions.
I have a simple recipe for scallion schmear (my favorite!) at the bottom, but you could visit any local bagel shop to get your favorites.
The Star of the Show: Smoked Salmon Selection
The star of the bagel board is undoubtedly the seafood selection! There are so many great options for smoked seafood that make this board so versatile and perfect for a crowd.
The first and obvious choice is some quality smoked salmon! For this, I recommend visiting a Jewish delicatessen if you're able to and opt for the hand-sliced smoked salmon or lox. Lox is a cured salmon that is not smoked, while Nova Lox is cold smoked.
My homemade Gravlax recipe is another great option! It's salmon that has been cured with salt, sugar, and fresh herbs and spices like dill, lemon, juniper berries, peppercorns, etc. It's incredibly easy to make and is perfect for enjoying on a bagel!
Smoked fish salads are another delicious topping that can be purchased at various seafood markets and delicatessens. My Smoked Salmon Spread is delicious bagel topping that combines chopped smoked salmon, cream cheese, shallots, capers, and dill. Everything you'd put on a bagel, in spread form!
Additional Meats for a Smoked Salmon Board
I try to accommodate all my guests when I'm entertaining and there are always going to be some folks who are seafood averse. If you're heading to a delicatessen to pick up smoked salmon, bagels, and smoked fish salad, you may as well grab some pastrami too!
I always have some crispy bacon to add to my bagel board as well. You truly have not lived until you've had a fresh bagel loaded with both smoked salmon and crispy bacon!
Chicken salad is another great alternative to seafood to have on hand.
Beyond the Basics: Elevating Your Bagel Board Toppings Game
Now that you've got the mains for your smoked salmon board squared away, it's time to talk toppings! While there are plenty of bagel purists who opt for a simple bagel with cream cheese and smoked salmon, I love having a ton of toppings.
My favorite toppings for this salmon bagel board are:
Thinly sliced red onions
Sliced vine ripe tomatoes
Sliced avocado
Thinly sliced baby cucumbers
Capers
Cornichons or pickles
Baby Arugula
Fresh dill
Lemon Wedges
There's something there to please everyone and lots of toppings options to construct the perfect bagel.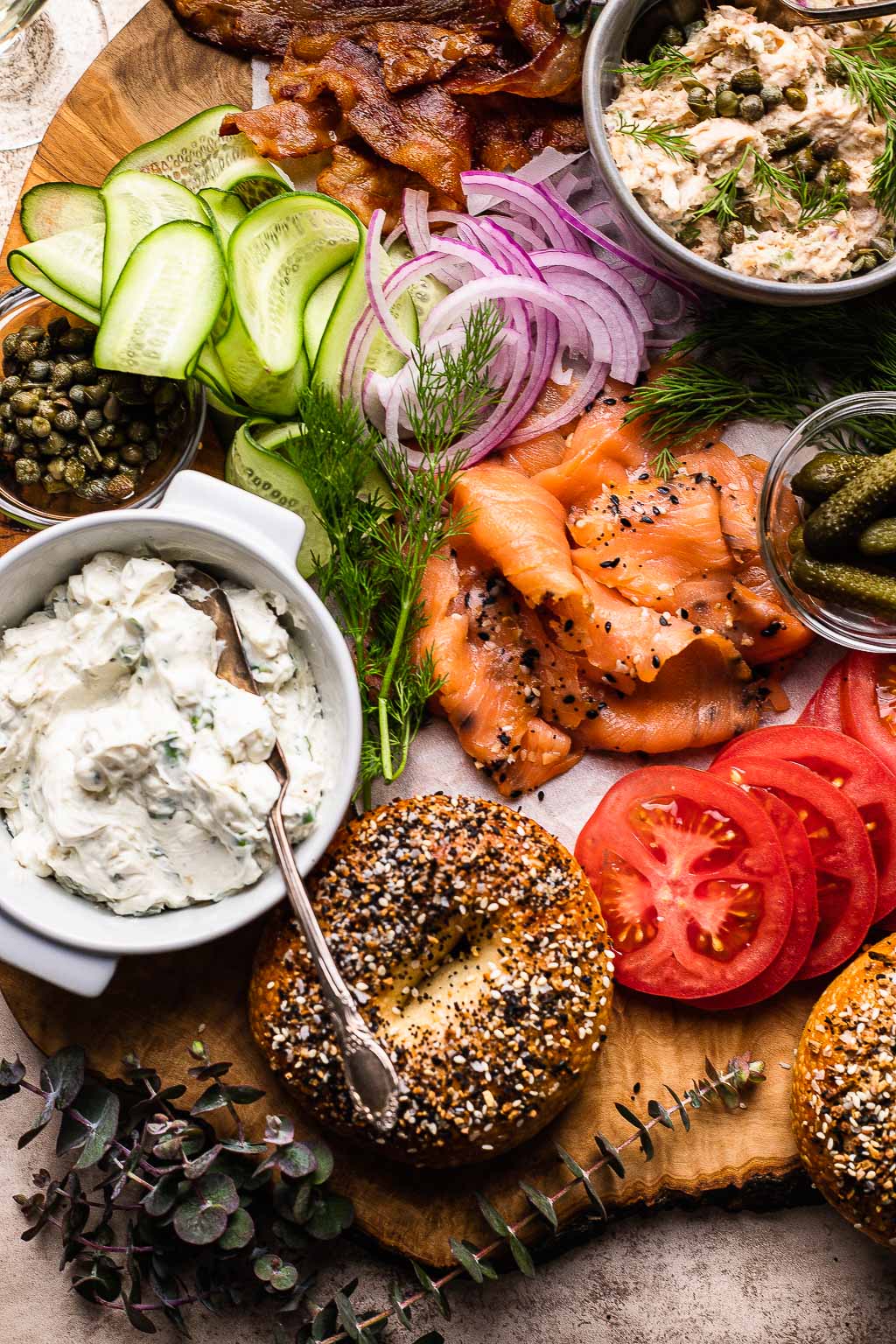 Assembling Your Smoked Salmon Bagel Board
Once you've decided on your ingredients and have everything chopped, it's time to assemble your epic bagel board!
Start by finding the perfect serving board or plank. Make sure it's large enough to hold all your ingredients!
I like to lay the pieces of smoked salmon, bacon, and pastrami (if using) on little square pieces of parchment paper or wax paper to keep the oil from staining the serving board.
Get your schmear, fish salad, and any wet ingredients (like capers or cornichons) into little serving bowls and arrange them around your bagel board.
Just before serving (so they don't dry out), slice the bagels in half and dig in! If you're using fresh bagels, there's no need to toast them. If I'm trying to revive frozen bagels, I let them defrost in the fridge and them pop them whole into a 350 F degree oven for 5-7 minutes.
Storage Instructions
If you end up having leftovers from your smoked salmon bagel board, they're easy to save and store!
Place any leftover bagels in a ziplock bag and store in the fridge or freezer for up to 3 months. Unfortunately fresh bagels don't last long so plan to freeze any bagels you don't eat within 24 hours.
Reheating frozen bagels: If I'm trying to revive frozen bagels, I let them defrost in the fridge and them pop them whole into a 350 F degree oven for 5-7 minutes.
Any leftover seafood should be stored in an airtight container in the fridge and eaten within 1-2 days.
Store your leftover veggies in an airtight container in the fridge and eat within 2-3 days.
Important note: Do not leave any seafood out longer than 2 hours before refrigerating again to avoid any potential food borne illnesses.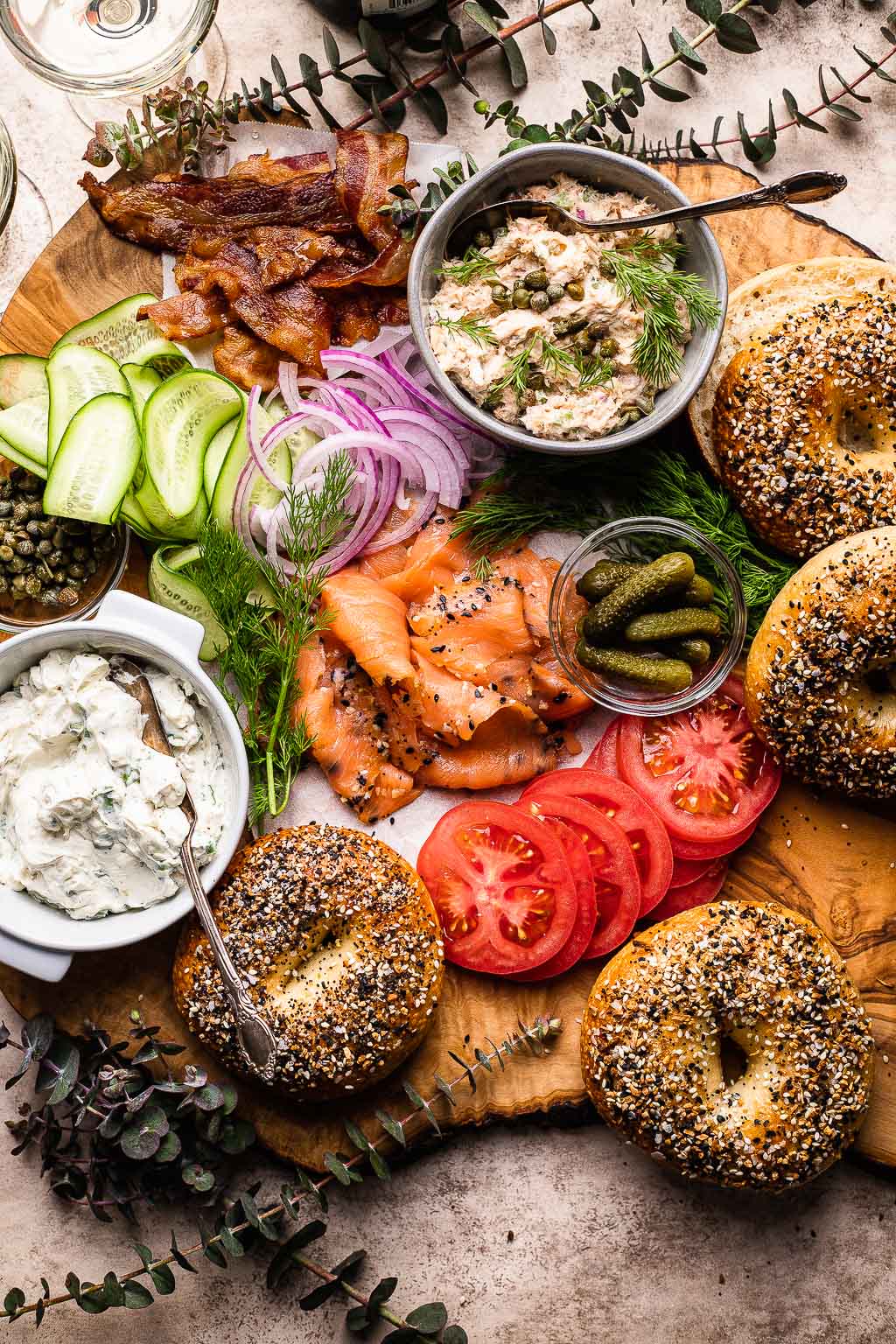 ---
You can easily be the queen of any brunch with this Smoked Salmon Bagel Board! Next time you're entertaining, we'd love to be part of your brunch spread. If you do give this recipe a try, be sure to let me know! Leave a comment with a star rating below. Be sure to subscribe to my weekly newsletter and never miss a new recipe! You can also snap a photo & tag @JENNYGOYCOCHEA on Instagram. I LOVE hearing about & seeing your SMF creations!
More Brunch Recipes to Try Now
This post may contain affiliate links from which I receive a small commission at no additional cost to you. Affiliate links allow me to keep providing great recipes for free and I never recommend products that I don't love and personally own.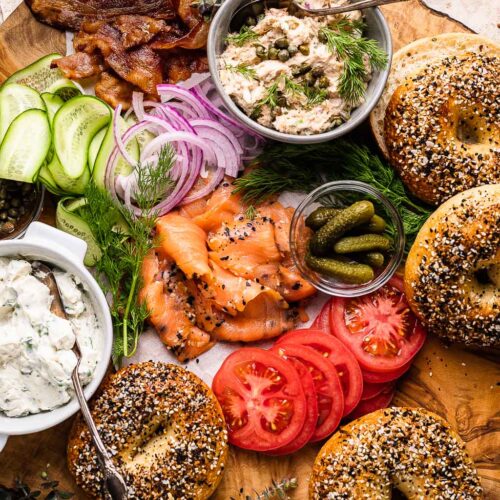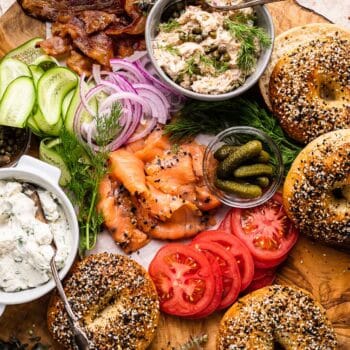 Smoked Salmon Bagel Board
I'm thrilled to share one of my all-time favorite breakfast triumphs- the Smoked Salmon Bagel Board! It's perfect for an intimate weekend brunch or an all-out brunch extravaganza.
Ingredients
Scallion Cream Cheese (Schmear)
12

oz

cream cheese, room temperature

1/2

cup

thinly sliced scallions (light and dark green parts only)

2

teaspoons

dehydrated onion

1/4

cup

sour cream, room temperature

salt and pepper, to taste
Smoked Salmon Bagel Board
2

lbs

smoked salmon, lox, gravlax, or sable

1

lb

smoked fish salad

12

strips

cooked bacon

1/2

lb

pastrami, optional

2-3

vine ripe tomatoes, sliced

2

baby cucumbers, thinly sliced

1

red onion, thinly sliced

1/4

cup

capers

1/2

cup

cornichons

2

cups

fresh arugula, optional

3-4

sprigs

fresh dill
Instructions
Make the cream cheese schmear. Using a hand mixer, beat the sour cream and cream cheese together until soft. Fold in the thinly sliced scallions and dehydrated onion and season with salt and pepper. Do this in advance so the flavors have time to meld.

Slice bagels in half, then place on a platter or in a basket.

Place cream cheese, seafood salads, capers, and cornichons in small bowls, then arrange on a large cutting board or serving platter.

Spread the salmon pieces, bacon, and pastrami on pieces of parchment or wax paper and arrange on the board.

Add the remaining ingredients around the board for easy access. Don't forget serving spoons, tongs, and spreaders for your guests! Dig in!
You might also like...