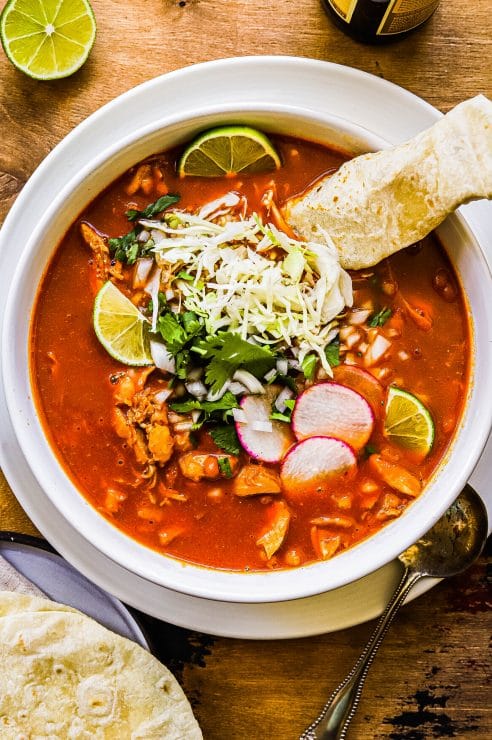 Red Pozole with Chicken
Red Pozole with Chicken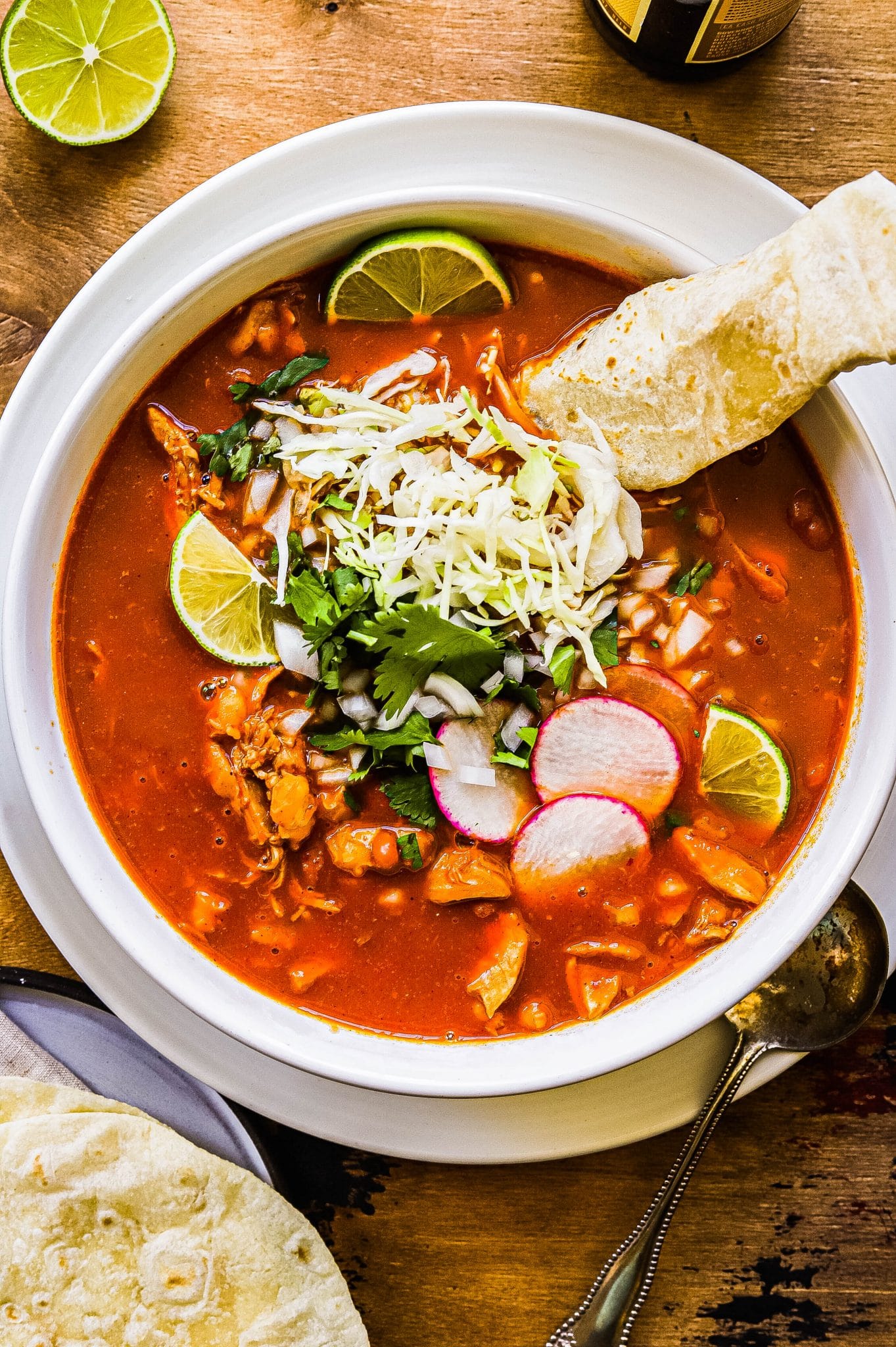 Red pozole with chicken is one of my absolute favorite comfort food meals. I grew up eating it in the fall and winter months because it was my Dad's favorite. We always served it with warm tortillas for dipping in the broth, lots of finely shredded cabbage, onions, cilantro, avocado, radishes, and lots of fresh lime.
Pozole is a dish that always reminds me of him and makes me feel closer to him when I make it. My version is a bit healthier, utilizing chicken breast instead of fatty pork, but it's no less flavorful and tasty. The broth is really the key here so using homemade chicken broth is essential! If you need a quick recipe for chicken broth, check out my instant pot chicken broth recipe HERE.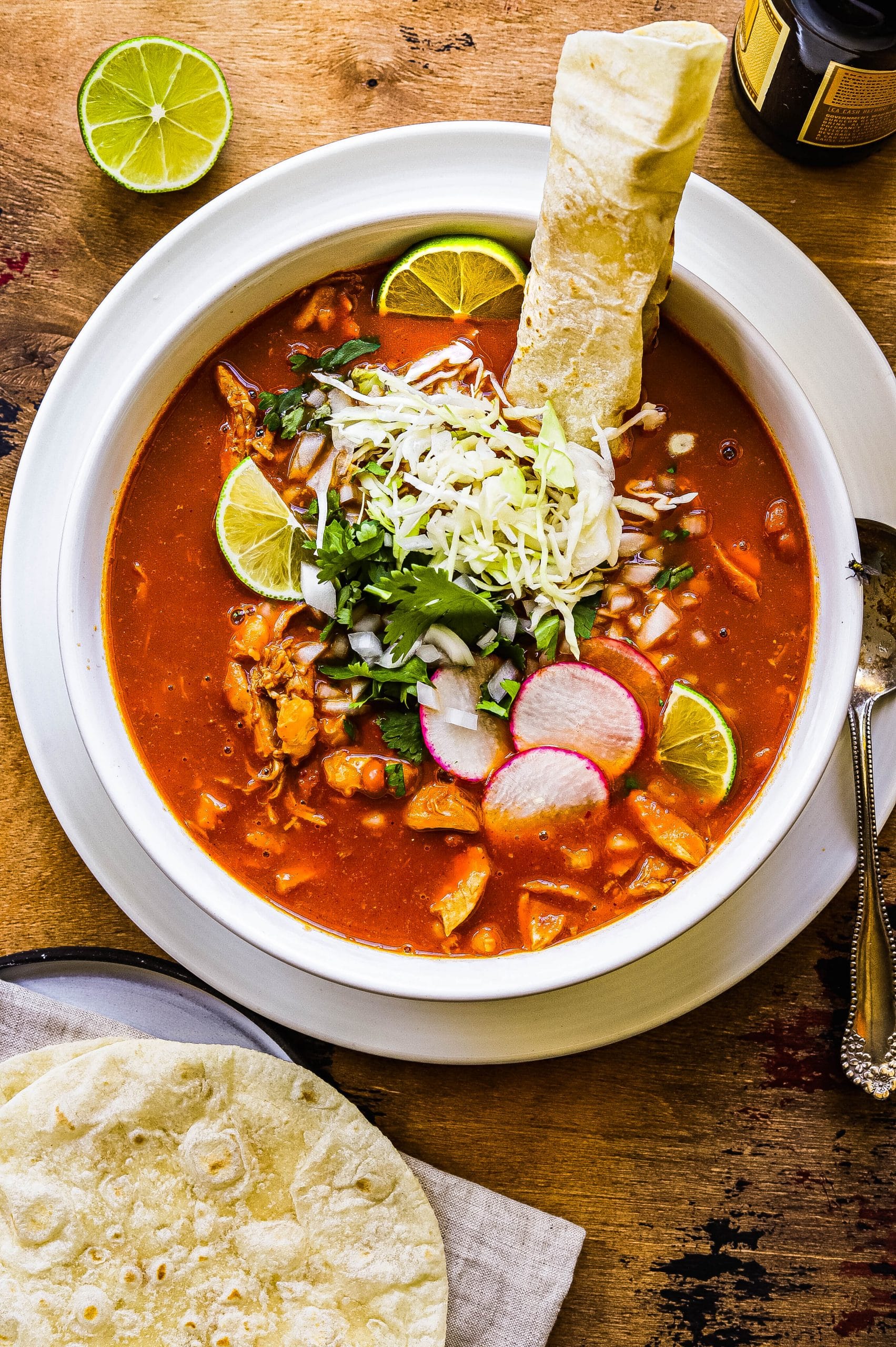 What is Pozole?
Pozole is a meat and hominy stew, traditional to Mexican cooking. It's traditionally made with pork and served with shredded cabbage or lettuce, onions, chile peppers, cilantro, radishes, avocado, and/or lime. Pozole is a typical dish in various states such as Nayarit, Sinaloa, Michoacan, Guerrero, Zacatecas, Jalisco, and Morelos. It's been around since the 16th century or so, and originated in Aztec culture as maize (corn) was a sacred plant and they created this dish to observe special occasions.
While this recipe has roots in Hispanic and Mexican cooking, I don't claim for it to be authentic. This is my version with some tweaks to make it a bit healthier.
Red Pozole vs. Green Pozole
The broth is red because I use dried red chilies. There are other versions such as green pozole which is made using tomatillos and cilantro, or white pozole which is neither.
How to make Red Pozole with Chicken
Tools Needed
Ingredients you'll need
Chicken. I love this with a mix of chicken breast and thighs, but you can do all of one or the other. You can also make this with leftover shredded rotisserie chicken.
Broth. Using homemade broth is essential for red pozole with chicken–it adds so much extra flavor.
Aromatics. We're using garlic, onion, carrot, and jalapeño here to make the broth super flavorful. It'll taste like it's been simmering for hours!
Dried chilies. We're using a mix of guajillo, ancho, and chile de arbol for some spice and flavor. You can find dried Mexican chilies at just about any grocery store and Mexican market.
Hominy. Hominy is

produced from dried maize kernels that have been treated with an alkali, in a process called nixtamalization. You can find them canned in most well-stocked grocery stores, or at your local Hispanic grocery store.

Pinto beans. This is very untraditional, but I love the extra protein and texture that pinto beans add to the soup. Feel free to leave them out.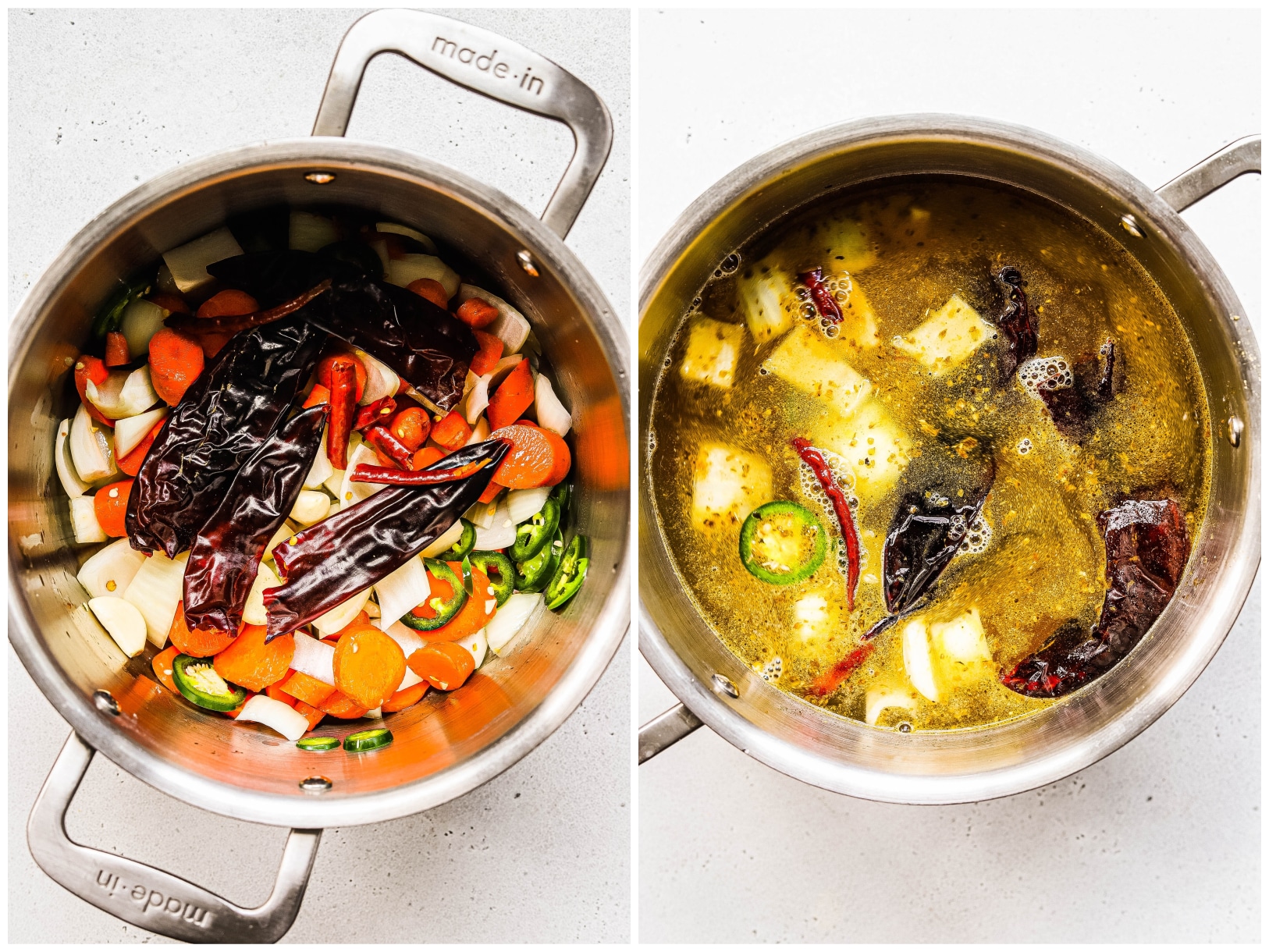 How to prepare red pozole with chicken
Start your broth. In a soup pot, start by sautéing your veggies (onion, garlic, carrots, and jalapeno) until slightly softened. Add your dried chilies, chicken, and broth to cover and bring to a simmer. Simmer until the chicken is cooked all the way through.
Shred your chicken. Once your chicken is cooked through, remove it from the pot. Once it's cool enough to handle, shred the meat into strips.
Blend the broth. Continue to simmer the broth until all the veggies are soft. Using a slotted spoon, transfer all the solid ingredients to the carafe of a high-powered blender. Cover with enough liquid to blend and blend until very smooth. Return the pureed broth to the pot and add the shredded chicken, hominy, and pinto beans (if using). Simmer for another 10-15 minutes and season to taste with salt and pepper.
Serve. Ladle the soup into bowls and top with shredded cabbage, diced white onion, minced cilantro, sliced radishes, and limes. Serve with warm tortillas.
Red Pozole with Chicken FAQs
Pozole vs Posole
Different regions have different spellings for this iconic dish!
What is red Pozole served with?
You can serve pozole with a variety of toppings! Shredded cabbage, diced onion, cilantro, avocado, limes, and sliced radishes are my favorites. Don't forget the warm tortillas on the side!
Can I freeze pozole?
Yes! You can freeze pozole in an airtight container or ziplock bag for up to 6 months. Pozole will also keep in the fridge for about 7-10 days.
Is red pozole with chicken gluten-free?
Yes! As the recipe is written, red pozole with chicken is gluten-free. Serve with corn tortillas vs flour.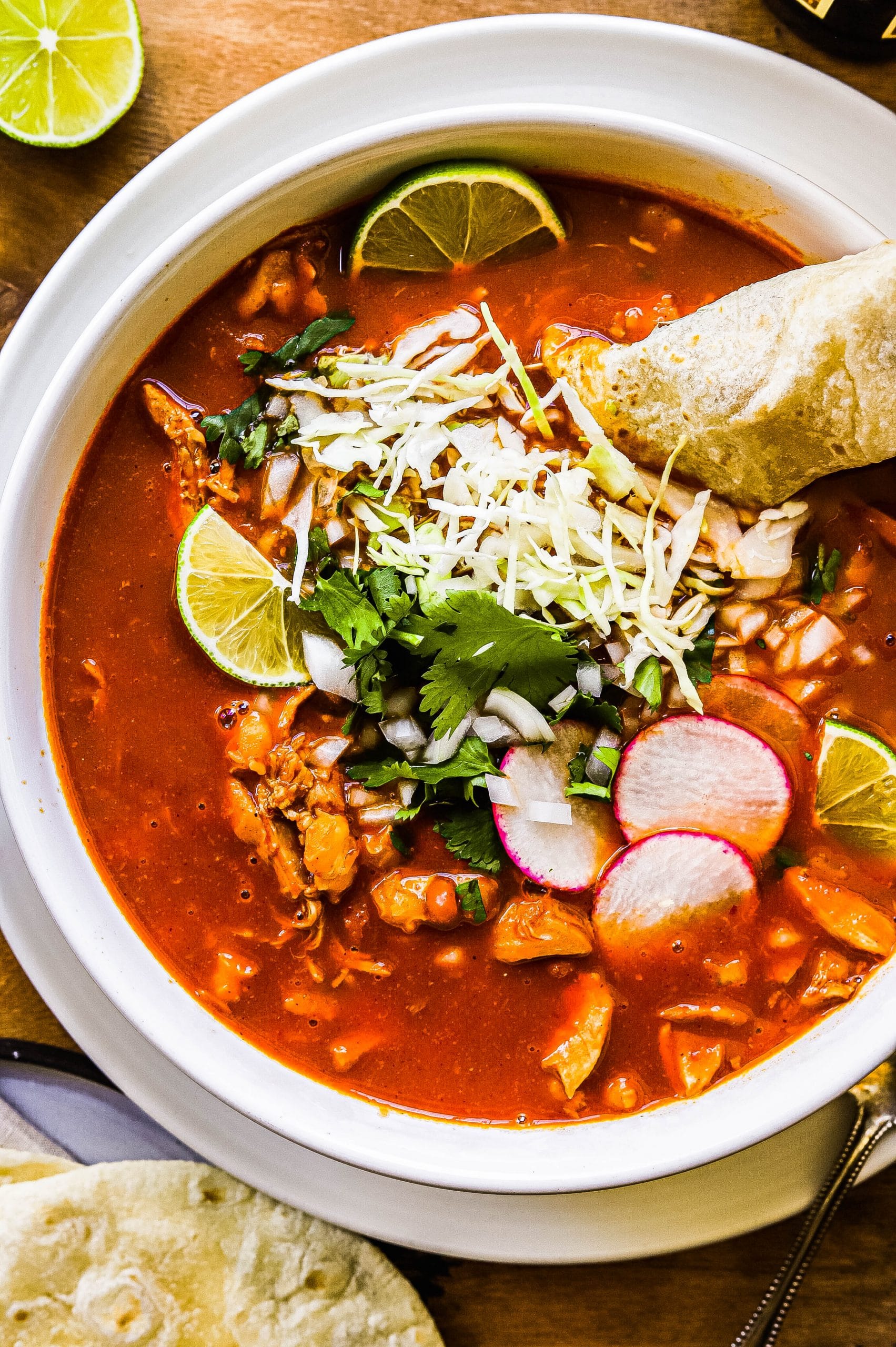 More Recipes to Try
This post contains affiliate links from which I receive a small commission at no additional cost to you. Affiliate links allow me to keep providing great recipes for free and I never recommend products that I don't love and personally own.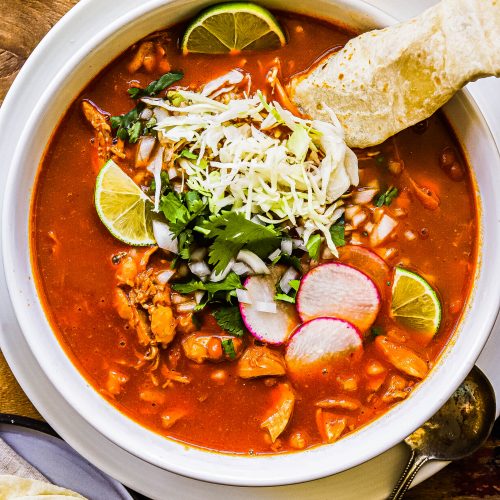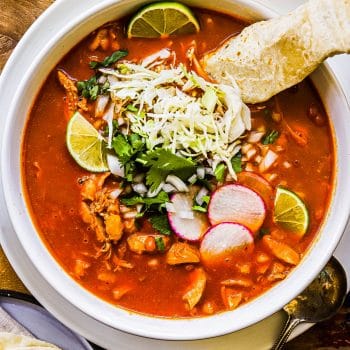 Red Pozole with Chicken
Red pozole with chicken is our favorite soup for when the weather gets chilly!
Ingredients
Pozole:
3

boneless skinless chicken breasts

4

boneless skinless chicken thighs

8

cups

chicken stock or broth

preferably homemade

2

tablespoon

olive oil

1

onion

chopped

3

carrots

chopped

3

garlic cloves

whole

4

dried New Mexico or Guajillo chilies

seeds and stem removed

1

dried ancho chile

seeds and stem removed

2-3

dried chile de Arbol

optional, seeds and stem removed

1

jalapeno

sliced (optional), stem removed

2

teaspoons

ground cumin

1

teaspoon

dried Mexican oregano

3

cups

white or yellow hominy

2

cups

canned pinto beans

rinsed (optional)

salt and pepper to taste
For Serving:
1/2

cup

finely minced white onion

4

tablespoons

finely minced cilantro

1

cup

finely shredded green or red cabbage

Thinly sliced radishes

Diced avocado

Corn or flour tortillas

warmed

Lime wedges
Instructions
In a small (4qt) stock pot or dutch oven, heat the olive oil over medium heat. Once the oil is hot, add the chopped onion, carrot, jalapeno and garlic and cook for 3-4 minutes until the onion starts to become translucent. Add the cumin, oregano and dried chilies and cook for 1 minute more, until fragrant.

Add the chicken broth, chicken breasts, and chicken thighs to the pot and season with a bit of salt and pepper. Cover and gently simmer on low for 30 minutes, or until the chicken is cooked through and the carrots are tender.

Remove the chicken breasts from the pot and transfer them to a plate. Once they have cooled slightly, use your hands or a fork to shred them into large chunks. Set aside.

Using a slotted spoon, remove all the solids from the broth (carrots, onions, jalapeno, garlic, dried chilies) and transfer them to the carafe of a blender. Cover with just enough broth to make them easy to blend and then blend until very smooth. Return the contents of the blender to the pot. Add the shredded chicken, hominy, and pinto beans (if using), to the pot as well and bring to a simmer for another 10-15 minutes and season to taste with salt and pepper.

Ladle soup into bowls and top as desired with cabbage, onion, cilantro, avocado, radish, tortillas, and freshly squeezed lime juice.
Notes
This recipe can be cut down to make less soup, but I love leftover pozole because the flavors only get better as they sit!
Nutrition
Serving:
2
cups soup
Calories:
420
kcal
Carbohydrates:
31
g
Protein:
53.9
g
Fat:
7.6
g
Saturated Fat:
1.9
g
Cholesterol:
151
mg
Sodium:
766
mg
Fiber:
9
g
Sugar:
5.1
g
You might also like...