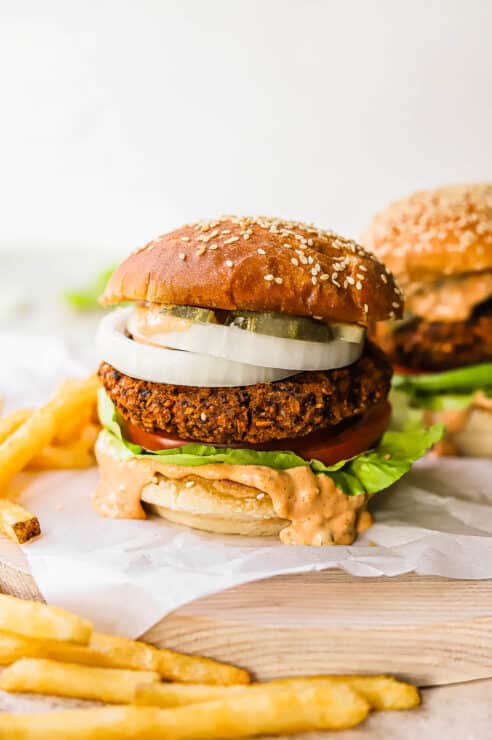 Black Bean Walnut Burgers
Black Bean Walnut Burgers
If you've been looking for the best veggie burger recipe, these black bean walnut burgers are it! Say goodbye to mushy bean burgers, and say hello to your new favorite veggie griller. Yes, you can actually grill these black bean walnut burgers without them falling apart!
I was a vegetarian for over 6 years and in that time I've eaten numerous veggie burgers. I've had some good ones, lots of mushy ones, but none that ever felt hearty enough to compete with a burger. Until now. These black bean walnut burgers are hearty and they've got a great texture.
These black bean walnut burgers are grill-able, freezer-friendly, and totally reliant on easy pantry staples. They're vegetarian, gluten-free, and dairy-free!
The Best Black Bean Burgers
If you've ever come face to face with a mushy veggie burger, you know they can be absolutely awful. This black bean walnut burger is the direct opposite of that! It's got wonderful meaty texture thanks to the beans and walnuts with a smoky umami flavor. Finally, a plant-based burger recipe that uses simple ingredients, is easy to make, & holds up like a dream on the grill!
While these burgers aren't mushy, they don't fall apart either which is the other kiss of death for a veggie burger. They're the perfect balance of meaty texture without feeling dry. They're also packed with tons of flavor from a bit of liquid smoke, tomato paste, dijon mustard, and key spices.
If you're looking to switch it up on occasion from eating a regular beef burger, these are a great plant-based option to rotate in! They're heart healthy and filling and loaded with protein and healthy fats. I'm always looking for ways to incorporate more plant-based eating and these black bean walnut burgers make it easy!
How to Make Black Bean Walnut Burgers
While there's a huge increase in buy-able plant-based burgers, there's something about making your own! I love being able to control exactly what goes into my food. These black bean walnut burgers are made with whole, recognizable ingredients–many of which you probably have in your pantry right now!
Tools Needed
Ingredients and Substitutions
Beans. Black beans are classic here but you could swap in pinto beans or white beans if that's what you have. Black beans add flavor and lean protein and fiber to the burgers!
Walnuts. Walnuts are the secret ingredient to a satisfying texture that mimics meat. They also add heart-healthy omega 3 fats!
Old Fashioned Oats. Rather than use bread crumbs like other recipes, using oats makes the burgers gluten free and adds some extra bulk to the burgers.
Spices. Dehydrated onion and garlic add a bunch of flavor without adding extra moisture. Paprika and store-bought steak seasoning add lots of umami without having to add a ton of different spices.
Liquid smoke. This is an optional ingredient, but a little bit of smoky flavor really makes the burgers extra satisfying.
Wet Ingredients. Egg, mayonnaise, tomato paste, and dijon all act as flavorful binders. Vegans, swap in your favorite vegan mayo and egg replacer to make these black bean walnut burgers vegan.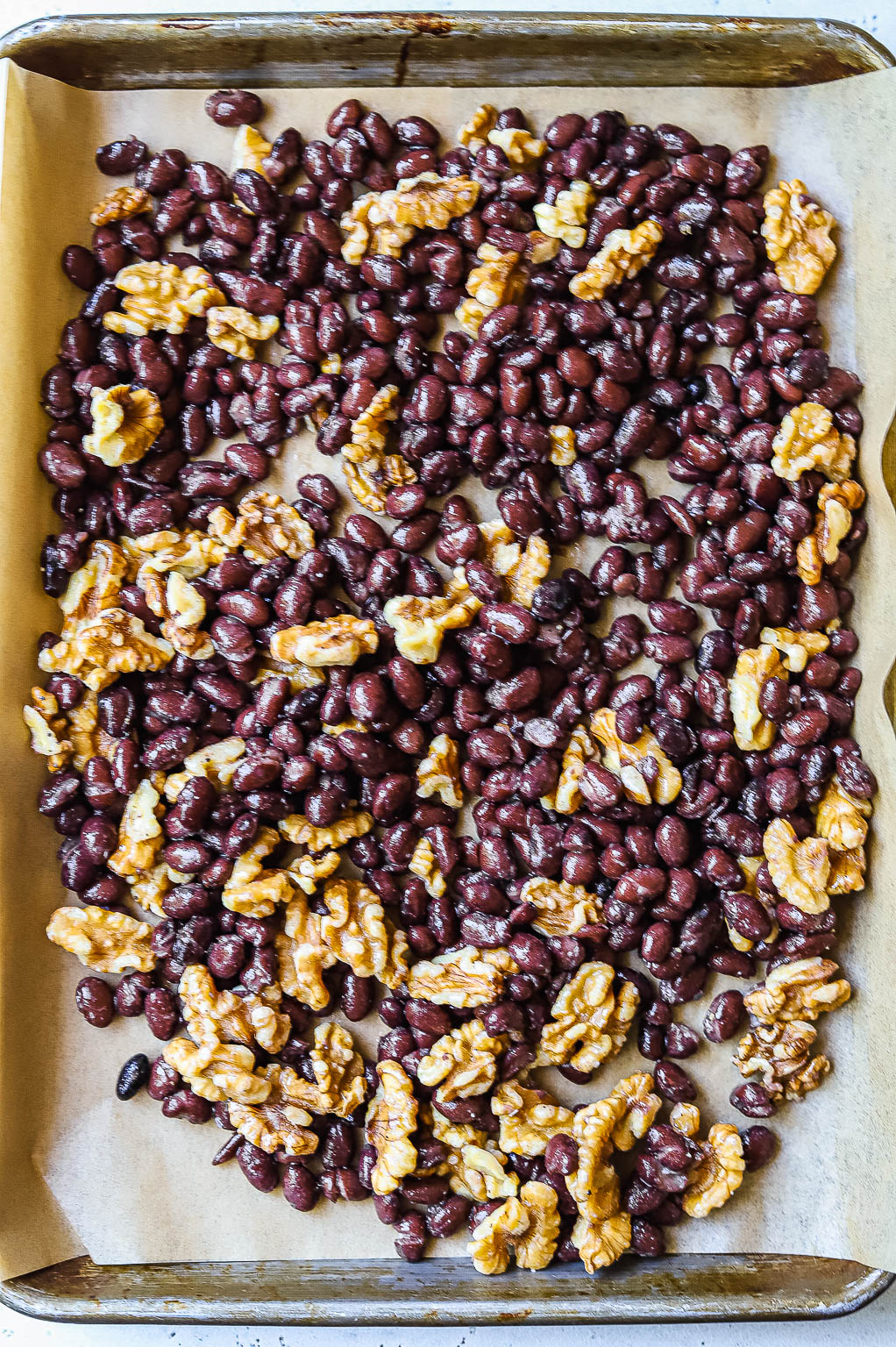 The Process
My main goal for this recipe was for it to not feel super labor intensive to make your own veggie burgers at home. There are several steps, but the whole process has a lot of inactive time and comes together quickly.
Toast up the beans and walnuts. Toss the walnuts and rinsed black beans together in a mixing bowl with olive oil, salt, and pepper. Spread them on a baking sheet lined with parchment paper and bake for 20 minutes at 350 F. This is an essential step. Drying out the black beans and toasting the walnuts not only gives them flavor, but keeps the finished burgers from feeling mushy.
Pulse the oats. While the beans and walnuts cool, pulse the oats in a food processor until they're close to a flour-like consistency. It's okay if there are still some pieces!
Pulse the beans and walnuts. Once the walnuts and beans are cooled, add them to the food processor and pulse until no large chunks remain.
Mix the burgers. Whisk the wet ingredients together in a mixing bowl and then fold in the bean mixture from the food processor. Once the mixture holds together, form them into patties and refrigerate for 20 minutes.
Fire up the grill! Since the burgers are already cooked, you're just looking to warm them through. Heat a grill or grill pan to medium-high heat and grill for 4-5 minutes per side. Throw them on a bun with your favorite toppings and enjoy!
Shaping Black Bean Walnut Burgers
The shaping process is important to make sure the burgers don't fall apart on the grill. You want to make sure they're tightly formed into pucks.
Start by dividing the mixture into four equal portions. This recipe makes enough for 4 burgers, so it's easiest to start by dividing the burgers into 4 portions. Roll the mixture into a tight ball.
Press each ball into a 1-inch thick patty. Use your hands to press them into patties, keeping the mixture really tightly formed. If they crack a little, just use your fingers to press the mixture back together.
Again, it's incredibly important that your burger patties are as compact as possible; this is how you keep the black bean burgers from falling apart or crumbling as they cook.
MAKE AHEAD OPTION:
Whether you're looking for a shortcut for weeknight cooking or you'd like to pack a meatless burger to bring with you to a backyard BBQ, this plant-based burger recipe is so easy to prep ahead of time.
Store the formed meatless burger patties in an airtight container, separating them with a piece of wax or parchment paper. Refrigerate for up to 5 days. When you'd like to make your black bean burgers, simply preheat the grill & cook them off.
Alternately, you can freeze them on a baking sheet in a single layer and then transfer to a freezer-safe ziplock bag. You can freeze them for up to 3 months. Simply defrost them overnight in the fridge and grill according to instructions.
How to Serve Black Bean Walnut Burgers
Now's time for the best part: serving and eating your black bean walnut burgers! You already know that I'm a huge toppings girl, so here are some of my favorite options for veggie burger toppings:
Cheese. I love throwing some melty cheese on a veggie burger! My favorites are pepper-jack and havarti, but use whatever you love.
Lettuce. Butter leaf lettuce or shredded iceberg lettuce are my go-to's!
Veggies. Load up your burger with the classics: sliced tomato, sliced onion, and lots of pickles. You could also go for grilled/caramelized onions or quick pickled red onions!
Condiments. I'm always a huge fan of burger sauce, but ketchup, mustard, or mayo would all be great choices. You could also mix it up with some bbq sauce! You could also whip up a batch of 5-ingredient guacamole and slather it on!
Once you've got your buns toasted and your toppings ready to go, all you need is a batch of sumac fries or sweet potato fries to serve with your black bean walnut burgers!
I can't wait for you to give these Black Bean Walnut Burgers a try. I'm pretty sure you're going to love them as much as we do – my new go-to black bean burger!
More Vegetarian Dinner Recipes to Try
This post contains affiliate links from which I receive a small commission at no additional cost to you. Affiliate links allow me to keep providing great recipes for free and I never recommend products that I don't love and personally own.
Black Bean Walnut Burgers
These black bean walnut burgers will be your new plant-based burger favorite! They're satisfyingly meaty with tons of flavor while staying gluten-free, dairy-free, and heart healthy!
Ingredients
1

cup

walnut halves and pieces

1 –

15 oz

can black beans, drained and rinsed

1

tablespoon

olive oil

1/2

cup

old fashioned rolled oats

1

egg

1

tablespoon

tomato paste

2

tablespoons

mayonnaise

2

teaspoons

dijon mustard

2

teaspoons

dehydrated onion

1

teaspoon

garlic powder

1

teaspoon

paprika

2

teaspoons

steak seasoning

1/2

teaspoon

liquid smoke

1

teaspoon

kosher salt

1/2

teaspoon

freshly ground black pepper

burger buns, lettuce, tomato, onion, pickles, and toppings as desired
Instructions
Preheat an oven to 350 F. Line a baking sheet with parchment paper.

In a mixing bowl, toss the walnuts and black beans with 1 tablespoon of olive oil and a sprinkling of salt and pepper. Spread them in an even layer on the prepared baking sheet and bake for 20 minutes. Remove and let cool.

While the beans and walnuts cool, pulse the oats in a food processor until finely minced. Add the cooled black beans and walnuts and pulse until no large pieces remain.

In the same bowl you used to toss the walnuts and beans, whisk together the remaining ingredients including the spices, salt, and pepper. Fold the black bean mixture into the wet ingredients until well-mixed.

Divide the mixture into 4 equal portions and shape into tight patties. Transfer to a plate and refrigerate for 20 minutes.

Preheat an outdoor grill or grill pan over medium-high heat. If grilling outdoors, clean and oil the grill grates really well. Grill the burgers for 4-5 minutes per side, until warmed through with grill marks.

Assemble burgers on buns with desired sauces and toppings and serve.
You might also like...