Quick-Pickled Red Onions
Quick-Pickled Red Onions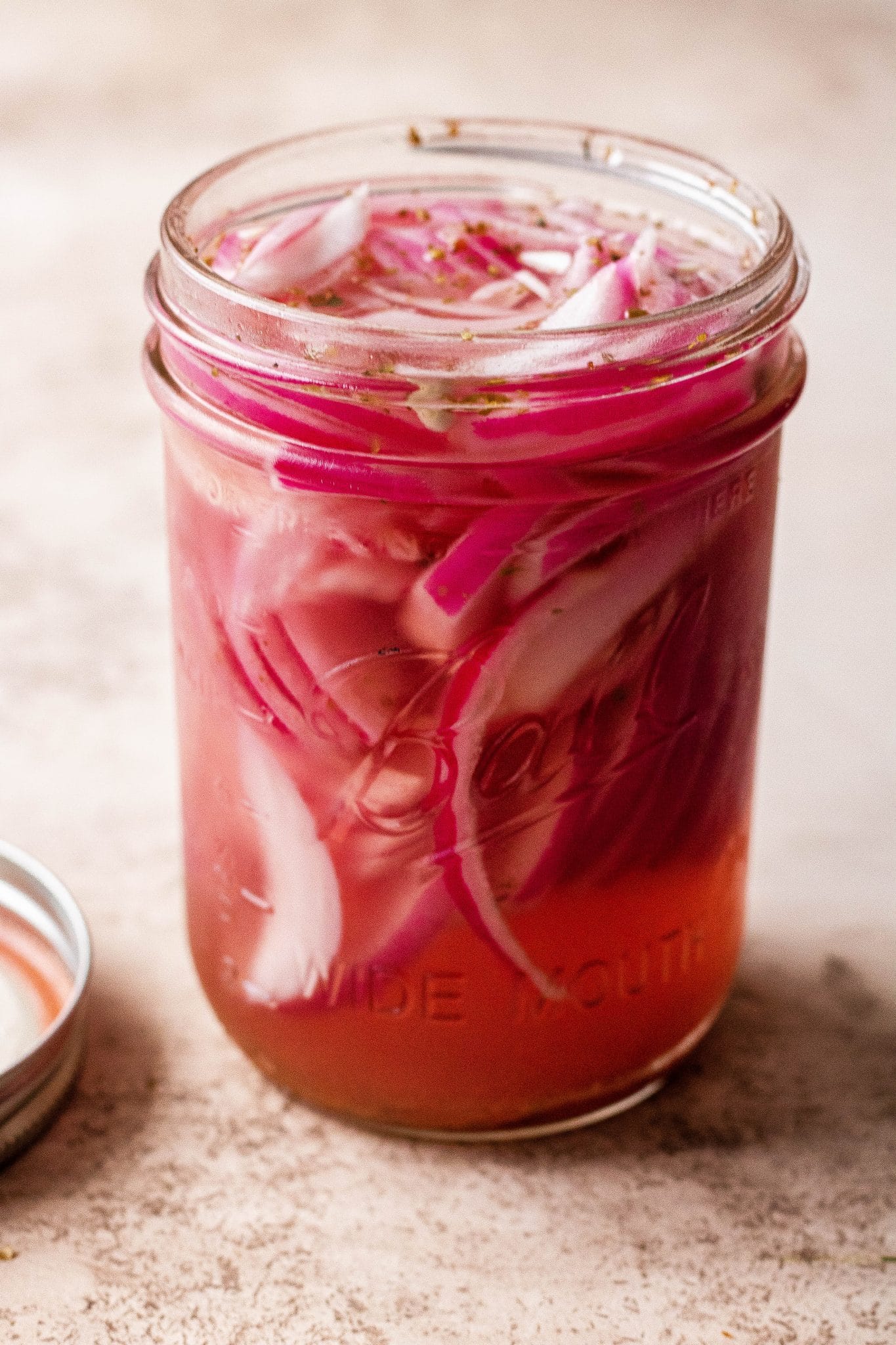 Quick pickled red onions are my favorite condiment! You may be thinking that pickled onions are so simple to make that they don't need a recipe, but I would disagree!
Even though there are a million recipes for pickled onions, I'm partial to this one. I always have a jar in my fridge and use them as a topping on so many dishes. Throw them on avocado toast, breakfast tacos, actual tacos, Mediterranean food, and really where any dish could use a little brightness and acidity.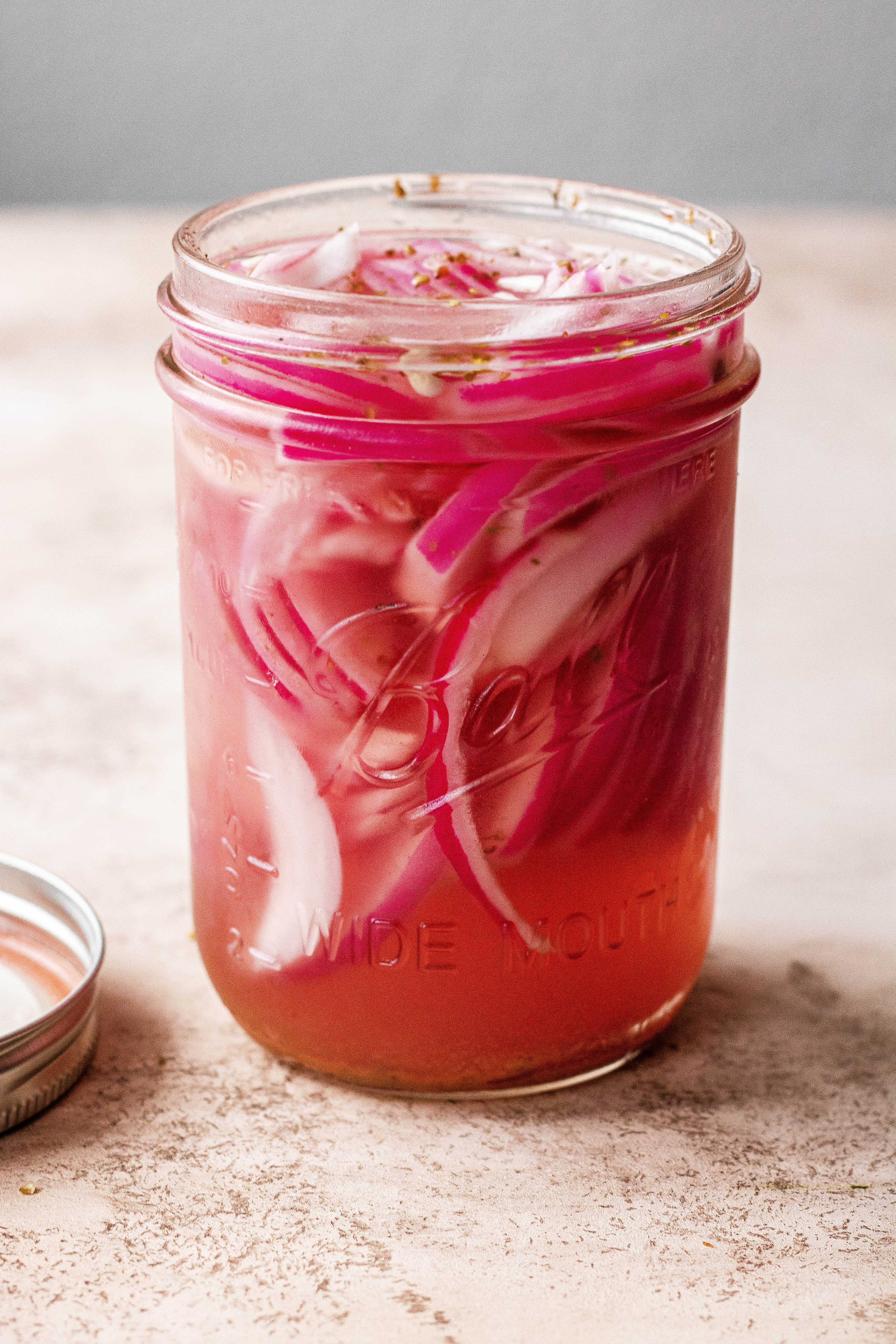 How to make Pickled Onions
Making pickled onions is the easiest thing ever! All you need is red onion, some red wine vinegar, water, salt, and sugar. THAT'S IT. I like to add a little oregano and ground cumin to mine as I most often use them on Mexican food, but it's optional!
You'll start with a sanitized mason jar. Slice your onion and place the slices in the jar. Add the oregano and cumin to the jar, if using. In a small saucepan, warm the water, vinegar, salt, and sugar until just warm and the salt and sugar have dissolved.
You'll then pour the warm liquid over the onions in the jar and boom, you're done! Put the lid on and shake it up to disperse the spices and let it chill in the fridge until ready to use.
what type of onion is best?
I personally am partial to red onions because of their color, sweetness, and flavor. You could use shallots or another sweet onion if you really wanted to!
do you have to use red wine vinegar?
No, but I think it has the best flavor. I would say red wine vinegar or sherry vinegar. Balsamic is too strong and white vinegar doesn't have the right flavor.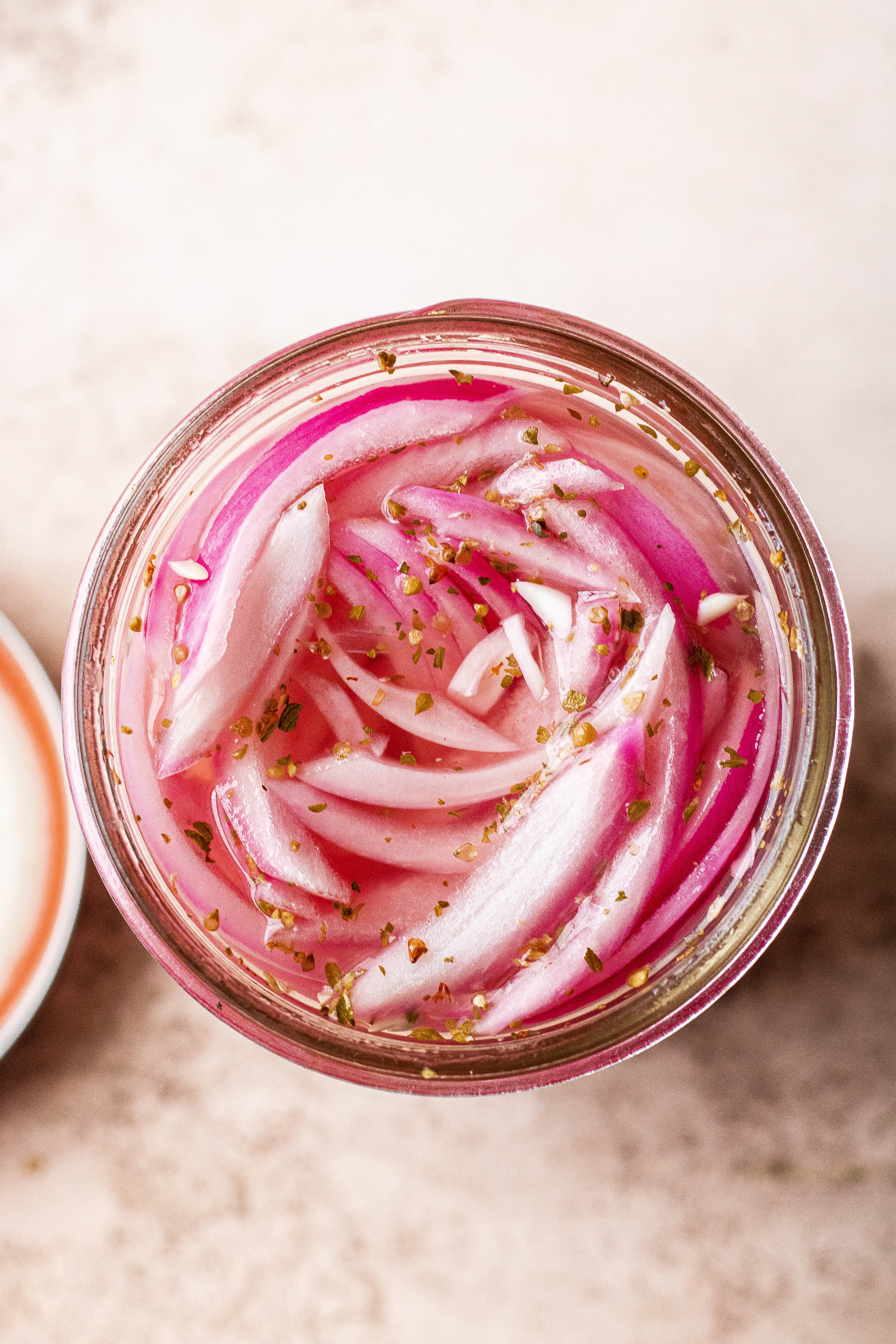 how long do pickled onions last in the fridge?
Pickled onions will easily last 2-3 weeks in the fridge. Once you've finished the onions, that pink pickling liquid is gold! Use it anywhere that you'd use a splash of vinegar–marinades and vinaigrettes are all the better for it.
how thin should you slice the onions?
You don't want them to be paper-thin, otherwise, they'll turn to mush. I opt for about 1/8″ thick.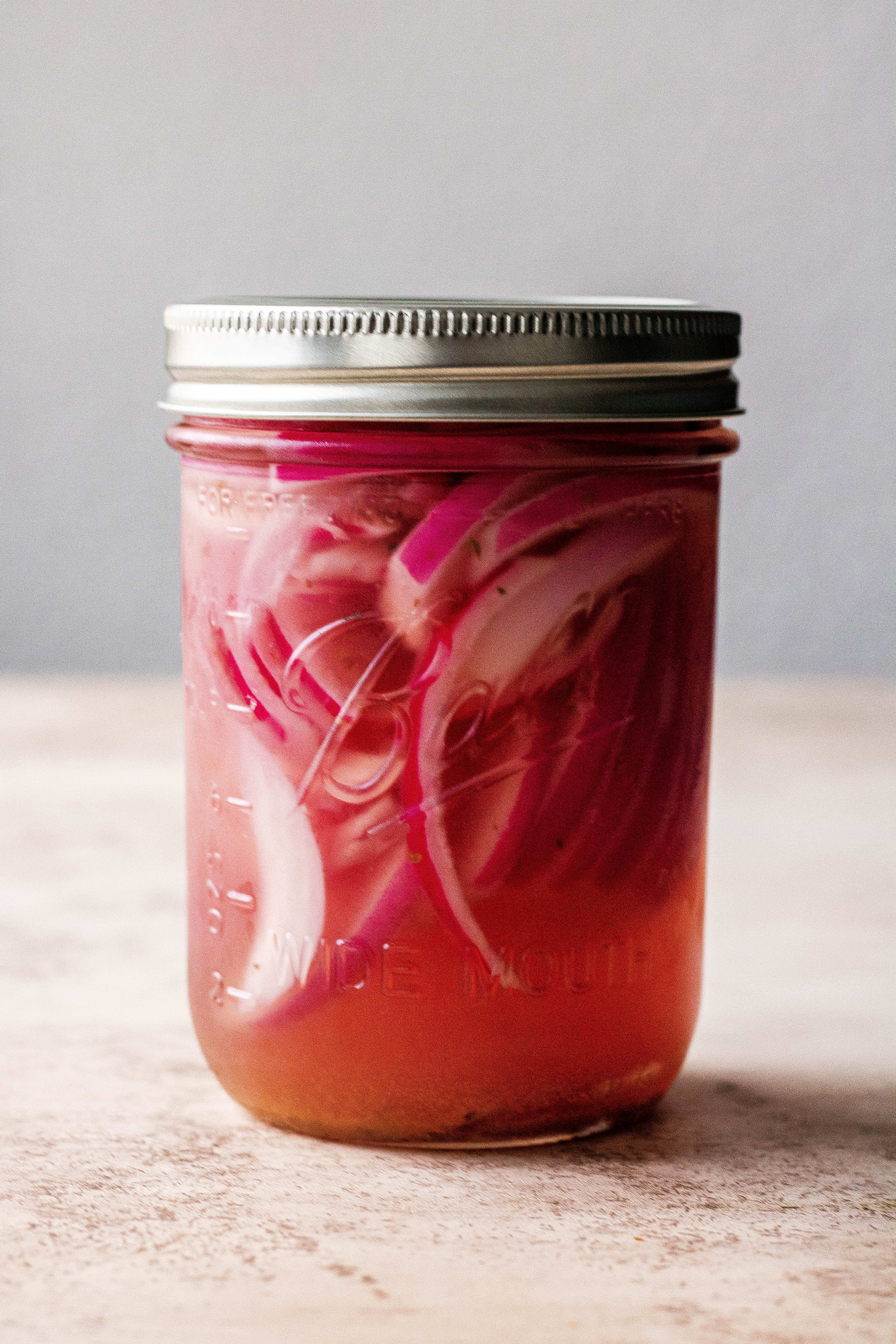 More Recipes to Try
This post may contain affiliate links from which I receive a small commission at no additional cost to you. Affiliate links allow me to keep providing great recipes for free and I never recommend products that I don't love and personally own.
Quick Pickled Red Onions
Quick pickled red onions are a staple in my fridge! You can add them to so many dishes for a punch of flavor.
Ingredients
1

red onion

thinly sliced

1/2

cup

red wine vinegar

1/3

cup

water

1

tablespoon

granulated sugar

1 1/2

teaspoons

kosher salt

1

teaspoon

dried oregano

optional

1/2

teaspoon

ground cumin

optional
Instructions
Wash and sanitize a pint-sized glass mason jar. Fill the jar with the sliced onions and top with the oregano and cumin, if using.

In a small saucepan, heat the vinegar, water, salt, and sugar together until just warm and the sugar and salt have dissolved. Cool the liquid for 5 minutes.

Pour the warm liquid over the onions. Place the lid on the jar and shake gently to disperse the spices. Keep in the refrigerator until ready to use. Will keep for 2-3 weeks in the refrigerator.
You might also like...