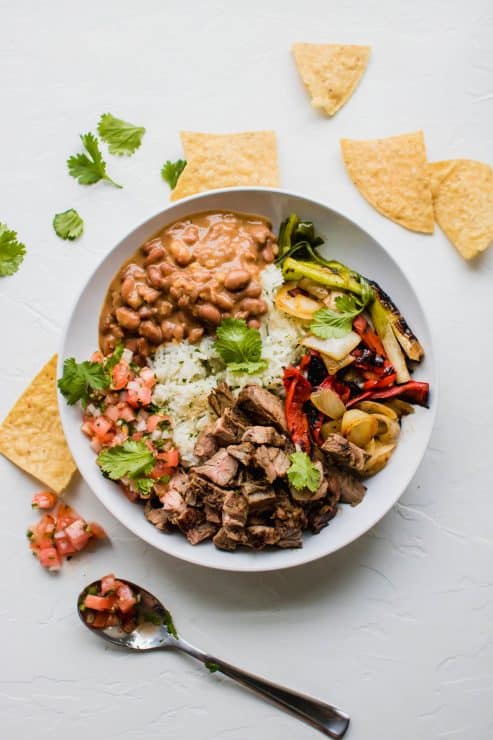 chipotle copycat carne asada steak bowl
chipotle copycat carne asada steak bowl
Confession time: I absolutely love Chipotle and I love their carne asada bowl. I will probably catch some shit for this, but I don't care. I love it. I've been eating it since one first opened up when I was in highschool. It is by no means authentic, but I have an incredible soft spot for it. It's fast, healthy-ish, fresh, and sustainably sourced. Plus, I love everything there. What is not to love? And even if you don't love Chipotle, you will love these bowls. I wanted to create a copycat carne asada steak bowl recipe and honestly this one is so good! I've been obsessed with bowls lately. It's a great way to get a balanced meal that's full of flavor. With summer coming up, I've been really tracking my macros (god I sound lame, but it is what it is) and trying to balance my carbohydrate intake vs my fat and protein.
Bowls are perfect because I have have a bit of a starch, protein, veggies and all the sauces or condiments to help make it delicious. Plus, I love to eat leftovers so this recipe is perfect for my weekday lunches or meal prep. It's even perfect for a weeknight recipe. The beans are delicious and SO EASY. There is no saute-ing or anything, everything just gets thrown into the instant pot (which you can do in the morning) and bam! you've got delicious beans. The steak can be marinated in the morning and grilled in the evening. And the rice I usually just make in my instant pot after I transfer the beans to something else. 2 cups of long grain white rice with 2 cups of water for 12 minutes on the rice setting and then I just stir in the rest of the ingredients. Could not be easier. So what are you waiting for? Happy cooking!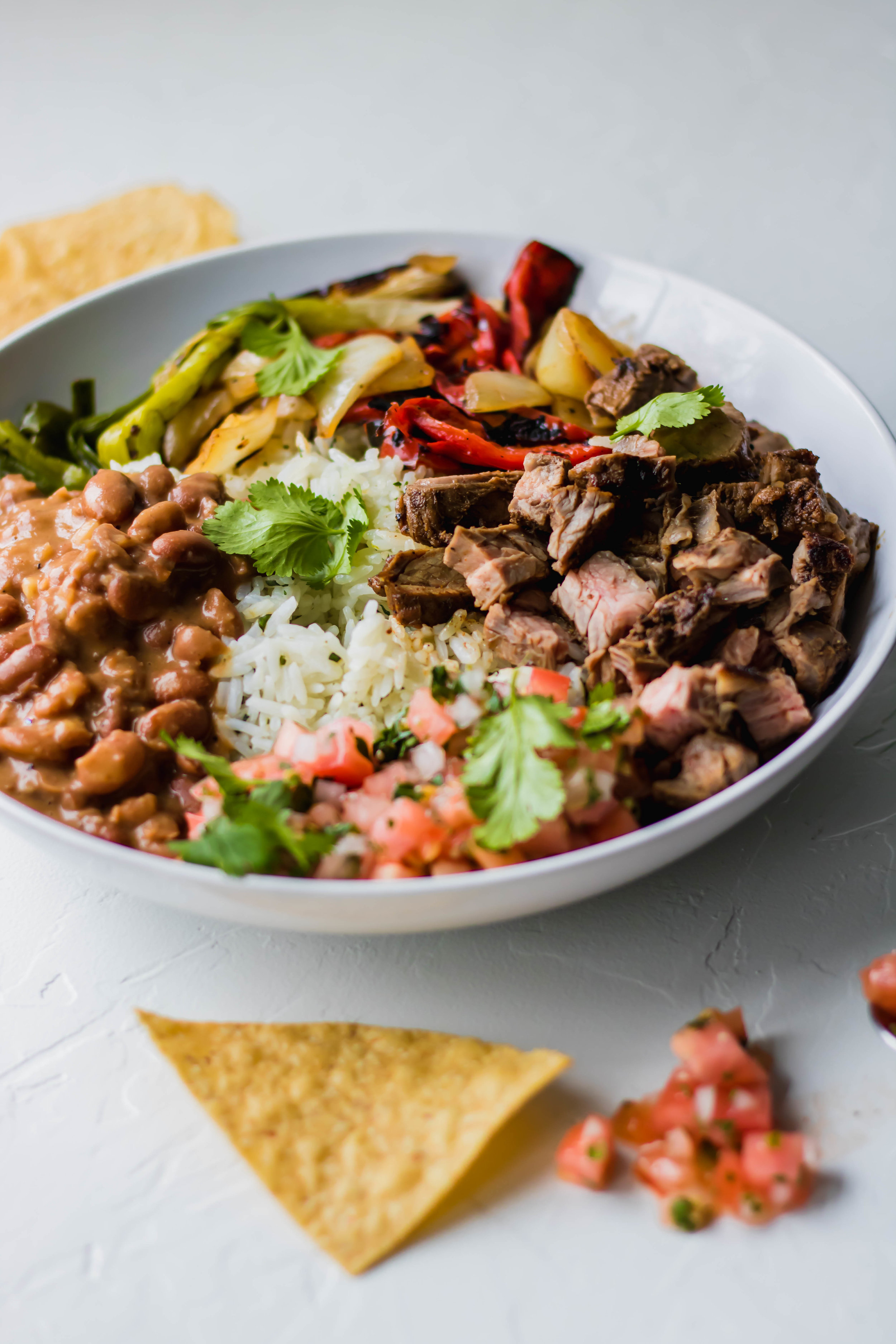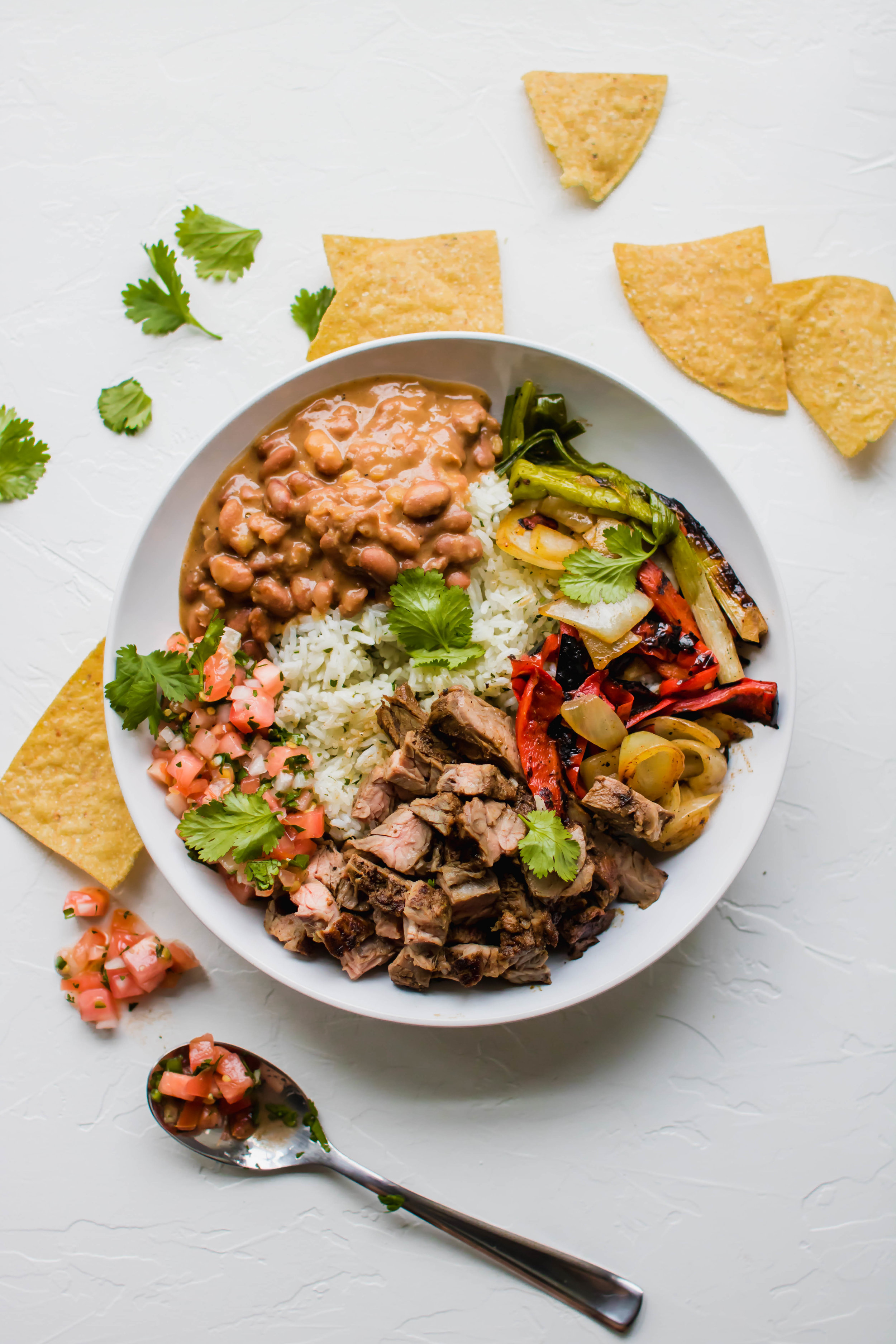 Products I used in this recipe: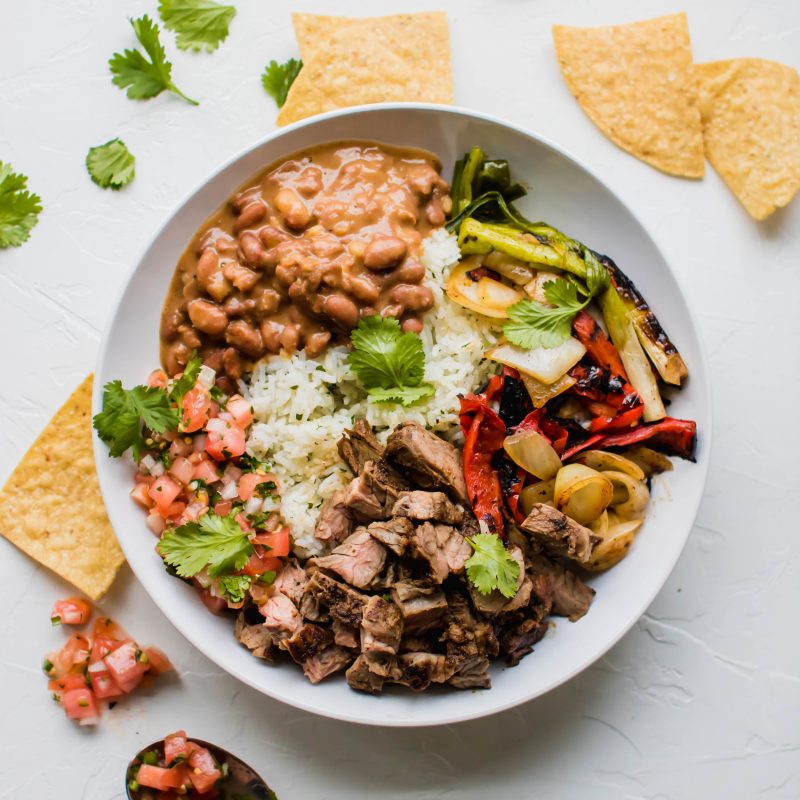 chipotle copycat carne asada steak bowl
I love a good dinner in a bowl! It always checks all the boxes with some veggies, starch, and protein and it's perfect for weekday meal prep!
Ingredients
1 1/2

lbs

skirt steak

1/4

cup

olive oil

1 1/2

tablespoons

ancho chile powder

2

teaspoons

ground cumin

1

teaspoon

dried oregano

4

cloves

garlic

minced

1

navel orange

sliced

2

tablespoons

red wine vinegar

2

teaspoons

kosher salt

Instant Pot Pinto Beans

1/2

lb

dried pinto beans

1/2

white onion

diced

12

oz.

mexican beer

such as modelo

1

teaspoon

ground cumin

2

bay leaves

2

cups

water or chicken stock

2

teaspoons

kosher salt

Cilantro Rice

4

cups

cooked white rice

1

tablespoon

olive oil

1

lime

zested and juiced

1/4

cup

chopped cilantro

salt and pepper to taste

Other Bowl Ingredients

1

red bell pepper

sliced

1

yellow bell pepper

sliced

1

yellow onion

sliced

1

bunch green onions

only white/light green parts (save the tops for another recipe)

1

cup

pico de gallo

1

avocado

sliced (optional)

cilantro leaves

for garnish
Instructions
For the carne asada: If your skirt steak is in very long pieces, cut it down into 8-10" pieces. Mix all the marinade ingredients together in a ziplock bag and add the steak, tossing to make sure all the steak is evenly coated. Marinate for 2 hours, up to 8. Once you are ready to grill, discard the orange slices. Preheat an outdoor grill over medium heat. Grill the pieces of carne asada, 2-3 minutes per side for medium doneness. Adjust cooking time to your preferred level of doneness. Rest the steak for 5 minutes and then dice into bite sized pieces.

For the rice: While the cooked rice is still warm, toss with the oil, lime zest, lime juice and chopped cilantro. Season to taste with salt and pepper.

For the instant pot beans: Throw everything into the pot of an instant pot and lock the lid in place. Set to manual or pressure cook on high for 50 minutes with a natural release. Season to taste with salt and pepper.

For the peppers and onions: Throw the peppers, onions and green onion pieces into a hot cast iron with a small amount of neutral oil. Cook until all the veggies are softened and charred in places. Season with a little salt and pepper.

To assemble the bowls: Add rice to the bottom of a serving bowl. Top with steak, beans, peppers/onions, pico de gallo, cilantro and sliced avocado (if desired). Serve warm.
Notes
Steak can be cooked inside in a cast iron for the same amount of time.
You might also like...