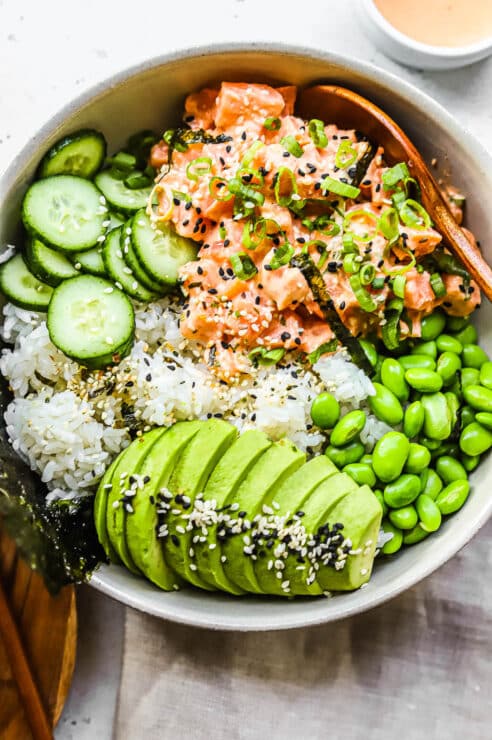 Spicy Salmon Sushi Bowls
Spicy Salmon Sushi Bowls
Spicy salmon sushi bowls are the perfect no-cook dinner recipe for summer! They've got all the flavors of your favorite salmon roll in bowl form. This is an easy dinner recipe that's so easy to customize! You can add all your favorite veggies and even choose a different fish–perfect for feeding a crowd.
Fresh, raw salmon in a spicy Japanese mayo sauce over steamed rice with cucumbers, avocado, edamame, and nori sheets. It's a light and fresh dinner that will have you feeling sated without feeling heavy.
The best part? You can have this dinner prepped and on the table in less than 30 minutes!
Spicy Salmon Sushi Bowl Recipe
What makes this bowl a sushi bowl vs a rice bowl? Honestly, you can call it by either name! I was inspired by the flavors in a classic salmon sushi roll and serving it in bowl form makes everything so easy.
I am a huge fan of enjoying salmon raw, but if that's not your jam I've got instruction below on cooking the salmon for these salmon sushi bowls.
You're going to love how simple and flavorful this recipe is!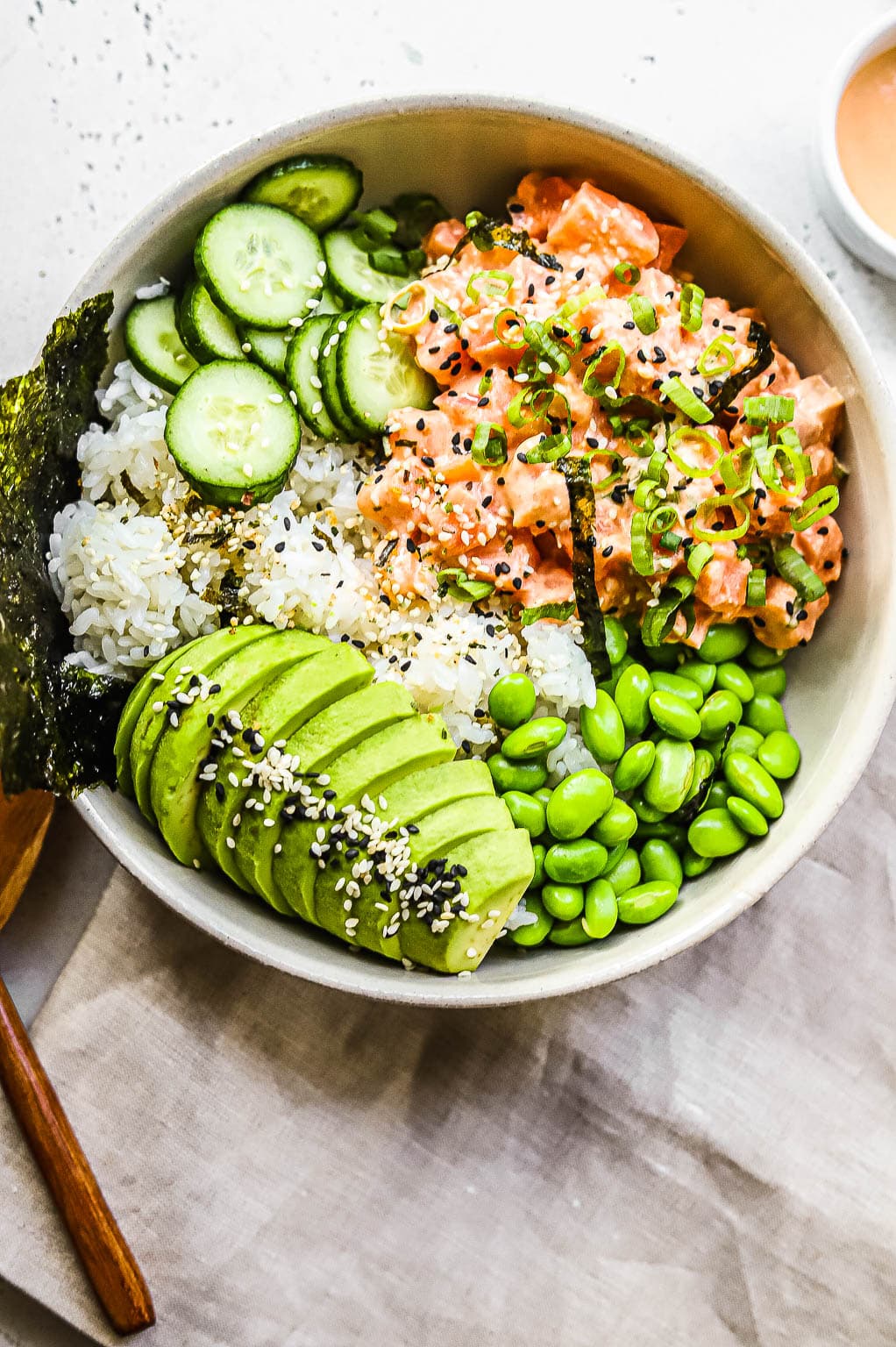 How to make Spicy Salmon Sushi Bowls
You're going to love how easy this recipe is to throw together, even on a weeknight. My best tip: invest in a rice cooker! It's going to make your life so much better.
Tools Needed
Ingredients You'll Need
Salmon. Opt for a high-quality salmon, more on that below!
Kewpie. Japanese mayo is 100% the play here.
Sriracha. The spicy part of spicy salmon!
Ginger. Freshly grated ginger is my secret ingredient in spicy mayo.
Soy. A bit of soy sauce for seasoning the salmon.
Sesame oil. Just a touch of sesame oil gives the salmon so much flavor!
Sushi rice. Steamed short grain sushi rice season with a bit of rice wine vinegar, sugar, and salt makes the perfect base for the bowl.
Veggies. Cucumbers, avocado, edamame, and green onion are my favorites, but you can use all your favorite veggies.
Nori. You can use nori sheets cut down into strips to top the bowl, or small nori sheets for piling the salmon, rice, and veggies on.
The Process
Step one: Start by steaming your sushi rice according to your rice cooker instructions. Make sure to rinse the rice in a strainer first until the water is clear. Warm the vinegar in the microwave in a small bowl and then whisk the salt and sugar in until dissolved. Once the rice is steamed, drizzle the vinegar over the rice and toss with a rice paddle. Cool the rice to room temperature.
Step two: Whisk together the ingredients for the spicy mayo.
Step three: Cut the salmon into small cubes and toss with the spicy mayo and green onions.
Step four: Assemble the bowls! Top your sushi rice with spicy salmon and add sliced cucumbers, avocado, steamed edamame, nori sheets, and some green onions. Enjoy!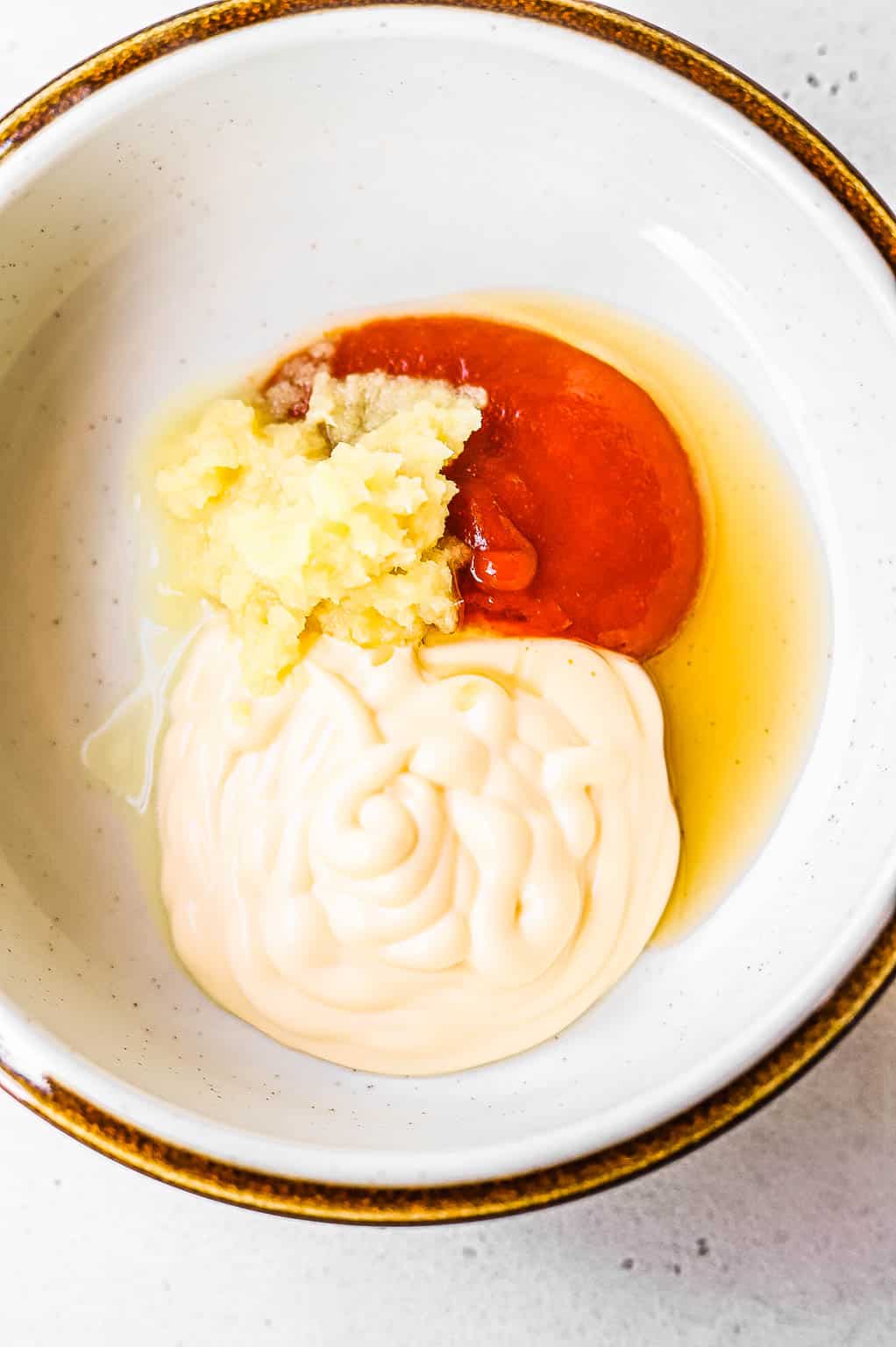 Selecting the Right Fish for Spicy Salmon Sushi Bowls
When enjoying fish raw, it's important to select the right salmon! The first step would be to stop by your local fishmonger, or the seafood counter at Whole Foods or Central Market.
Communicate what you're looking to do and they'll point you in the right direction.
The term 'sushi-grade' is actually a bit of a misleading phrase–there is no governing body that regulates the quality of fish. The FDA recommends that fish being consumed raw should be frozen for a period of time to kill any potential parasites in the fish.
Sushi-grade salmon is usually frozen for long enough in cold temperatures to make it safe to eat. As with any food consumed raw (including tartare, carpaccio, and ceviche), you're assuming some level of risk. 
For this recipe, I opted for frozen Ora King salmon from Central Market and it was absolutely perfect.
Tips for Working With Raw Fish
Here are all my tips for working with raw fish to ensure safety in eating fish raw.
Keep your station clean. This is probably the most important step! Keeping your cutting board, knife, and other tools clean prevents the spread of any kind of bacteria.
Use the right cutting board. When working with meat or raw fish, you never want to use a wooden cutting board. Wood is porous and can absorb odors and bacteria. Opt for a composite plastic cutting board like this one.
Keep your fish cold. If you're buying frozen fish, defrost it in the fridge and only pull it out right before serving. Working with raw seafood at room temperature can be unsafe, so keep everything cold.
If you follow these tips, you'll be enjoying raw fish safely like a pro.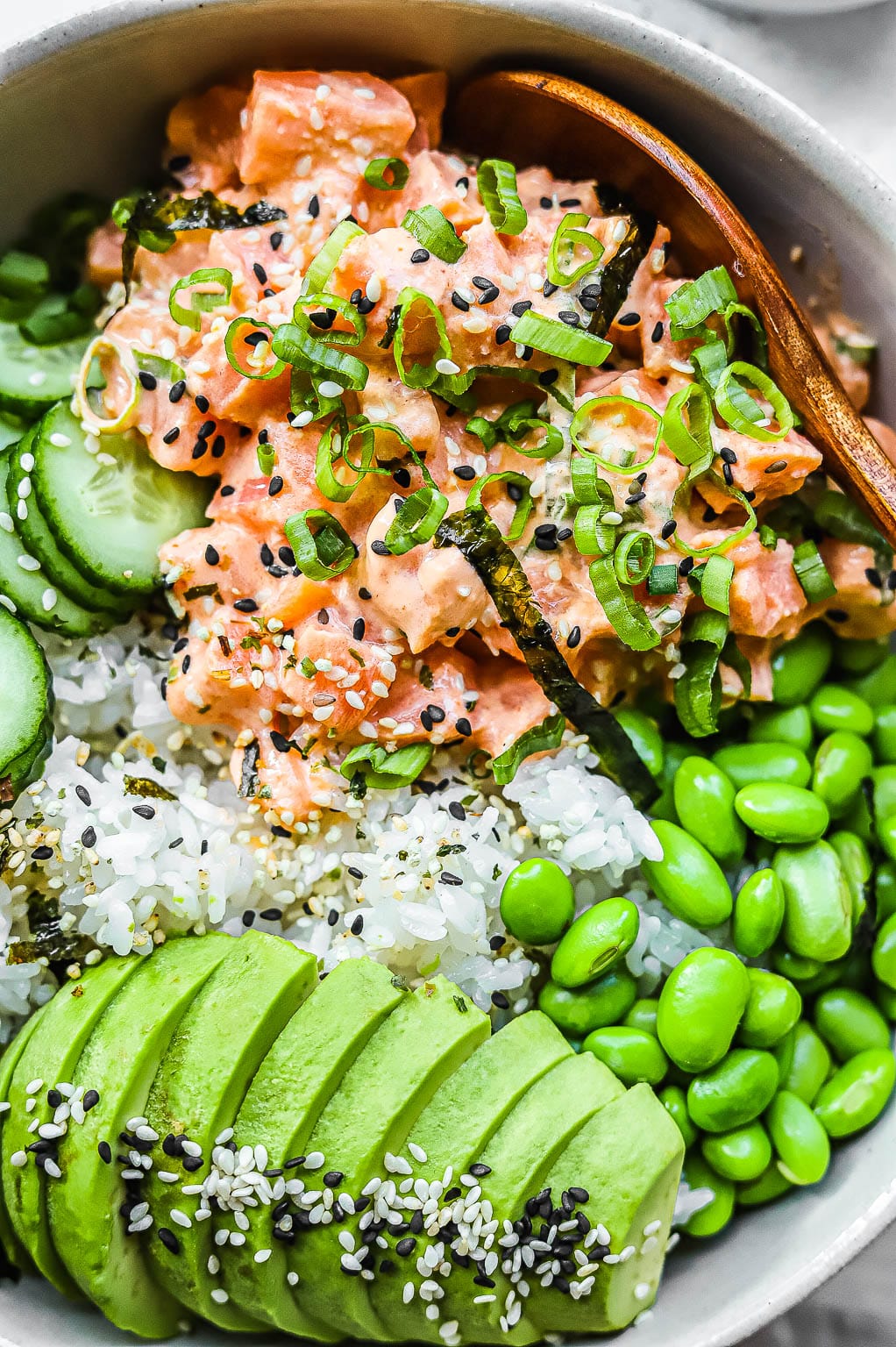 Cooking Salmon for Spicy Salmon Sushi Bowls
If raw salmon doesn't appeal to you, that's okay! This recipe can easily be enjoyed with cooked salmon.
My favorite method for cooking salmon for spicy salmon sushi bowls is:
Cut the salmon into 4 small filets.
In a small bowl, whisk together 4 tablespoons of soy sauce, 1 tablespoon of honey, 1 teaspoon freshly grated ginger, and 2 garlic cloves finely minced.
Heat 1 tablespoon of oil in a skillet and add the salmon. Cook for 2-3 minutes until browned and then flip. Add the sauce to the skillet and lower the heat. Cook for 1-2 more minutes, tossing the salmon in the sauce.
Once the salmon is cooked, prepare the bowls with the cooked salmon.
Storing Spicy Salmon Sushi Bowls
There are a few components of these spicy salmon sushi bowls that are safe to keep for a couple of days.
You can keep the sushi rice for 1-2 days, just re-warm slightly in the microwave covered with a damp towel. You can store the veggies for the same amount of time.
I don't usually like to keep raw fish, so I only make as much as I know I'll eat that day. If you've already tossed the salmon with the spicy mayo, you can keep it for up to 24 hours in an airtight container in the fridge.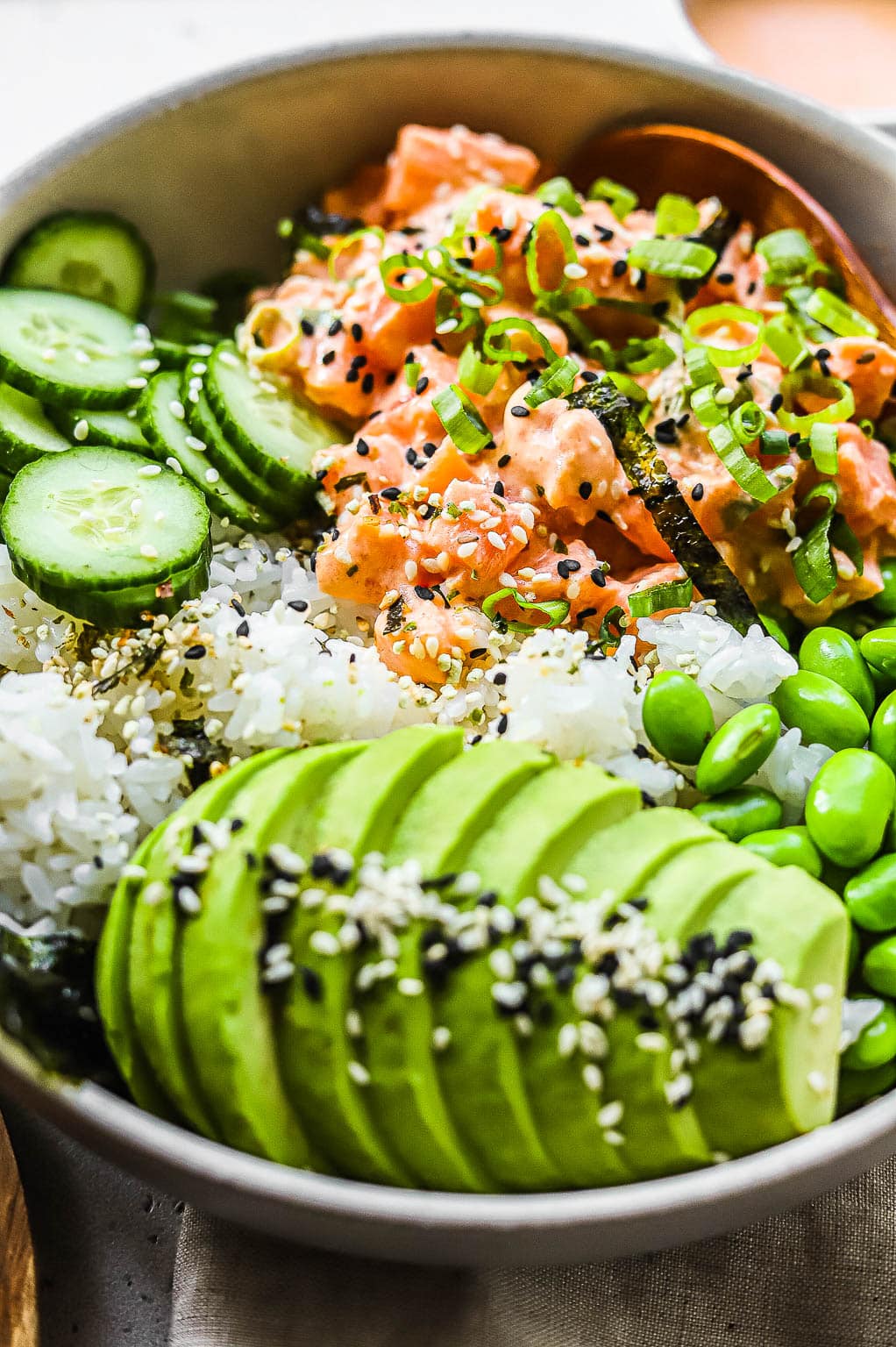 More Bowl Recipes to Try Now
This post contains affiliate links from which I receive a small commission at no additional cost to you. Affiliate links allow me to keep providing great recipes for free and I never recommend products that I don't love and personally own.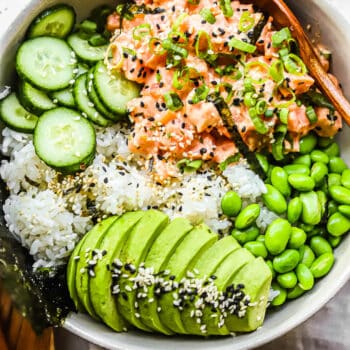 Spicy Salmon Sushi Bowls
These spicy salmon sushi bowls are the perfect no-cook recipe for summer! Fresh salmon tossed in a spicy mayo sauce on top of seasoned sushi rice with cucumbers, edamame, avocado, and nori.
Ingredients
Spicy Salmon
1

lb

fresh sushi-grade salmon, diced small (see notes above)

3

tablespoons

kewpie Japanese mayonnaise

1-2

tablespoons

sriracha, to taste

2

teaspoons

freshly grated ginger

1

teaspoon

soy sauce

1

teaspoon

sesame oil

2

tablespoons

thinly sliced green onion (tops only)
Sushi Rice
1 1/2

cups

sushi rice

1/4

cup

rice wine vinegar

2

teaspoons

sugar

1

teaspoon

kosher salt
Sushi Bowls
1

cup

steamed edamame

1

avocado

sliced

2

baby cucumbers, sliced

nori sheets
Instructions
Place the sushi rice in a mesh strainer and rinse with cold water until the water runs clear. Steam the rice according to your rice cooker's instructions. While the rice cooks, warm the vinegar in a small bowl in the microwave. Stir in the sugar and salt until dissolved.

Once the rice is done, fold the vinegar mixture into the rice with a rice paddle. Let the rice cool to room temperature.

Whisk together the ingredients for the spicy mayo and toss the salmon and green onions in the mayo sauce.

Assemble the bowls! Top the sushi rice with the spicy salmon and add the sliced avocado, cucumber, steamed edamame, and top with nori and green onions.
You might also like...