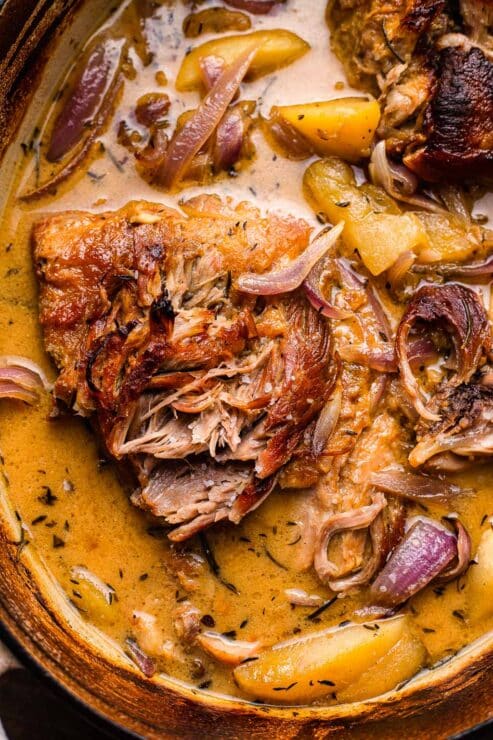 Apple Cider Braised Pork Shoulder
Apple Cider Braised Pork Shoulder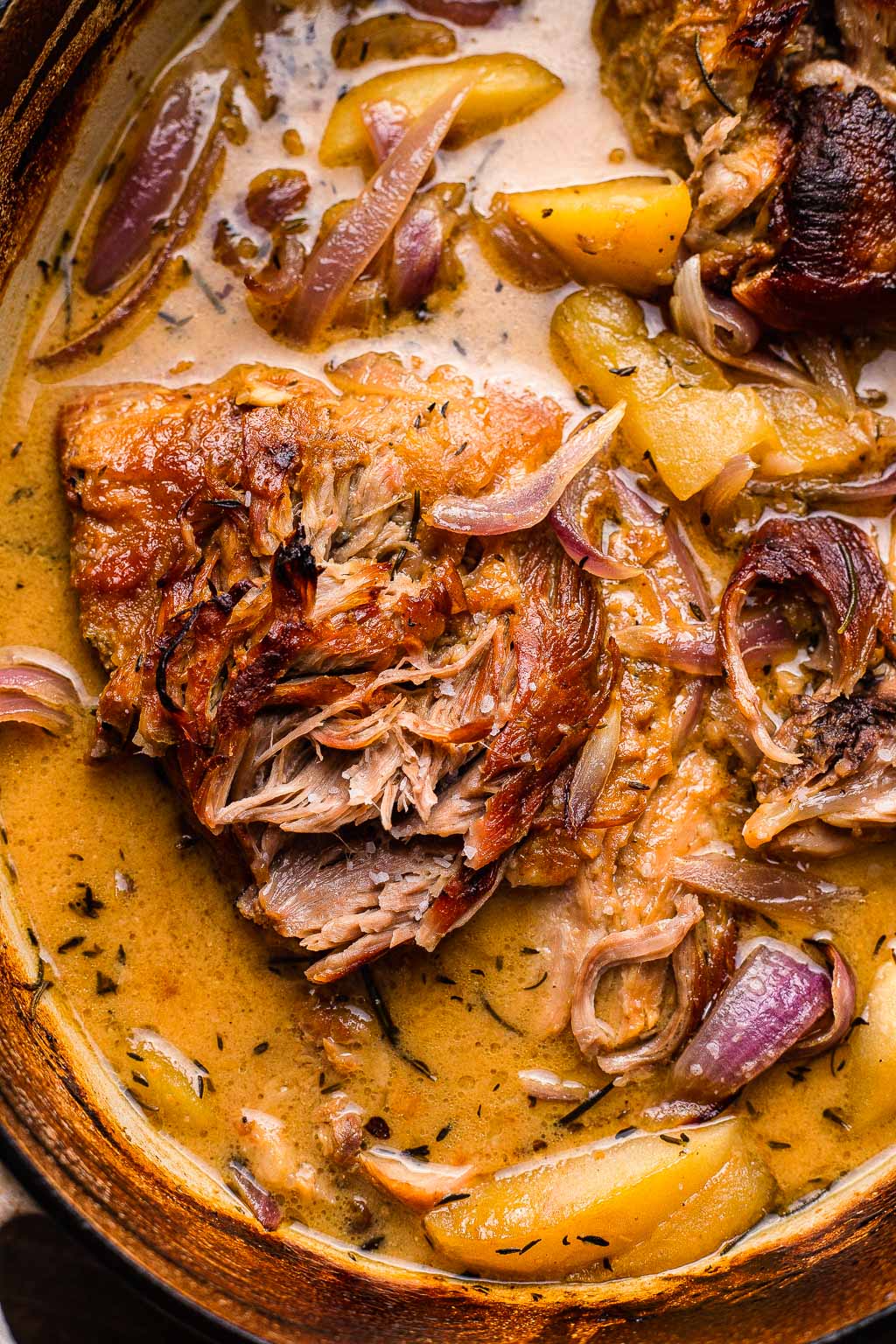 This Apple Cider Braised Pork Shoulder is an easy one-pot dinner recipe that is so cozy and perfect for the fall months. Tender pork cooked low and slow in a bath of fresh apple cider, onions, apples, and fresh herbs. Apple Cider Braised Pork Shoulder is fall-apart tender and packed with all the flavor.
There's just something about a cozy braised meat served over mashed potatoes that is so perfect for fall. Truly, braised pork or beef over mashed potatoes is my number 1 favorite meal ever. This is such a delightful and delicious seasonal recipe that I know you'll turn to again and again.
Apple Cider Braised Pork Shoulder: Autumn Comfort Food
I'm a firm believer that autumn is the best time of year, especially as someone who loves food. After all, it's pretty hard to beat gorgeous fall produce & richly cozy comfort food! There's just something about the weather getting cooler and breaking out sweaters that makes me want all the comfy foods. This is the time of year that I dive deep into hearty soups and braised meat dinners.
The slowly simmered apple cider braised pork shoulder is fall-apart tender, taking on sweet tanginess from the apple cider braising liquid. Plus, it's a pretty all-purpose recipe!
You can use the pork to make the most epic fall sandwiches, sliders, or grilled cheeses for a tailgate or game day. Or you can spoon it over egg noodles/spaetzle or mashed potatoes for the ultimate cozy fall dinner.
The contrast between the savory pork and the apples and fresh herbs makes for an incredibly flavorful and delicious dinner.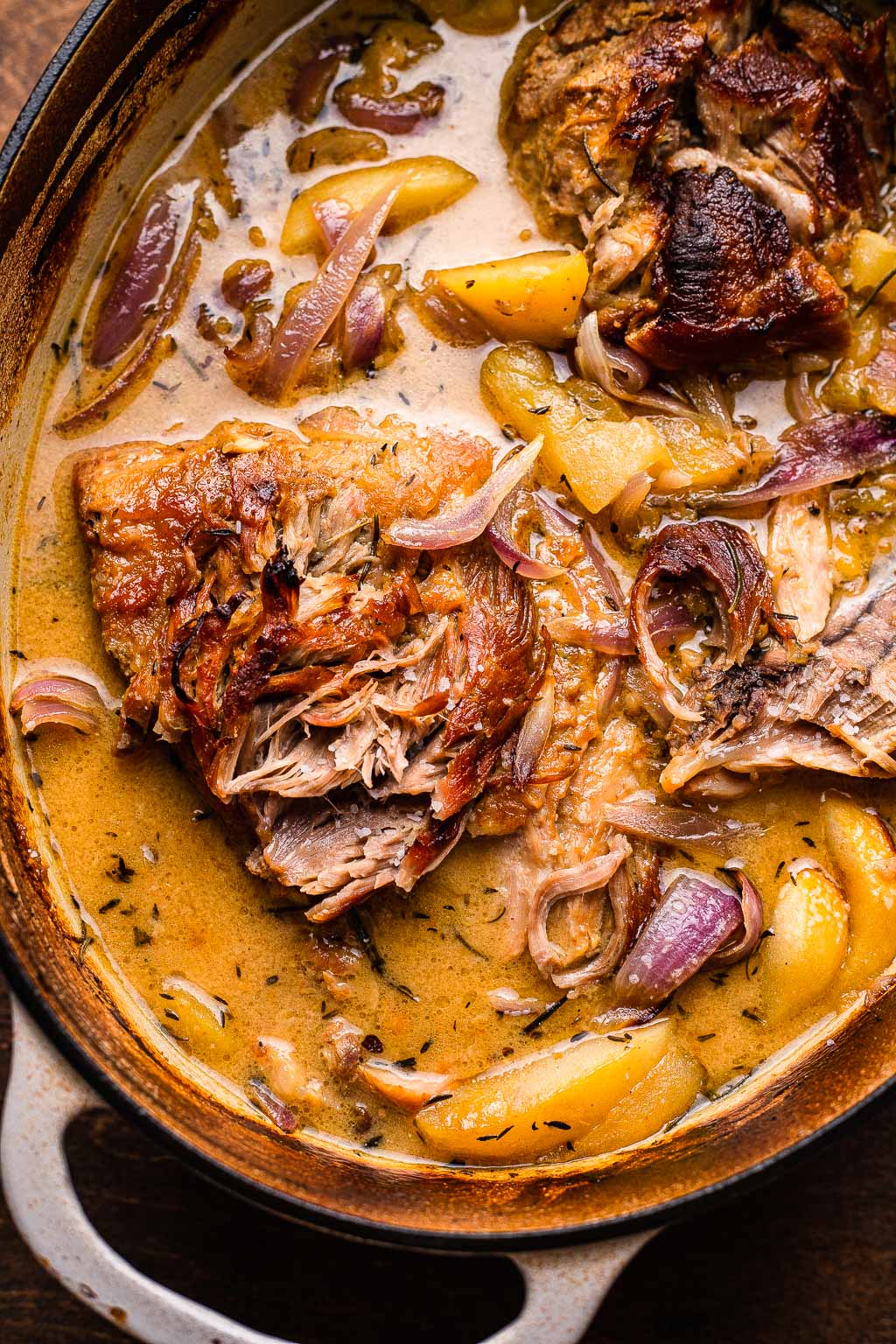 Why You'll Love this Recipe
Easy – This is not an involved recipe! A bit of chopping, mixing, simmering, and then the oven does most of the work. It's a bit of up front work while being mostly hands-off leaving you free to work on other things!
Budget friendly – Pork Shoulder is an affordable cut of meat that can easily feed a crowd! This dinner feels impressive while still being low effort and low cost.
One Pot – I love an easy dinner that all comes together in one pot! All the searing, sautéing, and braising is one in one dutch oven or braiser that goes straight from stovetop to oven. No muss, no fuss!
The Coziest Dinner – There's just something about braising when the weather is chilly and looking forward to a warm stew-like dinner. This is honestly my favorite dinner to enjoy this time of year. Just load me up with all the Apple Cider Braised Pork Shoulder over mashed potatoes and I'm one happy gal.
What is Braising?
Braising is a combination cooking technique that features both wet and dry heat. First, you sear the pork shoulder in the pan for flavor and color and then you add liquid to the pot and transfer the covered pot to the oven. In the oven, the pork cooks slowly at a lower temperature.
The resulting meat is exceedingly tender. Braising is particularly effective for tough cuts of meat (brisket, chuck, pork shoulder, etc). Cooking tough meats low and slow in liquid allows the muscle tissue and collagen to slowly break down. Any liquid can be used to braise, but the apple cider really adds that extra depth of flavor and that fall-flavor goodness!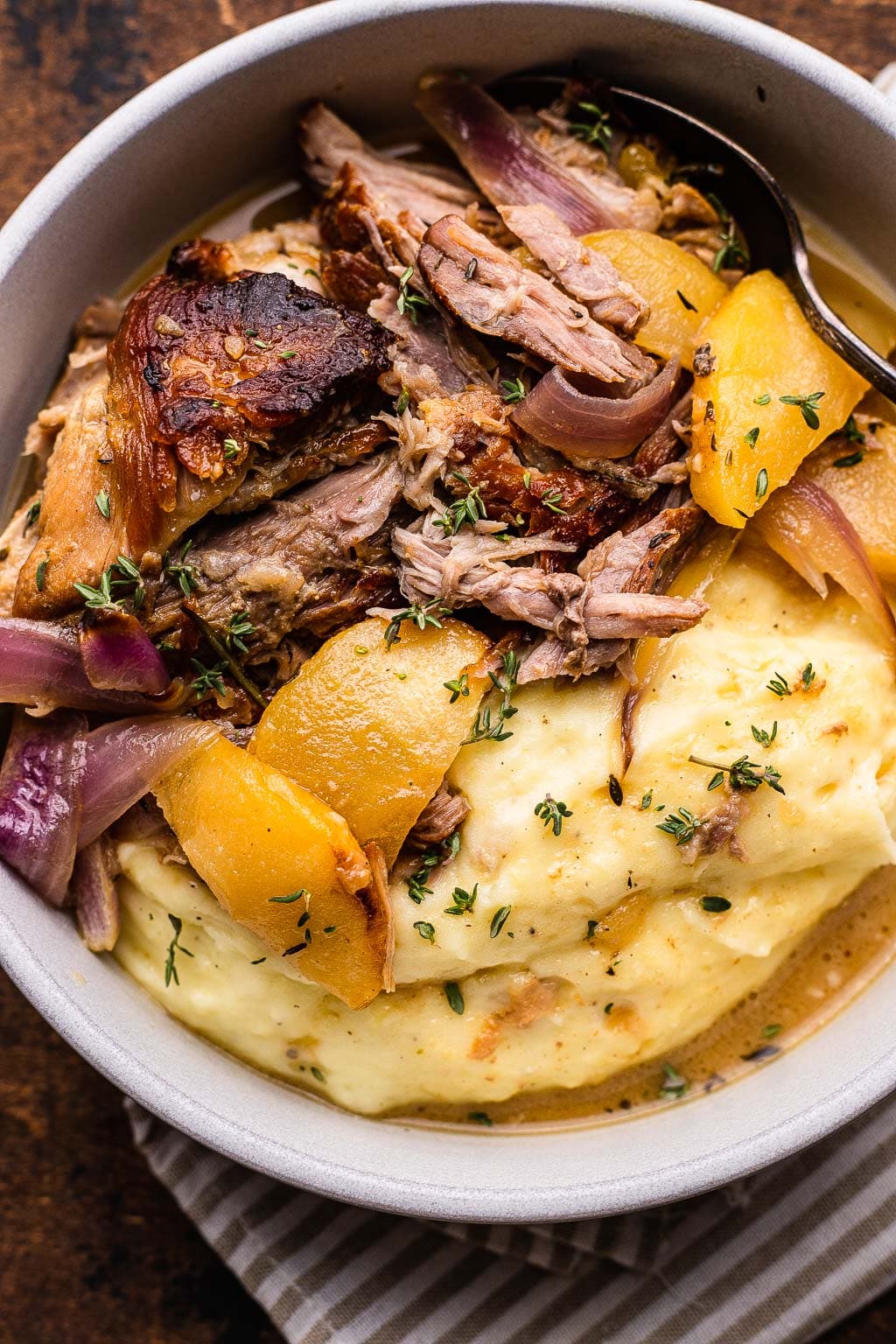 How to Make Apple Cider Braised Pork Shoulder
This recipe is not at all complicated to make and only requires a handful of ingredients! I do recommend investing in a large dutch oven, like the one linked below. All my braises happen in large braisers or dutch ovens!
Tools Needed
Ingredients and Substitutions
Pork Shoulder. Also referred to as Pork butt or Boston but. Opt for high-quality pork. Boneless or bone-in, it's up to you!
Apple cider. Fresh apple cider is seasonal, fresh pressed, unfiltered, and unpasteurized. It's bright and fresh and pairs perfectly with the pork. Look for it in the refrigerated produce section.
Apples. Pick firm, and slightly tart apples so that the dish doesn't get too sweet. Honey crisp and pink lady are my favorites!
Onion. I love red onion here, but you could swap in any onion.
Chicken broth. Chicken broth helps cut some of the sweetness of the apple cider. Homemade is always best, but store bought is fine too.
Dijon mustard. Dijon is the absolute best with pork and really bolsters the braising liquid with flavor.
Garlic. You're going to use a whole head here and just cut off the top of the garlic opposite the root. You'll end up with rich roasted garlic flavor that we'll squeeze into the liquid.
Spices. I love a little dehydrated onion here to really drive the savory flavor home.
Herbs. Rosemary and thyme give all the fall flavors here.
The Process
Cube your pork. You want the pieces to be at least 4 inch pieces. If you're going bone-in pork, cut the pork into 2 large pieces, working around the bone.
Season everything. Pat your pork really dry (helps with browning). These are thick pieces of pork so season all sides really well with salt and pepper.
Sear the pork. This is a crucial step! Sear the pork really well on all sides until deeply golden brown.
Add the cider and stock. Whisk together the apple cider, chicken stock, dijon, and dehydrated onion in a measuring cup until smooth. Pour the liquid over the pork. Add the herbs tied in a bundle into the pot. Cover and place in the oven.
Oven time! Braise for about 3 hours, flipping the pork halfway through, until the pork is almost fork-tender. Remove from the oven and add the apples and onion slices, arranging them around the pork. Return the pot to the oven for 45 min – 1 hour, until the pork is tender. Let the pork rest in the juices for 30 minutes before serving.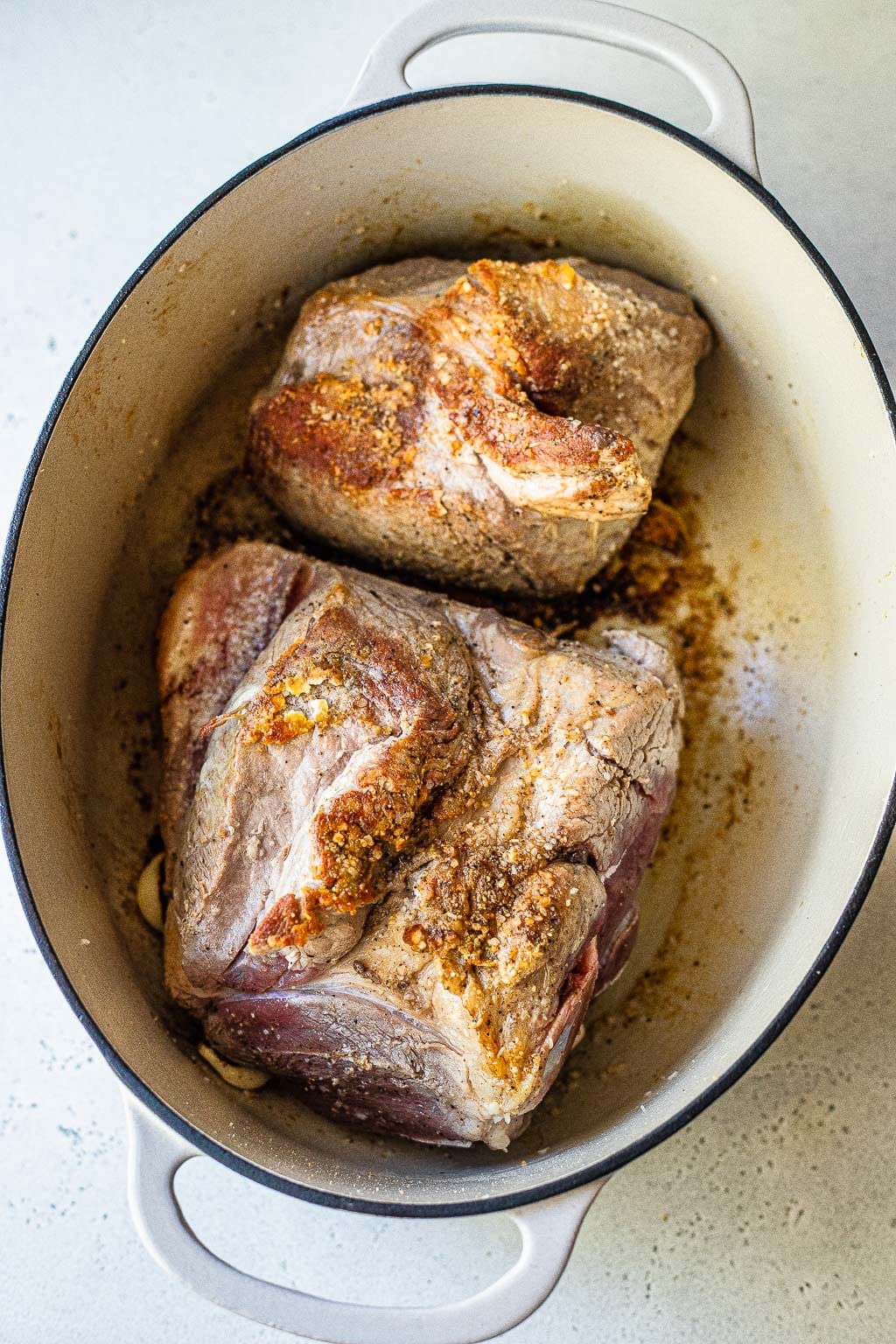 Boneless vs Bone-In
Obviously, pork shoulder can be found both boneless and bone-in. So which best for Apple Cider Braised Pork Shoulder?
Bone – in. I am personally ALWAYS pro bone-in pork shoulder. As the pork slowly cooks, the marrow, collagen, and gelatin in the bones slowly breaks down and makes the sauce extra rich and flavorful. There is a noticeable difference in the texture and thickness of the sauce. That being said, there are a couple of drawbacks. Bone-in meat cooks more slowly since you can't cut it into small pieces, so prepare for that. I used bone-in pork shoulder and was only able to cut the meat in two.
Boneless. Boneless pork shoulder is always a great choice, too! Because you can cut it into smaller pieces, it cooks more quickly and a bit more evenly. If time is a constraint for you, boneless is the way to go. That being said, you sacrifice a lot of flavor that the bone gives by going boneless.
Either way, you'll have a delicious dinner on your hand! Choose whichever option works best for you.
Storing, Freezing, and Reheating Apple Cider Braised Pork Shoulder
In the event that you have leftovers, Apple Cider Braised Pork Shoulder is easy to store and freeze!
To store Apple Cider Braised Pork Shoulder: Let the pork and liquid cool to room temperature and store in an airtight container for 4-6 days in the fridge.
Freezing cider pork: You can very easily freeze cider braised pork! Let the pork and liquid cool to room temperature and then store in a freezer-safe ziplock bag. Try to press most of the air out of the bag while sealing, this helps prevent freezer burn. Label and freeze for up to 3 months. Defrost overnight in the fridge.
Reheating: Apple Cider Braised Pork Shoulder is best reheated in a skillet or dutch oven. Add the pork and liquid to a dutch oven or skillet, adding a little extra broth or water as needed. Cover and simmer on low until the pork is tender and warmed through.
Alternate Cooking Methods for Apple Cider Braised Pork Shoulder
I love taking my time braising in the oven, but that's not always feasible with time constraints. Here are some other methods for cooking up Apple Cider Braised Pork Shoulder.
Instant Pot or Pressure Cooker – Follow the recipe as written, using the saute function on your instant pot. Let the pan get nice and hot before searing the pork using the 'high' setting for saute. Add the broth mixture, garlic, and herbs to the pot. Set the Instant Pot to 'pressure cook' for 60 minutes, with natural release. After the lid has released, add the onions and apples and set to 'pressure cook' on high for 5 minutes using a quick release.
Slow Cooker – Use another pan or pot to sear the pork before adding it to the slow cooker. Seriously, don't skip this step because it adds SO much flavor! Once the pork is seared, add it to the slow cooker and pour the braising liquid over the top. Add the onions, apples, and fresh herbs. Cover and cook on high for 4-5 hours, or low for 7-8 hours.
What to Serve with Apple Cider Braised Pork Shoulder
If you're throwing a dinner party or just want a nice dinner to enjoy, here are some of my favorite dishes to serve with Apple Cider Braised Pork Shoulder.
Leafy salad – I love starting a meal with a big leafy salad! My recipe for KALE CAESAR SALAD is one of my favorite salads ever and pairs so well with any braised meat. You're going to love the homemade caesar dressing!
Mashed potatoes – Who doesn't love piling tender pork and juices on a bed of mashed potatoes? If you want a classic version, try my CREME FRAICHE MASHED POTATOES. If you want to try something new, my CARAMELIZED ONION AND BACON MASHED POTATOES are a show stopper!
Dinner Rolls – I don't know about you, but I'm a sucker for warm dinner rolls! I love sopping up any extra juices with a warm piece of bread. Try my foolproof FLUFFY DINNER ROLLS!
Dessert – No dinner party or gathering is complete without some dessert, am I right? Some of my favorite low effort/high reward desserts are my Apple Cider Donut Cake, SKILLET APPLE CRISP, and TEXAS SHEET CAKE.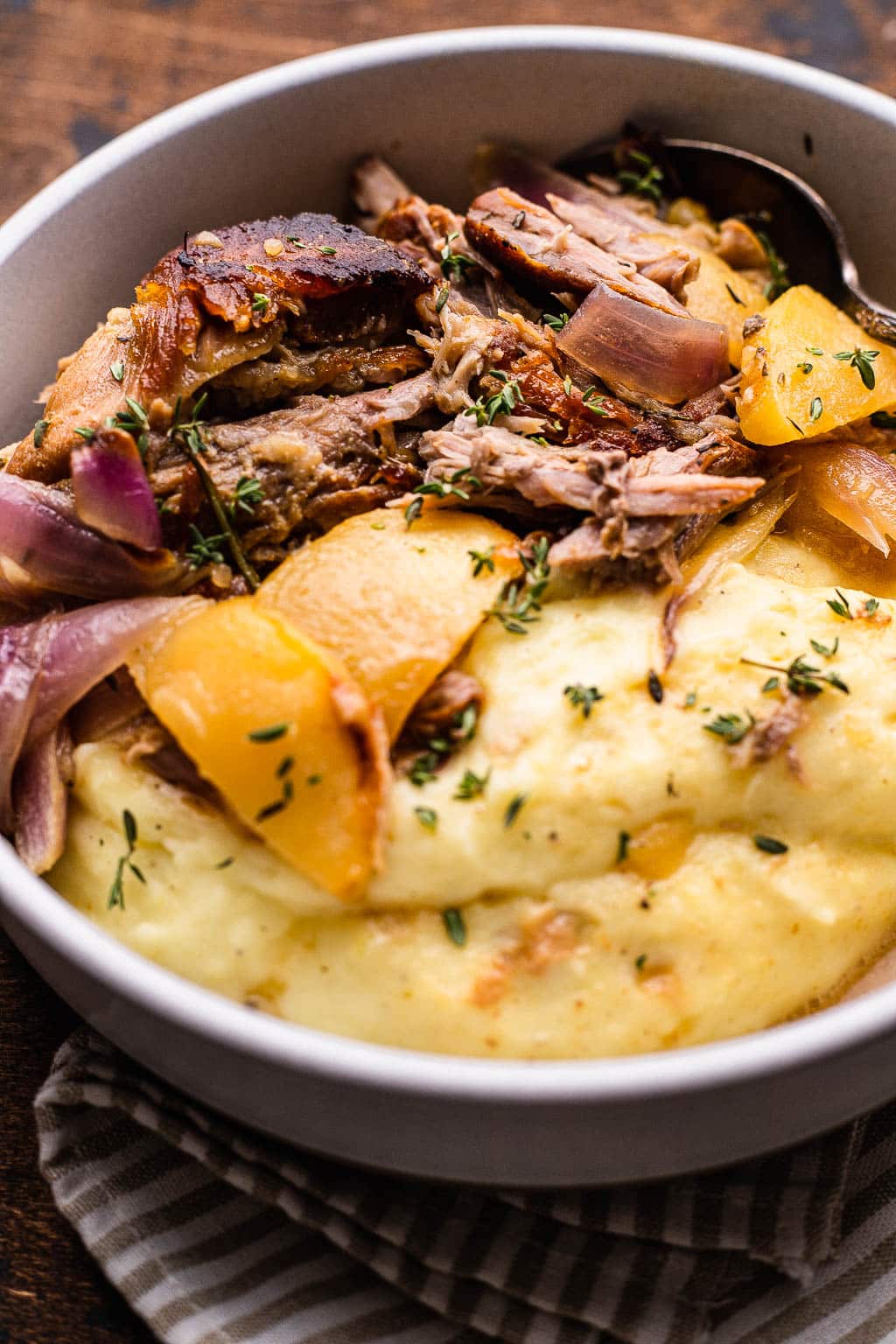 Next time you're in the mood for a cozy & comforting fall meal, try this Apple Cider Braised Pork Shoulder. It's one of our fall favorites, and I know you will love it just as much as we do! If you do give it a try, be sure to let me know! Leave a comment with a star rating below. You can also snap a photo & tag @jennygoycochea on Instagram. I LOVE hearing about & seeing your SMF creations!
More Braising Recipes to Try Now
This post contains affiliate links from which I receive a small commission at no additional cost to you. Affiliate links allow me to keep providing great recipes for free and I never recommend products that I don't love and personally own.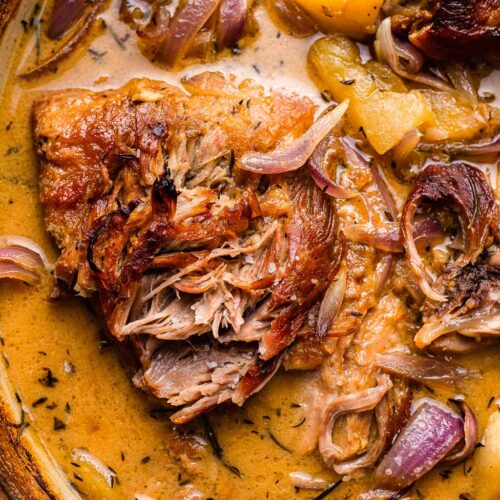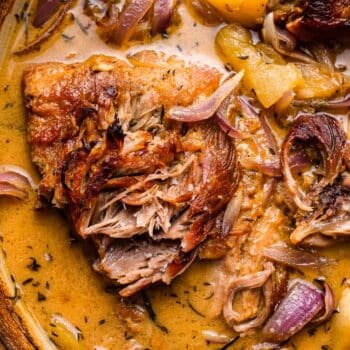 Apple Cider Braised Pork Shoulder
This Apple Cider Braised Pork Shoulder is an easy one-pot dinner recipe that is so cozy and perfect for the fall months. Tender pork cooked low and slow in a bath of fresh apple cider, onions, apples, and fresh herbs.
Total Time:
3
hrs
45
mins
Ingredients
4-5

lb

pork shoulder, cut into large chunks (boneless or bone-in)

2

tablespoons

neutral oil

2

cups

fresh apple cider

2

cups

chicken stock

2

tablespoons

dijon mustard

1

tablespoon

dehydrated minced onion

1

head of garlic, top sliced off opposite of the root end

3

rosemary sprigs

4

thyme sprigs

1

red onion, cut into thick slices

2

firm and slightly tart apples*, peeled and cut into wedges

kosher salt

freshly cracked black pepper
Instructions
Preheat an oven to 325 F.

Pat the pork pieces dry with a paper towel and season liberally all over with kosher salt and pepper. If you're using boneless pork, aim for 4 large pieces of pork. If you're using bone-in, opt for 2 large pieces, cutting around the bone.

Heat the oil in a large dutch oven over medium-high heat. Once the oil is hot, arrange the pork in a single layer. Sear for 4-5 minutes per side until the pork is deeply browned. Repeat on all sides. Depending on the size of your dutch oven, you may need to do this in batches.

While the pork is searing, whisk together the cider, broth, dijon, and dehydrated minced onion together and set aside. Use kitchen twine to tie the rosemary and thyme together in a small bundle.

Once the pork is browned all over, pour in the braising liquid. Arrange the herbs and garlic head in the pot with the pork, cover and place in the oven.

Braise for 3 hours or so (start checking at 2 and a half hours for boneless), flipping the pork halfway through. Once the pork is just shy of fork tender, remove the pork from the oven and arrange the onions and apples around the pork. Cover and return to the oven for another 45 minutes to 1 hour. The pork should be very tender at this point.

Remove the pork and let it rest in its juices for 30 minutes before serving.
Notes
*for notes on whether to use boneless or bone-in pork, refer to the above blog post.
* the best apples are firm, tart apples like Honeycrisp, Pink Lady, Gala, etc. 
Please know that apple cider is NOT the same as apple cider vinegar–do not use vinegar in place of apple cider for this recipe. 
You might also like...