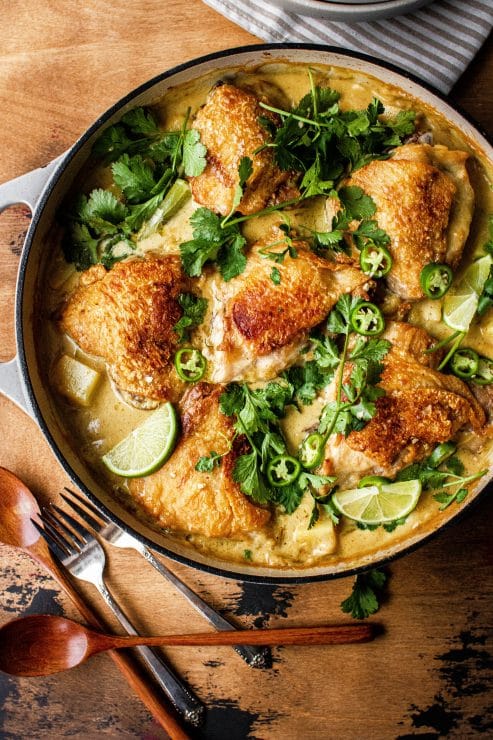 Coconut Milk-Braised Chicken
Coconut Milk-Braised Chicken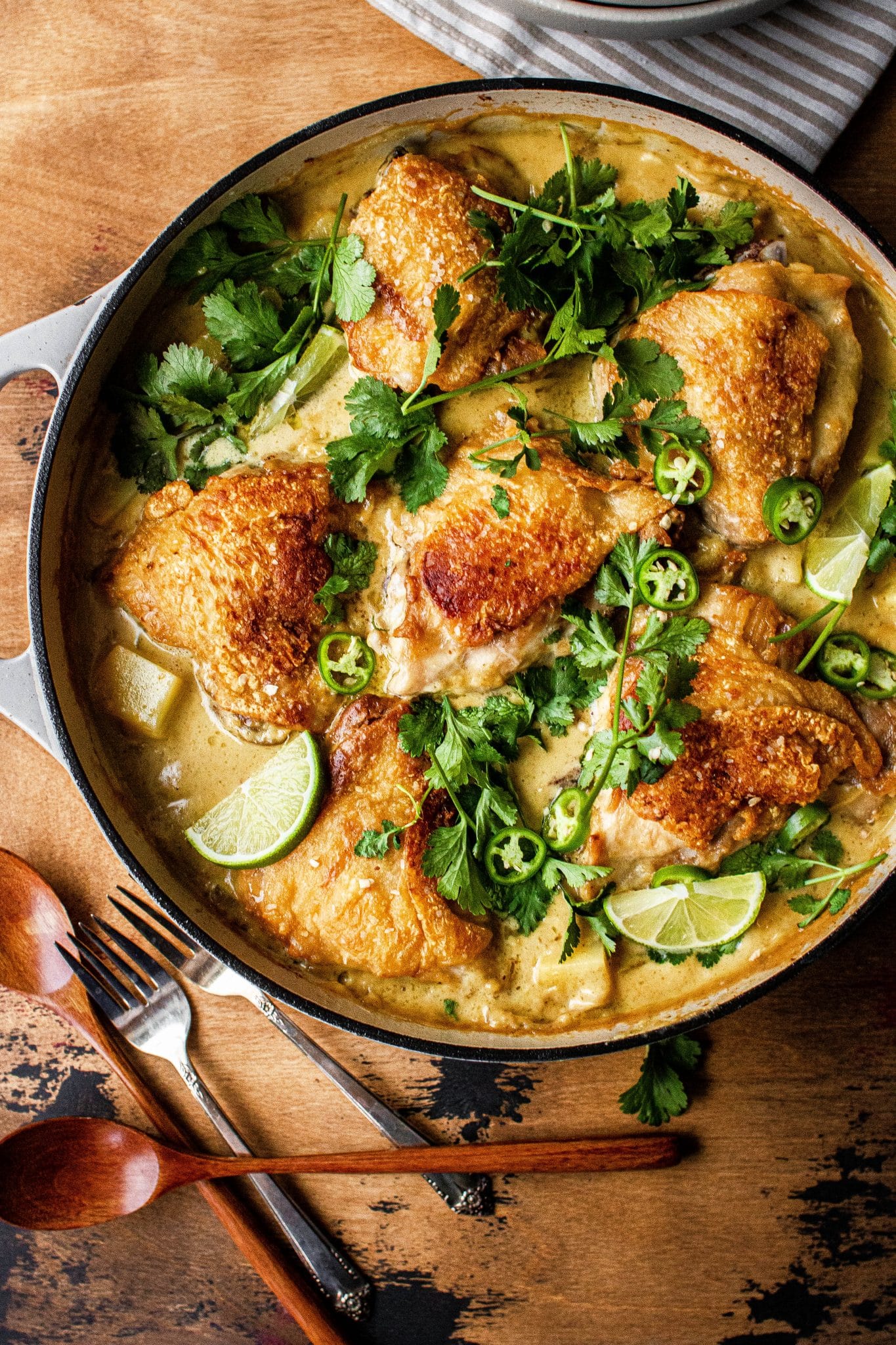 I am an avid lover of all things related to Thai cuisine and Thai flavors and this coconut milk-braised chicken is unreal. The recipe was born out of random pantry ingredients and some staples I keep on hand like shallots, garlic, ginger, some kind of spicy chile, and chicken.
I pretty much always have coconut milk, Thai curry paste, fish sauce, and brown sugar too! I love this recipe because it's a one-pan wonder that feels way more elegant than it actually is.
Lots of big, bold flavors come together in this super easy weeknight dinner that really only requires a handful of ingredients. Be sure to serve it over jasmine rice with lots of cilantro (or even Thai basil!) and lime for squeezing.
What is Thai Curry Paste?
This recipe gets tons of its flavor from Thai curry paste (my favorite brand is linked in the recipe). Thai curry paste is typically made from shallots, garlic, galangal (similar to ginger), lemongrass, kaffir lime leaves, chilies, and in the case of yellow curry paste, turmeric, plus other fragrant spices.
Red, green, and Panang curry paste usually contain shrimp paste as well so keep that in mind for any shellfish allergies. You could very easily swap in a different curry paste, but yellow is one of my favorites.
Where can I find Thai curry paste?
The international section of most well-stocked grocery stores should have it. You can find it in almost any international or Asian market. Amazon also has it here.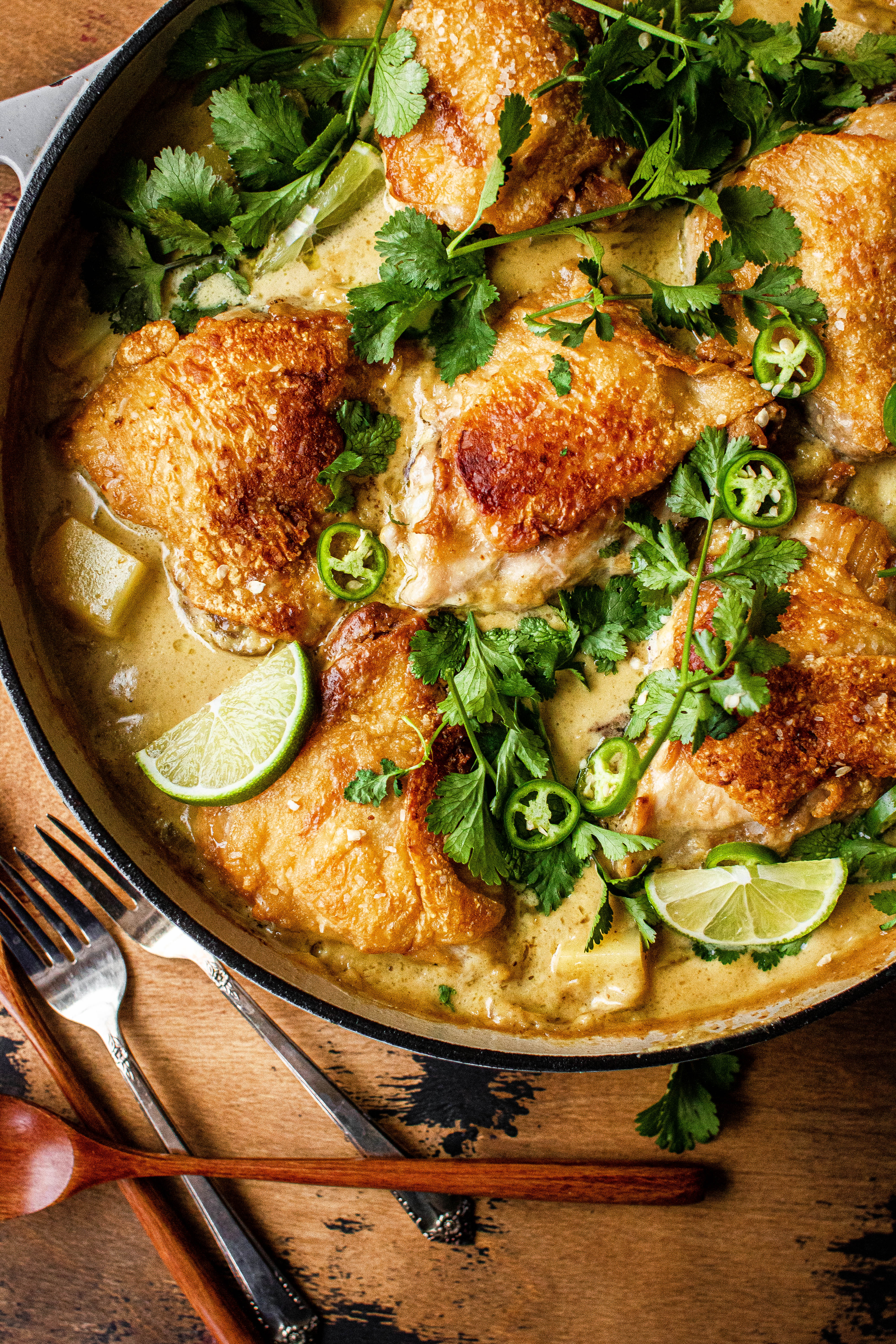 What is braising?
Great question! Braising is a combination style of cooking that usually involves searing meats (or veggies!) at high temps and then adding liquid to finish cooking in a slow and measured fashion.
Braising often takes a couple of hours because it usually deals with tougher cuts of meat that benefit from cooking them more slowly to bring out their tenderness.
In this instance, we're just doing a quick braise because the chicken is already tender. Some of my other favorite braising recipes are chicken adobo, beer-braised brisket, and instant pot carnitas tostadas.
Tools Needed to Make Coconut Milk Braised Chicken
How do I ensure that my chicken skin is crispy and golden-brown?
My tried and true method is to pull the chicken out of its packaging at least an hour, up to 8 hours, ahead of cooking and place them on a plate or small baking sheet lined with paper towels.
I do paper towels on the bottom, place the chicken in a single layer, and cover with more paper towels. This means the chicken skin is very dry ahead of searing it. Water is the enemy of crispy skin!
Also, when you place your chicken in the pan to sear, don't move it around. Leave it where it is and allow the heat and time to do its work. If after 3-4 minutes you notice that your pan has hot spots, then I'll rotate the chicken around the pan every so often to make sure each piece is browning evenly.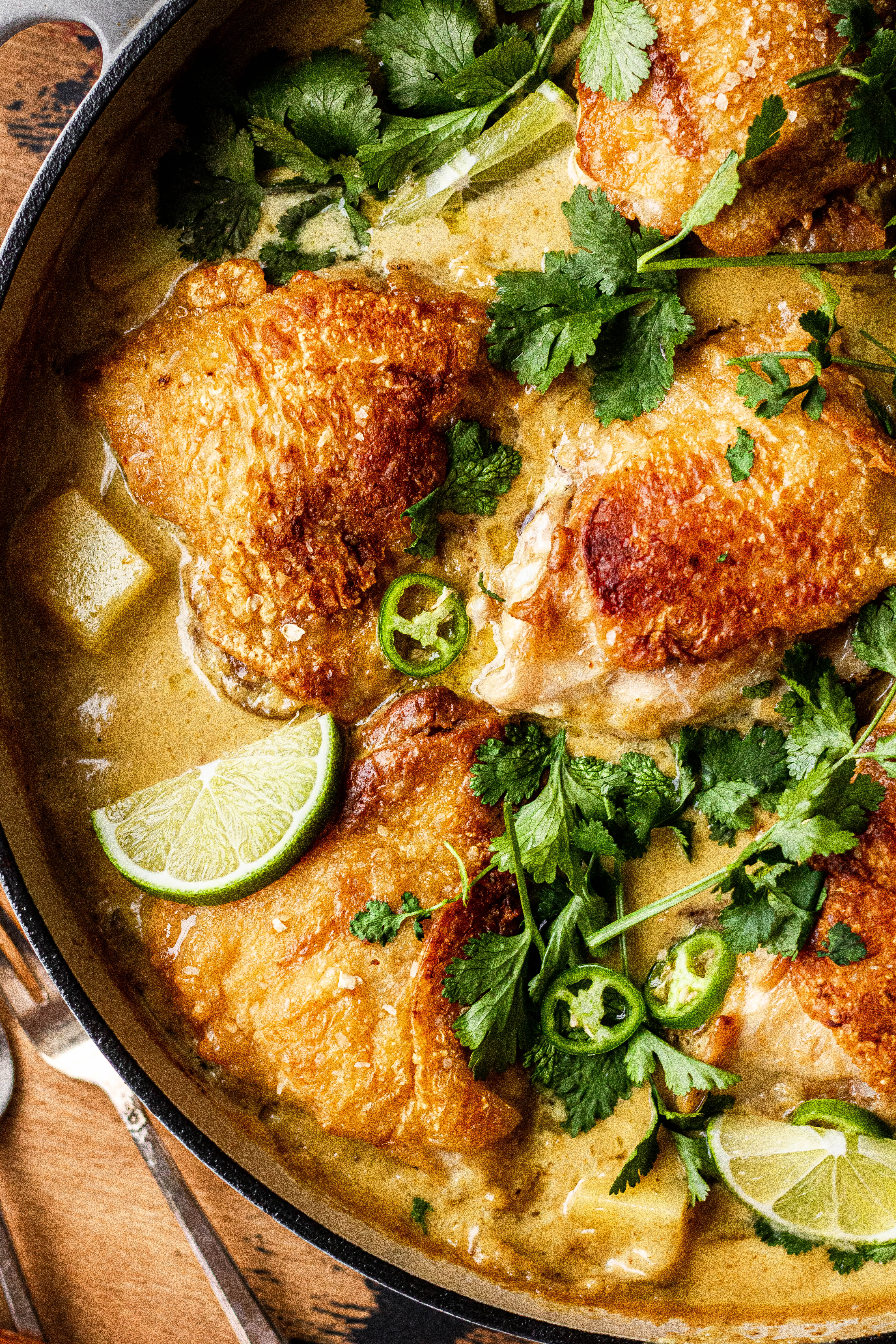 can i make coconut milk-braised chicken less spicy?
If spice is sometimes too much for you, omit the sliced serranos from the recipe. Yellow curry paste in itself is pretty mild and doesn't pack too much heat.
Is coconut milk-braised chicken gluten-free?
Great news! The recipe already IS gluten-free.
Can I make this recipe vegan or vegetarian?
Definitely! You would obviously leave the chicken out and you could easily swap in some crispy seared tofu and other veggies that benefit from absorbing sauce like eggplant, king trumpet mushrooms, daikon radish, etc. Leave out the fish sauce and the sauce is vegan! Yellow curry paste from Mae Ploy is one of the only ones that I know for sure is vegan.
Is this recipe considered a 'curry'?
I'd definitely say so! I don't like to label my food as being authentic Thai because it's often not. I love using Thai-inspired flavors and ingredients and that should absolutely be noted that this is a Thai-inspired recipe.
Curries have been around long before white people started making it trendy (sorry, not sorry for the bluntness). And while this recipe is by no means authentic, it's wrong to not give a nod to the cultures that it pulls inspiration and flavors from.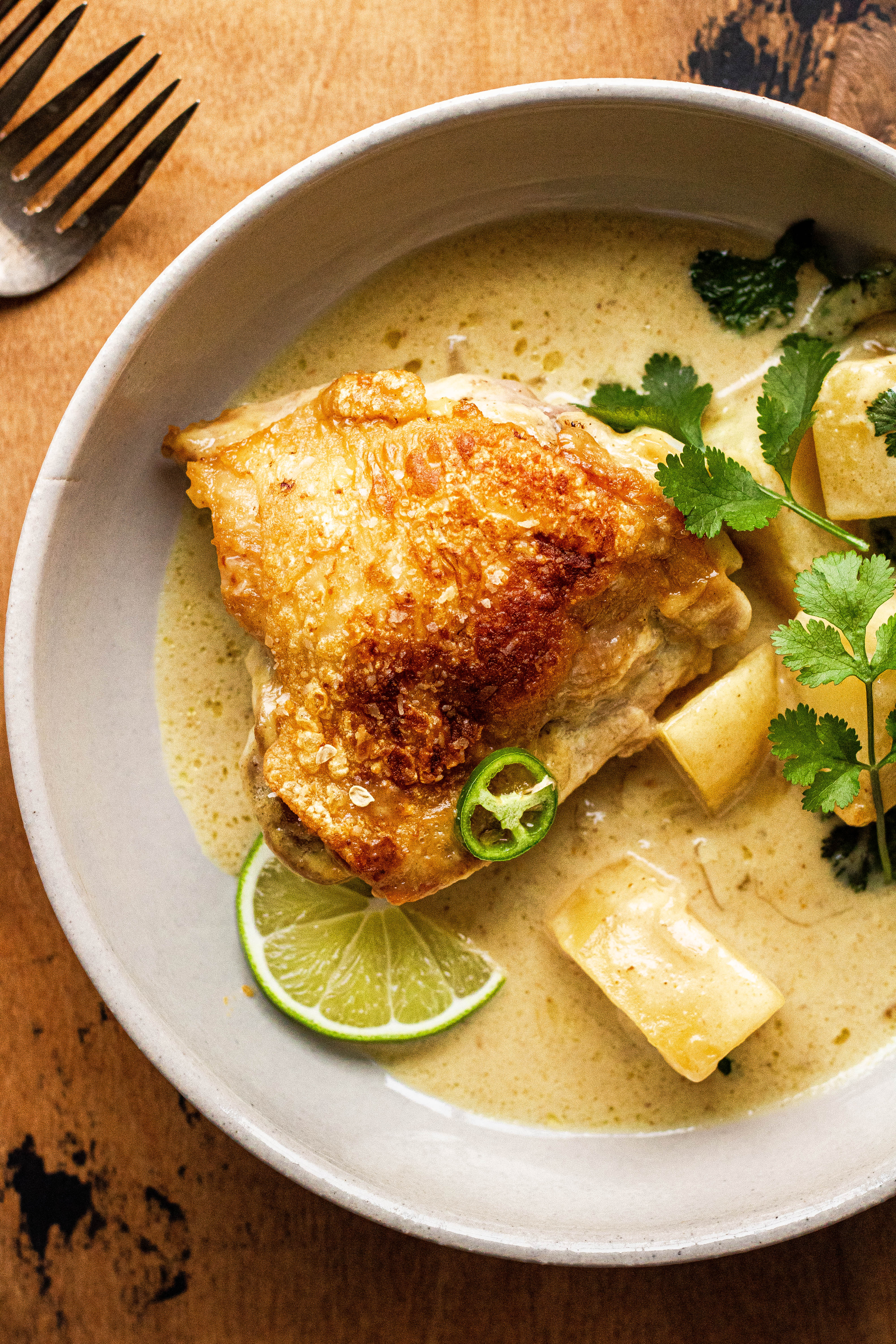 More Recipes to Try
This post may contain affiliate links from which I receive a small commission at no additional cost to you. Affiliate links allow me to keep providing great recipes for free and I never recommend products that I don't love and personally own.
Coconut Milk-Braised Chicken
Coconut milk-braised chicken is a one-pan, easy-to-make dinner full of flavor!
Total Time:
1

hour
20

minutes
Ingredients
1 1/2 - 2

lbs.

bone-in skin-on chicken thighs

salt and pepper

1

tablespoon

neutral oil

2

shallots, thinly sliced

5

garlic cloves, thinly sliced

1

tablespoon

freshly grated ginger

1

serrano, thinly sliced and stem discarded

2

tablespoons

Thai yellow curry paste

3

cups

full-fat coconut milk

2

tablespoons

brown sugar

1

tablespoon

fish sauce

1

teaspoon

cornstarch mixed with 2 tablespoons cold water

4

medium yukon gold potatoes, peeled and cubed
For serving:
cilantro

lime wedges

sliced serrano

steamed jasmine rice
Instructions
Preheat an oven to 350 degrees F. Pat the chicken thighs very dry with paper towels and season all over with salt and pepper.

Heat the oil in a large cast-iron or oven-safe skillet over medium-high until shimmering. Working in batches if needed, add the chicken skin-side down and cook until the fat is rendered and the skin is golden-brown, 8 to 10 minutes. Transfer the chicken to a plate, skin side up. Pour out the rendered fat, except for 1 tablespoon, and let the pan cool slightly.

Return the pan to medium heat and add the sliced shallot, garlic, ginger, and serranos and cook for 2-3 minutes while stirring often until soft. Add the curry paste and cook for another minute or two while stirring, until the curry paste is very fragrant. Then, add the coconut milk and scrape up any bits from the bottom of the pan while bringing the sauce to a simmer. Add the brown sugar, fish sauce, and cornstarch slurry and simmer the sauce for another 2 minutes. Season to taste with salt and pepper to taste.

Arrange the cubed potatoes in the pan and stir so that they're coated with the sauce. Gently nestle the chicken back into the pan, skin-side up, in a single layer taking care to ensure that the skin isn't submerged. Transfer the whole skillet to the oven uncovered and bake for 1 hour, or until the potatoes are very tender. Remove the skillet from the oven.

Before serving, top with cilantro, lime, and sliced serranos. Serve over steamed rice.
You might also like...