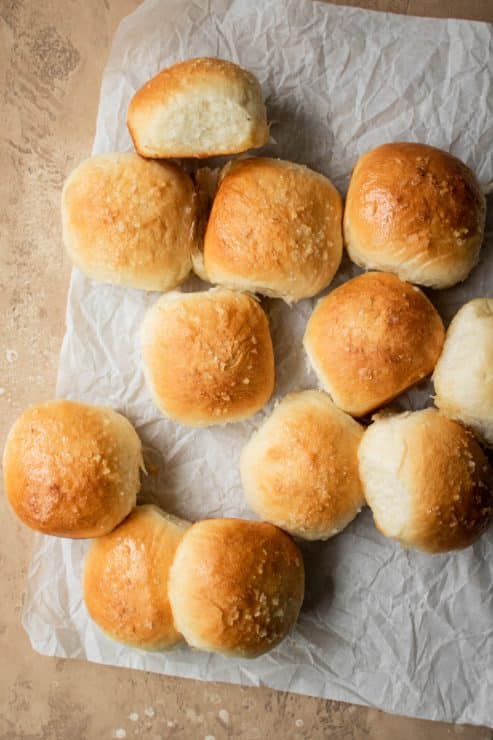 Fluffy Dinner Rolls Recipe
Fluffy Dinner Rolls Recipe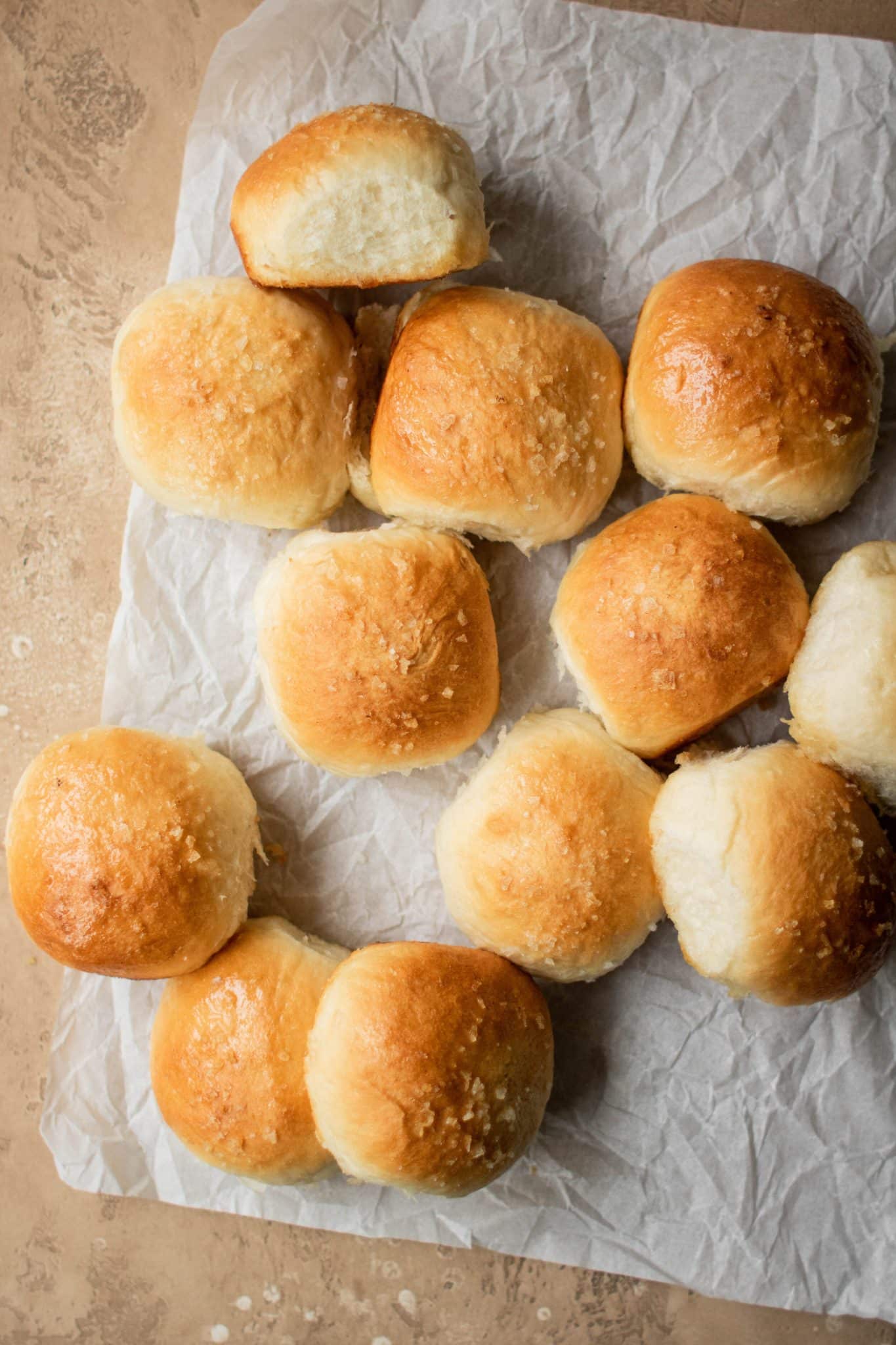 These fluffy dinner rolls are the best part of any dinner. They're light, perfectly fluffy, and you can top them with honey butter or garlic parmesan–something for everyone!
How to make fluffy dinner rolls
I love this recipe because it's a cinch to make, especially during the holidays. You can even make the rolls ahead of time, freeze them, and then bake the day of.
Tools Needed
Ingredients You'll Need
Bread Flour
All-Purpose Flour
Active Dry Yeast
Milk
Sugar
Eggs
Butter
Salt
Tips for Making Fluffy Dinner Rolls
Don't get the milk too hot. The optimal temperature for milk is around 100 degrees F. Any hotter and you run the risk of killing the yeast. If your yeast doesn't get foamy, your milk may be too hot. It should be just warm to the touch.
Make sure your yeast isn't old. The best place to store yeast is in the fridge to keep it as fresh as possible. I try and buy a new jar of yeast every 6 months or so. If your yeast has been hanging around a while and it's not getting foamy, it may be time to buy some fresh.
Use a combination of all-purpose and bread flour. Using a combination of all-purpose flour and bread flour really yields the perfect fluffy dinner rolls. They're light, yet chewy and that extra chew comes from the bread flour.
Mix your dough long enough. The trick to getting the perfect texture is to make sure you mix your dough long enough. It should be very smooth and elastic after it comes out of the mixer.
Don't rush the rising time. For flavor and texture, these fluffy dinner rolls need an initial rise and then a second proof after they're shaped. This ensures that your rolls are light and fluffy and not dense bricks.
Don't over-bake. These rolls bake up super quickly and only need about 15 minutes in the oven. If you bake too long, they will dry out.
Fluffy Dinner Rolls FAQs
Why are my dinner rolls not fluffy?
If your dinner rolls aren't fluffy it could be because of one of two reasons. Either, you added too much flour or you possibly used all bread flour. Alternately, not giving your dinner rolls enough time to proof and get puffy before baking could yield dense rolls.
My dough is rising slowly or not at all
If your dough is rising slowly or not at all, check the function of your yeast. The easiest way to tell if your yeast is old is if it doesn't get foamy in the first stage of the recipe.  If your kitchen is cold, the dough will rise slowly. To speed it along, place the bowl with the dough into the oven and turn the oven light on. The minimal heat from the bulb will warm the oven up a touch. Just don't forget to take it out before you preheat the oven!
What happens if you over-knead dough?
If your dough is tight and tough and the gluten strands break apart when you try to stretch the dough, it may have been overworked. Unfortunately, there is no fix for this and it's best to just start over.
My dough is really sticky after mixing, what should I do?
If you find that your dough is really, really sticky after mixing, mix in a bit more flour. The dough should feel tacky, but smooth and shouldn't really stick to your hands.
Other Bread Recipes to Try
This post contains affiliate links from which I receive a small commission at no additional cost to you. Affiliate links allow me to keep providing great recipes for free and I never recommend products that I don't love and personally own.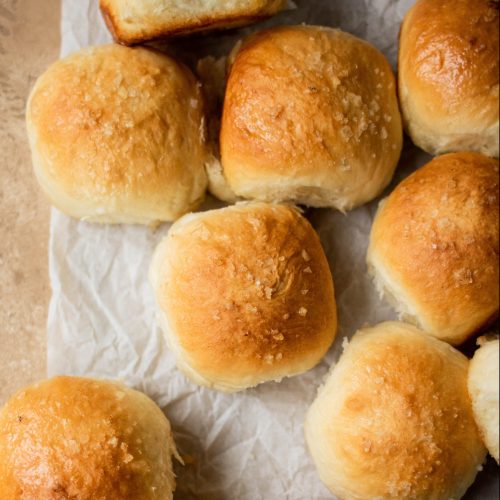 Fluffy Dinner Rolls Two Ways
Everyone needs a great fluffy dinner roll recipe for their Thanksgiving (or any dinner!) table and I love this recipe because you can make them brushed with honey butter or garlic herb butter. All your guests will be happy!
Ingredients
Dinner Roll Dough
1 1/2

cups

whole milk

1

stick

4 oz unsalted butter

3

tablespoons

granulated sugar

1 1/2

tablespoons

active dry yeast

2

eggs

2

cups

all-purpose flour

3

cups

bread flour

1 1/2

teaspoons

kosher salt
Honey Butter Topping
3

tablespoons

unsalted butter

2

tablespoons

honey

flaky sea salt for sprinkling
Garlic Parmesan Topping
4

tablespoons

unsalted butter

5

cloves

garlic

minced

1/2

teaspoon

kosher salt

1

tablespoon

minced fresh parsley

1/4

cup

freshly grated parmesan
Instructions
To make the dough: In a small saucepan, warm the milk and butter to 100 degrees F. In the bowl of a stand mixer fitted with the dough hook, combine the sugar and yeast. Pour the milk/butter mixture over the yeast and sugar and let it rest for 5 minutes until the yeast is foamy. If your yeast does not get foamy, it may be too old to use. Add the eggs and flour to the bowl and mix on low. As the dough comes together, sprinkle in the salt. Mix on low for 10 minutes until the dough is smooth. Transfer to a greased bowl, cover with plastic wrap, and let the dough rise in a warm location until doubled in size.

Grease a large rimmed baking sheet (13X18) or two smaller baking sheets(8x12), if making both flavors. Punch the dough down and portion the dough into 24 pieces. The easiest way to do this is to weigh the dough, take the total weight and divide it by 24. This ensures even-sized pieces that bake at the same rate. Roll each piece into a ball and place it on the greased baking sheet one inch apart. Loosely cover with plastic wrap and allow to rise until doubled in size and the rolls are touching.

To make the honey butter: melt butter and combine with honey until well mixed. Cool slightly until the mixture has thickened.

To make the garlic butter: melt the butter in a small saucepan over low heat and add the garlic. Cook for 2 minutes and remove from heat. Add the salt and parsley and stir to combine.

To assemble: Preheat an oven to 375 degrees F. Remove the plastic wrap from the dough and gently, but liberally, brush with either butter. If using honey butter, sprinkle the rolls with flaky sea salt after brushing with butter. If using garlic parmesan, sprinkle with parmesan after brushing with garlic butter. Bake for 15 minutes until the rolls are golden brown on top. Remove from oven and let the rolls cool before serving. Sprinkle garlic parmesan rolls with extra parmesan if desired after they cool slightly.
Notes
This recipe can be cut in half if desired. The butter recipes are for 12 rolls. If you want to make 24 rolls of a particular flavor, double the butter recipe.
The rolls can be made ahead and frozen. After you portion the dough into balls, place them on a parchment-lined tray and freeze. Defrost rolls in the fridge and then allow the dough to rise before baking.
Nutrition
Serving:
1
roll
Calories:
130
kcal
Carbohydrates:
18
g
Protein:
3
g
Fat:
5
g
Saturated Fat:
1
g
Sodium:
240
mg
Fiber:
1
g
Sugar:
2
g
You might also like...