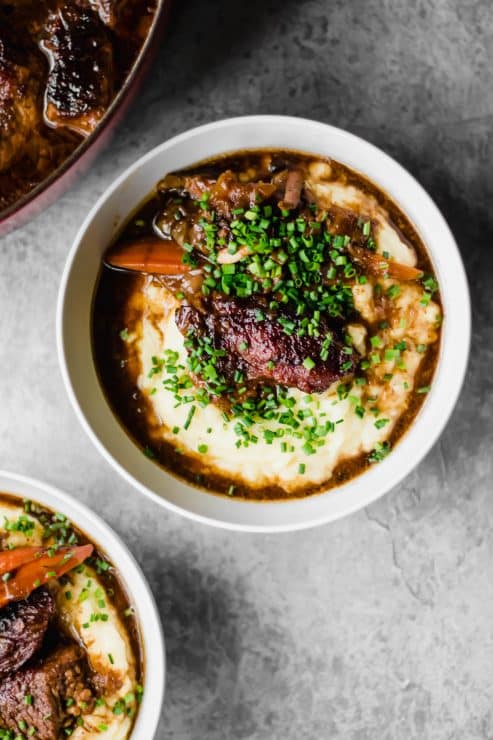 beer braised brisket with crème fraîche mashed potatoes
beer braised brisket with crème fraîche mashed potatoes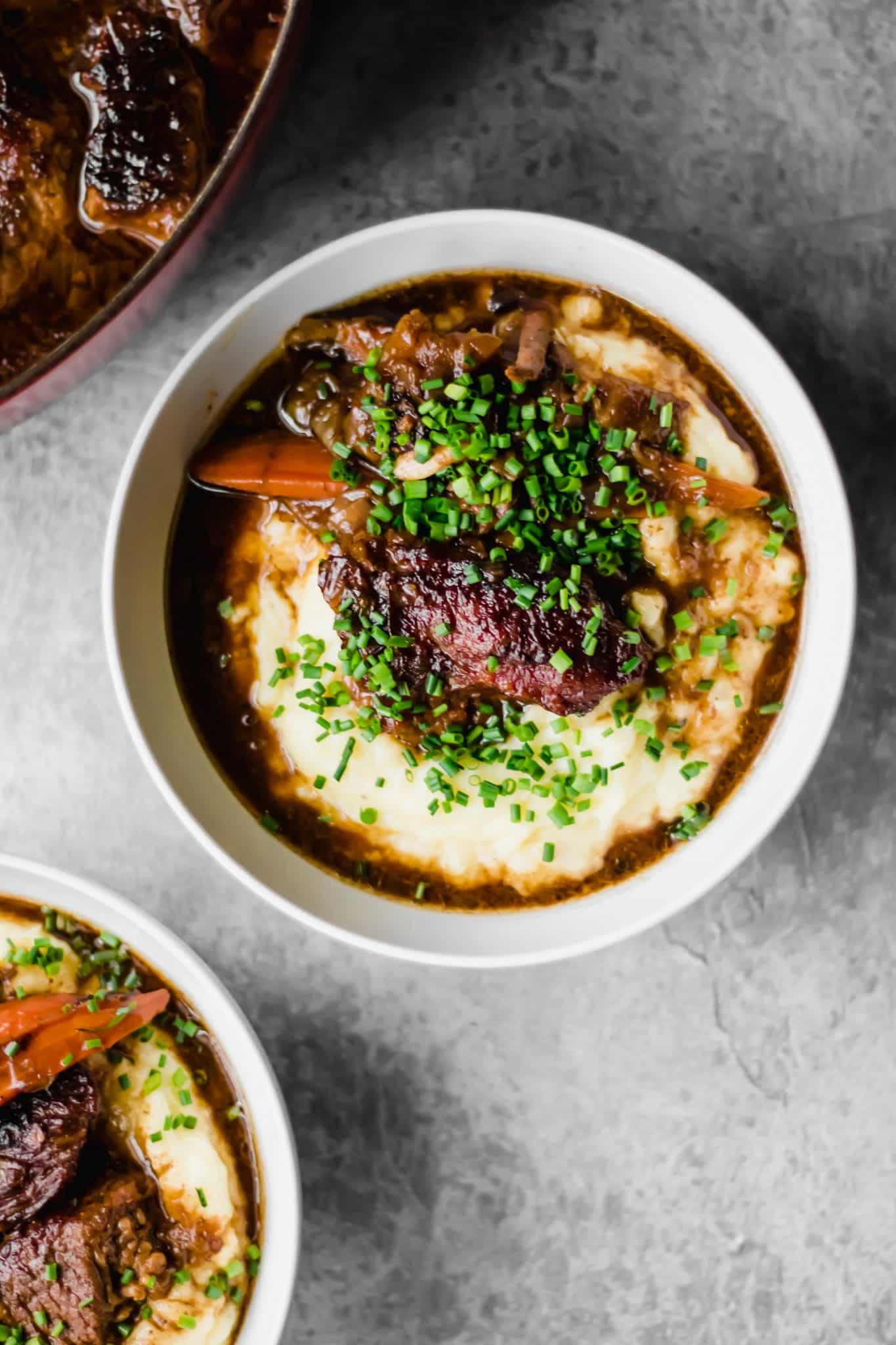 It's that time of year when I'm all about the stews and braised meats (and sweats and Netflix). Brisket is one of my favorite cuts for braising because it's nice and fatty, it's cheap as hell, and they sell big ass pieces of it everywhere in Texas and if it's beer-braised brisket, then ALL THE BETTER. If brisket isn't your thing, short ribs would also be great in this recipe as well as beef chuck roast, chuck flap meat, etc. Anything that is traditionally a "tougher" cut of meat with a decent amount of fat in it. And let me tell you right now, FAT=FLAVOR. So please don't go choosing a super lean cut.
Contrary to popular belief, you can actually overcook something even when it's cooked in liquid. If you want to get all science-y here, part of what makes beef tender in a stew isn't just that it's absorbing some liquid as the beef cooks, it's actually slowly breaking down collagen and gelatin. When beef is braising, it creates a thick layer of melted gelatin that helps to hold moisture into the meat. When you cook the beef for too long, that layer melts away and allows those juices to escape. It's like a water balloon versus a sponge. The water balloon pops, and all the moisture is gone but with a sponge, if you press on it, a little liquid dribbles out but the sponge itself still retains moisture.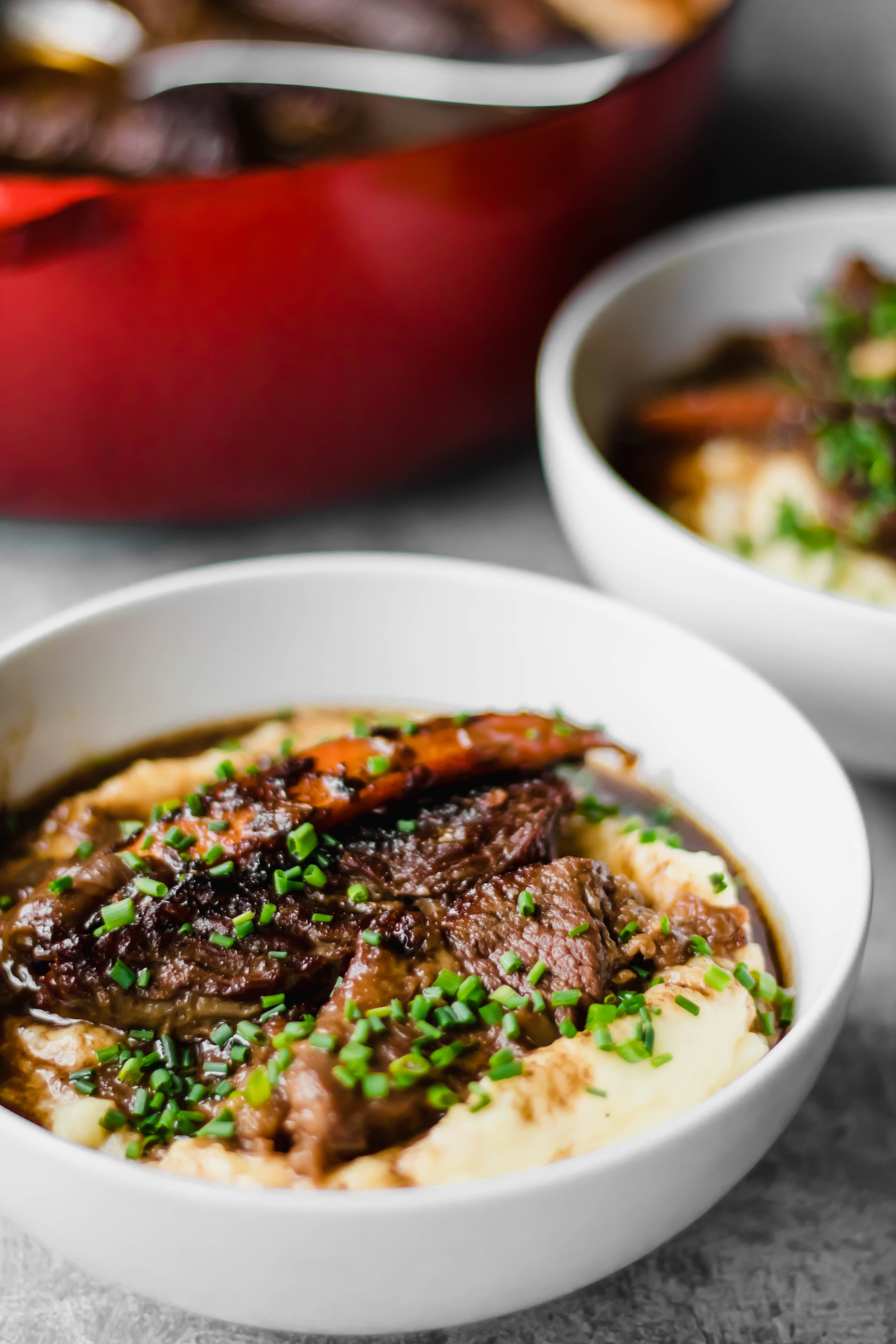 Now that I've sufficiently nerded out on the beef aspect, the recipe itself is really simple and can easily feed a crowd. When you go to select a beer for this recipe, choose a darker beer that doesn't have much bitterness to it. I went with Sam Smith's oatmeal stout for mine, but realistically most brown ales, porters, and stouts can work. If you are using a stout, try to stay away from ones higher in alcohol percentage as those will likely be sweeter and have more residual sugar. Aim for beers around 6 percent alcohol and you should be good to go! As for the mashed potatoes, these will be your new favorites.
If you haven't ever used crème fraîche, it's similar to sour cream but is a little milder in flavor with higher fat content. You can absolutely substitute sour cream in a pinch, or you could make your own crème fraîche! Just add three tablespoons of cultured buttermilk to two cups of heavy cream in a clean mason jar, cover the top tightly with cheesecloth, and let sit at room temperature for 24 hours. Refrigerate until cold, at least 8 hours, before using. So easy!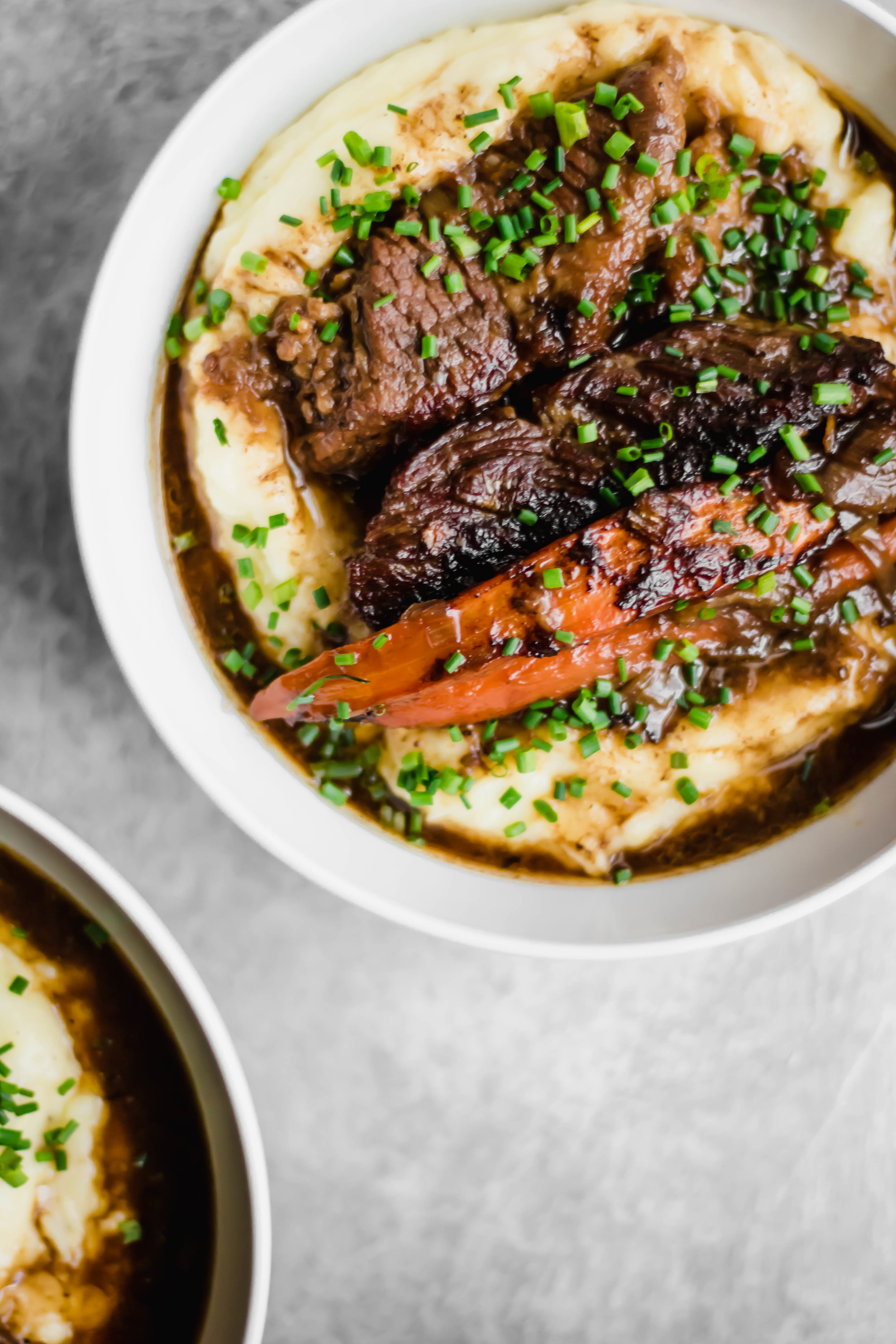 Enjoy this extraordinarily easy and hearty dish! Don't forget to leave any questions or comments you have in the comments section below. Happy cooking!
Note: You can use a couple of stalks of celery in this recipe if you like, I just happen to not care for celery very much and tend to leave it out of recipes.
Products I used: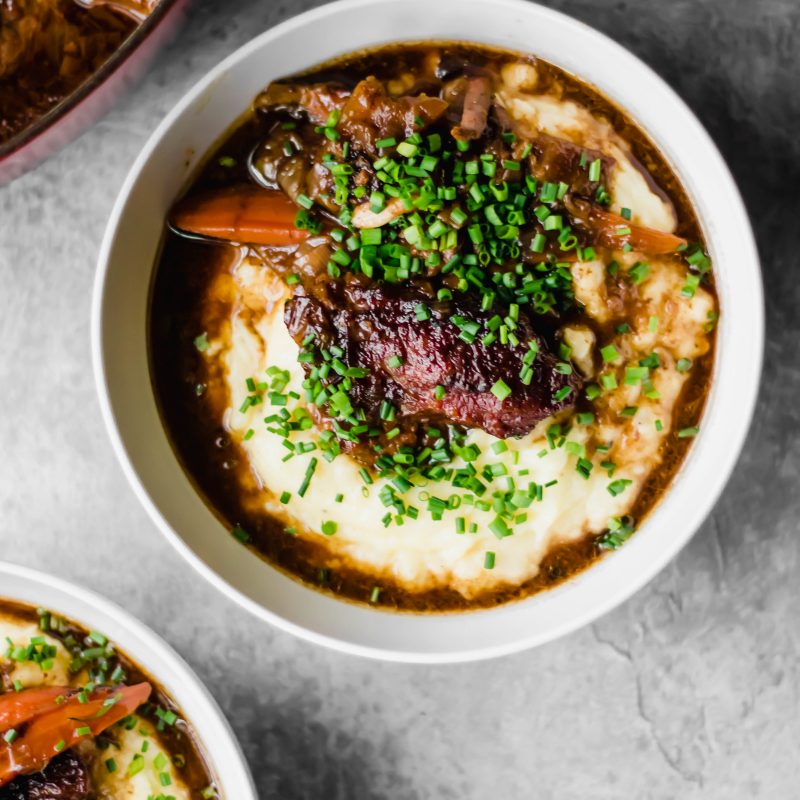 beer braised brisket with crème fraîche mashed potatoes
Ingredients
Beer Braised Brisket

3 1/2

lbs

Brisket

cut into 2.5x2.5" cubes

3

tablespoons

flour

2

teaspoons

paprika

2

tablespoons

canola or other neutral oil

1

yellow onion

diced large

2

leek stalks

sliced, white and light green parts only, rinsed

2

lbs

petit carrots

peeled and cut in half lengthwise (or 3 large carrots, peeled and chopped)

8

cloves

garlic

peeled

2-12

oz

dark beers

poured into a measuring cup and let sit until mostly flat

2

cups

beef broth

salt and freshly ground pepper

chopped chives

for garnish

Crème Fraîche Mashed Potatoes

3

lbs.

yukon gold potatoes

diced (peeled or not peeled, it's up to you)

1

stick

4 oz unsalted butter, cut into pieces

8

oz

crème fraîche

or sour cream if substituting

1/4

cup

heavy cream

salt and freshly ground pepper
Instructions
Preheat an oven to 375 degrees F. In a heavy bottomed dutch oven or braiser, heat oil over medium-high heat. Toss cubes of brisket with salt, pepper and paprika, and then the flour. Mix until evenly coated. Working in batches, sear the pieces of brisket until deep brown on all sides. Transfer to a plate. Add the onions and leeks to the pot, adding a little more oil if necessary. Cook, stirring occasionally, until onions are soft and have picked up some of the brown bits on the bottom of the pot (from searing the beef).

Add beef back to the pot and nestle into the onions. Arrange cloves of garlic around the meat and evenly disperse carrots. Add beer and bring to a simmer. Simmer for 5- 10 minutes to remove all the alcohol. Add the beef broth to the pot, cover with a lid and place in the oven for 2 hours. Uncover the pot and cook for another 45 min to 1 hour, until beef is tender and browned. If beef still isn't tender, cook for another 30 minutes. Remove from the oven and season the broth to taste with salt and pepper.

To make the mashed potatoes, cover the cubed potatoes with cold water in a large enough pot with 1 tablespoon salt. Bring to a boil and cook until potatoes are fork-tender. Drain potatoes in a colander and return to the pot they were boiled in. Depending on your preference for texture, you can either use a potato masher or a small hand-held mixer (this is what I use). Use the mixer or the masher to break up the potatoes. Add the butter, heavy cream, and crème fraîche while the potatoes are still hot. Mix until smooth (don't overmix or the potatoes will be gluey). Season to taste with salt and pepper.

To serve: portion mashed potatoes into large bowls, top with braised brisket, veggies, and braising liquid, garnish with chopped chives.
You might also like...