guinness Texas sheet cake with candied pecans
guinness Texas sheet cake with candied pecans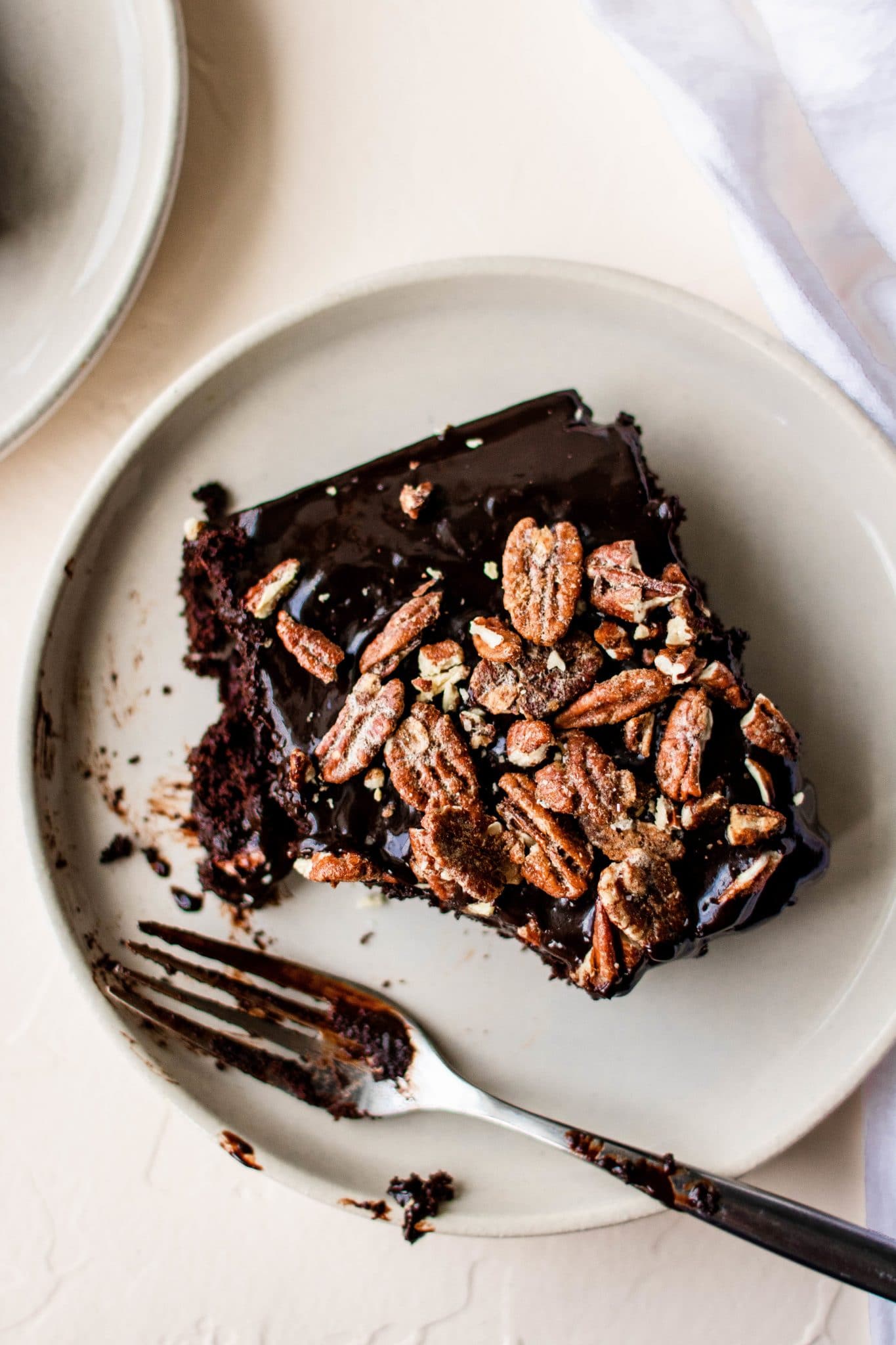 Woo! I'm making it in just under the wire for a St. Patrick's Day dessert! I intended to get this recipe up yesterday, but you know, life. I wanted to make a Guinness cake but not have it be the typical cake or cupcakes with irish liqueur frosting ad nauseum. So, I decided to marry two recipes: guinness cake and Texas sheet cake.
What is Texas sheet cake, you may be wondering? A rich, chocolate cake baked in a rimmed baking sheet and when the cake is warm out of the oven it gets doused with a chocolate fudge sauce that slowly absorbs into the cake adding even more richness and goodness. It's like the tres leches cake of chocolate. And then it gets topped with a smattering of candied pecans. It's easy, unpretentious, and it can feed the heck out of a crowd. Perfect, right?
Cake decorating is simply not my jam, so any cake that requires no frosting and crumb coats and stress is a freaking win in my book. This humble cake is perfectly happy being served on paper plates at a bbq or any gathering, really. And the fact that there's a fudge layer on top seals in moisture, making it the perfect make-ahead dessert for parties. It's phenomenal when served warm but still perfectly delightful at room temperature. And if you really want to take it over the top? Throw a scoop of ice cream on there. Happy baking!
Products I used in this recipe:
guinness Texas sheet cake with candied pecans
This is my favorite chocolate cake EVER! It's so easy to throw together, requires no decorating, and feeds a crowd no problem.
Ingredients
Guinness Texas Sheet Cake

1

cup

guinness beer

2

sticks unsalted butter

cubed

4

oz.

semi-sweet chocolate

chopped

2 1/4

cups

all purpose flour

2

cups

granulated sugar

3/4

cup

unsweetened cocoa powder

preferably dutch-process

1 1/2

teaspoons

baking soda

1/2

teaspoon

kosher salt

3

eggs

1/2

cup

sour cream

Chocolate Glaze

1/2

cup

guinness

1/2

cup

whole milk

1

stick unsalted butter

cubed

1/2

cup

unsweetened cocoa powder

preferably dutch-process

1/2

cup

sugar

8

oz

semi-sweet chocolate

chopped

1/4

tsp

kosher salt

1

teaspoon

vanilla extract

Candied Pecans

6

oz

raw pecan halves

1

egg white

1 1/2

tablespoon

granulated sugar

1/2

teaspoon

ground cinnamon

1/2

teaspoon

kosher salt
Instructions
For the cake: Preheat an oven to 350 degrees F. Grease a half sheet pan and dust with cocoa powder to prevent sticking or line with parchment paper and lightly grease the paper and sides.

In a medium saucepan, combine the guinness, butter and chocolate and warm over medium heat, whisking until the chocolate and butter are melted. Allow to cool slightly.

In a mixing bowl, combine the flour, sugar, cocoa powder, baking soda, and salt and whisk to combine everything. In a small bowl, whisk together the eggs and sour cream. Add the slightly cooled chocolate mixture to the flour mixture and whisk to combine. Whisk in the egg and sour cream mixture until smooth. Pour the cake batter into the prepared pan and bake for about 22-25 minutes, until the cake is set and a tester comes out clean.

For the sauce: While the cake is baking, combine the milk, guinness, sugar, and cocoa powder and whisk until smooth. Bring to a gentle simmer and add the butter, chocolate, vanilla and salt and whisk until smooth. Set aside. Once the cake comes out of the oven, use a bamboo skewer to poke holes all over the warm cake. Pour the chocolate glaze over the warm cake, working slowly to prevent overflow and using an offset spatula or the back of a spoon to smooth it to an even layer. The cake will absorb the chocolate sauce slowly.

For the pecans: Preheat an oven to 350 degrees F. In a medium bowl, whisk together the egg white and sugar until frothy. Add the ground cinnamon and whisk until smooth. Toss the pecans in the egg whites until evenly coated and spread on a baking sheet lined with a silicon mat. Bake for 15 minutes, stirring the pecans every 5 minutes until they look dry. Cool and then top the cake with the pecans.
You might also like...