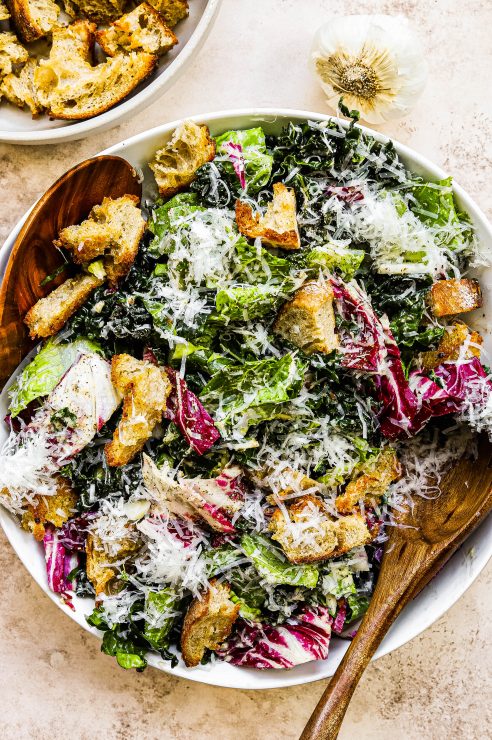 Kale Caesar Salad Recipe
Kale Caesar Salad Recipe
Kale caesar salad is my absolute go-to salad recipe. Caesar salad is my all-time favorite salad. It's the perfect side to any meal and it's so easy to make. Adding tender kale and radicchio is my favorite way to enjoy it. Don't forget all the crispy croutons and freshly grated parmesan!
History of Caesar Salad
Did you know that Caesar salad actually originated in Tijuana, Mexico? Caesar Cardini, an Italian immigrant, first created the salad in his restaurant Caesar's in 1924. Originally, he actually prepared the salad table-side! The dressing is made by emulsifying egg, olive oil, lemon juice, garlic, parmesan, dijon, Worcestershire, and black pepper. That's right! The original recipe does not call for anchovies. That's a modern adaptation from the classic recipe. Did you know that even Julia Child enjoyed the famed salad in the 1920s? Caesar salad is almost 100 years old and we're still enjoying it today.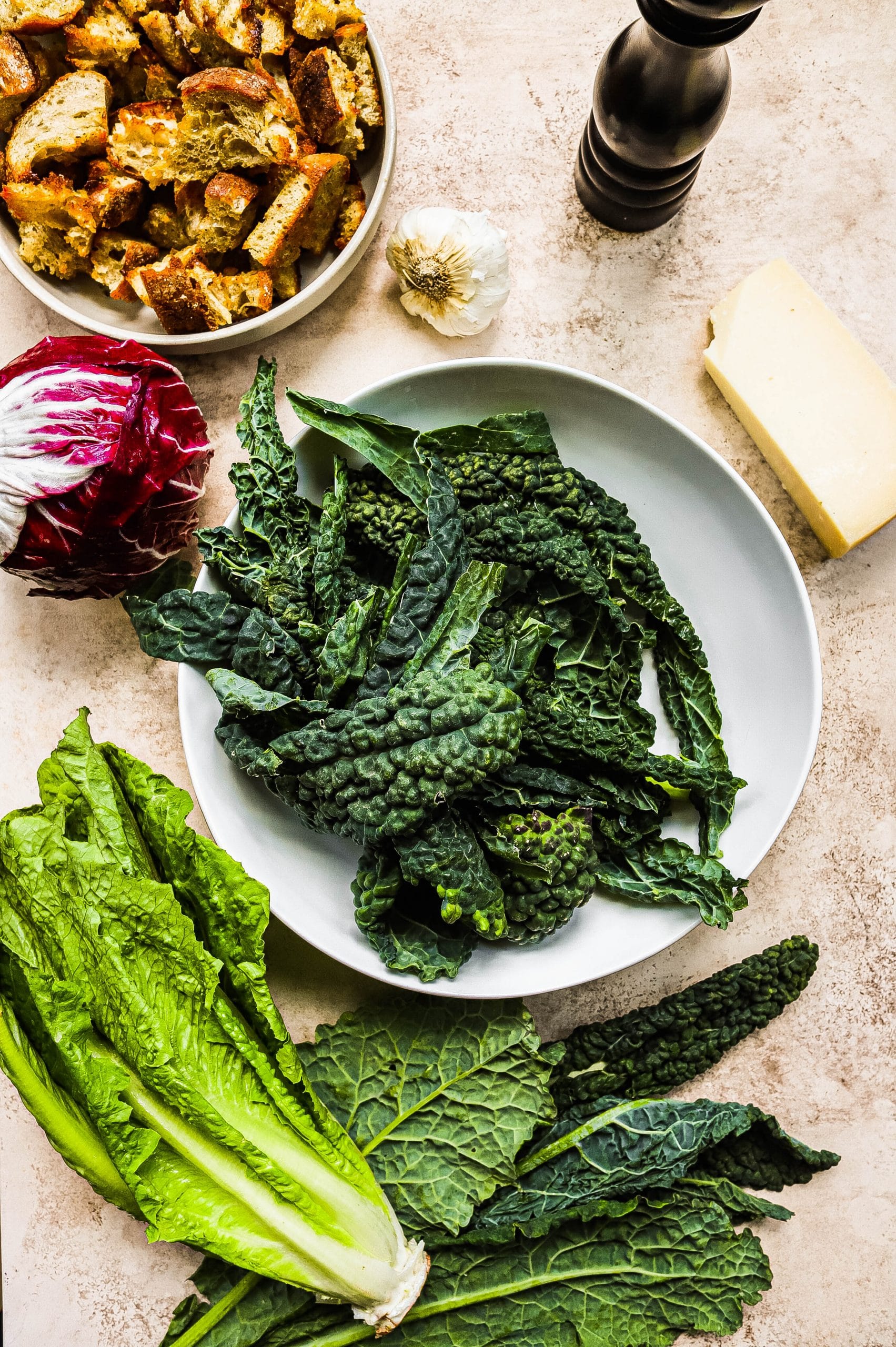 How to Make Kale Caesar salad
The original recipe calls for romaine, but I like to jazz things up a bit by adding kale and radicchio. I also simplify the dressing by calling for mayo instead of egg and oil.
Tools Needed
How to prep kale
The best kale to use is Lacinato or dinosaur kale. It's much more tender than green kale and fairly easy to find. Most grocery stores carry kale in the produce section including HEB, Whole Foods, Trader Joe's, etc.
Lacinato kale has a thick stem running through the middle of each leaf and I always remove it. It's very fibrous and tough to eat. To remove stems from kale, hold the stem in one hand and strip leaves along the stem away from you. So easy to do! Then, you'll roughly chop the kale and massage it for a few minutes. Yes, massage. This is a crucial step and ensures tender kale. I mix my kale with a pinch of salt and a tiny bit of olive oil, and just massage it, working the leaves between my hands. You'll notice that the kale will turn dark green and feel very soft. That's it! This simple step will change the way you feel about eating kale forever.
Ingredients you'll need
Greens. For this recipe, I'm using romaine, kale, and radicchio because those are my favorites. You can swap in some endive, a little spinach, or keep it traditional with just romaine.
Sourdough. The best croutons, in my opinion, come from sourdough bread! Be sure to tear the bread vs cubing it, the irregular shape gives them the best texture.
Mayonnaise. True caesar dressing is made by whisking eggs and oil together until emulsified, but I like to shorten that step a bit. Using a good-quality mayo makes this dressing a cinch to throw together.
Worcestershire sauce. True caesar dressing doesn't call for anchovies, any subtle anchovy flavor comes from the Worcestershire. If you love anchovies, feel free to mix some anchovy paste or finely minced anchovies in.
Parmesan cheese. No kale caesar salad is complete without freshly grated parmesan cheese. Bust out your Microplane to get the best texture.
Garlic. Fresh garlic is a must here! Don't use the jarred, minced garlic.
Black Pepper. Please don't ever buy pre-ground black pepper! Use a pepper mill for the best flavor.
Dijon. Use a nice quality dijon mustard–my favorite is from Trader Joe's.
Lemon. Both lemon juice and zest give this dressing a fresh flavor.
How to Prepare kale caesar salad
Prep your greens. De-stem, chop, and massage your kale and chop your romaine and radicchio.
Make your croutons. Toss your torn sourdough with olive oil, parmesan, salt, and pepper and bake until crispy.
Prepare your dressing. Get all the ingredients together for the dressing and give them a good whisk until everything is smooth. I actually like to do this step in advance and let the dressing chill in the fridge for a bit. The extra time gives the flavors a chance to really shine.
Toss everything together. In a large bowl, toss your greens and croutons with your desired amount of dressing. Top with more freshly grated parmesan and serve!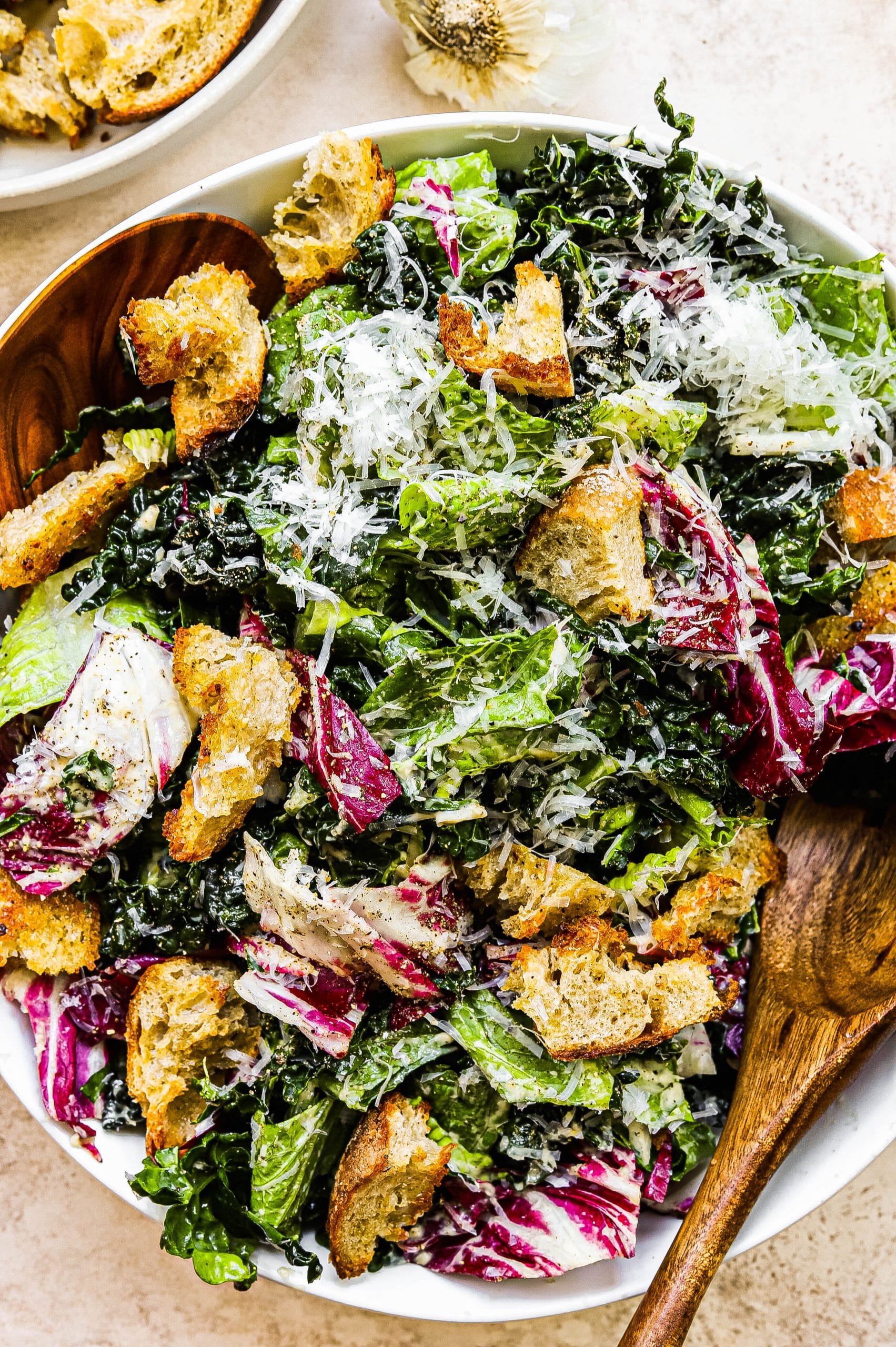 Kale Caesar Salad FAQs
Can I make this recipe without kale?
Yes, of course. I added kale and radicchio because I love it, but this recipe is still great with only romaine lettuce. If you have access to little gem lettuce, that's also one of my favorite ways to enjoy a caesar salad.
Is kale caesar salad gluten-free?
As long as you swap in gluten-free bread or omit the croutons, kale caesar salad is gluten-free.
Does kale need to be cooked for salads?
Nope! Just make sure you give your kale a good rinse and dry before preparing.
Does Caesar salad require anchovies?
Nope! The original recipe for caesar dressing actually never called for anchovies. The subtle anchovy flavor comes from Worcestershire sauce. If you're allergic to anchovies, try using a vegan Worcestershire sauce.
Recipes to Serve Alongside Kale Caesar Salad
This post contains affiliate links from which I receive a small commission at no additional cost to you. Affiliate links allow me to keep providing great recipes for free and I never recommend products that I don't love and personally own.
Kale Caesar Salad Recipe
Kale Caesar salad is one of my favorite salads ever. It's so easy to throw together--it'll be your new favorite dinner companion!
Ingredients
Croutons:
4

cups

torn sourdough bread

3

tablespoons

olive oil

1/4

cup

freshly grated parmesan cheese

Kosher salt

Freshly ground pepper
Caesar Dressing:
1/2

cup

good-quality mayonnaise

1

tablespoon

dijon mustard

2

garlic cloves

grated

1

tablespoon

Worcestershire sauce

1/2

teaspoon

lemon zest

3

tablespoons

lemon juice

1/4

cup

freshly grated parmesan cheese

2

tablespoons

good-quality olive oil

1

teaspoon

freshly ground black pepper

1/2

teaspoon

kosher salt
Salad:
1

head romaine

roughly chopped

1

bunch lacinato kale

stemmed and roughly chopped (see above notes)

2-3

cups

roughly chopped radicchio

2

teaspoons

olive oil

Kosher salt

Freshly ground pepper
Instructions
Prepare your dressing: Whisk together all the ingredients for the caesar dressing, transfer to an airtight container, and refrigerate until ready to use.

Make your croutons: Preheat an oven to 400 degrees F and line a baking sheet with parchment paper. In a large mixing bowl toss together the torn bread, olive oil, and parmesan. Sprinkle with salt and pepper and spread in an even layer on the prepared baking sheet. Bake for 10-12 minutes, until golden brown. Remove from the oven and cool to room temperature. Croutons can be kept in an airtight container for up to 3 days.

Prepare your greens: In a large serving bowl add your kale, olive oil, and a light sprinkling of salt and pepper. Gently massage the kale for 2-3 minutes with your hands, rubbing the greens until they turn dark green and lender. Mix in the romaine and radicchio. Add some croutons and mix with your desired amount of dressing until the leaves and croutons are well-coated. Sprinkle with extra freshly grated parmesan and freshly ground pepper. Serve immediately.
Notes
I love a strong pepper taste in my dressing, if you don't like pepper, use less.
See my notes above in the blog post about how to prepare kale.
Nutrition
Serving:
1
1/2 cups salad
Calories:
254
kcal
Carbohydrates:
5.4
g
Protein:
2.4
g
Fat:
16.8
g
Saturated Fat:
3.4
g
Cholesterol:
7.7
mg
Sodium:
300
mg
Fiber:
1.3
g
Sugar:
1.4
g
You might also like...