Instant Pot Matzo Ball Soup
Instant Pot Matzo Ball Soup
Hanukkah is here folks and this instant pot matzo ball soup is ready for you! No table is complete without the super comforting presence of a really good matzo ball soup. Though I'm not Jewish, I love a good soup and I love the ability to share food with others across various cultures. I wanted to create a very classic matzo ball soup recipe but make it even easier by using the Instant Pot! It's so easy to create a rich broth that tastes like it's been simmering for hours, in mere minutes.
The chicken broth in this recipe is so flavorful that you'll fool even the staunchest traditionalists in your family. Even if you aren't celebrating Hanukkah, this soup is a cure-all for whatever ails you! I caught a cold last week and the first (and only) thing I did was to make this soup and settle myself on the couch for some Netflix binging. To all the folks celebrating, Happy Hanukkah!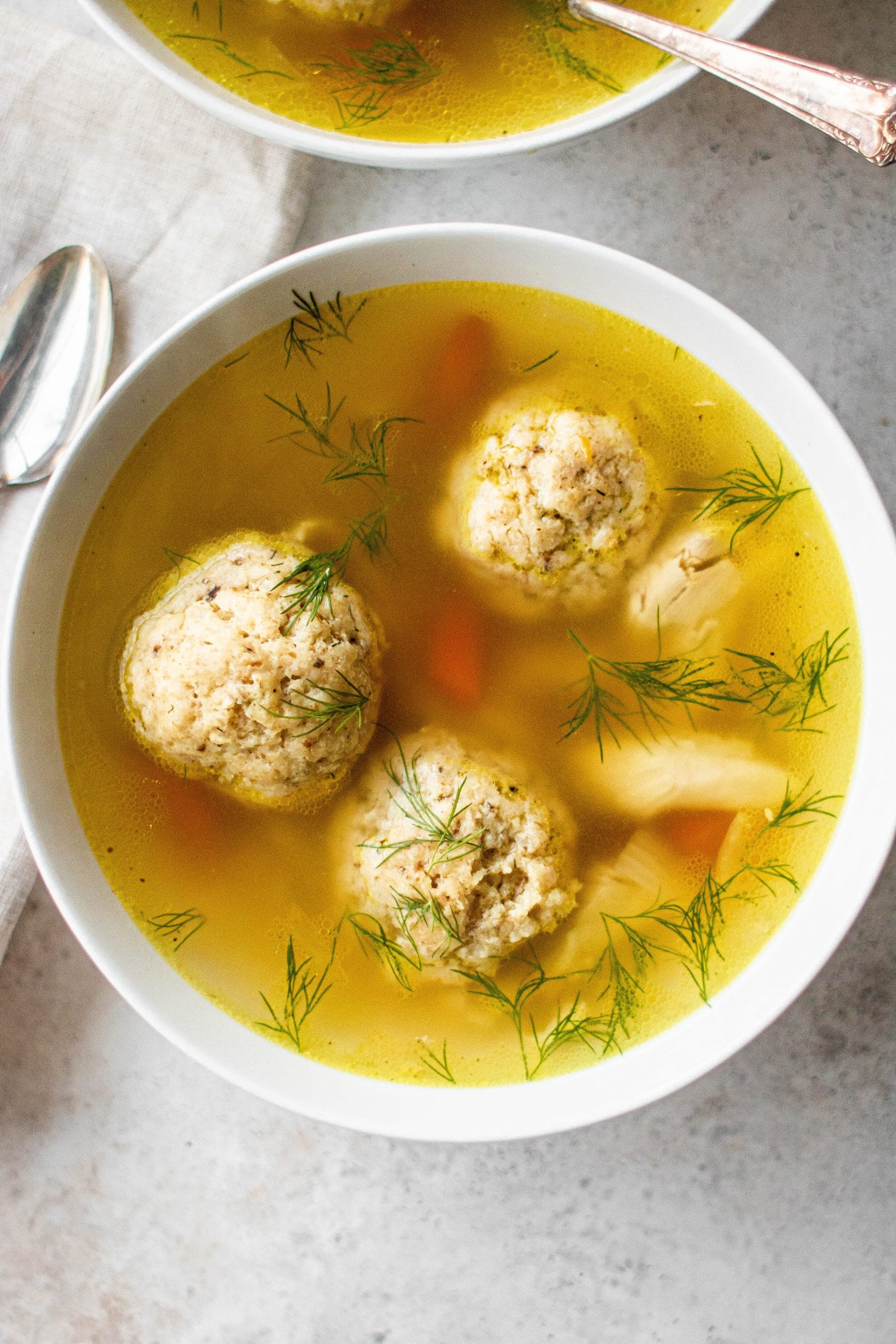 What is Matzo Ball Soup?
Matzah balls or matzo balls are Ashkenazi Jewish soup dumplings made from a mixture of matzah meal, beaten eggs, water, and fat, such as oil, margarine, or chicken fat.
Matzo, matzah, or matza is an unleavened flatbread that is part of Jewish cuisine and forms an integral element of the Passover festival, during which chametz is forbidden. As the Torah recounts, God commanded the Israelites to eat only unleavened bread during the seven-day Passover festival.
How to make Instant Pot Matzo Ball Soup
I love how easy this recipe is! You get all the quality of rich, homemade broth without hours of cooking.
Tools Needed
Ingredients You'll Need
Matzo meal. If you can't find matzo meal, take your favorite brand of matzo crackers (preferably the ones with salt) and just pulse them in the food processor until they've become a fine meal.
Chicken. I use bone-in, skin-on chicken for this recipe. The bones give the broth flavor and body and the chicken skin adds a bit of fat which we need for the matzo balls.
Veggies. I love carrots and onion in this recipe (I'm not a fan of celery), but add celery if you like! Fennel would also be great in this.
Herbs. Fresh dill is a must here!
Spices. I love adding turmeric to the broth for a bit of color. You'll also need some dried dill, white pepper, garlic, and onion powder for the matzo balls.
Eggs. Using eggs in the matzo balls helps them puff up and the egg acts as a binder, holding everything together.
Substitutes for matzo meal
There really is no substitute that's going to give you the exact same results. Make sure to check the Kosher or Jewish section of your grocery store first. In a pinch, saltine crackers can be processed in the food processor to form a similar meal. It won't be the exact same, but still good.
Refrigerating the matzo ball mix
This is an absolutely necessary step! I always make my matzo ball dough first, before starting the soup, so they have time to chill. Refrigerating the dough allows the matzo to absorb all the liquid so you don't end up with dry matzo balls.
More Soup Recipes to Try
This post contains affiliate links from which I receive a small commission at no additional cost to you. Affiliate links allow me to keep providing great recipes for free and I never recommend products that I don't love and personally own.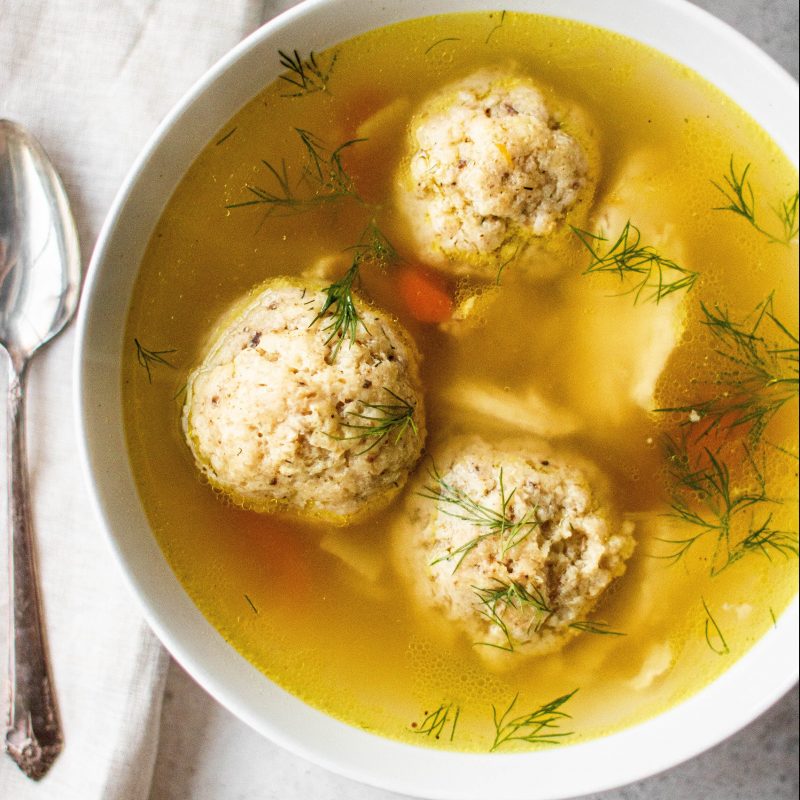 Instant Pot Matzo Ball Soup
This is the coziest and most comforting soup ever and it's made so much easier by using your instant pot!
Cook Time:
1

hour
10

minutes
Ingredients
Soup:
1

tablespoon

olive oil

2

bone-in

skin on chicken breasts

1

yellow onion

diced

5

large carrots

peeled and chopped

3

garlic cloves

minced

pinch

of turmeric

optional

10

cups

hot water

salt and pepper

to taste

fresh dill

minced
Matzo Balls:
3/4

cup

matzo meal

1

teaspoon

baking powder

1/2

teaspoon

garlic powder

1/2

teaspoon

onion powder

1/4

teaspoon

ground white pepper

1/2

teaspoon

kosher salt

1/2

teaspoon

dried dill

3

eggs

3

tablespoons

schmaltz or grapeseed oil
Instructions
To make the soup: pat the chicken breasts very dry with a paper towel and season with salt and pepper. Set the instant pot to "saute" and add 1 tablespoon of olive oil. Once the instant pot is preheated, place the chicken in the pot skin side down. Allow to brown for 4-5 minutes so that the chicken skin can render off some fat. Transfer the chicken from the pot to a plate and reserve the fat from the instant pot.

Add the onion, carrots, garlic, turmeric (if using), and water, and give everything a stir. Add the chicken breasts back to the pot with any juices from the plate. Place the lid on the instant pot and lock it into place. Change the setting to "pressure cook" or "manual" and cook on high pressure for 30 minutes with a natural release.

After the pressure has subsided and the lid can be removed, remove the chicken from the pot and transfer it to a plate to cool slightly. Once the chicken is cool, use two forks to shred the meat. Change the setting back to saute and bring the broth and veggies to a simmer. Season the broth with salt and pepper to taste.

To make the matzo balls: While the broth is cooking, whisk together the matzo meal, baking powder, and spices in a medium bowl. In a separate bowl whisk together the eggs and rendered fat from searing the chicken (or grapeseed oil). Add the eggs to the dry ingredients and stir with a fork until well combined. Cover and refrigerate for 20 minutes to firm up.

Using a 1 oz (2 tablespoon scoop), portion the matzo ball mix and roll into balls. Add the matzo balls to the simmering broth in the instant pot. Cover loosely with another lid (not the instant pot lid) and simmer for 30 minutes. Remove the lid, add the shredded chicken, and season to taste if necessary. Ladle into bowls with 2-3 matzo balls per person and top with fresh dill.
You might also like...