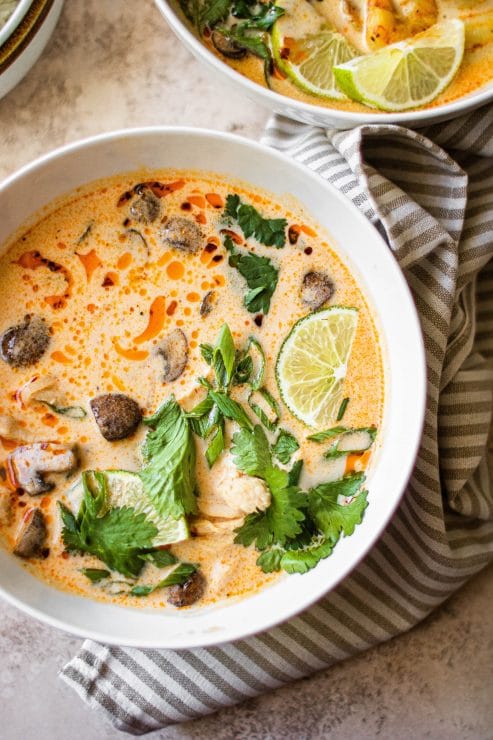 Tom Kha Gai Soup (Thai Coconut Soup)
Tom Kha Gai Soup (Thai Coconut Soup)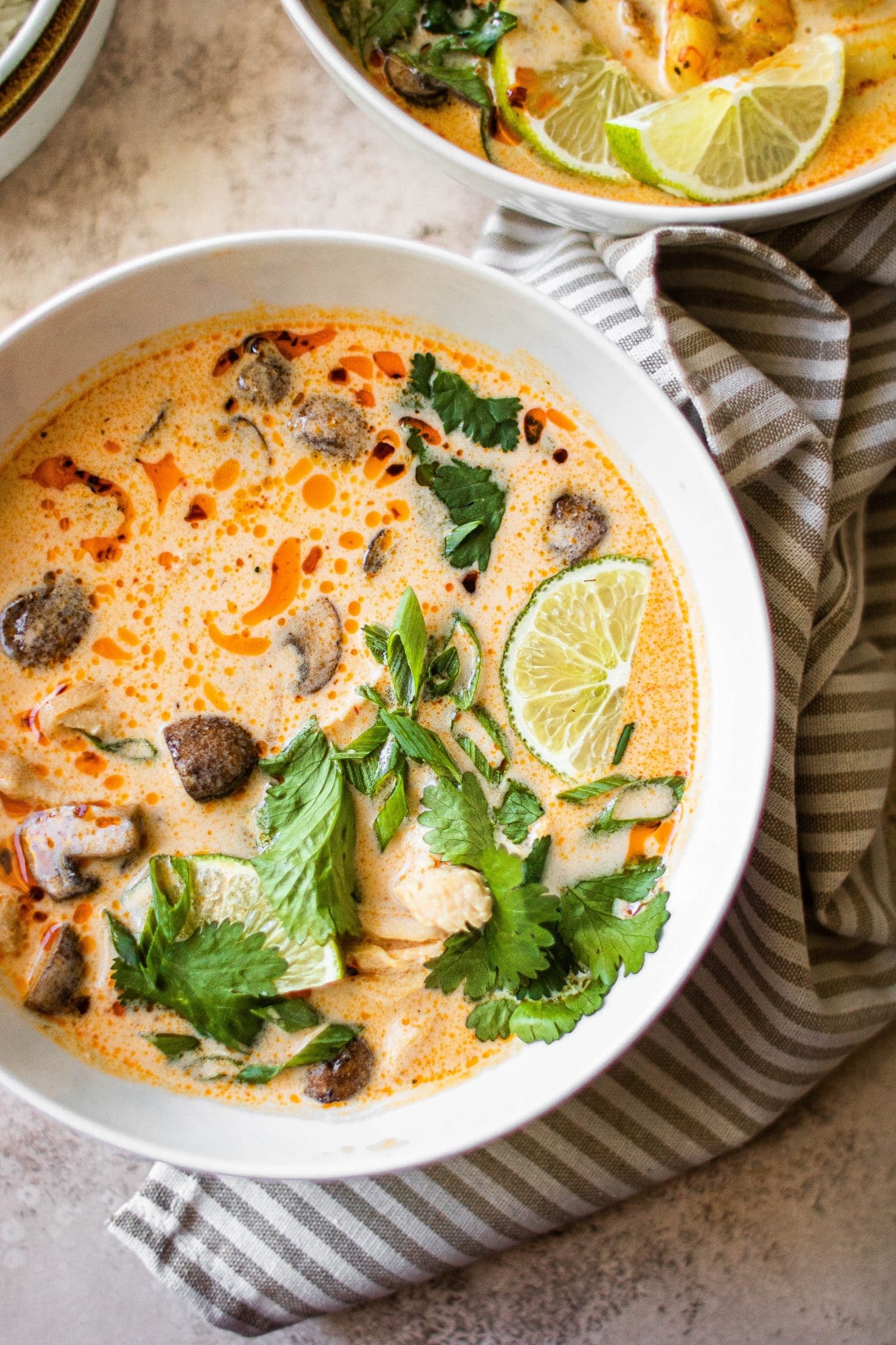 Tom kha gai (thai coconut chicken soup) is probably one of my favorite soups of all time. It's the perfect blend of all the things I like: spice, creaminess, tart acid, savory flavor, and texture. If you haven't ever tried tom kha gai soup before, I know you'll fall in love with it!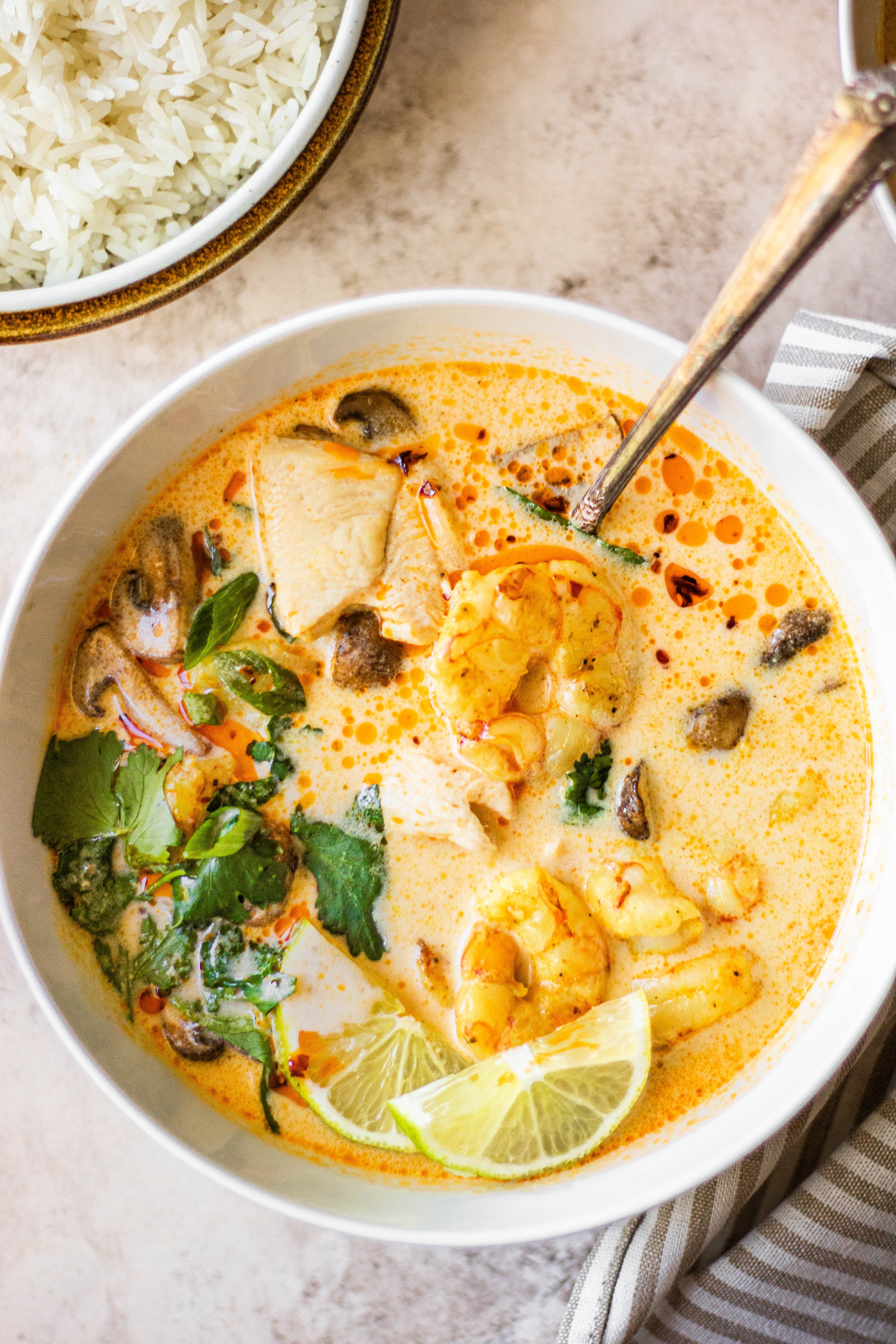 What is Tom Kha Gai soup?
Tom kha gai soup is a traditional soup in Thai cooking. It is considered a 'hot and sour' soup (mostly from the fresh lime juice) with a base of broth and coconut milk. You will usually find a mixture of chicken and mushrooms in the soup, but also shrimp at times.
The broth is also flavored with rich aromatics like lemongrass, galangal (similar to ginger), kaffir lime leaves, shallots, fish sauce, fresh lime juice, coconut milk, cilantro, and sometimes Thai chilies.
What makes this soup so good?
The important part to making this soup so, so good is to use the right ingredients! Homemade chicken stock is a must, and if you need a recipe, here's a quick and easy recipe for chicken stock made in the instant pot!
This means you'll need to head to your local Asian market or well-stocked grocery store for the remaining ingredients! Substitutions can make a good soup, but to really make this soup the best it can be you will need the intended ingredients!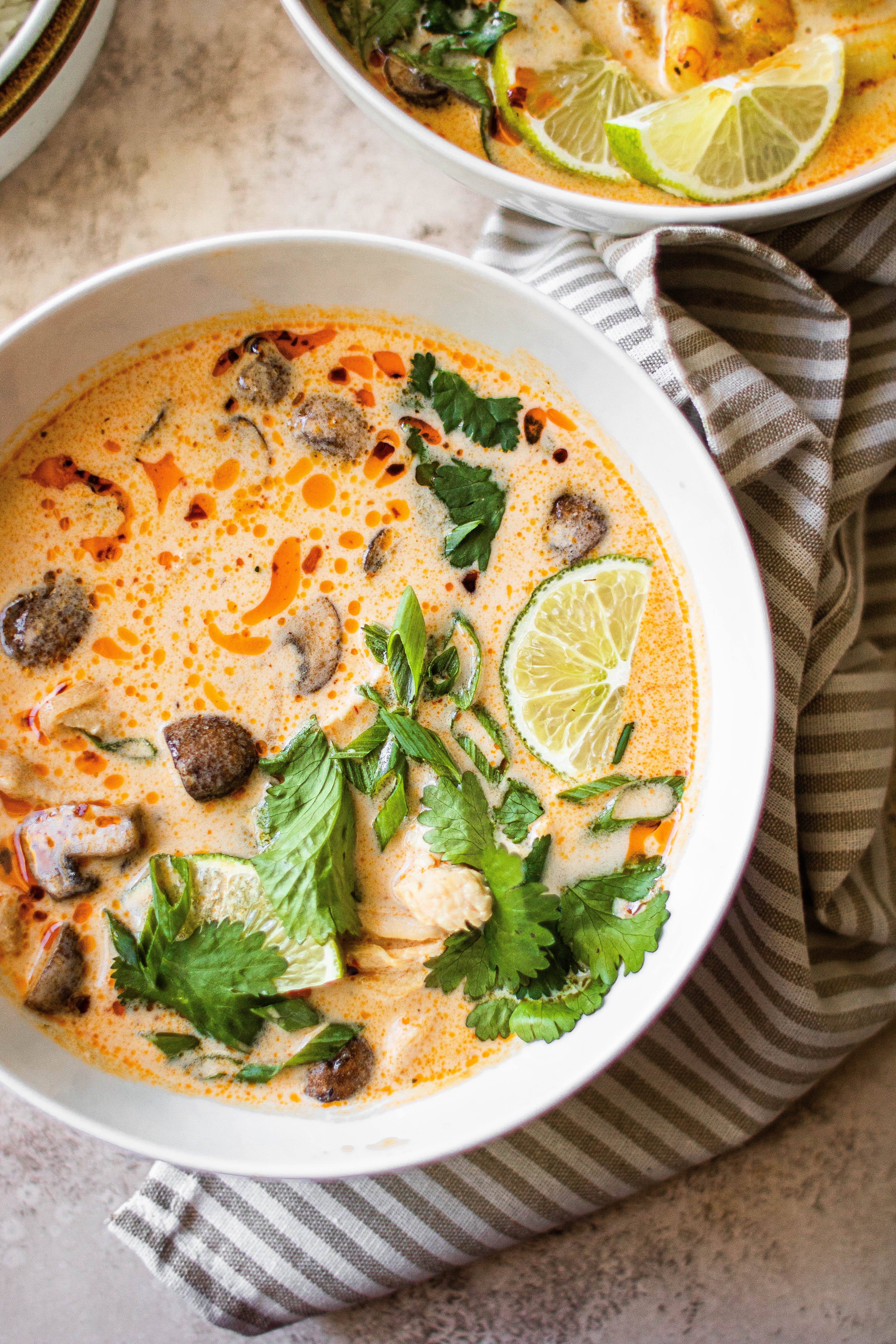 What's the difference between Tom Kha and Tom Yum soup?
While I love both of these soups, Tom Kha Gai is definitely my favorite. They are similarly aromatic, but Tom Yum is broth based and quite spicy! Tom Kha Gai is a little milder and I absolutely love the creaminess that the coconut milk adds.
Both are delicious in their own right, you should give each one a try! Both are perfect soups for cold weather and if you're feeling a cold coming on!
Tools Needed to make Tom Kha Gai Soup
Ingredients in Tom Kha Gai Soup
Here is a list of the notable ingredients in this soup, plus a brief description and a link (if possible) of where to buy them! Just click the title of each ingredient.
Coconut Milk: Coconut milk is made by extracting the liquid from the grated meat of mature coconuts. My favorite brands are Aroy-D and Chaokoh coconut milk. You can find them at any Asian market, as well as Whole Foods, Sprouts, some well-stocked HEBs (if you're in Texas), and Amazon. I don't recommend that you use refrigerated coconut milk that is meant to be a milk replacement; instead, look for the canned, full-fat coconut milk in the Asian aisle at your local grocery store.
Galangal: Galangal is similar to ginger, but it has thinner skin, and a richer, spicier flavor. You will find this in the fresh produce section of your local Asian market. You can substitute fresh ginger in a pinch, if necessary.
Lemongrass: Lemongrass is a super fragrant aromatic that comes in the form of a large stalk. You can also find this in the fresh produce section of your local Asian market, whole foods, or some well-stocked grocery stores. I tend to buy a lot when I find it and freeze it for later use.
Kaffir Lime leaves: These are leaves from the kaffir lime tree and they have a spicy, and fragrant lime flavor. I tend to find them in the fresh produce section of your local Asian market or well-stocked grocery store. I also buy these in bulk and freeze them when I find them.
Fish Sauce: Fish sauce is made from fish or krill that have been coated in salt and fermented for 2 years. I love the salty/umami flavor that fish sauce adds to this dish without tasting "fishy". I have found fish at most well-stocked grocery stores including Trader Joe's, HEB, Whole Foods, Sprouts, etc.
Red Curry Paste: This is a paste made of red chilies, dried shrimp (it doesn't taste fishy!), lemongrass, galangal, kaffir limes, garlic, etc. It's so flavorful and adds tons to curries, soups, and marinades. My favorite brand is Mae Ploy!
Palm Sugar: Palm sugar is a natural sweetener derived from varieties of palm trees. I love the subtle sweetness it adds to the soup. You can find it at most Asian markets or on amazon. The closest substitute would be coconut sugar, and brown sugar would work in a pinch.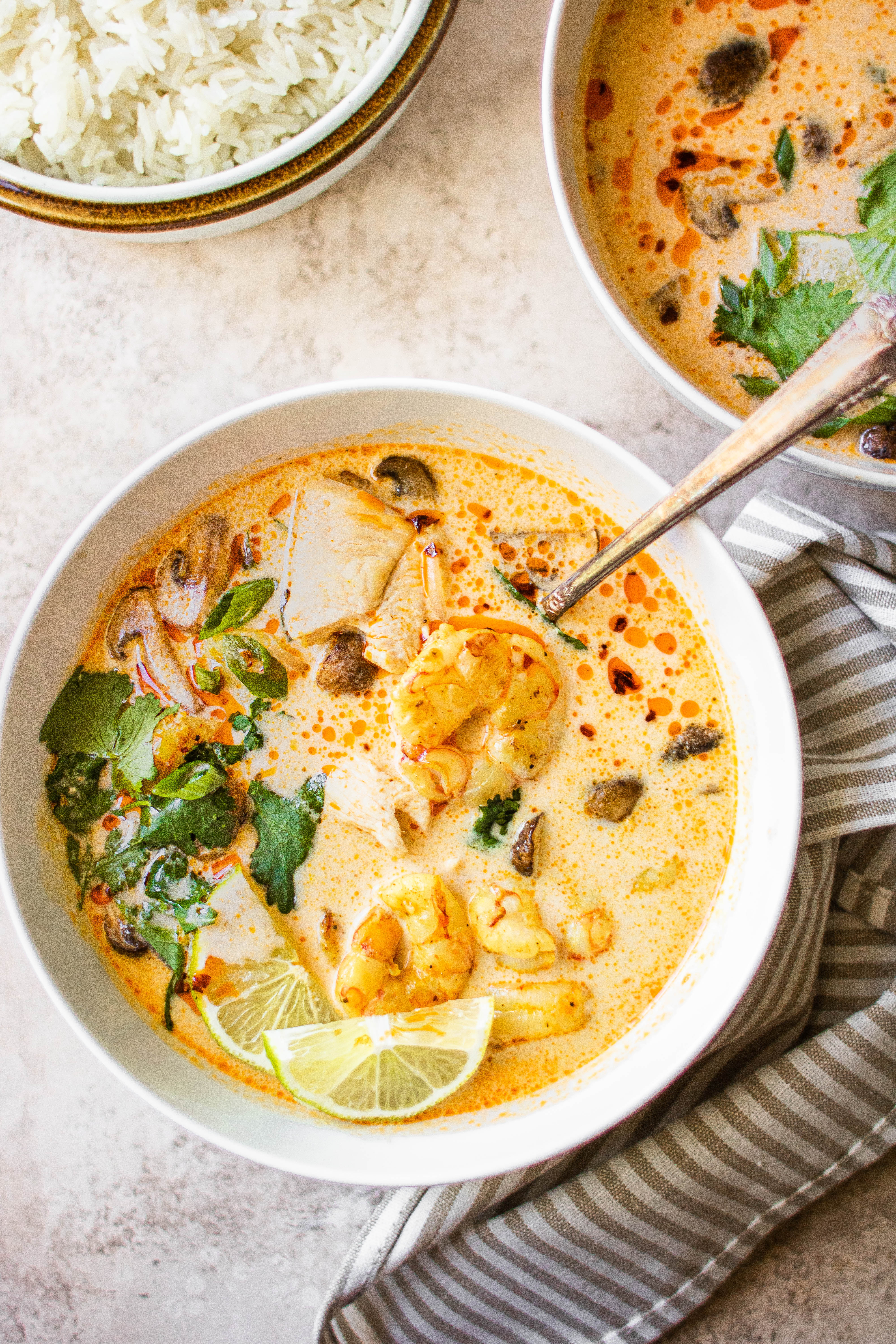 How to prepare Tom Kha Gai soup
I start with a dutch oven or pot that can hold at least 4 quarts. First, heat up a bit of neutral oil in the pot and add sliced shallots, chopped lemongrass, and the sliced galangal over medium-low heat. Then, sauté the aromatics for a couple of minutes until the shallot is a little softened. Then, add the curry paste to the pot and cook it for a couple of minutes, stirring often. Next, add the kaffir lime leaves and the chicken broth and bring it to a simmer for 20 minutes.
Once the broth has reduced a little, use a slotted spoon to fish out the galangal, lemongrass and lime leaves. At this point, I add the chicken, fish sauce, palm sugar, and coconut milk and simmer until the chicken is cooked through.
Then, I add the mushrooms and shrimp, season the soup with salt, add fresh lime juice and cilantro, and it's ready to go! I always add a little chili oil to the soup to make it spicy, but it's totally up to you!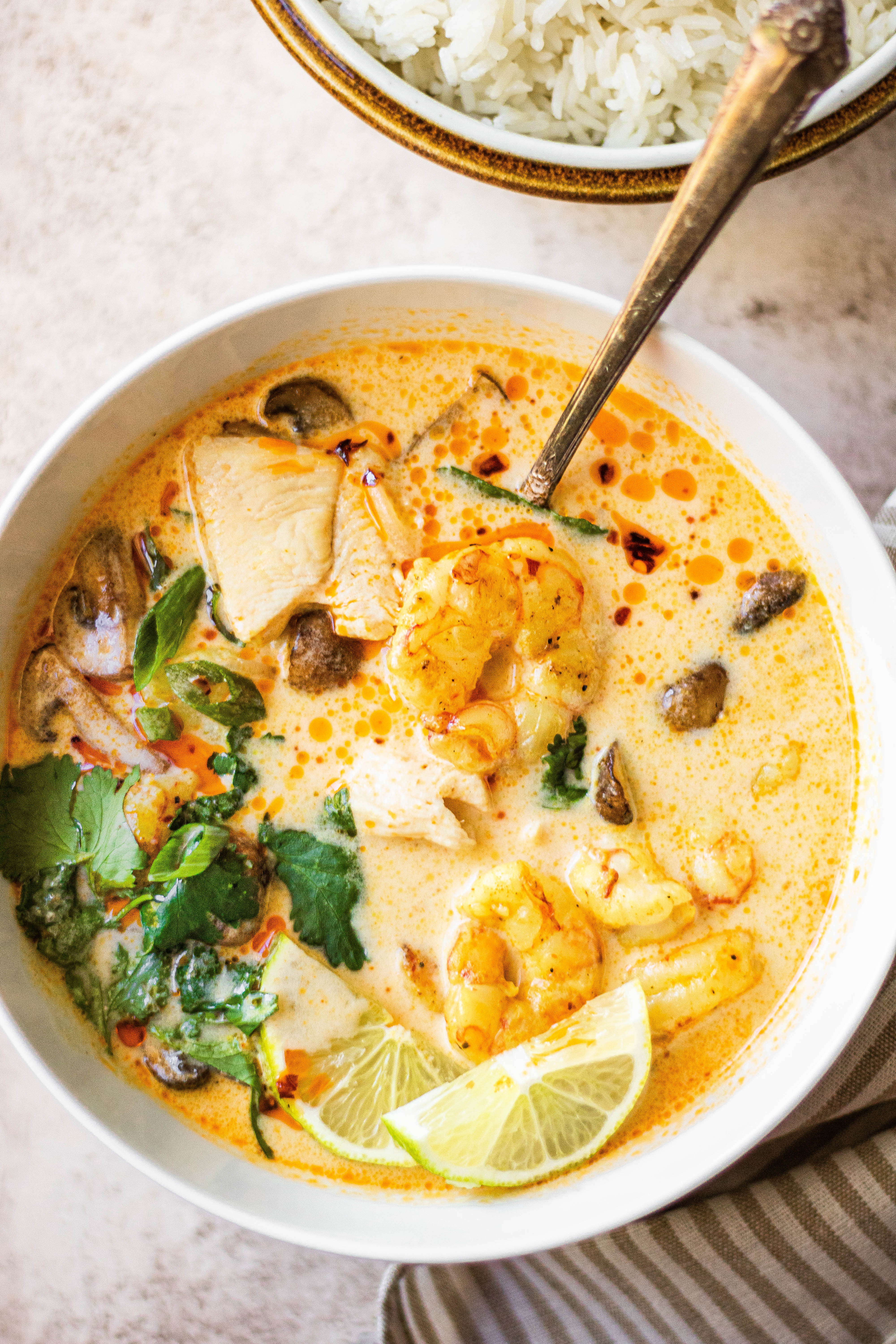 More Thai-Inspired Recipes to Try
This post may contain affiliate links from which I receive a small commission at no additional cost to you. Affiliate links allow me to keep providing great recipes for free and I never recommend products that I don't love and personally own.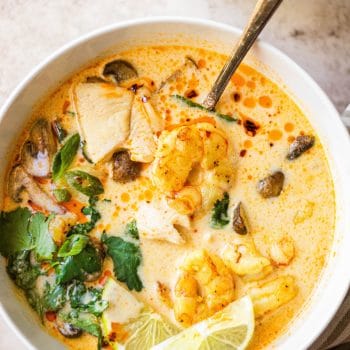 Tom Kha Gai Soup
Tom Kha Gai soup is my favorite thai soup ever! It's creamy, spicy, and loaded with chicken and shrimp.
Ingredients
1

tablespoon

neutral oil

2

shallots

peeled and thinly sliced

2

" galangal root

sliced

1

lemongrass stalk

chopped

5

large kaffir lime leaves

1

rounded tablespoon red curry paste

7

cups

chicken stock

homemade is best

4

boneless skinless chicken breasts

thinly sliced

2 1/2

cups

full-fat coconut milk

1 1/2

tablespoons

fish sauce

2

oz

palm sugar

coconut sugar, or brown sugar

8

oz

cremini mushrooms

quartered

3/4

lb

raw medium shrimp

peeled, tails removed, and deveined (optional)

1/3

cup

heavy cream

optional

fresh lime juice

salt to taste

chopped cilantro

chili oil

optional
Instructions
In a 4 quart heavy bottomed pot, add the oil and turn the heat to medium. Once the oil is warm, add the shallots, lemongrass, and galangal, and cook for 2- 3 minutes, until the shallots start to soften. Add the kaffir lime leaves and curry paste and cook for 2 minutes, until the curry paste is fragrant. Add the chicken broth and bring to a simmer for 20 minutes.

Once the chicken broth has reduced by a bit, use a slotted spoon to remove the galangal, lemongrass and kaffir lime leaves. Add the chicken, coconut milk, heavy cream, palm sugar, and fish sauce and bring to a gentle simmer.

After about 20 minutes, the chicken should be cooked through. At this stage, the mushrooms can be added directly to the soup but I actually like to sauté them in a cast iron with a little oil first to brown them, it's entirely up to you! If you're using shrimp, add them in with the mushrooms and simmer for another 4-5 minutes. Season the soup to taste with salt and lime juice (I personally like lots of lime juice).

Ladle the soup into bowls, topped with chopped cilantro and chili oil, if desired.
Notes
This soup doesn't normally have shrimp in it, but I like to add it for extra protein and flavor.

See the above notes on where to source ingredients!

I like to add heavy cream to the soup for extra creaminess. This is how I did it back in my restaurant days. This is not traditionally and it's totally optional.
You might also like...