Updated 10/25/2021
If you've been paying attention to the news at all, you know that last week Texas was hit with snowpocalypse 2021. I can't lie and say it was an easy week, but we had it so much better than some. While we didn't have power for much of the week during freezing temperatures, we had hot water and a gas stove which allowed for hot showers and a hot meal.
In the moments when we would have brief intervals of power, I rushed to prep food for us, and this instant pot ham and bean soup freaking saved me. I was left to try and create meals of what we did have after the stores were cleared out of many kitchen and pantry staples (dairy, canned goods, bread, butter, meats, etc). My pantry contained some dried beans, one onion, one carrot, some homemade chicken stock from the freezer, and a frozen ham hock. I made this recipe from the humblest ingredients, but what emerged from the instant pot was comforting, nourishing, warm, and exactly what we needed.
I didn't actually intend to share this recipe, but it turned out so good that I absolutely had to. Add a couple of slices of my easy overnight sourdough and feast! Certain meals always come back to me–the ones enjoyed and the right place and the right time and this will always be one of them. I hope you enjoy this simple meal as much as I did.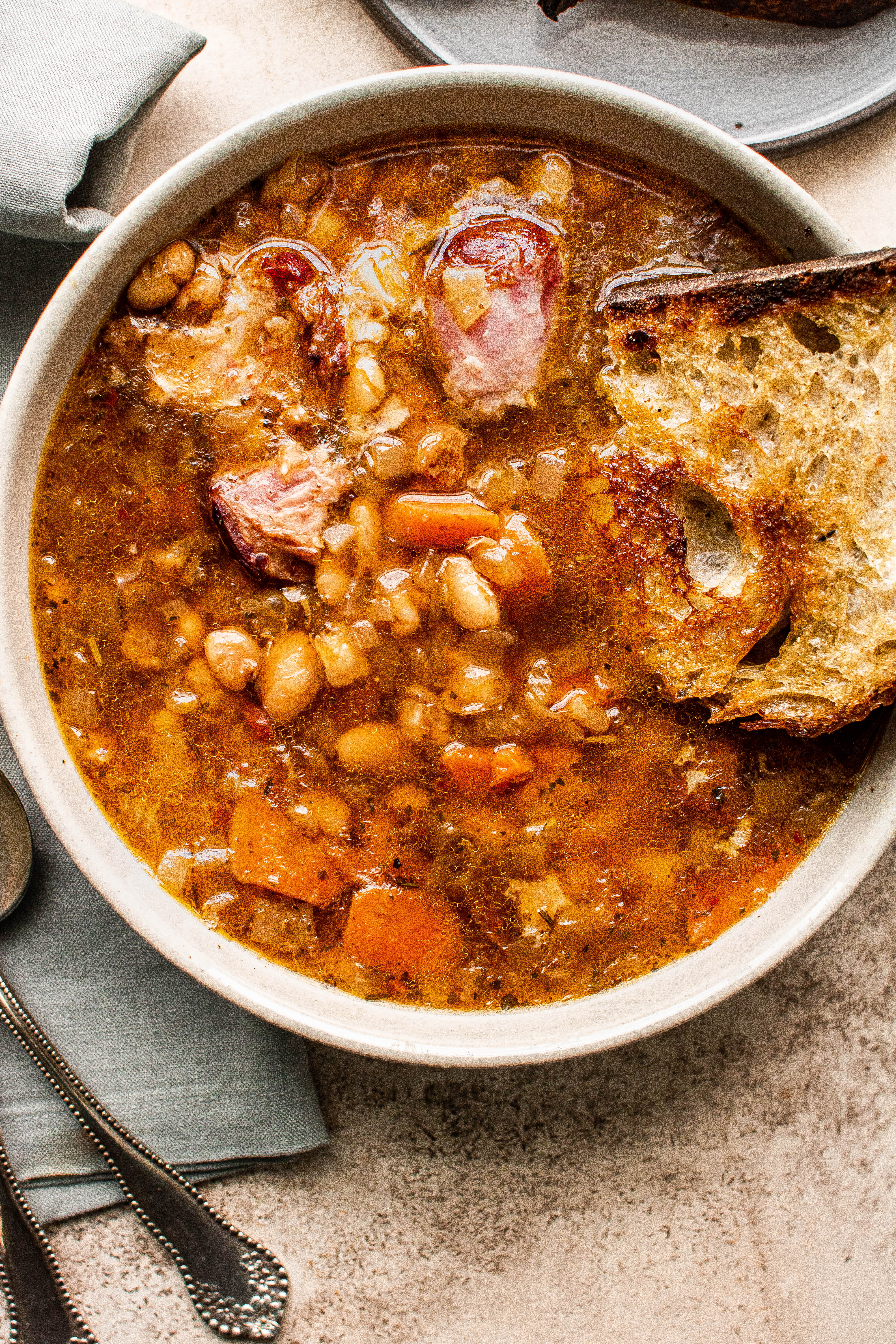 What ingredients go into ham and bean soup?
Dried beans are an absolute must! The flavor and texture that comes from dried beans vs. canned in unparalleled. Because this recipe is made in the Instant Pot, there is no soaking required. Everything gets tossed in the pot, set on high pressure for an hour and fifteen minutes, and bam! Soup! I used a mix of navy and great northern beans because that's what I had on hand but pinto would be great in this recipe, as would cranberry beans, cannellini beans, fayot beans, etc.
You could absolutely use black or red kidney beans, but they will change the color of the soup so keep that in mind. If you have a "bean soup mix", that will work too but just make sure the whole amount totals one pound. After the beans, there is an onion, some garlic, chopped carrots, homemade chicken stock (a must, and here's my recipe), a smoked ham hock, a bay leaf, and some salt and pepper. You can add dried herbs and such to your taste!
Do I have to use a ham hock? Can I just use bacon?
The 'ham' in ham and bean soup IS the ham hock. Sure, you can just use bacon if that's all you have, but the ham hock adds so much to the soup. The collagen and fat in the bones add richness and thickness to the broth that makes this soup even more nourishing. Plus, it adds a bit of smokey flavor that makes this soup extra delicious.
Can I use store-bought chicken stock?
Yes, but homemade will always be best. The fat and substance you get from the homemade broth is one hundred times better than store-bought. If store-bought is all you have, try fortifying it with a bouillon cube. My favorite brand is Bou for You! This isn't sponsored, I just love their bouillon cubes because they're made with real, recognizable ingredients, and not loaded up with tons of sodium and preservatives.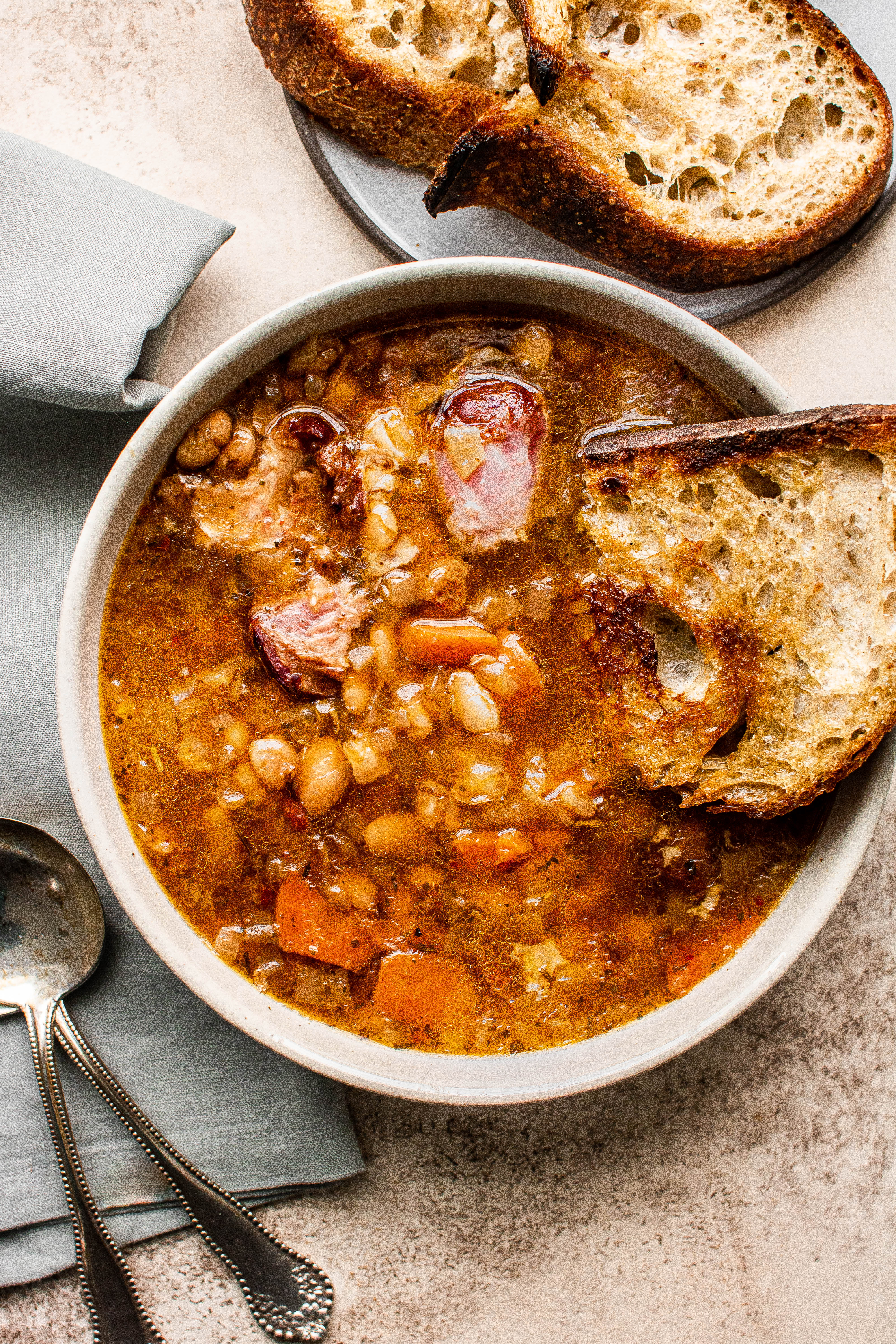 I don't have an instant pot, can I make this in the slow cooker?
Yes! But, you will have to soak your beans overnight. Place your dried beans in a large container and cover them with at least 10 cups of water. Let them sit out overnight, drain, and then add everything to your slow cooker. I would use a little less broth when using the slow cooker, maybe 8 cups or so. Set on high for 4 hours, or low for 8 hours.
Can I make this on the stovetop?
Yes! But as above with a slow cooker, you'll have to soak your beans overnight. Then, follow the instructions as written using a large dutch oven or pot, cover, and simmer on low for 2-3 hours or until the beans are very tender. I would also start with less liquid if you like a thicker soup, try 8 cups instead of 10 and add more if needed.
Can I make ham and bean soup gluten-free?
Great news! As the recipe is written, the recipe is gluten-free.
Can I make this soup vegan?
I personally haven't, but I'm sure you could. Swap in vegetable broth and omit the ham hock. I imagine it would be a little bland, but try jazzing it up with spices and maybe even some miso or dried mushrooms to add some umami flavor.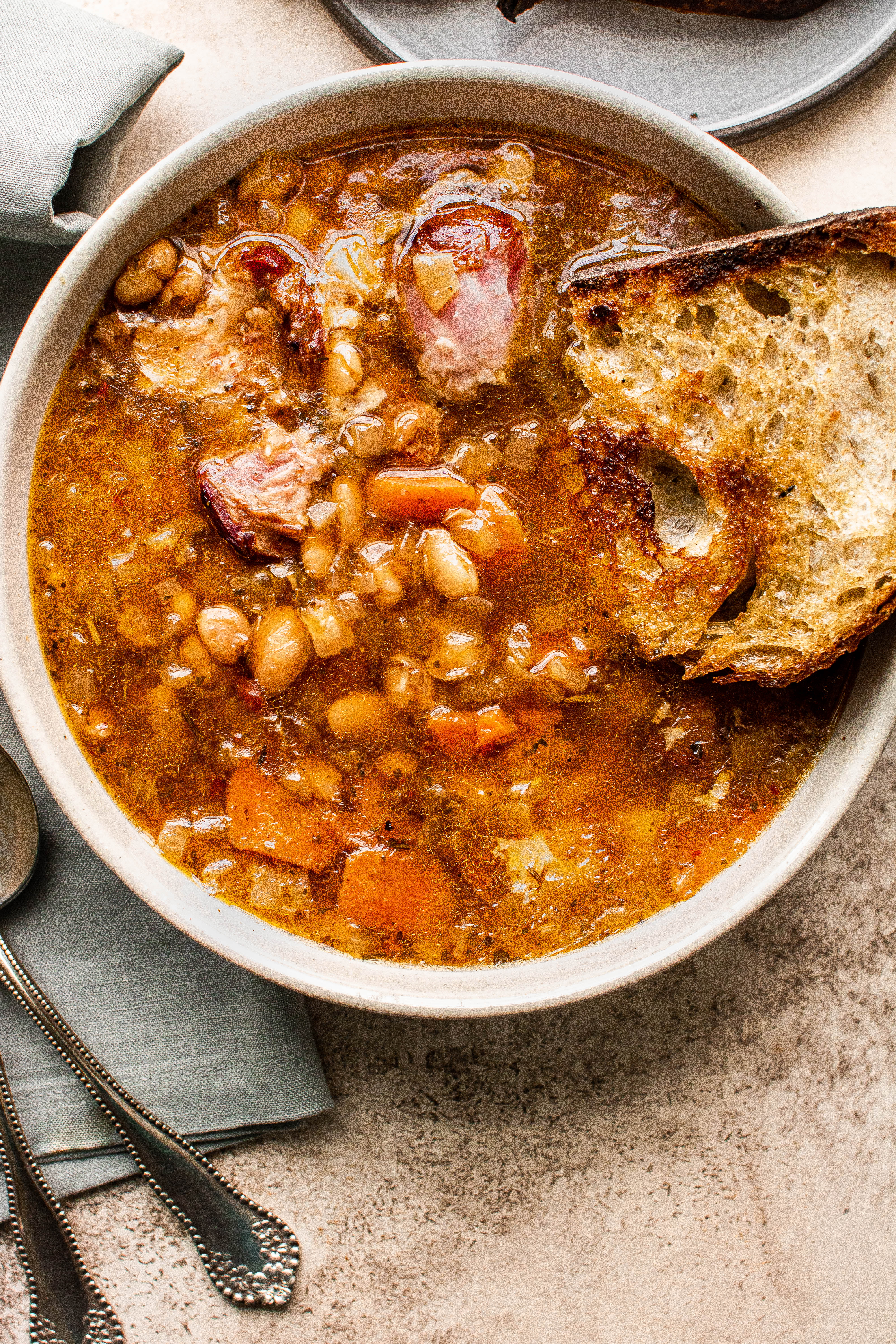 Why is there homemade broth and bouillon in this recipe?
I wanted to bolster the flavor of my broth and add some richness so I added a beef Bou for You cube because that's what I had on hand. It's an optional ingredient and you can absolutely skip it.
any other questions, just drop them in the comments below!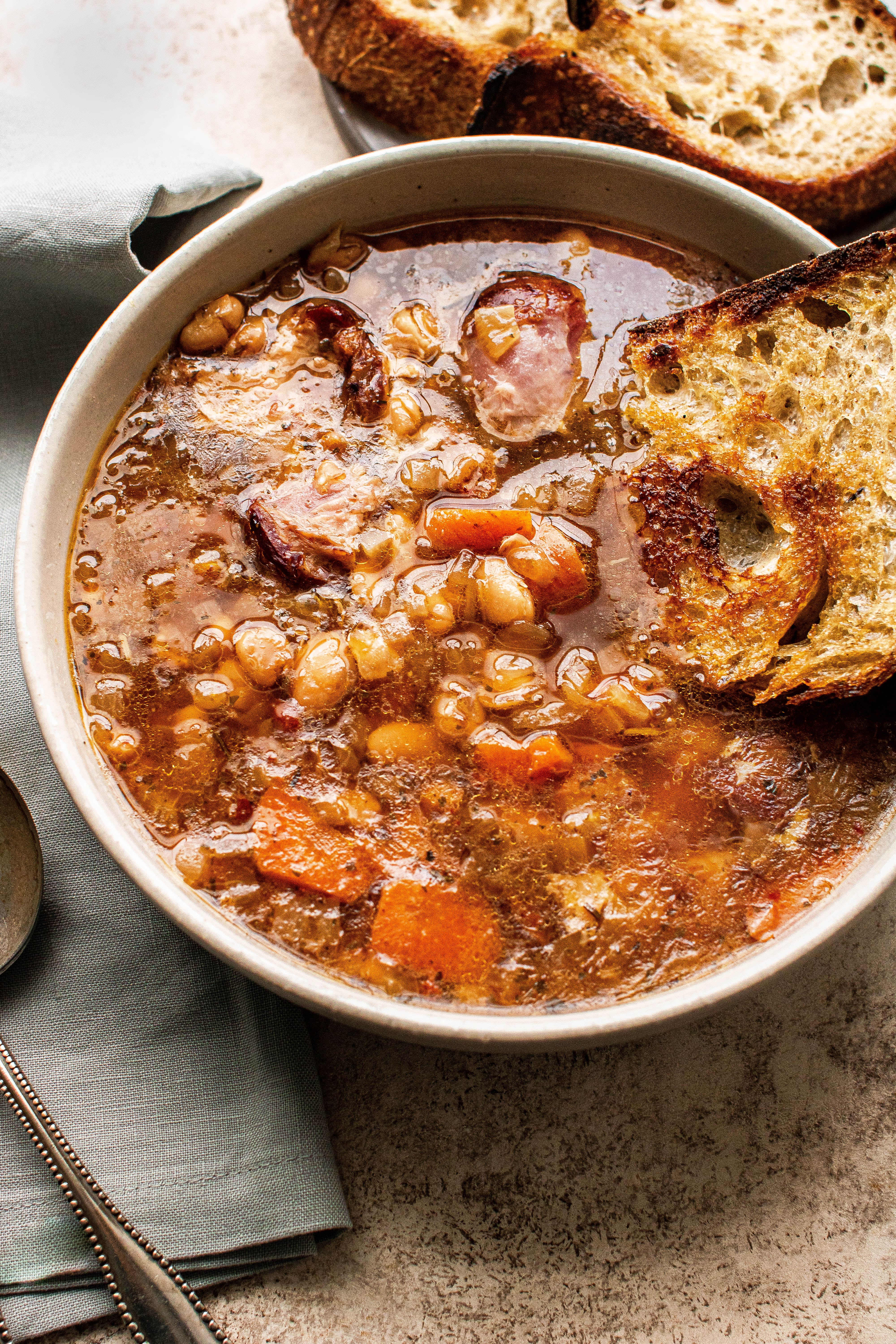 Other Recipes You May Like:
Print
Instant Pot Ham and Bean Soup
My Instant Pot ham and bean soup is a go-to when I want a comforting meal with very little work involved! It's rich, flavorful, and perfect for cooler weather.
1 tablespoon olive oil
1 yellow onion, diced
3 cloves garlic, minced
2 carrots, peeled and chopped
1 lb dried beans (I used half navy beans, half great northern beans)
10 cups homemade chicken stock
1 beef bouillon cube (optional)
2 bay leaves
1 smoked ham hock
kosher salt and freshly ground pepper, to taste
Instructions
In the bowl of a 6 qt instant pot, set to saute on medium. Once the pot is hot, add the olive oil, garlic, onion, chopped carrot, and sauté for 3-4 minutes until the vegetables have softened. Add the dried beans, bay leaves, ham hock, stock, and the bouillon cube (if using). Add two teaspoons of kosher salt to the pot. NOTE: IF YOUR BROTH CONTAINS SALT, DO NOT ADD SALT UNTIL THE END.
Lock the lid in place and change the setting to manual. Set the instant pot to pressure cook on high for an hour and fifteen minutes. Once the cooking time has elapsed, allow the pressure to naturally release.
Once the pressure has released, remove the lid and stir. Remove the bay leaves, any bones and skin from the ham hock (leave the meat behind!), and season to taste with salt and freshly ground pepper. Serve with crusty bread for dipping.