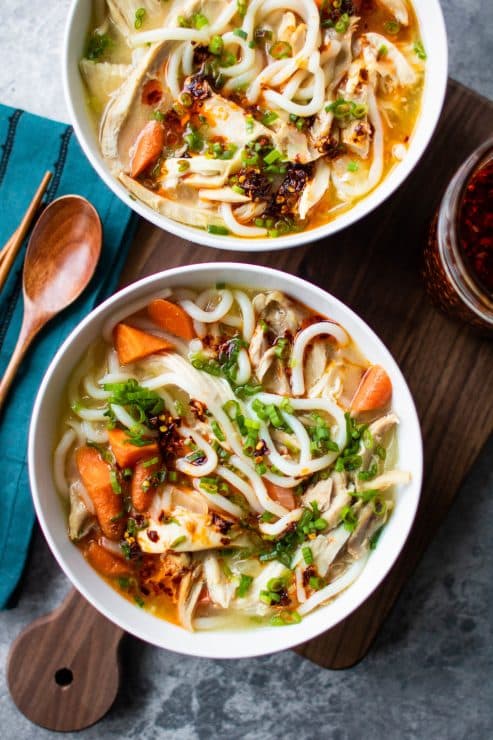 miso ginger chicken udon soup
miso ginger chicken udon soup
So, I'm currently in Wisconsin with my husband visiting the in-laws (his parents, not mine) and it is absolutely fucking freezing. Like, a high of 2 degrees. I have never been subjected to this kind of weather before and I am a wimp! Growing up in Southern California did not prepare me for this madness. So in light of my current situation, I'm sharing this recipe for miso ginger chicken udon soup because I'm sure I'll be coming back with a cold and will need a big bowl of this ASAP.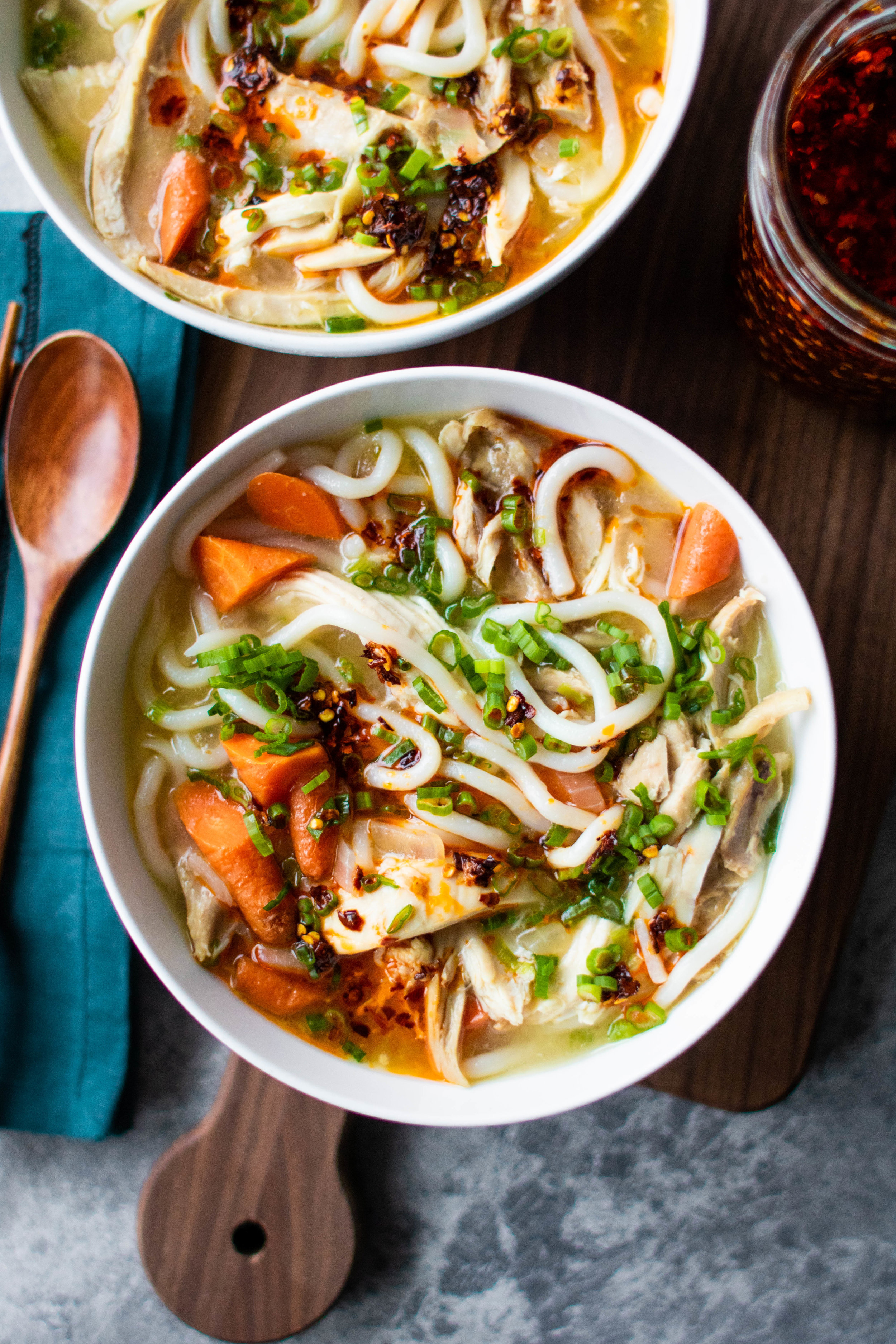 This is basically just a slightly asian-ified chicken noodle soup with lots of ginger, garlic and miso paste. Miso helps to add a nice body to the broth with all the saltiness you need to replenish your body with when you're sick. Don't forget the hot chili oil! I know that when I'm stick, I've always got the worst congestion and stuffy nose and this chili oil will clear that RIGHT UP. If you've never had udon noodles, prepare to have your life changed. They are big and chewy and perfect for all the soups. You can find the udon noodles dried, but they are not nearly as good as the fresh noodles. I've linked amazon below where you can find the noodles, but just about any asian grocery store carries the small packs and they only take a couple of minutes to cook. These actually cook right in the soup so they absorb all the flavor of the broth which also makes this a one pot meal! Woo!
Speaking of broth, let's talk about this real quick. Please stop buying store bought chicken broth. It tastes like shit. I know that it makes life easier, but broth is easier than you can imagine especially if you have a pressure cooker or instant pot. My usual method is to go to costco, buy a whole chicken or two, throw a whole chicken in a large stock pot with water and green onions and boil it. THAT'S IT. There's no excuse for not making your own. If you're using an instant pot: I throw in like 2 lbs of chicken wings with water and green onions and pressure cook for an hour on high. I use wings because they're smaller for the pot.
I usually just make a big batch and freeze what I'm not going to use right away. By the way, this recipe calls for already cooked chicken so you can head to your local grocery store deli where they almost always sell cooked, shredded chicken, or you can just quick roast a chicken and pull the meal apart (this is what I did, and I froze what I didn't need). I know it's a little bit of extra work but I cannot emphasize enough how much this affects the flavor and makes it better. That's my official chicken broth PSA, now go forth and make all the soups!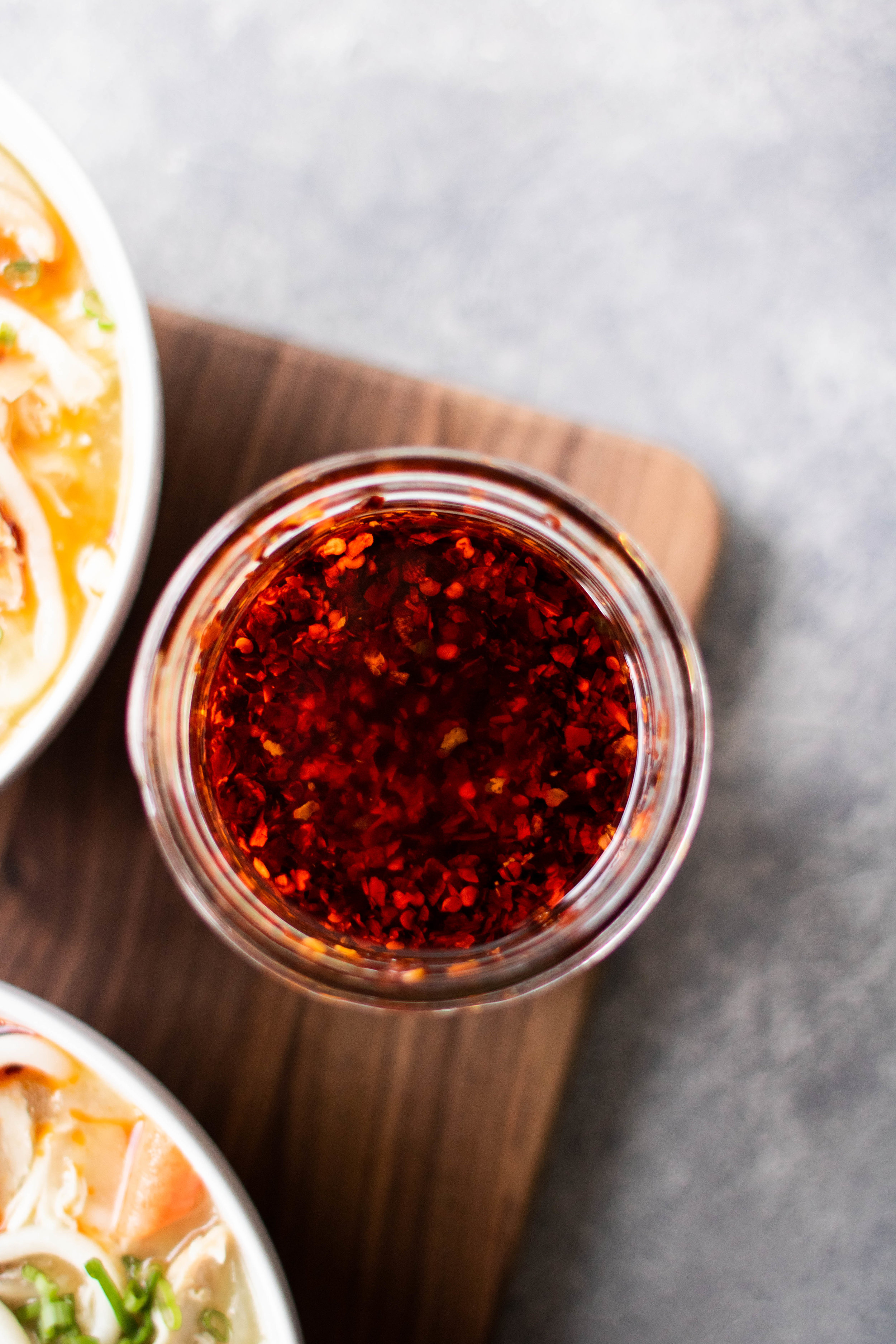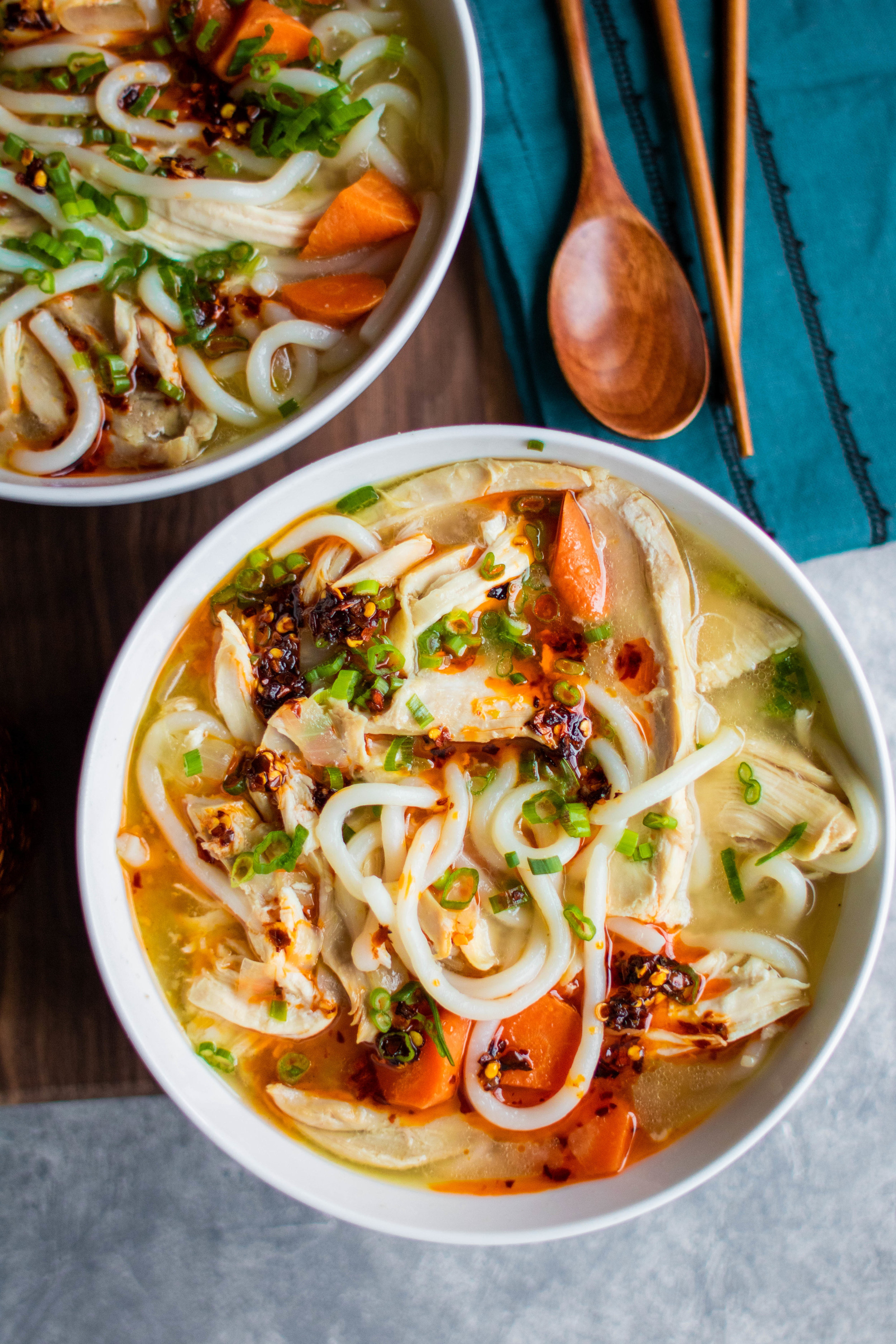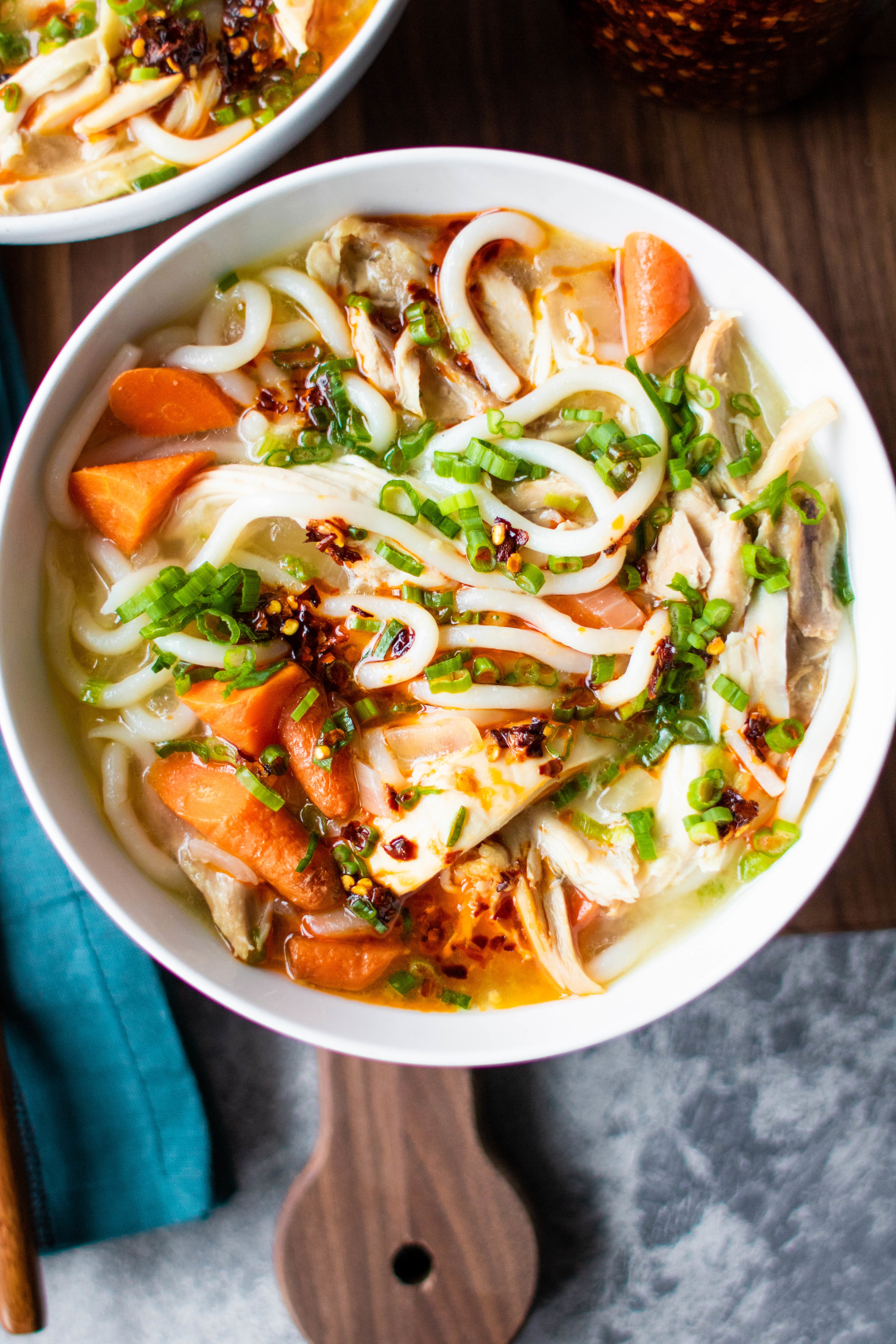 日式屋冬麵 Matsuda Japanese Style instant Udon fresh noodle 7oz (30 bags)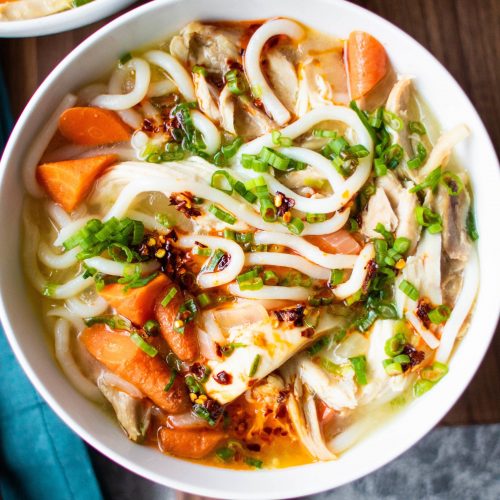 miso ginger chicken udon soup
Anytime I have a cold, this is the soup I always make!
Ingredients
Udon Soup

1/2

yellow onion

diced

6

cloves

garlic

minced

1

tablespoons

freshly grated ginger

1/4

cup

white or yellow miso paste

1

tablespoon

neutral oil

4

carrots

chopped

3

cups

shredded chicken

cooked

6-8

cups

chicken broth

homemade is best

12

oz.

fresh udon noodles

1

bunch green onion

white and green parts separated

salt and pepper to taste

Homemade Chili Oil

1

cup

crushed red chili flake

2

Tablespoons

grated ginger

2

cups

neutral oil

such as canola, avocado, vegetable, etc.
Instructions
To make the chili oil: Preheat an oven to 250 degrees F. On a sheet tray lined with foil, mix chili flake and ginger until well combined. Toast in the oven for 1 hour, stirring occasionally. Transfer toasted chili flake to a small pot and cover with oil. Simmer over the lowest heat setting for 1 hour until dark in color. Cool to room temperature, place in an airtight container (mason jars work well) and keep in the fridge for up to 1 year.

To make the soup: In a medium soup pot or dutch oven, heat the oil over medium heat. Slice the green onions, but keep the white/light green parts separate from the dark green parts. Add the white/light green parts to the oil with the chopped onion and carrot. Add the garlic, ginger and miso paste and stir to combine. Cook for 2 minutes, stirring regularly to prevent burning. Add the broth and bring to a simmer. Simmer for 5-7 minutes until the carrots are just barely tender. Add the udon noodles to the broth and cook for 4-5 minutes until tender. Add the chicken and simmer until the chicken is warmed through. Season to taste with salt and pepper. Transfer to bowls and top with remaining sliced green onions and chili oil to taste.
You might also like...